Free Download Manager makes it easier and faster to download different kinds of items, including torrent files. It is safe to use and efficient.
The software is designed to work as a powerful download accelerator and organizer for Windows, macOS, Android, and Linux. The new version features more improvements and several bug fixes to offer you enhanced stability and a better user experience.
See the instructions below and I'll show you how to download and install Free Download Manager on your PC for free.
How to Download and Install Free Download Manager on Your PC for Free
Click on the download button on the sidebar to go directly to the FDM download page.
Click the appropriate download option for your OS and select the applicable installation architecture. The 64-bit and 32-bit options are only available for PCs.

Go to your download folder and double-click on the file you just downloaded to run the program installation.
Once done, click Finish to complete the installation. You can now launch the software and start using it for your all downloads.
How to Uninstall Free Download Manager from Your Computer
If you are no longer interested in using Free Download Manager to accelerate your downloads, simply follow the guide below to remove the program from your computer:
Search for Free Download Manager on the list of installed applications, then click the "Uninstall" button.

Once the uninstallation wizard opens, confirm that you want to uninstall Free Download Manager and the software will be removed from your computer.
If you want to try other programs that allow you to manage your downloads, check out the free alternatives below.
Overview of Free Download Manager
Free Download Manager presents a versatile download application compatible with various platforms. It empowers you to fine-tune your download traffic consumption, efficiently arrange your downloads, manage file priorities for torrents, smoothly handle sizable file downloads, and seamlessly continue downloads that were previously interrupted, all without disruption.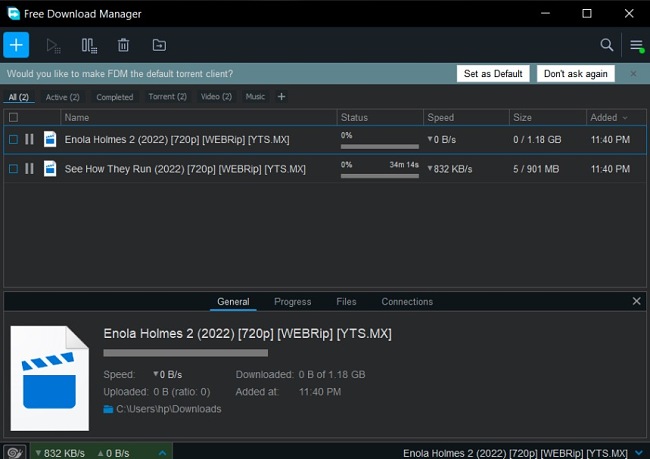 FDM is designed to make your downloads 10 times faster, sort different media file formats, drag and drop URLs right from your web browser, and download multiple files at once! FDM has also been made to be compatible with common browsers, such as Chrome, Edge, Mozilla Firefox, and Internet Explorer.
Features of Free Download Manager
BitTorrent support: Supports torrent file download using BitTorrent protocol. You can even make FDM your default torrent client.
Enhanced audio/video files support: You can preview audio/video files before the download is completed or convert your files to different formats after downloading them.
Faster downloads: FDM increases your download speed by splitting your files into multiple sections and downloading them simultaneously. This accelerates your downloads regardless of the type of connection.
Resume broken downloads: Instead of starting over again, with FDM, you can simply resume your download from where it was interrupted.
File management and smart scheduler: FDM makes it easy to sort and organize your downloads in folders. With the smart scheduler, you can start and pause your downloads at a set time.
Adjusting traffic usage: FDM has several traffic usage modes that allow you to adjust traffic usage when browsing and downloading files simultaneously.
Multi Language support: Supports up to 24 different languages, including Arabic, Bulgarian, Danish, German, Greek, Spanish, Persian, French, Indonesian, etc.
Free Alternatives to Free Download Manager
Internet Download Manager: Internet Download Manager (IDM) is a download tool that is designed to accelerate your downloads by up to 5 times, resume (in the case of interruptions), and schedule your downloads at specific times.
JDownloader 2: JDownloader 2 has similar useful features as Free Download Manager. It allows you to pause and resume your downloads, apply themes, and set bandwidth limitations on your downloads.
Internet Download Accelerator: Internet Download Accelerator is free and very similar to Free Download Manager. It is packed with useful features like download scheduling, multilingual support, video & MP3 downloads, download acceleration by up to 5 times, etc.
FAQs
Is Free Download Manager free?
Is Free Download Manager secure?
Can I use Free Download Manager via my web browser?
Yes, you can. FDM actually has supported browser extensions for Google Chrome and Mozilla Firefox, which you can install on your Mac, Windows, or Linux device for free.
Download Free Download Manager now!