Large Server Network (6900 Servers in 90 Countries)
CyberGhost has an enormous server network — Private Internet Access (PIA) is one of the few services to offer more with 34400+ servers. This makes CyberGhost an ideal VPN if you need to connect to a specific geographic location. When there are more servers available, you have a higher chance of connecting to a fast server in your chosen country.
It also offers a larger number of servers in more popular countries. For instance, there are 1,300+ servers in the US alone, helping ease load issues when people connect to the hugely popular Netflix US and other US streaming libraries.
In terms of server locations, only ExpressVPN surpasses CyberGhost as it offers servers in 94 countries. However, CyberGhost's breadth of locations is still incredibly impressive. While the majority of servers are based in the US, UK, and Europe, I was pleased to see a sizable number in Africa and South America.
CyberGhost is transparent about using virtual servers to provide coverage in countries with poor internet privacy laws or infrastructure. You can find an exhaustive list of which locations are physical or virtual on their website — overall there are 53 countries with physical servers and 37 with virtual locations. This includes Algeria, China, Kazakhstan, Russia, and Saudi Arabia. Virtual servers in these locations provide you with faster speeds and less security risks than a physical server.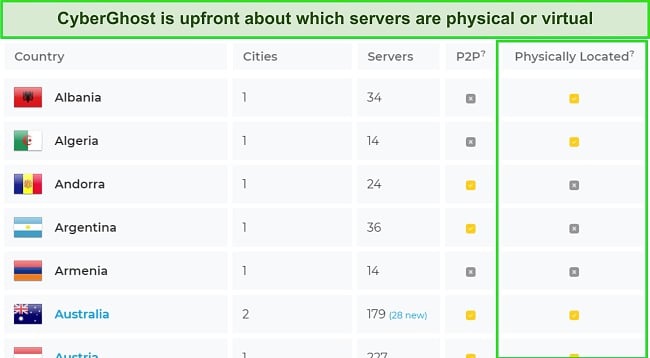 With 6900 servers available, CyberGhost organizes its enormous server network into specialty categories to make it easier to select the best server for your needs. These include:
P2P Optimized
Streaming Optimized
Gaming Optimized
Static IP Address
Token-based Dedicated IP
NoSpy
CyberGhost updates its optimized servers regularly to ensure blacklisted IPs are taken out of the rotation, which is reflected in the VPN's strong unblocking capabilities.
Is CyberGhost Good for Torrenting? (Yes!)
CyberGhost is one of the best VPNs for torrenting on Windows and Mac. You can connect to a range of torrenting servers, which have been optimized for secure peer-to-peer (P2P) file-sharing. Unfortunately, the servers aren't available on the mobile apps, so you'll need to conduct all P2P activity on desktop devices.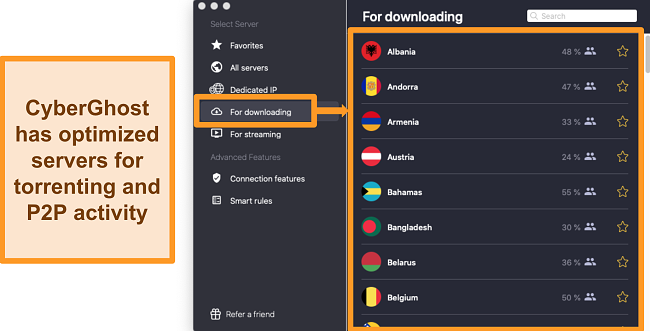 You can choose a server from a list of 90 countries — each location displays the number of users, load percentage, and the physical distance of the server. To find a server with the best torrenting speeds, simply choose a location with the least number of users, lowest load percentage, and closest distance. It's a quick and easy process, and you don't have to waste time testing different servers. If you find any servers that work particularly well for you, you can add it to the "Favorites" list in the app.
Currently, these are the country servers that support torrenting (be sure to check CyberGhost's website for updates):
Andorra
Argentina*
Australia*
Austria*
Bahamas
Bangladesh
Belarus
Belgium*
Bosnia and Herzegovina*
Brazil*
Bulgaria*
Cambodia*
Canada*
China
Costa Rica
Croatia
Cyprus
Czech Republic*
Denmark*
Egypt
Finland*
France*
Georgia
Germany*
Greece*
Greenland
Hong Kong SAR China*
Hungary*
Iceland*
Iran
Ireland*
Isle of Man
Italy*
Japan*
Kazakhstan
Kenya*
Latvia*
Liechtenstein
Lithuania*
Luxembourg*
Malta
Mexico*
Moldova*
Monaco
Montenegro
Morocco
Netherlands*
Norway*
Panama
Poland*
Portugal
Romania
Russia
Serbia*
Slovakia*
Spain*
Sweden*
Switzerland*
Thailand
Turkey
Ukraine*
United Kingdom*
United States*
Venezuela
* = physically located
When I tested the fastest server for me (London, UK), it only took 4 minutes to finish downloading a 5GB file on qBittorent! While I was waiting, I ran a leak test to check that my real IP address was safely hidden — no leaks were detected.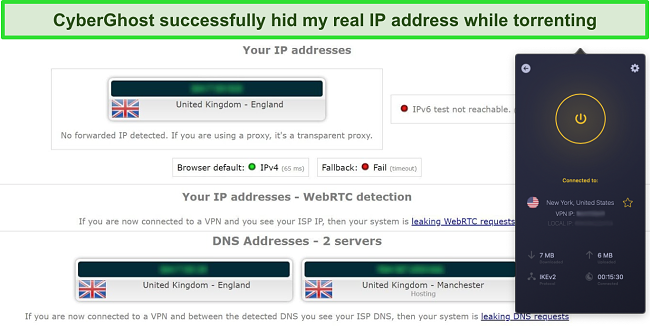 I even tested the kill switch by turning the VPN off — and the app automatically blocked my internet traffic until I reconnected to the server. This set of security features, as well as CyberGhost's military-grade encryption and no-logs policy, helped further anonymize my web traffic. Better still, CyberGhost is based in Romania, which is a torrenting-friendly country with no data retention laws.
One thing to keep in mind is that some servers may not actually work with torrenting and P2P traffic, as CyberGhost occasionally blocks P2P protocols on certain servers due to slow traffic or compliance with countries that block torrent traffic. If this happens to you, simply choose the next best server and try again.
I've also seen some user complaints on forums about being served with DMCA notices while using CyberGhost. While I don't put too much stock in isolated incidents, it's important to keep in mind that CyberGhost explicitly doesn't condone the use of torrents for copyrighted material (and neither do I). If you do decide to torrent copyrighted materials, you do so at your own risk.
Torrent anonymously with CyberGhost!
I don't recommend CyberGhost for use in China. During on-the-ground tests, the app wouldn't even launch so it was impossible to log in.
When I spoke to the customer support team for troubleshooting assistance, it was confirmed that CyberGhost can't guarantee a working connection in any country with restrictive internet laws. This not only includes China, but also Saudi Arabia and the United Arab Emirates. In addition, CyberGhost's VPN traffic is often blocked in countries with moderate internet censorship, such as Egypt, Syria, and Turkey.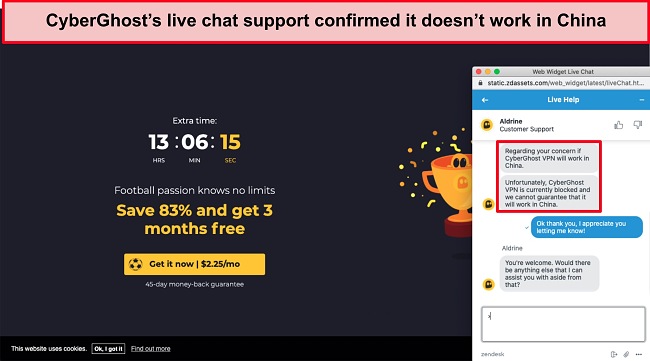 I recommend ExpressVPN if you want to overcome government firewalls and censorship (plus you can try it risk-free for 30 days). Unlike CyberGhost, ExpressVPN has obfuscated servers that help it avoid detections. This makes it one of the only VPNs that reliably works in China and easily unblocks restricted sites like Facebook, Wikipedia, Gmail, Google, and more.
Military-Grade Encryption — Some of the Strongest on the Market
CyberGhost uses 256-bit AES encryption on all its servers. This level of encryption is impossible to crack, and it's the same standard used by militaries and other government agencies to safeguard sensitive material. While a lower-level 56-bit key can be brute-forced in under 24 hours with modern hardware, a 256-bit key would take billions of years. For this reason, it's simply uneconomical for attackers to attempt this.
CyberGhost also uses Perfect Forward Secrecy, which provides a unique encryption key for every new connection. This means that even if an attacker guesses or steals one key, they can't intercept any other past or future sessions. This is another method to both dissuade attackers from even attempting this type of attack, but also protecting all other users (and sessions) from a potentially successful one-off attack.
3 Security Protocols — OpenVPN, IKEv2, and WireGuard Available
CyberGhost offers the industry-standard OpenVPN and IKEv2 protocols, as well as the latest WireGuard protocol. I'm a big fan of the inclusion of WireGuard — even though it's newer (and therefore less proven) than IKEv2, it has no known vulnerabilities and offers solid speeds. Its code-base is also tiny, which means it's reasonable for small groups or even individuals to audit it for security holes.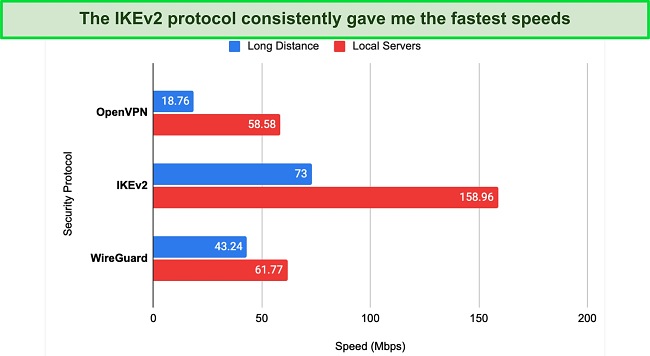 I found IKEv2 offered me the fastest speeds across both local and long-distance servers, but bear in mind that this protocol sacrifices security for speed. Unless you need the highest speeds possible, I recommend sticking to WireGuard, as it delivers a strong balance of security and speed. OpenVPN is even more secure, but I found the speed dropoff too steep to recommend it over WireGuard.
Unfortunately, some protocols are only available on certain apps. For instance, IKEv2 is only available on iOS, Mac, and Windows. You can only use OpenVPN on Android, Windows, Linux, and smart TVs (you need a third-party OpenVPN app for Mac and iOS, like Tunnelblick).
The latest WireGuard protocol is supported on Windows, Mac, Android, iOS, Linux, and Android Fire TV.
NoSpy Servers — Privately Owned For Maximum Security
CyberGhost markets its NoSpy servers as an even safer and more reliable alternative to its regular servers. This is because they're based in the company's private data center in Romania, which only it has access to. This is beneficial for a couple of reasons.
First, it means they run directly under Romanian law since they're physically located in the country, which has no laws on data retention (though CyberGhost states they don't keep any data anyway). Additionally, having control and maintenance over its own servers means CyberGhost can immediately address any server downtime that occurs, since in-house technicians can immediately react. Finally, these servers have improved physical security since they can't be accessed by third parties.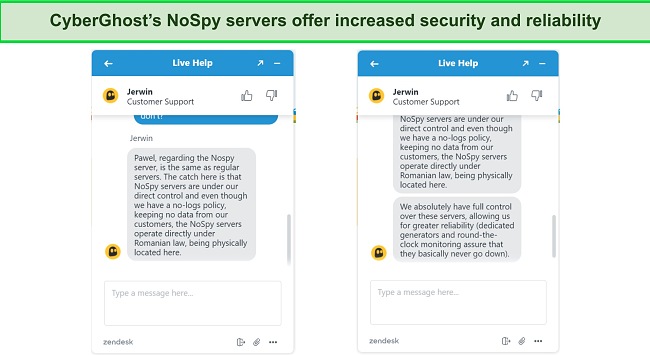 NoSpy Servers are available on Windows, Mac, Android, and iOS. Keep in mind that you need to subscribe for at least an annual plan to get access to NoSpy servers — the one-off monthly plan doesn't include access.
Browse securely with CyberGhost's servers
In-Built Leak Protection — Passed All Tests
Even when a VPN connection is established, data leaks can still occur and your real IP address can become visible. That's why I tested CyberGhost for in-built leak protection using the independent site IPLeak.net.
I ran tests on 10 random servers in different countries, including the US, Canada, Australia, Japan, and Greece. I'm happy to say that CyberGhost passed every test with zero DNS, IPv6, or WebRTC leaks.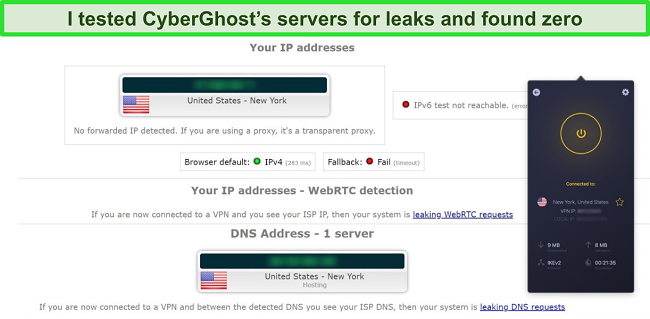 I wanted to confirm that the initial installation process was also safe from potential dangers like malware. To be sure, I scanned the CyberGhost installer file — it passed with no issues.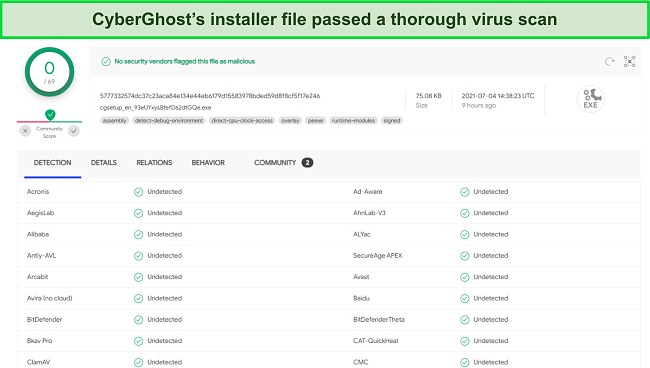 Automatic Kill Switch — Successfully Secures Traffic At All Times
A kill switch is a must-have feature for any premium VPN, and CyberGhost has it available on every app. The kill switch blocks all internet traffic if the VPN connection ever becomes unsteady or you're switching between servers.
While some VPNs require you to manually turn the kill switch on, CyberGhost's kill switch is automatically active as soon as you connect to a server. It's worth mentioning that you'll only find the option to toggle the kill switch on or off in the Windows app. Although there's generally no need to turn it off, it's always good to give people the option, so it would be good to see this expanded to other platforms.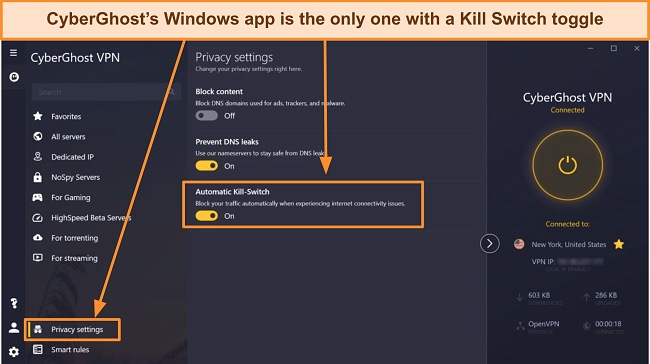 Browse anonymously with CyberGhost
Split Tunneling — Only for Windows and Android
The split tunneling feature lets you choose certain sites and apps to bypass CyberGhost's connection. I find it particularly useful when I want to browse local sites and unblock overseas content at the same time.
To test this feature, I added Amazon.co.uk to the "Exceptions" list on the Windows app and then connected to a US server. I'm happy to report that I successfully shopped on Amazon UK while streaming the film The Irishman on Netflix US. I performed the same test on my Android device (I added the Amazon app to the "App Split Tunnel" list under the "Smart Rules" section), and I was successful once again.

Unfortunately, split tunneling is only available on the Windows and Android apps. It's disappointing that this feature isn't supported on iOS or Mac devices — I'd like to see split tunneling become available for Apple users in the future.
You can also use App Protection to protect entire programs. Once you add a program to the list and boot it up, CyberGhost will immediately launch and connect to a server. This is useful for apps such as torrenting software, which you may start using without remembering to first connect to a VPN server. I set it up with qBittorrent and was impressed with the simplicity, I could simply set and forget.
Compatible With Tor — But Expect Slower Speeds
CyberGhost works well with Tor (The Onion Router). In my tests, I connected to a UK server and then launched the Tor browser. This ensured that not even Tor could see my real IP address.
You'll have to be patient as your speeds will decrease when you use a VPN with Tor. I recommend using the "Best location" quick connect button to connect to the fastest available server. Keep in mind that there are pros and cons to using Tor with or without a VPN, which you can find out more about in my in-depth guide to using Tor with a VPN.
I contacted a CyberGhost support agent to check that there's no issue with using Tor on any server, which they promptly confirmed.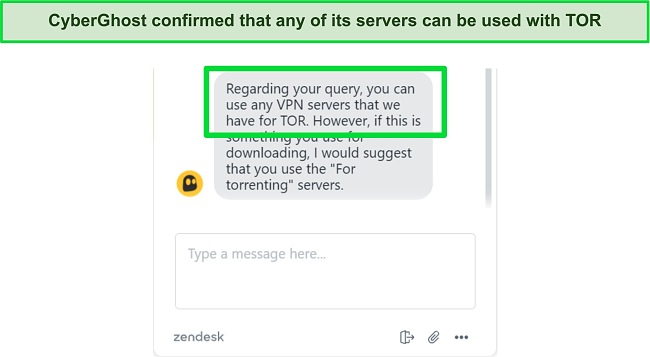 Blockers for Malware, Trackers, and (Some) Ads
CyberGhost offers 3 separate blockers against ads, malicious websites, and web trackers on its Windows, Android, and Mac apps.

The malware and tracking blocker worked well during my tests, but I was less satisfied with the ad blocker. CyberGhost's ad blocker only removes ads if they contain malware, which means I could still see ads when I streamed YouTube videos and visited news sites like the Daily Mail. It also failed to block banner and video ads on Buzzfeed and Kotaku, giving me an overall bad impression of its abilities.
The reason for its poor performance became clear with an explanation from CyberGhost support. The agent reasoned that running websites costs money and that blocking all ads would lead to zero revenue. I can understand their logic, but this should be made much clearer from the get-go when marketing their ad blocker.
This thinking is also mirrored in the technical implementation of their ad blocking. In short, the blocker works at the network level and attempts to modify real-time requests. However, most of the web is now run off HTTPS connections (which are encrypted), and are extremely hard for CyberGhost to modify. As a result, it struggles to block the vast majority of ads.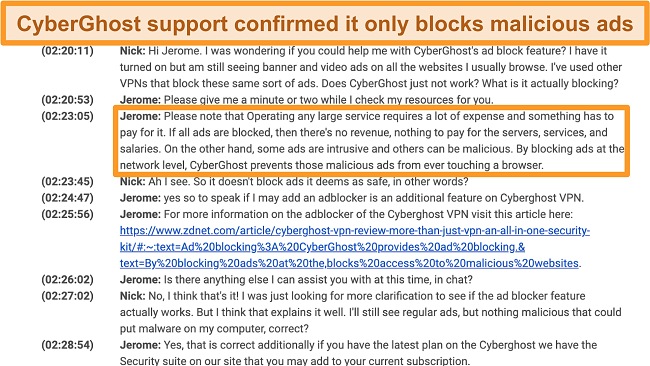 If you want to avoid all ads entirely, you'll need to invest in a trustworthy third-party ad blocker. I also recommend this option if you have an iPhone or iPad — unfortunately, CyberGhost's ad, malware, and tracking blocker isn't available on the iOS app.
Extra Features for Maximum Online Security
WiFi Protection — Best for Public WiFi Hotspots
I rarely see WiFi Protection offered by VPNs, but I always find it extremely useful. This feature allows CyberGhost to launch automatically on certain WiFi networks. For example, I set my iPhone XS to "Always Connect" to CyberGhost whenever I'm using unsecured public WiFi. Many WiFi hotspots are vulnerable to attacks, so it's a big privacy risk — unless I'm already using a VPN.
Even better, WiFI Protection is available on all CyberGhost apps, including Windows, Mac, iOS, Android, Fire Stick, and Android TV.

Browse anonymously with CyberGhost
Automated HTTPS Redirect — Ensures Safe Internet Browsing
This feature forces every website you visit to use HTTPS (the secure version of HTTP), which protects you from potentially malicious sites. This ensures that all the data that's sent between you and the server is encrypted — if an attacker were to intercept your data and the site doesn't offer HTTPS, they could easily read your data.

Unfortunately, HTTPS Redirect is only available on the Windows app. As a regular Mac user, I'd appreciate having this added layer of protection on CyberGhost's macOS app.
Data Compression — Android Only
You can reduce the amount of bandwidth used by compressing images and app data. This feature is perfect if you've got a limited internet data package — although it's only available on Android devices for now.
Secret Photo Vault — iOS Only
If you've got an iPhone or Pad, CyberGhost lets you lock private photos and videos behind a PIN code or biometric login. This add-on is 100% free and included in every subscription. I enjoy using this feature to store photos that I don't want people accidentally seeing in my regular photos folder.
You can even set up a decoy password to open a vault besides your main one — if someone attempts to access your vault, CyberGhost will save a timestamped selfie of the intruder. Interestingly, there's even a setting to use AI to identify NFSW (adult-themed) content in your main photo library, which is then automatically moved to your secure vault. This means CyberGhost can back you up if you ever slip up and save potentially embarrassing pictures where you didn't mean to.
Dedicated IP Address — Paid Add-On
CyberGhost offers dedicated personal IP addresses from the UK, US, France, Germany, or Canada. This will remain the same every time you connect, and helps you avoid CAPTCHAs and authenticating your details on certain apps or websites. For instance, when you connect to some financial services, they may take issue with you connecting from an IP address associated with a VPN (and shared by many). In these cases, it's beneficial for you to have your own dedicated IP.
These benefits also extend to media consumption such as video streaming. When a VPN's IP address in a certain country is shared by dozens if not hundreds of people, a streaming service is increasingly likely to notice that it's a VPN running it. If you're the only one using a dedicated IP address in a specific country, it's unlikely for a streaming provider to notice this.
Even though it's a paid feature, a dedicated IP address is well worth the extra few dollars per month for the perks it grants you.
Password Manager — Paid Add-On
CyberGhost has partnered with PassCamp Password Protection, which safely stores all your passwords in an encrypted cloud. You can create an account at a discounted rate when you sign up for a VPN subscription.
However, I don't recommend choosing this option, since it costs an additional $2/month on an annual plan and longer, and $3.49 with a monthly plan. It's not a bad password manager, but you can use Avira's password manager and get essentially the same service for free.
Get useful features with CyberGhost
Privacy Features
Located in Romania and Outside the 5/9/14 Eyes Alliance
The company's full name is CyberGhost SA and it's based in Romania. This is an ideal location for a VPN since there are zero data retention laws and it's outside the jurisdiction of the 5/9/14 Eyes Alliance. This alliance is an intelligence-sharing network between the US, Canada, UK, Australia, New Zealand, France, Germany, and 7 more countries.
CyberGhost is owned by cybersecurity firm Kape Technologies, which is headquartered in the Isle of Man. Contrary to popular belief, the Isle of Man isn't under the jurisdiction of the UK, EU, or any of the 5/9/14 Eyes countries. In fact, it's a top location for a cybersecurity company. The Isle of Man is a self-governing region with its own legal system and strong data protection laws.
Kape Technologies also owns Private Internet Access and ZenMate. I thoroughly checked their privacy policies and I'm satisfied that each VPN operates as a separate, trustworthy entity.
Try CyberGhost risk-free today!
Strict No-Logs Policy
Many VPNs claim to have a no-logs policy, but it's disappointing how often I discover that it's just a marketing slogan. I'm pleased to say that CyberGhost has a strict no-logs policy that truly protects the privacy of its users.
None of your search history or other online activities are logged when you're connected to a server. CyberGhost doesn't even keep connection logs, which I can't say for competitors like HMA and Hotspot Shield. However, CyberGhost does store some basic hardware information to keep track of how many simultaneous devices a user has running.

Additionally, your name, address, email address, and payment information is required upon signup. None of your personal details are ever linked to your VPN activity, although it is used to communicate with users, improve the service, and to uphold the Terms of Service.
I find this last point is the most controversial aspect of the privacy policy. It explicitly states that CyberGhost will share any information it has with legal authorities if you're caught breaking the law (it's in breach of the Terms of Service).

This sounds alarming on the surface, so I conducted further investigations — and I'm reassured that there's no reason to be concerned about CyberGhost's privacy policy. CyberGhost's no-logs policy ensures that zero online activity can be traced back to specific users. In 2019, this was confirmed in a data leak through Typeform (a third-party vendor used for conducting online surveys). In total, 120 email addresses and 14 usernames were exposed. However, no passwords or other private data leaked as CyberGhost doesn't store this information to begin with.
If you'd prefer to avoid sharing any personal data, you can always sign up more anonymously. Just register with a throwaway name and email address, and pay with Bitcoin.
Maintain your privacy with CyberGhost
Transparency Reports Prove Commitment to Privacy
I was impressed to learn that CyberGhost was the first VPN company to launch a Transparency Report. Even though many companies have since followed suit (like Windscribe and TunnelBear), only CyberGhost has committed to publishing its Transparency Report every 3 months.
I carefully read the latest Transparency Report, which includes every request for information from law enforcement agencies. It includes mostly copyright infringement claims, malicious activity flags, and police requests. The report shows that despite such frequent requests for data, CyberGhost has zero logs to provide due to the strict no-logs policy.
After reading through the report, I'm satisfied that CyberGhost goes to great lengths to protect the privacy of its users. You can find and read them by visiting CyberGhost's Privacy Hub blog and scrolling partway down the page.
Stay anonymous online with CyberGhost
Minor Con: No Full Independent Security Audit
CyberGhost passed an audit on its Information Safety Management System (ISMS), following ISO27001 and ISO9001 standards by QSCert in 2012. This has continued every year since then.
However, there has been no independent audit on CyberGhost's privacy policy, no-log claims, and overall network security. Many leading VPNs have commissioned external audits of their servers, security features, and privacy practices, including ExpressVPN. I'd like to see this type of third-party validation from CyberGhost in the future.