5 Best Antivirus Software With In-Built VPN in 2022
Last Updated by Lucca RF on January 05, 2022
All top antivirus programs come with VPNs, but not every VPN is worth using. Many have very limited data allowances, while others keep logs of your private data. Some are so pricey that you might be better off buying a standalone VPN service.
To help you find the best and most secure option, I tested over 15 antiviruses with a VPN and narrowed it down to the top 5 services. In addition to security and malware protection, I focused on privacy, speed, geo-unblocking, and ease of use.
If you're looking for a quick answer, Norton 360 is the best antivirus with a VPN. It has an excellent security suite with well-rounded features and an unlimited data VPN to keep you safe online. If you'd like to test it out on your device, you can even try Norton's VPN for free for 60 days with its money-back guarantee.
Try Norton for free for 60 days!
Quick Guide: Best Antivirus Programs With VPNs in 2022
The Best Antivirus Software With VPN Included (Tested January 2022)
Key Features:
30+ server locations
Unlimited bandwidth with all plans
Connect up to 5 devices at once
60-day money-back guarantee
Customer support through email, chat, and phone
Norton is the best antivirus with a VPN with its unlimited data and inclusion in all but 1 subscription plan. While many antiviruses have tiny VPN data limits or are limited to the costliest plans, Norton lets you stay protected all month long without being disconnected. This allowed me to watch endless Netflix marathons, browse securely, and download multiple large files without worrying about losing protection.
During tests, Norton Secure VPN reached high speeds of between 80-100Mbps with local servers. However, when I connected to more distant servers in the US or Australia, these speeds fell to 7-15Mbps. I personally never need to connect to an Australian server from my location, but I frequently use US servers for streaming. The 11-15Mbps I received with the Los Angeles server is enough for HD content, but you may have a hard time reliably accessing the 25Mbps and above you'll need for 4K.
One of my favorite uses for a VPN is geo-unblocking, and Norton can unblock Netflix US, HBO Max, and HBO NOW. I watched Schitt's Creek on Netflix US, Curb Your Enthusiasm on HBO Max, and Long Shot on HBO NOW. All of them streamed without issues, although the initial buffering times lasted around 20 seconds.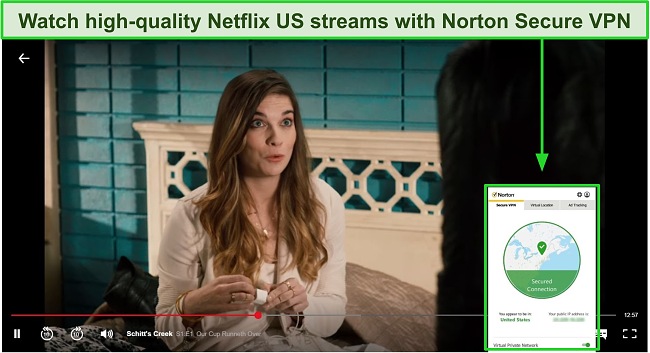 While I'm impressed with Norton's VPN overall, there are a couple of downsides you should know. The first is that there's no kill switch on any platform besides Android. Kill switches cut you off from the internet if your VPN connection drops — important to maintain your anonymity. The second is that it's the only VPN on this list that doesn't support P2P traffic. If you torrent frequently, this may be a deal-breaker for you since torrenting copyrighted material without a VPN can lead to heavy fines if the copyright holder finds out.
If you want to see for yourself, you can try Norton for free for 60 days with its money-back guarantee. I confirmed whether this policy is legitimate by signing up for an annual plan and then testing the service for a few weeks. Afterward, I contacted customer support through the 24/7 live chat and almost immediately had my refund approved. The agent tried to convince me to stay by offering me 3 free months on top of my membership but didn't push once I confirmed I just wanted the refund. I received the money back only 5 days later!
Key Features:
60+ server locations
Unlimited bandwidth with all plans
Connect up to 6 devices at once
30-day money-back guarantee
Customer support through email and phone
TotalAV's VPN is an excellent choice if you're a fan of streaming. I successfully unblocked streamed Netflix US, UK, Canada, and Germany, as well as Disney+, Hulu, and HBO Max. TotalAV is the only VPN on this list to unblock all of these platforms. Every stream buffered for less than 5 seconds and immediately played in full HD, creating a great overall experience.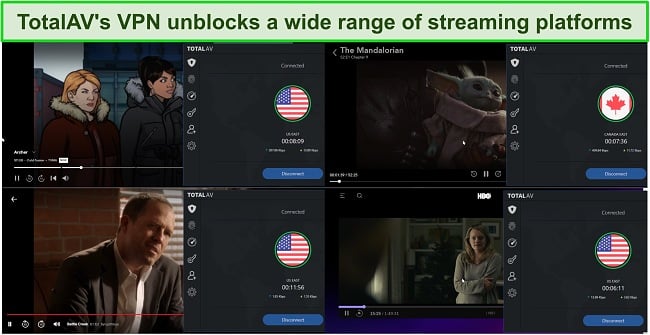 You can connect to 60+ locations, the most of any VPN on this list. Most antivirus VPNs have relatively small server networks, so it's good to see one that offers a wide selection of countries. With a broader server choice, TotalAV gives you more streaming options, better local speeds, and more reliable connectivity since each server has fewer users adding load to it.
While testing speeds, I was very satisfied with an average of 107Mbps. You'll easily be able to stream in up-to 4K quality, browse without interruption, and torrent large files quickly with these speeds. This average was made up of a minimum 28Mbps in Australia (13,500+ km from me!) to a maximum of 225Mbps in Germany. Both of these are enough for most use cases.
I'm also happy with TotalAV's antivirus software. It has a 100% detection rate and firewall, as well as ransomware and phishing protection. This is all packaged in a user-friendly interface that makes using TotalAV a pleasure.
If you're on a budget and still see yourself as a power user who doesn't want to compromise on features, TotalAV is hard to beat. Even its cheapest plan includes the VPN. You can check out TotalAV's fantastic streaming capabilities for free for 30 days with its money-back guarantee. I confirmed this by signing up for an annual plan and running tests for a few days before requesting a refund by submitting a ticket. While it took almost 2 days to get a response, I received an approval and got my money back in my account just 2 days later.
Key Features:
20+ server locations
Unlimited bandwidth with all plans
Connect up to 5 devices at once
30-day money-back guarantee
Customer support through email and phone
McAfee has an incredibly fast VPN with average server speeds of 125Mbps. I tested it when connected to Germany, UK, US, and Australia servers. In all cases apart from Australia, I reached speeds of at least 130Mbps. This is extremely impressive, considering the number of premium VPNs I've tested that can't consistently reach 100Mbps. Your results will vary depending on where you're based, but my testing showed consistently high speeds.
You can use these speeds to stream in HD and Ultra HD. In my tests, I unblocked Netflix US, UK, and Germany, but I couldn't access Disney+ and HBO Max. However, I did have more success when torrenting. I connected to a German server and downloaded a 34GB torrent file with an average rate of 115Mbps in just 43 minutes! This is a fantastic time — and of course, my real IP address was hidden so I could torrent safely.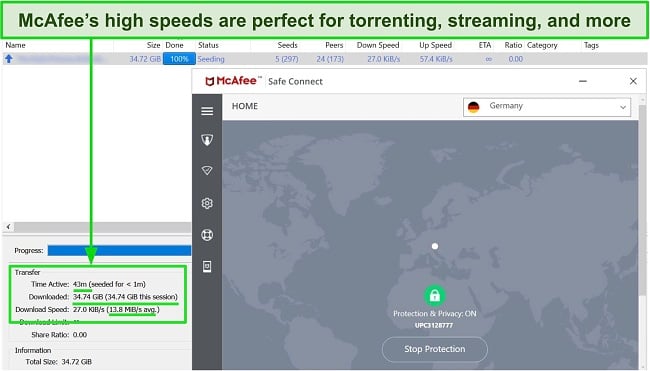 Its antivirus also has impressively high detection rates at 100%, as part of a comprehensive offering of strong real-time ransomware, spyware, and malware protection. It doesn't offer quite as much as others like Norton 360, but is still a well-rounded suite.
McAfee's main downside is the VPN interface, which isn't very easy to navigate. There's also no kill switch or the ability to switch between encryption protocols. You might be better off with a different VPN if you need complete confidence in the security of your connection.
You can try McAfee for free for 30 days with its money-back guarantee. I signed up for a month myself and then submitted a request to be contacted. Unlike other antivirus services with live chat and email support, McAfee only processes refunds over the phone. However, I received a call in less than 10 minutes! I confirmed my refund, which was immediately processed by the representative — and I had the money back in 7 business days.
Key Features:
35+ server locations
Unlimited bandwidth
Connect unlimited devices at once
30-day money-back guarantee with long-term plans
Customer support through email and phone
Avira is a great free antivirus with an equally decent VPN. The biggest benefit of Avira Phantom VPN is its support for an unlimited number of device connections at once. This means you can share a single subscription with your whole family or between friends.
I tested this by installing the Avira on 3 Windows PCs, a Macbook Air, 2 Android phones, an iPhone, and an iPad. I had stable speed and connectivity across all devices and during the whole day — no devices dropped connection. Even if a device temporarily loses connection, the VPN's integrated kill switch prevents any identifiable data from being leaked.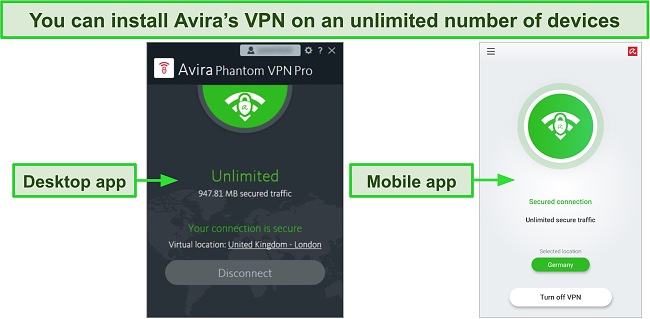 Unfortunately, this is the only security option you can alter. However, the VPN runs on the popular OpenVPN encryption protocol, which ensures the best balance of security and speed. My testing demonstrated this — I reached an average speed of 85Mbps between the US, UK, Germany, and Australia. This is plenty for day-to-day browsing, downloading, and streaming. Unfortunately, I could only unblock Netflix US and UK.
In addition to its Phantom VPN, Avira has a powerful antivirus engine and minimal performance impact on your device. You'll also have access to useful additional features, including a password manager and automatic software updater.
Avira's money-back guarantee is slightly different than other providers on this list. If you subscribe for 1 month you get just 14 days to request a refund, while you get the full 30 days with an annual plan. Either way, you can try Avira out for yourself with no risk — I put it to the test by signing up for a month and requesting a refund after testing it for a few days. I contacted support through email and got the money back within 5 days.
Key Features:
25+ server locations
Unlimited bandwidth only with the Premium Security plan
Connect up to 10 devices at once
30-day money-back guarantee
Customer support through live chat, email, and phone
Bitdefender has partnered with well-known Hotspot Shield to create its VPN. The VPN can be accessed inside Bitdefender's app. Simply open up the server list, choose a country, and connect. You can select the automatic connect function to be connected to the optimal server from your location. I'm also happy to see an integrated kill switch and auto-connect options (for example, when a P2P app is opened or when on public Wi-Fi).
I found Bitdefender's speeds to be consistent, but a bit underwhelming. In my speed tests, Bitdefender reached an average of 51Mbps. This included a high of 58Mbps from a local UK server and a low of 42Mbps — significantly slower than McAfee's VPN. However, I found it was still fast enough to stream HD and 4K content on Netflix US, UK, and Germany. Unfortunately, I couldn't access Disney+, HBO Max, or Hulu.
My main issue with Bitdefender is how it divides its data caps between its plans. All paid plans include a 200MB daily data cap, which is barely enough for a few hours of basic browsing. If you want unlimited data, you have to either buy a dedicated VPN subscription or sign up for Bitdefender's Premium Security plan. While Bitdefender's antivirus software is top-notch with 100% malware detection rates, you can find VPNs with unlimited data for the same price or cheaper.
Fortunately, Bitdefender offers both a 30-day free trial and a 30-day money-back guarantee. This gives you a total of 60 days to try out both Bitdefender's antivirus software and VPN with no risk. I signed up to verify if this is true and later emailed support to request a refund. A few days later, I received a confirmation of my request and had the money back in my account just 5 days later.
Comparison Table: 2022's Best Antiviruses With VPNs
Norton is #1 on this list because it's antivirus suite is the most feature-rich overall, and its competent VPN helps elevate it to the top. It's also one of the only antivirus providers with 100% malware detection rates, a powerful firewall, and useful (free) extras like encrypted cloud storage.
| | | | | | |
| --- | --- | --- | --- | --- | --- |
| | Device Licenses | Unblocks Netflix | Allows Torrenting | Server Countries | No Logs |
| Norton | 5 | ✔ | ✘ | 30+ | ✔ |
| TotalAV | 6 | ✔ | ✔ | 60+ | ✔ |
| McAfee | 5 | ✔ | ✔ | 20+ | ✔ |
| Avira | Unlimited | ✔ | ✔ | 35+ | ✔ |
| Bitdefender | 10 | ✔ | ✔ | 25+ | ✔ |
Top Antiviruses That Didn't Make the Cut
BullGuard
I had high expectations as BullGuard proved itself as a top antivirus program in tests (especially for gamers). Unfortunately, I couldn't get BullGuard's VPN working on 3 different Windows PCs. When I reached out to customer support for assistance, I was only given basic troubleshooting tips (like reinstalling the software) — none of which worked.
Even though the VPN never did work for me, I was disappointed to learn on BullGuard's website that its features are limited. For instance, BullGuard only lets you access servers in 16 countries. You also have to pay extra for the VPN, which I'm not sure is worth the money due to the technical issues I experienced.
Avast and AVG
It's been revealed that Avast has been collecting private user data and reselling it to multiple companies for data analysis purposes. If this had been an opt-in process, I wouldn't have significant issues with it, but it was done without properly informing users. One of the core functions behind using a VPN is user privacy, and on that front, Avast has lost my trust. Therefore, I can't include it on a list of the best VPNs.
AVG also falls under the same umbrella since Avast acquired it in 2016.
Kaspersky
Kaspersky is a well-known name in the antivirus space for over 2 decades, and has an overall good suite with plenty to offer. The main reason I haven't included it on this list is because of its VPN pricing. Similarly to BullGuard, Kaspersky's VPN is sold separately from its antivirus. However, if you want both the antivirus and the VPN you'll have to pay significantly more — you're better off with an all-in-one package like Norton 360.
How I Rated the Top Antiviruses With a VPN
There are a few criteria that I use to rate an antivirus with a VPN:
Strong antivirus protection — The antivirus software itself needs to offer high malware detection rates and additional features such as ransomware and phishing protection.
Unlimited VPN data — A VPN with a data cap quickly becomes useless, making unlimited data a must.
Fast VPN speeds — Your VPN connection shouldn't noticeably slow down your browsing or reduce streaming quality.
Streaming support — Giving you access to new streaming libraries is a huge benefit of a VPN, but many can't get past geo-blocks.
FAQ: Antivirus Software and VPNs
Is it necessary to have a VPN and antivirus?
Yes, VPNs and antivirus software serve very different purposes. A VPN improves your online privacy by encrypting your connection, while an antivirus protects you from malware, ransomware, and other online threats. When used in conjunction, they give you an excellent level of overall protection against numerous threats.
What's the best cheap antivirus with a VPN?
The best cheap antivirus with a VPN is Norton. It has 100% detection rates and several other security features, including ransomware and phishing protection. Coupled with a fast and unlimited bandwidth VPN that gives you access to several streaming platforms at an affordable price, Norton is a fantastic overall security suite.
Is antivirus or VPN better?
Neither one is better — they address different threats and have varying benefits depending on your needs. An antivirus is almost entirely built to protect your device from digital threats, while a VPN improves privacy and adds the ability to unblock geo-restricted content. In this sense, neither is better — I recommend that every device has both as part of a complete security package.
Use a VPN and Antivirus for Maximum Security and Privacy
Getting a quality antivirus is a great start but without a VPN, you'll still be leaving yourself exposed online. If online privacy is important to you and you want to avoid being tracked by your ISP, hackers, and copyright holders, a VPN is a crucial tool.
Even without these security benefits, a VPN gives you the ability to watch content that would normally be geo-blocked and unavailable to you. I frequently use a VPN to unblock Netflix, HBO, and other major streaming services, as well as foreign news.
After testing multiple antiviruses and VPNs, I recommend Norton as my top choice. Its security suite has great protection rates and other security features, while its VPN offers endless protection with its unlimited data caps and high speeds. Check it out for yourself — you can try Norton for free with its 60-day money-back guarantee.
Summary: Top Antivirus Software With VPNs in 2022
Top Choice