Best Parental Control Apps for iPhone & iPad – Tested in 2021

Last Updated by Shauli Zacks on January 12, 2021
I'm a father to 5 kids, four of which have phones and tablets and range in age from 4 to 16. Instead of worrying about what they are doing on their phones all day, I decided to find out. I tested over 50 parental control programs and was surprised how many of them had little to no value on iPhones and iPad.
Some of the common issues I found could be blamed on iOS regulations while others were purely the fault of the software. The common issues included:
No web filter on Safari
Poor time-management tools
Couldn't block apps
Kept crashing
Slowed down the iPhone or iPad
I was only able to find a few parental control apps for iOS that worked well. In the list below you'll find the top 5 apps that made the cut and performed the best in my tests.
Quick Guide: Rundown of the Best Parental Control Apps for iOS in 2021
Monitor Your Kids Devices with Norton Family!
5 Best Parental Control Apps for iPhone and iPad in 2021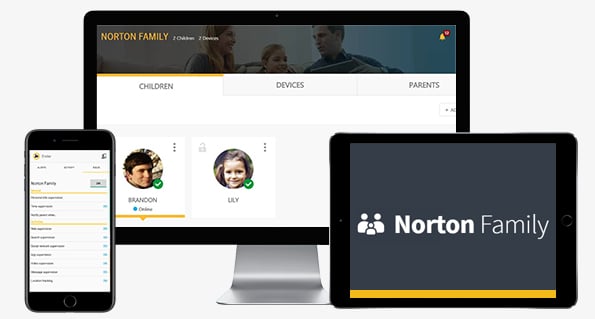 Key Features
Customizable web filter
School Time feature prevents distractions
Real-time location tracking
Unlimited child profiles
Installs a VPN so it can bypass iOS monitoring restrictions
Norton Family is one of the few parental control apps that work well with iOS devices
and is more transparent than any other iOS monitoring app I've tested. It compiles a list of "House Rules" that let my kids know exactly what the app is monitoring, what types of websites they can go to and which are blocked, and how much time they can spend on their Apple devices.
I really like the flexibility of Norton Family's screen time management tools. It allows me to set up a daily schedule for when the kids can be online and a time limit to prevent them from being on their iPhones or iPads all day. It would be a tremendous improvement if Norton Family added a time limit for each app, but for now, that isn't an option.
Norton Family has a comprehensive web filter that limits or restricts websites based on 47 categories. I was able to choose which categories to block for each of my kids and set the monitoring level for each one as well.
The School Time feature can be activated when the kids are doing remote learning or homework. I was able to add specific websites that my kids need for remote learning or doing homework, and everything else was blocked. The time spent doing school work doesn't count against the daily limit. This way, I know that the kids are focused on their studies and not just playing on the iPhone or iPad.
With the exception of app supervision, Norton Family has found a way to activate all its features on iPhones and iPads, including real-time location tracking (only in the US, UK, Canada, Australia, New Zealand, and South Africa). To do this, Norton Family installs a special VPN on your child's iPhone and iPad, which bypasses Apple's monitoring restrictions. The VPN is installed along with the Norton Family app, and it runs automatically in the background while Norton Family is active.
I found a hidden official page that gives a 30-day free trial, which I prefer over the money-back guarantee, where I have to give my credit card information and remember to cancel. Here, I was able to create an account without having to enter any credit card or PayPal information, and got unlimited access, with all the features for free for 30 days.
If you're not happy with the monitoring and supervision tools that Norton Family has for iOS devices, just let the free trial expire and your account will be downgraded to a limited free account automatically.
Try Norton Family for iOS Free for 30 Days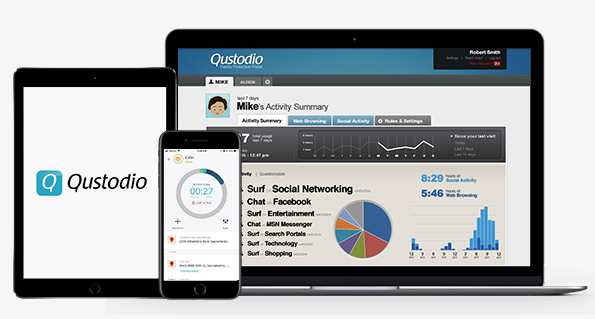 Key Features:
Advanced time management tools
GPS Tracking and Geofence
Web filter has 30 categories
Access parent dashboard from any device
Qustodio was able to succeed in monitoring my kid's iPhone where most other monitoring apps failed. For starters, the web filter is compatible with Safari (and Chrome). It also gives me the flexibility to choose the sensitivity of the filter, based on the kid's ages, instead of having a default filter for the whole family.
When I was testing Qustodio, I liked the time management tools which gave the option of setting a daily time limit and setting up a daily calendar of when the devices are locked. The one problem I have with the calendar option is that you can only block time in segments of 1-hour chunks, which doesn't fit with the schedule in our house.
There are 2 different options for locking iOS devices:
Lock Device: Any app that has a 4+ age rating or higher from the App Store is unavailable when the device is locked.
Lock Navigation: This blocks Safari and Chrome from accessing the internet. I did like that there was a lock screen that let the kids know when they could get online again, so they didn't have to keep on asking me when I can unlock it.
I was really happy that Qustodio works on multiple platforms so I was able to access the parent dashboard from my Android phone and PC and monitor the iPhone and iPad in the house. The dashboard is user-friendly and makes it quickly see all the family activities and alerts at a glance.
Qustodio has 3 subscription plans that not only includes all of the features but also has a 30-day money-back guarantee. I tested the money-back guarantee and received a full refund after using it for just under a month. I found a great price on this hidden deals page and got the "Small Plan" which works on up to 5 devices.
Monitor iPhone & iPads with Qustodio
Key Features
Set Screen time limits
GPS tracking
YouTube Monitoring
Enforce Google SafeSearch
Net Nanny is one of the top parental control programs I tested for iPhones and iPads. It made managing the amount of screen time for my kids really easy. It has two options, setting up a daily limit or a schedule, which breaks the day up into 15-minute segments. There is no option to put a time limit on each app, due to Apple's guidelines.
The web filter, which works with Safari, has 15 customizable categories. Not only that, but I was also able to create my own filters by adding words or phrases that I wanted Net Nanny to detect and alert me when used. There is also the option to allow or block specific websites or apps, which can be helpful if you want to prevent your kids from using them, even if it wouldn't be blocked by the general filter.
The Net Nanny parent app, which I was able to download on my Android phone and monitor my child's iOS devices, has a Family Feed which gives real-time updates on activities from all the kids. This made it easy for me to see what apps they're using, or what they're searching on Google, and whether they triggered any alerts.
The YouTube Monitoring feature needs to be improved for it to have any real value. A lot of the videos that my kids watched on the iPad didn't show up on the Family Feed timeline. However, It enforces YouTube parental controls, which blocks inappropriate searches and videos.
I got the Net Nanny plan that includes 5 devices so I could test it out on several devices and took advantage of this great offer that includes a 14-day money-back guarantee.
Monitor Your Kids iOS with Net Nanny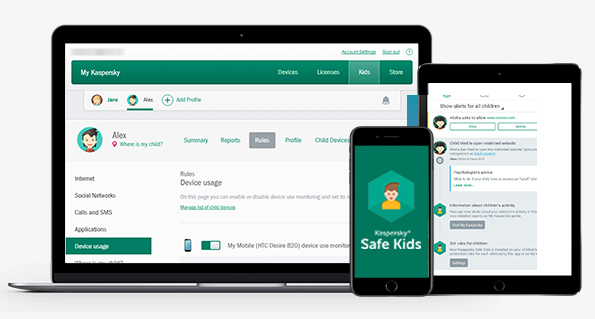 Key Features
Strong web filter
Enforces SafeSearch
GPS Tracking and Geofencing
I found that Kaspersky Safe Kids was really limited when it came to monitoring iOS devices. Some of this is due to the fact that Apple limits monitoring on iOS devices. However, other apps on my list were able to work within the iOS guidelines and still act as an effective tool.
Safe Kids still has a strong web filter, but you can't use Safari. Instead, I had to instruct my kids to use the Safe Kids browser. They didn't report any issues with the browser, which has a sleek design, with a tabbed interface and didn't seem any slower than Safari, Chrome, or Firefox.
I wasn't impressed by the time management tools. When the kids reached their daily limit it couldn't block the device, and while I was able to restrict specific apps — I wasn't able to block an entire category of apps, like Games or Streaming.
If your main goal is a strong web filter, then Safe Kids is a good choice, especially with prices that are tough to beat. If you aren't totally sure whether Safe Kids will give you enough parental control over the kids' iOS device you can try it free for 7-days without using a credit card to register.
Get the Safe Kids Web Filter for iOS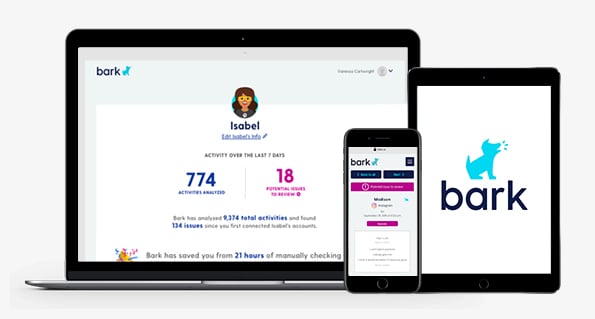 Key Features
Monitors 25+ Social Media networks
Sends detailed alerts to the parent dashboard
Recognizes slang, emoji and triggering keywords
With a recent update that added a web filter and screen time management for iPhones and iPads, Bark quickly became one of my favorite parental control apps.
The main focus of the app is still monitoring social media networks. I was able to connect Bark with over 30 social media apps on iOS and it scans all the content, and sends alerts when it finds posts, messages, comments, or videos that deal with sex, drugs, violence, alcohol, weapons, suicide, and more.
Unlike Bark for Android, the iOS app can't fully monitor some of the apps. For example, while it can monitor videos and pictures on Instagram, it can't access DMs and searches.
Bark found a unique way to get around Apple's strict monitoring guidelines. The app records everything that your child does on their iOS device, and then, every 6 hours it will upload a backup to the Bark for Windows or Bark for Mac app, as long as you're on the same wifi network. Once the upload is complete, Bark scans the day's data and sends an alert or warning if it detects anything that it deems inappropriate. While you don't get the information in real-time, I still thought it was a good workaround.
Bark has two plans, one only has the monitoring and time management features, and the other is all-inclusive. I found a great deal when I tested Bark by accessing its hidden deals page and got a great price for the all-inclusive package, which came with a 7-day no questions asked money-back guarantee.
Monitor Your Kids iOS Devices with Bark!
How I Tested and Ranked the Best Parental Control Apps for iOS
I've tested more than 50 parental control apps, and have very high standards when it comes to keeping my kids safe online.
Here's what I require from a parental control app before I'll recommend it:
Do the filters work and can my kids bypass them? One of the biggest issues that parental control apps are having with the new regulations is working with Safari or coming up with an alternative option to enforce the web filters. Many apps tried forcing downloads of its own web browser – these were often poorly designed, slow, and there was no way to prevent my kids from going back to Safari.Thankfully, I found several programs that either work with Safari or have good alternative browsers that my kids didn't mind using.
Time Management Tools: With screen time addiction being such a big issue, it was extremely important to find an app that has flexible scheduling and daily limit options. This was a little more difficult to find on iOS devices than it was with Android because Apple doesn't want to give apps the power to block an iPhone or iPad. That being said, there were a few apps that can partially block iOS devices and this helped their ranking.
Ease of Use: I didn't want any app that required jailbreaking or hacking the iPhone and iPad. Ideally, all apps were found in the App Store and the download was easy.I was looking for a program that was easy for a non-iOS user like myself to install and manage. Extra points were given for apps that worked with multiple platforms so that I could download the parent app on my Android and Windows devices and manage Dashboard from there.
Customer Support: I had a lot of questions for the customer support teams, mostly regarding whether a feature that was listed on the website works on the iPhone or not. I was surprised that several times I had to wait over a week for a response to a ticket, obviously, this hurt their rankings.
FAQ
💰Are there free parental control apps for iOS?
While there are free parental control apps, I wouldn't recommend using them. For the most part, these apps just advertise a free app, but only give you very basic monitoring tools for free. If you want the full version, you'll have to pay anyways. If I saw a fully free program with no premium package, I had to ask myself why a company would offer their service for free. The answer was usually either they shared the data they collected or had ads that would show up on the parent app, which I found really annoying.
🖥Why did Apple place restrictions on parental control apps?
According to Apple, they were protecting the privacy of its users from intrusive apps. Before the new regulations, the top parental control programs used mobile device management (MDM) applications that gave control of your data to a third party. Apple saw this as a breach of privacy and therefore made companies either remove or make adjustments to the MDM.
However, there is speculation that Apple was just getting rid of the competition so people would have to use its built-in parental controls.
❓If iPhones and iPads have built-in parental controls, why do I need to buy a parental control app?
For all its greatness, Apple isn't in the parental control business. Sure, they have some basic time management tools, but it's nothing when compared to Norton Family or other leading parental control programs.
🔍Isn't using a parental control app just a nice way of saying you're spying on your kids?
I think there is a big distinction between spying and monitoring your children. As parents, it's our job to protect our children which has become even more difficult once they have unlimited access to the internet 24/7. They are susceptible to cyberbullying, can learn about sex, drugs, alcohol, weapons, and pretty much anything else in an uncontrolled environment.
There are spying apps, which can be downloaded to a child's iPhone or iPad without their knowledge through iCloud and monitor everything that happens on the phone. I wouldn't be comfortable using this spy tech unless I felt that my children were in danger or could become a danger to him or herself.
Bottom Line
No one knows your kids quite like their phones. They use it to search for information, talk with their friends, play games, join groups and more. This can be very scary for most parents, no matter how close your relationship is with your children.
And it's a good idea to be open with your kids about why you're putting a parental control device on their iPhone and iPads. This can increase communication and let them know that you aren't spying on them, but looking after them.
The best parental control app I tested is Norton Family. I found a great price on this special page and it comes with a 30-day money-back guarantee. This is perfect if you want to try it out and see how it works with your family. I tested their refund policy and got a refund with no questions asked.
Monitor Your Kids iOS devices with Norton Family
Here Are The Best Parental Control Apps for 2021:
Rank
Provider name
Our score
Price