10 Best Mac Antivirus Software in 2023 (Tested Free & Paid)
Last Updated by Nick Steinberg on February 01, 2023
Finding a trustworthy Mac antivirus is a frustrating experience. Many antivirus brands focus on PC protection and don't put enough care and attention into their macOS software. Worse still, it's often a waste of money as companies don't offer products that actually improve upon Apple's built-in security features. As a MacBook Air owner, this concerns me as hackers are increasingly targeting Mac devices with complex malware.
To save you time and money, I tested and shortlisted the best 10 antiviruses that provide the best protection for Mac computers. I focused on antiviruses that can detect Mac-specific malware, include bonus features you'll actually want to use, and offer affordable plans. Some antivirus packages even provide optimization tools that improve your Mac's performance.
I was most impressed by Intego, which is a macOS-exclusive antivirus with exceptional malware detection rates. It also comes with a wide range of extras like advanced backup tools and optimization features to make your Mac run even better. I highly recommend you try Intego with the 30-day money-back guarantee so it's completely risk-free for you. I tested the money-back guarantee myself and I found it easy to redeem — and the money returned to my account within 2 weeks.
Quick Guide: Top Antiviruses for Mac in 2023 (Free & Paid)
10 Best Antivirus Software for Mac (Tested February 2023)
Key Features:
Powerful antivirus engine protects you against Mac-specific threats
Bonus features include Mac optimization tools, parental controls, and cloud backup
App available for macOS 10.12 and later
Customer assistance available over phone and live chat
30-day money-back guarantee
Intego stands out as the #1 antivirus for Mac. It has powerful malware detection and an excellent suite of optimization tools that actually improved my Mac's overall performance. It's also one of the few brands designed specifically for macOS, so it actually enhances and supports Apple's in-built security features — which other antiviruses don't do.
During tests, Intego's VirusBarrier detected 100% of the 300+ malware samples my team and I used. This included all Windows malware. I was also impressed that Intego didn't register any false positives. Inaccurately identifying safe files as harmful ones is a common issue found in antivirus software, so the fact Intego had no issue with this tells me that the company's quality standards are very high.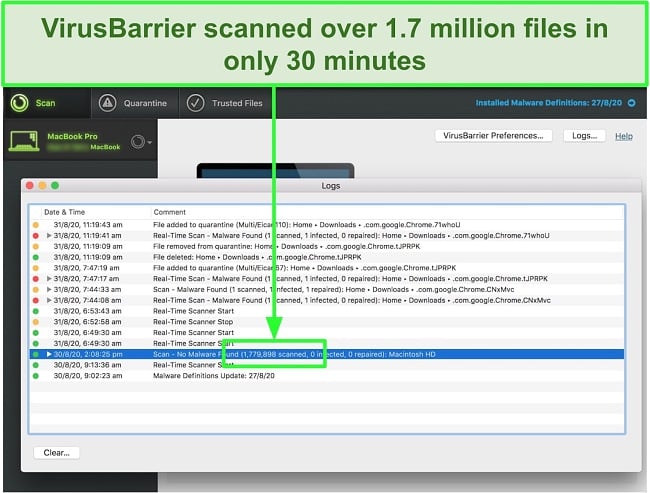 Intego offers full scan and quick scan options, as well as the ability to set custom or scheduled scans. No matter which you use, Intego's scans are impressively fast and thorough. This is due in part to Intego's file-caching technology, which skips over previously scanned files it's already identified as safe. The quick scan took just 2 minutes to scan 50,000+ files, while the full scan analyzed over 1.7 million files in about 30 minutes. The full scan time in particular is much faster than some other antiviruses I've used — Avast took nearly twice as long to do the same thing!
In terms of features, Intego doesn't offer quite as many as competitors like Norton or McAfee, but is made up for with a quality over quantity approach. The 2-way network firewall, NetBarrier, goes above and beyond macOS's built-in firewall by monitoring both incoming and outgoing web traffic for malicious activity. Although many antiviruses come packaged with a firewall, few offer the level of 2-way protection that Intego does.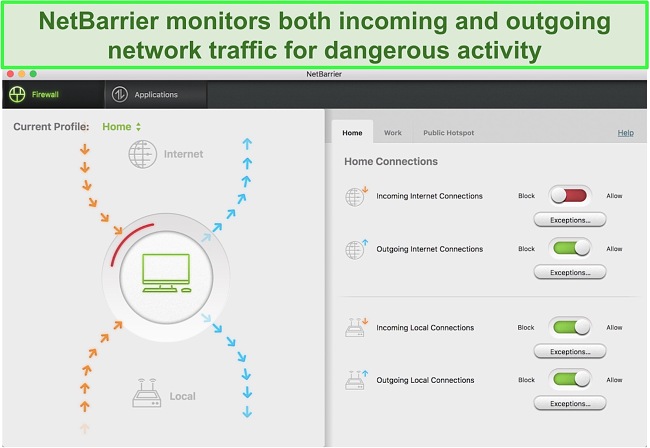 In addition to the firewall, Intego's Mac Washing Machine and Personal Backup stand out as its best features. Mac Washing Machine is a set of optimization tools to help make your Mac run faster by removing junk files that slow down your Mac. My first scan took only 2 minutes and I was able to delete over 2GB of unnecessary files. While Mac Washing Machine's performance benefits are useful, I was most surprised by its Organize mode. The app automatically organized my desktop and dock, and even alerted me to the apps I use most often so I could drag them right to my Dock for easier access.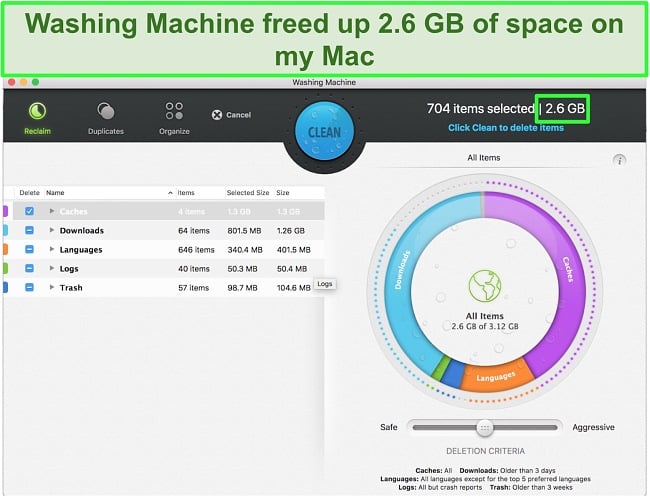 Intego has a bunch of Mac-specific plans. Mac Internet Security is Intego's most basic plan. It's an ideal option if you only need core antivirus and network protection. You can select to use it on 1, 3, or 5 devices. Your best value plan, however, is the Mac premium bundle. It comes with everything the basic plan does, plus the Mac Washing Machine, backup tools, and the content barrier app.
For families, you can also get the ContentBarrier X9 plan. It solely gives you access to the ContentBarrier app. You can use its parental control features to protect your child online on 1 or 3 devices. If you are only looking to improve your mac's performance, Intego also offers its Mac Washing Machine as a once-off payment.
If you're serious about protecting your Mac, Intego is the best antivirus option you'll find. The company's software was built from the ground-up to protect Apple products, has near-perfect malware detection rates, and includes features such as Mac Washing Machine and Personal Backup that actually improve upon the built-in tools found in macOS. I recommend you try Intego for 30 days using its money-back guarantee. This way, you'll get to test out its features risk-free to decide for yourself if it's worth the money.
Key Features:
Blocks and removes all types of malware (including ransomware and phishing scams)
Includes cloud backup, parental controls, VPN, password manager, and more
Works on macOS 10.10 or later
Support available over live chat and phone
60-day money-back guarantee
Norton is one of the best antiviruses you can get on Mac, with a powerful anti-malware engine and a generous suite of extra features. While it's missing a few tools that are curiously only offered on its Windows version, Norton 360 is still an excellent antivirus for keeping your Mac safe.
I found Norton's virus scan capabilities just as effective and fast as Intego's. Both its quick and full scans had scanning times on par with Intego and managed to detect 100% of malware threats. Like Intego, Norton uses file-caching technology to skip over previously scanned files and save time, which helps explain its fast and thorough scan times. Norton also didn't register any false positives during testing, but it's important to keep in mind that your experience may differ from our's.
Norton excels at passive protection — meaning you don't need to waste time manually configuring security settings. One of the best examples of this is Norton's firewall, which automatically blocks suspicious programs and has a fully integrated whitelist of safe programs and websites. I also found Norton's Secure VPN to be one of the better VPNs offered by antivirus providers, as it offers L2TP/IPsec encryption to hide your data and is reliably able to unblock streaming platforms like Netflix US and HBO Max.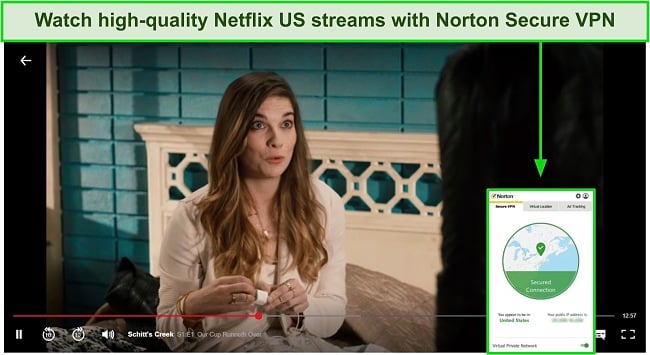 My only major issue with Norton is that the Mac version lacks some features found on its PC counterpart. Normally, this wouldn't be much of an issue, as Mac antiviruses tend to not be as feature-rich as Windows software. But Norton's Mac dashboard shows features that aren't actually accessible, such as cloud backup and parental controls. Even though the software itself is still excellent, it's hard not to feel like Mac is a bit of an afterthought for Norton with these locked-off features.
That said, Norton still offers great value no matter which plan you choose. If you're only looking for Mac protection, Norton 360 Standard covers 1 device (or 3 devices if you are in the US) but includes a number of premium features, including Secure VPN, device optimization tools, and web protection.
Upgrading to Norton 360 Deluxe adds support for 5 devices, which is a good option if you want additional security for other computers and mobile devices in your home. Whichever plan you choose, you can try Norton 360 risk-free for 60 days using its money-back guarantee.
Key Features:
Excellent defense against ransomware, spyware, adware, and more
Comes with a VPN, Mac cleanup tools, ad blocker, password manager, and more
Supports macOS 10.9 or later
Get help over live chat, email or phone
30-day money-back guarantee
A relative newcomer to the internet security market, TotalAV has quickly established itself as one of the best overall antivirus options available for Windows. I was curious to see if that pedigree extends to its macOS software and found that TotalAV is an excellent option for protecting your Mac. You'll get a powerful antivirus engine, a very easy-to-use app, and a suite of optimization features that give cluttered Macs a much-needed performance boost.
TotalAV achieved 100% malware detection in scanning tests and 99% detection in real-time protection. While this is slightly below the marks hit by Intego and Norton, TotalAV's results are still very impressive and put it among the most secure antiviruses you can get. I also appreciated that TotalAV's virus scans provide detailed summary reports upon completion. You'll not only be alerted to any malware or PUPs (potentially unwanted programs), but also tracking cookies, duplicate files, and programs that may be slowing down your system startup.
In addition to its excellent malware scanner, TotalAV's Mac app comes with the following features:
Web Shield
Browser Cleaner & Manager
Optimization Tools
VPN (Internet Security & Total Security plans)
Ad Blocker (Total Security only)
Secure Password Vault (Total Security only)
Overall, I was impressed with TotalAV's suite of extras. The Web Shield tool successfully blocked all the phishing links I tried and is great supplemental security to Chrome, Firefox, and Safari's built-in phishing protections. Meanwhile, Browser Cleanup provides an easy way to manage your online privacy by clearing all your cookies at once.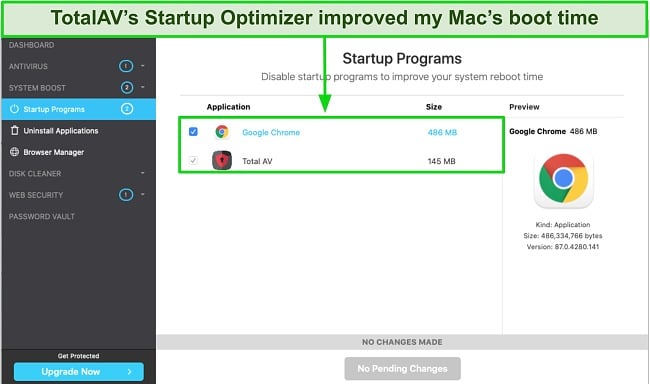 TotalAV's optimization tools are by far its best extra feature, as I saw noticeable speed improvements on my Mac after using them. The kit includes a junk file remover, startup manager, application uninstaller, and duplicate file finder. I found each tool to be fast and thorough, particularly the startup manager. It quickly identified several pesky apps and successfully prevented them from starting up the next time I booted my Mac.
Finally, TotalAV's Ad Blocker and Secure Password Vault are only available in its most expensive Total Security plan. That said, I found both of these features to be pretty basic and not worth the additional cost. While the Password Vault is a decent tool if you don't currently use a password management system, it lacks security features I consider essential such as 2-factor authentication and biometric login. You also won't be able to access it from your iOS or Android device, which is a dealbreaker in my opinion.
TotalAV's Antivirus Pro package covers 3 devices and includes the antivirus scanner and web protections. The Internet Security package covers 5 devices and also includes the VPN. And the Total Security package covers 6 devices and adds an ad blocker and a password manager.
While TotalAV does offer a free version for Mac, it's only a good option if you're looking for basic security. The lack of real-time protection leaves your Mac vulnerable and you'll only have very limited access to the optimization tools (2 day free trial). Instead, I recommend giving TotalAV Antivirus Pro a try. It's the most affordable plan and includes TotalAV's best features, including real-time protection, ransomware security, and the full suite of optimization tools. You can test TotalAV for yourself risk-free using its 30-day money-back guarantee. I was easily able to get a refund by emailing customer support and had my money back within 5 days of confirmation.
Key Features:
Strong malware detection rates in real-time and during scans
Includes Time Machine backup, adware blocker, VPN, parental controls, and more
Available on macOS 10.10 and later
Live chat, email, and phone support
30-day money-back guarantee
Bitdefender provides one of the best free Mac antiviruses on the market, but I was pleased to find that its paid package is a major improvement over the free version and well worth the cost. You'll not only get one of the best anti-malware engines available on Mac, but powerful anti-ransomware software that analyzes and securely backs up at-risk files.
Powered by an advanced anti-malware engine that uses artificial intelligence to stop threats before they can harm your system, Bitdefender achieved a 100% detection rate in scan tests. Its real-time protection also caught 99.7% of threats, which means that it's near-perfect at catching zero-day malware.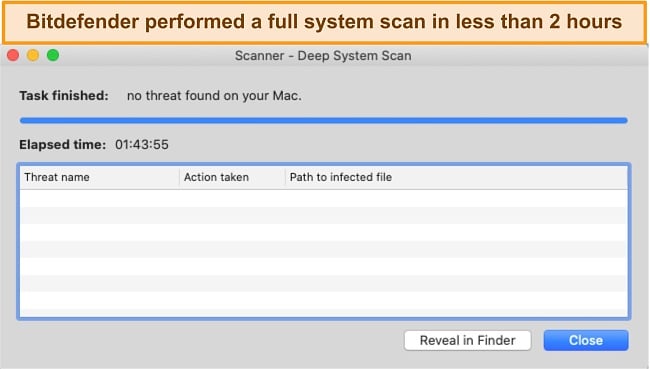 I was also impressed with Bitdefender's anti-ransomware Remediation tool. It successfully identified all test files and securely backed them up to a back-up drive. If you're a Time Machine user, you'll be happy to know that Bitdefender prevents your backup files from being encrypted by ransomware. This means that in the event your Mac is infected with ransomware, you could use Time Machine to restore your system to a safe state.
While I appreciate that Bitdefender focuses on a core of useful features, I was disappointed with its VPN — especially since it's one of only a handful of extras Bitdefender includes in its paid plan. Typically, antivirus providers that offer both free and paid plans will offer a heavily restricted version of their VPN service to just free users and give paid subscribers access to the full version.
Unfortunately, Bitdefender doesn't follow this model, as a Bitdefender Antivirus for Mac subscription has a daily data limit cap of 200MB. This makes the Bitdefender's VPN all-but-useless, as 200MB is barely enough for basic browsing. Bitdefender does offer an unlimited version of its VPN as a separate premium subscription — but I don't think it's worth the money. If you really need an unlimited VPN with your antivirus software, Norton's Secure VPN has no data caps on any of its plans.
VPN issues aside, Bitdefender is still a top-tier antivirus solution for Macs due to its near-flawless malware detection, low impact on system performance, and extra features that enhance your overall security, such as anti-ransomware backups, adware blocking, and web security tools.
While Bitdefender does offer a free version, it's a barebones app that only includes virus scanning — you won't get real-time protection, anti-ransomware tools, or any other advanced macOS security features. Fortunately, you can still try Bitdefender Antivirus free for 30 days using its money-back guarantee. This way, you can test all its features out for yourself first before deciding if it's worth paying for.
Try Bitdefender risk-free on Mac!
Key Features:
Successfully flags and removes all malware on Mac
Includes a VPN, firewall, file shredder, password manager, parental controls, and more
Works on macOS 10.12 and later
Customer support over live chat and phone
30-day money-back guarantee
McAfee Total Protection for Mac provides effective real-time malware protection and it's an excellent bargain for families with 10 device licenses available. McAfee uses a technology called Global Threat Intelligence system to analyze existing malware and predict future threats, so I was curious to see how it would perform. I'm pleased to say McAfee exceeded my expectations with its scans and real-time protection detecting 100% of malware in tests.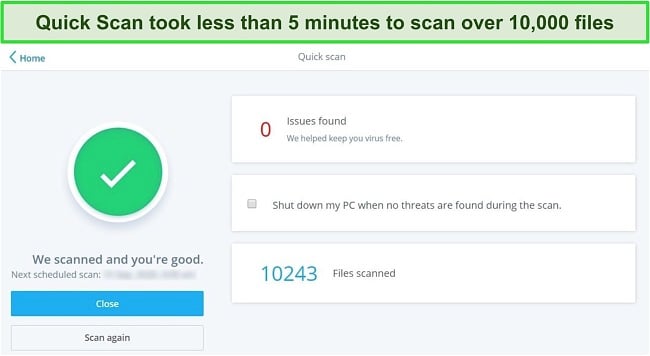 McAfee's bonus features are primarily geared toward complimenting its core antivirus engine, including:
Network firewall
Anti-phishing
Web protection tools (includes ransomware protection)
VPN
ID theft protection (only available in US, UK, and Ireland)
McAfee's firewall is a standout feature, as it's geared to newcomers and advanced users alike. Its Intrusion Detection and Net Guard technologies are unique features that alert you to potential hackers and flag suspicious network connections, respectively. The default settings are already a step up over macOS' built-in firewall, but you can also tweak a number of settings if you're so inclined.
The other main feature that's definitely worth your time is McAfee's Safe Connect VPN. I had average speeds of 100+MBPS when connected to servers in Canada, the US, and UK, and was able to unblock Netflix in those same countries. Unfortunately, McAfee's VPN doesn't reliably unblock streaming services like the best standalone VPNs can, as I was unable to access Disney+ or Amazon Prime. But if you value browsing privacy over streaming versatility, McAfee is still a very good VPN option thanks to its fast servers and bank-grade encryption.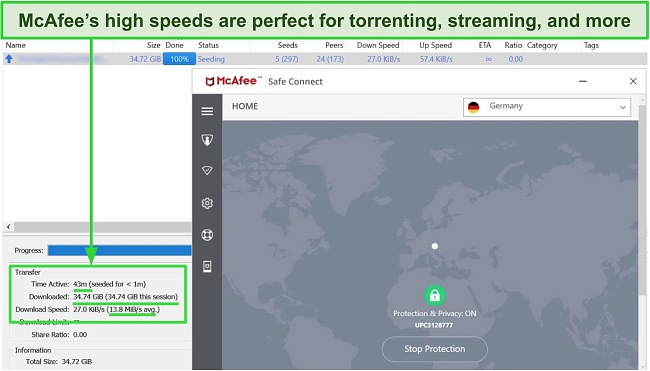 McAfee's plans are structured around how many devices you want to protect. The Single Device, Multi-Device, and Family plans are all compatible with Mac and come with real-time protection, a home security network to secure your firewall and block hackers, anti-phishing and anti-fraud protection, and a password manager.
McAfee gives you extra features if you choose automatic renewal. So if you want a VPN and its Identity Theft tool (for US users only) then I recommend selecting automatic renewal which you can cancel later.
While it lacks the bells and whistles of providers like Intego and Norton, McAfee is an easy antivirus to recommend — especially if you're looking for one bundled with an excellent VPN. I was also impressed with its trial period, as you can try McAfee risk-free with its 60-day money back guarantee. While you'll have to sign up for automatic renewal to access the full 60 day trial, it's very easy to cancel. I was able to cancel my subscription using McAfee's phone support and had the money back in my account in 7 working days.
Key Features:
Quality antivirus engine defends Mac against ransomware and spyware
Comes with VPN, password manager, Mac optimization tools, and more
Supports macOS 10.12 and later
Help available via email and phone
Paid plans include 30-day money-back guarantee
Avira is the #1 free antivirus software for Mac thanks to its inclusion of real-time and ransomware protection. However, no free antivirus solution is perfect. As good as Avira's free plan is, it lacks full access to the company's optimization features, tracker remover, and customer support — all of which are only available on a paid plan.
In my team's malware sample test, Avira achieved a near-perfect protection rate of 99.96%, which puts it among the best antivirus software on the market. Avira uses integrated cloud technology to help achieve these impressive security rates, which keeps its real-time scanner up-to-date on the latest threats.
Much like TotalAV's scanner, Avira's Smart Scan looks for ways to improve your Mac's overall performance in addition to checking for malware. It alerted me to several privacy and performance issues on my Mac and quickly cleaned up over 4GB of junk files and tracking cookies. While the free version lets you fix some of these issues, you can only execute all of Avira's privacy and performance suggestions with a paid subscription.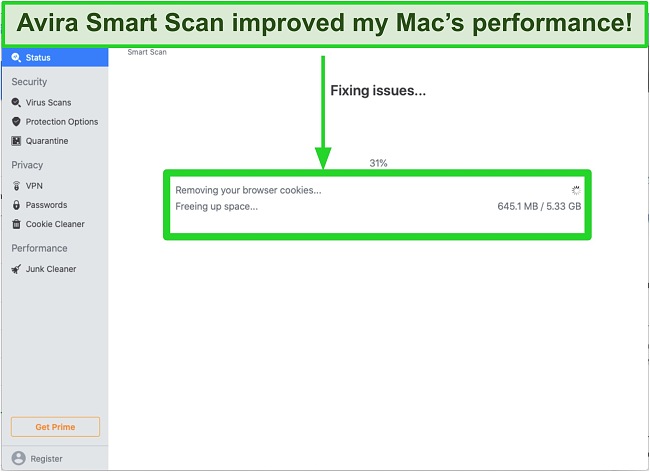 One of my favorite Avira features is Safe Shopping, a browser extension that not only protects your online shopping, but includes anti-phishing and anti-tracker technologies. After installing Safe Shopping on Google Chrome (it's also available on Firefox, Opera, and Microsoft Edge), the extension successfully blocked ads, trackers, and other malicious activities across a wide range of URLs. While I would like to see Avira introduce support for Safari, Safe Shopping is still a great free tool that I highly recommend if you want a safer, more private browsing experience.
Another feature you'll definitely want to check out is Avira's password manager. It goes a step beyond many free offerings from other antivirus providers by giving users tools like 2-factor authentication and the ability to store an unlimited number of passwords. Upgrading to Password Manager Pro will give you upgrades like the ability to check for weak or reused passwords, and notifications if one of your online accounts has been hacked.
The feature I'm most conflicted about is Avira's VPN. I like that Avira gives users on its free plan access to it, as I found the VPN provides a fast connection and good privacy features with no IP or DNS leaks. However, the 500MB monthly data limit is much too restrictive to be of much use, as it's simply not enough to stream video content. While you can access the full unlimited version with a subscription to Avira's most expensive Prime plan, I don't think the VPN is enough on its own to upgrade for.
Avira is the best free antivirus you can find for Mac, but it's paid plans are also worth a look. That said, I don't think the top-tier Avira Prime plan is worth the extra cost. Instead, I recommend the Internet Security bundle, which offers support for up to 5 devices and access to every Avira feature but the unlimited VPN. You can try Avira Internet Security free for 30 days using its money-back guarantee to see if it really does outshine Avira's free plan.
Key Features:
Top-tier malware scanner protects Mac in real-time
Includes VPN, webcam protection, parental controls, and more
Works on macOS 10.13 or later
Customer support via live chat and email
30-day money-back guarantee
Kaspersky's Internet Security for Mac bundle is a solid choice for antivirus protection. It has a strong antivirus engine and a handful of features that are somewhat uncommon for Mac antiviruses. While Kaspersky can't quite compete with competitors like Intego, Norton, and McAfee on price and feature depth, it's still a very good option for protecting your Mac.
Kaspersky detected 99.7% of my team's malware samples discovered in the 4 weeks preceding testing, which is a high mark for any antivirus to achieve. That said, I was most impressed with how accurate Kaspersky's detection is, as it only registered 3 false positives — far below the industry standard. I was also surprised to find that Kaspersky had a low impact on my system performance, as I've seen mixed reactions to the software's performance online. I only noticed a slowdown of 8.5% compared to normal, which is nearly 3 times less than the industry average.
Kaspersky is practically overloaded with features on Windows, but only some have been carried over to its Mac software. These include:
Encrypted browser to protect online shopping
Webcam protection
Phishing protection
VPN (300MB per day)
Kaspersky's Safe Money works similarly to Avira's Safe Shopping tool, giving you access to a secure browser that protects your online payments from hackers. This is ideal if you frequently make transactions or do banking online and want an extra layer of protection. I also really liked Kaspersky's webcam protection, as it's hard to find Mac antiviruses that include such a feature.
The webcam tool lets you see which applications have access to your Mac's webcam and gives you the option of banning them. Cybercriminals can easily take over your webcam if the right malware gets installed on your Mac, so it's useful being able to monitor this often overlooked security vulnerability.
One potential issue with Kaspersky you should be aware of is that it collects user data. While this does raise privacy concerns, it's easy to opt-out and Kaspersky uses the data to help improve its Cloud Protection infrastructure. In fact, Kaspersky's strong anti-phishing technology is powered by these cloud services. Although I'm wary of any company that collects user data, I've found no evidence that Kaspersky puts your privacy at risk with its practices.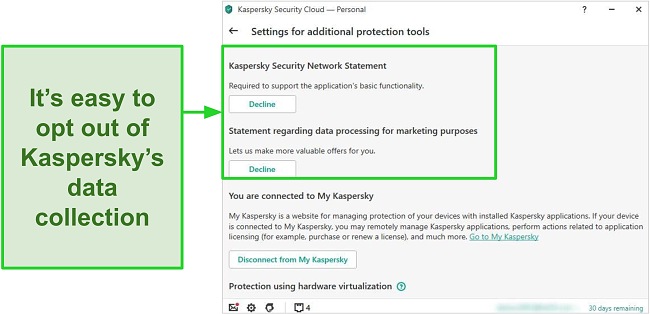 Rounding out Kaspersky's feature list is its Secure Connection VPN. Although it's powered by Hotspot Shield, a trusted and high-performing VPN provider, I'm disappointed with Kaspersky's VPN overall. The 300MB daily data cap is my biggest issue, as I don't believe any VPN service that charges money should restrict your usage. You're better off going with Norton or another antivirus provider that has an uncapped VPN if having one is a requirement for you.
Although I'm disappointed that Kaspersky doesn't offer as many extras on Mac as it does on Windows, I can't deny that it's still a good choice for macOS. The shopping and webcam protections compliment the core malware scanner well and having access to a VPN — even a limited one — is better than nothing. If you want to test out its Mac security for yourself, you can try Kaspersky risk-free for 30 days using its money-back guarantee.
Try Kaspersky risk-free on Mac!
Key Features:
Blocks viruses, phishing scams, ransomware and more on Mac
Comes with parental controls, remote management tool, and webcam protection
App supports macOS 10.14 or later
Live chat and email support available
30-day money-back guarantee
Sophos is a rather unique Mac antivirus engine that features a remote management dashboard to cut down on its overall performance impact. Fortunately, it's also a very strong antivirus with impressive malware detection and one of the best free plans on the market. That said, if you want to access important features like ransomware protection and the ability to stop cybercriminals from accessing your Mac's webcam and microphone, you may want to look into Sophos Premium instead.
I was impressed with Sophos' scanning test results, as it detected 100% of mac-specific malware and 98% of overall malware threats. While these scores fall short of the protection level offered by top Mac antiviruses like Intego and McAfee, one advantage that Sophos has over its competitors is its cloud-based management platform. Sophos had next-to-no impact on my Mac's performance, even while performing full system scans!
In tests, Sophos detected 100% of mac-specific malware and 98% of overall malware threats. Sophos uses Artificial Intelligence Threat Detection to continually update its online threat database, ensuring that you're always protected against the latest malware. On my Mac, scans took about 6 minutes to complete. While running scans manually just takes a few clicks, you can schedule them to run weekly or even daily. Combined with its real-time detection capabilities, I appreciated how automated Sophos' security functions are.
In addition to malware scans, Sophos includes the following extra features:
Parental controls
Web protection
Ransomware protection (Premium only)
Privacy Protection (Premium only)
Remote management for up to 10 devices (Premium only)
Sophos' parental controls allow you to easily set up content censoring based on a variety of criteria, such as gambling or adult websites. While easy-to-use, the feature is a bit basic and doesn't really improve on your Mac's built-in parental controls. I was more impressed by Sophos' Web Protection settings, which prevent you from visiting websites known to host malware. It will also check the "download reputation" of every file you download, which basically means that you'll receive a warning any time you download a file that Sophos has flagged as potentially containing malware.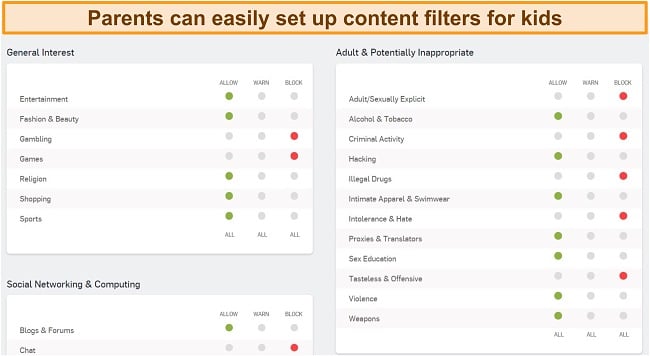 Although Sophos has a very good free antivirus, it doesn't offer the same level of protection unless you use its premium plan. The main reason for this is the free plan lacks ransomware protection, which I consider an essential component of any security software. You'll also gain access to privacy tools that let you protect your webcam and microphone from being spied on, as well as coverage for up to 10 devices. To see if these upgrades are worth your time, I recommend you try Sophos Premium free for 30 days using its money-back guarantee.
Key Features:
Defends Mac against ransomware, spyware, adware and more
Comes with a bonus VPN
Available on macOS 10.10 or later
Live chat, email, and phone support for customers
30-day money-back guarantee
Panda is a top-rated antivirus on Windows, but much of its value comes from the fact it offers a very good free plan. Unfortunately, Panda doesn't have free software for Mac users. That said, it's still a solid antivirus that offers good protection against mac-specific malware — if you can put up with a few minor annoyances.
I was pleased to find Panda performed well in tests, catching 99.7% of malware samples. This is a high mark that falls just below the best Mac antiviruses like Intego. While I'm a little disappointed in the slow speed of Panda's full scan — it took well over 2 hours to finish on my Mac — I don't think this is a dealbreaker given the high detection scores Panda achieves.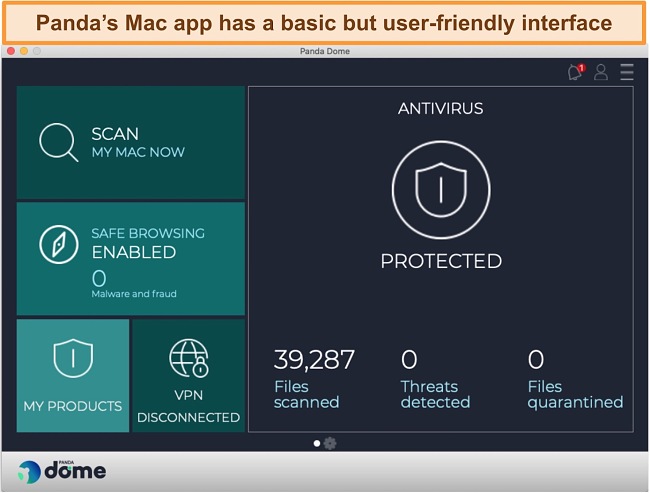 While Panda is a good option if you're only interested in core antivirus protections like virus scans, it's a relatively barebones security package overall. The lowest price plan, Panda Essential for Mac, only offers real-time protection, anti-phishing, and a VPN restricted to 150MB of daily data. You also can't choose a server to connect to, as Panda automatically connects you to the server that's closest to your location.
Factor in the slow server speeds and the fact that Panda's VPN doesn't unblock geo-restricted content like Netflix, and I don't see any reason to upgrade to Panda Premium for Mac. You're better off sticking to the Essential plan, as Premium only adds unlimited browsing data for the VPN and coverage for an unlimited number of devices. Fortunately, all Panda plans come with a money-back guarantee, so you can try Panda risk-free for 30 days.
Key Features:
Blocks ransomware, spyware, and other malicious software targeting Mac
Includes webcam/microphone protection and Pay Guard feature
Works on macOS 10.14 or later
Customer support via live chat, email and phone
30-day money-back guarantee
Trend Micro scored well in malware tests and offers a fair number of security tools like a safe browsing feature and ransomware protection for a price that's in line with most competitors. Unfortunately, I experienced noticeable slowdown while using it and was disappointed in the low number of features included.
In tests, Trend Micro's malware protection stopped 99.5% of Mac-specific samples and successfully detected 99% of Windows malware. While this puts it a step behind a number of antiviruses on this list, I was still impressed with Trend Micro's overall antivirus protection and felt safe using it as a security utility on my Mac.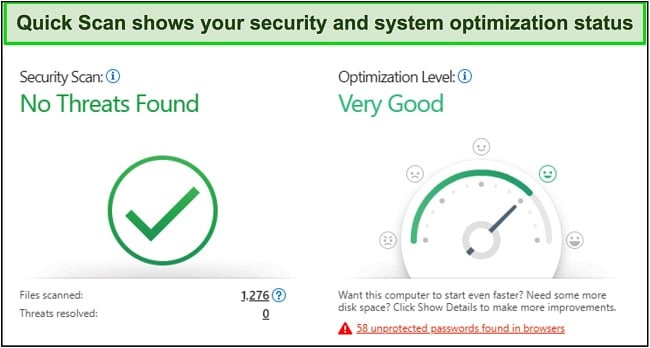 I appreciate when an antivirus has a minimal performance impact on my Mac but unfortunately, I can't say this is the case for Trend Micro. While using it, I saw an 11% drop in performance while using other applications and a massive 26% drop when trying to install a different program. If you're a Mac user who values having antivirus software that can run in the background without giving your system a performance hit, you may want to think twice about installing Trend Micro.
On the feature front, Trend Micro is somewhat limited. I'm happy to see it includes tools like web protections for automatically blocking suspicious websites and webcam protection, but I didn't find these to be improvements over what competitors offer. In fact, the webcam protection's functionality leaves much to be desired. You'll get a pop-up notification when a program accesses your camera or microphone, but the notifications don't tell you which program performed the intrusion. This makes the feature all but useless in my opinion, as there's no way to tell whether a legitimate or harmful program is accessing your Mac's hardware.
Even taking its issues into account, Trend Micro is a fine Mac antivirus that I think is worth checking out if you want a no-frills, straightforward software that protects you from Windows and Mac-specific malware alike. Your experience may differ from mine, so I recommend you try Trend Micro risk-free by using its 30 day money-back guarantee. This way, you can see if it's the right fit for your needs without having to commit to a paid plan.
Try Trend-Micro risk-free on Mac!
Mac Antivirus Programs That Didn't Make the List
Airo
Airo is a Mac-exclusive antivirus with excellent malware detection rates. However, I'd advise caution when using its service. My team and I tested Airo for over a month but during this time, Airo's product and pricing model kept changing. On top of that, all changes were poorly advertised. The only way to understand what Airo offered was to contact the customer support team. This doesn't give me much confidence in the company's stability or transparency — not ideal when an antivirus is meant to be a trustworthy line of defense that keeps you safe.
Avast and AVG
Avast and its subsidiary AVG are popular free antivirus products, but I can't recommend either of them. Unfortunately, it was discovered that Avast had sold millions of its users' private browsing data to third-party companies. Although Avast shut down its data-harvesting activities and now allows users to opt-out of data collection, I'm still highly skeptical about the company's ethics. I don't think it's worth compromising your privacy when there are better antiviruses for Mac to choose from.
BullGuard
BullGuard is an excellent antivirus for Windows, but test results for Mac are lackluster. While the Mac app's core malware protection is quite good, it's missing almost nearly every feature that's available on the PC version.
Comparison Table: 2023's Best Antiviruses for Mac
How I Tested and Ranked the Best Mac Antiviruses in 2023
I tested a range of different antivirus software packages to find the best ones to use on Mac computers. I used my MacBook Air with 1.1 GHz Quad-Core Intel Core i5 processor to examine each antivirus. I looked for:
Powerful antivirus engine — My team and I performed extensive tests to ensure each antivirus not only excelled at detecting malware and other security threats, but could identify Mac-specific malware too.
Extra features — I tested each software's extra features and took their offerings into account when putting together my rankings. These include extras like parental controls, web protection, and firewalls, as well as Mac-specific features like Intego's Time Machine backups.
User-friendly Mac app — I examined how simple each antivirus interface was to navigate for beginner and tech-savvy users alike.
Value for money — There are a number of good free antivirus options for Mac on the market, so I ensured that every antivirus on this list is worth the investment. I took into account the features provided, system performance impact, and whether a free trial or money-back guarantee is available.
FAQ: Best Antivirus Software for Mac in 2023
Which Mac antivirus software is the best?
Based on my team and my tests, Intego is the #1 antivirus software for Mac. It's inexpensive, has an impressive lineup of tools that actually improve upon some of Apple's built-in security features, and is the only antivirus on this list designed specifically for macOS. This means you can trust Intego to protect you against the latest Mac-specific threats. You can try Intego risk-free using its money-back guarantee.
Which is the best free antivirus for Mac?
No free antivirus is perfect but luckily, several of the best Mac antiviruses also offer very good free versions. After thorough tests, I can confidently say that Avira and Sophos stand out as the best free antiviruses you can get for Mac. Both provide excellent malware protection and valuable extra features.
While a free antivirus is a good way to improve your online security without committing to a paid plan, a premium antivirus will go much further in protecting your Mac. If you use your Mac to store important financial documents and other personal data you don't want to fall into the wrong hands, I recommend considering a paid plan from Intego. My team and I rate Intego as the #1 antivirus for Macs thanks to its strong Mac-specific malware protection. You don't need to commit to a plan right away either, as you can try Intego free for 30 days using its money-back guarantee.
Doesn't Mac already have in-built virus protection?
Yes, Mac has very good built-in security against viruses and other threats but it's far from foolproof. These features include:
Anti-theft tools — Lets you track your Mac and iOS devices in the event they're lost or stolen.
App review — Checks the legitimacy of Apple Store apps before you download them.
Gatekeeper — Scans apps for malicious code before launching them.
Web protection — Blocks malicious tracking links and websites while using Safari.
In addition to these features, the Mac operating system is based on a sandboxed architecture that helps protect your system in the event of a malware attack. But even with these safeguards, there are still gaps in the macOS security. A good antivirus software package can help make up for these shortcomings and mitigate the risk of malware, spyware, ransomware, and other threats infecting your Mac.
Don't Put Your Mac at Risk — Protect It With a High-Quality Antivirus
Mac users tend to overlook getting antivirus software, as there's a popular assumption that Macs don't get viruses. Unfortunately, this simply isn't true. While Macs are generally more secure than Windows-based PCs, holes in Apple's built-in security still leave you vulnerable to cybercriminals.
Installing a proven antivirus on your Mac can help cover gaps in your security and give you access to premium features that can improve system optimization and protect your online privacy. If you want the best Mac antivirus software money can buy, Intego is my top pick. It offers powerful real-time protection against Mac-specific malware, excellent backup tools that can help restore lost files in the event of a ransomware attack, and is the only antivirus on this list made exclusively for macOS. You can try Intego for free for 30 days using its money-back guarantee to see if it's worth paying for.
---
Summary — Here Are the Best Antivirus Software for Mac in 2023