Panda

Antivirus Review 2022: Worth All the Flashy Features?
Panda Overview July 2022
Panda has been one of my favorite free antivirus programs for a long time — it offers coveted real-time protection features that other brands make you pay for. So when I had the chance to test its paid plans, I was keen to see if the abundance of extra features Panda offers subscribers are worth the cost.
After extensive testing, I'm disappointed to find that Panda seems to have a "more is better" approach to extra features. Panda has a ton of features that are missing from top-tier services like Norton and TotalAV, but the features themselves aren't always that great.
As such, Panda's paid subscriptions just aren't worth the price for most users. The Free plan excels in real-time protection and detected nearly 100% of malware threats in my tests. It also has some of the better extra features — a VPN, Gaming Mode, and Process Monitor to name a few. If you need extra features like a password manager, parental controls, or device optimization tools, then the paid plan could be a good choice. Otherwise, I recommend sticking with the free plan.
You don't have to take my word for it, though — Panda offers a 30-day free trial and 30-day money-back guarantee with every subscription so you can test the service for 60 days in total. If you're not satisfied with all the extras, you can get a refund and continue using Panda's excellent free plan.
Get Panda risk-free for 60 days!
In a Rush? Here's a Short Summary (1-Minute Read)
Security - 9
I'm impressed with Panda's antivirus technology, especially since it offers the same powerful protection on both its free and paid plans. Panda uses a combination of scanners to secure devices against real-time, ransomware, and phishing threats. In terms of antivirus protection, I find Panda is one of the best on the market.
Virus Scan and Cloud Cleaner — Efficient and Thorough Scanning Options
In independent tests, Panda's free version detected 99.7% of malware discovered in the previous 4 weeks. This score is particularly impressive for free antivirus software — some top services like McAfee and Avira detected fewer threats than Panda in the same tests.
I was also pleased to discover that Panda had fewer falsely flagged files than the industry standard. It only detected 2 files as potentially malicious when they were, in fact, safe. While this is a little inconvenient, I'd rather my antivirus have a few false flags than miss something dangerous.
Panda gives you 3 scan options to choose from:
Critical Areas — Looks at the areas on your device that are the most likely to be attacked by malware, including memory, running processes, and cookies
Full Scan — Examines every file, folder, and program on your device
Custom Scan — Choose which items you want Panda to check for malware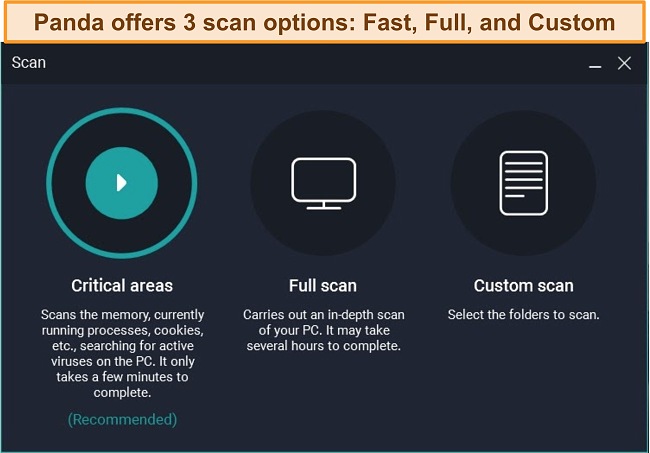 The Critical Areas scan checked over 60,000 items in less than 3 minutes, which I thought was very fast. It discovered a PUP (Potentially Unwanted Program) and sent it to Quarantine for me to look at. I also ran a Full Scan, which took just under an hour to scan over 850,000 items. I expected it to take a bit longer to complete — Panda warned me it could take several hours — but it was still slow compared to other services. By contrast, Norton took only 12 minutes to scan almost 800,000 items.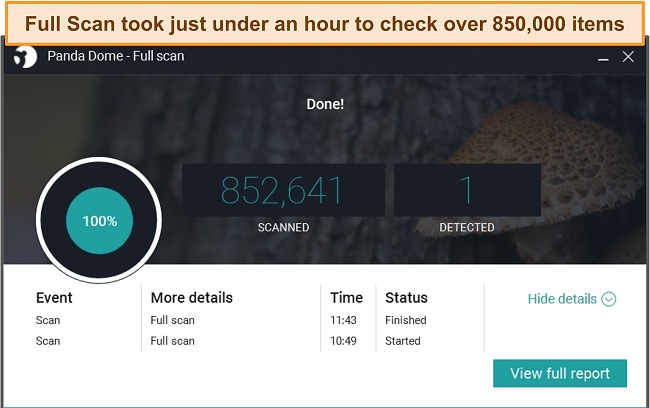 In contrast, I used Panda's scanner on my MacBook Pro and it took nearly 8 hours to complete. This is completely unacceptable — no full scan should take this amount of time. I highly suggest macOS users skip Panda completely and instead consider Intego, Norton, or Avira.
I like that Panda even includes a Cloud Cleaner scan on the free plan (found in the Rescue Kit section on the app). This is an in-depth scan that runs in the cloud, taking up very little CPU power. It performs an advanced scan, finding malware that traditional antivirus plans might miss. It's a great feature if you suspect you may have a virus and want to be extra thorough. I ran the Cloud Cleaner after both the Critical Areas and Full Scan and it detected another PUP, which I chose to delete from my device.
I'd like to see Panda integrate cloud-based scanning as standard, as this would mean you don't have to run 2 separate scans for in-depth detection. Some antivirus plans, like Avira, have cloud scanning available even for its quick scans. This is much more convenient, although Panda's Cloud Cleaner is fast and easy to use.
My computer's performance did slightly slow down with Panda running in the background. When I launched websites, downloaded apps like Microsoft Office and Netflix, or copied files from my computer to an external hard drive, speeds were 45% slower than my standard system performance. This is a big drop — I recommend running scans when you're not actively using your device to prevent annoying slowdown.
Real-Time Protection — Excellent at Detecting New and Emerging Cyberthreats
Panda's real-time protection really impressed me, especially as it's included in its free plan. During tests of over 350 live malicious website URLs, Panda successfully detected and blocked 100% of real-time, zero-day threats. These are threats that are so new, developers haven't had a chance to create defenses against them. What makes this particularly impressive is that Panda's free version scored better results than some top-tier paid plans from providers like Bitdefender and Kaspersky.
The reason Panda's real-time protection is so effective is because it doesn't rely on a database of known malware, like some antivirus services. Instead, it uses a combination of Big Data and Machine Learning to stay at the forefront of malware detection. Big Data is a term for a group of tools designed to analyze large amounts of data efficiently (something that a human couldn't do). Panda's Machine Learning uses this analyzed data to teach itself new behavioral patterns and statistically important information. Working together, these 2 tools help Panda predict new online threats act and block them before they can attack your devices.
Download and Phishing Protection — Effectively Blocks Malicious Files
I'm impressed by how easily Panda blocks downloads containing malicious software. I tried to download several files from EICAR.com, a site that hosts safe files specifically designed for antivirus testing. Panda stopped every attempt — I couldn't get the file onto my devices at all. Oddly, I didn't receive any kind of pop-up notification or alert from Panda to tell me that it had blocked the malicious download. I only discovered the action when I checked the Panda dashboard and saw I had an information alert.

When I attempted to access sites and services known to host malware, there was no indication that Panda was blocking the site. Instead, I was met with a browser page stating that the site couldn't be reached.At first, I thought there was something wrong with my internet connection. Then, I looked deeper into the app and found the Events section in the Antivirus feature. There I could see that Panda had stopped me from visiting sites with malicious software. Although Panda's phishing protection works, I would prefer if it issued pop-up alerts to let me know when it successfully blocks dangerous websites.
Despite its flawed notification system, I was pleased with how effective Panda is at protecting my device from malicious scams. Best of all, download and phishing protection come standard with Panda's free plan.
Ransomware Protection — Excellent Defense Against Ransomware Attacks
Ransomware attacks are on the rise and they're an extremely disruptive online threat. They work by locking you out of your files and devices, with the hackers demanding payment before you regain access — and even if you pay, there's no guarantee you'll get it back.
As such, I expect ransomware protection to be an essential part of my chosen antivirus program. I found that Panda does a great job with this security threat, blocking 100% of known ransomware files. With its excellent real-time protection, you can rest assured that Panda can protect your devices from the latest ransomware threats too.
I was disappointed to find ransomware protection isn't available on Panda's free version, but that's fairly standard for free software. What surprised me is that this feature also isn't available on Panda's Dome Essential plan. If I'm paying for antivirus software, I want comprehensive coverage so it's a shame that it's not included in the cheapest subscription either.
Quarantine — Easily Removes or Restores Suspicious Files
Panda's Quarantine is one of the easiest to use that I've tested. In the Antivirus setting, it's clearly labeled. One click opens the Quarantine in a new window and from there, you can see exactly which files have been deemed suspicious.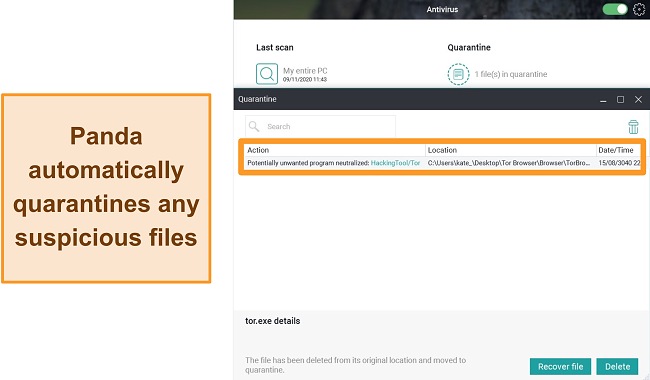 What I like about Panda's Quarantine feature is that after a quick glance, I can see why files were flagged and the action Panda took to protect my device. It also shows me the file's previous location so I'm able to determine its origin.
While Panda will automatically quarantine files, it never automatically deletes them. This means you may have to spend a little time sorting through which files to delete and which to recover if any are falsely flagged. However, it's a relief to know that even if a file is malicious, you can see exactly where it came from to be vigilant in the future.
Firewall — Customizable Protection Based on Location and Network
A solid firewall is a feature every internet-connected device needs and Panda's offering doesn't disappoint. Available on all Panda plans (including the free version!), the firewall protects you from unwanted connections and malicious traffic that may otherwise go unnoticed. I've found the Microsoft Defender firewall is more than adequate to protect my computer, but Panda's firewall goes one step further with customizable levels of security.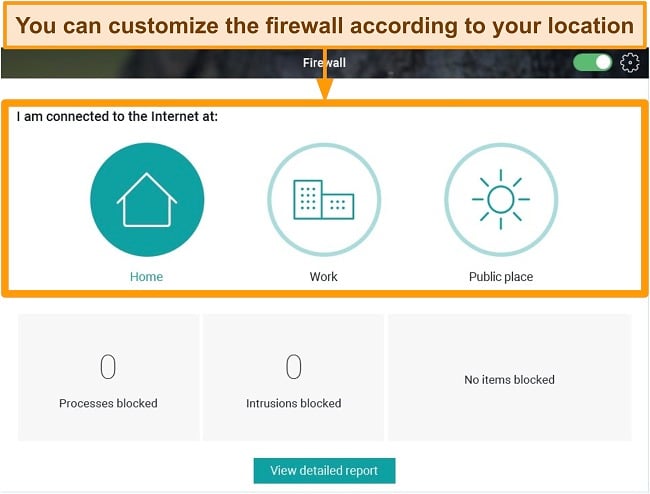 In a single click, you can let Panda know what kind of network you're connected to — from your Home network, which is the most secure, to a notoriously insecure Public network. The less secure the network, the more checks Panda runs on incoming traffic.
You can set up your own configuration in the Firewall Settings if there are programs you want to always let through. The Firewall also works perfectly well without making any changes to it.
Features - 6
Panda's antivirus plans are stuffed full of extra features but unfortunately, most of them are tools you'll never actually need. During my tests, I only found a few features that stood out as truly useful. I'd rather see Panda invest time and effort into having a smaller number of quality features rather than packing its software with mediocre offerings.
Rescue Kit — Cleans Infected Devices and Detects Advanced Malware
The Rescue Kit is a fairly unique feature that I don't see often (even top-quality services like Norton and TotalAV don't include anything like it). The Rescue Kit has 2 functions:
Create a rescue USB drive — Designed for computers so infected with viruses that you can't boot the system
Detect advanced viruses — Downloads the Cloud Cleaner, a deep-scan option that catches viruses traditional antivirus options miss
I found both of the Rescue Kit features useful and very easy to implement. The rescue USB drive took less than a minute to create and the instructions were easy to follow. After creating the rescue drive, I plugged the USB into an old Windows laptop that had been infected with multiple viruses. I was surprised by how well it worked — the rescue USB kit removed all malware and got my laptop working again in less than 20 minutes.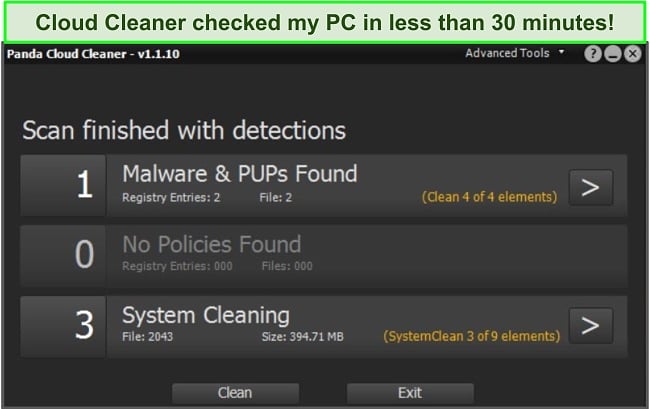 The Cloud Cleaner also helped clean my laptop, identifying 2 PUP (potentially unwanted programs) and restoring almost 400MB of space. The Cloud Cleaner scan took around 30 minutes to run which I thought was fast, considering how thorough the scan is. All in all, I was impressed with Rescue Kit as it restored my laptop in under an hour when multiple other antivirus programs hadn't been able to clean it.
Process Monitor — See All Running Processes and Security Classifications at a Glance
I wasn't sure how useful I'd find an extra Process Monitor since I already use Windows Task Manager. However, the key difference between Panda's Process Monitor and the one I have on my computer is in its Classification heading. At a quick glance, I can see the most recent processes and their security level.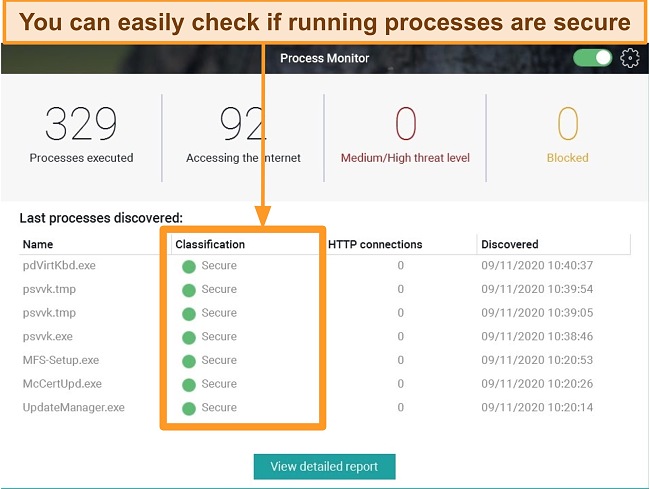 This gave me a great sense of security as I could easily see if any processes I didn't know about were lurking in the background. If Panda considered a process suspicious, I got a pop-up notification alerting me and was able to action the threat (by sending it to Quarantine). If any processes are found to be malicious, Panda blocks them immediately and sends a notification for you to look at. Only the most recent processes are listed but you can click "View detailed report" to see more.
I found myself using Panda's Process Monitor more often than Windows Task Manager just to check how secure running processes were.
Application Control — Provides Highly-Configurable Control Over Apps
Panda's Application Control feature not only gives you increased control over your apps, but enhances overall device and data security.
When Application Control is enabled your device becomes a closed and secure system. Any apps that attempt to install themselves or alter settings are flagged by Panda and you're sent a notification. You choose if that app can run or not, while also being protected against unknown program modifications or sneaky downloads that try to install without you knowing.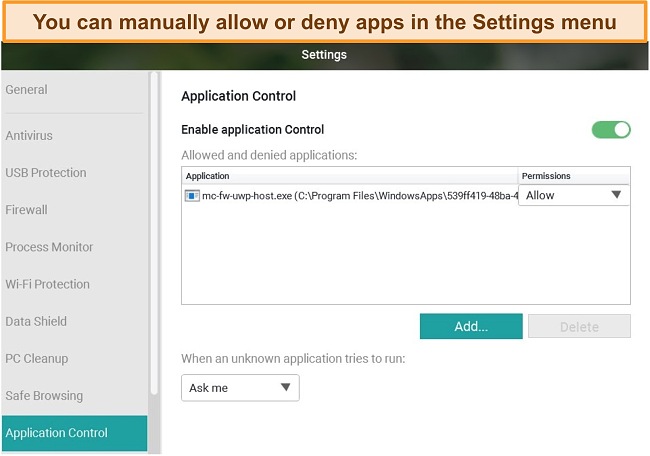 While I know that Panda's antivirus security is top-tier in quality, online threats are always changing. It doesn't hurt to have an extra layer of local security and considering many of Panda's extra features are redundant, the Application Control is a valuable addition.
Password Manager — Time-Consuming Setup but Works Well Once Installed
A password manager should be simple to download, install, and use. Unfortunately, I found the whole process fiddly and tedious. What Panda doesn't tell you is that you need to sign up for a Panda Dome Passwords account at the start. Once you've created an account, you'll have full access to the Password Manager feature in the app.
Unfortunately, I had to manually input all of my passwords. This surprised me since both Norton and Avira automatically populate login credentials based on existing autosaved information. The good news is that after adding my login details, I didn't have any further issues using Panda's Password Manager.
VPN — Strong Encryption and Leak Protection but Limited Functionality
A VPN is a great security tool designed to mask your online activity and keep your true location secret. When connected to a VPN server, all of your data passes through the server before it gets to the website or service you want to access. You can make it seem like your device is located in a different country and bypass geographical content restrictions.
Panda's VPN is operated by Hotspot Shield, one of the top-quality VPN services on the market. Having used Hotspot Shield before, I was confident that Panda's VPN would secure my connection with the highest level encryption (256-AES bit) and that my IP address wouldn't leak. I ran several tests and found that I was right.

My internet speeds were fast while connected, even to distant servers in the US and Japan. They never dropped below 50Mbps which is fast enough to browse online, stream movies, and download files without any lag or buffering. I was even able to get around Netflix's notoriously tough content blocks to stream its US content library!
That being said, unless you're on the Premium plan, Panda's VPN limits you to just 150MB of data per day — for reference, streaming on Netflix in SD for an hour uses around 700MB. This limitation makes it a good tool for anonymous, secure online activity (like banking and browsing) but not for streaming or downloading.
Panda's VPN is also limited in terms of locations. The Premium version has 20 locations to choose from, whereas Hotspot Shield has over 1,800 servers in more than 80 countries. And if you're using any other plan, you can only connect to the server closest to your physical location. I found switching servers was annoying as I had to manually disconnect from one to choose another. Other VPN services allow you to pick a different server while you're still connected which is much more convenient.
Another issue I found is that Panda's VPN lacks a kill switch, which is essential for maintaining data security if the connection drops. Given the limitations, I recommend you stick with Panda's Free VPN and not upgrade to the premium version. If you're looking for a better VPN, I suggest a top antivirus like Norton 360. While its speeds aren't as fast, I like that Norton 360's bundled VPN has unlimited bandwidth and access to 30 server locations worldwide.
Gaming Mode — Optimizes Full-Screen App Performance
Panda's Gaming/Multimedia Mode mutes all notifications when apps are in full-screen mode. This means you can play games, stream movies, or give presentations without being interrupted by annoying pop-ups. While you can switch it off in the General Settings section of the app, I'd recommend leaving it on. Otherwise, you'll have to manually turn it on every time you want to play or stream.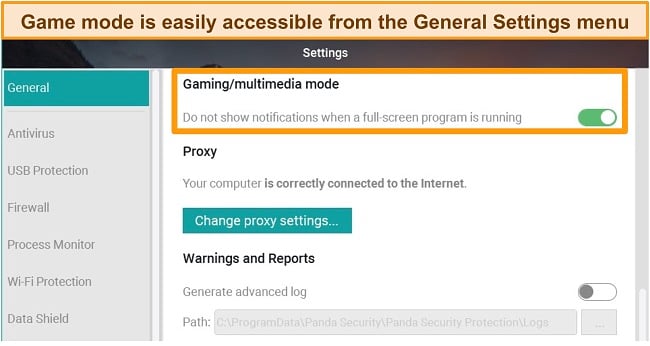 I found Panda's Gaming Mode is effective at stopping notifications but only when apps are in full-screen. Some of my games open in windowed mode and Gaming Mode didn't detect these. Unfortunately, there's no manual configuration to have Gaming Mode activate when specific programs are running so make sure your app is full-screen.
I like that this feature is available on Panda's Free plan as it's a sought-after tool, especially as many antivirus programs don't optimize performance specifically for gamers. It's not as effective as BullGuard's Game Boost but for a free service, it works well to keep your games and movies running without interruption.
Anti-Theft Tools — Protect Your Device From Loss or Theft
The biggest threat to devices, apart from malware, is loss or theft. This ongoing problem makes Panda's anti-theft tools for Windows, Android, and iOS very appealing.
My favorite feature is the "Locate My Devices" option which lets me see exactly where all of my Panda-protected devices are. It was easy to configure the settings on my laptop and iPhone — one click in the app turned the setting on so I could easily locate my devices. I was surprised by how accurate the locator was, which is reassuring if I ever lose a device.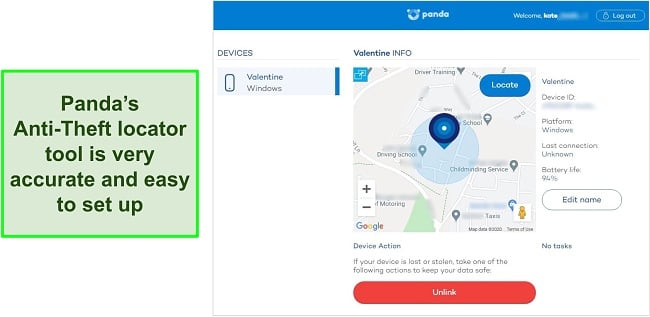 Android users get a range of extra anti-theft features that I'd like to see on more supported platforms. I found that they worked well when tested and provided extra protection, particularly from the chance a phone could be stolen and hacked. These extra features include:
Lock and wipe — Lock your device remotely and, in the event of theft, delete all personal and sensitive data from the device
Theft photo alert — After 3 failed login attempts, a picture is taken of the user and sent to your Panda account
Motion alert — An alert is sent to your account if someone moves your device
Remote alarm — You can trigger an alarm to sound on your stolen device
Smartwatch anchor — An alarm is triggered if your phone and smartwatch get too far away from each other
Data Security Tools — Protect and Encrypt Sensitive Files
Panda has several data security tools designed to keep your personal information safe from hackers and ransomware. Its data security tools include the following:
File Encryptor (paid only) — Lets you encrypt any file or folder on your device
USB Protection — Gives you the ability to scan and vaccinate every USB you insert into your PC
Data Shield (paid only) — Alerts you if anyone attempts to gain access to your personal or sensitive documents
I particularly like the File Encryptor as this gives me reassurance that even if my device is somehow compromised (lost, stolen, or hacked), my most private data will remain private. The File Encryptor runs through the password manager Password Depot and is very easy to use. To encrypt a file, I simply right-clicked it, selected Password Depot 12 > Encrypt, and picked an encryption password.
The Data Shield is useful in theory — but since Panda's paid plans already have ransomware protection, it's largely redundant.
The only data security tool available on the free plan is USB Protection and I think it's the most useful. It removes a CD, DVD, or USB device's ability to exploit Windows' autorun and automatically deploy malware. This safeguards your device from physical malware threats as well as online attacks — and it's totally free to use!
Device Optimization Tools — PC Cleanup and File Shredder Improve System Performance
Top antivirus services like Norton and McAfee have performance-boosting features designed to make your devices work even better than they did before. While Panda has some optimization features, I found they weren't as effective as the offerings from other providers.
First up is the PC Cleanup tool, a useful feature that quickly deleted temporary files and cookies to free up extra space on my computer. PC Cleanup is divided into 4 options: hard drive cleaner, boot manager, defragmenter, and system cleanup scheduler.
The hard drive cleaner was quick and found over 1GB of junk files in about a minute. I next used the Defragmenter to clean my drive and it took seconds to complete. However, I didn't notice any improvement to my overall device performance so I'm not sure how much difference it made.
The Boot Manager was my favorite PC Cleanup tool, as it significantly reduced my PC's start time by disabling a number of unnecessary applications and system processes. If you only use one of Panda's Cleanup tools, make sure it's the Boot Manager.
The second major optimization tool is the File Shredder, a handy tool for securely deleting sensitive personal data like downloaded credit card and bank statements. It was easy to use, with just a couple of clicks ensuring that my files were deleted and not recoverable. Unfortunately, I didn't see a noticeable difference in my device's performance after using File Shredder. I'd like to see a greater level of customization in this feature — McAfee's file shredder offers different shredding levels depending on how fast or secure you want the deletion to be.
Web Protection Tools — Collection of Features to Secure Your Online Activity
Panda is dedicated to keeping your devices safe from online threats and has a range of tools to improve security:
Wi-Fi Protection — Shows you how secure your Wi-Fi connection is and offers ways you can improve it
Safe Browsing — Denies access to any fraudulent or malicious websites hosting viruses, Trojans, and other online threats (operates as part of Panda's Phishing Protection security)
Virtual Keyboard — Opens an on-screen keyboard for you to use when typing in sensitive data to help prevent your keystrokes from being detected by keylogging malware
I particularly like the Virtual Keyboard tool as it provides an extra layer of security when I'm logging into my bank account or shopping online. I wish it was a little bigger or easier to navigate though, as the small keys make it tricky to use. It's time-consuming to type with the Virtual Keyboard, but taking extra time to protect my financial details is worth it.
I also used Panda's Wi-Fi Protection to improve my home network security. It suggested that I change the name and password of my network and I was able to configure my router from the Panda app to do so. This is a useful tool to use if you regularly connect to public Wi-Fi, which is generally less secure than your home network. That said, if you already use a VPN to hide your online privacy, Panda's Wi-Fi Protection is a feature you can skip.
Ease Of Use - 7
Panda is a relatively small download (just 240MB for Windows and 200MB for Mac) so it leaves a small footprint on your device. This is because Panda is a cloud-based antivirus package. All the work is done from the cloud so there's no need to run daily updates or store app data on your device.
I found Panda's apps very easy to download and install on all of my devices — it took less than a minute! The minimum system requirements for each operating system are as follows:
Windows — 10, 8/8.1, 7, Vista, XP 32-bits (SP3 or later)
Mac — OS X 10 or later
Android — 4 or later
iOS — 7 or later
The desktop app is available in 21 languages, including English, Greek, Chinese, and Russian. Mobile apps have 16 languages to choose from.
Windows and Mac — Sleek App Layout and Easy to Navigate
Panda's Windows and Mac apps are very different in terms of look and features, but both are intuitive to use and well laid-out. I had no problems testing apps on either operating systems.
The Windows app is sleek and has a user interface that feels similar to Android or iOS — it reminds me of a tablet or smartphone app. Each feature has its own icon to select — there are no complicated menus to look through to find the tools you want to use. What makes it even easier is the "Aa" button in the bottom-right corner. Clicking this shows the names of all the features but if you prefer an even sleeker look, you can keep the feature names off.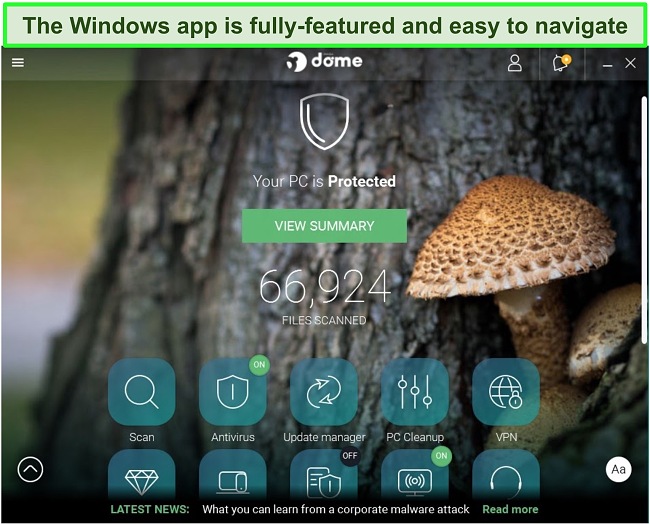 Just by scrolling down a little way, you can see all of the available features are easily accessible. Clicking on a feature takes you to it and shows you configuration options. If you want to make even more alterations, there's a cog icon in the top-right that takes you deeper into the settings of each individual feature.
The Mac interface is quite different but I still found it very easy to navigate as everything is clearly labeled. Again, I didn't have to search through menus and settings to find what I was looking for — the most important features are on the main interface and ready to use.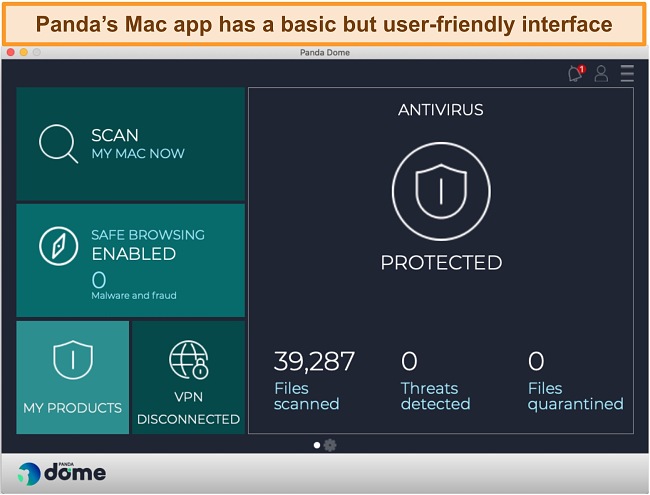 What I particularly like about the Mac app is that its features are mostly 1-click. For instance if you want to run a scan or connect to the VPN, a single click activates the feature. The Mac app doesn't have nearly as many features as the Windows version but that's because Panda was primarily designed for Windows. Despite this, Panda is still very functional on Mac because the software is designed to focus on Mac-specific malware and issues.
Mobile Protection — Decent Apps for Android and iOS
Panda's Android and iOS apps are intuitive and have some useful features for protecting your devices. However, much like on Windows and Mac, the 2 apps differ in terms of how much coverage they offer.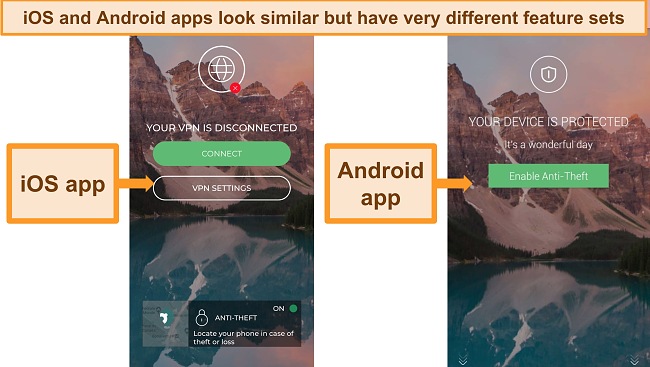 I ran a scan on my iPhone and was alerted to the need for a system update right away, which I liked. The iOS app doesn't offer any anti-malware scans due to most apps being "sandboxed". This means data is inaccessible by other apps so an antivirus can't scan them for threats. Other features on the iOS app include:
Panda VPN (150MB of data per day with free version)
Anti-Theft feature
There's also an option to add family security to the mobile app for an additional fee. As it stands, the iOS app is okay but could be better. I'd like to see greater functionality and features, like the apps from services like Norton 360. That being said, Panda is a totally free mobile security solution and the features it does include are high-quality and effective.
The Android app has increased functionality