10 Best Anti-Spyware Software in 2022 (Removal + Protection)
Last Updated by Kate Hawkins on November 01, 2022
Every cybersecurity company claims to be the best at defending against all kinds of malware, but not every antivirus can detect or remove spyware. Spyware is exceptionally hard to discover since it hides inside legitimate-looking software. What's more concerning is that a lot of anti-spyware software is secretly just spyware in disguise — and steals your private data as soon as you download it onto your device.
That's why it's crucial to only download a trustworthy antivirus with specific anti-spyware features. To save you the risk, I tested dozens of anti-spyware brands to bring you the 10 best packages to protect and remove spyware from your devices. Every option on this list comes with real-time spyware and malware protection, ad-blocking, phishing protection, and malicious website detection.
The top result is Norton 360 as it provides comprehensive protection from spyware and other dangerous malware, including adware, ransomware, and viruses. You can even try Norton with its 60-day money-back guarantee and see how well it performs at no risk to you.
Try Norton 360 for 60 days risk-free!
Quick Guide: Best Anti-Spyware Software in 2022
Try Norton for anti-spyware protection now!
The Best Anti-Spyware Software for Removal & Protection (Tested November 2022)
Key Features:
Uses AI to defend against known and emerging malware threats, including spyware, ransomware, viruses, and more
Comes with encrypted cloud storage, password manager, SafeCam, and more
Supports Windows, Mac, Android, and iOS
Generous 60-day money-back guarantee
Norton 360 provides the most comprehensive anti-spyware coverage for your devices, including a full suite of anti-malware tools. It detected 100% of malware (including spyware) in both previously known threats and real-time, zero-day spyware attacks during tests. This means Norton excels at protecting your Windows, Mac, Android, and iOS devices from spyware.
The reason for this high-level detection is Norton's sophisticated SONAR protection. Rather than relying on known spyware databases for signature-based detection, Norton's technology actively monitors applications' behavior. This means that Norton can analyze and identify emerging spyware threats more quickly, even before defining the threat. Norton achieves a very high level of spyware detection to block anything trying to compromise your devices, keeping you protected more effectively than other antivirus plans.
Norton also has a range of additional features you can use, including a password manager, a generous 10GB of cloud storage, and — for Windows users — SafeCam. This is a feature that blocks unauthorized access to your webcam by spyware or apps, protecting your privacy. I particularly like using SafeCam with Norton's Parental Controls as it gives me peace of mind when my child is online.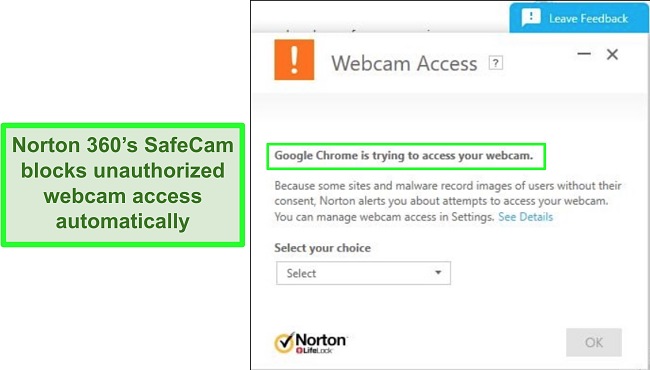 You'll also find that Norton has a hands-off Smart Firewall feature that's already configured when you install the application. The firewall has strict security protocols designed to stop intruders and malware from gaining access to your devices. It's highly customizable so that you can add safe apps to its already-extensive "Whitelist." Norton's Firewall will also monitor new apps for malicious activity or hidden spyware, keeping you secure at all times.
Norton 360 is a little more on the expensive side than some other antivirus plans but with its high-level spyware protection, it's well worth the extra money. If you'd like to try Norton to see if it works for you, you can use its generous 60-day money-back guarantee to test the service. This gives you 60 days to try every feature and get a full refund! Plus, it's easy to get a refund — my colleague tested the money-back guarantee, and it took less than 5 minutes to have a refund request approved.
Try Norton 360 for 60 days risk-free now!
Key Features:
Anti-malware engine updated daily for best possible security against spyware, ransomware, and more
Extra features include device optimization and password vault
Apps available for Windows, Mac, Android, and iOS
30-day money-back guarantee
TotalAV is one of the top antivirus packages for anti-spyware protection, beaten only by the 100% detection rates of Norton 360. In my tests, TotalAV scored an impressive 99% accuracy rate for real-time spyware threats and 100% for malware discovered in the previous 4 weeks. These results are above the industry average, meaning TotalAV provides great spyware and malware protection. With its easy-to-navigate interface and low first-year price (which jumps with you renew your subscription), I found TotalAV to be an impressive antivirus with anti-spyware software.
I also found that TotalAV had minimal impact on my device performance, particularly during scans. There is no obvious slowdown while scans were running, so I could use my PC as usual, without lag or interruption.
I'm disappointed to find that while TotalAV offers a free version of its antivirus, it's very limited. There's no real-time protection available on the free plan, though you can perform system scans and TotalAV will detect and remove spyware already present on your device. Your device is vulnerable to zero-day spyware attacks without real-time protection, so it's an essential feature for full malware coverage.
On renewal, TotalAV's cost doubles or even triples in some cases but I think it's worth the price for its extra features that protect you from spyware. I was particularly impressed with its Password Vault, AdBlock Pro, and Safe Site features. These help prevent keyloggers from detecting your password input, blocking ads that spy on your online activity, and preventing malicious sites' access. I like that TotalAV offers multiple layers of defense against spyware, which is notoriously difficult to detect.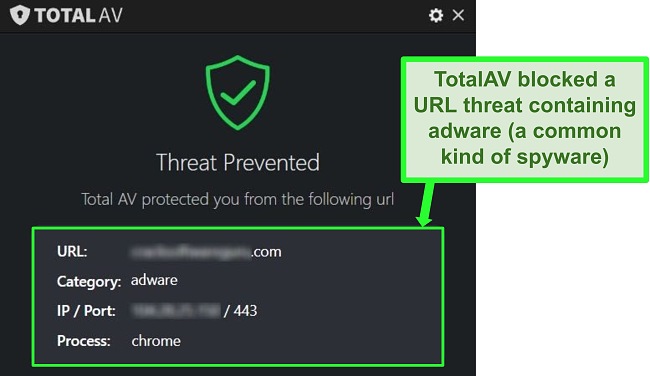 To see if TotalAV is the right anti-spyware software for you, I'd recommend testing it for yourself with its 30-day money-back guarantee. That way, you can try TotalAV risk-free and get a full refund if you're not totally satisfied. However, TotalAV's premium plan provides real-time spyware protection and impressive features, so you might find you want to keep it for longer.
Get TotalAV for free for 30 days!
Key Features:
Real-time protection against spyware, ransomware, and other kinds of malware
Includes password manager, firewall, and identity theft protection (US only)
Supports Windows, Mac, Android, and iOS
30-day money-back guarantee
McAfee has consistently been a top-tier antivirus solution for years — it continues to excel at defending against spyware and other malware. In my tests, McAfee achieved excellent real-time protection results of 100% detection and blocking. This means that even the newest spyware can't bypass McAfee's defenses, securing your devices.
I'm particularly impressed by McAfee's extra features, which help provide additional security layers against spyware. It has a free password manager to protect you from keyloggers and stores up to 15 passwords — if you need more, you can upgrade to a TrueKey account. It also has a highly configurable firewall designed to give you absolute control over what and who accesses your device. This is integral to protecting against spyware, which can sneak in undetected through local connections.

McAfee offers its US customers Identity Theft Protection, and I'd like to see this feature expanded globally. It monitors the dark web for signs of your private information, including your social security number. Spyware is designed to seek out this data and exploit it for fraudulent purposes. McAfee's inclusion of Identity Theft Protection is another way to secure your information from malicious software.
Compared to services like Norton 360 and TotalAV, McAfee is reasonably priced — but you should be aware that the cost rises significantly after the first year's subscription. Fortunately, you can test McAfee for free for 30 days with its money-back guarantee.
Get McAfee for free for 30 days!
Key Features:
Protects from real-time threats on all plans, including the free version
Includes password manager, webcam and mic protection, and more
Available on Windows, Mac, Android, and iOS
30-day money-back guarantee
Bitdefender has a host of features designed to protect you from spyware and my favorite is the SafePay browser. This is specifically designed to secure your data when you're banking and shopping online. It stops spyware like keyloggers and banking Trojans from accessing and stealing your financial information. I'd like to see this feature expanded for general browsing, but for now, I'm glad that it provides extra protection for my sensitive data. Unfortunately, Bitdefender's SafePay browser is only available for Windows devices.
This antivirus package also has a password manager and both webcam and microphone protection. The password manager stores an unlimited number of passwords, so you can store login details for all of your accounts (and not let keyloggers get your password!) With webcam and microphone protection, Bitdefender stops access from unauthorized apps or connections. I particularly like these features as part of the parental controls as I know they're protecting my child when using the internet.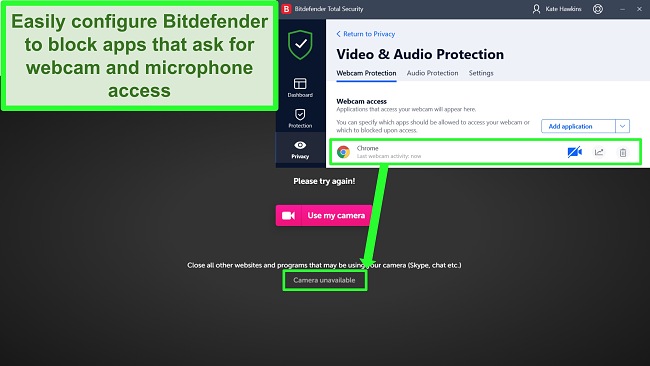 As well as these great extra features, Bitdefender also scores well in malware tests. The results were 100% detection in both previously known threats and zero-day attacks, so you can rest assured Bitdefender can protect your devices from spyware (and other malware, too!) Best of all, you can test Bitdefender risk-free for 30 days as it offers new users a money-back guarantee.
Try Bitdefender for spyware protection now!
Key Features:
Real-time protection blocks spyware on PC and Mac
Includes a Web Shield to keep your browsing activities safe
Supports Windows, Mac, and Android (no iOS)
30-day money-back guarantee
Intego's Prevention Engine caught 100% of spyware in real-time during my tests on Windows and Mac. Even when I conducted a series of system scans, every piece of malware on my testing laptop was automatically identified and quarantined.
Intego has a simple and easy to use interface, so it was quick to figure out. Removing items from quarantine, editing the whitelist, and performing scans was intuitive and didn't slow down my testing computer. I found the lightweight app hardly drained my device's resources at all.
Unfortunately, it doesn't have advanced functions like a firewall or PC optimization tools. However, Intego does come preloaded with a Web Shield to prevent spyware-linked URLs and malicious files from opening in your web browser. It's a nice little touch that adds protection from a lot more threats than the bare-bones virus scanning and spyware protection.
You can try out Intego on your own device by taking advantage of its 30-day money-back guarantee. There's also a free trial for 7 days, which you can use in combination with the money-back guarantee for more than 30 days of risk-free testing.
Key Features:
Real-time antivirus protection available on all plans
Extra features include firewall protection and Web Shield for safe browsing
Supports Windows, Mac, and Android — no iOS availability
30-day money-back guarantee
Scanguard has a specific Spyware Guard feature designed to protect you from spyware. Despite not being tested by independent bodies, I tested it with spyware test files from reputable sites like EICAR.org and Scanguard effectively detected and blocked all spyware and other malicious downloads.
I especially like that Scanguard is so good at blocking more overlooked forms of malware, including adware. After performing a malware scan, Scanguard found a browser extension that was hiding spyware and removed it from my PC. The malware scan took over 3 hours to complete, which is much slower than other top antivirus providers. While I'm glad it was so thorough, Norton's in-depth virus scan took an hour — and Scanguard's scan noticeably slowed down my PC.
Scanguard has various pricing options depending on the level of protection you want but some features (like the firewall, ad blocker, and VPN) are only available at an additional cost. If you decide you don't need these additional features, I'd suggest giving Scanguard a try. You have the option to test Scanguard risk-free for 30 days with its money-back guarantee.
Try Scanguard for 30 days risk-free!
Key Features:
Offers real-time protection against online threats including spyware and ransomware
Extra features include Webcam Protection and private browser
Supports Windows, Mac, Android, and iOS
30-day money-back guarantee
Kaspersky's clean and intuitive interface makes it easy to find and use its anti-spyware tools. I especially like that unlike some antivirus packages, Kaspersky's interface isn't littered with features you have to pay for or prompts to upgrade if you're on the lowest-priced plan. This makes every Kaspersky option feel like a complete software package — and you get real-time protection with 100% detection rates with every plan, including its free option.
Kaspersky has multiple features for added security, like Webcam Protection and a private browser, but not all of them are very useful. For example, its basic Password Manager only stores 15 passwords, which isn't enough to secure all of your online accounts. Also, its Cloud Storage has some privacy issues — to use the storage, you have to agree to let Kaspersky record your device's unique ID number, the websites you've visited, and your installed apps. Giving away this personal information doesn't reassure me despite Kaspersky's impressive spyware detection and blocking capabilities.
I'd recommend using Kaspersky's 30-day money-back guarantee (and free trial!) to see if it's the right anti-spyware software for you.
Get spyware protection with Kaspersky!
Key Features:
Protects against real-time threats, including spyware, ransomware, and adware
Includes VPN, Play Mode (for gaming), and browser extension
Works on Windows, Mac, Android, and iOS
60-day money-back guarantee
Malwarebytes was originally designed as anti-spyware software, making it a great choice for protecting your devices. I'm particularly impressed by how fast and thorough its scans are — when I tested Malwarebytes' Threat Scan (checking areas most commonly infected) it scanned over 300,000 items in just over a minute! This is very fast, even when compared to a top-tier service like Norton 360. Not only is Malwarebytes fast, but it also has a low impact on your device. While running scans, I could work, send emails, and browse online without noticing any lag at all.
In tests, Malwarebytes scored well at defending against spyware and other malware — 100% detection for known malware and 99.1% for real-time threats. My main disappointment with Malwarebytes is that its extra features for spyware protection are very limited. There's no firewall, password manager, or parental control options. That being said, Malwarebytes effectively protects against spyware with its real-time protection. I recommend you take advantage of the 60-day money-back guarantee to see how well it secures your devices.
Try Malwarebytes for spyware protection now!
Key Features:
Provides real-time antivirus protection (with anti-spyware) on all plans
Bonus features include password manager, VPN, and more
Blocks ransomware and cyberattacks on Windows, Mac, and Android
30-day money-back guarantee
Panda Dome offers one of my favorite free antivirus plans because it has real-time protection — including spyware, viruses, and more — for Windows devices. Real-time protection and scanning are often reserved for paying customers by other antivirus services. Getting this level of protection for free is impressive, although there's no advanced malware detection, which you need to fully secure your devices.
Panda's real-time protection is excellent — in my tests, it scored a 100% rate for identifying and blocking zero-day threats. That being said, you'll have to invest in one of its paid plans for comprehensive coverage as you don't get a password manager or data encryption with the free plan. It's a more expensive option when compared to similar plans from Norton 360, which gives you fewer but higher-quality, extra features than Panda. You can try Panda Dome for 30 days free with its money-back guarantee to see if it works for you!
Protect your devices with Panda Dome today!
Key Features:
Strong real-time protection from malware, including spyware, viruses, and adware
Comes with extra features like Secure Browser, ID Protection, and more
Supports Windows, Mac, and Android
30-day money-back guarantee
BullGuard's emphasis on perfecting its real-time defenses makes it a great option to protect your devices from spyware. After I put it to the test against zero-day and previously known threats, BullGuard scored a perfect result — 100% malware detection and blocking. These defenses ensure that your Windows, Mac, and Android devices are safe from spyware attacks.
While BullGuard doesn't have as many extra features as premium antivirus packages like McAfee, the features it does have are high-quality and improve security. I especially like its Secure Browser and ID Protection features as these both safeguard your personal information — all the data that spyware is trying to obtain. Unlike the ID Protection from McAfee (only available in the US), BullGuard's offering is available in 15 different countries. The Secure Browser is useful for banking and online shopping as it checks the validity of every site before you connect. This protects you from suspicious websites trying to steal your data or sneakily download spyware onto your devices.
My only real complaint with BullGuard is that its interface for Windows is cluttered and confusing to navigate. Settings are hidden in menus and, unless you know exactly where something is located, it can be hard to find. I find Norton 360's interface is much more intuitive and well laid out. BullGuard's Mac interface is much more simple and clean, but the features are very limited. However, you get BullGuard's real-time protection with both apps — just what is needed to protect you from spyware and other malware.
Overall, I think BullGuard is worth testing for its range of top-quality spyware protection. Best of all, you can try BullGuard's anti-spyware features and more for free for 30 days with its money-back guarantee.
Try BullGuard for spyware protection now!
Quick Comparison Table: 2022's Best Anti-Spyware Software Brands
Warning! Avoid These 3 Anti-Spyware Companies
1. Total Defense
Total Defense is an expensive option that doesn't provide the same comprehensive spyware coverage as Norton 360. It blocks 97.9% of zero-day attacks, which means some spyware could get through its defenses — not ideal when other software blocks 100% of spyware for a lower price. It's US-based support options aren't available 24/7, so you may find you have a lengthy wait to resolve any questions or issues with the service.
2. Heimdal Security
Heimdal Security falls short on real-time protection, detecting only 82.2% of zero-day attacks in recent tests. This means your devices are left vulnerable to spyware attacks and you won't always be protected. That being said, it had almost perfect marks for detecting previously-known malware (99.9% accuracy) and it won't slow down your computer during scans.
3. Cylance Smart Antivirus
In recent real-time protection tests, Cylance Smart Antivirus detected only 72.7% of zero-day threats — which includes the latest spyware. This could leave your devices open to spyware attacks, despite its lightweight cloud-based software that updates daily.
How I Tested and Ranked the Best Anti-Spyware Software in 2022
To find the best anti-spyware software for 2022, I checked and tested each software package against the following criteria:
Malware detection — I tested each software plan to ensure it has a high malware detection rater that meets or surpasses the industry standard. This guarantees it will secure your devices against known spyware threats.
Real-time protection — To provide the best possible defense against spyware, it needs to score highly in zero-day detection tests. I made sure each service met or surpassed the industry standard for new spyware and malware.
Extra features — Solid spyware protection needs more than one layer of defense. This means additional features, like a password manager, cloud storage, or virtual keyboard, are essential to protect against spyware. I tested these features to check that they are both high-quality and effective.
Device compatibility — You'll want to protect all of your devices from spyware, so I checked to see which antivirus plans are compatible with the most popular operating systems — Windows, Mac, Android, and iOS.
Risk-free trials — It's important to make sure that the software is right for you and works the way you want it to. All of the plans on this list have a money-back guarantee or free trial so that you can test the software at no risk to you.
After thorough testing, I found 10 anti-spyware software packages that provide solid spyware protection. Each one will secure your devices from spyware and other malware successfully.
Download the best anti-spyware software
FAQs: Anti-Spyware Software
What is spyware?
Spyware is a type of malware that specifically spies on your activity when you're using your devices. It can record your keystrokes, find your personal information, and steal your financial details to pass on to the spyware author — all without you even knowing it's on your device. Unless spyware is blocked by high-quality anti-spyware software like Norton 360, it can operate silently on your device for weeks or months, undetected.
It's installed on your device without your consent, usually bundled with software you wanted to download (like file-sharing programs) — though sometimes you can trigger a download by visiting a suspicious website. Spyware can generally be defined as one of the 4 following types:
Keyloggers — This spyware captures every letter you type on your keyboard, including data like account passwords, credit card information, and emails.
Infostealers — Infostealer spyware scans the infected device and finds information like usernames and passwords, browsing history, and even personal media files like photos and videos.
Password stealers — Similar to infostealers, a password stealer is specifically designed to find passwords for both local (like your PC) and online accounts.
Banking Trojans — Highly sophisticated, banking Trojans locate and store information processed by online banking systems.
What does anti-spyware software do?
Anti-spyware software detects and removes spyware from your devices. These days, it's most commonly found as part of an antivirus package like Norton 360 or TotalAV. This software has anti-spyware features like real-time malware protection, password managers, and cloud storage to protect you. However, there are also some very effective standalone anti-spyware software plans from providers like SUPERAntiSpyware. This software is dedicated exclusively to monitoring and protecting devices from spyware like keyloggers, Trojans, and password stealers.
To protect you from spyware, anti-spyware software can:
Encrypt your keystrokes to confuse keylogging spyware
Scan for and remove spyware already present on your devices
Block you from visiting websites hosting spyware
Securely store and encrypt your sensitive files
Stop unwanted access to your webcam and microphone
Check social media, forums, and the dark web for signs your data has been stolen
Are anti-spyware and antivirus software the same thing?
No, anti-spyware and antivirus software aren't the same because spyware and viruses are different kinds of malware. This is why it's important to have comprehensive malware protection from a service like Norton 360 since only protecting your device from one kind of malware leaves you open to attack from others. However, some antivirus programs don't offer spyware protection as standard and leave your devices vulnerable.
Anti-spyware typically focuses on spyware — like infostealers and banking Trojans — while also blocking some other kinds of malware. Antivirus software blocks viruses, like resident and overwrite viruses, which behave differently to spyware. Commonly, antivirus software packages include antivirus and anti-spyware software and offer protection from other kinds of malware like ransomware and adware.
Can I remove spyware from my device by myself?
The best way to remove spyware from an infected device is by using a reputable antivirus package with anti-spyware features. The goal of spyware is to remain undetected on your device for as long as possible. If you don't know where to look for spyware, it could steal your data for weeks or even months before you realize there's a problem. As such, you may not even know you have a spyware infection unless you've downloaded and installed an antivirus plan like Norton 360.
There are ways to remove spyware manually, but it's risky. If you delete or uninstall the wrong file or item, you could shut down your device or further compromise it. Manual spyware deletion is best left to the professionals — a service like Norton 360 has agents available to help remove spyware and other malware from infected devices.
Get Norton 360 for free for 60 days!
Protect Your Data With Anti-Spyware Software
Spyware is an insidious kind of malware that secretly steals your data and can operate unnoticed for weeks, if not months! It can put your private media, personal information, and more at risk — you could even experience identity theft if your data is used for fraudulent purposes. That's why it's so important to protect your data and devices with high-quality anti-spyware software.
After extensive testing, I can safely say that Norton 360 offers the best spyware protection in an antivirus package. Its high rate of real-time detection, plus its customizable security features, make it an effective defense against zero-day malware threats. But don't take my word for it — you can try Norton 360 for yourself for a full 60 days and get a refund if you change your mind.
---
Summary — Best Anti-Spyware Software in 2022