Is Microsoft Defender Good Enough in 2022? (Yes, but ONLY If You Do This First)
Last Updated by Kate Hawkins on January 05, 2022
As a free antivirus that's built into every Windows PC, Microsoft Defender is better now than it has ever been. If you don't keep personal information on your PC, Microsoft Defender provides good enough protection — but if you store sensitive files on your device, Microsoft Defender will be unable to keep them safe.
After testing the service for several weeks, I found Microsoft's free antivirus isn't updated frequently enough to guarantee protection against the latest threats. To get full protection, you need to use it with another antivirus. I tested a variety of free and paid options to find which services provide top-tier malware protection without slowing down your PC.
Surprisingly, I found some free antiviruses actually perform better than Microsoft Defender. However, Norton 360 outperformed the competition with its powerful antivirus engine, web security features, and extras like a VPN and password manager — none of which are offered by Microsoft Defender. As a plus, you can even try Norton 360 risk-free for 60 days with its money-back guarantee!
Try Norton on Windows risk-free!
Quick Guide: Top Alternatives to Microsoft Defender in 2022
Try Norton 360 for Windows now!
Can You Rely on Microsoft Defender to Protect Windows in 2022?
Formerly known as Windows Defender, Microsoft Defender has improved significantly in recent years. It now comes with real-time threat detection, as well as a firewall and parental controls. I especially like that it comes pre-installed on Windows 10, 8, and 7, so it starts working as soon as you boot the computer.
I wanted to put Microsoft Defender through a series of rigorous tests and see how it measures up to antivirus competitors. I was impressed to find that Microsoft Defender blocks between 99.5% to 100% of malware in real-time. But unfortunately, that's all I could rely on it to do.
I found the firewall and parental controls lacklustre. The firewall was overly complex to configure and the parental controls only work if your kids have their own Microsoft account. However, my biggest concern is that Microsoft doesn't regularly update its software — which can render the real-time protection near useless. Without regular updates, Microsoft Defender can't protect you from the latest cyberattacks. I've also found that when Microsoft does issue an update, there can be problems on my Windows PC. In the past, this has resulted in my PC crashing in the middle of a scan.
Despite Microsoft Defender's improvements, it still has a long way to go. Quite simply, it's not a good idea to rely solely on Microsoft Defender to protect your PC. If you have sensitive or personal files saved on your Windows device, you'll be much safer if you invest in a stronger antivirus program.
The Best Antivirus Alternatives to Microsoft Defender (Tested January 2022)
Key Features:
Blocks all strains of malware targeting Windows in real-time
Extra features include a VPN, parental controls, password manager, and more
Compatible with all versions of Windows
24/7 customer support available by live chat or by phone
60-day money-back guarantee
Norton 360 is superior to Microsoft Defender in every way. It successfully detects all types of PC-specific malware and comes with a variety of extra features to improve overall Windows security. Best of all, Norton has a range of Windows antivirus packages to suit every budget, all of which include free features like a VPN and password manager.
In tests, Norton 360 successfully blocked 100% of all malware. Norton regularly updates its software so your PC is always protected from the latest cyberthreats. I also like that Norton 360 features a Safe Web browser extension that scans websites for malware and phishing scams. Safe Web detected almost 99% of web-based threats, while Microsoft's own browser, Edge, failed to block most of the test sites I tried to access.

Safe Web is just one of the extra features Norton 360 has. It has a full range of features including a firewall, a minimum of 2GB cloud storage, password manager, and a VPN. Norton 360 also provides privacy features such as PC SafeCam, to stop websites accessing your webcam without permission, and LifeLock identity theft protection.
I was especially impressed by Norton 360's VPN and Password Manger. The VPN is able to bypass even Netflix's restrictions. While the speeds were slower than usual, I could stream in HD-video quality with minimal lag or buffering. Microsoft Defender doesn't include any kind of VPN or proxy service with its antivirus.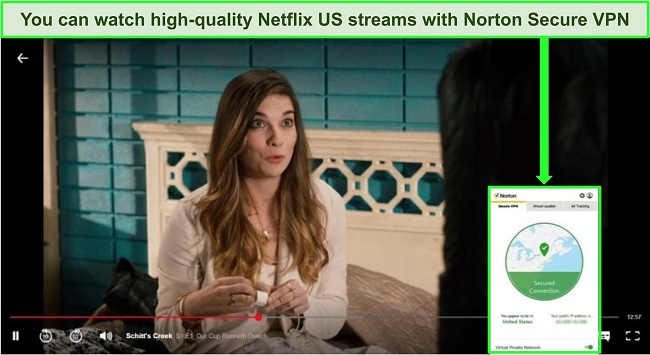 Norton 360's Password Manager works very well at keeping all of your passwords safe. I was impressed to see that it has an Autochange feature that chooses a stronger password for you, changes it, and stores it. It's something I haven't seen from any password managers, and certainly not from Microsoft Defender.
If you're concerned about Norton 360's price, you'll be pleased to know it has a range of plans available for all budgets. I found the best value package is the Deluxe plan, which covers 5 devices, has 50GB of cloud storage, and parental controls. It does cost money, but Norton's regular updates will guarantee your security from real-time online threats.
I suggest you take advantage of Norton 360's 60-day money-back guarantee to try the service risk-free. If you find it's not right for you, you can get a refund by contacting the 24/7 live chat. It took less than 5 minutes for me to get my request approved and I had my money back in just 5 days!
Try Norton 360 for Windows now!
Key Features:
Easily defends Windows from ransomware, adware, spyware, viruses, and rootkits
Includes PC optimization tools as well as a password vault and a VPN
Compatible with Windows 7, 8, and 10
24/7 customer support by live chat, email, or phone
30-day money-back guarantee
TotalAV's impressive optimization tools make it a great alternative to Microsoft Defender. I was pleased to find that TotalAV had almost no impact on my PC during tests, even when running high-intensity virus scans. TotalAV also updates its software regularly, allowing it to easily detect and block newly-released malware.
During the Smart Scan, TotalAV suggested multiple ways to optimize the way my PC works. It checks for junk and duplicate files, uncleared browser cookies, unnecessary start-up programs, and even has an App Uninstaller that completely removes apps (rather than leaving behind personal profiles). I could resolve any issues from the Smart Scan screen in minutes and found it made a noticeable difference to my overall system performance.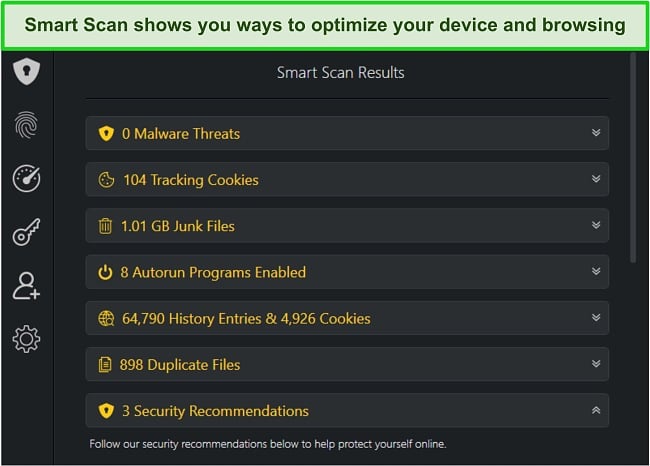 These performance tune-up tools are lacking from Microsoft Defender, which only includes a general PC health report.
As well as optimization tools, TotalAV also includes a password vault, a VPN, an ad blocker, and Web Shield, a browser extension that blocks malicious websites. Like Norton 360, it also comes with identity theft protection and a data breach test that scans the web for leaks of your information.
TotalAV is also much easier to use than Microsoft Defender. The interface is simple to navigate, with well-labelled features suitable for both new and experienced antivirus users. Unlike Microsoft Defender, TotalAV's app doesn't have any hidden features or unnecessary dropdown menus.
It's possible to try TotalAV risk-free for 30 days with its money-back guarantee, to see if the service is a good fit for your needs. Getting a refund is easy too, you can call the support line for billing services or send an email requesting your money back. I had my refund only 2 days after confirmation.
Key Features:
Scans thoroughly for malware and has a perfect detection rate
Includes game mode, secure browser, password manager, VPN, and more
Supports Windows 7, 8, and 10
24/7 support by live chat, email, or phone
30-day money-back guarantee
Bitdefender's lightweight, cloud-based scan technology is both accurate and low-impact. During tests, Bitdefender detected 100% of both new and known malware and I didn't notice any slowdown despite high-intensity scans. This is a marked improvement from Microsoft Defender, which made my PC run noticeably slower during scans.
I also found Bitdefender's interface much easier to navigate than Microsoft's. All of the features are clearly labeled, with short descriptions detailing what they do. This made it simple to customize different features and I didn't have to worry about accidentally clicking on the wrong setting.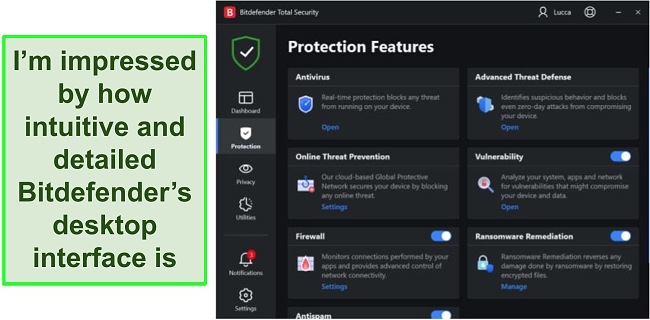 As a bonus, you don't need to configure Bitdefender to get comprehensive protection from it. Bitdefender has a unique Autopilot feature that analyzes the way your device performs, then automatically configures itself for you. If you want hands-off antivirus security but are concerned upgrading would be a hassle, Bitdefender is a top choice.
Bitdefender has several plans exclusive to Windows PCs, and they all include a firewall, password manager, file shredder, webcam protection, VPN, parental controls, and a secure browser. This antivirus also comes with a vulnerability assessment scan to check for missing updates, configurable work profiles to mute notifications, and battery life optimization.
I'm impressed by these features as they perform well and are clearly high-quality. You have the option of using Bitdefender as a standalone antivirus or to use its many features alongside Microsoft Defender. Either way, with Bitdefender you get strong malware protection and some of the best web security available.
You don't have to take my word for it, try Bitdefender with its money-back guarantee for 30 days and get a refund if it's not for you. I tried this process myself and the 24/7 customer service was both helpful and friendly. The money was back in my account within 5 days.
Try Bitdefender for Windows now!
Key Features:
Advanced AI predicts strains of new malware before its even released
Includes web protection tools, optimization tools, password manager, and more
Supports Windows 7, 8, and 10
24/7 customer support by online chat or phone
60-day money-back guarantee
McAfee is an established antivirus company that easily outperforms Microsoft Defender. In tests, McAfee successfully blocked and removed all malware files and quarantined them automatically. In comparison, Microsoft Defender was unable to flag every malicious file, which left the test PC at risk of infection.
I'm especially pleased with McAfee's firewall as it provides 2-way threat detection for traffic arriving at and leaving your PC. It also has customizable settings to allow apps and websites you know are safe. McAfee's firewall settings are easy to configure, even for a first-time user. All options are clearly labeled so you won't accidentally turn off or change any important settings.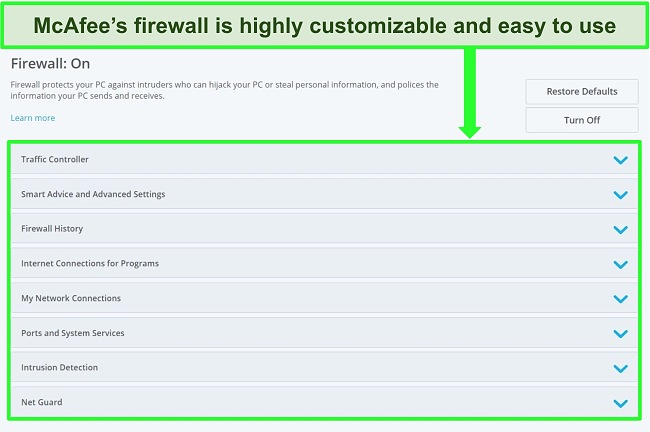 McAfee provides even more features that further improve your Windows security. This includes a VPN, password manager, parental controls, and a file shredder, which often come standard with premium antivirus brands. However, McAfee does offer a unique vulnerability scanner and home network monitor — both tools constantly scan apps and external devices for weak points or hackers. I also like the WebAdvisor browser extension, which automatically blocks phishing scams, cryptojacking, and dangerous websites while you're browsing online.
McAfee's plans are considerably more robust than Microsoft Defender. You don't have to take my word for it though. You can try McAfee risk-free with the 60-day money-back guarantee to see if it works for you.
Key Features:
Effectively scans for all types of malware to keep you safe
Includes secure browser, VPN, and more
Works on Windows 7, 8, and 10
24/7 technical support via live chat and email
30-day money-back guarantee
BullGuard's advanced malware protection is significantly stronger than Microsoft Defender. In tests, BullGuard successfully detected new and known malware. However, where I found BullGuard really stands out is its Game Booster feature.
This feature automatically detects when you're playing a game and redirects resources away from background apps — and towards your game! This actually helps your games run better with BullGuard than without it installed. Even when using my high-performance gaming PC, I noticed BullGuard made my games load faster with little to no lag. In comparison, Microsoft Defender doesn't boost gameplay at all and frequently interrupts full-screen apps with alerts and pop-ups.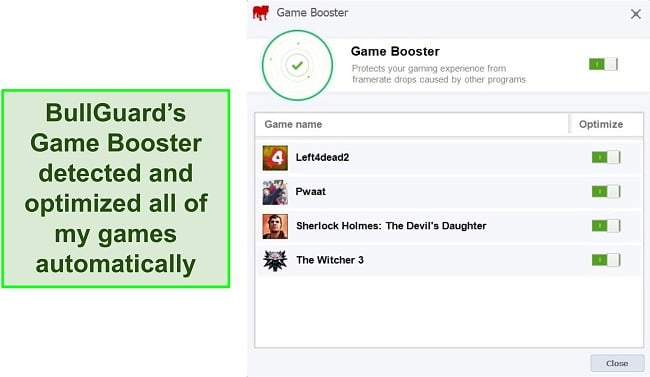 With BullGuard, you'll also have access to a firewall, ID protection, a secure browser, parental controls, and PC tune-up tools. However, I did find these features tricky to access on the app (there are a lot of dropdown menus), making the user experience on par with Microsoft Defender's clunky app.
BullGuard's cheapest plan is exclusively for Windows PC. You can test BullGuard using its 30-day money-back guarantee. When I tested the refund policy myself, I didn't have any issues getting my money back.
Try BullGuard for Windows now!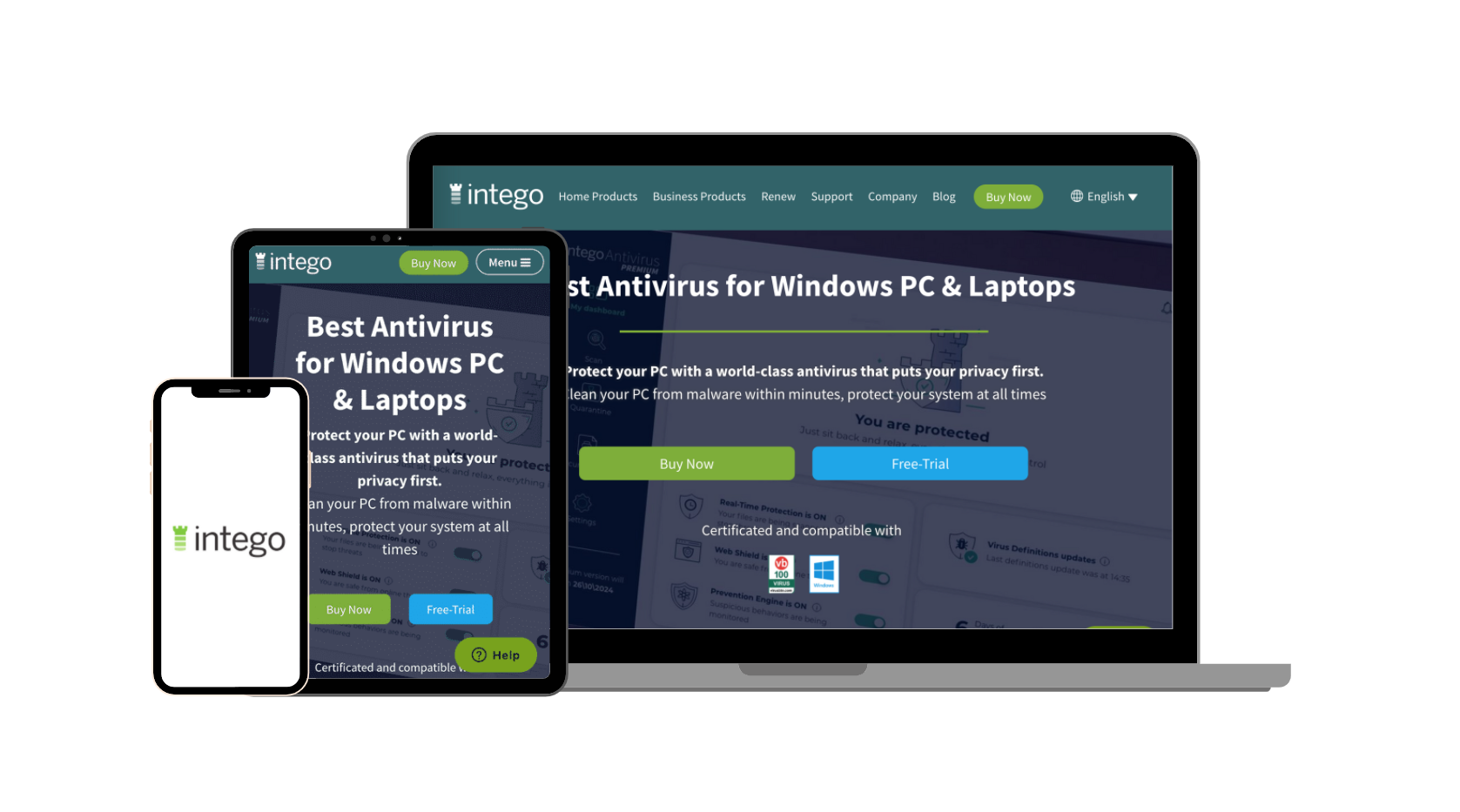 Key Features:
Catches new malware, even zero-day exploits that existing definitions can't
Bonuses like a Web Shield and Prevention Engine detect additional threats
Works on Windows 10, 8, and 7
Customer support via live chat and email
30-day money-back guarantee
Known primarily for its powerful Mac software, Intego has a separate antivirus specifically designed for Windows. During tests, I was impressed to see that Intego caught 100% of just-released malware on the PC (also known as zero-day attacks). It's essential that an antivirus is capable of catching the latest cyberthreats targeting Windows.
The whitelister feature is a convenient feature that allows me to choose specific apps and programs to bypass real-time protection. This helps Intego's real-time virus scanner work more efficiently as it's only detecting new threats.
Unfortunately, there aren't many extra features like parental controls, a password manager, or VPN. This is disappointing because Intego's Mac app comes packed with Mac-specific features and cybersecurity tools.
That said, the price is very reasonable if you're looking for a straightforward antivirus with no extra features weighing it down. I suggest you try Intego on your own Windows device and test out all the features. There's a 30-day money-back guarantee on all plans, so you can get a full refund if you change your mind. You can also use Intego for free for 7 days with the free trial.
Try Intego for Windows for free
Key Features:
Detects malware threats as soon as they are downloaded onto your device
Includes device optimization tools, VPN, password manager, and more
Supports Windows 10, 8 and 7
Contact customer support via phone and email
30-day money-back guarantee
Despite being a free antivirus program, Avira's Free Security Suite easily outperforms Microsoft Defender. Avira's virus scanner successfully flagged and isolated all malware in real-time during testing. It even comes with free optimization tools, browser extension, VPN, password manager, and a file shredder.
This is an impressive amount of features for a free service. The only catch is that Avira's free antivirus doesn't offer ransomware protection. As a result, I recommend downloading Avira alongside Microsoft Defender to reduce the risk of a ransomware attack.
If you're looking for premium protection, you can always upgrade to Avira's Prime plan. It includes ransomware protection, a VPN with unlimited bandwidth, web and email protection, automatic software and driver updater, optimization tools, a network traffic manager, and a process manager. However, it's slightly more expensive than Norton 360.
You can try Avira's Prime plan with the 30-day money-back guarantee, or download the free version. Either way, you've got plenty of time to test out Avira and decide whether it's the right antivirus to protect your Windows device.
Key Features:
Flags and removes both existing and just-released malware
Comes with a browser extension, play mode, and VPN
Works on Windows 10, 8, and 7
24/7 customer support by phone or email
60-day money-back guarantee
Malwarebytes is a strong antivirus program with a streamlined Windows app. It doesn't have as many features as other antivirus competitors, but I did find them very useful. The Browser Guard extension blocks all suspicious websites, links, and ads on Google Chrome and Mozilla Firefox. There's a VPN for anonymous browsing online. I was most impressed by Play Mode, which pauses all notifications when selected apps are running. I tested it when streaming a movie on Kodi and it worked well — I didn't have any interruptions.
Another perk of the limited features is that Malwarbytes is very lightweight. The software barely took up any space on my laptop, and I didn't notice any performance issues while the app operated in the background.
If you're looking for a simple yet effective antivirus alternative to Microsoft Defender, Malwarebytes is a great choice. You can try Malwarebytes for 60 days risk-free with its money-back guarantee.
Try Malwarebytes for Windows now!