Bark Overview August 2022
Major Updates:
Added screen management control. Verdict: A step in the right direction, but still needs improvement.
Bark Kids app is back in the App Store. Verdict: Great news for iPhone and iPad users.
New pricing structure.
Bark claims that its app is intended to build trust between kids and parents. While I don't know that "trust" is the word I'd use, it does give me peace of mind knowing that I don't have to check my kids' social media account to know they aren't getting cyberbullied, using profanity, searching for drugs, weapons, or talking about things I should worry about.
The first thing that grabbed my attention was the huge amount of social media networks that Bark can monitor. From the obvious big names like Facebook and Snapchat to comments made in Google Docs. Bark sent me notifications whenever there was a questionable comment, search, or video. It even notified me about the violent text in a meme.
The biggest issue I had with Bark is that as a non-US resident, I couldn't receive SMS alerts and had to rely on email alerts. When I checked with the Bark customer support to see if there is a way for me to enter my non-US phone number, I was told that they only support users in the US.
As a father to five kids from ages 5 to 16, I understand the importance of finding a parental control app that will allow me to monitor their time on their devices. I decided to test over 50 apps and rank them based on how easy they were for me to set up, manage the time spent on the devices, and whether it was easy for the kids to find a way to circumvent the filters. I hope that you use my research to choose the best app that fits your family's needs. In the case of Bark, you can take advantage of its 7-day free trial, and test it yourself risk-free.
Features
9.8
When I initially tested Bark, my biggest complaint was that it lacked screen time management tools. It was purely a monitoring software that sent alerts and screenshots of all questionable content that was emailed, sent or received by text, or found on my kid's social media accounts. However, the latest version of the app has added screen time management and a web filter to go along with its powerful monitoring tools.
Bark Monitors Devices, Email, and Social Media Networks
The strength of the Bark app is still in how it recognizes worrisome content across a wide spectrum of social media networks, devices, and email accounts. The Bark app will record and take screenshots of every alert, so there is no confusion or lack of context.
Bark can monitor the following:
Devices
Bark can connect with devices using most major platforms:
| | | |
| --- | --- | --- |
| Android | iOS | Amazon Fire and Kindle |
| Chromebook | Chrome Browser | |
Email
Bark can read emails from the following services:
| | | |
| --- | --- | --- |
| Gmail | iCloud | Outlook |
| Yahoo | AOL | Comcast |
Social Media
Bark can connect with over 25 social media networks:
| | | | | | | |
| --- | --- | --- | --- | --- | --- | --- |
| WhatsApp | Twitter | Snapchat (Doesn't work on iOS) | YouTube (Can't access Views and Searches on iOS) | TikTok (Doesn't work on iOS) | Instagram (Can't access DMs and Searches on iOS) | Facebook |
| Skype (Doesn't work on iOS) | Slack | Google Drive | OneDrive | Spotify | OneNote | Kik |
| Dropbox | Flickr | Discord (Doesn't work on iOS) | Messenger Kids (Doesn't work on iOS) | Pinterest | Reddit | VSCO (Doesn't work on iOS) |
| Kidzworld | Holla (Doesn't work on iOS) | GroupMe | Houseparty (Doesn't work on iOS) | LiveMe | Lipsi (Doesn't work on iOS) | |
I had to log in to each of my kids' social media accounts to get started. This means that I needed them to sit with me and enter their usernames and passwords for each account. While this was time-consuming, I knew it was a one time deal (although Facebook does make you reconnect once a month) and once the setup is complete I didn't have to deal with it again. One of the benefits of this was that it required me to have an open dialogue between me and my kids about the dangers online.
Very Basic Time Management Features
While the updated Bark 3.0 app doesn't have a daily time limit there is the option is to set a bedtime for weekdays and weekends.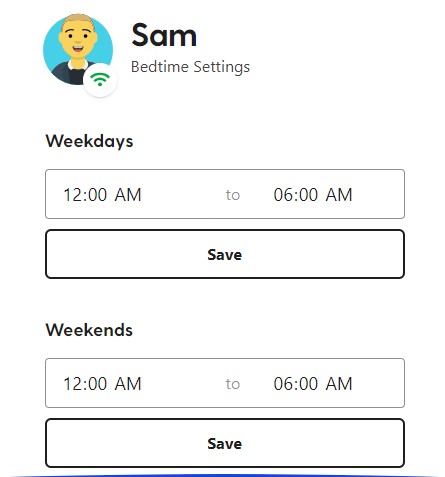 Another new addition is the "Pause" feature, which blocks the internet on all connected devices. The one downside to this is that apps or games that don't require the internet will still run without a problem.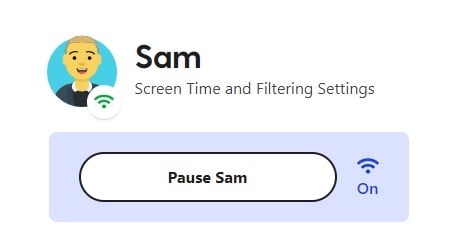 Customized Web Filter
There are 17 categories that Bark will filter, including streaming sites, weapons, drugs, alcohol & gambling, religion, and more.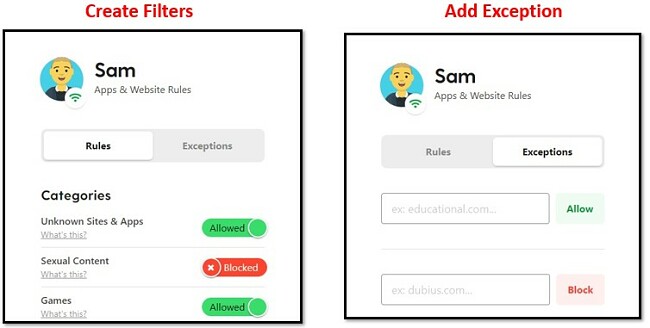 I had mixed results while testing the filters. For example, when I had my son search for "How to Play Blackjack" he had no trouble opening the pages from the search results, including watching a video tutorial. However, when he tried searching for "how to play poker online"— all the pages he tried to open were blocked.

Send Your Kids a Check-in Request
While there is no GPS tracking, there is a check-in feature. I was able to send a request to my oldest son to check-in, and there is also the option for the kids to check-in on their own. When my son checked in, Bark sent me an alert that let me know his current location, based on his phone's GPS.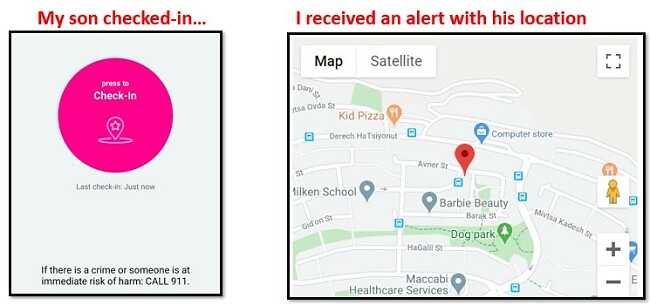 Receive Alerts on Your Dashboard
One thing I really liked about Bark is that I didn't have to read every message sent and received, song played on Spotify, or email my kids are sending and receiving to know what's going on with their lives. Bark is in charge of the monitoring and it sends me alerts whenever it flags an inappropriate activity. The alerts actually showed me the details of why it was flagged, such as the content of an email or the lyrics to a song on Spotify.
Bark has three sensitivity levels for triggering alerts, which is nice because initially I was being overwhelmed with alert messages, including several "false positives." For example, an email with an emoji of a glass of wine triggered an alcohol alert. I was able to specify the sensitivity level for each app it monitors, which helped drastically reduce the number of alerts.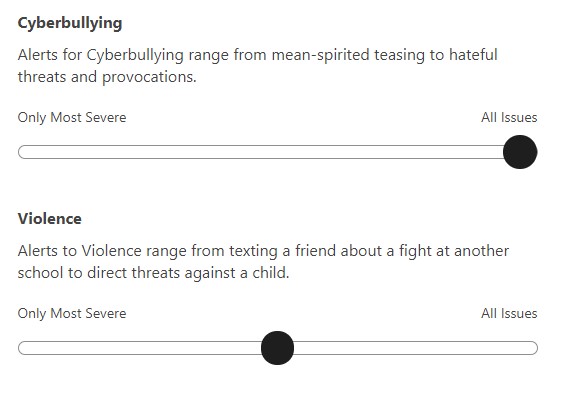 Get Advice From Other Parents
The Bark app has an active forum with parents from all over the world. I found this to be a great space to ask questions, such as how to talk with your kids about pornography, what sites to look out for, or learning the latest slang. The forum is organized based on the age of your kids, so you'll be able to find advice that is actually relevant for your children.

Installation
9.5
There are two parts to installing Bark to monitor your kids' social media activities. First I created a Bark account (I got a great deal from this hidden page) and then added a child account for each of my children. After asking for the name and age of each child, there were two remaining steps I had to complete:
Grant permissions to Bark to have access to each site.
There are some apps, such as WhatsApp, that require the app to be downloaded on the kids' devices. This is where it can get tricky for some. Bark has removed the Bark for Kids app from Google Play because of the restrictions that Google put on monitoring apps. The Bark app for parents is available through Google Play and can be downloaded like any other app. Once it's on your phone, log in with the same credentials used when purchasing the app, and you'll have instant access to your dashboard.
How to Download Bark for Kids on Android
Using the Chrome browser on your child's device, go to Bark.us/android and download the file.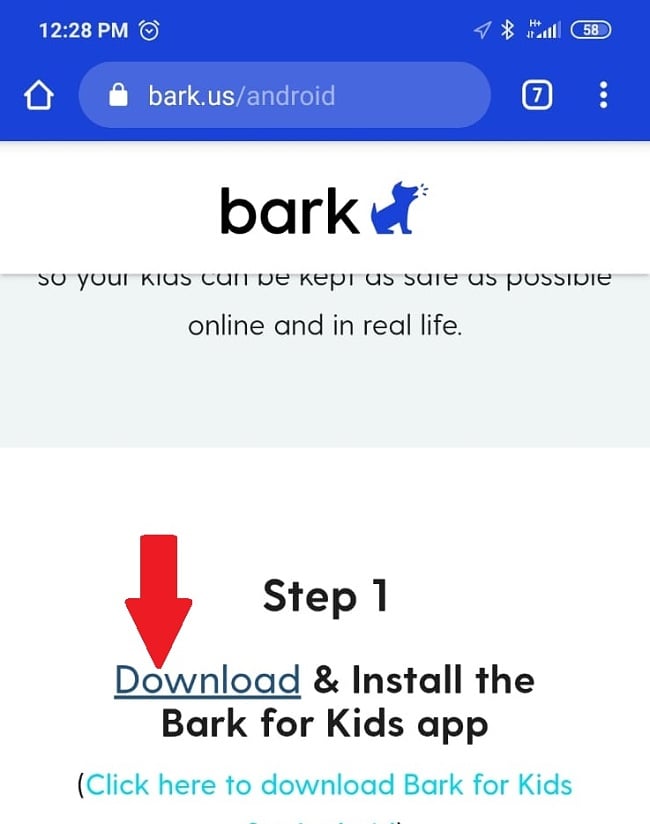 If you haven't done so in the past, you will need to allow your phone to install an app from an unknown source. Click on Settings and then turn on the option to Allow from the Source (the dot should be blue.)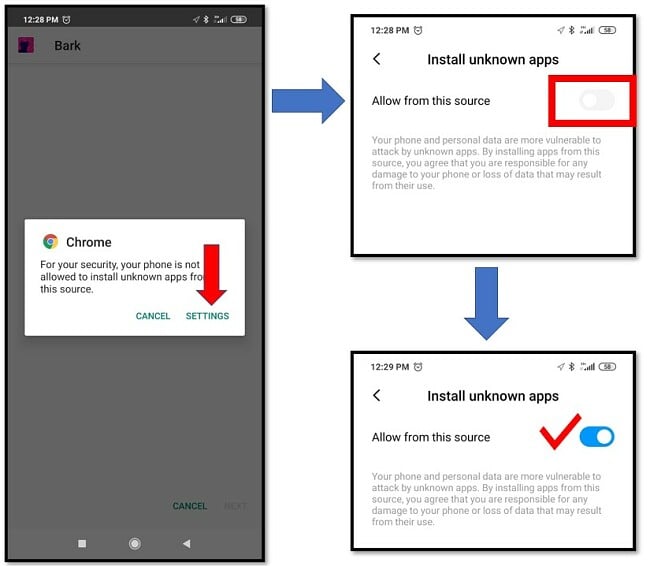 All that's left to do is click on the Install button and Bark for Kids will immediately download and install on the phone.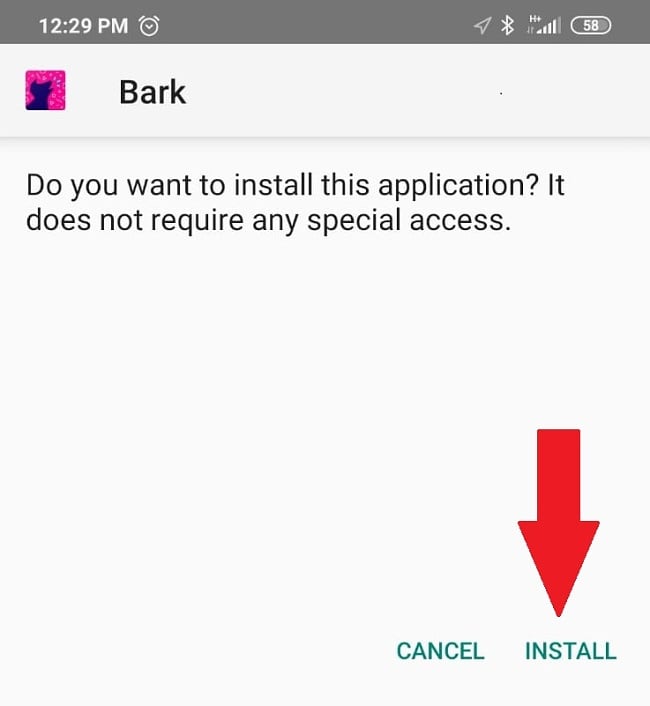 How to Install Bark for Kid on iOS
After the latest update, you can download Bark from the App Store. You will also need to have Bark for Desktop downloaded on your Mac or PC because the app will back up all the data, alerts, and screenshots when the two apps are connected to the same wifi network.
Ease of Use
9.6
Once you get past the download and installation steps, you'll have to spend some time connecting each of your kid's social media accounts to Bark. I was able to connect most of their accounts through the desktop app, but there are a few apps that will require the Bark app to be on your kid's device to work.
The whole process was pretty time consuming, especially if you're using it with multiple kids. It took me around 15 minutes per child to get everything properly set up.
Once the setup was complete, Bark automatically ran in the background, and I was able to check in on my kids' online activities.
Support
9.8
Bark has a Live Chat option, but that doesn't mean that customer support reps are always available. The service is only open during regular business hours but even then, it can take some time for someone to respond to your question.
I tested out their Live Chat feature to try and see if, as someone not living in the US, I could enter my phone number so I can receive SMS alerts instead of just relying on emails. I sent the question before the Live Chat was officially open, and received an answer a few hours later. Once the rep was online, I was able to ask some other questions, including some current events, which is how I confirmed it wasn't a bot.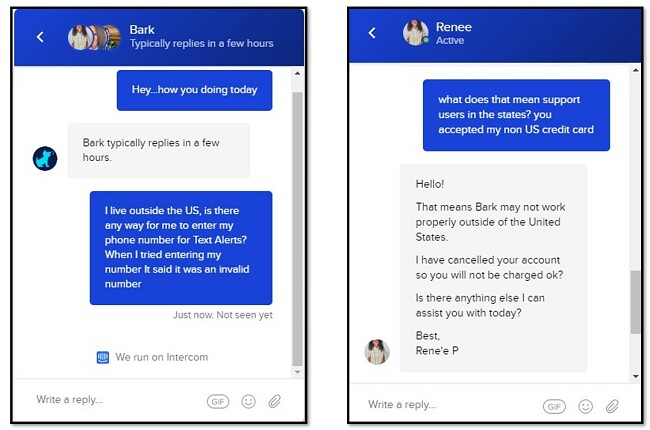 Bark also has an option to send an Email if you don't want to wait around for a live chat, and an FAQ section that answers some of the more common questions.
FAQ
Is Bark safe?
There was some concern about the safety and security of the Bark app once it was removed from the App Store and Google Play. But I put the file through VirusTotal and it came back 100% clean of viruses and malware.
What does Bark monitor?
It can connect with over 25 popular social media networks and can recognize text messages, Google searches, posts, videos, etc. that are related to cyberbullying, drug use, suicide, weapons, online predators, and more.
Can I use Bark to lock my kids' phone or tablet?
While there is no daily limit, there is a Pause button and the option to set a Bedtime Schedule that can be set for Weekdays and Weeknights. When the phone is in Pause mode, it will still work as a phone, but internet access will be blocked.
Is there location tracking on Bark?
While Bark has access to the phone's GPS, a parent can't access it to find the location of their kids. There is a Check-In feature, where a parent can request that their kid to check-in and, if the kids actually check-in, their location will be sent to the parents.
Will Bark work If I have an iPhone and my kids have Android devices?
Bark works across multiple platforms. It doesn't matter what devices everyone in the family is using, as long as they are compatible with Bark.
Pricing
9.8
Bark has two pricing options:
Bark Jr: Only includes screen time management, web filter, and check-in feature.
Bark: This includes all the Bark features.
There is no device limit with either plan, so you can monitor everyone in the family.
Bark offers a 7-day free trial, but you will have to enter your credit card information when creating the account. You won't be charged until after the 7 days are completed.
There are two options when it comes to purchasing a subscription; monthly or annually. For the biggest savings, I recommend going to their hidden deals page, you'll save a nice amount of money when you get the annual subscription.
Bark offers the following plans
Bottom Line
Bark isn't for everyone. It requires a level of trust between children and parents, and for the kids to give access to their social media accounts to their parents.
If you are still trying to decide if this is for you, try it risk-free and take advantage of the 7-day free trial. This will give you plenty of time to see how it goes and if it works for both you and your child.
After testing it for a while, I do wish that the time restriction feature was more flexible, but it's a new feature and Bark will hopefully improve it with time. That being said, Bark does excel at its core features, it's a monitoring app that sends alerts whenever it recognizes suspicious activity.