Bark Overview 2023
I'll say it clearly – Bark is not the cheapest option available, but it is considered to be one of the best parental control apps for monitoring social media. So when the company advertised they have special deals and free trials, I saw it as an opportunity to see what it's all about.
To assess Bark's monitoring capabilities thoroughly, I conducted a comprehensive evaluation. I chose to install the Bark application on my child's Android device, connecting it to their various social media profiles, including Facebook, Snapchat, Instagram, WhatsApp, and Gmail. Additionally, I extensively explored the features of the parental control settings. This involved setting screen time limits, implementing web content filters, and creating a geofence. At the heart of this effort was the aim to uncover any potential vulnerabilities or ways to bypass these protective measures.
My conclusion: Bark is well worth the subscription price, It did a great job monitoring the social media and web content. It sent me alerts for a wide range of potentially dangerous or inappropriate comments and posts. The parental control features were strong, and my son couldn't bypass them. You can also take advantage of their current offer and test Bark free for 7 days.
Don't Have Time? Here's a Short Summary (1-Minute Read)
The Bark philosophy is that trust and having an open line of communication between kids and parents is an essential part of keeping kids safe online. Therefore, its features, such as social media monitoring and location tracking, require that the child is an active participant instead of just transmitting the data to the parent's dashboard. With the screen time tools, you'll be able to create a routine, which helps develop healthy habits, while at the same time still giving you the ability to control screen time and app use.
Here's a quick summary of Bark's features:
Bark Features – Updated in 2023
| | |
| --- | --- |
| 🎁 Free Trial | 7 days |
| 💰 Best Price | $5 a month |
| 🔢 Number of Devices Per Account | Unlimited |
| 🌐 Web Filter | ✅ |
| 💻 Screen Time Management | ✅ |
| 📍 Location Tracking | ✅ |
| 🏠 Geofence | ✅ |
| 📱 Call and SMS Monitoring | ✅ |
| ⚙️ App Management | ✅ |
| 🆘 SOS Button | ✅ |
| 📞 Customer Service | Live chat, schedule phone calls, FAQ |
| 🎮 Platforms | PC, macOS, Android, iOS, Amazon, and Chromebook |
With its comprehensive library of powerful features, Bark provided me with valuable insights and tools to effectively monitor my kid's behavior online. By addressing potential risks and offering timely alerts, Bark offered peace of mind and the ability to create a healthy and secure online environment. Here are some of the top features that made Bark an invaluable asset in safeguarding my kids online.
AI Content Monitoring to Detect Inappropriate and Dangerous Interactions
Bark uses AI and machine learning algorithms to scan videos, text, photos, DMs, and even emojis in more than 30 social media and email apps. The algorithm has 17 categories that include everything from sex, drugs, and self-harm to risky app use and creating a public profile.
I was able to adjust the sensitivity levels of the category or turn it off completely if I didn't think it was relevant to my child.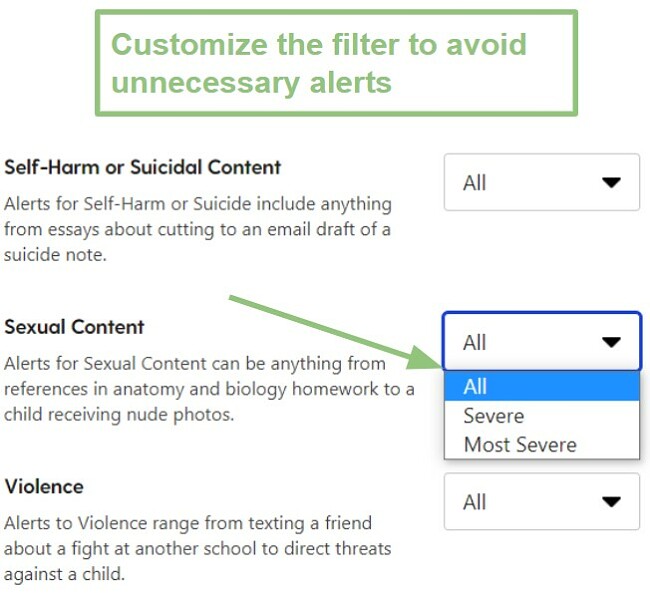 By adjusting the sensitivity levels, I was able to limit the number of false flags or alerts that were really minor, and didn't require my attention.
The 17 Categories that Bark Monitors
| | | | | | |
| --- | --- | --- | --- | --- | --- |
| Anxiety | Body Image and Eating-related | Cyberbullying | Change in Account Activity | Dangerous organization | Depression |
| Drug and alcohol related content | Hate Speech | Inappropriate behavior | Medically Concerning Content | Profanity | Public Profile |
| Risky App/site usage | Self Harm or Suicidal content | Sexual Content | Violence | Weapons | |
Bark uploads a screenshot of any content that triggers an alert, along with tags to make it easy to see which categories caused the alert. After my first few days of using Bark, I saw that many of the alerts were caused because the sensitivity settings were high. However, because it shows me the filter tag, I was able to go to the settings and change them to a lower sensitivity level, which reduced the number of false flag alerts.
Another nice feature I noticed is that if I trust the person communicating with my daughter, I can choose to remove all alerts from their interactions. For example, in the image below, the alert was triggered in a siblings and parents group, where one of my other children sent a funny beer commercial that Bark flagged for drugs and alcohol. I don't need to get alerts from our family WhatsApp group, so I clicked the link that says "Don't alert me to issues with this group."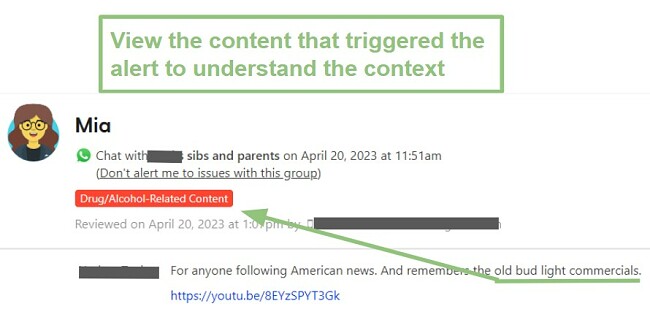 💡It's important to know that Bark only uploads messages or gives you insights into their social media interactions if it triggers an alert. As long as your child is acting appropriately, you will not be able to see who they're interacting with or what they're talking about.
Bark Monitors the Most Popular Social Media Apps and Email Accounts
Bark is compatible with a good mix of more than 30 social media and chat apps that are popular among teens. While I did have to sit with my daughter and connect some of her accounts to Bark, others are automatically monitored if the apps are installed on the phone. Connecting Bark to the apps is an easy process – you can see complete instructions here.
Here is the complete list of the apps that Bark monitors for Android and iOS, and what it can monitor with each one.
| | | | |
| --- | --- | --- | --- |
| App | Monitors | Android | iOS |
| WhatsApp | Chats | ✅ | ✅ |
| Discord | Channel Chats, Group DMs, Individual DMs | ✅ | ✅ |
| Dropbox | Documents, images, and videos | ✅ | ✅ |
| Facebook | Text and photos posted on the timeline | ✅ | ✅ |
| Flickr | Photos and comments | ✅ | ✅ |
| Google Drive | Documents, comments and replies, photos, and videos | ✅ | ✅ |
| GroupMe | Group and Direct messages | ✅ | ✅ |
| HOLLA | Text chats with matches | ✅ | ❌ |
| Houseparty | Notes | ✅ | ❌ |
| Instagram | All posts, DMs, and search | ✅ | ✅ |
| Kik | Chat based text | ✅ | ✅ |
| Lipsi | DMs | ✅ | ✅ |
| LiveMe | In-stream chats and DMs | ✅ | ✅ |
| Messenger Kids | DMs | ✅ | ❌ |
| OneDrive | Documents, comment and replies, photos, and videos | ✅ | ✅ |
| Pinterest | Profile and pinned content | ✅ | ✅ |
| Reddit | Posts, Comments and replies, and DMs | ✅ | ✅ |
| Skype | DMs and group chats | ✅ | ❌ |
| Slack | DMs, group messages, and private channels | ✅ | ✅ |
| Snapchat | DMs | ✅ | ❌ |
| Spotify | Lyrics | ✅ | ✅ |
| Steam | Chat messages | ✅ | ❌ |
| TikTok | DMs | ✅ | ❌ |
| Tumblr | Photos, chats, links, blog posts, Q&A | ✅ | ✅ |
| VSCO | Chats | ✅ | ❌ |
| YouTube | Video your child's posts, comments on their videos. Views, and searches | ✅ | ✅ |
In addition to these apps, I was happy to see that Bark monitors photos, videos, and texts that are saved on Android, iOS, and Amazon Fire devices.
Customize a Screen Time Schedule to Create Healthy Habits
Bark has a unique method for creating screen time rules. Instead of setting an overall daily screen time limit or limits for individual apps, I got to create a custom schedule for which apps and websites are available at different times throughout the day. This system is great if your child has a consistent schedule, like during the school year, but can be a bit more challenging during vacation.
There are three different time segments, or categories, each with its own set of rules for how I want my daughter to use her phone. Bark has a small selection of apps that I can block or I can block categories of apps and websites. Another option is to set one of the time segments to disable the internet when it's active. Once the segments are ready, I can add them to the daily or weekly calendar, and within a minute or two, it will sync these rules to my child's device.
In addition to the three segments that I can add to the calendar, there is also a default option. this one is what Bark uses if you leave a time slot empty in the calendar. I am surprised that Bark doesn't give me the option to add additional segments, but perhaps having too many options would be harder to manage.
Each segment has default settings that block or allow specific apps and websites, but I prefer to scroll through all the rules and customize the rules based on my daughter's needs and interests.
These are the time segments and recommendations for how to use each one:
School Time: I only allow access to apps and websites my son needs in school, like Microsoft 365, Google Docs, and his school app. Everything else is blocked.
Free Time: When my son has free time, I give him access to all his apps.
Bedtime: I blocked all apps except his music app, so he can listen to music when he goes to sleep.
Default: If you don't set rules for a specific time, the default filter and app permission will be enforced. I use this option to block the internet completely.
Bark also has a Pause Device button that allows me to remotely block the internet from my son's phone. I like this feature if I need him off the phone, but I don't want to make any changes to the daily or weekly routine.
Because of Bark's trust-based philosophy, they don't have a typical screen time tool, where I can set a daily screen time limit, or limit screen time for specific apps. If you want to set strict screen time limits, try Qustodio which is one the best screen time limiting apps that I've tested.
Create a Screen Time Schedule with Bark!
The Web Filter is Integrated with the Screen Time Categories for Enhanced Customization
The Bark web filter is a little different than any other filter I tested. Instead of a general web filter that works all the time, Bark lets you segment the rules as part of the screen time categories.
The advantage of using a filter like this, as opposed to a standard web filter that is always on, is that it allows me to set boundaries based on what my child should be doing, and not just general rules for the entire day. For example, while I have no problem with my daughter looking at sports and entertainment sites during her free time, I don't want these sites available during school hours or when he should be in bed. Of course, some categories, like sexual content, drugs, and violence are enabled on every time segment because they're never allowed.
The filter is fully customizable, and all changes are made in the Settings section for the specific time segment.
The filter can block:
App categories such as social media, games, streaming, and unknown apps
30+ apps
19 Website categories
Any URL – but it has to be entered manually in the exception section
The web filter can block apps and websites in the following 19 categories:
| | | | |
| --- | --- | --- | --- |
| Sexual Content | Streaming Services | Collaboration | General / Education |
| Social Media | App Stores and System Updates | Entertainment | Health and Medicine |
| Games | Drugs, Alcohol, and Gambling | Illegal, Malicious, or Hacking | Sports and Hobbies |
| eCommerce | Weapons | Advertising | Unidentifiable traffic from VPNs, peer-to-peer networks, and private gaming platforms. |
| Religion | Blogs | Unknown Sites and Apps | |
When Bark blocks a website or app, it doesn't show a lock screen or let the child know the filter blocked them. Instead, the page will act like it's loading very slowly until there's a time-out error message on the screen. The only flaw with this filter is that it only works with apps that have to be online; offline apps, like games or streaming downloaded shows on Netflix or Hulu, will work.
In addition to these categories, Bark can enforce SafeSearch for Google, Bing, and DuckDuckGo, and it blocks any search engine that doesn't support SafeSearch. I could also turn on YouTube Restricted Mode to stop any inappropriate videos from appearing in the search results or playing on AutoPlay or recommended videos. The advantage of using Bark for SafeSearch and Restricted Mode instead of just activating these features through the Google account is that Bark has better tools to prevent my daughter from bypassing the rules.
Get Live Location Updates and Create Geofences
Bark has a different method for tracking the child's live location from other parental control apps I've tested. Instead of opening the dashboard and seeing my child's avatar on a map, it's up to my son to send me a Check-In. The way it works is simple: I can send a Check-In request to my son through the dashboard, and he receives a notification on his phone.
He then opens the Bark Child app on his phone and presses the Check-In button. Once he checks in, the map on the dashboard is updated with his location. However, it won't update until my son checks in again. There's a Get Directions button under the map if I need to go pick him up or we're meeting up somewhere.
The Check-in button can also be used as an SOS or panic button when a child finds themselves in an uncomfortable position. There is no need to wait for a check-in request from the parent. I told my daughter that if he's ever in trouble, just open the Bark for Kids app and press the Check-in button.
I was happy to see that Bark has a geofence feature. It allows me to add a location address or the name of the location, and when my daughter enters or leaves that area, it sends a notification to my phone and adds an alert in the dashboard.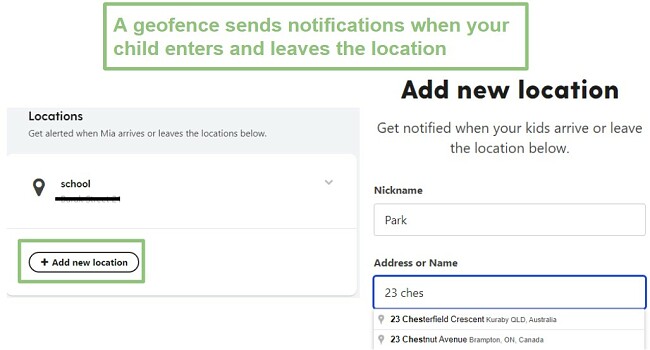 This feature is helpful because my daughter goes to school by himself, and Bark lets me know that he made it in the morning and when he returned home in the afternoon. The only improvement I would like to see is the option to place a pin on the map, instead of only giving me the option to enter an address. There are times when I don't know the exact address, such as the park or a friend's house, but I can find it on the map.
View Insights to Get an Overview of Your Child's Online Activity
The Insights section is the one part of Bark that I think needs major improvements. On the top of the Insights page, it shows the number of online actions that it analyzed and how many alerts came from that. Under that, it shows the top 5 online activities based on the frequency of the action, not the amount of time spent doing it. So, for example, if my daughter opened the Facebook app 1 time but watched for 3 hours and opened the Facebook app 2 times for a total of 2 minutes, Facebook would be listed above Netflix. It also lists the number of alerts from the previous 7 days, but I couldn't click on anything to get more information.
As I scrolled down, I could see the most recently installed apps, here I could click through and see more apps that were installed and their ratings. That's followed by a graph that is supposed to monitor the tone of messages my daughter sends, either positive or negative. However, while testing Bark, all of my daughter's messages were uncategorized, so this didn't provide any helpful insights.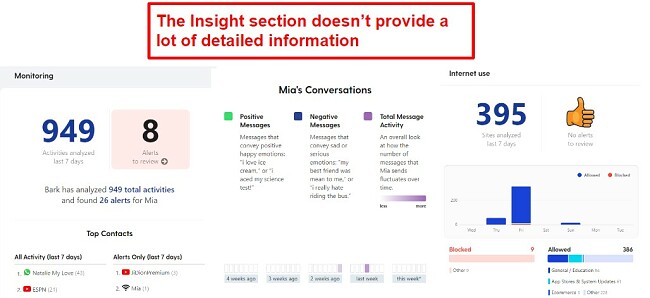 Lastly, there are insights into Internet Use. Again, I can see the number of websites Bark analyzed and any alerts it may have triggered, but I can't click through to see more information. The only information that I can see is the different web categories that my daughter visited.
Detailed Alerts Make it Easy To Spot any Issues
While the Insights are vague and don't provide me with too much information, the Alerts are among the best I've seen from any parental control app. Every alert includes:
✅ Tags for each of the categories that were triggered.
✅ The app or website that was in use that triggered the alert.
✅ A screenshot or link to whatever triggered the alert.
✅ Recommended actions for parents, which includes advice and additional resources.
✅ The option to turn off alerts from a specific sender, group, or app.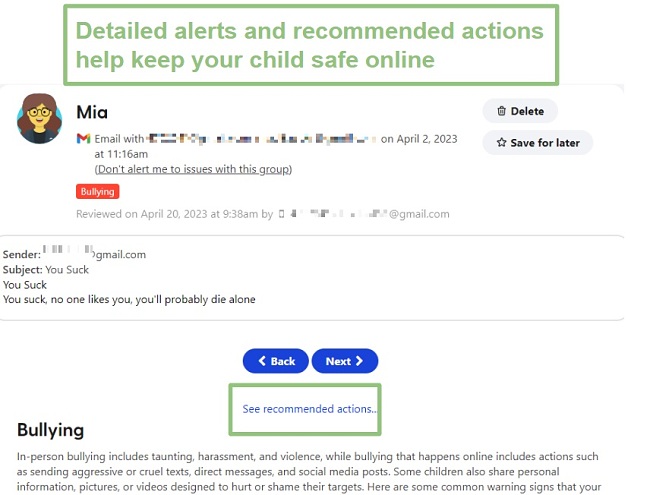 There are two ways to access the alerts. You can either click on the bright red alert bar on the main dashboard page or if you're on any other section in your parental dashboard, click on the Alerts tab on the top menu bar.
In both cases, I could see the list of the alerts with some basic information about why the alert was triggered. It shows me which device my daughter was using, the app she was using that triggered the alerts, and which category was triggered to cause the alert.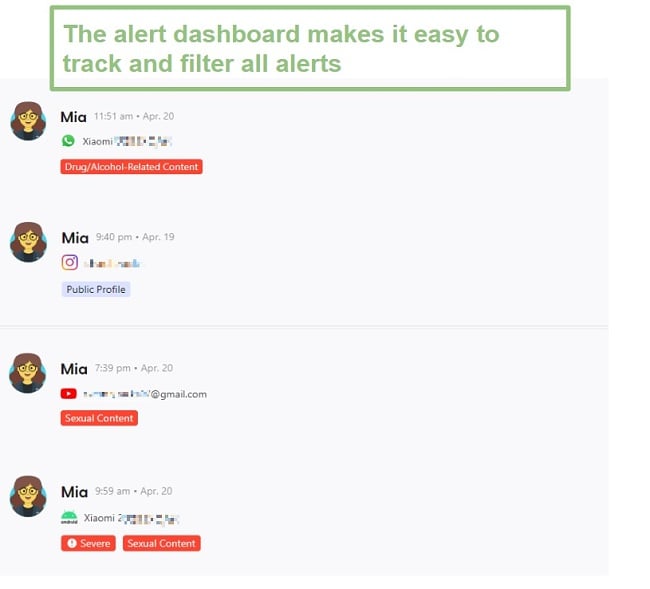 I can then click on each alert to view the complete details. The alert uploads an image or a copy of the text, making it very clear as to why the alert was triggered. It also allows me to see the context, so there is no room for misunderstanding.
Before I could install Bark on my daughter's phone and computer, I needed to create a profile and purchase a subscription plan.
I found that creating the profile and setting up the account went much faster when I sat with my child. This is because, besides the easy questions of name and birthday, I needed to select her email provider, browser preference, and the social media apps she uses, so Bark could monitor them. If your child isn't around, don't worry, you can always add these in later.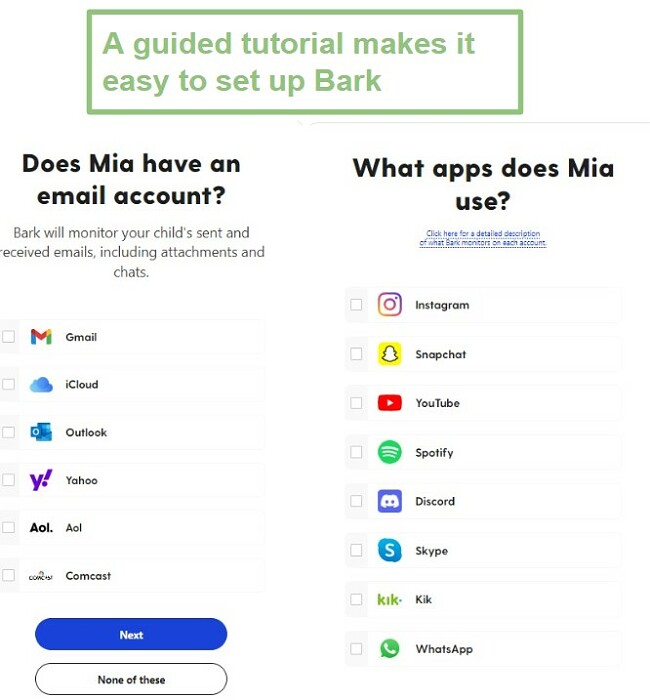 After I completed the profile, I selected all the devices and platforms that my daughter uses. Bark allows unlimited device connections, which means that not only can I create a custom user profile for each child, but I can monitor all of their devices. With other apps I tested, I had to debate whether it was more important to monitor the phone, tablet, Chromebook, or the family computer, but with Bark, I can monitor them all.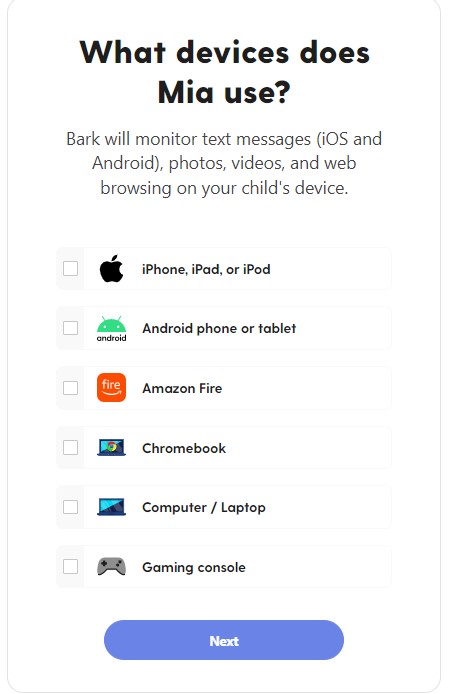 After the profile was complete, I had to choose one of the Bark subscription plans. Since I wanted to test the app before paying for it, I started with a 7-day free trial. Bark did require that I enter my payment information to activate the free trial, but I wasn't charged until the trial period ended.
How to Install Bark on Android
The Bark for Kids app can only be downloaded directly from the Bark website, as it's not available in the Google Play Store. After my payment method was confirmed, Bark showed me three options for installing the app, all of which require physical access to her phone as there is no remote installation option.
Scan the QR code, and the app will begin to download.
Go to Bark.us/android, and press the download button.
Send an SMS with the installation link. This option is only available in the US, South Africa, and Australia.
After the installation is finished, follow the setup wizard to make sure all of the permissions, such as GPS access, contacts, and accessibility, are enabled.
The last step is to connect the app to your account. Instead of a username and password, which your child might know and use to disable the protection, Bark uses a Device Code that changes every few minutes.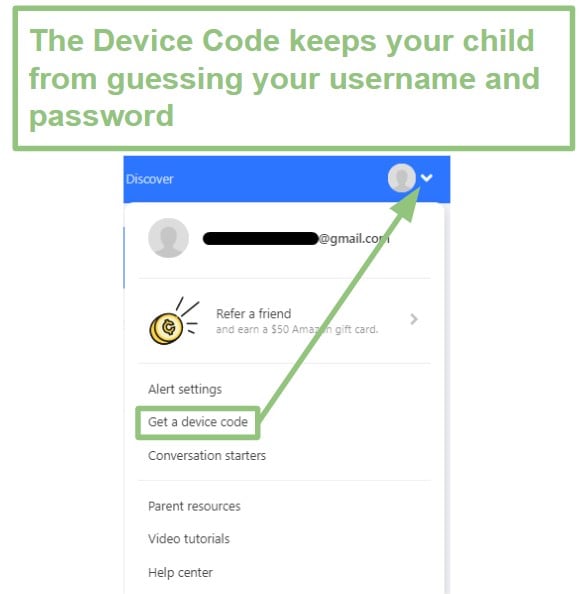 To find the 6-digit code, log into your dashboard and click on the account icon in the top right corner. A menu will open with a Get Device Code option. Just copy and paste the code on your child's phone to sync your account with the phone.
How to Install Bark for Kids on iOS
Because there is no Bark for Kids app in the App Store and there is no jailbreak option, there technically isn't an app to install on the iOS device. However, you can still set up monitoring for iPhone and iPad through your computer.
Before you get started, make sure you have:
Your child's iOS devices
The charging cable
A PC or Mac
The first thing you'll need to do is download the Bark Desktop app on your PC or Mac from the Bark website. Once the installation is complete, use the cable to connect the iOS device to the computer.
Then, open the Bark dashboard on your computer, and press the Monitoring tile > Add Device > choose the monitoring option > select iOS/Apple.

Lastly, follow the on-screen instructions to approve the permissions and set up syncing between the computer and iOS device. After the accounts are synced, the Bark desktop app will scan the iPhone and iPad whenever they're on the same WiFi network, so you won't need physical access to your child's device again.
How to Install the Browser Extension
To set up monitoring on a PC or Mac, you'll need to install a browser extension for either Chrome or Edge. Open the extension store, and search for Bark, you'll see two extensions – Bark for Chrome or Edge and Bark for Watchdog. You will need to install them both, but first install the Bark for Chrome or Edge.
Make sure that you do the following:
Install the extension on your child's browser profile account. If your child doesn't have their own user profile, set it up before adding the extension.
Connect your child's email accounts to Bark. This allows Bark to identify the child's browser as their own. It's especially important if you're monitoring multiple children.
Click on the Manage Extensions tab on your browser and allow the extension to run in Incognito Mode (Chrome) or InPrivate (Edge).
Disable guest mode profiles, and make sure that all other user profiles are password protected so your child can't just switch profiles when acting inappropriately.
💡Bark is only compatible with Chrome and Microsoft Edge browsers. I've seen a Bark extension in the Firefox extension store, but it's not an official Bark extension, rather it was created by a third-party developer.
Guided Tutorial For Setting Up Social Media and App Monitoring
One of the unique challenges I found with Bark is connecting it with my daughter's email and social media accounts. All of the apps that I selected during the setup process appeared on my dashboard. Then, I went through them one at a time to set up the monitoring.
When I clicked on each app, I had the following three options:
I have my child's device: Bark will send a setup link via SMS to the child's device. If they are already logged into their account, no further action is required. Otherwise, they simply need to connect their account, and Bark will start monitoring. This option is only available in the US, South Africa, and Australia due to SMS restrictions.
I have my child's password: You can log in to the app or social media network directly from this page. After agreeing to grant Bark access to the account, monitoring will begin.
My child will connect this account: By selecting this option, Bark will send a setup link to your child's account through SMS or email. this method is suitable if you trust that your child will follow the instructions and connect their accounts to Bark.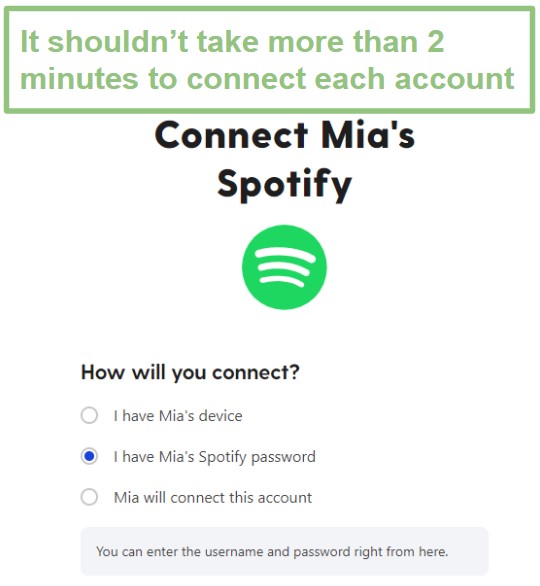 The setup process is not needed for all the apps that Bark monitors. There are 13 apps that Bark automatically monitors if they're installed on the child's phone.
Apps that Bark Monitors Automatically
| | |
| --- | --- |
| Chrome | ✅ |
| WhatsApp | ✅ |
| TikTok | ✅ |
| Snapchat | ✅ |
| Discord | ✅ |
| Steam | ✅ |
| Skype | ✅ |
| Messenger for Kids | ✅ |
| Houseparty | ✅ |
| Kik | ✅ |
| VSCO | ✅ |
| HOLLA | ✅ |
| Lipsi | ✅ |
Connecting your child's apps to Bark is one of the most important things you have to do when setting up Bark because otherwise, it will only monitor the 13 apps listed above. The guided tutorial makes it really simple and fast, which I appreciated.
Bark is a pretty easy parental control app to use, and the guided setup tutorials streamline the setup process.
The Setup Checklist Makes Sure Nothing is Forgotten
Bark has a checklist that helped make the initial setup much easier. It has three main sections: Monitoring, Screen Time, and Location, with subtasks for each one. Under Monitoring, the tasks are to connect the apps and devices I want to monitor. I really like that it includes a list of the apps that I selected during the installation, so I don't forget to connect them to Bark. The second task is to review the alert sensitivity, so that I only get relevant alerts and the filter is properly configured for my child. The other tasks are to configure the screen time rules and set up the location alerts.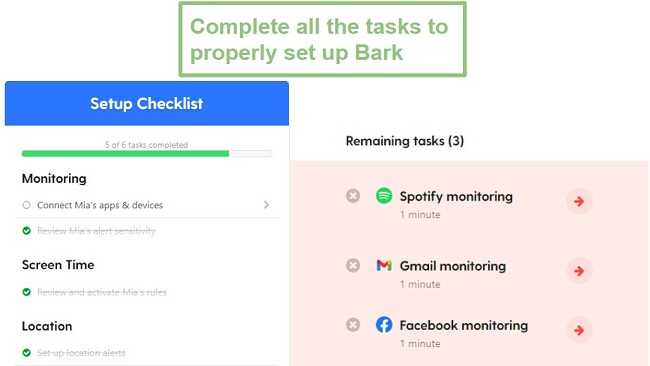 The checklist does more than just serve as a reminder, when you click on a task, it will open the correct page, or show the necessary steps to complete the task. When a task is complete, there's a line that goes through it, and when all the tasks are done, the checklist is removed from your dashboard.
Minimalist Style Dashboard Makes it Easy to Manage
Out of all the parental control apps that I've tested, Bark has the easiest dashboard to manage. It uses a simple design, with no confusing layouts, menus, or hard to find features. At the top of the dashboard is the number of alerts the child triggered. It's a great placement, because I've seen other parental control apps where the alerts are off to the side, and easy to miss. With the bright red bar, there's no chance that I'll forget to review an alert.
The dashboard consists of four tiles. Three of them, monitoring, screen time, and location, take you to the feature's section, where you can set or adjust the rules.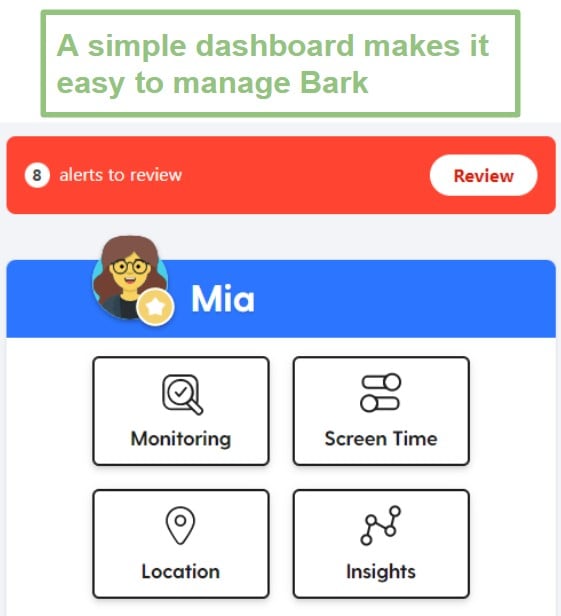 The fourth title is for Insights, which provides data on how many activities Bark analyzed, the tone of messages and conversations, online activities, and recently installed apps.
Adjust Monitoring Levels with Just a Few Clicks
When I opened the Monitoring tile, there were two options on the top of the screen:
Devices: If you're monitoring multiple devices or platforms for a single child, make sure that you select the right one for the action you're going to take.
Setting: this is where you can adjust the filter sensitivities or disable a category. Adjusting different levels may help limit some of the alerts you receive if sensitivity levels are too high.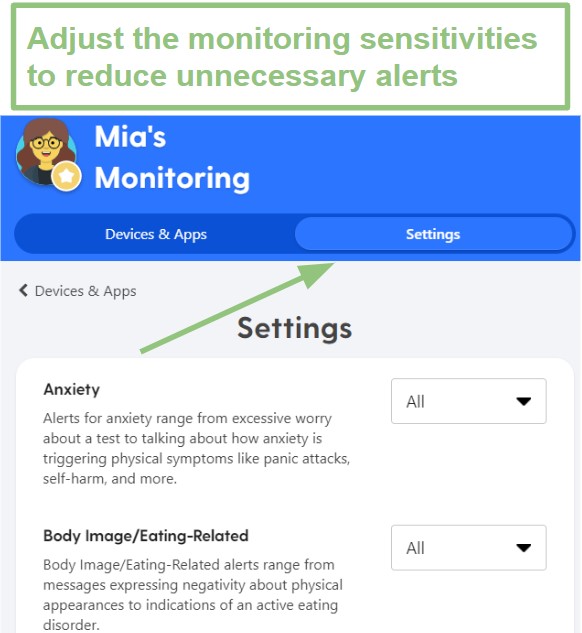 Once I was happy with the monitoring settings, I didn't have to go back and make any changes. I like there's no need to make frequent changes or updates to the filter, I can just set it and forget it.
Set the Screen Time Routine and Web Filters at the Same Time
The first time I set up the screen time routine rules was a little confusing. I was used to the style used by other parental control apps, like Qustodio, where I could set a daily screen time limit and a daily calendar of when the phone would be locked.
Since Bark doesn't have a daily screen time limit, I needed to spend time customizing the types of four categories of screen time; Free time, School, Bedtime, and Default. The process isn't difficult, but it can take some time. The good news is that once you create the schedule, you don't have to do it again.

Of course, you can always make adjustments such as allowing or blocking apps, adding website exceptions, or changing the times, but these are minor adjustments that are extremely easy to do and shouldn't take more than a minute.
No matter what I was doing, from the first minute I arrived on the Bark website until I was finished connecting all my daughter's social media apps and screen time rules,bark had the answers for any question that I had. There's an automated chatbot, email support, scheduled phone calls, video tutorials, and over 100 FAQ questions.
I tested the email ticket system by sending several questions to customer support at different times throughout the day. I never had to wait more than a few hours to get a response, and the response either contained a complete answer or follow-up questions so they could provide a better answer.

In cases where email isn't good enough, Bark has the option to set up a phone call with one of their specialists. The easiest way to schedule the meeting is by making a request through the chatbot. I left my phone number and a convenient time, and they called right on time. The customer service rep was very helpful and was able to access my screen so he could see exactly what I was seeing and provide me with the help I needed.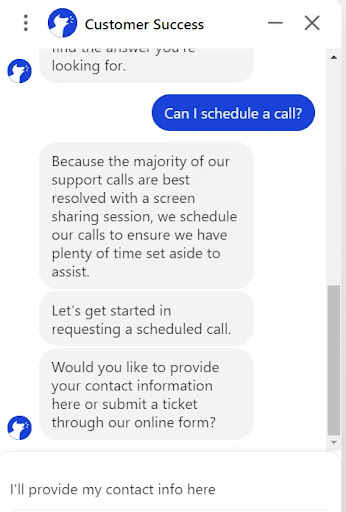 While there is no live chat help, the chatbot did a pretty good job of directing me to the right answer. It uses the keywords in my questions and either asks good follow-up questions or answers with a link to one of the 100+ FAQ pages. It's not always perfect, but I was usually able to reword my question to get the answer I needed.
The FAQ section is very thorough. It doesn't just ask a few basic questions and give two-line answers. Instead, there are full articles that provide a detailed response in a clear, easy-to-understand style.
Another helpful tool that Bark uses is the Discover section. It's a great resource for parents with helpful how-to videos, blogs that include age-based recommendations, and an updated list of slang terms and definitions that your kids may be using.
FAQ
We offer two choices for a Bark subscription. The first option is Bark Jr., which is designed with younger children in mind. It provides essential features such as a screen time routine, web filter, and location tracking tools.
The Premium plan includes everything in the Bark Jr plan plus monitoring text, email, YouTube, over 30 apps, plus it sends alerts for dangerous and inappropriate content.
I like that with both plans, Bark doesn't have device or child profile limits.
Bark Jr Plan vs. Bark Premium Plan
It's important to understand the difference between the two plans, so you can ensure that you get the plan that is right for your needs. You can see the difference between the two plans here:
| | | |
| --- | --- | --- |
| | Bark Jr. | Brak Premium |
| Web Filter (17 Categories) | ✅ | ✅ |
| Screen Time Routine | ✅ | ✅ |
| Location tracking and geofences | ✅ | ✅ |
| SMS monitoring | ✅ | ❌ |
| Monitor 30+ apps and platforms | ✅ | ❌ |
| Real-time alerts for cyberbullying, online predators, suicidal ideation, and more | ✅ | ❌ |
Bark offers a 7-day free trial, and you will have to enter your credit card information when creating the account. During the trial period, you'll have unlimited access to all the Bark Premium features.
There are two options when it comes to purchasing a subscription; monthly or annually. For the biggest savings, go to their hidden deals page, where you can save a nice amount of money on the annual subscription. The monthly plan is a little more expensive, but it's a good option if you only plan on monitoring your child for a short time.
Is Bark Worth the Cost?
As I said at the beginning, Bark isn't the cheapest parental control app on the market, but does it provide more value than the cheaper options? The answer to the question really depends on your needs. Bark specializes in monitoring social media apps and networks, mobile devices, and browsers for inappropriate content. It does a better job of this than any other parental control app I've tested. Any content that triggers the filter is uploaded to the dashboard, and it sends alerts for any potentially troublesome interaction.
So, if monitoring your child's online activities is important, then Bark Premium is a bargain. However, if you want to place rules on your child's phone, view reports on screen time usage, set daily time limits on the device and individual apps, and track the live location, then Bark isn't worth the cost for you, and you should check out Qustodio.
If you're not sure if Bark is the right option for you or which plan to start with, take advantage of the 7-day free trial. This will give you unlimited access to all the Bark Premium features, so you can test them firsthand and see how they work yourself.
Bottom Line
Bark is an excellent parental control app for monitoring your children's social media and email interactions. The advanced AI web filter will send you real-time alerts with screenshots if it detects anything that triggers its sensors in a wide range of health and safety-related categories.
It also has the necessary tools for enforcing custom screen time rules, location check-ins, and setting up a geofence. If you are still trying to decide if this is for you, take advantage of the 7-day free trial. This will give you plenty of time to see how it goes and if it works for both you and your child.
We rank vendors based on rigorous testing and research, but also take into account your feedback and our commercial agreements with providers. This page contains affiliate links.