Qustodio Overview February 2023
Qustodio is one of the most comprehensive parental control apps, although there are cheaper options. I often see seasonal discounts that reduce the price but are the parental control features that much better than other cheaper apps?
I downloaded Qustodio and performed thorough tests to see what it'ss all about and whether or not the price is justified. I also challenged my 16-year-old son to try and bypass the restriction to see whether there were weaknesses that he could exploit. I also investigated the company and read through the Privacy Policy to ensure that my children's data is secure and won't be sold.
My conclusion: Qustodio did a great job monitoring smartphones and computers and excelled in nearly every test I performed. It's definitely worth the price – It is one of the most flexible and easy to use parental control apps I've ever tested and it comes with powerful security features that my kids were not able to bypass. You can test Qustodio for free with a 30-day free trial – no credit required, and make sure it's the right app for your family.
Try Qustodio for Free for 30 Days!
February 2023 Update! Qustodio has dropped prices for a limited time. Get 12% off an annual subscription when you use the coupon code WIZCASE12 at checkout! This is a limited offer, so be sure to grab it now before it's gone. See more information on this offer here.
Don't Have Time? Here's a Short Summary (1-Minute Read)
Qustodio has all the features that I look for in a parental control app. It gives me the remote access I need to monitor what my kids are doing online, who they're talking with, which apps they are using, and how much time they spend on their phones. I use that information to create healthy screen time schedules and filters to protect them from inappropriate websites and screen time addition.
Here's a quick summary of Qustodio's features:
Qustodio Features – Updated in February 2023
| | |
| --- | --- |
| Best Price | $4.58 a month – works on up to 5 devices |
| Free Trial | 30 days – No credit card needed |
| Web Filter | 30+ categories |
| Screen Time Management | Yes |
| Location Tracking | Yes – Live location and 30 day location history |
| Geofence | Yes – 200 meter radius |
| Call and SMS Monitoring | Yes (Android and iPhone) |
| App Management | Yes |
| SOS Button | Yes |
| Customer Service | Live chat, schedule phone calls, FAQ |
| Platforms | PC, macOS, Android, iOS, Amazon, and Chromebook |
Comprehensive Web Filter with 30+ Categories
I had complete control over what types of websites my kids can visit with the Qustodio web filter that has over 30 customizable filters. I had the option to leave the default settings, which is pretty thorough, or go through each category and either allow access, alert me when my kid visits a site that fits the specific category, or block it.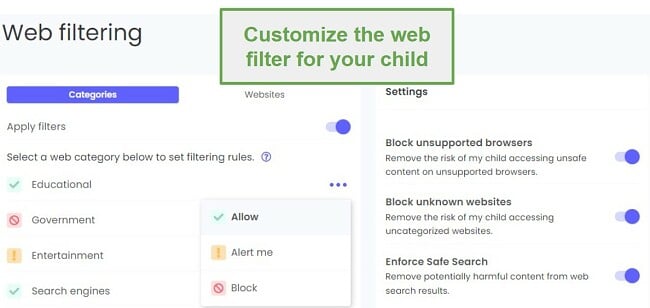 I had one of my older children try to bypass the web filter restrictions. The only hack that worked is to use a browser that Qustodio can't monitor. I was happy to see that Qustodio already knew about this bypass, and has an option to block unsupported browsers in the web filter section. The other settings are to block websites that it can't categorize and enforce Safe Search on major search engines and YouTube.
In addition to blocking web categories, you can also manually enter URLs that should be blocked or allowed, regardless of their category. For example, while I blocked gambling sites, I didn't mind my son playing fantasy sports. I unblocked the site he uses, and kept the Gambling filter on for casino and poker sites.
Prevent Screen Time Addiction with Daily Limits
Set a general time limit for how much time is allowed on the device per day. You can set different limits for each day of the week, allowing for more time on the weekend, for example. The daily time limit can be set in increments of 15 minutes. One thing that was very important to me, that I didn't see in other parental control apps is that when the time limit was up on their phones, they could still make phone calls and access their contacts. As a parent I found this very helpful, knowing they could call me or my wife even when the rest of the phone is locked. Of course, if we're all at home and I want them off the phone, Qustodio does have the option to block the Dialer and Contacts.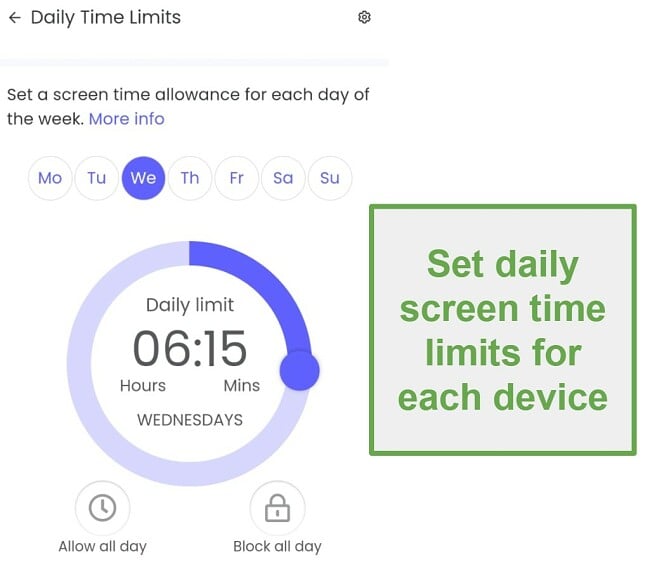 Set a Daily Usage Schedule
This allows you to set specific times each day that the phones will remain locked. I found this to be more helpful than a general time limit, as I was able to make sure that the kids weren't on their phone in bed or when they should be doing homework. My biggest concern with the restricted time features is that you can only allow or restrict times in hour-long chunks, beginning from the top of the hour. In other words, I can't block the phone from 5:00 – 5:30 and then allow the kids to use it from 5:30 – 7:00.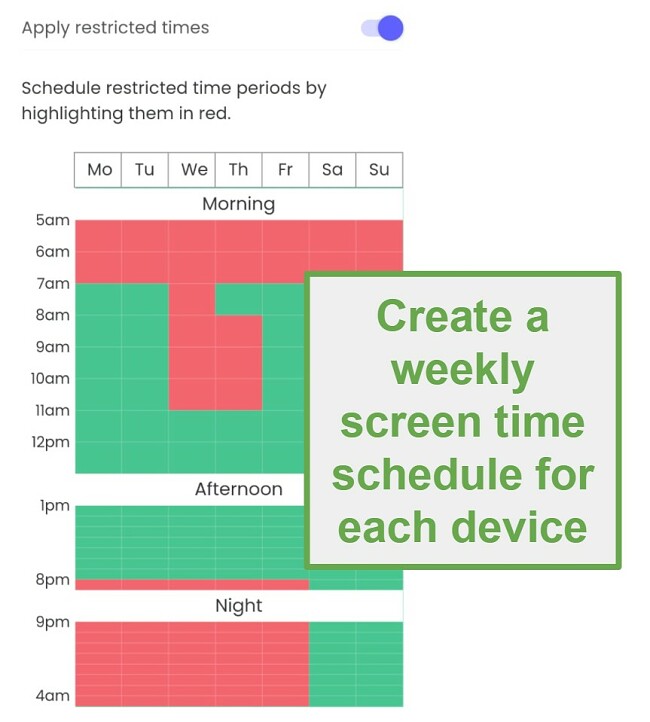 See What Your Kids are Doing on YouTube
While the YouTube monitoring feature won't block videos, it will show you search and viewing history for each child. One feature I really liked that I didn't see on most other parental control apps is that Qustodio can monitor and block both the YouTube app and browser. This is great because, with other parental control apps I tested, my kids quickly figured out that they could just go to YouTube through the browser and watch for as long as they want. However your kids get on YouTube, Qustodio's monitoring will show you their search and viewing history.
YouTube.com – Qustodio can block access to the site completely.
YouTube App – Allows you to set daily time limits for how long the kids can use the app.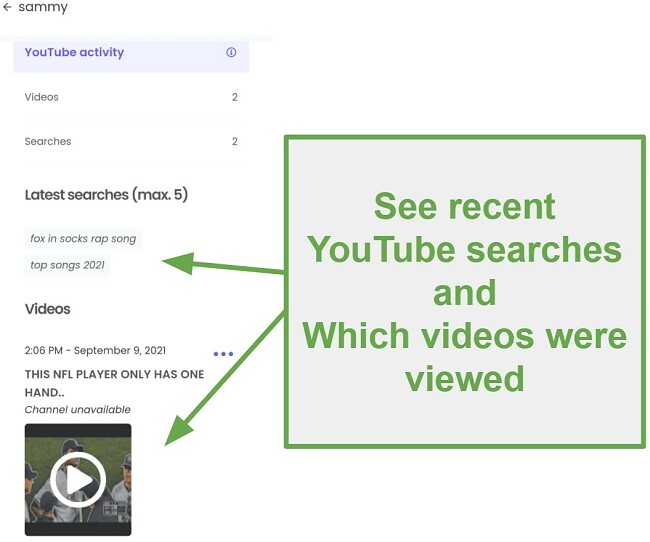 Set Rules for Each App and Game
This is where you can set specific rules for each app on your kids' devices. I find this to be the most helpful feature since my kids need some apps, such as WhatsApp, for school and youth groups, but I still want to restrict how much Netflix they watch.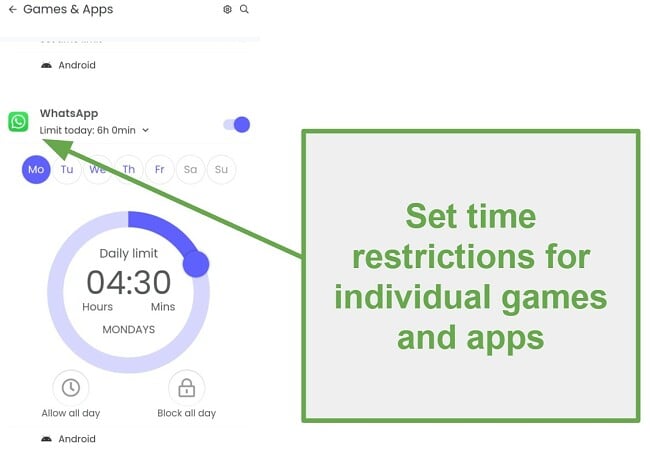 Call & SMS Monitoring: See Who Texts and Calls your Kids (Feature not Available through Google Play app)
A recent change in Google policies has had a significant effect on this rule. According to Qustodio, the app that is available through Google Play doesn't have this feature.


However, you can download the full app directly from the Qustodio website.If you're using the full version of the app, this feature will allow you to monitor SMS messages, see who your children are talking to, block specific numbers and contacts from calling, or turn on incoming and outgoing calls entirely. You will not be able to block incoming SMS messages.
This feature is only available for Android.
Monitor Your Children with Qustodio!
Location Feature Will Track Your Kids in Real-Time
With the Qustodio GPS tracking, you won't have to worry about where your kids are, as long as they have their phones with them. You can view their location, in real-time, on both the computer and mobile dashboard. Their avatars are superimposed on a map, so you'll know if they're really studying at their friend's house, or if they've gone to some other location.
One of the biggest improvements in the updated Qustodio app is creating a geofence. It is known as "My Places" on Qustodio and can only be set up through the parental mobile app.
You can set a location with a radius between 100 – 200 meters, and whenever your child enters or leaves the area, you'll receive a notification. You can set the geofencing by tapping the "See Locations" link next to the location tracker in the timeline > Tap the location pin icon > Add A New Place. Now you can enter the address and a radius of up to 200 meters.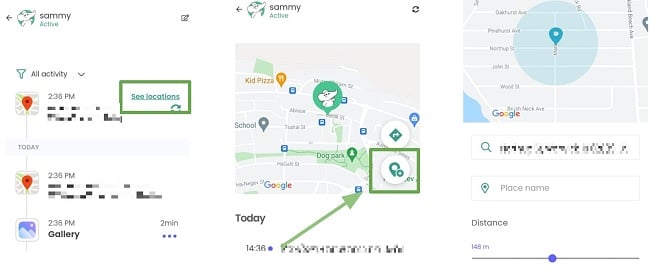 Monitor Your Kids on Social Media
This can really be called Facebook Monitoring since that is the only social network it can monitor. You will need to have your child log in to their Facebook account and allow access to the Qustodio app. Once connected, you will be able to see Facebook posts and comments on their wall. To be honest, this is a feature that doesn't add much value — especially if you're Facebook friends with your child.
Call for Help with an SOS Button
In my original review of the Qustodio app, I was not very impressed with the SOS feature. It's supposed to be a button that the child can press to send out an instant "Help Me" message, with GPS coordinates to a trusted contact. I thought it had a lot of promise, but it was too buggy and difficult to use.
I'm very happy to report that with this latest update, the SOS feature is much improved.
Click the Settings gear on the button on the right corner on the mobile device and click Set Rules, or locate the SOS button on the left-hand menu on the browser-based dashboard to access the rules page.
You can invite multiple "trusted contacts" that will be alerted whenever the SOS button is pressed. Each contact can have a phone number and email address, so they'll see the alert right away.
The child can access the SOS button through the Qustodio app on their phone. On the bottom of the screen is an SOS button. Once they click it, it will open the SOS alert button. After they press the button, Qustodio will send an alert with the child's current location to the listed email and phone numbers.
When the danger is over, the child will press the button again to end the alert, and the system will offer to send a message via SMS, Facebook Messenger, or Hangouts to let the trusted contacts know that everything is OK, and it will also include the child's current location.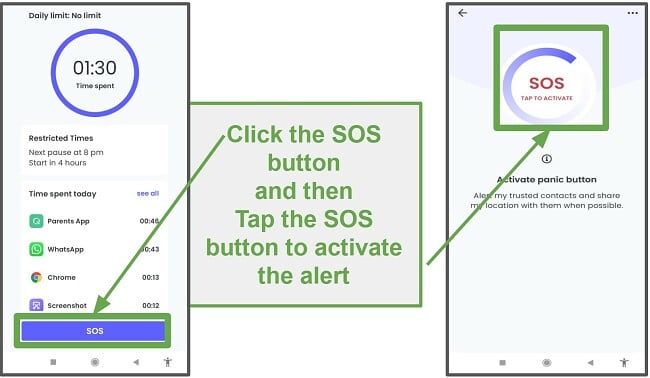 The Dashboard Shows Me Exactly what the Kids are Doing
As the parent account holder, I can view the dashboard on my smartphone or by logging into my Qustodio account on any browser. Both dashboards give a clear overview of what the kids are doing online and where they have been.
To set the rules and limitations from the browser-based dashboard, log in to your account, and you'll see the list of available settings on the menu bar on the left-hand side. Click on any item to open a new page in the dashboard and set the rules.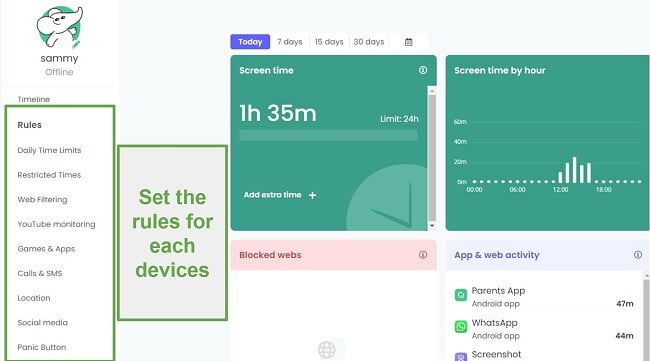 To set the rules on the Qustodio parental mobile app, click the Setting icon on the bottom right corner of the screen, and a pop-up menu will appear. Choose the Set Rules option, and a new screen will open with all the different rule categories you can create.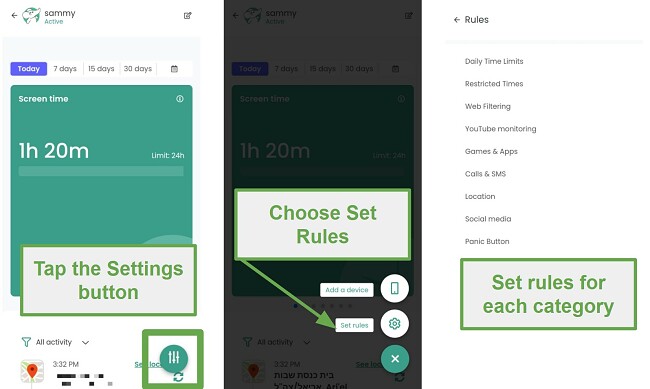 There is also an activity timeline that gives you a detailed breakdown of what each child has been doing.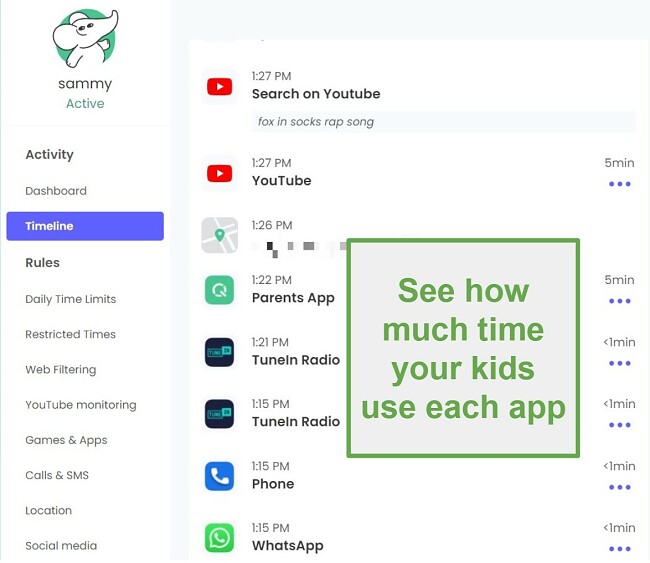 After purchasing a subscription, I created a user profile for my son, which just means adding his name, birthday, and gender. I received a download link, which means that I needed access to my son's Android phone to install the app.
I opened the link on his phone, which automatically redirected me to the Google Play Store. After downloading the app, it walked me through all the different settings I needed to change in his phone, such as giving Qustodio access to his GPS, contacts, photos, the ability to display over other apps, and accessibility. These are standard with all parental control devices because the app can't monitor or restrict anything without them.
Lastly, I needed to give Qustodio Admin Rights on the phone. This seems scary, and Android won't let you click OK without 10 seconds, but for Qustodio's purposes, it just prevents the app from being deleted.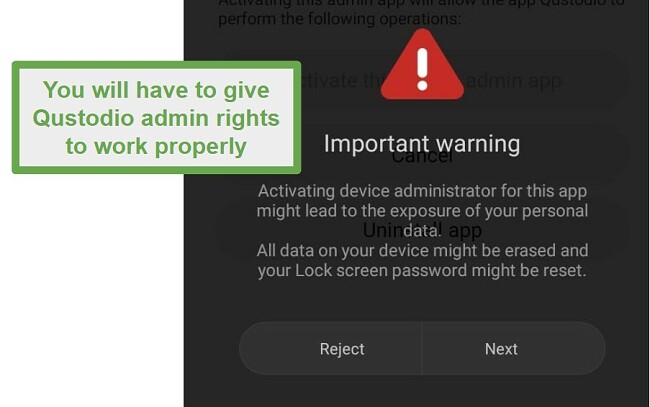 When I was setting up the rules and got the Calls and SMS section, I saw a message that users with the Google Play app couldn't activate the feature. If I want to monitor calls and text messages, I need the full app, which isn't available on Google Play, but if I want it, I can click on the Download Now button, and the app will download directly from the official Qustodio website.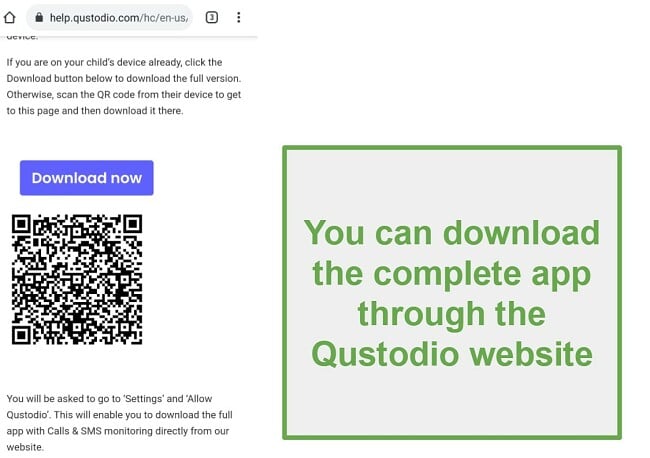 I don't understand why this option wasn't offered initially, instead of first sending me to Google Play. The installation process is the same, although you do have to make sure that the phone settings allow installation from unknown sources.
After I finished installing the app on my son's phone, After I finished installing the app on my son's phone, I downloaded the Parental app. This was the same as downloading any app, and I didn't need to give it any special permissions to work.
Easy Installation and Set Up – Takes less than 5 Minutes
Before you download and install the app on your children's devices, you must register your account and create a child profile. The profile is pretty basic. Just add their name, gender, and birth year. You can upload a picture or choose an avatar for each child. This is helpful when looking at the live location map or viewing their data on the dashboard.
Once the profiles are active, you can start setting up the rules. You can customize the web filter or go with the default option, create a screen time schedule and daily limit, and manage app use.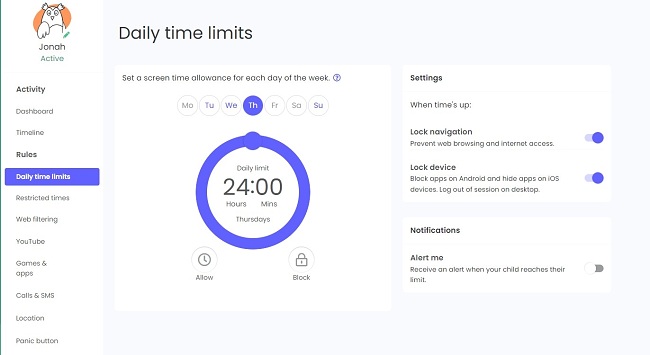 After the rules are in place, download the app and install it on your child's phone or computer. There are two options for the Kids app for mobile devices:
Download the app from the App Store or Play Store. If your child has an iPhone, you will need to disable Screentime and set Safari as your default browser.
If your child has an Android, you can

download the app from the Qustodio website

, which has the Calls and SMS Monitoring feature. Before downloading the app, you will need to enable downloads from unknown locations.
Easily Manage the Rules From the Dashboard
As soon as you log in to your account on the child's device, all the rules that you created for the profile will be instantly applied. This is the only time you need access to the child's device. All data is instantly synced with the parental dashboard, which you can view through the Qustodio parent or you can log in to your account on any computer.
Open the Timeline feature to see exactly what your kids are doing on their phones. It shows you how long each app was in use, if they changed any setting on their phone or computer, and location updates if they go anywhere.
The one downside of this feature is that it combines all child profiles on one timeline. This can get a bit overwhelming if you have several children that use multiple devices.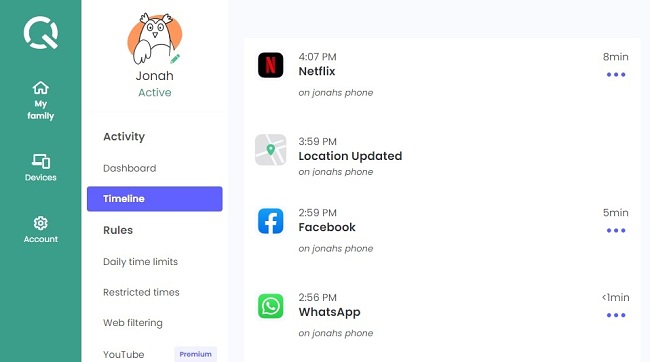 Managing the child's device through the dashboard is very easy, and requires no technical knowledge or training.
Click on the Web Filtering link to make adjustments to the filter. You can change the permission level from any of the categories, from Allow, Alert Me, or Block, and when you press Save, it will automatically apply the updates to all the devices that are connected with that child's profile.
You can also change the screen time rules, by opening the Restricted Times or Daily Time Limits. The Restricted Times is where you can set or adjust the calendar, and the Daily Time is how you adjust the screen time limits for each day. You can also instantly lock the devices for all your children at any time, by activating the Family Time option.
When I buy a subscription, I expect to get quality customer service and technical support. Thanks to a recent upgrade in its policy, Qustodio met my expectations.
They added a Care Plus option that is included with the Medium and Large plans and can be added to the Small plan for a nominal fee. With Care Plus you can:
Schedule a technical support phone call
Early access to new features
Remote assistance for the best technical support
Periodic check-ins to ensure that everything is working properly and answer any questions you might have
If you're looking for instant answers, there is an extensive FAQ section. It is divided into different categories to make it easy to find the answers you need.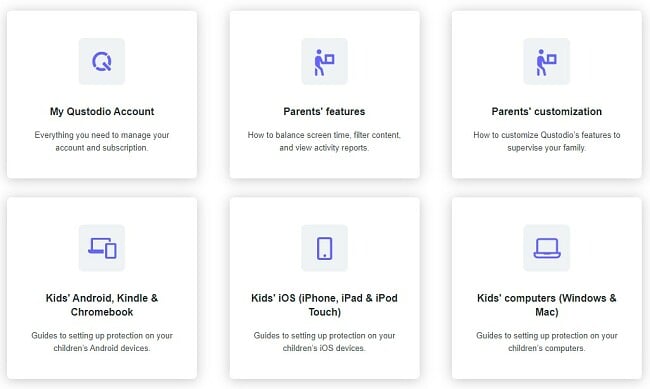 The final option is to send an email or ticket to the customer support staff. I received a response within one business day, with a clearly written answer.
I was surprised that Qustodio only allows premium members to send emails. If you have a limited free account or are thinking about signing up you'll need to either read through the FAQ or sign-up with the free 30-day free trial and then contact customer support with your questions.
FAQ
Is Qustodio safe?
I tested the Qustodio file on multiple platforms, and it was 100% safe. The online dashboard doesn't have any malware or viruses connected to it. Make sure to download only from reliable websites or from this hidden Qustodio page, where you can also get the best price I saw online.
Can Qustodio be bypassed?
I tested more than 50 parental control apps and was shocked at how many of them have poor performance and how my kids managed to easily bypass blocks and time restrictions. So far, Qustodio seems to be one step ahead of the kids when it comes to finding a way to bypass blocked apps and time restrictions.
Can Qustodio block YouTube?
Yes, in the rules, you can block or set time limits for any app or website, including YouTube. The YouTube Monitoring feature will show you the search and viewing history during times your child can be on YouTube.
Can I set a daily time limit on Qustodio?
Yes, one of Qustodio's best features is a time management tool. It allows you to set both specific days and times throughout the day when the phone will be locked plus a general time limit for screen time.
What devices can Qustodio monitor?
Qustodio can work across most major platforms. It works on Windows PC, Mac, Android, iOS, Chromebook and even Amazon Kindle and Fire Tablets.
Can I read messages that are sent and received on my kids' devices?
If you download the app through the Qustodio website and not through the Google Play store, you will be able to turn on the feature to read the SMS messages that are written from and sent to your child's phone. For other chat apps, such as WhatsApp, Facebook, and Snapchat, Qustodio will not be able to show you the content of the messages, just the time spent on the apps.
There are three different premium packages and they each include all the same features. The only difference is the number of connected devices.
Small Plan – 5 devices
Medium Plan – 10 devices
Large Plan – 15 devices
While the price may seem a bit high at first glance, especially if you need the Large Plan, in reality, we're talking about protecting your most valuable commodity — your kids. Between my peace of mind and the kids knowing their limitations on the phones and tablets, it's easily the best money I've spent this year.
Before you commit to one of the subscription plans, you can try Qustodio risk free with a 30 day free trial. I liked that I didn't need to enter my credit card information to activate the free trial.
Bottom Line
Excellent Parental Control Features, Multiple Screen Time Tools, and Live Location Make it Worth the Price
After using Qustodio for 30 days, I can confidently say that it is one of the best Parental Control apps I've ever used. Getting started was very easy, and once I set up the rules, the app worked instantly and synced all the data back to the parental dashboard.
I was able to see exactly what my kids are doing online and help create healthy habits for screen time and web browsing. The Location tracking and SOS helped keep my mind at ease when I was away on business, or my kids were out with friends. I never had to worry about where they were going, or if they were in any danger.
The only issue I have with Qustodio is that I can't view the live location map through the web-based dashboard. It gives me an address, but if I want to see it on the map, I need to open the Qustodio parent app on my phone.
Overall, I recommend Qustodio to anyone interested in keeping the kids safe online. It's absolutely worth it for the price. But before committing to a subscription, you can try all its premium features for yourself at no-risk with the 30-day free trial – no credit card is required!