Qustodio Overview September 2021
Update: This review had been updated to reflect several recent updates to the Qustodio app, including Geofencing and Calls & SMS monitoring.
I was hesitant to test out the Qustodio app on my kids' computers, phones, and tablets. It's a little more expensive than other parental control apps I've tested, but my kids usually find hacks or ways to bypass the restrictions with the other apps I tried. Will Qustodio be able to withstand my tech-savvy kids and give me peace of mind? If so, I'll consider it money well spent. In fact, they even have a hidden deals page, so you know you're getting the best price to go along with a 30-day money-back guarantee.
Special Offer: Get an additional 12% discount on any of the Qustodio subscription plans when you use the coupon code WIZCASE12 at checkout. But hurry, this deal is only valid through September 2021.
Try Qustodio for Free for 30 Days!
As a father to five kids from ages 5 to 16, four who have phones and the fifth uses a tablet, finding the best parental control app was a necessity. Together with my kids, I tested over 50 apps and ranked them according to their features, strengths, and weaknesses. My goal here is to help you pick the best app for your family without having to spend all the time and money doing the research.
I got the annual package that comes with connections for up to 5 devices (they also have packages with 10 and 15 devices) and installed it on my daughters' tablet and my son's Android phone. Setup and installation took a few minutes, lots of clicking through to accept the permissions, and then it instantly started working.
I found that it has an incredible list of features and rules that I can manage from my phone or computer. Best of all, I challenged my kids to bypass the time restrictions and app blocks I set up, and they haven't found a hack yet.
Features
10.0
As the holder of the parent account, I can view my dashboard on my smartphone or by logging to my Qustodio account on any browser. Both dashboards give a clear overview of what the kids are doing online and where they have been.
There is also an activity timeline that gives you a detailed breakdown of what each child has been doing.
Prevent Screen Time Addiction with Daily Limits
Set a general time limit for how much time is allowed on the device per day. You can set different limits for each day of the week, allowing for more time on the weekend, for example. The daily time limit can be set in increments of 15 minutes. One thing that was very important to me, that I didn't see in other parental control apps, such as Google's Family Link, is that when the time limit was up on their phones, they could still make phone calls and access the contacts. As a parent I found this very helpful, knowing they could call me or my wife even when the rest of the phone is locked. Of course, if we're all at home and I want them off the phone, Qustodio does have the option to block the Dialer and Contacts.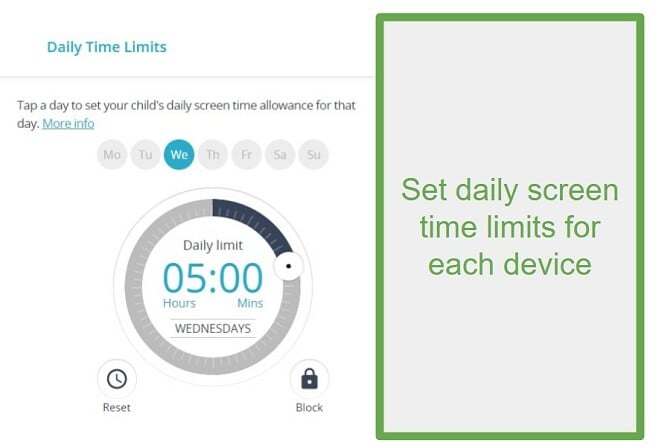 Set a Daily Usage Schedule
This allows you to set specific times each day that the phones will remain locked. I found this to be more helpful than a general time limit, as I was able to make sure that the kids weren't on their phone in bed or when they should be doing homework. My biggest concern with the restricted time features is that you can only allow or restrict times in hour-long chunks, beginning from the top of the hour. In other words, I can't block the phone from 5:00 – 5:30 and then allow the kids to use it from 5:30 – 7:00.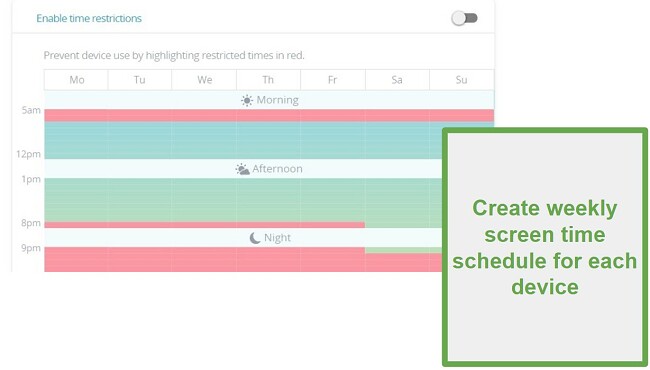 See What Your Kids on Doing on YouTube
While the YouTube monitoring feature won't block videos, it will show you search and viewing history for each child. One feature I really liked that I didn't see on most other parental control apps is that Qustodio can monitor and block both the YouTube app and browser. This is great because, with other parental control apps I tested, my kids quickly figured out that they could just go to YouTube through the browser and watch for as long as they want. However your kids get on YouTube, Qustodio's monitoring will show you their search and viewing history.
YouTube.com – Qustodio can block access to the site completely.
YouTube App – Allows you to set daily time limits for how long the kids can use the app.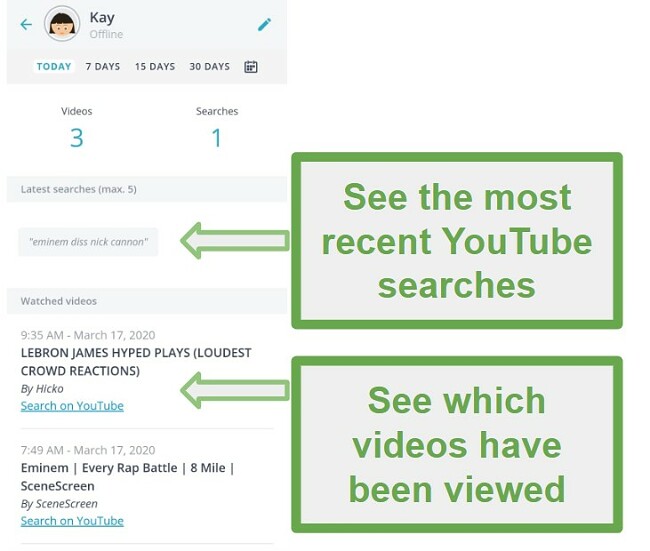 Set Rules for Each App and Game
This is where you can set specific rules for each app on your kids' devices. I find this to be the most helpful feature since my kids need some apps, such as WhatsApp, for school and youth groups, but I still want to restrict how much Netflix they watch.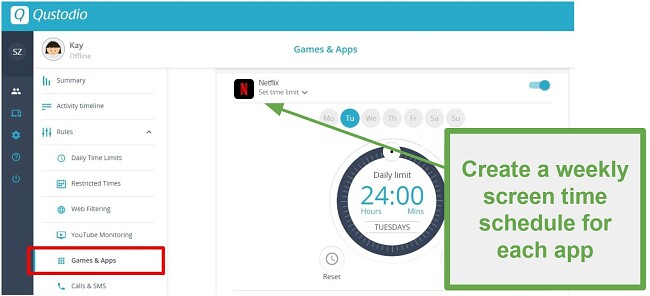 Call & SMS Monitoring: See Who Texts and Calls your Kids (Feature not Available through Google Play app)
A recent change in Google policies has had a significant effect on this rule. According to Qustodio, the app that is available through Google Play doesn't have this feature.


However, you can download the full app directly from the Qustodio website.If you're using the full version of the app, this feature will allow you to monitor SMS messages, see who your children are talking to, block specific numbers and contacts from calling, or turn on incoming and outgoing calls entirely. You will not be able to block incoming SMS messages.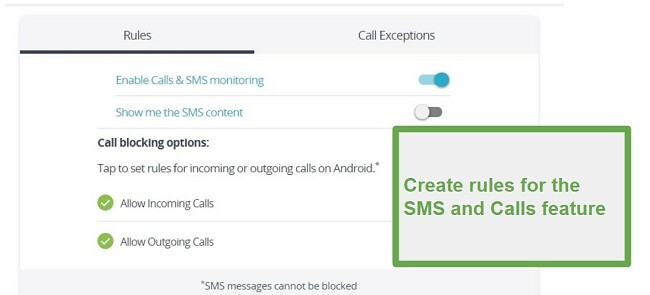 Location Feature Will Track Your Kids in Real-Time
With the Qustodio GPS tracking, you won't have to worry about where your kids are, as long as they have their phones with them. You can view their location, in real-time, on both the computer and mobile dashboard. Their avatars are superimposed on a map, so you'll know if they're really studying at their friend's house, or if they've gone to some other location.One of the latest additions to this feature, which is only available on the mobile app, is known as Geofencing. You can set an area where you know your child is going, and you'll receive an alert in the event they leave the area.You can set the geofencing by touching the "Hamburger" button > Family Locator > The Location Pin icon on the map > Add A New Place. Now you can enter the address and a radius of up to 200 meters.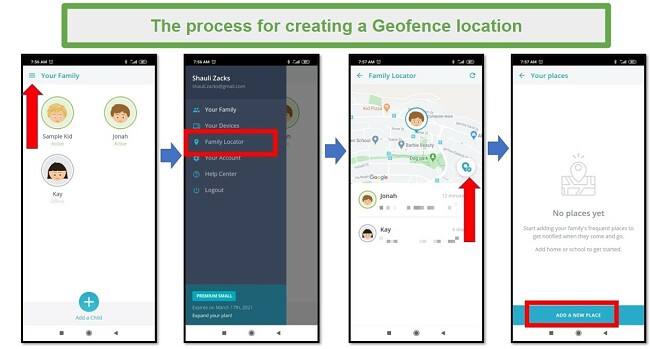 Monitor Your Kids on Social Media
This can really be called Facebook Monitoring since that is the only social network it can monitor. You will need to have your child log in to their Facebook account and allow access to the Qustodio app. Once connected, you will be able to see Facebook posts and comments on their wall. To be honest, this is a feature that doesn't add much value — especially if you're Facebook friends with your child.
Call for Help with an SOS Button
This SOS feature has a lot of promise, but during my testing, I came away unimpressed. The idea is that if your child is in an unsafe environment, they can press the panic button, and a "trusted contact" will be notified. Thankfully, I didn't need this in a real-life situation, but I had my son press it just to see what would happen… and nothing happened on my end. I checked the dashboard for an update and my phone to see if I had any notifications, but there were no updates on either device. It was only a few hours later when I checked my email and went to the Promotions tab, did I see that I had an Email for Qustodio letting me know that my son was in trouble.


After doing a little research, I found that for each trusted contact, you can add either an email address or phone number. I added my wife as a trusted contact with a phone to see if she'd be alerted via SMS that our son was in a panic. This option wasn't much better. After clicking on the SOS button On and then Off, the system creates an SMS message, but instead of automatically sending it, my son had to choose a preferred program, enter his phone password and manually send the SMS.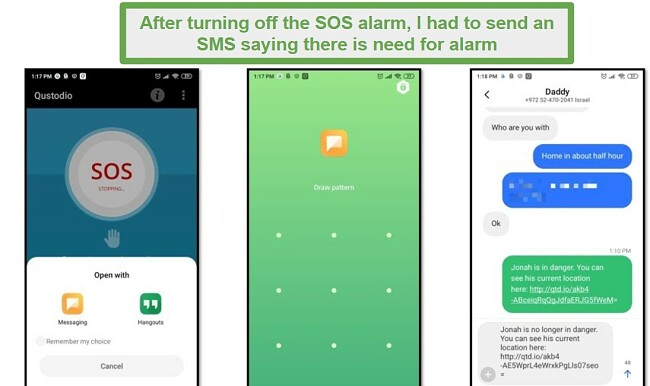 The feature has some great promise, but it needs some serious improvements before it can add any real value.
Installation
9.9
The installation process was reasonably straightforward. After purchasing my subscription, I went to the Google Play store and downloaded the app for my son's phone. Unlike some of the other parental control apps I've tested that had different apps for children and parents, there is just one Qustodio app.
Before downloading the apps for the kids, you should log in to the parent dashboard in your web browser and create accounts for each of the children. After the accounts are set up, using your child's devices, visit the Google Play or App Store and download the app.
You will have to change several settings on the phone to allow Qustodio to work properly. While it may sound complicated, the app does a great job of walking you through the process step-by-step.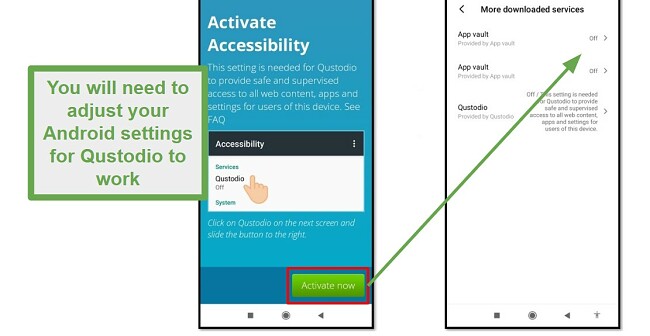 Android Users: You will have to give Qustodio admin rights to your device, and when you do, a warning message will appear. The warning basically states that you are allowing Qustodio access to all the data on the phone, which is necessary for it to monitor the device. You can click Next and complete the installation process.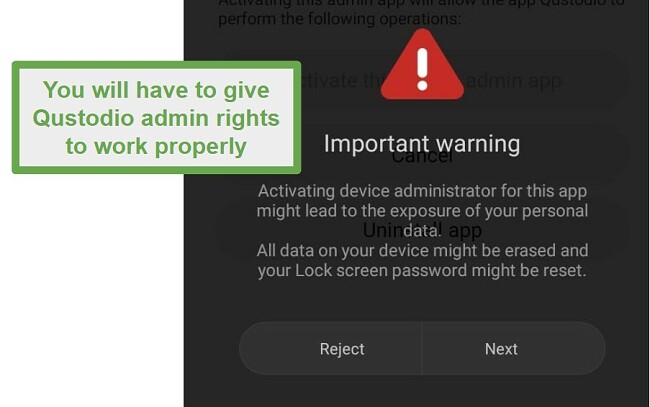 Ease of Use
9.8
Qustodio will automatically start working from the second it's installed on your kids' devices. However, it can take some time to adjust some of the settings and web filters to your standards. We had an issue on the first day when some websites were triggering the filter and blocking access, even though the site was clean. The web filtering section has around 30 categories, and you can set each one to either "Allow," "Block," or "Alert Me." In our particular scenario, since I wasn't sure why the site was being blocked, we just added the URL as an exception. After that, my son was able to continue using his phone without any more issues.
From the parents' side, the Qustodio app and browser-based dashboard are extremely easy to use, without any technical knowledge at all. All of the data is presented in a clean format, and the rules and settings are very clearly presented.
Support
9.9
I was surprised to see that there is no Live Chat customer support option. All questions must be submitted through their ticket system, and then you have to wait up to 2 business days for a response.
I wanted to see if there was a way to improve the SOS feature, so the kids wouldn't have to manually send the SMS. I submitted a ticket and received a professional, helpful response in just a few hours.
To their credit, Qustodio does have an extensive FAQ section that can answer most of the common issues that come up.
FAQ
?Is Qustodio safe?
I tested the Qustodio file on multiple platforms, and it was 100% safe. The online dashboard doesn't have any malware or viruses connected to it. Make sure to download only from reliable websites or from the this hidden Qustodio page, where you can also get the best price I saw online.
?Can Qustodio be bypassed?
I tested more than 50 parental control apps and was shocked at how many of them have poor performance and how my kids managed to easily bypass blocks apps and time restrictions. So far, Qustodio seems to be one step ahead of the kids when it comes to finding a way to bypass blocked apps and time restrictions.
?Can Qustodio block YouTube?
Yes, in the rules, you can block or set time limits for any app or website, including YouTube. The YouTube Monitoring feature will show you the search and viewing history during times your child can be on YouTube.
?Can I set a daily time limit on Qustodio?
Yes, one of Qustodio's best features is a time management tool. It allows you to set both specific days and times throughout the day when the phone will be locked plus a general time limit for screen time.
?What devices can Qustodio monitor?
Qustodio can work across most major platforms. It works on Windows PC, Mac, Android, iOS, Chromebook and even Amazon Kindle and Fire Tablets.
?Can I read messages that are sent and received on my kids' devices?
If you download the app through the Qustodio website and not through the Google Play store, you will be able to turn on the feature to read the SMS messages that are written from and sent to your child's phone. For other chat apps, such as WhatsApp, Facebook, and Snapchat, Qustodio will not be able to show you the content of the messages, just the time spent on the apps.
Pricing
9.9
There are three different premium packages and they each include all the same features. The only difference is the number of connected devices.
Small Plan – 5 devices
Medium Plan – 10 devices
Large Plan – 15 devices
While the price may seem a bit high at first glance, especially if you need the Large Plan, in reality, we're talking about protecting your most valuable commodity — your kids. Between my peace of mind and the kids knowing their limitations on the phones and tablets, it's easily the best money I've spent this year.
If you aren't happy with the app for any reason, there is a 30-day money-back guarantee. You will have to email the customer support and let them know why you're canceling, and they will refund your money.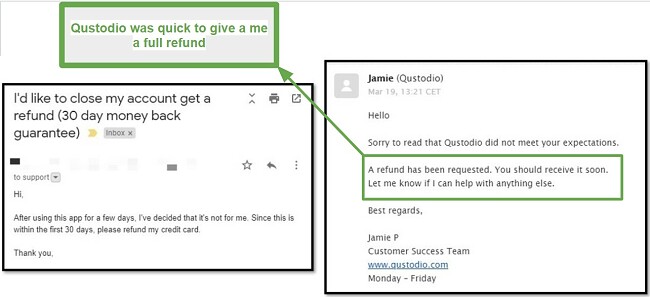 Qustodio offers the following plans
Bottom Line
With all its premium features, Qustodio proves that it belongs in the top tier of parental control apps. It gives parents complete control over what apps their kids can use and for how long they can be on. It's proven to be a useful tool for battling screen addiction, as well as keeping parents aware of what their kids are doing online. Take advantage of their current deal and try out Qustodio risk-free.