CyberGhost VPN Coupon: Best Offers in September 2022
Last Updated by Julia Olech on September 01, 2022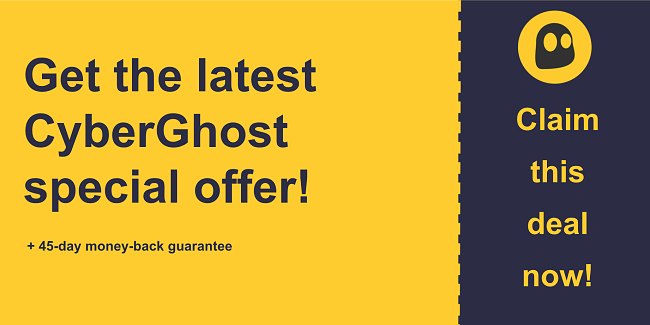 It's surprisingly tricky to find a working CyberGhost discount, especially when most of them have expired (or are even fake!). Luckily, I keep this page updated with the latest CyberGhost coupons in September 2022, so you can save up to 82% on your CyberGhost subscription.
Every deal comes with a 45-day money-back guarantee, so you've got plenty of time to test out CyberGhost's full range of features. I even tested the refund policy to confirm it works — it took minutes to get my refund approved over 24/7 live chat and the money returned to my account in only 5 days.
Get CyberGhost's Black Friday and Cyber Monday Deal (Limited Time Only)

This offer won't be around for long, so sign up this month and save big on CyberGhost's premium VPN service. If you've been holding out all year to get CyberGhost at a huge discount, now is the time to take advantage of the Black Friday and Cyber Monday sales.
Get 82% + 3 Months FREE Off Your 2-Year Plan ($2.29/Month)

You'll get the best price on CyberGhost with its 82% discount on a 3-year plan. If you've been looking for a premium VPN at a bargain deal, this is a fantastic discount.
Try CyberGhost 100% Free for Up to 45 Days
When you claim your CyberGhost coupon, you automatically qualify for the 45-day money-back guarantee. You can cancel your subscription anytime during the 45 days and and still use CyberGhost for the remainder of the money-back guarantee period. Just make sure to sign up for a plan longer than 6 months (you only get a 14-day money-back guarantee if you choose the 1-month subscription).
I tested the refund policy myself by signing up for the 1-year subscription and using CyberGhost for 36 days. When I asked for a refund over 24/7 live chat, my request was processed immediately — the customer support agent didn't even hassle me to stay or ask for a reason for canceling. I got my money back in 5 days.
How to Redeem a CyberGhost Coupon in Minutes
Click here to see the latest CyberGhost offers. You'll be taken directly to CyberGhost's hidden deals page.


Choose a plan. No need to enter a code to redeem the offer — it'll be automatically applied to your account at the checkout.
Confirm your purchase. Check your email for your new login information.
Download CyberGhost. You have 45 days to try the full range of features — if you don't like it, you can easily get a refund with the 45-day money-back guarantee.
Get the latest CyberGhost deal
Why Choose CyberGhost?
Key Features:
8200+ servers in 91+ countries worldwide
Fast speeds and unlimited bandwidth for streaming and torrenting
Military-grade encryption, kill switch, and a strict no-logs policy
Allows 7 simultaneous device connections
24/7 customer support available through live chat and email
45-day money-back guarantee
Optimized Servers for Netflix, Disney+, Amazon Prime Video, and More
CyberGhost offers servers optimized for specific streaming services, including Netflix (multiple countries), Disney+, Amazon Prime Video, Hulu, BBC iPlayer, Crunchyroll, ESPN+, HBO, Sling TV, and more. These optimized servers are configured to get around the toughest VPN blocks, so you can access your usual streaming accounts no matter where you travel to.
I was impressed that CyberGhost even works with Netflix US — most VPNs struggle to bypass Netflix's restrictions. Better still, the video stream started immediately and there was no buffering or sudden pixelation throughout the episode of the TV show Stranger Things.
The only major streaming service I noticed missing was DAZN — although you can check out ExpressVPN if you want a VPN for DAZN.
Advanced Security Features to Keep You Safe and Anonymous
CyberGhost protects your online activity with AES 256-bit encryption, leak protection, and multiple VPN protocols (including OpenVPN, WireGuard, and IKEv2). Other features include:
NoSpy servers — Operated independently by CyberGhost and located inside the VPN's headquarters, ensuring no third-party interference.
No-logging policy and tracking blockers — Prevents anyone from recording and storing your personal information.
Kill switch — Stops your connection as soon as the VPN detects unsecured traffic interruptions or drops so your data doesn't get accidentally leaked.
Headquarters located in Romania — the company doesn't fall under data retention laws, mass surveillance, and is outside the 5, 9, and 14 Eyes alliance.
Claim your CyberGhost discount
One of the Biggest Global Server Networks
CyberGhost has 8200+ servers across 91+ countries, which is one of the biggest VPN networks I've seen. A large server network ensures you'll always be able to find a fast working connection in the location of your choice.
Every CyberGhost server offers unlimited bandwidth that lets you stream, download, shop, browse as much as you want. The servers are even compatible with Tor, so you can safely browse the Dark Web without noticeable slowdown.
Connect 7 Devices at the Same Time
You can connect up to 7 devices simultaneously with a single CyberGhost subscription. This meant I could share my login details with friends and family for everyone to enjoy unlimited streaming, anonymous torrenting, and other VPN benefits.
This is more generous than most VPN services, which only let you connect around 5 devices at once (although IPVanish has the rare offer of unlimited device connections per account).
User-Friendly App on Major Devices and Operating Systems
CyberGhost is one of the top VPNs for Windows, macOS, iOS, Android, Linux, Amazon Fire Stick, and other operating systems. You can even download it onto devices without native VPN support, like PS5, Xbox Series S, smart TVs, and routers.
Even if you don't have much experience with VPNs, CyberGhost's app is easy to navigate across all compatible devices. The servers are listed in different categories, I found the connections I was looking for in 20 seconds on each operating system. I just had to double-click on the server or press the large "On" button to set up my connection.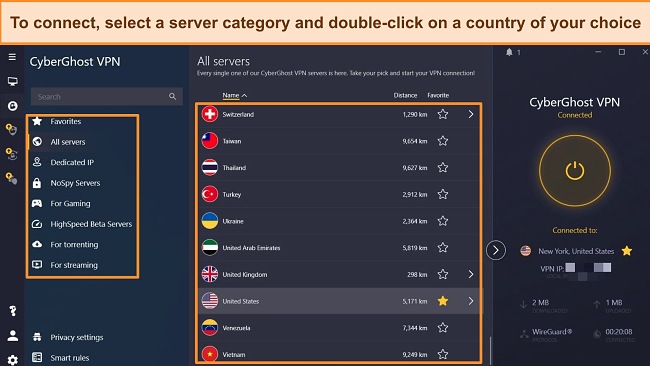 The only downside was that CyberGhost's features differ slightly depending on which device you're using. For instance, split tunneling is only available on Windows and Android so I was disappointed I couldn't use it on my iPhone.
Warning! Avoid Fake CyberGhost Coupons and Deals
There are many red flags you should watch out for when searching for a new CyberGhost coupon. When you see a good deal, check for poor grammar, too-good-to-be-true offers, clickbait discounts, and dodgy website design. These are usually a good sign of a scam so if you spot even the smallest discrepancy, don't make any purchases through that site.
Spotting fake offers used to be easy, but scammers are now getting a lot more creative at producing real-looking CyberGhost coupons. Most of these are outdated or simply don't work, but sometimes fake coupons hide malicious software you install on your device when you click on the deal.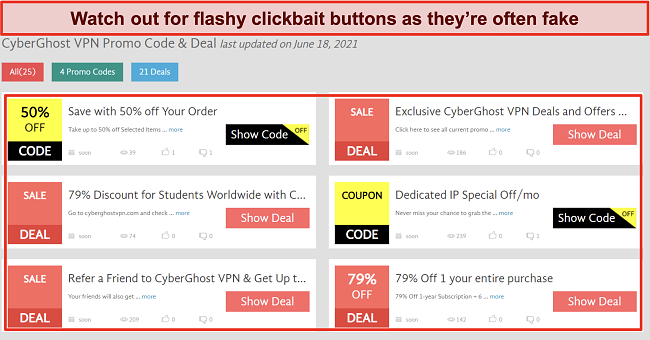 At WizCase, my team and I ensure all the CyberGhost coupons on this page are valid and actively updated with the latest deals. That way you can save money on your subscription and avoid wasting time browsing through hundreds of dodgy websites.
FAQs: CyberGhost Coupons and Deals
What's the best CyberGhost deal in 2022?
As of September 2022, you can get a whopping 82% off CyberGhost. I update this page daily with the most current offers. The deal comes with a 45-day money-back guarantee, so you're not locked into a subscription if you change your mind later. This is the longest money-back guarantee available out there — even more than leading competitors like ExpressVPN.
Can I use a CyberGhost coupon if I'm already a customer?
No, you need to be a new user to sign up with a coupon. However, every plan comes with a 45-day money-back guarantee — so you can always cancel your existing subscription and sign up with the latest CyberGhost coupon if you're still eligible for a refund.
The 24/7 live chat is the fastest way to get your request approved — the whole process lasted less than 3 minutes when I did it. I received the full fee back in my bank account that same week.
How do I use a CyberGhost coupon code?
To save you time, the discount code is applied automatically when you activate CyberGhost's 82% off coupon. You don't need to manually enter the code at checkout. This makes it super fast to sign up for an account — it took less than 5 minutes when I tested it myself.
Can I use multiple CyberGhost coupons?
You can only sign up with 1 coupon per transaction. However, I check CyberGhost for the latest deals every day (I even check the hidden pricing pages). I can assure you that the 82% deal is currently the best offer on the market as of September 2022.
Where can I learn about upcoming CyberGhost deals?
You can check this page for the latest CyberGhost deals (right now, you can get 82% off a 3-year plan). I test CyberGhost coupons as soon as they appear and post the results on this page. So, I suggest you bookmark this article in case a great deal pops up.
Claim Your Coupon and Save Big on CyberGhost
Don't miss out on the latest 2022 deal — you can save up to 82% on a CyberGhost subscription! I tested this offer by signing up for the VPN myself so I can confirm it still works in September 2022. Make sure you're not waiting too long though as this great deal won't run forever.
Redeeming the coupon doesn't automatically mean you're tied into a long-term contract. All plans come with a generous 45-day money-back guarantee. This gives you plenty of time to decide if you want to keep your subscription.
If you've missed out on the latest CyberGhost deal, make sure to bookmark this page and check back regularly. Alternatively, you can take a look at the best VPNs in 2022 for more in-depth reviews and testing results before you make up your mind.
---
The Best VPN Coupons and Offers (Valid September 2022)