How to Watch American Netflix From Anywhere in 2020
Last Updated by Kate Hawkins on January 04, 2020
As Netflix cracks down on VPNs, the number of working solutions to access the US library gets smaller and smaller. To save you from trying expensive solutions which promise to unblock Netflix US but don't, I've tested over 45 VPNs to find the fastest and most reliable options. Here's a tip: you can try some of these VPNs for free and be streaming American Netflix in minutes!
Watch Netflix US Now in 3 Easy Steps
Setup your reliable VPN. Sign up for an account, download, and install your VPN. I recommend ExpressVPN for its superior geo-unblocking capability and unlimited data.
Connect to a server in the US. Once your VPN is ready to use, launch it and choose a server to connect to. Any server located within the US should work.
Open Netflix and start streaming! Sign in to your Netflix account, and you'll be able to browse and watch the entire US library. You can check that you're accessing the US library by searching for exclusive content, like Parks and Recreation.
Watch Netflix US with ExpressVPN
Help! I'm Using a VPN but Still Can't Watch US Netflix!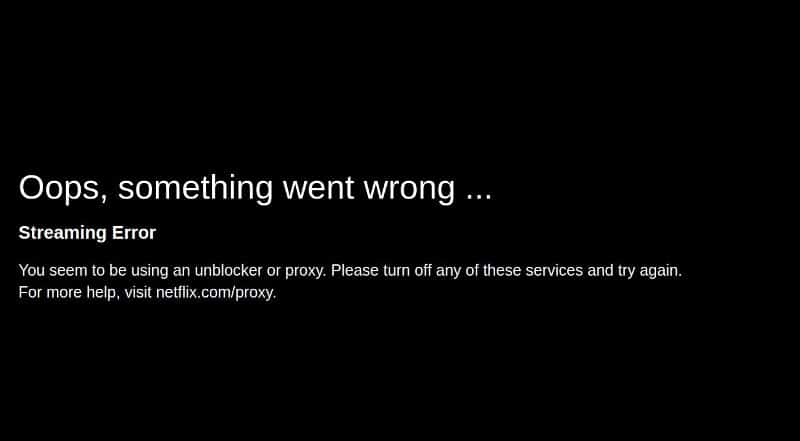 Don't panic! If you've followed the above steps but still get a proxy error from Netflix, try using the tips below to solve the error.
Connect to a different server located in the US
The server you are currently using may be blocked. Go to your VPN app, open up the list of server locations, select another server in the US, then refresh your page and try again.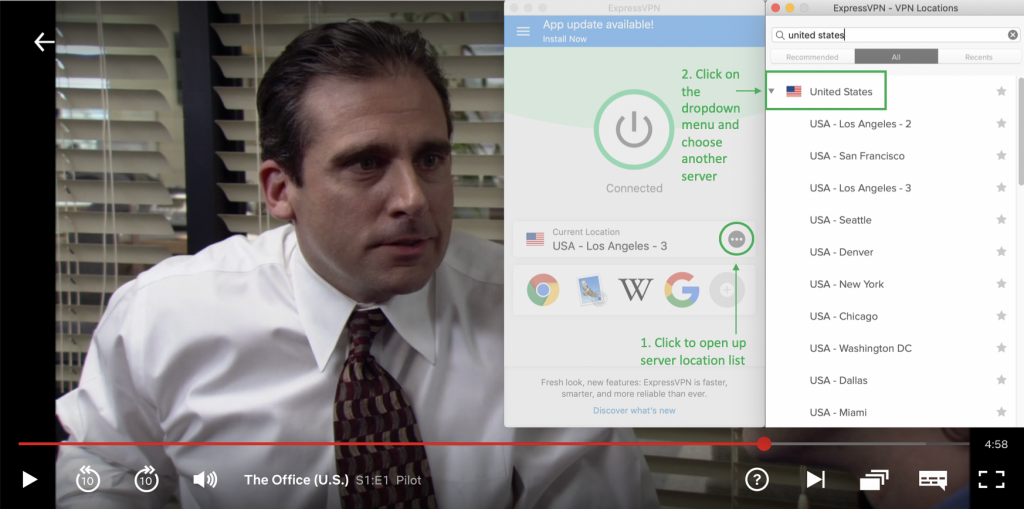 Contact customer support
Getting in touch with your VPN's customer support technicians can help, as they'll recommend different suitable servers for you to connect to.
Clear your cache
If you're getting the proxy error still, it could be because Netflix is detecting your real location information from cached data. You can clear your browser cache by opening "Advanced Settings" and clearing your browsing data.

For mobile devices, you can clear your browser cache or individual app caches by opening "storage" and choosing which app cache (like Netflix) you want to delete.
The Best VPNs to Watch US Netflix from Anywhere
Not all VPNs were created equal — some just don't have what it takes to bypass Netflix's geo-restrictions, and others are too slow for streaming without buffering. My list of recommended VPNs used to be longer, but as Netflix's security measures have improved, many VPNs no longer make the cut.
These top 3 VPNs all guarantee fast, secure streaming of US Netflix from anywhere in the world.
1. ExpressVPN — Ultra-Fast Speeds Perfect for Netflix Streaming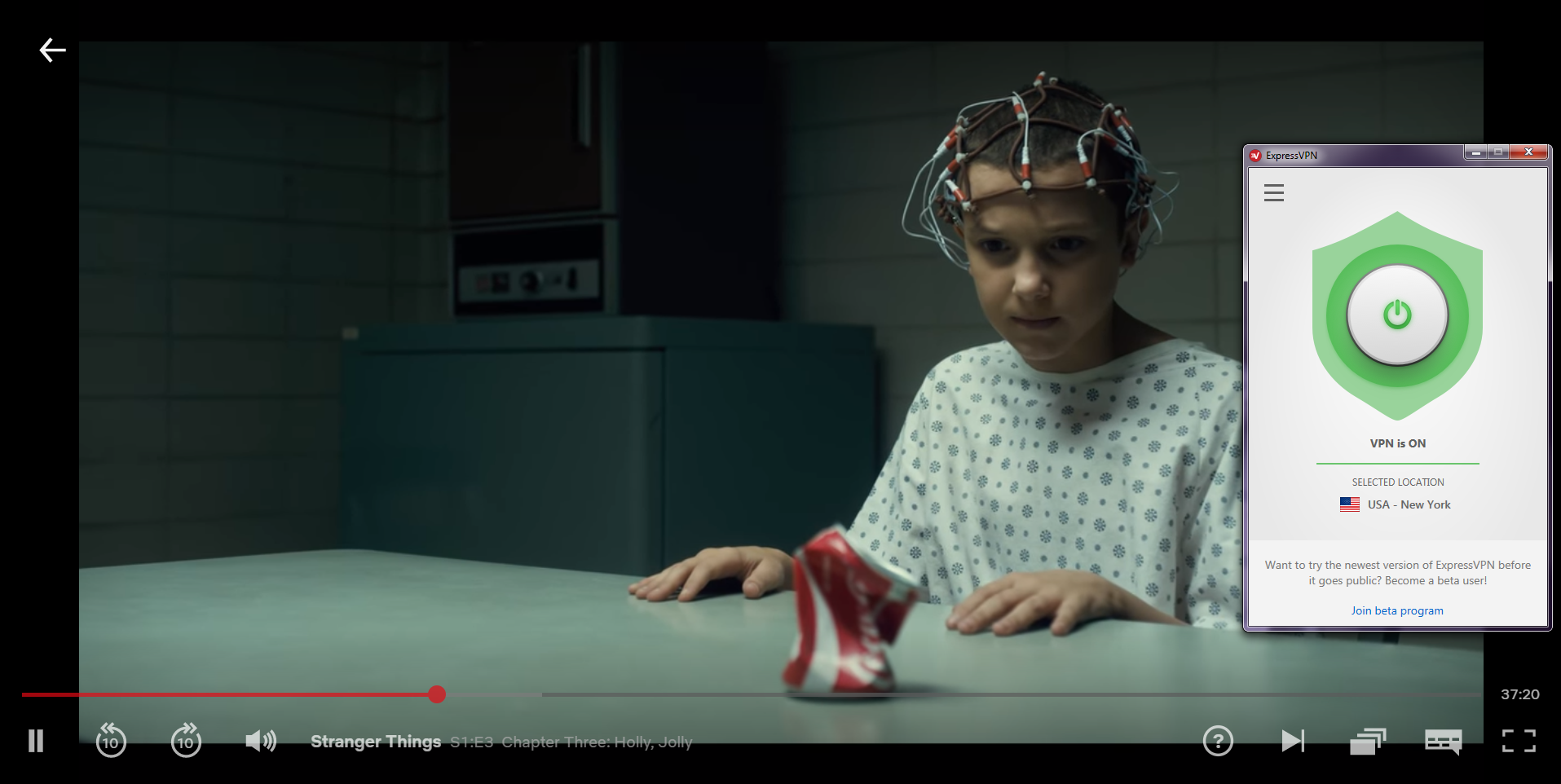 3000+ servers in 94 countries — 32 server locations in the US
Excellent geo-unblocking to access Netflix US with ease
Also unblocks: YouTube, BBC iPlayer, Google, Wikipedia, Pinterest, news sites, Hulu, HBO, WhatsApp, Facebook, and more
Unlimited data means unrestricted streaming
App support on Windows, Mac, Android, iOS, Linux, game consoles, smart TVs, and more
30-day money-back guarantee
ExpressVPN's unlimited data and fast speeds make streaming Netflix US easy. You don't have to worry about buffering or bandwidth restriction, just connect to a US server and enjoy the content. With 32 server locations in the US alone, ExpressVPN bypasses Netflix's geo-restrictions with ease. You can even test it out yourself by using the 30-day money-back guarantee to see if it unblocks the content you want. If you connect with a server that doesn't work, you should know that customer service is on hand 24/7 to recommend an alternative working server.
While the number of server locations may seem small, ExpressVPN's servers are super reliable. No matter which server you connect to, you won't have a problem watching Netflix. On top of that, the speeds of the servers I tested were amazing — I could stream without buffering and had no problem watching in full HD.
One subscription allows up to 5 devices to connect at the same time, meaning your whole family can enjoy Netflix US. For devices like game consoles that aren't VPN compatible, you can use the router app, which encrypts internet traffic on all connected devices. ExpressVPN utilizes AES-256-bit encryption and TrustedServer technology so you can stream knowing your personal data is always secure.
Watch Netflix US with ExpressVPN
2. NordVPN — SmartPlay Technology Ensures High-Quality Streams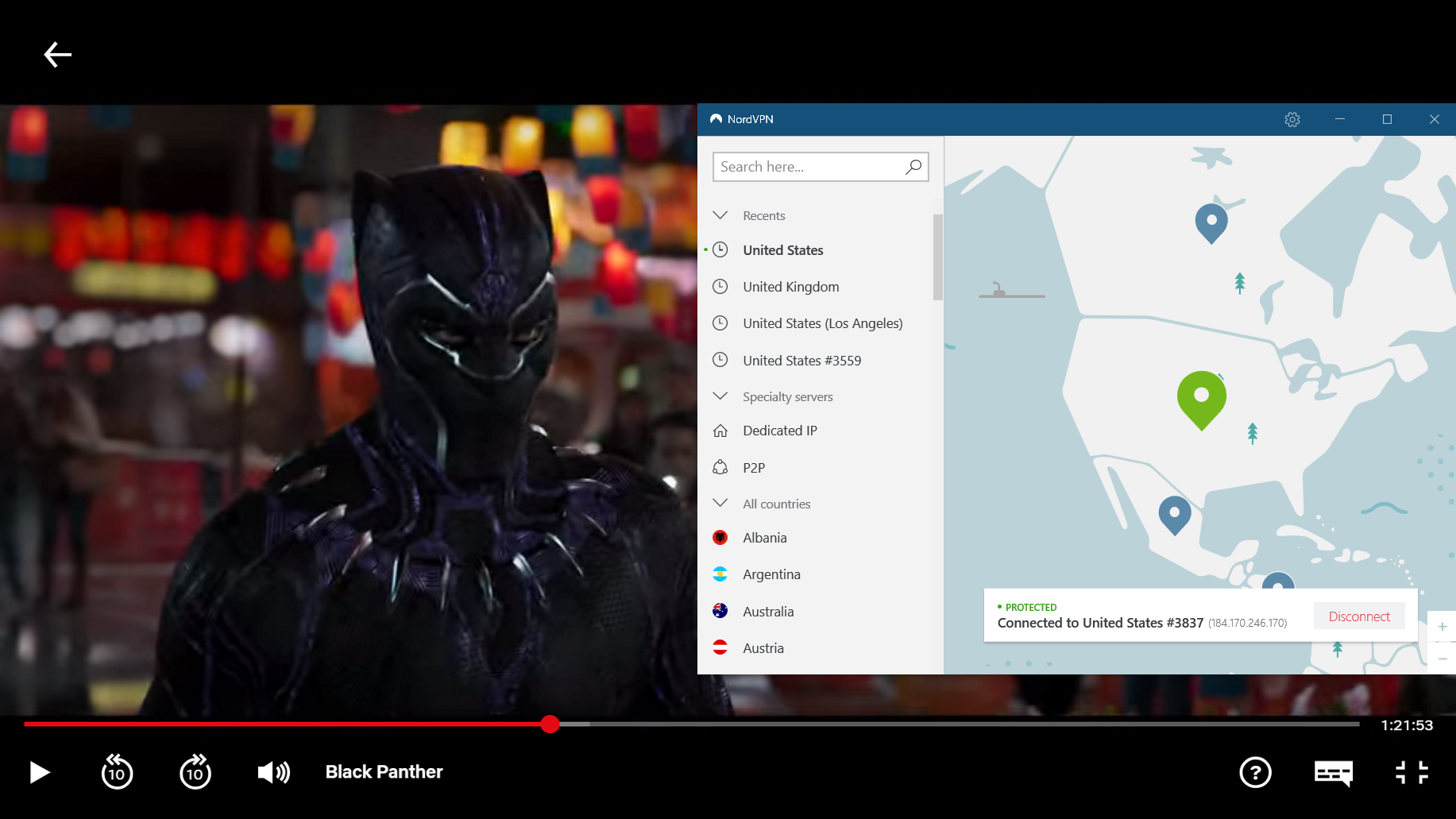 5500+ servers in 60 countries — 20 server locations in the US
Tried and tested geo-unblocking capability for Netflix
Also unblocks: Youtube, Facebook, WhatsApp, BBC iPlayer, Hulu, HBO, Google, and more
Unlimited streaming with zero bandwidth throttling
App support on Windows, Mac, Android, iOS, Linux, Firefox, and Chrome
30-day money-back guarantee
NordVPN's SmartPlay Technology takes the hassle out of finding the right server for Netflix US. With one click, SmartPlay Technology connects you to a server which unblocks Netflix and provides the highest quality streaming. You have over 1900 NordVPN servers to choose from, so you will be able to find one which works with Netflix easily. If a server you connect to doesn't work, switching is easy and customer support is always ready to recommend an alternative server too.
NordVPN supports up to 6 device connections at the same time, so your whole family can enjoy Netflix at the same time. NordVPN also offers a router app if your devices are not VPN-compatible.
3. CyberGhost — US Netflix-Optimized Servers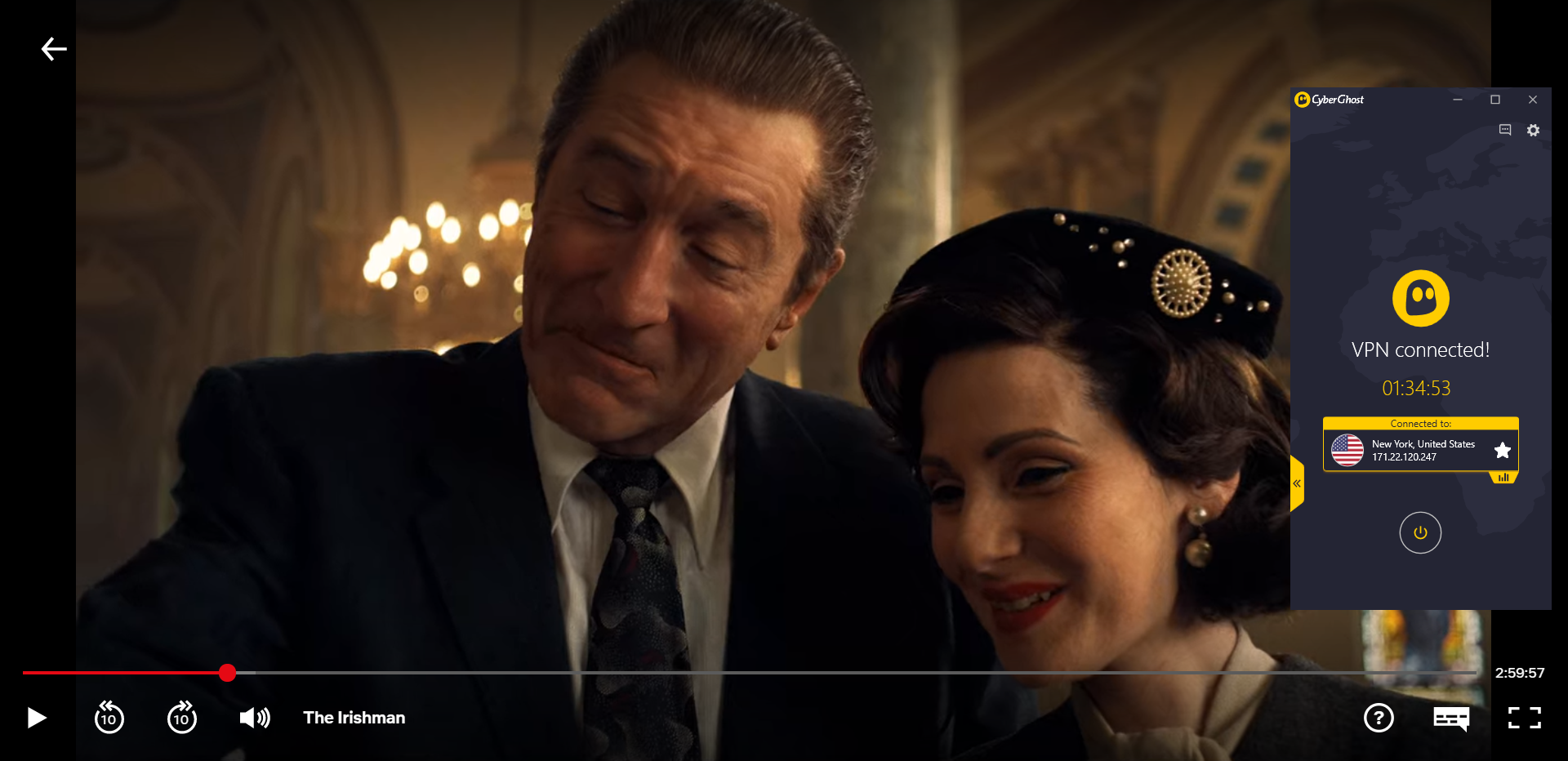 5900+ servers in 90 countries — 11 server locations in the US
Optimized servers bypass Netflix's geo-restriction technology
Also unblocks: Facebook, YouTube, Hulu, HBO, BBC iPlayer, Wikipedia, Google, and more
Unlimited bandwidth offers buffer-free streaming
App support on Windows, Mac, Android, iOS, Linux, Kodi, Amazon Fire TV and Stick, Chrome, and Firefox
45-day money-back guarantee
CyberGhost's optimized Netflix servers guarantee both bypassed geo-restrictions and buffer-free streaming. You don't have to find the best server for watching US Netflix — the app does it for you automatically. With over 1000 servers in the US, the connection is quick and unlimited data means limitless streaming for you. 24/7 live customer support is on hand to get you streaming in minutes.
With the ability to access US Netflix on up to 7 devices at the same time, the whole family can watch their favorite content without buffering. You can try CyberGhost risk-free with their 45-day money-back guarantee, making sure it fits your streaming needs. With AES-256-bit encryption, you can rest assured that your Netflix viewing and all your other personal information is kept safe and secure.
Watch US Netflix with CyberGhost
Quick Guides: How to Watch Netflix US on Different Devices
Computer (PC or Mac)
Using your PC or Mac, download your VPN, install, and launch it.
Connect to a server in the US.
Open the Netflix website and log in.
Smartphone (iOS or Android)
Visit the Google Play or App Store, depending on your smartphone.
Download and install your chosen VPN.
Connect to a server in the US.
Launch your browser and visit the Netflix website to start streaming.
Important Note: If you're using the Netflix app, you might have difficulty streaming US Netflix even when using your VPN. This is because apps can sometimes override DNS settings, so Netflix can tell you're using a VPN. If this happens to you, it's best to use your browser to watch Netflix or connect to your VPN via your router.
Amazon Fire Stick
Visit the Amazon Appstore and download your VPN app.
Sign in to the app and connect to a US server.
Access Netflix and start watching your favorite shows and movies.
Smart TVs
Visit the app store for your Smart TV.
Download your VPN app and sign in.
Connect to a server in the US.
Visit Netflix and start streaming.
Game Consoles
Game consoles, like XBox and Playstation, do not directly support VPN apps. To use a VPN with your game console, you'll have to connect separately. You can do this by:
Sharing an internet connection with a connected computer
Connecting to the internet via a router with a VPN app
Different VPNs will have different processes for setting this up so you can either find set-up guides on their websites, or contact their customer support for instructions.
Watch Netflix US with ExpressVPN
FAQs on Watching Netflix with a VPN
Why do I need a VPN to watch US Netflix?
If you are outside the US, the only way to access the entire US Netflix library is by using a VPN.
Netflix has different shows and movies available for viewers depending on their location. The reason for these different content libraries is because of copyright and contractual agreements with local cable providers. The content disparity between countries is pretty significant, with only the US being able to access 100% of Netflix's content. There are even some Netflix Originals which aren't broadcast globally. You can see just how different content libraries are by comparing the country and the number of shows and movies they have:
United States: 5817 Netflix shows and movies
Canada: 5728
United Kingdom: 5712
India: 5591
Australia: 5357
Japan: 4981
Russia: 4884
New Zealand: 4635
Argentina: 4378
Mexico: 4372
Brazil: 4272
Germany: 4052
France: 3967
Sweden: 3635
Italy: 3603
Spain: 3562
Can I use a free VPN to watch Netflix?
Technically, you can use a free VPN to watch Netflix US — but the experience is very likely to be lousy.
From my extensive testing experience, free VPNs are often limited when it comes to data allowances and speed, resulting in endless buffering and slow streaming. If you manage to connect to a server in the US, it's unlikely you'll bypass Netflix's geo-restriction technology. One of my top free VPNs, TunnelBear, wasn't able to access Netflix at all!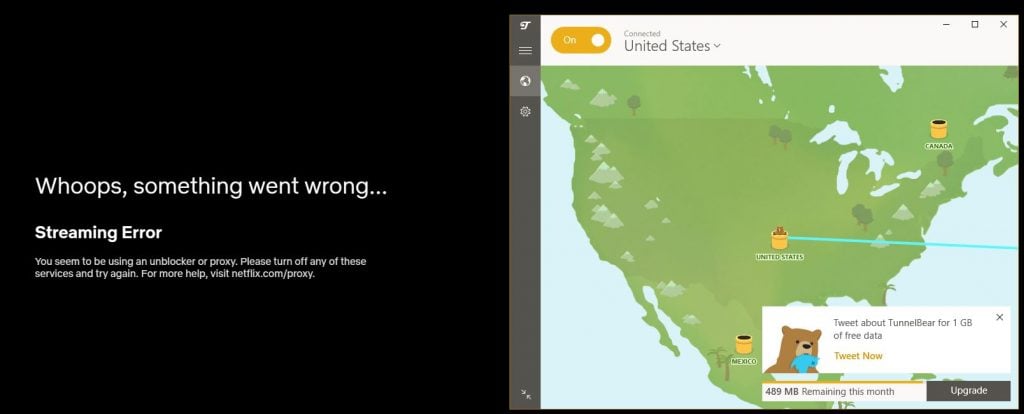 On top of that, free VPNs usually contain tons of annoying ads. Many free VPN providers sell your data to advertisers as a way to make money (as their users are not paying for the service). This means that you're going to get ads popping up in the middle of watching shows — not ideal.
The bottom line is: If you want unlimited, fast streaming for US Netflix, a free VPN is going to let you down. If you're not ready to commit, there are many premium VPNs that offer a money-back guarantee so you can try their services with zero-risk. For example, ExpressVPN has a 30-day money-back guarantee which I tested, then got fully refunded — no questions asked.
Is it legal to use a VPN on Netflix?
When it comes to VPN use on Netflix, you can rest assured knowing that it isn't illegal. As long as you're paying for your Netflix subscription and not downloading the content illegally, you're free to use one while you stream.
However, if you live in a country such as China, Russia, or Iran, you should know that the use of VPN services is prohibited.
Can Netflix block my account if I use a VPN?
While Netflix can detect the use of a VPN, it won't block your Netflix account. It will only temporarily block your streaming while you're connected to a VPN and show you a proxy error. As soon as you disable the VPN service, you will be able to regain access.
I read through the Netflix Terms of Use. While it says you can't "circumvent […] any content protections", it doesn't say that Netflix will ban you from their service if you're using a VPN.
I haven't heard of anyone having their account blocked because of VPN use, and I don't expect to. It makes no sense for Netflix to throw away money from subscribers, especially as using a VPN is not illegal.
The VPN services I've recommended use the best security and protocols to avoid detection. Netflix may still identify the use of a VPN, but as these VPNs offer a variety of servers that can access Netflix, so you only need to switch servers to continue streaming.
Are subtitles available if I use a VPN on Netflix US?
Access to subtitles will depend on what you want to watch, and what language you want the subtitles in. You can see our hack for getting Netflix subtitles in different languages, even if they're not initially listed in the Subtitles section.
What are the rules of Netflix in Europe?
Europeans can watch online streaming services (such as Netflix) wherever they go throughout the EU without facing geo-restrictions.
As of mid-2018, the European Commission's "digital single market strategy" claimed victory, leading to the passing of "portability regulation". Essentially, this means all users located in the European Union can use streaming platforms freely while traveling around the EU.
Watch Netflix US with ExpressVPN
Why Getting a VPN for Netflix is Worth the Price
For a monthly fee less than the price of a movie ticket, the recommended VPNs in this list will give you unlimited, buffer-free Netflix streaming. My recommended VPNs also allow you to access content libraries on a global scale — and for more than just Netflix too. Any geo-restricted content you want to view becomes accessible with a VPN.