How to Watch American Netflix From Anywhere (Tested August 2019)
Last Updated by Gray Williams on July 17, 2019
You can watch American Netflix shows in three easy steps
Get a Fast VPN with unlimited data. (We recommend ExpressVPN, it bypasses the Netflix geo block and has fast speeds)
Connect to a US server
Login to your Netflix account and enjoy
It's no secret that Netflix makes different shows available to viewers based on their location. It is extremely frustrating (at least it is for us) when you see on a Netflix Facebook group or talk to friends about what they are watching, only to find out when you search for the show it's not on your Netflix. The solution to this problem, as detailed above, it simple. Get a VPN that can beat the Netflix geo-block and allow you to watch American Netflix whenever and wherever you are.
It's been a few years since Netflix expanded its services and became available throughout most of the world. However, there is still a huge disparity in the TV shows and movies that are available in the US when compared to the rest of the world. In fact, there are even some Netflix original shows that can't be seen on Netflix in some regions.
You can see the disparity in the number of TV shows and movies from several markets around the world in the table below.
| | | | |
| --- | --- | --- | --- |
| Country | Number of TV & Movies | Country | Number of TV & Movies |
| United States | 5,665 | New Zealand | 2,013 |
| Canada | 3,571 | France | 1,928 |
| Brazil | 3,513 | Germany | 1,785 |
| Mexico | 3,496 | Japan | 1,765 |
| Argentina | 3,034 | Spain | 1,287 |
| United Kingdom | 2,967 | Italy | 1,196 |
| Australia | 2,044 | Russia | 737 |
| Sweden | 2,080 | India | 705 |
There are several reasons why the content libraries differ based on region (copyright and contractual agreements that shows have with local cable providers are the main ones) but the fact remains that for those located outside the US, they are paying the same price as their American counterparts and receiving a fraction of the content.
This is especially frustrating for Americans on vacation or taking a year abroad, who purchased Netflix in the US only to see their favorite shows disappear the minute they crossed a border.
Getting the

Best VPN

is the Only Solution
The only way to fix this injustice is to get a VPN which will connect you to a server in the US and fool the Netflix VPN block. Not every VPN has what it takes to bypass the Netflix geo blocks. We've tested a bunch of VPNs and came up with a list of the Top 3 VPNs that will allow you to watch US Netflix.
1. ExpressVPN – Ultra-fast speeds, perfect for Netflix

Accesses US Netflix with no problem
One of the fastest VPNs we've tested means you won't have to suffer from buffering
You can watch for as long you want thanks to unlimited data
Servers in 90+ countries. With ExpressVPN you can watch Netflix in the UK and Canada as well.
30-day money back guarantee gives you the ability to test it our risk-free
2. NordVPN – SmartPlay Technology ensures high-quality streams
Tested and proven to bypass the Netflix VPN ban
With hundreds of servers in the US, you'll be able to stream in HD
Servers in 60+ countries will allow you to watch Netflix in other regions as well
Unlimited data – Stream for as long as you want
30-day money back guarantee if you're not satisfied
3. CyberGhost – Has US Netflix optimized servers

Has an "Unblock Streaming" profile which will find the best servers to stream US Netflix
While not as fast as Express or Nord, you will still enjoy a high-quality streaming
Has servers in 50+ countries which opens up viewing Netflix in other countries
Has a 45-day money back guarantee
Can I Use a Free VPN to Watch Netflix
In the early days, Netflix all you needed was US IP address and you were good to go. People found that they could download free VPNs like TunnelBear or Hola and stream US Netflix without a problem. These days, Netflix works hard to block all VPNs from accessing their servers and so the odds of getting a free VPN to work is slim at best. Every now and then a free service may pop up and bypass the VPN block of Netflix, but so far, this has been just in the short term until Netflix sees it and blocks it.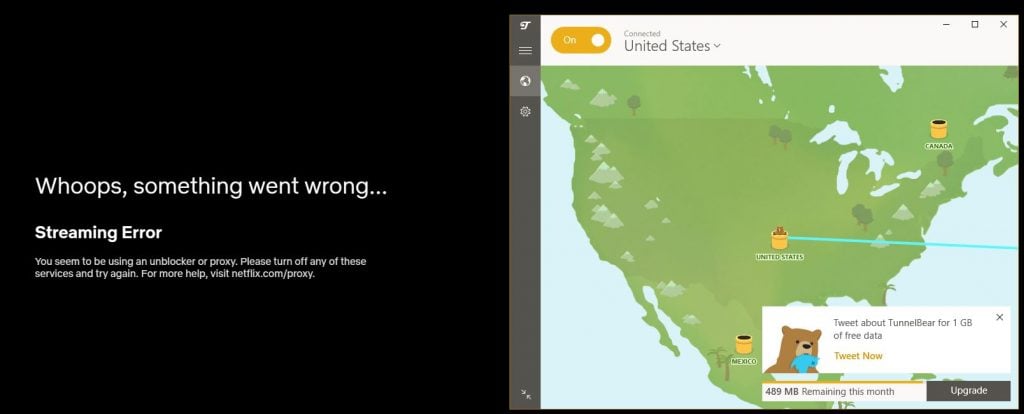 One of the many problems that we've found with free VPNs is they don't have the incentive to provide a premium service on a free software. Some of them do have premium upgrades that can work with Netflix, but when it comes to the free version you get what you pay for.
Netflix vs. VPN
In January 2016, Netflix announced it would begin actively targeting VPNs attempting to allow users in other countries access to the US Netflix catalog. Some VPN companies are battling back. They are constantly adding new IP addresses and server locations to that aren't blocked by US Netflix. You may still receive the proxy error, even when connected with a one of the above VPNs, but this can generally be resolved by just switching servers.
We read through the Netflix Terms of Use and while it doesn't come out and say that if you're caught using a VPN they will ban you from their service, it does say that you can't "circumvent….any content protections."

Highlighted section from Netflix Terms of Use
We haven't heard of anyone having their account blocked because of VPN use, and we don't expect to, because it makes no sense for Netflix to throw away money from subscribers. The people who care are the owners TV and studio executives and Netflix can tell them that they are doing everything they can to protect their license deals and copyrights.
Can Netflix Block My Account If I Use A VPN?
As Netflix cracks down on users bypassing Netflix geo-restrictions, those who have adopted a VPN are concerned about losing account access. Some VPNs don't have the advanced technology to access Netflix undetected. While Netflix can detect the use of a VPN, it won't block access to your account. It will only temporarily block your streaming while you're connected to a VPN, highlighting a proxy error. However, as soon as you disable the VPN service they have detected, you will be able to regain access.
Thankfully, the reliable VPN services recommended in this article have managed to put together the best security and protocols to avoid being detected by Netflix. Every once in a while, Netflix may be able to identify the use of a VPN, even if using the best services on the market. However, these VPNs will offer a variety of servers that can access Netflix, so you only need to switch servers to continue streaming your favorite shows.
Can I Have The Subtitles If I Use A VPN On Netflix US?
If you're in need of English subtitles, you should have no trouble accessing them for your streams. However, if you're accessing US Netflix from a non-English speaking background, you may struggle to watch streams with subtitles in your language.
Access to subtitles will depend on what you want to watch, and what language you want the subtitles in. You can see our hack for getting Netflix subtitles in different languages, even if it's not initially listed in the Subtitles section.
Is It Legal To Use A VPN On Netflix?
With Netflix now prohibiting proxy use on its website as of early 2016, the question on everyone's mind is, is it legal to use a VPN for Netflix? You might find people talking about copyright infringement and the laws surrounding it; however, when it comes to VPN use on Netflix you can rest assured knowing that it isn't illegal. Simply put, VPNs are not illegal, and as long as you are paying for your Netflix subscription, you are not downloading the content illegally.
Unless you live in a country such as China, Russia, or Iran, which prohibits the use of a VPN service, using a premium VPN service to access Netflix is perfectly legal, and you will not get penalized.
What Are The Rules Of Netflix In Europe?
If your country is a part of the EU, you're in luck. As of mid-2018, the European Commissions 'digital single market strategy' claimed victory, leading to the passing of 'portability regulation.' Essentially, this means all users located in the EU region, are now able to use platforms such as Netflix, freely while traveling around the EU.
Europeans can watch online streaming services, including Netflix, wherever they go throughout the EU without facing geo-restrictions.
A VPN for Netflix is Worth the Price
The monthly price of the VPNs that we listed above all cost less than the price of a single movie ticket. Even when combined with the different Netflix packages, you're still paying less than you would for cable or to go on a date to a movie, and the amount of new movies and TV shows that you get is pretty substantial. Even in a worst-case scenario, that you get your account banned for using a VPN, you can always just create a new account with another email address and live to stream another day.
While US Netflix is great, there are some shows that you won't find there but you can find on the UK Netflix. For example, new TV shows that first appear on US TV won't be uploaded to US Netflix until the season is over, but will stream on Netflix outside the US. Therefore, in addition to testing the VPNs for US Netflix, we also wanted to test for bypassing the ban in other countries as well.
There is no reason that you should have Netflix but limit yourself to your own local library get a VPN that will bypass the Netflix geo block and binge your favorite shows tonight.