How to Watch American Netflix From Anywhere in 2023
Last Updated by Kate Hawkins on February 01, 2023
Even after you've paid for a subscription, Netflix doesn't allow access to its US library unless you're physically in the country (which is pretty frustrating if you travel abroad regularly!). Luckily, a VPN can change your online location to the US so you can rightfully access your account and keep up with your favorite Netflix US shows.
Many VPNs make false claims to unblock Netflix US but to save you time, I tested 50+ VPNs to find the best VPN for Netflix. ExpressVPN emerged as the winner — it has fast speeds for HD streaming and its US servers unblocked American Netflix every time.
You can try ExpressVPN with Netflix US risk-free as it's backed by a money-back guarantee. If you're not completely satisfied, you can get a refund within 30 days. I tested this myself and the money returned to my account in only 5 days.
Watch US Netflix with ExpressVPN risk-free!
Note: While using a VPN doesn't violate Netflix's Terms of Use, it may be if you're primarily viewing Netflix's content outside the country in which you've established your account or if you're in a geographic location where Netflix isn't available.
3 Easy Steps to Watch US Netflix From Anywhere
Quick Guide: Best Working Netflix VPNs in 2023
The Best VPNs to Watch US Netflix — Tested February 2023
Key Features:
ExpressVPN provides consistent and reliable access to US Netflix. Every server is secured with leak protection and military-grade encryption, which masks your real location and prevents Netflix from discovering that you're using a VPN. In fact, ExpressVPN is one of the few VPNs that you can even use undetected in China.
I tested all 22 US server locations and could connect to Netflix on my first try every time. I was very pleased with my average speed of 35Mbps while I watched the show Stranger Things. Every episode played in UHD quality and I didn't have to wait for any buffering or slow connections.
ExpressVPN has dedicated apps for all major streaming devices, including Amazon Fire TV, Fire Stick, and Nvidia Shield. You can connect up to 5 devices at the same time, so you can even share your subscription with other Netflix fans in your household.
If you like multitasking, you'll be happy to know that ExpressVPN offers split tunneling on all its apps and browser extensions. This means you can watch US Netflix and use the local internet at the same time. When I tested this feature, I successfully streamed US Netflix on the Chrome browser while shopping for local products on the Firefox browser. ExpressVPN also unblocks:
| | |
| --- | --- |
| Global Netflix | Disney+ |
| Amazon Prime Video | Vudu |
| BBC iPlayer | Sky Go |
| Kodi | Hulu |
| HBO Max | Youtube TV |
ExpressVPN offers subscriptions of 1 month, 6 months, and 1 year. The 1-year + 3 months plan is the most affordable at just $6.67 per month, allowing you to save 49% off the full price.
It's completely risk-free to try ExpressVPN and watch Netflix with the 30-day money-back guarantee. It's "no questions asked" if you change your mind and want a refund. I even put it to the test to see if it was true — and it was! When I contacted ExpressVPN over 24/7 live chat, the customer support agent instantly approved my request. I didn't even have to provide a reason for leaving. Best of all, the money arrived in my bank account within 5 days.
Watch Netflix US with ExpressVPN
Key Features:
CyberGhost has 3 servers specifically optimized for streaming US Netflix — one of the servers has even been configured for Amazon Fire Stick. Each server is regularly tested to ensure it can unblock US Netflix and offer the best possible speeds and video quality.
I easily connected to the US Netflix library when I tested CyberGhost's optimized servers. Even though I was a little concerned about the limited number of servers available, I'm happy to report that I didn't have any connection or speed issues. My average speed was 30Mbps, which is more than fast enough to stream TV shows and movies in UHD resolution.
I could also connect to Netflix US on regular servers in Chicago, Washington, Las Vegas, and Seattle. However, the regular servers were 30% slower on average than the optimized Netflix US servers, so I had a few seconds of buffering before my videos loaded. I recommend choosing the nearest optimized server for the best Netflix streaming experience. Cyberghost also unblocks:
| | | |
| --- | --- | --- |
| Global Netflix | Disney+ | Youtube TV |
| Amazon Prime Video | Hulu | Sky Go |
| BBC iPlayer | Kodi | HBO Max |
You can get savings of 83% when you sign up to a 2-year + 2 months plan, which comes down to $2.19 each month. Other subscription plans last for 1 month, 1 year, and 2 years.
CyberGhost offers the longest money-back guarantee at 45 days. This gives you plenty of time to try out CyberGhost and watch your favorite shows on US Netflix. I even tested the money-back guarantee and I can confirm that it's completely risk-free. I got my money back in a week after I requested a refund from the 24/7 live chat team.
Watch Netflix US with CyberGhost
Key Features:
Private Internet Access (PIA) has 16 US locations and 2 streaming-optimized servers, so you can connect to Netflix US quickly and easily. I had success with both of its optimized streaming servers, plus connections in California, Chicago, New York, and Washington DC. I had fast download speeds for streaming in HD video quality on Netflix. PIA also unblocks:
| | |
| --- | --- |
| Global Netflix | Disney+ |
| Amazon Prime Video | ESPN |
| Kodi | HBO Max |
| Sky Go | Youtube TV |
However, I occasionally encountered the Netflix proxy error. This isn't a surprise as Netflix has very sophisticated detection technology. Fortunately, switching servers with PIA is almost instant so it took no time at all to choose a different server to connect to Netflix US. There are hundreds of servers in each US location to choose from.
You can try Private Internet Access with Netflix risk-free with its 30-day money-back guarantee. When I tested the money-back guarantee myself, I easily got my refund approved — and the money came back into my account in just 4 days.
Watch Netflix US with Private Internet Access
Key Features:
NordVPN is one of the best VPNs on the market — and you can get super cheap prices when you sign up for a long-term subscription. One thing to note, however, is that when it's time to renew your subscription, prices do increase quite significantly.
I was particularly impressed with the high performance of every server I tested. Just because a VPN has thousands of servers doesn't mean they all work. Servers can still struggle to unblock local sites — and some can even fail to connect completely. However, I easily unblocked Netflix, Disney+, Hulu, Amazon Prime Video, BBC iPlayer, and HBO Max on multiple servers in the US and UK.
I did, however, have issues with using NordVPN's native Fire TV app. Although it worked and unblocked some streaming services, it sometimes had issues unblocking Netflix US and kept crashing. I also found that NordVPN's user interface for desktop devices was less user-friendly than ExpressVPN and CyberGhost.
NordVPN has the following security and privacy features:
AES 256-bit encryption
A kill switch that cuts your internet access if your connection to a VPN server drops suddenly
Built-in ad and malware blocker, so you don't need a third-party ad blocker
Fully audited no-logs policy (audited by PwC) – NordVPN doesn't store any personal or identifying data while you're connected to the VPN
In addition, NordVPN includes Threat Protection that protects you from viruses, infected websites, and trackers – and it works whenever you have the NordVPN app open, even if you're not connected to a VPN server.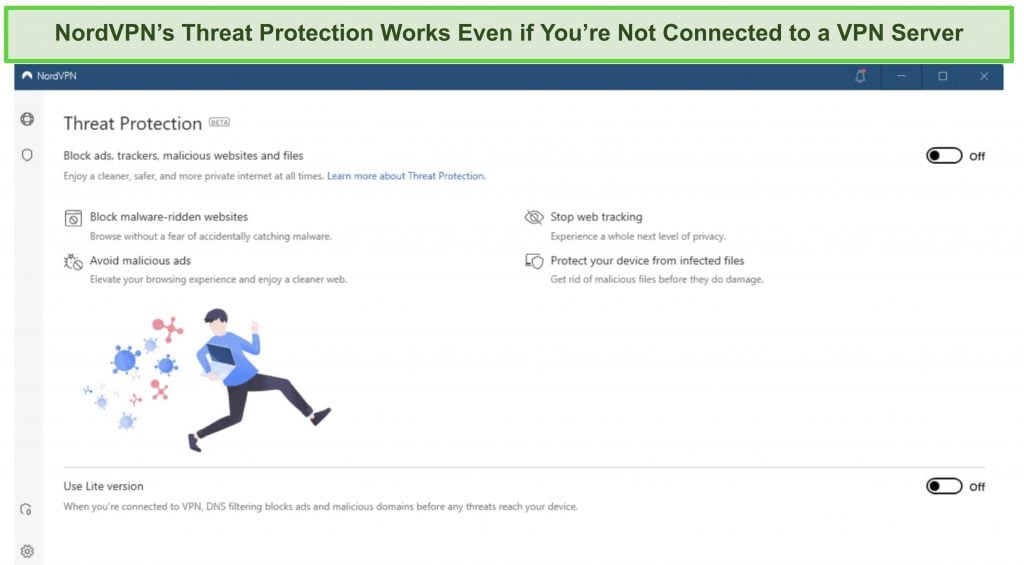 With plans that cost as little as $3.49 per month, it's easy to find a NordVPN subscription plan that suits your needs. You can also stream, torrent, and browse for free for up to 30 days with its money-back guarantee. I tested this to ensure that you'll really get your money back. At first, the support team tried to give me an extended trial period — but they initiated my refund right away after I told them I wasn't interested in the extension. I got my money back in 6 business days.
Key Features:
Surfshark offers the best value for money out of every premium VPN on the market. You can connect an unlimited number of devices with a single subscription, which means you can use Surfshark on all your devices without getting logged out.
I tested Surfshark's simultaneous connections on 2 PCs, 2 phones, a Fire Stick 4K, and an iPad. My connection remained reliable on all 6 devices. Even while I was actively streaming on all my devices, my average speed was 112 Mbps — fast enough for UHD quality.
When I saw the price of this service, I thought it couldn't possibly have top-grade security features for such a low price, but I was pleasantly surprised.
Surfshark has the following security and privacy features:
AES 256-bit encryption on all devices, with ChaCha encryption available for Android users
Wireguard VPN protocol enabled by default
Diskless, RAM-only servers to protect your privacy (no data can be physically extracted from any servers)
Kill switch (although this isn't enabled by default)
IP and DNS leak protection
Surfshark offers two-factor authentication (2FA) on your account. This feature requires you to enter an extra code before you can log in to ensure that only you can access your account.
While Surfshark does have slightly fewer global servers than rivals such as CyberGhost and PIA, I didn't experience any issues during my tests. I easily connected fast working servers every time, and I had excellent speeds for streaming Netflix in UHD, downloading torrents, and browsing the internet.
You can try Surfshark for yourself with the 30-day money-back guarantee. It has plans that cost as little as $2.49. Requesting a refund is easy with Surfshark's live chat feature. Although the support team asked why I wanted to cancel my subscription, I had no problem getting my money back (and it only took 4 days!).
Key Features:
IPVanish has plenty of US servers to watch American Netflix. During my tests, I found that servers in Atlanta, Chicago, Dallas, Houston, Las Vegas, Los Angeles, Miami, New Orleans, and San Jose could all connect to Netflix. I could stream the show Stranger Things on Netflix without lag or buffering and on average, my speed only dropped 34%. IPVanish also unblocks:
| | |
| --- | --- |
| Global Netflix | Disney+ |
| Vudu | ESPN |
| Kodi | HBO Max |
| Sky Go | Youtube TV |
IPVanish has a host of information on its app interface — you can see details like latency and user load for all of IPVanish's 1100+ US servers, even filtering the servers to find the fastest choice. It's a highly configurable service, suited to experienced users who want a greater level of customizability for their connections. If you want a simpler app for connecting to Netflix, I recommend a service like ExpressVPN.
You can try IPVanish with Netflix US at no risk to you with its 30-day money-back guarantee. If you change your mind later, getting a refund is easy. I just clicked the "Cancel Now" button in the Subscriptions tab of my account. The refund was processed automatically and I had my money back instantly.
Watch Netflix US with IPVanish
How to Watch American Netflix on Windows, Android, Mac, iOS, and More
It only takes a few minutes to set up a VPN on your device. Below are some quick and easy installation guides if you're a first-time VPN user and not sure how it works.
Desktop or Laptop (Windows and Mac)
Download and install a VPN for Windows or Mac. If you're unsure which VPN to choose, ExpressVPN is one of the best VPNs for Windows and it's equally easy to download and set up on Mac.
Launch the VPN and connect to a server in the US.
Visit Netflix.com and start streaming! You'll be automatically connected to US Netflix.
Smartphone (Android and iOS)
Install a VPN. ExpressVPN's Android and iOS apps both easily unblock Netflix.
Connect to a server in the US.
Open the Netflix app to start watching US Netflix!
Amazon Fire Stick and Fire TV
Get a VPN from the Amazon Appstore. ExpressVPN has a dedicated app for Amazon devices, which makes it simple to watch US Netflix.
Connect to a US server and enjoy streaming your favorite Netflix shows!
Android TV (Sony, Hisense, and Phillips)
Install a VPN from the Android TV app store. ExpressVPN has a custom app for Android TV, as does CyberGhost.
Sign in to the VPN and connect to a US server.
Launch the Netflix app and start watching US shows and movies!
Router (Best Option for Game Consoles, Smart TVs, & Streaming Sticks)
When you connect your router to the VPN, every device in your household is also connected to the VPN. This includes game consoles (PlayStation, Xbox, and Nintendo Switch), smart TVs (Apple, Samsung, and LG), and even streaming sticks (Roku and Chromecast).
Download a VPN that's compatible with your router. I recommend ExpressVPN as it works with a wide range of routers.
Set up your router with the VPN.
Connect the VPN to a US server.
Launch Netflix on your streaming device and start watching!
Got a VPN But Still Can't Watch US Netflix? Here Are 3 Quick Fixes
You might still be seeing the below error message, even with a VPN:
Don't panic! Here are 3 quick and easy solutions below.
1. Clear Your Cache
Netflix might still be detecting your real location from cached data. Luckily, you can easily clear your desktop's browser cache by opening "Advanced Settings" and deleting your browsing data and cookies. If you're streaming the Netflix app on your Android or iOS device, you can clear the app cache by opening "Storage" and deleting the data there.
2. Connect to Another US Server
Even the best VPN will occasionally have its servers blocked by Netflix — and this might've just happened to the server you're connected to. Most of the time, you can simply switch to another US server that works with Netflix. During the time of testing, here are the US servers that worked well for me:
3. Contact 24/7 Customer Support
In my experience, this is the fastest way to speak directly to the VPN's customer support team. Most Netflix VPNs offer 24/7 live chat support through the website and it's never taken me more than 1 minute to reach a representative. Once connected, you can ask for a list of working US Netflix servers.
FAQ: Watching American Netflix With a VPN
Why is the US Netflix library better than other countries?
US Netflix has the largest collection of shows and movies, and it's often the first country to release new content. The majority of this content is also exclusive and can't be streamed from any other country. In comparison, Netflix Spain, France, and Italy have less than half the amount of US content.
However, I find it frustrating that my streaming choices are limited based on my location — especially when I've already paid for my Netflix US subscription. That's why I use a VPN to access US Netflix when I'm abroad or having technical issues with my local servers. A VPN even improves streaming quality when my ISP throttles my internet speeds.
Can I use a free VPN to watch American Netflix?
I love free things as much as anyone else so I tested dozens of free VPNs with Netflix — but there's no free (and safe) VPN that unblocks US Netflix. Unfortunately, the reality is that VPNs need money and resources to access streaming giants like Netflix, and no trustworthy VPN will do this at zero cost. Even the best free VPNs like TunnelBear only unblock Netflix for their paying subscribers.
There are free VPNs that work with Netflix but there's always a hidden cost — usually the expense of your online privacy and safety. Free VPNs still need to earn revenue and the easiest way is to sell your browsing history and personal information to the highest bidder. This means your private data could be used against you by potentially anyone, including advertisers, corporations, and even malicious hackers.
If you value your privacy, the safest free option is to download a quality VPN with a money-back guarantee. For example, you can use CyberGhost's money-back guarantee to watch unlimited Netflix for free for 45 days. Just remember to ask for your money back before the 45-day period is complete. I tested this myself and it was easy — I didn't even need to provide a reason for leaving! The CyberGhost representative approved my refund via 24/7 live chat and the money returned to my account in 5 business days.
Can Netflix block my account if I use a VPN?
No, you won't be blocked. Netflix won't let you stream content if it detects that you're using a VPN (you'll see the proxy error message instead) — but you won't be blocked. While the Terms of Use does strictly ban VPNs, I've never heard of anyone's account being blocked for using a VPN. In fact, I've watched Netflix with ExpressVPN for years and my account is still active.
Is it legal to use a VPN with Netflix?
Yes, it's legal. However, Netflix actively discourages the use of VPNs because it bypasses their global licensing agreements for certain programs. If you need to access your own Netflix account from abroad to watch content that you rightfully paid for, you'd need to find a VPN that has been proven to work with Netflix.
Can I watch American Netflix in China?
Unfortunately, Netflix is blocked in China. This can be annoying if you've already paid for a US Netflix subscription but you're in China for a quick trip. To keep accessing your Netflix account, a VPN can help by rerouting your internet connection through its own US server network. ExpressVPN is a top VPN for both China and Netflix, and it's backed by a 30-day money-back guarantee. If you're not satisfied with its performance, you can request a full refund.
Keep in mind that the protection of a VPN doesn't give you license to commit illegal acts, so please exercise a basic level of caution when using a VPN in China.
What speeds do I need to stream US Netflix?
You need at least 25Mbps for 4K UHD on Netflix, 5Mbps or above for HD, and 3Mbps for SD video quality. If you want to use a fast VPN with Netflix, I suggest you consider the top VPNs for American Netflix in 2023. Some low-quality VPNs can significantly slow down your internet speed, but you won't have any issues with top services like ExpressVPN or CyberGhost.
Do I need an American account to watch US Netflix?
No, it's not necessary. You can watch US Netflix as long as you have an active Netflix subscription — it doesn't matter where you created your account. However, the Terms of Use do state that you should view content primarily within the country in which you originally subscribed. This is due to Netflix's international licensing agreements.
Watch US Netflix with ExpressVPN now!
Unblock Your Favorite TV Shows and Movies on American Netflix
Don't miss out on the US Netflix library just because you're on vacation or you've got technical issues with your local server. After all, you're paying for a subscription just like anyone else! With the right VPN, you can regain access to Netflix US and watch what you've fairly paid for.
Based on tests, ExpressVPN is the best choice to watch US Netflix. It offers lightning-fast speeds for UHD streaming and reliable servers in the US. Even better, you can try ExpressVPN with its money-back guarantee for 30 days. This makes it completely risk-free to test out every feature and watch Netflix on your own device for 30 days. If you don't like the service, it's quick and easy to get a full refund (you don't even need to give a reason for leaving).
---
Summary: Watch US Netflix Now With These VPNs (Updated 2023)