8 Best Truly Free VPNs in 2023 — Fast and 100% Secure
Last Updated by Kate Hawkins on March 01, 2023
It's tricky to find a free VPN that's safe and works well — but I did it. Many free VPNs are outright dangerous, exposing you to malware and trackers. Even when it passes the safety test, most free VPNs have data caps, are slow, or can't unblock websites.
I tested over 100 VPNs, and I shortlisted the best free VPNs in 2023. Do keep in mind that no free VPN can match the performance of premium VPNs. You'll still need to put up with things like data limits and inconsistent speeds.
If you want to save yourself the hassle, I recommend you try ExpressVPN risk-free. It isn't free, but it's the fastest and most reliable VPN I've used. It's backed by a 30-day money-back guarantee (which is honored 100%), so you don't have to worry about getting stuck with a VPN you don't like.
Quick Guide: Best Free VPNs You Can Trust in 2023
The Best (100% FREE) VPNs in March 2023
Key Features:
ExpressVPN isn't usually free, so you might be wondering why I'm listing it as the #1 VPN. The reason is that ExpressVPN has excellent server speeds, top-tier security, and a strict no-logs policy. While it's not free upfront, it's backed by a 30-day money-back guarantee, so you can easily get a full refund if you're not satisfied (no questions asked — I've tested it myself). This makes ExpressVPN tough to beat.
In my tests, I connected to over 50 ExpressVPN servers in the US, UK, Japan, and more. I was impressed that ExpressVPN only caused a tiny speed drop of 18% on average (from my base speed of 115Mbps to 94Mbps). This is extremely fast, considering some servers were more than 15,000km away. I didn't have any problems with slow-loading pages, buffering videos, or lagging video games.
I was pleased to find ExpressVPN consistently works with streaming platforms like Netflix, so I didn't have to waste time looking for a working server — every server connected on the first try. This makes ExpressVPN an ideal option if you regularly travel abroad and you want access to your streaming accounts back home. During tests, ExpressVPN could access the following services:
| | | | | |
| --- | --- | --- | --- | --- |
| Netflix | Disney+ | Hulu | Amazon Prime Video | BBC iPlayer |
| HBO Max | Showtime | Peacock TV | YouTube TV | ESPN |
| DAZN | CBS | Hotstar | Discovery+ | …and more! |
To ensure you always have top security and privacy when connected to ExpressVPN's servers, every plan provides the following features:
AES 256-bit military-grade encryption — on all servers
DNS & IP leak protection — prevents accidental data leaks
Obfuscation on every server — masks your VPN traffic, avoiding proxy detection that could block your connection
An automatic kill switch — cuts internet access if the VPN connection is interrupted
TrustedServer technology — runs on RAM-based servers that can't physically store any data
Audited zero-log privacy policy — ensures your data is never stored on ExpressVPN's servers
You can try ExpressVPN completely risk-free, as the service has a tried-and-tested money-back guarantee policy. If you're not completely satisfied, you can get a full refund within 30 days — I tested the process myself, and it was easy. Other VPNs that I've tried wasted my time trying to troubleshoot or get me to stay, but ExpressVPN processed my refund immediately. The money was returned to my bank account within 5 days.
You can sign up for a 1-month, 6-month, or 1-year plan, with the 1-year + 3 months plan offering the best value for money at only $6.67 per month.
Key Features:
CyberGhost is a great choice for beginner VPN users as it categorizes servers into specific activities, like streaming, torrenting, and gaming. These dedicated servers are regularly tested and optimized to guarantee smooth connections. On the Windows app, you can connect to an optimized server by clicking on the For streaming, For torrenting, or For gaming server lists. On Mac, you only have the For downloading (torrenting) and For streaming categories.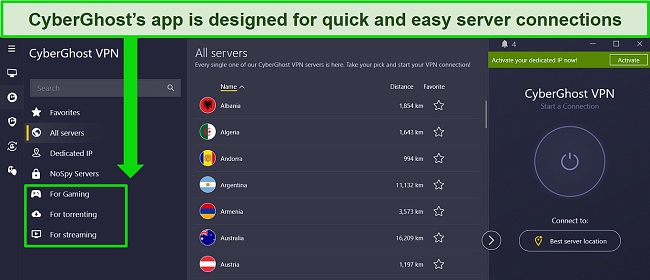 During my tests, I found CyberGhost's streaming-optimized servers worked flawlessly with a range of streaming services. CyberGhost can easily access local accounts with the following:
| | | | | |
| --- | --- | --- | --- | --- |
| Netflix | Disney+ | Hulu | HBO Max | BBC iPlayer |
| Amazon Prime Video | Showtime | Yle | Rai Play | …and more! |
To ensure you always have the best security and privacy when connected to CyberGhost's servers, you'll find every subscription includes the following top-tier features:
AES 256-bit military-grade encryption — on every server to guarantee your connection is secure
Automatic kill switch — instantly blocks internet access if the VPN connection is interrupted unexpectedly
Data leak protection — blocks DNS and IP leaks, maintaining your anonymity when using CyberGhost's servers
WiFi Auto-Connect — automatically starts a VPN connection when using unsecured WiFi networks, protecting you from hackers and spies
Malicious ad blocker — stops ads containing malware to avoid phishing scams and shady web links
"NoSpy" advanced obfuscated servers — for complete anonymity when sending or receiving sensitive data
Audited zero-log policy and RAM-based servers — guarantees your data will never be logged or stored when you're connected
The biggest downside is that my speeds dropped by 39% on average from 115Mbps to around 70Mbps. I also noticed a slowdown over long-distance connections. You may find this impacts your connection if your regular internet speeds are slow, but you'll only know by testing CyberGhost for yourself.
While it isn't a free service, CyberGhost has a generous money-back guarantee — ideal if you're traveling abroad or only need a VPN for a short time, as you can request a refund within 45 days. I tested the refund process myself, and it only took a couple of minutes for a live chat agent to arrange my refund. I had my money back within a week.
If you want to use CyberGhost for longer, the best-value plan is the 2-year + 3 months at only $2.11 per month (it's one of the most affordable monthly VPNs).
Key Features:
Proton VPN has unlimited free data and server access in the US, Japan, and the Netherlands. As you only get access to 3 server countries, I was expecting my speeds to slow down on servers on the other side of the world. However, I was impressed by the fast speeds — I only had a drop of 33% on average (from a baseline of 98Mbps to 62Mbps). I had minimal lag when streaming, browsing, and online shopping.
I was surprised to find Proton VPN is also a top free choice for streaming. On the Proton VPN website, streaming support is officially only available for Plus and Visionary subscribers. However, Proton VPN could access Netflix (Original content only) and Disney+ during my tests.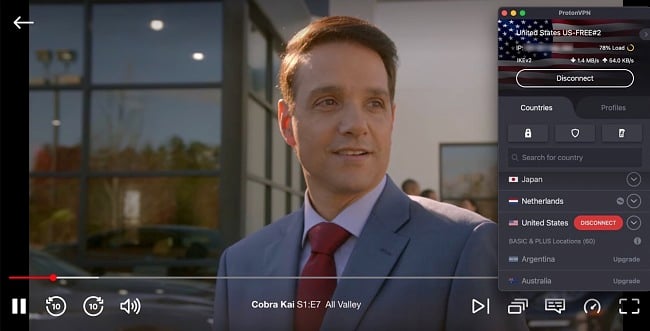 To further secure your browsing activity, Proton VPN makes use of robust protections like:
AES 256-bit encryption — on all server connections ensures your online activity is anonymous
A kill switch — blocks access to the internet if the VPN connection is interrupted
DNS and IP leak protection — stops accidental data leaks from compromising your security
Split tunneling — lets you choose which apps use the encrypted connection and which do not (ideal for keeping speeds fast)
Customizable DNS Settings — so you can add a private DNS server and connect through that
Audited zero-log policy — guarantees your data won't be stored or logged on any Proton VPN server
While you can only connect 1 device at a time on the free plan, you can configure Proton VPN onto your router at home. This allows you to protect all of your devices as long as it's connected to your WiFi.
Unfortunately, you won't have access to the SecureCore, Tor, or 10 Gbit servers. There's no torrenting support on the free plan, either. This ensures the free servers aren't overloaded for other free users, but it's disappointing if you want to share files via BitTorrent.
You can get started and download Proton VPN for free with just your email address — you don't have to provide any other personal details. You won't be bombarded with ads prompting you to upgrade, either. Proton VPN's paid plans can be a little pricey if you're looking to upgrade. The cheapest plan comes to $4.99 per month, and you'll need to commit to a 2-year plan.
Key Features:
Hotspot Shield offers unlimited monthly data with zero caps, which is ideal for streaming, browsing, shopping, and more online. Plus, your connection is supported by the following high-level security and privacy features to ensure your data is protected at all times:
Military-grade encryption — secures your data from prying eyes
Data leak protection — prevents accidental data leaks that could compromise your security
Split tunneling (called Smart VPN) — lets you choose which apps and websites bypass the VPN encryption
Auto-protect feature — automatically connects the VPN when your device is using an unsecured WiFi network
Zero-log privacy policy — ensures your online activity and data is anonymous and cannot be traced back to you in any way
While some free services require an account, Hotspot Shield lets you download and connect to its free service without signing up. The download process was super-fast, taking less than 5 minutes before I could connect.
My download speeds were fast, with a reduction of just 29% from my standard internet speed. However, although the free service doesn't cap speeds, Hotspot Shield restricts bandwidth to just 2Mbps. While I could watch videos on YouTube, it took time for content to load, and I experienced buffering when streaming. Without unlimited bandwidth, you can't take advantage of Hotspot Shield's fast speeds.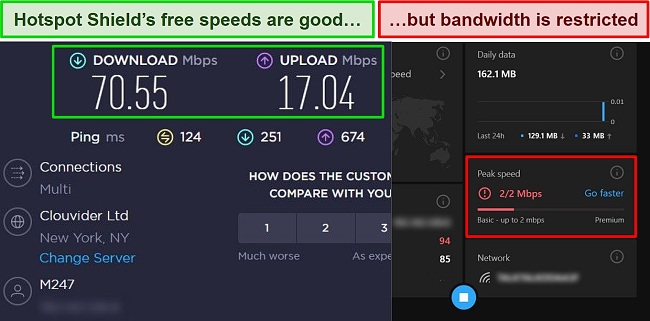 If you want a free VPN for streaming, Hotspot Shield isn't a good choice. When I tried to connect to Netflix, I got an error message stating streaming services are only for premium Hotspot Shield users. I also tried Disney+, HBO Max, and Hulu and couldn't connect.
However, the biggest downside is that the free VPN is supported by ads. I had pop-up ads every time I connected on Windows and my iPhone. Even though the company doesn't log any identifiable data, your device OS and general geographic location are collected — you'll see personalized ads when you're browsing. Hotspot Shield also aggressively upsells its premium plans, which can be invasive.
I find Hotspot Shield is best suited for casual browsing, if you don't mind personalized ads. Better still, it's simple to create a free Hotspot Shield account and download the app. You can even sign up for the 7-day free trial of the premium version.
Key Features:
hide.me's free plan has unlimited data and access to servers in 8 countries. However, once you use 10GB of data, you don't have the option to choose your server connection — you're automatically connected to a random free server instead. Fortunately, the 10GB of data refreshes every 30 days, so you can manually select a free server connection again.
It's also good to know that hide.me has impressive security and privacy options for free users. While I was disappointed that I couldn't use hide.me's super-fast Bolt feature, my connections could take advantage of the following:
Military-grade encryption — on all server connections
Auto-connect feature — connects you to a VPN server when using unsecured WiFi or when the app starts
Stealth Guard server obfuscation — masks your VPN traffic
Secure connection protocols — including WireGuard, SoftEtherVPN, and OpenVPN
Configurable kill switch — protects your data if the VPN is interrupted
Audited zero-log policy — ensures your data is never logged or stored on hide.me's servers
When I ran speed tests on hide.me's free servers, my download speeds were fast, but my upload speeds were pretty slow. I didn't have an issue with browsing and downloading, but uploading files and video calling friends was laggy.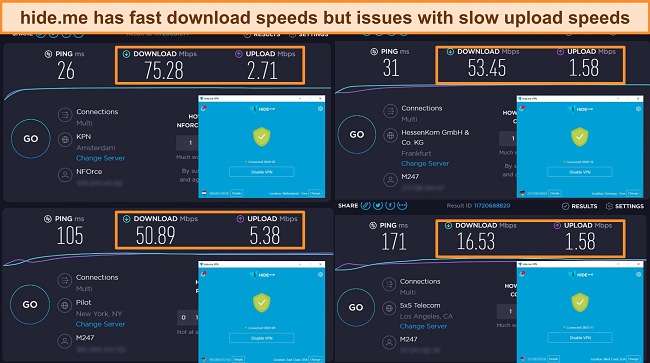 Unfortunately, I couldn't access many streaming platforms on hide.me's free servers. I could connect to my Netflix account and stream Original content, but I was unable to access my local Netflix library. hide.me free also couldn't connect to Disney+, Hulu, HBO Max, or Amazon Prime Video.
On hide.me's paid plan, I had good success with streaming on the streaming-optimized servers and could access local Netflix libraries. Plus, if you upgrade, you can use hide.me's Bolt feature, which can significantly boost speeds on slower networks.
You can use hide.me's free service without signing up for an account. I didn't have to provide any personal details or add a credit card — I could just download the app from hide.me's website for free and connect to a server. The intuitive interface makes it easy to get started, and the initial installation and setup took less than 5 minutes.
Key Features:
TunnelBear's free VPN lets you access every premium feature that is available on the paid plan. This includes access to all 3000+ servers in its worldwide network, meaning you can easily browse the internet from anywhere.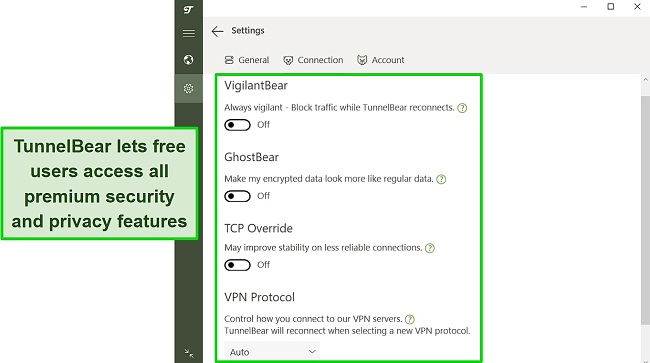 I was pleased to find I could test and benefit from all of TunnelBear's top-tier security and privacy features on its free plan, including:
Military-grade encryption — on every server connection
VigilantBear automatic kill switch — protects data from leaking in the event the VPN is interrupted
GhostBear server obfuscation — masks your VPN traffic to avoid proxy detection technology
Audited zero-log privacy policy — proves your data is never logged or stored when connected to TunnelBear's servers
Unfortunately, the mere 500MB per month data allowance means you'll want to upgrade as you'll hit the cap very quickly. I started watching a series on BBC iPlayer, and the VPN disconnected before the episode ended. This was especially disappointing because, unlike most free VPNs, TunnelBear works with Netflix, Amazon Prime Video, Disney+, and more.
When I ran speed tests, I found TunnelBear is fast on local connections but slows down over long distances — typical of most VPN services. My local speeds were only 10-12% slower than my regular connection speeds, so I didn't notice any impact on my browsing. When I tested a server in Australia (more than 15,000km away), my speed dropped by more than 50%. This is worth considering if you plan on making long-distance connections.
You can claim an extra 1GB of data by sending a tweet advertising TunnelBear, and you can get this every month by sending another tweet. However, even 1.5GB of data isn't really enough for more than casual browsing and maybe streaming an episode of your favorite show. If you upgrade, you get unlimited bandwidth and data for streaming, torrenting, browsing, and more.
It only takes a couple of minutes to download TunnelBear's free app and get connected. You will need to register for an account before you connect, so make sure you use a current email address so you can verify your account.
Key Features:
NordVPN is one of the best VPNs on the market — and you can get super cheap prices when you sign up for a long-term subscription. One thing to note, however, is that when it's time to renew your subscription, prices do increase quite significantly.
I was particularly impressed with the high performance of every server I tested. Just because a VPN has thousands of servers doesn't mean they all work. Servers can still struggle to unblock local sites — and some can even fail to connect completely. However, I easily unblocked Netflix, Disney+, Hulu, Amazon Prime Video, BBC iPlayer, and HBO Max on multiple servers in the US and UK.
I did, however, have issues with using NordVPN's native Fire TV app. Although it worked and unblocked some streaming services, it sometimes had issues unblocking Netflix US and kept crashing. I also found that NordVPN's user interface for desktop devices was less user-friendly than ExpressVPN and CyberGhost.
NordVPN has the following security and privacy features:
AES 256-bit encryption
A kill switch that cuts your internet access if your connection to a VPN server drops suddenly
Built-in ad and malware blocker, so you don't need a third-party ad blocker
Fully audited no-logs policy (audited by PwC) – NordVPN doesn't store any personal or identifying data while you're connected to the VPN
In addition, NordVPN includes Threat Protection that protects you from viruses, infected websites, and trackers – and it works whenever you have the NordVPN app open, even if you're not connected to a VPN server.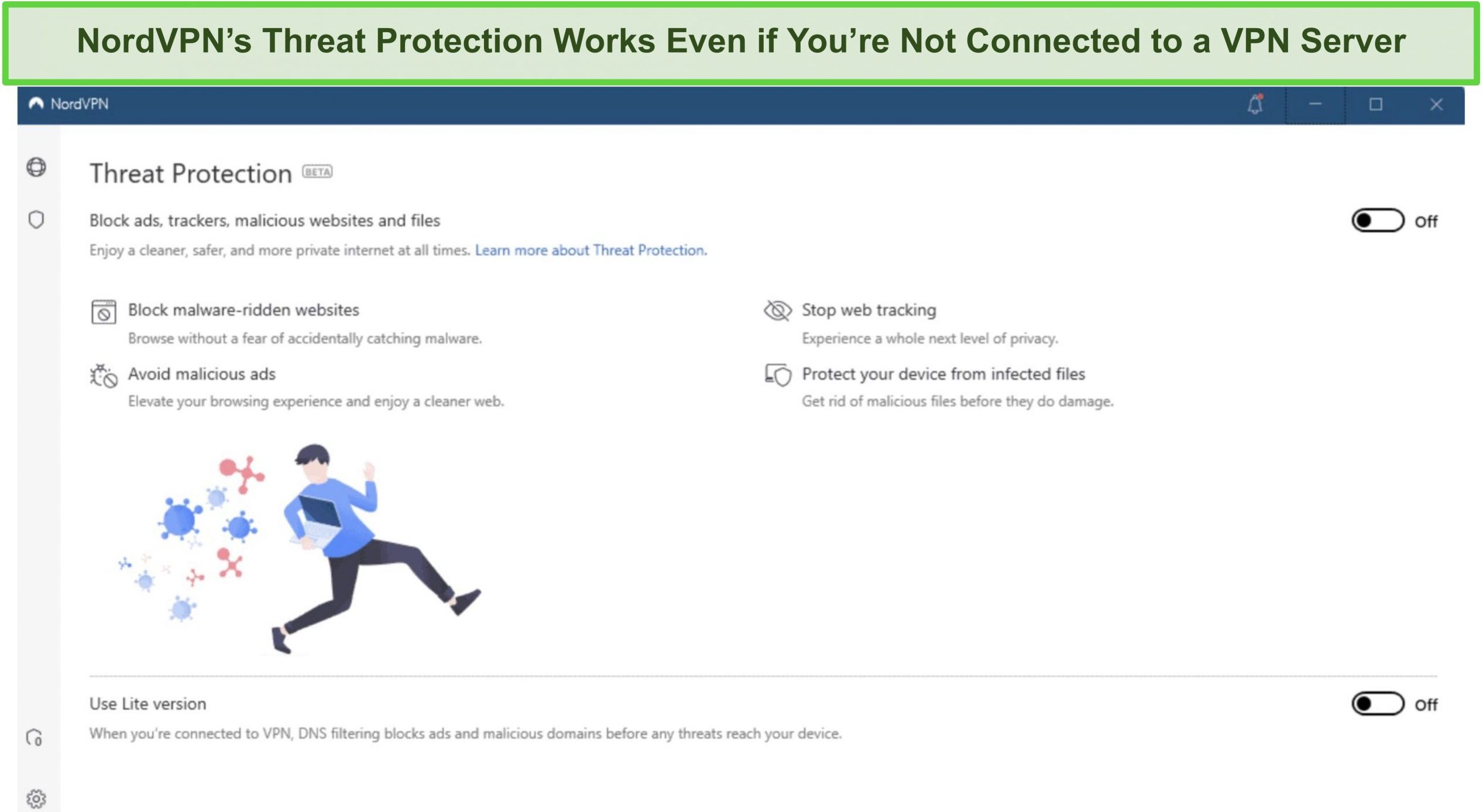 While NordVPN is not entirely free, you can stream, torrent, and browse for free for up to 30 days with its money-back guarantee. NordVPN has plans that cost as little as $3.29 per month. To ensure that you'll really get your money back, I tested NordVPN's money-back guarantee. At first, the support team tried to give me an extended trial period — but they initiated my refund right away after I told them I wasn't interested in the extension. I got my money back in 6 business days.
Key Features:
Surfshark offers the best value for money out of every premium VPN on the market. You can connect an unlimited number of devices with a single subscription, which means you can use Surfshark on all your devices without getting logged out.
I tested Surfshark's simultaneous connections on 2 PCs, 2 phones, a Fire Stick 4K, and an iPad. My connection remained reliable on all 6 devices. Even while I was actively streaming on all my devices, my average speed was 112 Mbps — fast enough for UHD quality.
When I saw the price of this service, I thought it couldn't possibly have top-grade security features for such a low price, but I was pleasantly surprised.
Surfshark has the following security and privacy features:
AES 256-bit encryption on all devices, with ChaCha encryption available for Android users
Wireguard VPN protocol enabled by default
Diskless, RAM-only servers to protect your privacy (no data can be physically extracted from any servers)
Kill switch (although this isn't enabled by default)
IP and DNS leak protection
Surfshark offers two-factor authentication (2FA) on your account. This feature requires you to enter an extra code before you can log in to ensure that only you can access your account.
While Surfshark does have slightly fewer global servers than rivals such as CyberGhost and PIA, I didn't experience any issues during my tests. I easily connected fast working servers every time, and I had excellent speeds for streaming Netflix in UHD, downloading torrents, and browsing the internet.
Surfshark is not truly free, but it offers a 7-day free trial on Android, iOS, and macOS devices. You can also test out Surfshark on other devices for 30 days thanks to its money-back guarantee. It has plans that cost as little as $2.30. Requesting a refund is easy with Surfshark's live chat feature. Although the support team asked why I wanted to cancel my subscription, I had no problem getting my money back (and it only took 4 days!).
Side-by-Side Comparison of the Best Free VPNs in 2023
| | | | | | |
| --- | --- | --- | --- | --- | --- |
| | Unblocks Netflix | Monthly Data | Server Countries | Torrenting Support | Maximum Devices |
| ExpressVPN | ✔ | Unlimited | 94 | ✔ | 5 |
| CyberGhost | ✔ | Unlimited | 91 | ✔ | 7 |
| ProtonVPN | ✔ | Unlimited | 3 | ✘ | 1 |
| Hotspot Shield | ✔ | Unlimited | 1 | ✔ | 1 |
| hide.me | ✔ | 10GB | 4 | ✘ | 1 |
| TunnelBear | ✔ | 500MB | 47 | ✔ | unlimited |
| NordVPN | ✔ | Unlimited | 60 | ✔ | 6 |
| Surfshark | ✔ | Unlimited | 99 | ✔ | unlimited |
No matter which free VPN you choose, you'll have to deal with some limitations, like data caps and server restrictions.
If you want to avoid these limitations, I suggest you try ExpressVPN risk-free. While it's a paid VPN, it's backed by a 30-day money-back guarantee, so you can purchase with confidence.
Avoid These Free VPNs Like the Plague
The sad truth is that you can't always trust Google Play or Apple App Store ratings. Even if you find a VPN with many downloads and positive user reviews, it could still be malware. In fact, a study by the research agency CSIRO found that 75% of free VPNs have at least 1 tracking library — despite claims to protect user privacy.
Through my own research and testing, I found some shocking facts about several VPN services that I had to warn you about.
"Freemium" vs. Free VPNs: Hidden Costs You Should Know
A freemium VPN is a sample of a premium VPN. It's a free plan offered by some of the top VPNs in 2023 who let you try the free version with some limitations in order to promote the paid plan. You can trust freemium VPNs not to sell your personal data — the companies won't risk ruining their reputation and losing the trust of paying customers.
However, you'll face the hidden cost of limited data, slow speeds, and restricted server locations. This is done in hopes you'll get frustrated and eventually upgrade to the premium VPN.
When a free VPN doesn't promote its premium version or show ads, your data is probably being sold to third parties. Your free VPN might even contain malware designed to mine your data for profit. In my opinion, this is the highest price you'll pay, as your private information and sensitive files could easily be stolen by cybercriminals.
The cost of using a free VPN far outweighs the price of a premium service, especially when you can try a top-tier VPN like ExpressVPN risk-free. Every plan is backed by a 30-day money-back guarantee, so you can purchase ExpressVPN with confidence. If you're not satisfied, you can get a full refund.
Protect your data with ExpressVPN
How I Tested and Ranked the Best Free VPNs in 2023
Any VPN can be listed on the app store with positive reviews, but that doesn't mean it's not dangerous. That's why I strongly advise you to consider the below points when evaluating a free VPN:
Business model — You don't want your free VPN to make money at your expense. Some shady VPNs fill their app with ads, trackers, or malware (sometimes all 3!) to secretly collect and sell your private data.
Strict no-logs policy — No VPN should compromise your privacy (or it defeats the point of using a VPN), so I checked each VPN's privacy policy to ensure your data is never tracked, logged, sold, or shared.
Restrictions — Free VPNs often have limitations due to a lack of resources and funds. This could include slow speeds, finite bandwidth, overcrowded servers, zero torrenting support, and no access to streaming platforms like Netflix.
Security features — Look for at least AES-256-bit encryption and tunneling protocols like WireGuard, OpenVPN, and IKEv2. Avoid protocols like L2TP/IPSec and PPTP, which are outdated and frankly shouldn't be used anymore.
User-friendly app — The last thing you want to do is spend time configuring and installing the VPN. That's why every VPN I tested works on Windows, Mac, Android, iOS, and other popular devices.
FAQs About Free VPNs
Are free VPNs really safe?
Unfortunately, most free VPNs aren't safe. The reality is that there are only a few trustworthy free VPNs — and I've tested them all.
With many 100% free VPN services, your private data is collected by trackers while your device is bombarded with pop-up ads. This data is then sold to third-party advertisers for profit. Worse, some free VPNs have been known to infect devices with malware and expose sensitive files to hackers.
All of the recommended free VPNs above have a strong privacy policy and won't steal or sell your private data to make money. Plus, these companies constantly update their networks to ensure there are no security flaws. Every VPN has military-grade encryption, multiple protocols, kill switches, and leak protection. You can be sure that your data is safe and that your browsing activity is anonymous every time you connect.
What's the best free VPN for Netflix?
After rigorous testing, the best 100% free VPN for Netflix is Proton VPN. While you can only access Netflix in 3 locations with Proton VPN (Japan, the Netherlands, and the US), the connections are reliable, with minimal lag or buffering. However, you may not always get UHD-quality streaming. Plus, Proton VPN provides unlimited data, so you can stream your favorite content as much as you want.
As a big streaming fan, I prefer a VPN without restrictions (so I can binge-watch as much as I like in UHD). I found ExpressVPN easily connects to Netflix worldwide, so you can access your local streaming account from anywhere. I like that it even works with Amazon Prime Video, Disney+, Hulu, HBO Max, YouTube TV, BBC iPlayer, DAZN, and more, so I can keep up with all my favorite programs.
Should I use a free VPN for torrenting?
You can use a free VPN for torrenting, but you'll have to sacrifice either speed or data. Slow speeds can result in waiting hours for a single download to complete, whereas low data caps will restrict you from downloading large files. Many free VPNs only have a few server locations as well, which isn't ideal if you need to connect to a specific country.
If you only need a VPN for a short time, I recommend taking advantage of a premium VPN's money-back guarantee. For instance, you can torrent on CyberGhost's optimized servers risk-free for 45 days and get a full refund when you finish.
I tested the process myself, and it only took a couple of minutes to arrange my refund over the live chat. I had my money back within a week.
Do free VPNs work in China?
In short, no. Only a handful of paid VPNs still work in China, as overcoming the Great Firewall is exceptionally tricky. If you're heading to China on an overseas trip, I suggest you download one of these VPNs before entering the country (as VPN websites are blocked inside).
While it's possible to use a local Chinese VPN, I strongly advise against it. These free VPNs often share your personal information with third parties. If you dig into the background of these local VPNs, you'll find little to no historical information or even a privacy policy.
Keep in mind that the government doesn't officially condone using non-approved VPNs. However, no foreigner has been punished for using a VPN while on a vacation, business trip, or short-term stay to date.
How do free VPNs make money?
There's always a hidden cost that allows free VPNs to make money. The most common way is by bombarding your device with pop-up ads. While it might seem harmless, all adware comes installed with trackers. Trackers keep tabs on your internet activity, which means your browsing history is no longer anonymous or private.
Free VPNs sometimes sell your data to advertisers. They keep track of sites you visit, your IP address, and data relating to your connection. This is a huge violation of your privacy and can compromise your security, depending on the data being tracked and sold.
Rarely, a free VPN can sell your data to the highest bidder — which could mean your information is in the hands of a cybercriminal. It's not common, but you should be aware of the potential risk when looking at free VPN services.
Can I use a free VPN on any device?
It depends, but the free VPNs on this list have native apps for Windows, Android, Mac, and iOS. However, in most cases, you can only connect 1 device at a time. So if you've got both a smartphone and a laptop, you'll have to log out of the VPN on 1 device in order to log into the other.
If you want to use a VPN on multiple devices simultaneously, ExpressVPN offers up to 5 device connections at once. You can even install it on smart TVs and gaming consoles, which normally don't have native VPN support.
If you have more than 5 devices, you can install ExpressVPN's native router app. When you set up a VPN on your router, you can use every WiFi-connected device in your household with the VPN.
What's the best free VPN for gaming? (PUBG, Minecraft, Roblox, and more)
Unfortunately, I can't recommend any free VPN for gaming online. Even the best free VPNs in 2023 won't guarantee lag-free gaming.
The issue lies with ping (or latency). This is how long it takes for data to reach the server and for your device to get a response. Free VPNs have high ping, so getting a server response takes a long time. During a fast-paced game, you'll experience delays and might even lose connection to the game server.
However, a premium VPN can mitigate latency in ways that freemium VPNs won't (or can't afford to). ExpressVPN has blazing-fast speeds and low ping, as well as dedicated apps for smartphones and computers. You can even set it up on gaming consoles like PlayStation and Xbox. This makes it a great VPN for fast-paced games like COD: Warzone, Fortnite, Valorant, and more.
Are free VPNs legal?
VPNs are legal in most countries worldwide, and you can use a free VPN to mask your IP address and keep your confidential data secure. However, it's never legal to use a VPN connection to perform illegal online activities, like hacking, cyberstalking, or distributing copyrighted content.
My team and I don't condone any criminal behavior, so make sure you're aware of local VPN laws and regulations before you connect. This is especially the case in countries like China, Belarus, Russia, Iran, and North Korea, where non-approved VPN usage is banned.
Secure your devices with ExpressVPN
Choose A VPN That Won't Compromise Your Safety
The market is flooded with free VPNs, but many of them pose serious risks to you and your data. Slow speeds, bandwidth limitations, and connection restrictions are annoying — having your data logged and sold to generate revenue compromises your data security.
To keep yourself safe online and enjoy the internet without limitations, I suggest you consider a top-quality option like ExpressVPN. During my tests, I was impressed by ExpressVPN's lightning-fast speeds, ease of use, and steady server connections worldwide. I also liked that there's a 30-day money-back guarantee, so you can always get a refund if you're not completely satisfied.
I even tested the money-back guarantee myself to make sure it worked. No one hassled me to stay when I asked for a refund over 24/7 live chat; better still, the money was returned to my account in just 5 days.
---
Summary — Top VPNs in 2023 (With Money-Back Guarantees)