Top 5 Free VPN Services for 2020 (100% FREE & Safe)
Last Updated by Mackenzie Pringle on January 01, 2020
Free VPNs may not cost you money, but you'll be paying out in other ways. Data caps, privacy risks, and irritating pop-up ads are commonly part of the deal — but you don't have to settle. We trialed and tested over 300+ VPNs to find the best free VPNs that are safe for you. If you're looking for services you can trust, these are the top free VPNs in the market:
After testing 300+ free VPNs, ExpressVPN emerged the clear winner. It gives you unlimited data plus access to premium features (that would usually be reserved for paying customers) — all for free for 30 days. ExpressVPN keeps you safe online with its military-grade encryption protocols and proprietary server technology. It is also one of the best VPNs for unblocking global content, and the only VPN that'll let you Netflix your heart out for free.
What's the catch?
There's a famous saying, "If you're not paying for a product, you are the product." Sadly, this is the business model used by the vast majority of free VPNs. While a free offer is hard to say no to, if you're not paying in subscriptions, you're probably paying in more compromising ways.
Hola has been caught allowing their premium members to use up the bandwidth of the free customers by turning their computers into exit nodes.
Betternet includes in their privacy policy that they can sell your data to third-party advertisers.
Psiphon states that they allow advertisers to enable cookies and target you with ads based on your online behavior.
I could go on, but you get the point.
Even with the secure free VPNs that I recommend, they each have some limitations. Some have data caps or limited features, others may not allow torrenting or Netflix streaming. This is why I prefer to start out with a premium service like ExpressVPN. You get to experience what a good VPN is really like, and you can always downgrade to a cheaper VPN later. ExpressVPN's free 30-day offer doesn't appear on the website's homepage, so I've included it here for your convenience.
1. ExpressVPN: The Best Premium VPN for Free
Unlimited data, streaming, and premium features — all for free for 30 days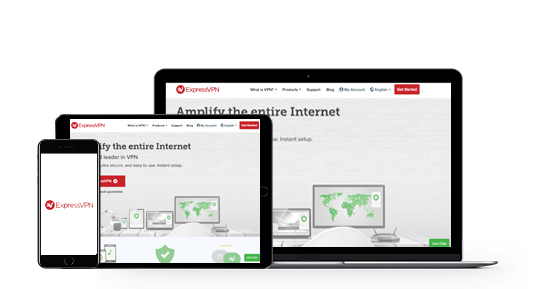 Pros
Unlimited data
Military-grade encryption protocols
Connect up to 5 devices at the same time
Can bypass the Great Firewall of China
Over 3000 servers in more than 90 countries
Ability to stream geo-blocked content on Netflix, DAZN, BBC iPlayer and many more
TrustedServer technology means that no logs are kept — ever
30-day "no questions asked" money-back guarantee
Cons
Free trial is just 30 days
All factors considered, ExpressVPN is a fantastically well-rounded service that earns its place in the top spot. With no limits or restrictions put on free trial users, you get the full benefits of a paying subscriber for 30 days. ExpressVPN has always been one of our top choices for paid VPNs, so it comes as no surprise that its free trial is just as worthy.
Get ExpressVPN For Free Today!
I used the 30-day money-back guarantee to test it out. I downloaded ExpressVPN on my laptop and connected to over 50+ servers to try out its features. The initial download speed was 60Mbps — a good sign. With these speeds, you shouldn't face issues with slow loading pages, buffering videos, or lagging video games.

ExpressVPN gives you access to Netflix and other streaming sites easily. I didn't have any issues with lags and was impressed with minimal buffering across different sites and servers. This is also one of the few VPNs that can bypass The Great Firewall of China, which is particularly useful if you find yourself in the surveillance state and want to ensure your online activities are private.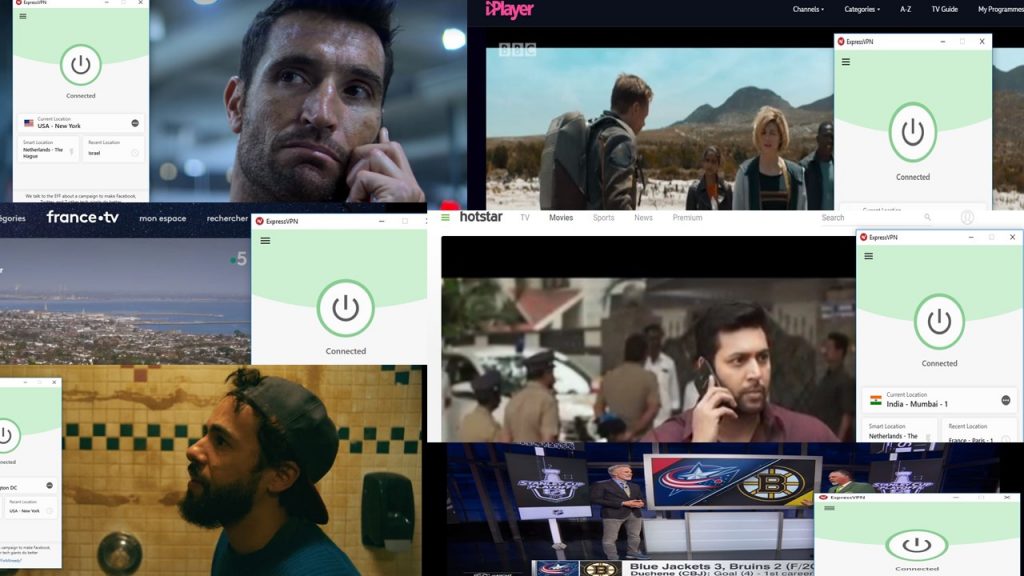 The company is also located in the British Virgin Islands, an area outside the jurisdiction of the Five Eyes Alliance. This means that ExpressVPN is under no obligation to share or give away any information to anyone.
Another highlight is ExpressVPN's top-of-the-line encryption protocols. The company rebuilt its server network and introduced its RAM-based TrustedServer technology, which guarantees that its servers do not store any information. PwC ran an independent audit of these new servers and concluded that they work as advertised, winning ExpressVPN another vote of confidence from me.
Get ExpressVPN For Free Today!
15GB monthly data, free for life, but lots of ads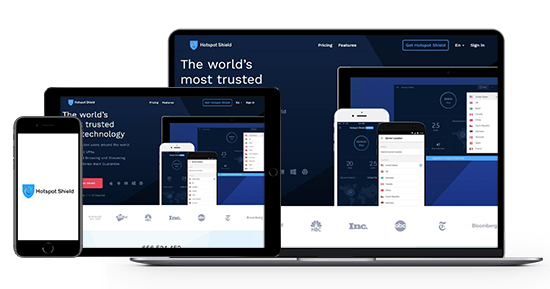 Pros
500MB per day
Renewable free plan
Fast servers
256-bit AES encryption protocols
Tech support available
Cons
30mins daily mobile limit
Security and privacy faults
Lots of advertising
Can't access Netflix on the free version
Hotspot Shield offers military-grade encryption to protect your privacy. The free version uses a 256-bit encryption, doesn't store logs, and has a kill switch. If you need a VPN to change your IP address or quickly bypass a firewall, this is a solid choice.
Get Hotspot Shield for Free Today!
With a 500MB daily data limit (approx. 15GB per month), this one of the more generous free VPNs around. You should be able to get about 15 hours of streaming time out of this (in SD, HD will use up more data).
During my testing, I found that speed is where Hotspot Shield truly shines. Its patented Hydra protocol claims to "deliver unrivaled speed and performance". The speed test I ran showed 57 Mbps, which is definitely above average and more than enough for bufferless streaming and gaming.

You won't be able to stream Netflix as this feature is reserved for Hotspot Shield's premium users only. However, I did have some luck playing Fortnight and watching Hulu.

After 37 minutes of streaming and gaming with Hotspot Shield, I reached the limit and it cut my connection. I happened to be right in the middle of a TV show which left me feeling rather annoyed (as you can imagine).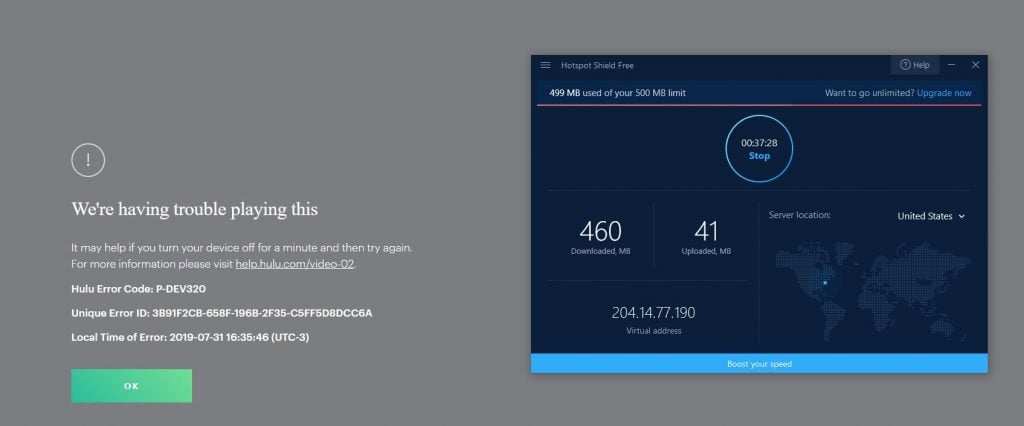 If you're looking for a free VPN to stream shows or game to your heart's content, you're better off trying ExpressVPN. However, if security is your main concern, Hotspot Shield's free version has everything you need for secure web browsing.
Get Hotspot Shield for Free Today!
10GB monthly data, unlimited connections, can't unblock Netflix
Pros
10GB monthly bandwidth
Unlimited device connections
10+ server locations
No-log policy
Integrated ad-blocker
Torrenting supported
Cons
Can't access Netflix with the free version
Limited to 10 server countries
No live customer support
Windscribe is a decent service offering 10GB of monthly data (approx. 10 hours of streaming time) to free users and access to servers in over 10 countries. This VPN service also takes security seriously, with a detailed privacy policy, ad-blocking features, and no-logs policy.
Get Windscribe for Free Today!
I tested Windscribe with a US server connection. While the speed wasn't as impressive as ExpressVPN or Hotspot Shield, it's fast enough that I didn't suffer through slow-loading pages.

Whilst Netflix and Hulu content are reserved for Windscribe's premium users, I found that I could access BBC iPlayer using the free UK server. So if you want to watch Peaky Blinders or Killing Eve, you'll still be able to do that for free.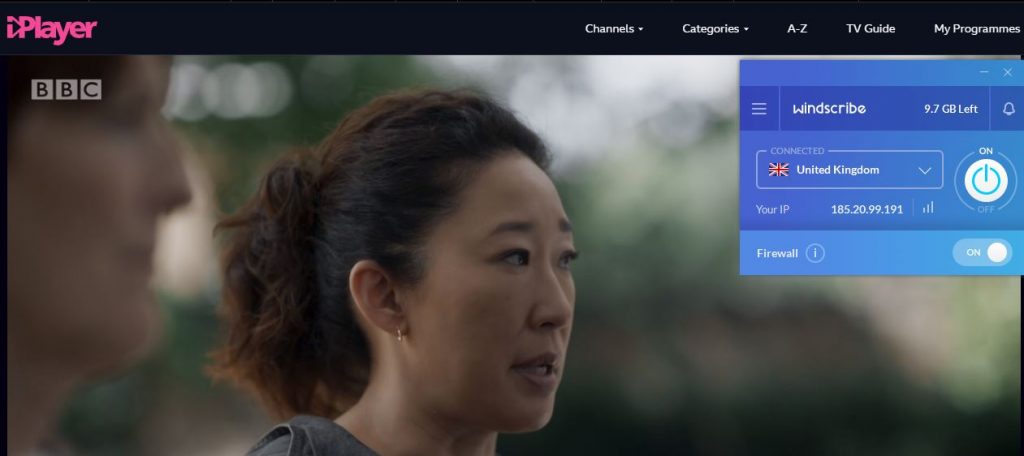 Compared to TunnelBear's 500MB monthly data limit, Windscribe's 10GB a month is rather generous. With Spotify playing in the background, I managed to download 3 movies in 15 minutes. All that took up about 5.5GB of data, which is over half the monthly limit.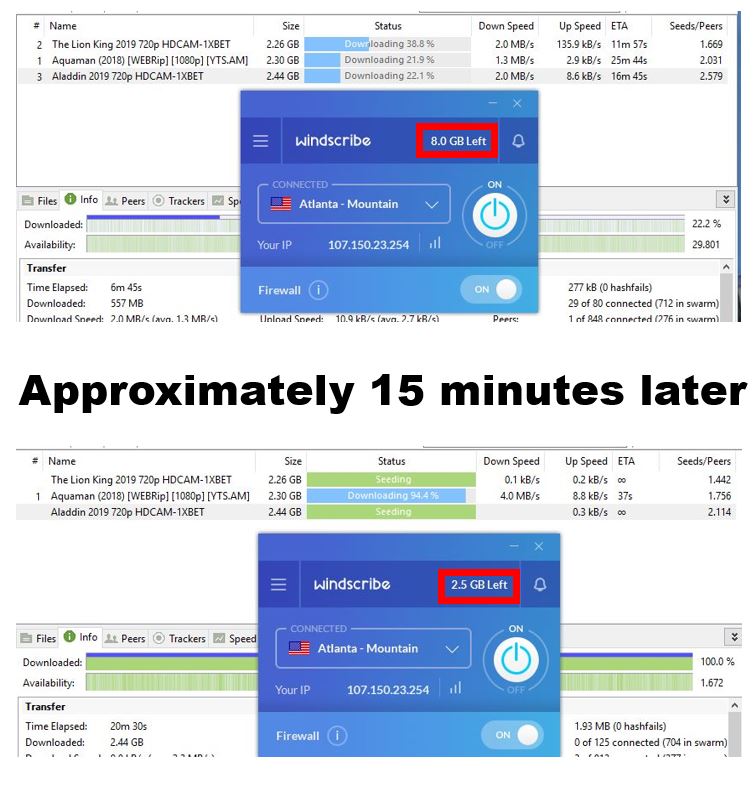 If you're a heavy downloader, 10GB a month probably won't come close to what you need. But Windscribe is a great option for light torrenting or normal web-browsing, plus the occasional stream.
Get Windscribe for Free Today!
Powerful Security and Access to Servers in 20 Countries
Pro
Servers in 20+ countries
Added security features included in the free plan
IP and DNS leak protection
256-bit AES encryption
No advertising
Applications for desktop and mobile devices
Cons
500MB monthly limit
No streaming
If you're looking for a VPN to protect you on public WiFi, or to find better prices by shopping in different locations, TunnelBear will do the job. This free VPN comes with an easy-to-use user interface and gives you an IP address in 20 countries. It gives you the protection you need to browse online safely and keep your privacy intact. But the small data allowance means you won't be able to use this for much more than normal browsing.
Get TunnelBear for Free Today!
Owned by the security giant McAfee, TunnelBear won't let you down when it comes to online security and privacy. It uses AES 256-bit encryption and the company has a no-logs policy. TunnelBear's privacy policy goes into detail about the types of information they do/don't store, and the company performs annual independent security audits.
The free version also allows you to benefit from two extra security features:
VigilanteBear: A kill switch to protect your privacy.
GhostBear: Helps avoid firewall detection by making encrypted data appear as regular data.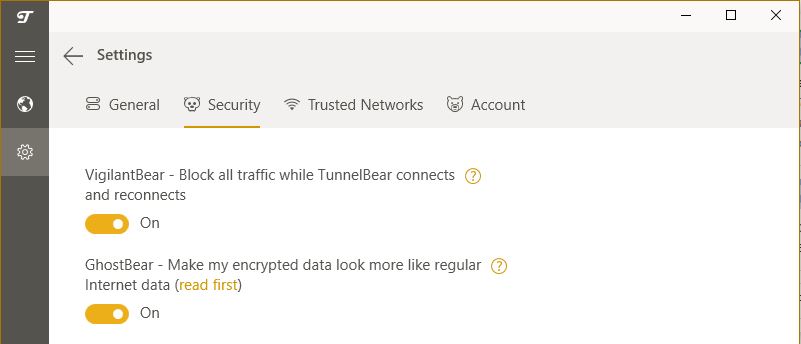 TunnelBear's speeds are no match for other free VPNs on this list, but at 15.91 Mbps, it's enough for you to manage most regular online activities without much delay.

You can earn an extra 1GB of data if you tweet about its service, but this is a one-time offer only. TunnelBear also has dedicated applications for most major platforms such as Windows, Mac, iOS, and Android, so you'll be protected on most of your devices.
Get TunnelBear for Free Today!
Free for Life and Ad-Free
Pros
Dedicated applications for major platforms
Renewable free plan
Torrenting allowed on non-US servers
24/7 technical support
Ad-free browsing
Cons
2GB bandwidth each month (approx. 2 hours of streaming time)
Servers limited to 5 countries
One device connection only
Hide.me's free version limits you to just 2GB of monthly data, 1 device connection, and 5 server locations. But free users can also enjoy the VPN's strong encryptions, multiple VPN protocols, and 24/7 technical support. It also has a no-logs policy, IP leak protection, and ad-free browsing to ensure your security. Not to mention, you can renew your free plan each month so this VPN is essentially free for life!
On its website, Hide.me VPN states that it is "the world's fastest VPN". My speed test showed that it does actually have pretty decent connection speeds, though perhaps not quite the fastest in the world.

I also tested all 5 server locations (US, Canada, Netherlands, and two in Singapore). Unfortunately, none of the servers worked with Netflix. If you need help bypassing the Netflix proxy error, you will need to purchase a premium VPN.
Even though Netflix didn't work, I could log into my Xfinity cable subscription (from outside the US) and livestream ESPN and NBC. It took just over 2 hours of streaming to reach my 2GB monthly limit.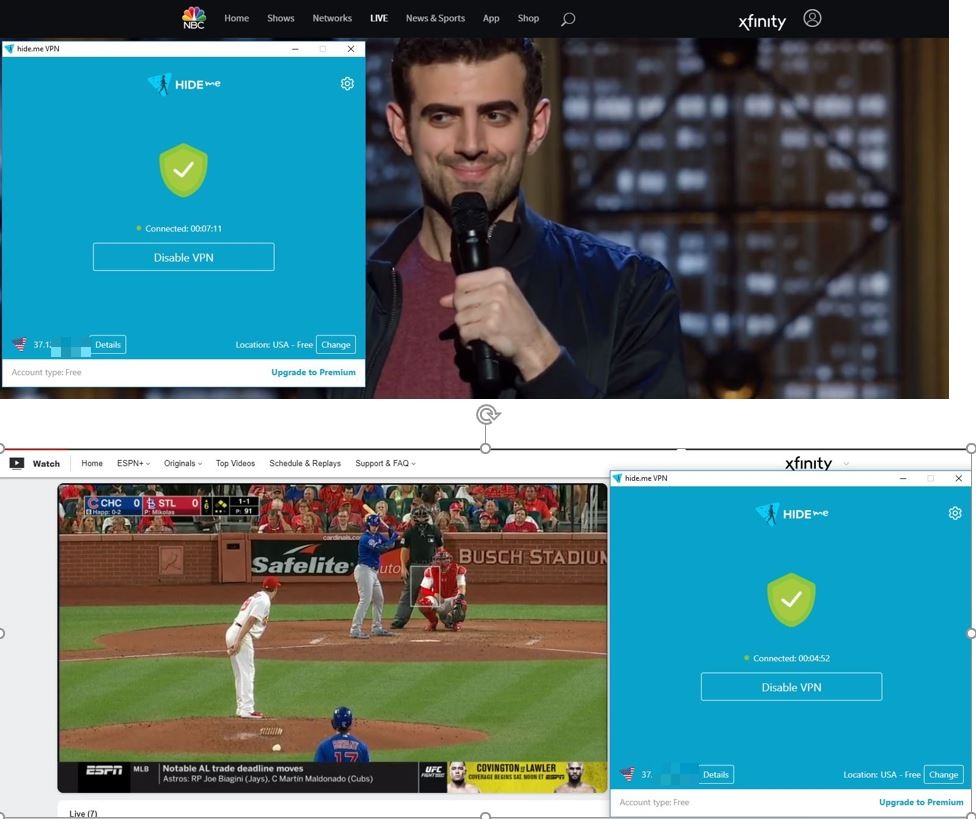 A big red flag for me was that Hide.me VPN did not cut my connection when my data limit was reached. I was able to continue live-streaming even after the VPN connection dropped. It seems great because you can continue to stream until you refresh your page, however, this could pose a security risk because your true IP is no longer hidden.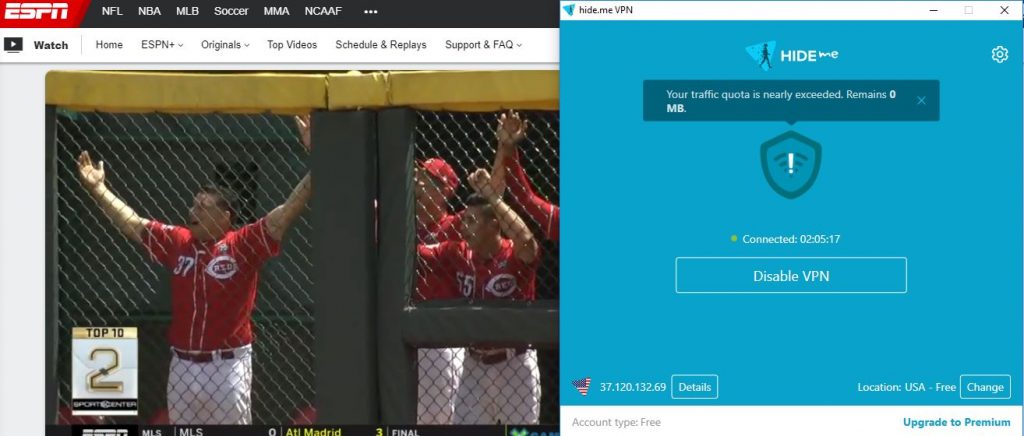 I wouldn't recommend this VPN for streaming or gaming purposes, but it's a great no-frills VPN for basic protection online.
The Real Price of Free VPNs vs. Paid VPNs
One of the most obvious differences between free VPNs and paid VPNs is price. Many users naturally opt for a free VPN to save some pennies, but you should be aware that if you're not paying in subscription fees — you'll be paying in other ways. After all, these are businesses that need to generate profit. Here are some truths you should know about free VPNs vs. paid VPNs.
1. Paid VPNs don't sell your information for cash
Paid VPNs can vary greatly in price, with some costing you less than a cup of coffee to those that are four times as much. The higher-end VPNs have lots of bells and whistles like kill switches, the ability to run multiple connections at the same time, strict no-logs policies, and round-the-clock customer care. Paid VPNs can afford to offer you all these benefits because of the revenue they generate from subscription fees. They don't need to resort to selling your information, which assures your security and privacy.
2. Free VPNs may resort to solutions that compromise your security
As free VPNs don't generate any revenue from users, they must find other ways to make a profit. Unfortunately, the solutions that most free VPN providers use could end up compromising your personal privacy and security. Here's how:
The most common way free VPNs generate revenue is by installing adware into their applications. This means that every time you use the VPN, you'll receive pop-up ads for other products and services. This may just seem annoying to you, but there's a bigger concern here: Where there's adware, there are trackers. Trackers will be able to keep tabs on your internet activity to better target you. So, if you're using a VPN to maintain your privacy, the presence of ads is a big red flag.
Free VPNs generate revenue by selling your data
Most free VPNs don't have log deletion policies, which means they retain sensitive information. They can keep track of the sites you visit, your IP address, and any personal data relating to your connection. This information is commonly sold to advertising companies. Needless to say, this is a massive violation of your privacy and it can even compromise your security depending on the information they give away.
Free VPNs could sell your information to cybercriminals
The aim of VPNs is to protect your privacy and security, yet some free VPNs will go against this mission for financial gain. If you're unfortunate enough to cross paths with one of these services, it'll swipe your personal information and auction it off to the highest bidder. It can even use your device to generate fake clicks to drive up ad revenue. This is the most extreme way a free VPN could make its money, and though rare, you should be aware of this potential risk.
3. Safe Free VPNs Exist — But There's Always a Catch
There are free VPNs out there that don't pose security risks. The catch with the safe options is that the features they offer are always limited. They usually only provide a free version to encourage you to upgrade to one of their premium plans. By capping the amount of data you can use and limiting the number of servers you have access to, they can give you a decent taste of their service, but the frustrations that come with these restrictions are designed to make you want to upgrade. It can be reasonably inconvenient, and is likely to get in the way of streaming and torrenting, but, the bottom line is that they are legal services you can trust.
I can't stress enough the importance of reading the VPN privacy policy before downloading it on your device. Look out for red flags such as third-party agreements, or permitted data sharing with marketing partners. Be sure there is a clear explanation of their "no-logs" policy.
Free VPNs You Must Avoid Like The Plague
Through my research and testing, I found some pretty shocking facts about a few free VPN services that I had to warn you about. The practices and services of these free VPNs are only putting your privacy and security at risk, so steer clear!
Betternet is one of the worst VPNs you can possibly install as it contains one of the highest amounts of malware. Studies and investigations into the service show that it sells your personal data and information onto third-party advertisers. Betternet collects this data through malware that is hidden in their code.
One academic study busted Betternet's sketchy services and listed it as the 4th worst VPN for malware, with more than 14 different types embedded into its software.
This VPN has a high number of Trojans and malware so it's important you stay far away from it. Many different types of malware have been identified in this service such as adware, malvertising, riskware, and spyware.
In fact, Cross VPN ranked as the 5th worst VPN service for abusing and taking advantage of users. If you want to keep yourself protected from online attacks, malware, and other nasties, Cross VPN is not the service for you.
When Hola first burst on the scene with its free VPN, it seemed very promising. Instead of worldwide servers, it built a P2P server network. In theory, this would allow users to bypass firewalls, retain privacy, and change their IP address.
In reality, Hola was letting its premium members use the bandwidth of free users and treated their computers as exit nodes. In addition to having their bandwidth used, free users would end up with the premium users' data on Hola's servers. This could leave them open to investigations since any online activities would be logged to their IP address.
Can You Watch Netflix with Free VPNs?
Watching Netflix with a free VPN can be more hassle than it's worth. If you are able to find a free VPN that can bypass the strict geo-blocks put in place by the streaming giant, it's likely that the VPN will have limits on their bandwidth or speed so watching your shows becomes practically impossible.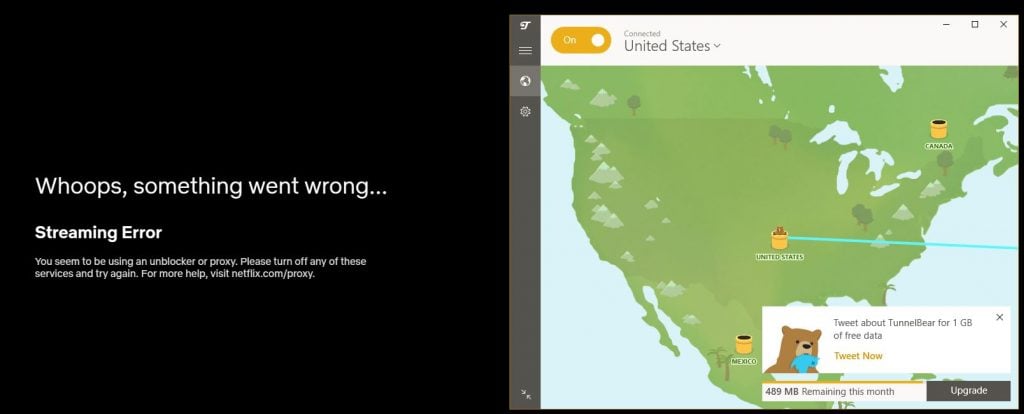 The reason most free VPNs struggle to bypass these geo-restrictions is due to their severe lack of resources. Without time and manpower, these small organizations simply cannot keep up with the everchanging firewalls Netflix has established. The ones that have managed to sneak through often put a lot of hard work and effort into this feat, so they will limit your bandwidth and speed to ensure only customers giving back to their service by supporting them gets the full benefit.
If you want a free VPN to access Netflix, your best bet is to download a premium VPN with a free trial as they are truly the only services that you consistently provide you access to the streaming site. It takes a sophisticated and dedicated system to bypass the blocks Netflix has in place, and there's little you can do to get around that.
Luckily, a lot of premium services that have the ability to unblock Netflix have 30-day money-back guarantees. The best quality VPNs you can try include ExpressVPN, NordVPN, Surfshark, and CyberGhost.
Do Free VPNs Work in China?
In short, the answer is yes. Some free VPNs do give you access to the internet in China, however, you need to be extremely careful when using them. The People's Republic of China has some very strict laws when it comes to internet censorship and if you're caught accessing restricted content, the consequences can be severe.
While some free VPNs have been successful in giving users access to the internet in China, they can lack a level of security and privacy. This means that the Chinese government may still be able to track your internet history and punish you for breaking their laws.
If you want complete and utter security and privacy, I can't in good faith recommend any free VPNs as they just don't have the capabilities to keep you safe from the government's prying eyes. ExpressVPN remains the best VPN for bypassing China's firewalls.
Use This Trick to Get a Premium VPN for Free
If you're only looking to use a VPN only for a short period of time, the trick is to sign up for a free trial with one of these premium VPN services. Whether you're making a short stopover in China, taking a vacation abroad, or going on a business trip, you would be covered under the benefits of a premium VPN for at least 30 days — free of charge. With all the premium features of a paid VPN, why would you bother with a free one?
For premium services with a free trial, ExpressVPN is my top pick, (as mentioned above), but NordVPN, and CyberGhost are close runners-up.
NordVPN
5000+ servers in 60+ countries
Unblocks Netflix, BBC iPlayer, Amazon Prime Video, Hulu and more
CyberSec technology, double VPN, no logs policy, kill switch, DNS leak protection, onion over VPN, 256-bit AES encryption
Connect up to 6 devices
30-day money-back guarantee
24/7 live customer support
CyberGhost
3500+ servers in 60 countries
Unblocks Hulu, ESPN, Youtube, Netflix
Kill switch, DNS and IP leak protection, no-logs policy, 256-bit AES encryption
Connect up to 7 devices
45-day money-back guarantee
24/7 live customer support
These free trials are perfect for short-term use. On top of that, it's also a great way to determine what you need in a VPN and how comfortable you are paying for a service.
Choose a VPN That Won't Compromise Your Safety
Although the market is flooded with free VPNs, many of them pose serious security risks. It's not just that many have slower speeds, bandwidth limitations, and connection restrictions. Many track your activity and sell your information to generate money. Even if the VPN is safe to use, more often than not, you'll have limited features available.
Therefore, if you're willing to spend a bit of money on a premium VPN, I highly recommend ExpressVPN. It's less than the price of a cup of coffee every month, which is a small investment for guaranteed security and privacy online. You'll also have unlimited bandwidth and high speeds for fast streaming and torrenting, which means you'll never miss out on your favorite shows.
But don't just take my word for it. Use their money-back offer to test them out so you can decide if their affordable subscriptions are truly worth every cent.