7 Best Free VPN Services for 2022 (100% FREE + Safe)
Last Updated by Kate Hawkins on January 01, 2022
I thought it would be easy to find a free VPN — but I was wrong. Most free VPNs have limited data, slow speeds, and only a couple of server locations. I was even more disappointed to find that some free VPNs can't even unblock content abroad. The way I see it, if a VPN can't let me access my favorite shows while I'm overseas, it's a waste (even if it's free).
Worse still, I discovered that many popular free VPNs have shady business models. You can't just download any free VPN onto your device, or you could risk exposing yourself to malware, trackers, identity theft, and even financial fraud.
While there are some decent free VPNs, I found the best option is to use ExpressVPN risk-free for 30 days with the money-back guarantee. ExpressVPN is fast with unlimited data and thousands of secure servers. While you do need to sign up for an account upfront, there are no questions asked if it doesn't suit your needs and you request a refund within 30 days.
Quick Guide: Best Free VPNs That Still Work in 2022
The Best Totally FREE VPNs — Tested January 2022
Pros:
Military-grade encryption with strict no-logs policy keeps you safe
Global network of 3000+ servers in 94 countries
Unlimited data for endless streaming, torrenting, and gaming
Works on Windows, Mac, Android, iOS, Linux, smart TVs, routers, and more
Unblocks Netflix, Disney+, and Amazon Prime Video
Cons:
Only has a 30-day money-back guarantee
ExpressVPN isn't normally free, so you might be wondering why I'm listing it as the #1 VPN. The reason is that ExpressVPN has fast speeds, powerful security, a strict no-logs policy, and it's backed by a 30-day money-back guarantee. While it's not free upfront, you can easily get a full refund if you're not satisfied with the service (no questions asked — I've tested it myself). This makes ExpressVPN tough to beat.
In my tests, I connected to over 50 servers in the US, UK, Japan, and more. I was impressed that it gave me fast speeds up to 48.5Mbps! I didn't have any problems with slow loading pages, buffering videos, or lagging video games
I could even stream my favorite shows and movies in Ultra HD. In addition to fast speeds, ExpressVPN can consistently unblock streaming platforms like Netflix US, Disney+, Amazon Prime Video, Hulu, BBC iPlayer, and HBO Max. This makes it an ideal option if you regularly travel abroad or your ISP has been throttling your internet speeds.
It can even bypass the Great Firewall of China and works in countries with strict online censorship, like the United Arab Emirates and Turkey. However, please make sure you exercise a basic level of caution and check the local laws before using a VPN in these countries.
Another important feature is its top-of-the-line security. For example, ExpressVPN uses RAM-based servers, which guarantees that its servers clear your browsing history whenever the power cuts off. The way RAM servers are built means that whenever they are turned on/off, the data is permanently erased.
It's completely risk-free to try ExpressVPN with the money-back guarantee. When I tested the refund policy, I was really surprised at how easy it was to get my money back! Other VPNs that I've tried wasted my time trying to troubleshoot or get me to stay, but ExpressVPN processed my refund immediately. The money was returned to my bank account within 5 days.
Try ExpressVPN risk-free today!
January 2022 Update! ExpressVPN has dropped prices for a limited time to a crazy $6.67 per month for the 1-year plan (you can save up to 49%) + 3 months free! This is a limited offer so be sure to grab it now before it's gone. See more information on this offer here.
Pros:
AES-256-bit encryption and zero-logs policy secures your data
Network of 7600 servers in 90 countries for global connections
No data or bandwidth caps for endless browsing, streaming, torrenting, and more
Works on Windows, Mac, Android, iOS, and more
Optimized servers unblock Netflix, Disney+, and Amazon Prime Video
Cons:
Only free for 45 days
Slightly slower speeds over long distances
CyberGhost's optimized servers are ideal for reliable and fast connections to your favorite online content. These dedicated servers are regularly tested to guarantee they work so you can always connect. During my tests, I found CyberGhost's optimized servers worked flawlessly with Netflix, Disney+, and Amazon Prime Video. I could even download large torrent files quickly and play online games with almost zero lag.
I'd recommend connecting to these dedicated servers as CyberGhost's optimized servers are faster than its regular servers. My tests showed optimized servers are around 30% faster on average — this could help mitigate speed loss if your standard internet connection is on the slower side. Like most VPNs, CyberGhost experiences some speed loss when connecting to distant servers. I suggest connecting to servers close to your physical location for the best possible speeds.
As a premium VPN, CyberGhost has top-tier security features to keep you safe and anonymous online. It offers AES-256-bit encryption, DNS, IP, and WebRTC leak protection, and a kill switch to secure your data. During my tests, CyberGhost kept all of my data secure with zero leaks. Like ExpressVPN, CyberGhost uses RAM-based servers to ensure no user data is ever stored — all data is wiped every time the servers are rebooted.
You can try CyberGhost for free with its 45-day money-back guarantee. Its no-questions-asked refund policy means CyberGhost is a great choice if you only need a VPN for a short time, like binge-watching your favorite TV show or traveling abroad. Once you're done, you can get a full refund easily — I tested the process myself and it's simple.
January 2022 Update! You can subscribe to CyberGhost for as low as $2.15 per month + get extra 3 months free with the 3-year plan (save up to 83%)! This is a limited offer so grab it now before it's gone. See more information on this offer here.
Pros:
AES-256-bit encryption
500MB daily data allowance
Consistently fast speeds
Works on Windows, Mac, Android, iOS, Linux, smart TVs, routers, and more
Tech support available for free use
Cons:
Lots of advertising
Can't unblock Netflix on the free version
With a 500MB daily data limit, Hotspot Shield free has one of the more generous data allowances. You should be able to get about 15 hours of SD streaming time per month out of the limit.
During my testing, I was impressed by Hotspot Shield's download speeds. Its patented Hydra protocol claims to "deliver unrivaled speed and performance" despite only having one US server connection for free users. The speed test I ran showed a speed of 27.5 Mbps, which was more than fast enough for bufferless streaming and gaming.
That being said, I did find a lot of annoying ads while I was watching YouTube and playing games — which was very frustrating. The free version may cost you nothing, but you'll have to suffer through a lot of interruptions.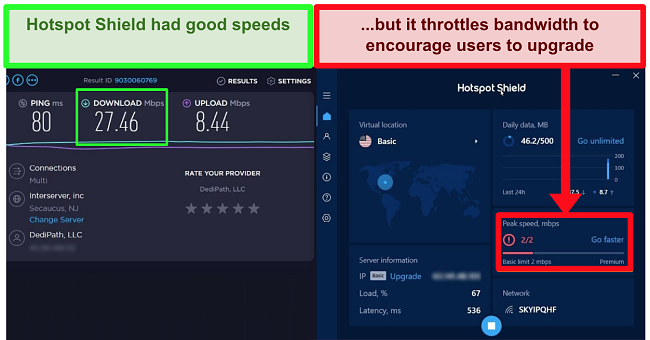 I thought that Hotspot Shield's fast speeds would make it great for streaming — but I was wrong. Another big drawback is that you won't be able to unblock Netflix and other restricted streaming services. This is reserved for Hotspot Shield's premium users only.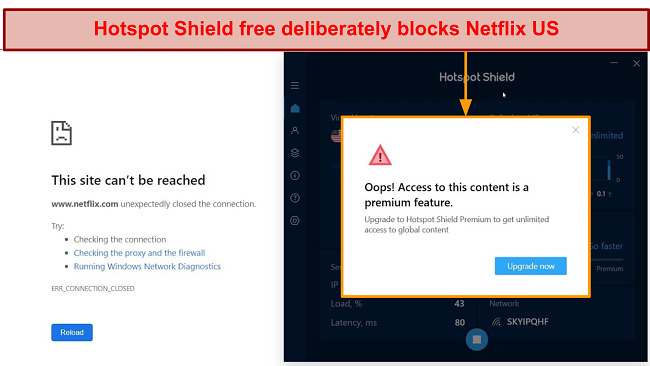 If security is your main concern, Hotspot Shield's free version has everything you need for secure web browsing. It has military-grade encryption to protect your privacy, using 256-bit encryption to keep your data safe. Hotspot Shield also doesn't store logs and has a kill switch for your peace of mind. If you need a VPN to bypass a firewall or browse the web anonymously, this is a solid choice.
Pros:
Located in Switzerland with military-grade encrypted servers
Unlimited data servers for endless monthly usage
Works on Windows, macOS, Android, and iOS
Ad-free interface
Cons:
Only 3 server locations available
Torrenting and streaming unsupported
ProtonVPN is the only VPN on this list with unlimited bandwidth, meaning you can stay connected all day without worrying about running out before the month is up. This is ideal if you're a power user and download heavily or watch lots of video content.
I was impressed by its fast download speeds with nearby servers in the Netherlands, reaching over 130Mbps. This is overkill for simple browsing but even sufficient for heavy video streaming and downloading. Since you only get access to 3 server locations (United States, Japan, and the Netherlands), your own performance will depend on how close you are to the server.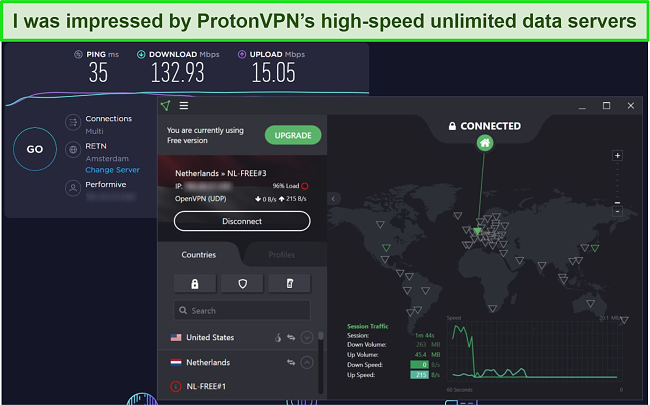 As a free user, you're also restricted from using the Secure Core, Tor, or premium servers. This means that if you try to connect to the available free servers at peak hours you may find that they're congested and slower than normal. However, in my few weeks of using ProtonVPN, I only noticed this a few times.
Officially, you can't use ProtonVPN for unblocking streaming services. However, I could unblock Netflix Netherlands in my tests, which worked with minimal buffering and in high quality. This is great if you've got a Netflix Netherlands account and you want to access it while traveling abroad. I wasn't able to access other streaming services, but I was glad to see that streaming platforms like YouTube worked smoothly.
ProtonVPN is also highly secure, using multiple advanced encryption protocols to keep your data safe. Its servers are also fully encrypted to protect them from attacks by powerful groups like governments.
Pros:
AES-256-bit encryption
Server connections in 49 countries
Added security features in the free plan
Works on Windows, Mac, Android, iOS, and more
No ads at all
Cons:
Only 500MB data allowance per month
No streaming
For a free VPN, TunnelBear offers you a huge server network to help you bypass geo-blocks easily. With locations in 49 different countries and an easy-to-use interface, you can connect to a server with just one click.
Unfortunately, the mere 500MB per month data allowance means you'll want to upgrade before the day's over. I started watching a movie on Netflix and the VPN stopped streaming before the movie ended. I tried to claim the extra 1GB of data by tweeting about the service — only to learn that this was a one-time gift and the next month I was back to the 500MB limit.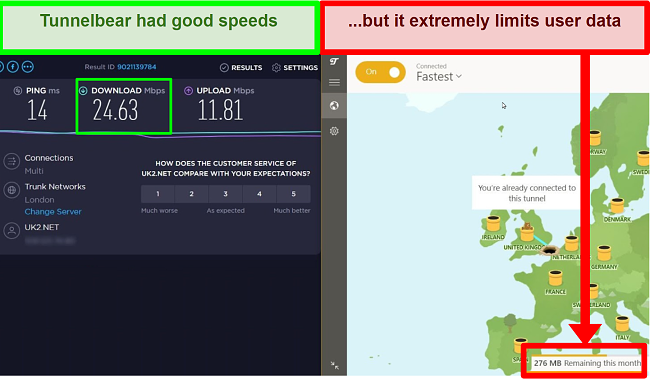 Owned by the security giant McAfee, TunnelBear won't let you down when it comes to online security and privacy. It uses AES 256-bit encryption and the company has a no-logs policy to keep your activity private. TunnelBear performs annual independent security audits so you can be sure your data is fully protected when you're connected.
Pros:
Military-grade encryption
Torrenting on non-US servers
24/7 customer support
Works on Windows, Mac, Linux, iOS, Android, routers, and more
Cons:
10GB data allowance per month
One device connection per account
Hide.me free gives you the option to renew your free plan each month so this VPN is essentially free for life! It does have some limitations — 10GB of monthly data, 1 device connection, and 5 server locations. But free users can also enjoy the VPN's strong encryptions, zero-logs policy, IP leak protection, and ad-free browsing to ensure your security.
I tested all 5 server locations (Canada, Singapore, Netherlands, and 2 in the USA) and none of them could unblock Netflix or access other streaming sites. Hide.me only offers 10GB of monthly data anyway, so it's not a good option for watching shows or movies. However, I was happy to see that my speeds were consistently fast and averaged 19-20 Mbps.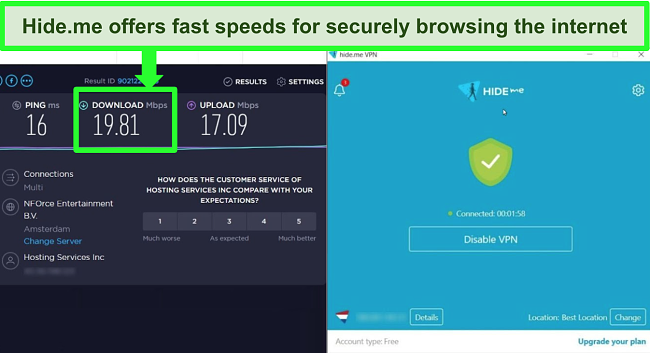 While I wouldn't recommend Hide.me free for streaming, torrenting, or gaming, it's a great option for keeping your data secure while browsing.
Pros:
Military-grade encryption
10GB monthly data allowance
Integrated ad-blocker
Works on Windows, Mac, Android, iOS, Linux, Nvidia Shield, routers, and more
Torrenting supported
Cons:
No live customer support
Netflix (and other services) only available for premium users
Windscribe offers 10GB of monthly data to free users and access to servers in over 10 countries. Although I was happy to find that I could unblock Disney+ using the free US server, Netflix and Hulu are reserved for Windscribe's premium users. I could stream for approximately 10 hours in SD quality before my data ran out, which is good for a free VPN but unlikely to last you the whole month.
Windscribe also takes security seriously, with a detailed privacy policy, ad-blocking features, and no-logs policy. These features plus the data allowance make this free VPN a great option for light torrenting and the occasional stream.
"Freemium" vs Free VPNs: Hidden Costs You Should Know
A freemium VPN is like a sample of a premium service. It's offered by reputable VPN companies who let you try the free version with some limitations, in order to promote the paid plan. You can trust freemium VPNs not to sell your personal data — they won't risk ruining their reputation and losing the trust of paying customers. However, you'll face the hidden cost of limited data, slow speeds, and restricted server locations. This is done in the hopes that you'll get frustrated and eventually upgrade to the premium VPN.
When a free VPN doesn't promote its premium version or show ads, your data is probably being sold to third parties. Your free VPN might even contain malware designed to mine your data for profit. In my opinion, this is the highest price you'll pay as your private information and sensitive files could easily be stolen by cybercriminals.
When is a freemium VPN a good option?
Freemium VPNs are best for casually browsing the internet, checking emails, and online banking. A freemium VPN will offer:
Good security with military-grade encryption and strong protocols. Freemium VPNs often share the same infrastructure as their premium counterparts, so you'll be well-protected.
Basic privacy so you can hide your IP address and location from third parties, like your Internet Service Provider (ISP), governments, and hackers. However, you might find that some non-identifying data is still logged by the VPN provider.
Servers in select countries like the US, although some freemium VPNs have servers in the UK, Singapore, Netherlands, and Canada as well.
When is a paid VPN a better option?
If you don't want to deal with the limitations of a freemium VPN, it's worth upgrading to a paid service. Paid VPNs have:
Torrenting support with unlimited bandwidth. Some paid VPNs even have a SOCKS5 proxy and port forwarding for faster speeds.
Access to streaming platforms like Netflix, Disney+, Amazon Prime Video, BBC iPlayer, Hulu, and more. While a couple of freemium VPNs do offer sporadic access to streaming sites, you won't get very far with the tiny data allowance.
Strict no-logs policy that's been proven in real-world scenarios or through independent audits.
Advanced privacy and security features, such as anonymous sign-up options, specialty servers (like multi-hop and Tor over VPN), and ad blockers.
24/7 customer support over live chat and email.
Money-back guarantee for easy refunds if you're not completely satisfied.
Side-by-Side Comparison of the Best Free VPNs
No matter which free VPN you choose, you'll have to deal with annoying data caps. If you want unlimited data and you only need a VPN for a short time, then I suggest getting ExpressVPN instead. It's a paid VPN but it comes with a 30-day money-back guarantee. If you don't feel it's right for you, you have 30 days to claim a refund.
How I Tested & Ranked the Best Free VPN in 2022
It's important to be careful when choosing a free VPN. Any VPN can be listed on the app store with positive reviews, but that doesn't mean it's not dangerous. That's why I strongly advise you to consider the below points when evaluating a free VPN.
Business model — You don't want your free VPN to make money at your expense. Some shady VPNs fill their app with ads, trackers, or malware (sometimes all 3!) to secretly collect and sell your private data.
Restrictions — Free VPNs often have limitations due to lack of resources and funds. This could include slow speeds, finite bandwidth, overcrowded servers, zero torrenting support, and no access to streaming platforms like Netflix.
Security —