Best Password Managers for Chrome – Tested February 2023
Last Updated by Enemali Okwoli on February 01, 2023
Chrome accounts for almost 70% of the browser market share. Like many others, I use it as my primary browser and struggle to keep track of my numerous passwords and logins.
Chrome has a built-in password manager, but it lacks advanced features, making it unreliable for your utmost security. Hence, you'll need a better password manager. The best password managers for Chrome will provide easy auto-filling, password-sharing features, advanced security, and more.
However, not every password manager works well on Chrome. I searched for those with the best features on the Chrome browser extension. After weeks of research and testing, I was able to curate the best password managers for Chrome and found 1Password to be the overall best.
Quick Guide: Best Password Managers for Chrome in 2023
The Best Password Managers for Chrome in February 2023
Key Features:
AES-256 bit encryption to keep your passwords safe.
Multiple vaults to store and share sensitive information.
Monitor the dark web with Watchtower.
Hide sensitive information when crossing borders with Travel Mode.
Works seamlessly on the Chrome browser.
1Password is my all-time favorite password manager for Chrome. It comes with tons of features to create, store, use, and share passwords and other sensitive information.
Starting with security, 1Password adopts the best practices in the industry. When I first signed up, I was required to create a master password known only to me. 1Password also generated a secret key locally on my device, combined with my master password, and used it to encrypt and decrypt my vault. This ensures that, even at the password level, I get multiple layers of protection with 2FA apps and hardware security keys like YubiKey.
1Password's Chrome extension is intuitive and easy to use. I was impressed that the 1Password Chrome extension made it easy to create and store a wide range of sensitive information, including secure notes, medical records, social security numbers, Identity, bank accounts, and software licenses. You can also view and use all of your vault information from the browser extension. The 1Password Chrome extension allowed me to easily auto-fill website forms, auto-save logins, and share my passwords securely.

I like how the Chrome extension contains all features available on 1Password's other clients, and you can easily use it across different operating systems. You can set it to automatically lock you out between 1 minute to an hour of inactivity to prevent unauthorized access. Its Watchtower feature checks your passwords for weak and reused logins and alerts you of any data breach involving your information that is found on the dark web.
1Password has plans for individuals, families, and teams. I suggest you try the "Personal" plan first. It is the cheapest, contains tons of features, and syncs across unlimited devices. You don't even need to pay for the service upfront. 1Password has a generous 14-day free trial that grants you access to all its features.
Try 1Password for Chrome risk-free
Key Features:
Zero-knowledge security architecture to keep your data safe.
Two-factor authentication (2FA) for an extra layer of security.
Automatic password changer to quickly update passwords on Chrome.
Dark web monitoring tool for vulnerability checks.
Dashlane has tons of features and integrates seamlessly with Chrome. It allows you to create and use unlimited passwords on Chrome, other browsers, and devices.
I like how efficiently the autofill feature works. I used it to quickly fill in my passwords, email, address, payment cards, my driver's licenses, and other information on multiple sites.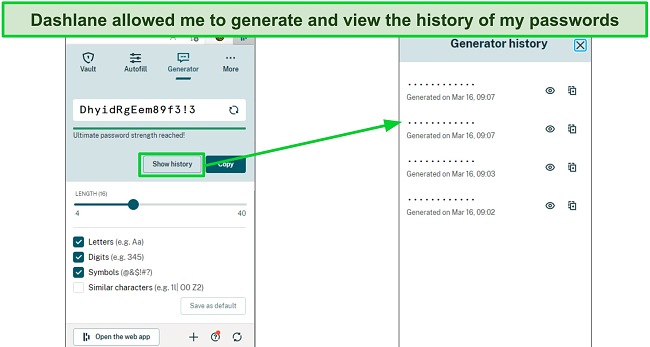 Apart from its ease, I was pretty pleased to see that Dashlane uses robust security features and allows me to generate strong passwords. Dashlane secures my data with AES-256 bit encryption, keeping my information safe from hackers. It also uses PBKDF2 to encrypt your master password multiple times and protect it against brute force attacks, making it more secure and impossible for hackers to guess. In fact, in over 10 years of its operation, Dashlane has never experienced any security breach, further proving its strong security architecture.
Dashlane has a "Password Health" dashboard that monitors the passwords in your vaults for weak, reused, and compromised passwords, prompting you to change your password if it is vulnerable. The dark web monitoring feature alerted me of my compromised passwords found on the dark web.
The feature I like the most is the automatic password changer that helped me update my passwords on supported sites with one click. I was also impressed to see that Dashlane is one of the few password managers that comes bundled with a VPN. A VPN encrypts your connection and ensures that you stay protected online.
Dashlane has plans for Personal, Families, and Businesses. While it is priced slightly higher than Keeper and 1Password, it still provides a good value for money. The "Personal" plan is the best deal as it supports multiple features, basic and advanced. Dashlane has a 14-day free trial and 30-day money-back guarantee so that you can have more than enough time to test the service thoroughly.
Try Dashlane for Chrome risk-free
Key Features:
AES-256 bit encryption to secure your vault.
Multi-factor authentication methods.
One-click saving and auto-filling on Chrome.
Intuitive Chrome browser extension.
RoboForm is a safe, efficient, and reliable password manager for Chrome. Although it started as a form-filling tool, it has since grown to offer many features that allow you to securely generate and store unlimited logins in an encrypted vault.
I like how effective the auto-fill feature is on Chrome. It offered the option to use 8 different item types, including passwords, addresses, passports, and tax information. Also, it allowed me to use my saved logins with a single click.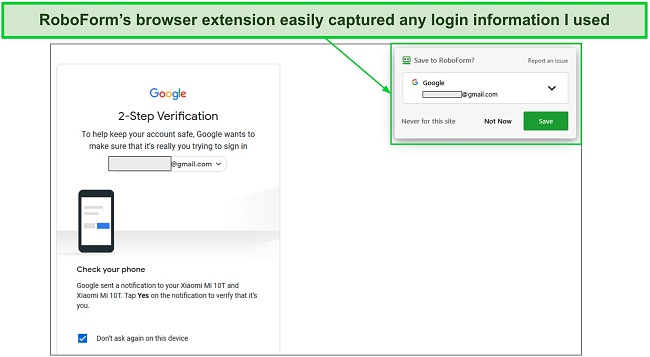 RoboForm has a security center where you can check if your passwords are weak, reused, or vulnerable. This way, you can change it if found to be vulnerable. However, RoboForm doesn't have an automatic password changer as Dashlane does.
I like that RoboForm allows me to share my passwords and sensitive information with other users securely. The emergency access feature helps me set up a trusted contact to recover my account if I'm unable to.
While RoboForm lacks many features compared to1Password and Dashlane, it has some unique features that many popular password managers don't have. It is one of the few password managers that allow you to securely store bookmarks and allows you to save unlimited logins on all its plans. However, encrypted bookmark storage doesn't mean much to many people, so I don't really see the need for it.
One thing that RoboForm excels at is its budget-friendly pricing. It offers one of the cheapest pricing plans in the password managers market. RoboForm has plans for individuals, families, and businesses. The free plan allows you to store and use unlimited logins, but it only syncs on 1 device. RoboForm Everywhere is the cheapest premium plan and a good deal. It has a 30-day money-back guarantee that allows you to try all the premium features risk-free.
Try RoboForm for Chrome risk-free
Key Features:
AES-256 bit encryption for secure vaults.
Up to 5 private vaults to store sensitive information.
Password security audit to detect vulnerable passwords.
Auto-fill and share passwords with the Chrome extension.
Keeper is a password manager well-suited to keep your sensitive information safe. It has a robust security architecture that utilizes a zero-knowledge and zero-trust system. This means that neither Keeper nor its employees can view or access the data in your vault. I was also happy to learn that Keeper allows me to secure my data with an extra layer of security using 2FA, biometric login, and other multi-factor authentication methods.
I really like Keeper's Chrome extension. It was easy to create and keep different records, including passwords, logins, identity cards, credit cards, addresses, passports, medical records, contacts, and notes. Additionally, I was surprised to see that I could attach files and images to every login item, a helpful way to keep scanned copies of documents.
Keeper also has other cool and unique features. For instance, it has a standalone encrypted chat app that allows me to retract sent messages and the "Trash bin" feature that lets you restore deleted passwords.
I found it really easy to auto-fill websites with the Chrome extension, but it had a slight glitch during my tests. If you imported your passwords into your Keeper vault before installing the auto-fill feature (KeeperFill), it wouldn't detect your saved logins. In contrast, I never experienced such when using 1Password to autofill my logins on multiple sites.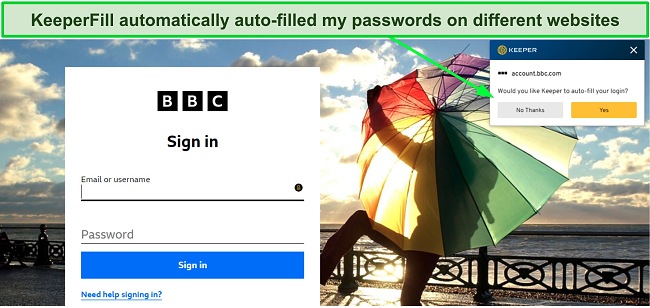 One thing I didn't like about Keeper is that some of its features are only available as add-ons which you need to pay extra to use. For instance, its BreachWatch feature, which monitors the dark web for compromised logins, costs more.
Keeper has plans for individuals and businesses for its core features and extra charges for its add-on features like dark web monitoring, trash bin, and secure file storage. Luckily, Keeper offers a 30-day free trial for all the standard features.
Try Keeper for Chrome risk-free
Key Features:
Secure storage for sensitive information.
Easy-to-use Chrome browser extension.
Secure password generator on Chrome.
Quickly auto-fill and auto-save passwords.
Panda Dome Password is a standalone password manager and also comes as part of the Panda Internet Security suite. It provides a secure and easy-to-use vault for storing sensitive information. Panda provides a secure environment to store all kinds of digital items such as passwords, addresses, notes, and credit cards. It also has a "Secure Me" feature that clears all traces of your browsing history on your Chrome browser to prevent tracking.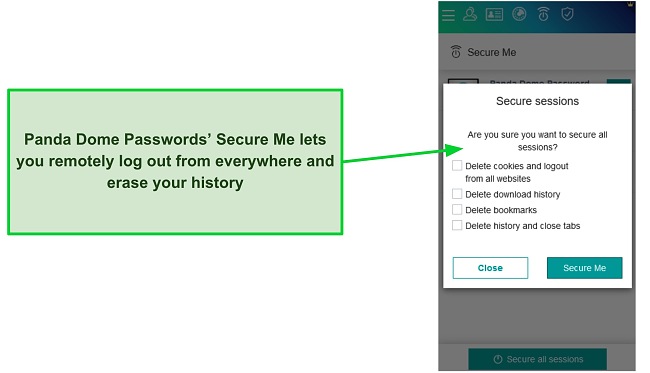 The Chrome extension is very easy to use. It allowed me to generate secure and customizable passwords within seconds. I also found the auto-fill feature quite effective. It instantly fills in my information whenever I open a website that I've previously saved the login for. All I had to do was hit the login button, and Panda Dome Passwords signed me in immediately. Whenever I visit the login page of a website I don't have a saved login for, Panda automatically pops up a prompt for me to save the login I enter on the website.
Panda doesn't have many features as 1Password, but the Chrome extension is pretty easy to use and auto-fills every website I tested. If you sign up for the Panda Dome Passwords standalone service, you'll find out that its pricing plan is affordable even for the budget-conscious individual. It has a 1-year, 2-year, and 3-year plan. Although there isn't a free plan, all the subscription plans are backed by a 30-day money-back guarantee.
Try Panda for Chrome risk-free
Quick Comparison Table: 2023's Best Password Managers for Chrome
| | | | | | | | |
| --- | --- | --- | --- | --- | --- | --- | --- |
| Password Manager | Encryption | Password Generator | 2FA | Chrome Extension | Starting Price | Free Plan | Money-Back Guarantee |
| 1Password | AES-256 bit | ✔ | ✔ | ✔ | $2.99/mo | ✘ | 30 days |
| Dashlane | AES-256 bit | ✔ | ✔ | ✔ | $3.99/mo | ✘ | 30 days |
| RoboForm | AES-256 bit | ✔ | ✔ | ✔ | $1.98/mo | ✔ | 30 days |
| Keeper | AES-256 bit | ✔ | ✔ | ✔ | $2.91/mo | ✘ | 30 days |
| Panda | ✘ | ✔ | ✔ | ✔ | $1.92/mo | ✘ | 30 days |
Try 1Password for Chrome risk-free
How I Tested and Ranked the Best Password Managers for Chrome in 2023
Strong security — I looked for password managers with robust security features, including solid encryption like AES-256 bit and 2FA options for extra layers of protection.
Zero-knowledge architecture — I focused on finding the password managers that employ a zero-knowledge system, whereby not even the employees could gain access to my vault data.
Quality features — I prioritized the password managers that offer basic and advanced features, including dark web monitoring and password security audits. After all my tests, 1Password and Dashlane provided the best features for efficient password management on Chrome.
Ease of use — A good password manager should be intuitive and user-friendly. I chose only those with an efficient form-filling feature and a very easy-to-use Chrome browser extension.
Value for money — I shortlisted the best password managers with lots of Chrome browser extension features. I also checked to find out if the password manager had a free trial or money-back guarantee that I could test all the features effortlessly.
FAQ: Password Managers and Chrome
Can I use Chrome's built-in password manager?
You can, but it isn't as secure as the best password managers on this list. While it can auto-fill and auto-save logins on websites easily, it can't sync between different operating systems and browsers. Also, there isn't a private vault to store your logins, and you'll find it lacking many Advanced features.
The built-in Chrome password manager only allows you to save passwords, payment methods, and addresses. In contrast, premium password managers like 1Password will enable you to save more customized items like bank accounts, social security numbers, driver's licenses, crypto private keys, secure notes, and more. You can't also share your passwords or other sensitive information with your friends or get extra security features like a VPN and dark web monitoring that Dashlane offers.
Is Chrome's password manager secure?
No, it lacks security features like a master password, two-factor authentication (2FA), and a private vault. A master password will secure your vault, ensuring that only you can gain access to your saved logins except you. Reliable password managers like 1Password further encrypt your master password so that it's impossible for hackers to guess.
Chrome's password manager saves your passwords on your Gmail account, which can be prone to attacks and, once compromised, will expose all your data. However, the best password managers offer encrypted private vaults where all your information is securely stored. Furthermore, you can use 2FA apps to secure your vault so that there's a second layer of authentication needed to access your vault.
Can I use a free password manager for Chrome?
You can, but there are risks such as a lack of security, data sharing, and even malicious programs that may steal your passwords. In contrast, premium password managers offer more features, robust security, and a secure vault to store all your digital items conveniently.
I'll recommend using a premium password manager like 1Password as it offers better security and advanced features that help you securely and conveniently manage all your passwords.
Get the Best Password Manager for Chrome
Chrome's built-in password manager has limited features and weak security and isn't really reliable in keeping all your sensitive information safe. You need a powerful password manager with military-grade security and advanced password management features to help you keep your logins, passwords, and digital items safe.
You also need a password manager with an intuitive Chrome extension with extra features like dark web monitoring, password security audits, emergency access, password sharing, automatic password changer, and a VPN. After testing multiple password managers, I found 1Password to be Chrome's overall best password manager. It has an intuitive Chrome extension that easily generates secure passwords and autofill websites efficiently.
1Password's Chrome extension worked excellently during my tests, outperforming all other password managers on my list. Its Chrome extension is the easiest to use, and its form-filling capabilities are next to none. Luckily, you can try 1Password risk-free for 14 days, giving you enough time to test the service before committing.
---
Best Password Managers Overall in 2023