5 Best VPNs for (ANY) Windows PC – Updated October 2020
Last Updated by Chase Williams on October 16, 2020
Like most people, you could be happily using Windows without being aware of the privacy risks. Unfortunately, the truth is that Microsoft is tracking your private information:
"Microsoft collects data from you, through our interactions with you and through our products. You provide some of this data directly, and we get some of it by collecting data about your interactions, use, and experiences with our products… We also obtain data about you from third parties."
Even worse, cybersecurity audits have found that Windows is particularly vulnerable to hackers and malware.
With so many safety concerns, I was relieved to discover that the right VPN can protect you online. That's why my team and I tested 157 VPNs to shortlist the top Windows VPNs for 2020 — and the best all-round option is NordVPN. Despite the low price, it's easy to use on all Windows versions and comes with top-notch security features. You can even try it risk-free with the 30-day money-back guarantee.
Try NordVPN on Windows for free for 30 days!
Quick Guide: Best VPNs to Use with Windows
5 Best VPNs for Windows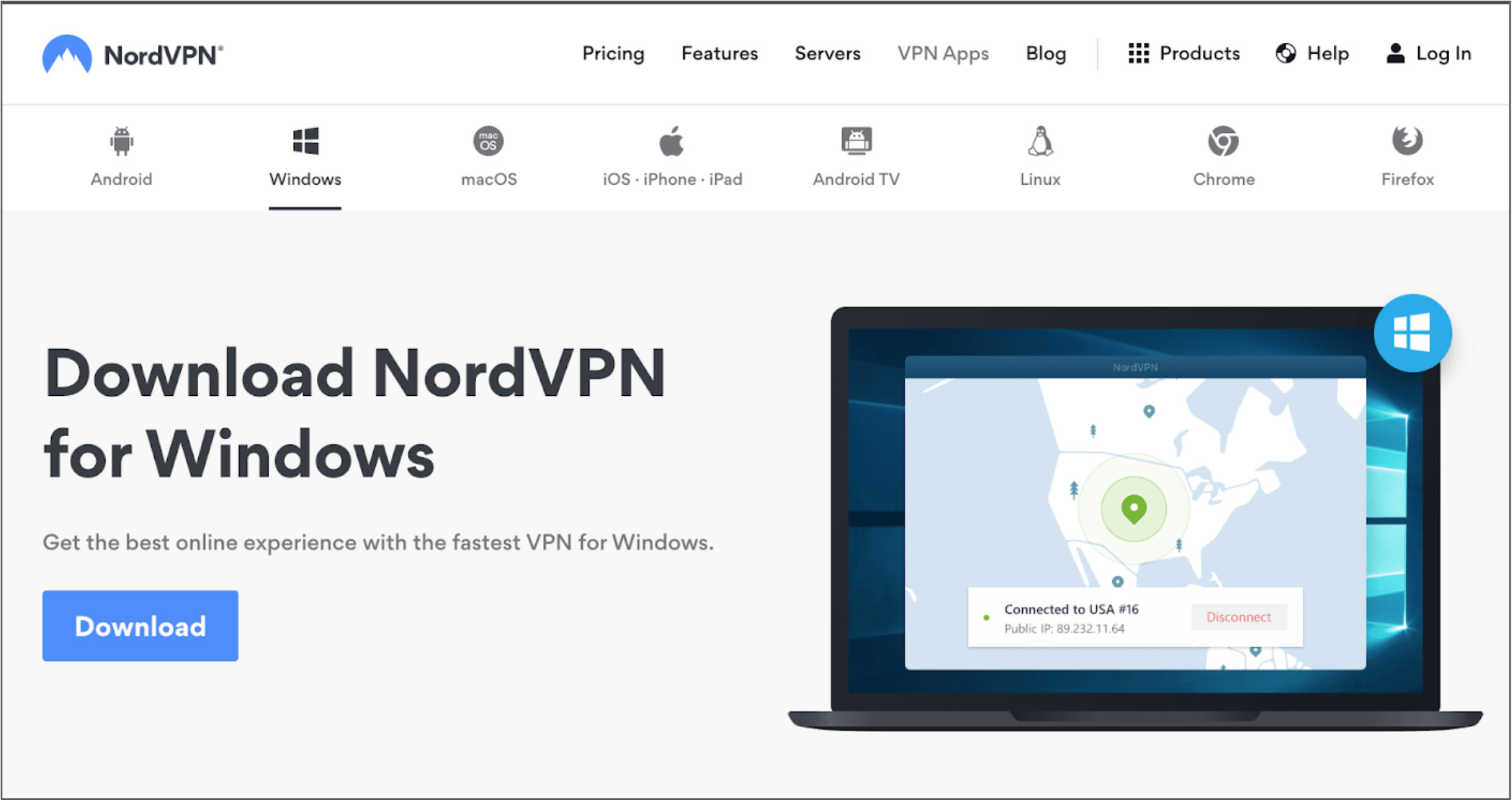 Key Features:
5,600+ servers in 59+ countries around the world
Unlimited bandwidth for limitless streaming and downloading
Protects up to 6 devices at once with military-grade encryption
30-day money-back guarantee so you can try it without paying a cent
24/7 customer support and live chat support to help you troubleshoot
Windows client is perfectly compatible with Windows 7, 8, and 10 and apps for Android, iOS, and other devices are available
NordVPN is my top choice because its Windows client works perfectly on Windows versions 7, 8, and 10 and it offers fast speeds on a huge number of secure servers.
Since Windows compatibility can be a problem with many VPNs, this was the most important factor when making my choice. I wasn't disappointed — NordVPN delivered on its compatibility promises. I was happy that I was able to easily download NordVPN for Windows directly from the website and install it without any issues. The customer service chat even helped with the installation process. Since you can buy it directly from the vendor, NordVPN's purchase and refund processes are easy.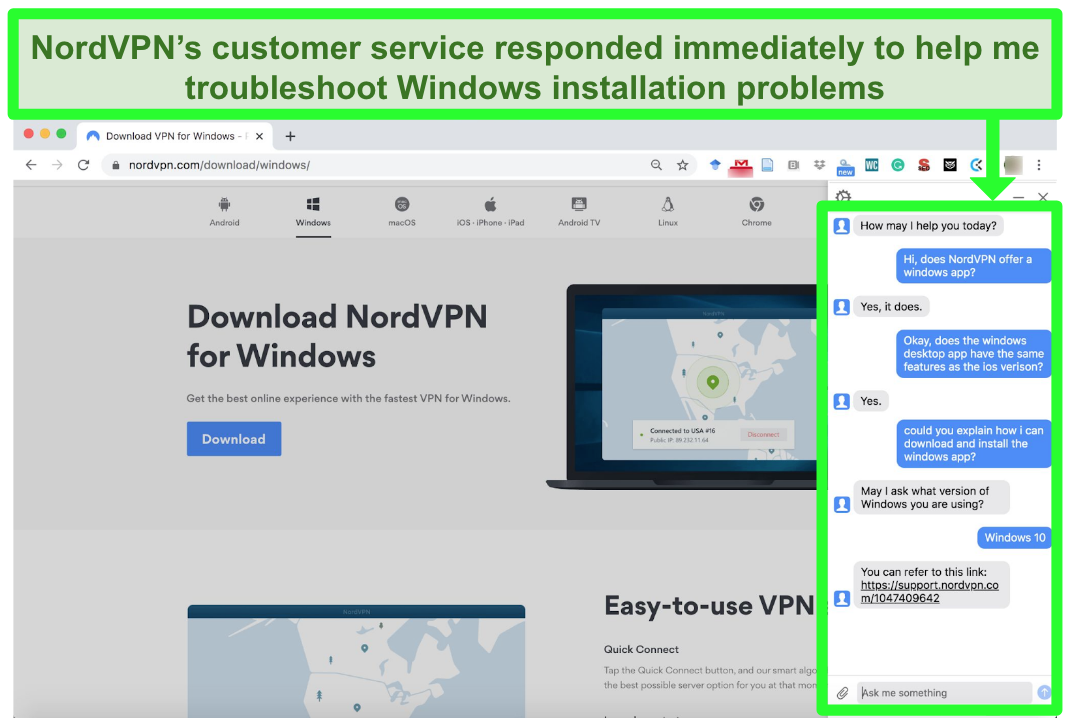 Once installed, I found that the NordVPN Windows client has the same features as the Mac OS app — and they all work just as well. I was relieved because some other VPNs don't work as well on Windows as they do on Mac. This wasn't the case for NordVPN. With the Windows client, I was happy that I could still use features like QuickConnect, which automatically pairs you with the fastest server available.
During my tests, NordVPN also had the fastest speeds out of all of the VPNs on this list. Since I was in Central Europe when I tested it, I thought I might experience some buffering when I connected to US servers — I was wrong. I was able to stream US Netflix in HD without buffering even though I was thousands of kilometers away.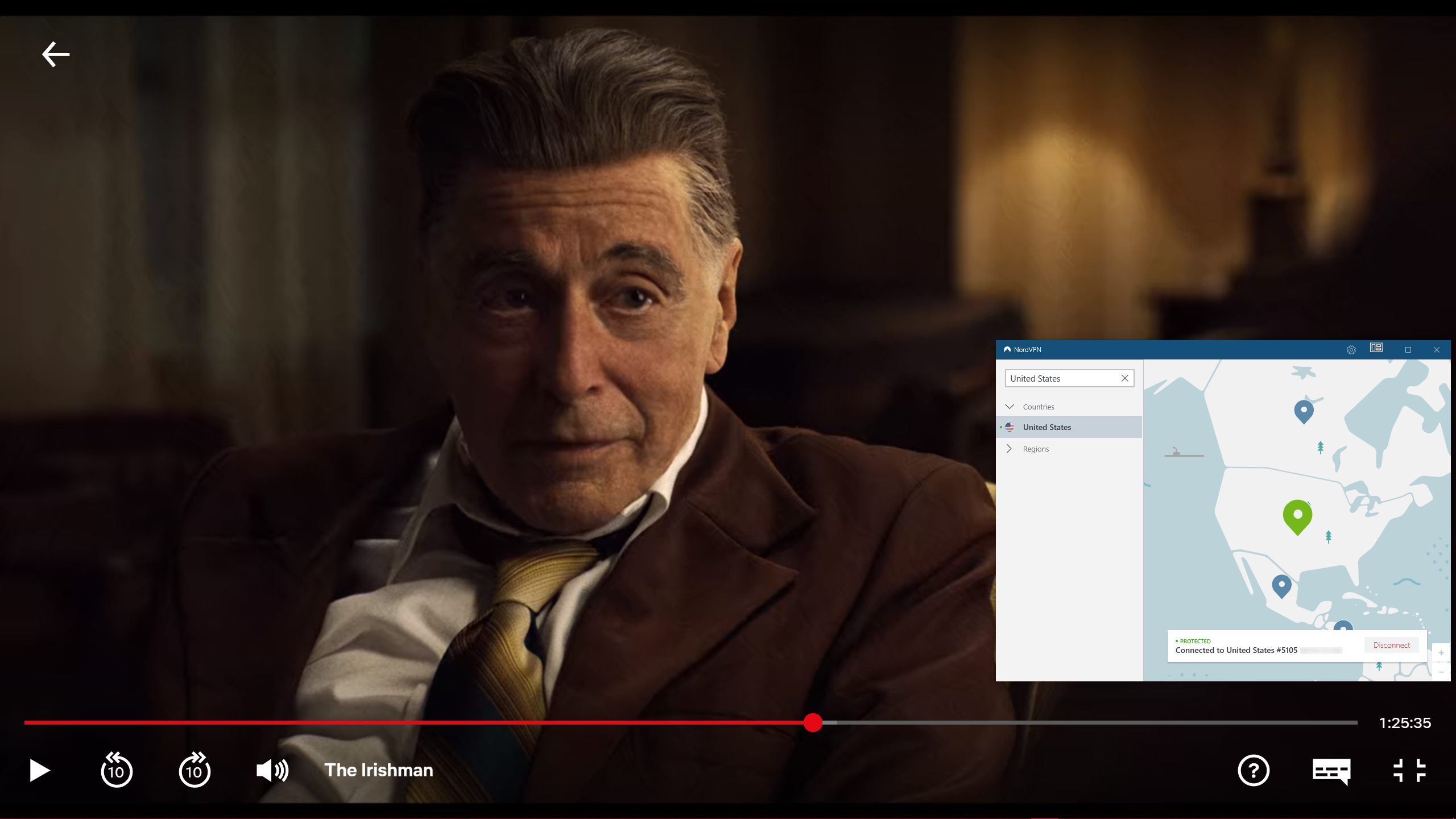 If you want to stream using a Windows device, NordVPN's SmartPlay technology also unblocks other popular streaming services like Prime Video, Hulu, and BBC iPlayer. Many VPNs aren't able to bypass these platforms' geo-restrictions, so I was excited that NordVPN gave me fast access to content libraries from around the world.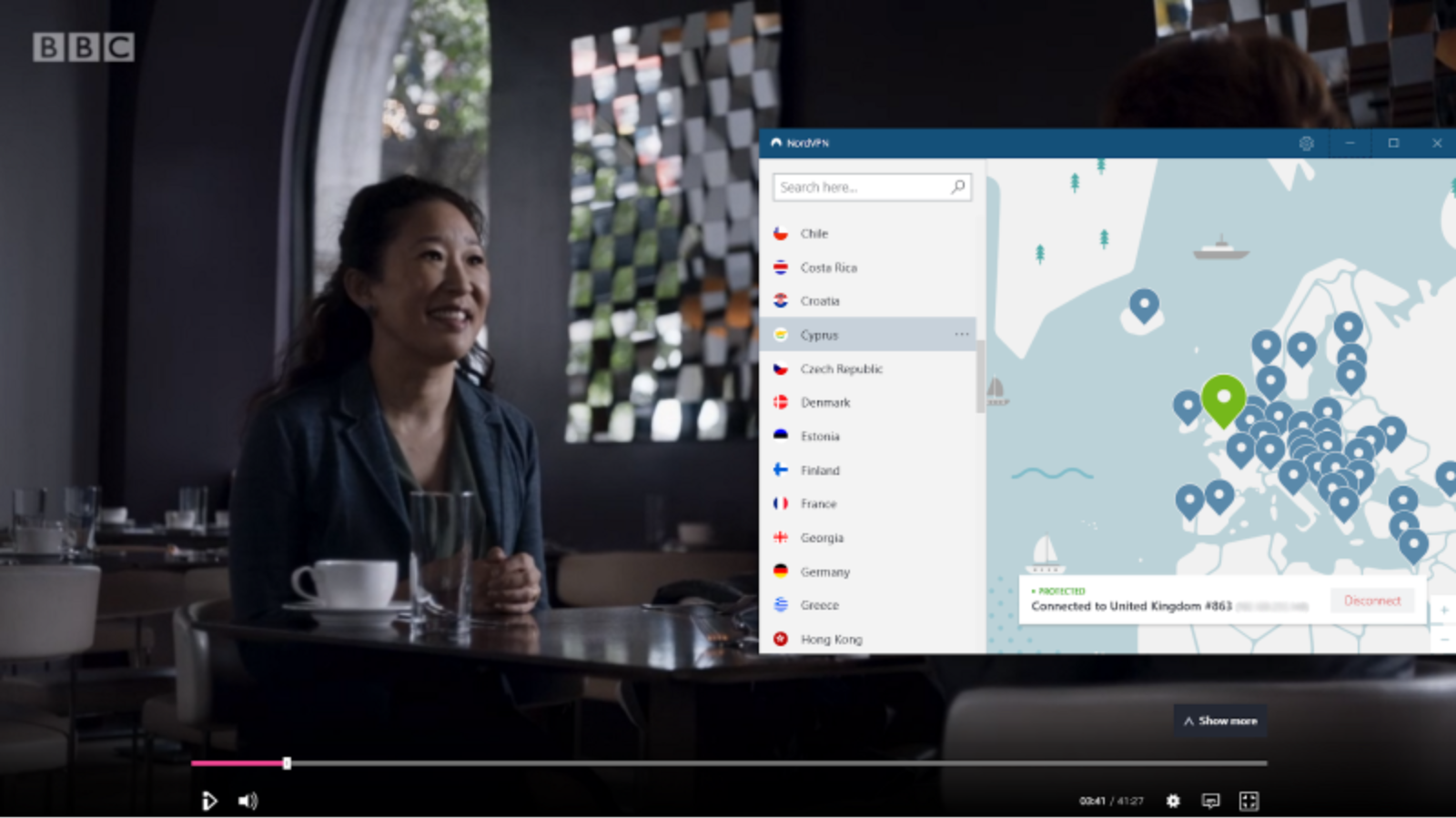 Considering this operating system's intrusive privacy policy and numerous vulnerabilities to hackers, I wanted to be sure my VPN would keep me safe. NordVPN showed how serious it is about user privacy when it underwent an audit with world-class security experts and published the positive results. NordVPN protects Windows users with the same level of encryption as the US government and a strict no-logs policy to make sure you stay safe online. It also uses CyberSec technology to give you an added layer of protection against the harmful malware that plagues many Windows devices.
For extra peace of mind, I also completed independent DNS leak testing of NordVPN. I found that my true location was never exposed, so I knew that NordVPN would keep me safe. This level of security reassured me that I could access my online banking using public WiFi networks without fear of having my information stolen.
If you want to try these features out for yourself, I recommend you try NordVPN with the 30-day money-back guarantee. You can get your money back if you request a refund within 30 days. When I tested this myself, the process was really easy and took only a couple of minutes. The money returned to my account after only 4 days — much faster than other services I've tried.
NordVPN unblocks: Netflix, Prime Video, BBC iPlayer, Hulu, Vudu, SkyTV, HBO Go, HBO Now, Sky, SHOWTIME, ESPN, and YouTube.
NordVPN works on: Windows 7 and higher, Mac OS, Android, iOS, Windows Phone, Chromebook, Linux, Chrome, Firefox, and Blackberry.
Try NordVPN for Windows risk-free!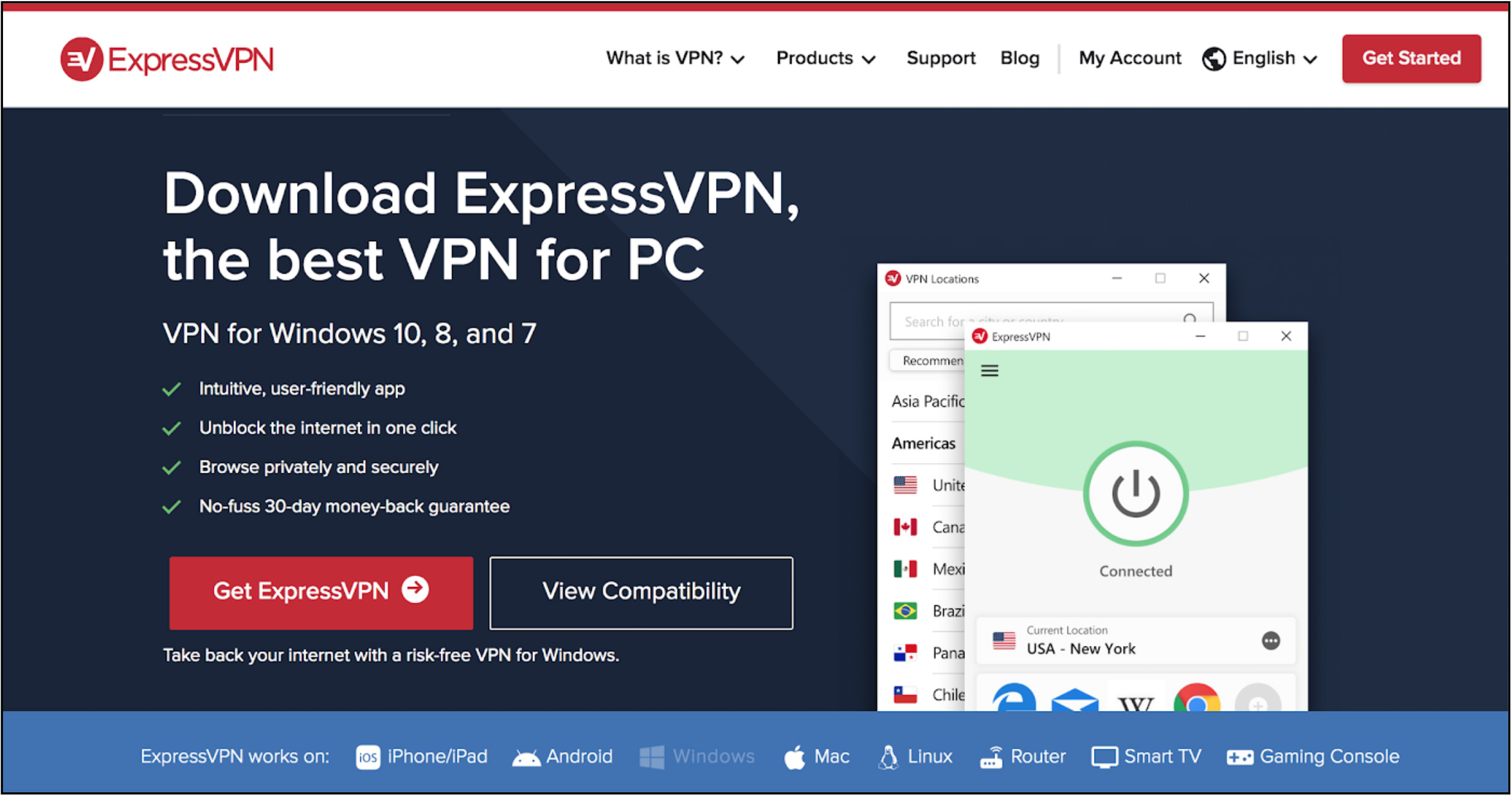 Key Features:
3,000+ servers around the world in 90+ countries
Unlimited bandwidth for uninterrupted, fast streaming
Protects up to 5 devices at once
30-day money-back guarantee so you can try it risk-free
24/7 live chat and email support to help you fix any problems
App works great on Windows 10, 8, and 7
ExpressVPN is one of the safest and fastest Windows-compatible VPNs on the market. Since Windows has well-known security flaws that leave users vulnerable to hackers, VPN safety is important to me. That's why ExpressVPN impressed me — in addition to industry-standard protections, it uses security features that no other VPN on the market has.
ExpressVPN uses the toughest security technology to keep your data private with leak protection and an automatic kill switch to protect you even in case of connection interruptions. Features like this make sure that hackers, your ISP, websites, government authorities, and others can't see personal information that could connect your identity, browsing history, and true location. To test these security promises for myself, I ran a DNS leak test — and ExpressVPN kept my real IP address secret.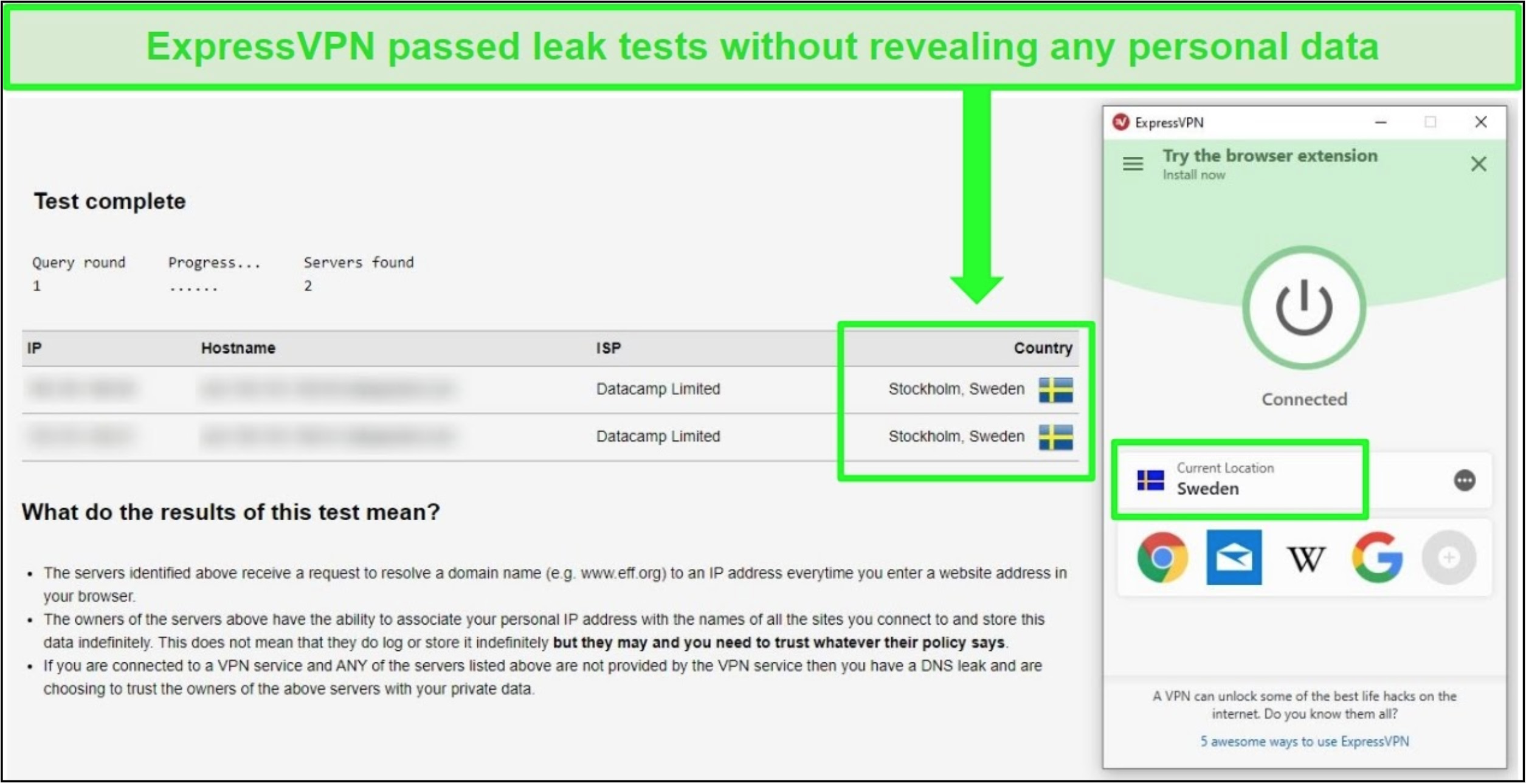 Aside from these standard features, ExpressVPN is the only VPN that uses TrustedServer Technology, which erases your data every time the server reboots. Since it doesn't keep any records of your data, prying eyes aren't able to spy on you. During international legal investigations, ExpressVPN has famously demonstrated that it really doesn't keep user data. When law enforcement tried to obligate the service to hand over user records, ExpressVPN was unable to comply because the records really didn't exist.
I thought all of these security features might make its connection speeds slower — but ExpressVPN proved me wrong. During my ExpressVPN testing, I tried it at peak use times using different servers from all over the world and I never experienced slow speeds. I was able to surf the web, video chat, and game without experiencing delays.
ExpressVPN is also one of the best VPNs for streaming — it can unblock tough geo-restrictions on platforms like Netflix, Hulu, HBO, and many others. It can even bypass censorship and reliably unblock content in China. To me, nothing is worse than a service that slows down streaming, so I was happy that ExpressVPN let me watch my favorite Hulu content and soccer matches on DAZN Italy with no buffering.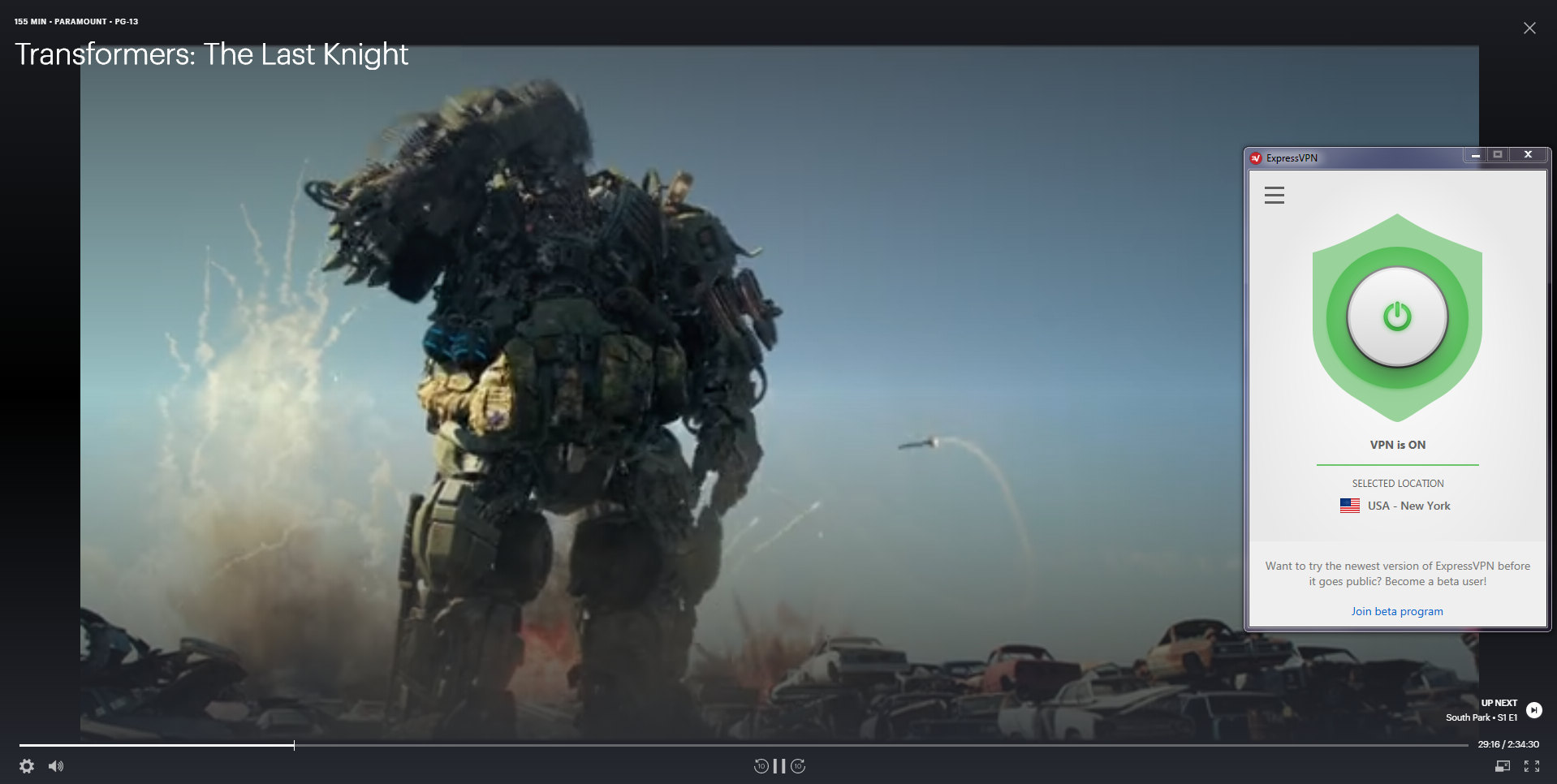 The only minor con I experienced with ExpressVPN was that it was a little more expensive than NordVPN. However, all of its premium features still make it a great choice for Windows users. Plus ExpressVPN lets you try a 30-day money-back guarantee, so you can test the service with zero risk. If you don't like it, you can get a full refund, no questions asked. I even tested this guarantee to see if it was truly "no questions asked" — and I'm impressed to say that it was. The ExpressVPN representative immediately approved my refund and the money arrived in my bank account in under 5 days.
ExpressVPN unblocks: Prime Video, BBC iPlayer, Vudu, SkyTV, HBO Go, HBO Now, Sky, SHOWTIME, ESPN, YouTube, and Spotify.
ExpressVPN works on: Windows 7 and higher, Mac OS, Android, iOS, Chromebook, Linux, PS4, Xbox, Nintendo Switch, and Blackberry.
Try ExpressVPN for Windows risk-free!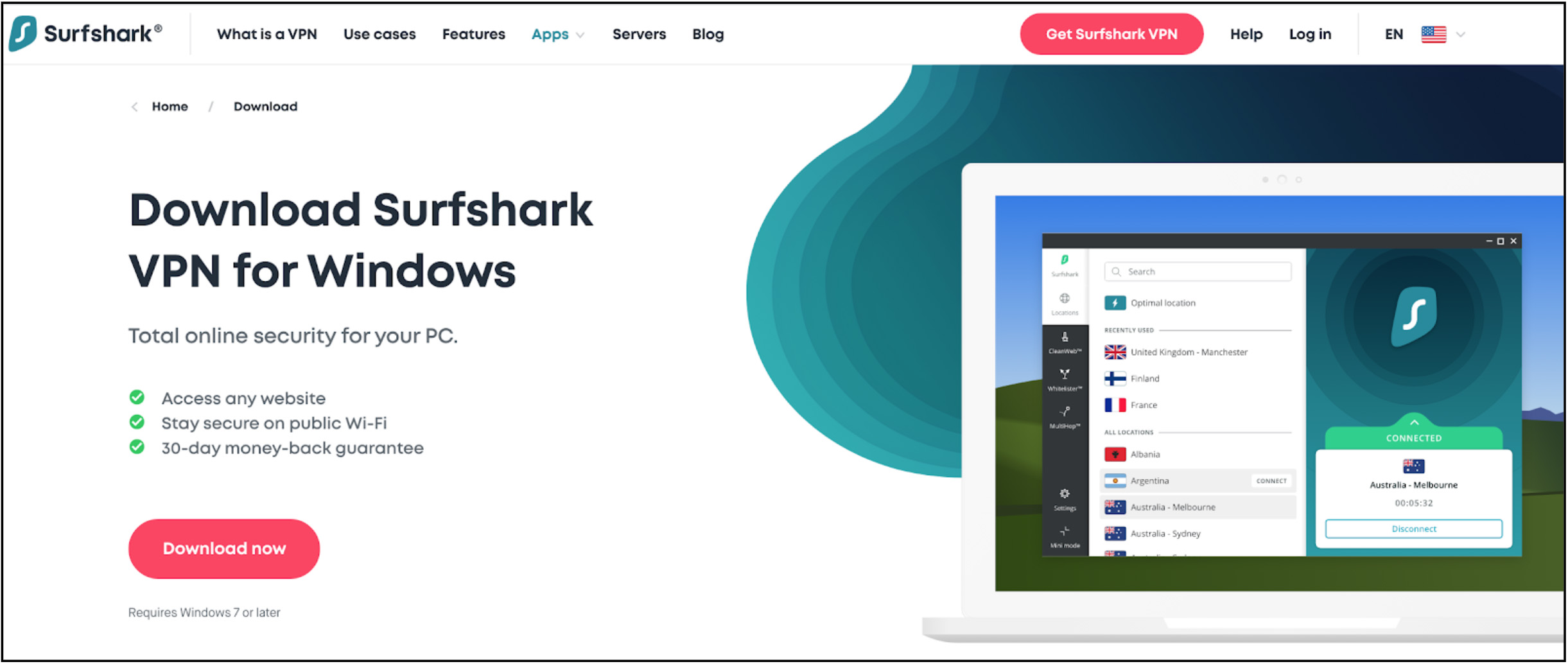 Key Features:
1,700+ global servers in 60+ countries
Unlimited bandwidth for uninterrupted connections
Protects unlimited number of devices at once
30-day money-back guarantee
Live chat available 24/7
App works well on different versions of Windows
Since my whole family uses Windows, I thought that protecting everyone would be expensive. That's why I was excited that Surfshark allows you to protect an unlimited number of devices at the same time with one subscription. This is the only VPN on this list that offers this level of affordability.
At such a reasonable price, I was worried that Surfshark might not offer the same quality of protection for Windows users — but that wasn't the case at all. It offers industry-standard security like 256-bit encryption, an automatic kill switch, and a no-logging policy. In addition to these features, Surfshark also has a two-factor authentication (2FA) option for additional security. This technology requires you to sign in with a temporary code sent to your mobile device in order to prevent others from logging into your device if your password becomes exposed.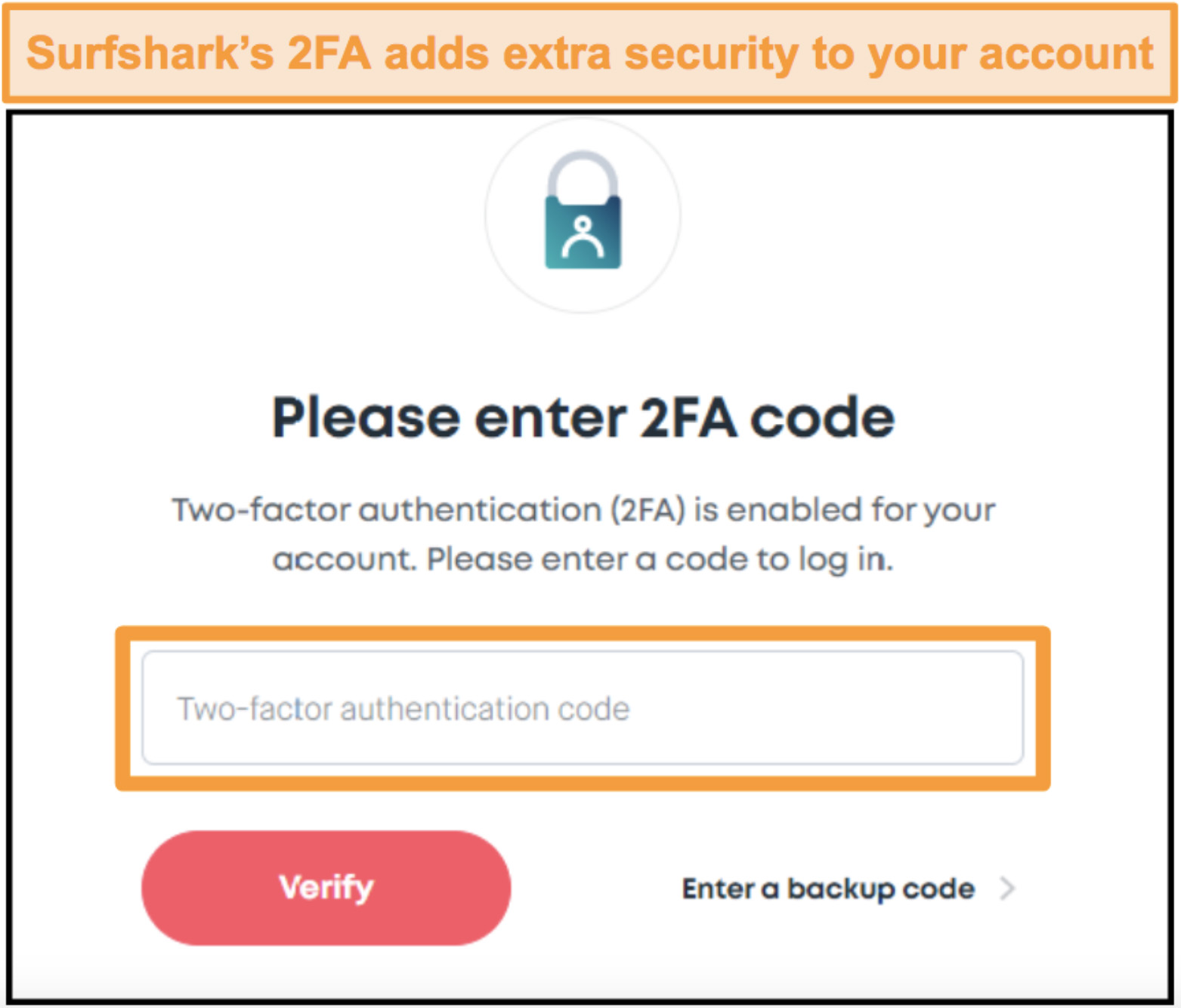 One slight issue I found was that Surfshark doesn't have as many servers as other VPNs on this list. However, when I tested Surfshark, I didn't experience slow speeds or other issues that you might expect with a smaller selection of servers. I was even able to stream Top Gear in HD on BBC iPlayer with minimal buffering.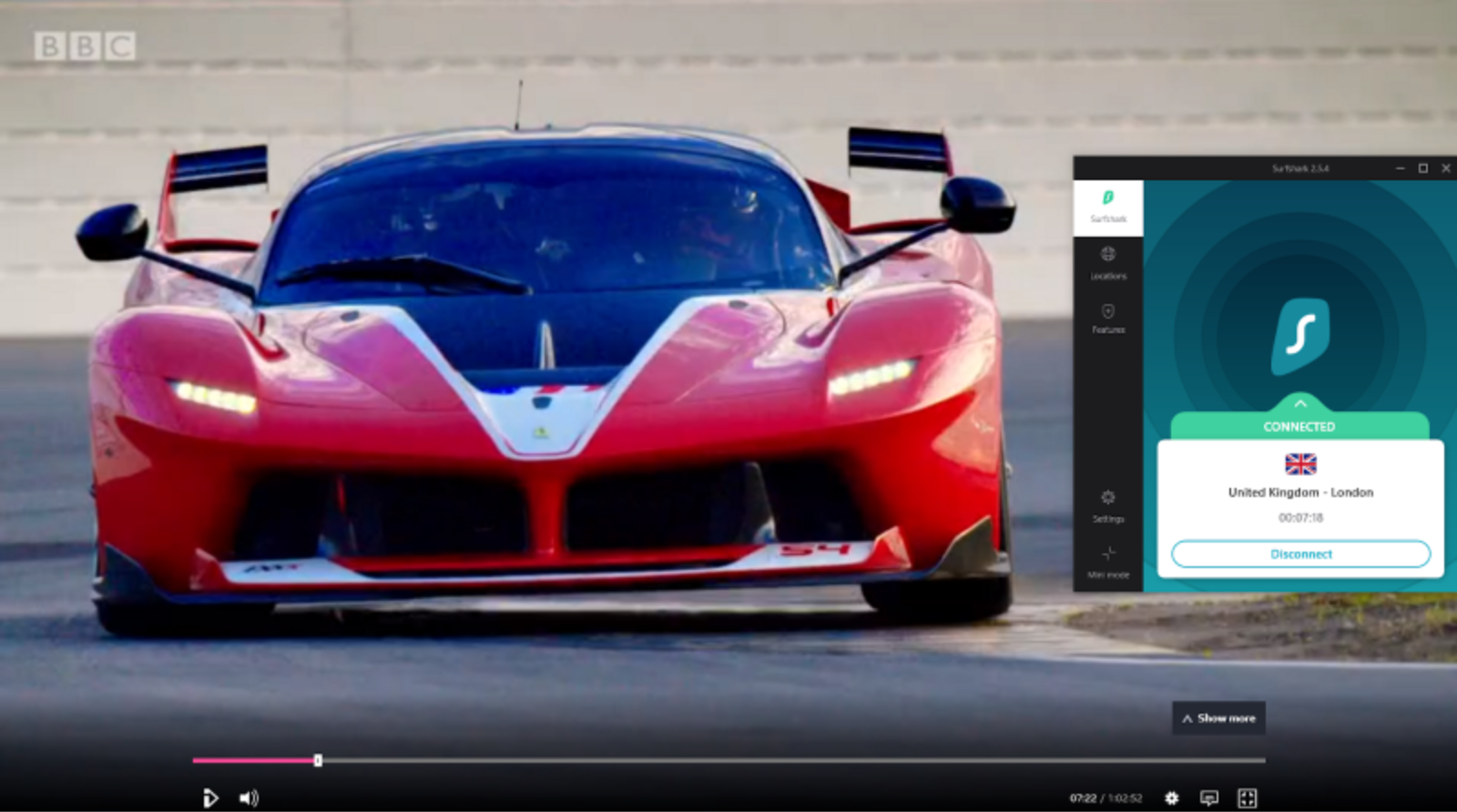 If you want to try it out for yourself Surfshark has a 30-day money-back guarantee and an easy cancellation process. If you don't want to keep the service, just contact customer support and they can help you through the refund process.
Surfshark unblocks: Netflix, Prime Video, BBC iPlayer, Hulu, HBO Go, HBO Now, ESPN.
Surfshark works on: Windows 7 and higher, Mac OS, Android, iOS, Linux, PS4, Xbox One, and Nintendo Switch.
Protect all your devices with Surfshark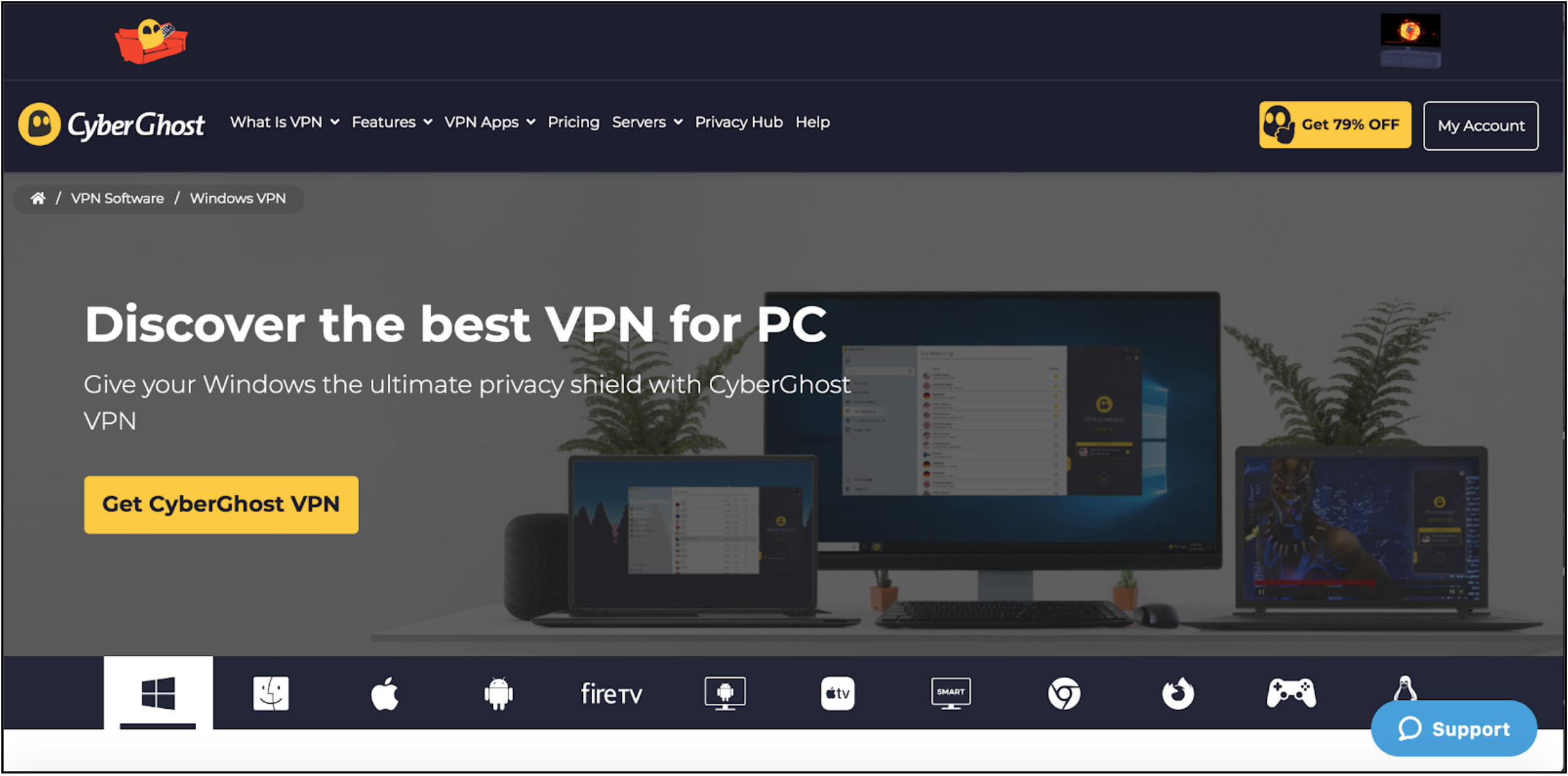 Key Features:
5,500+ global servers in 90+ countries
Unlimited bandwidth for smooth streaming
Secure up to 7 devices at once
45-day money-back guarantee — the longest of any VPN on this list
Customer service support through email and chat
App works well on many versions of Windows 10, 8, and 7
Although it hasn't been on the market as long as ExpressVPN or NordVPN, CyberGhost offers premium security and other competitive features. Since government internet surveillance is a big issue in the countries to which I travel, I was excited to learn that CyberGhost uses NoSpy servers to guarantee its no-logs policy. This unique technology means that CyberGhost owns and operates its own servers, so they control who has access to them.
In addition to this unique feature, CyberGhost protects Windows users with 256-bit encryption and an automatic killswitch, making it unhackable even if your connection is dropped. Unlike some other VPNs, it also provides built-in protection against both malware and annoying popup ads. After reading about new malware vulnerabilities on Windows, these features reassured me that I would be safe online.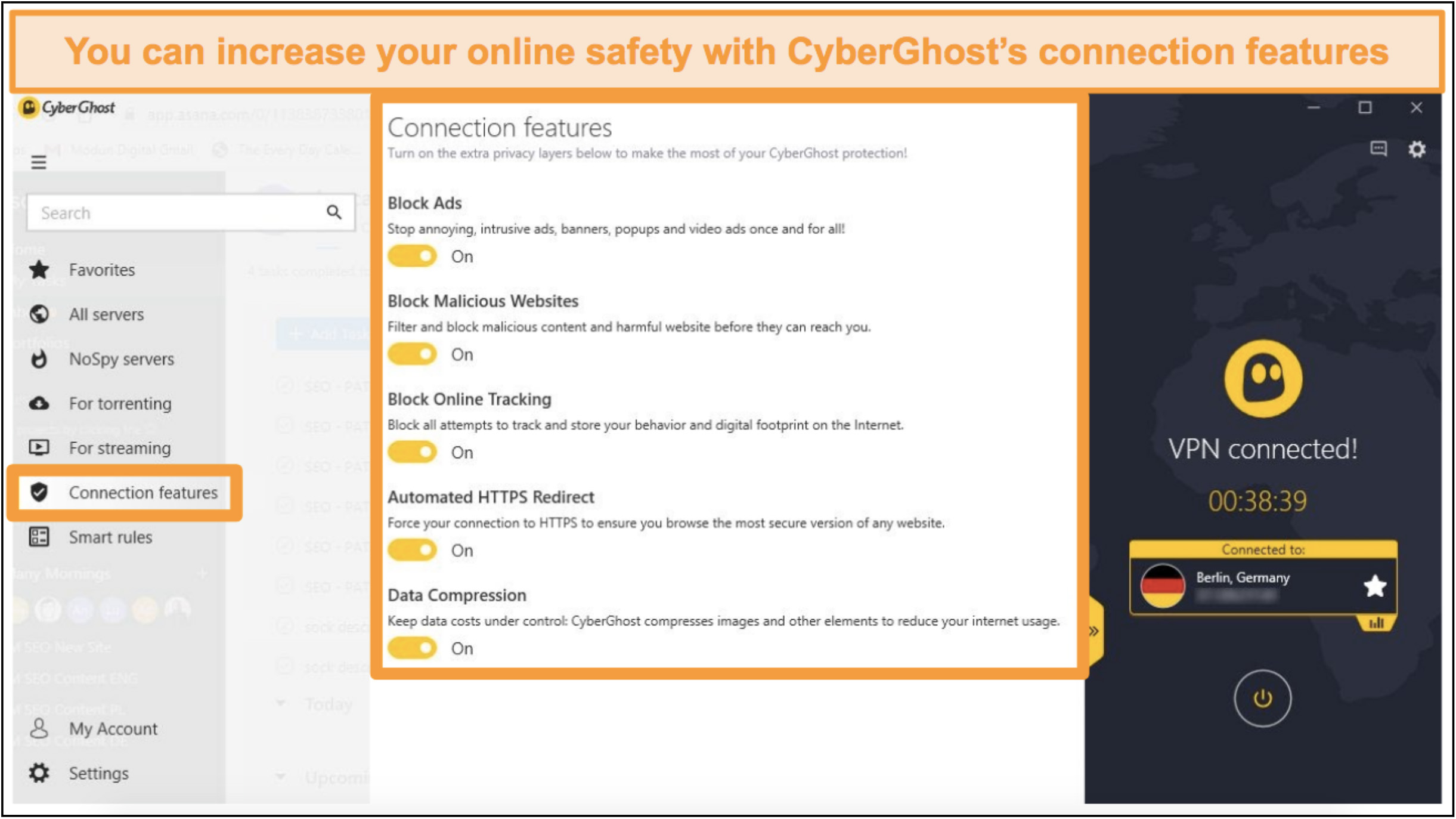 CyberGhost is also the only VPN on this list that gives you servers optimized for streaming. These servers are frequently updated with new IP addresses to ensure they can unblock your favorite content and stream high-quality video. When you use this function, CyberGhost lets you access your favorite shows on platforms like US Netflix, Hulu, Amazon Prime, and others. I was impressed that CyberGhost let me stream Black Panther in HD on Netflix with no buffering.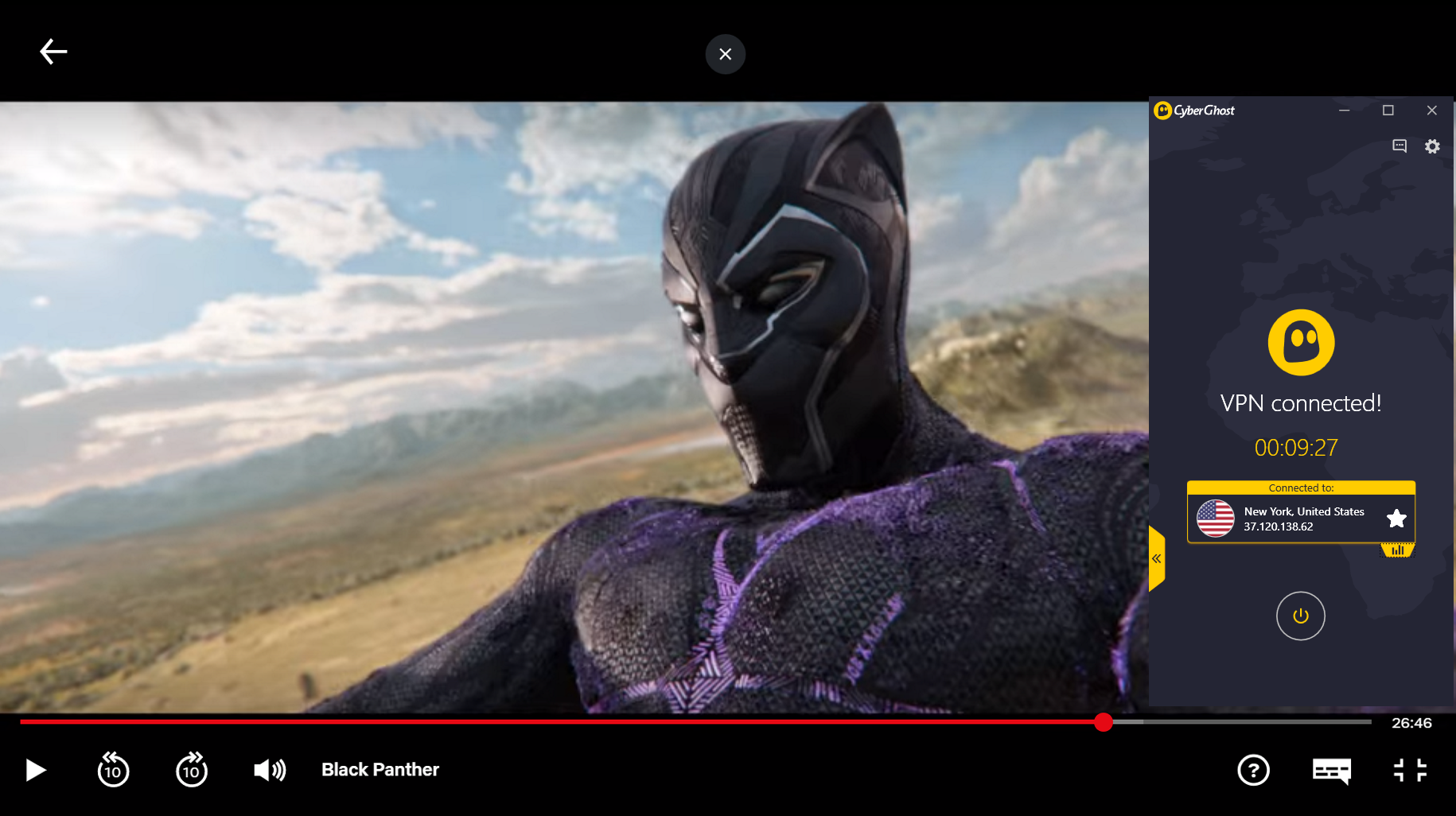 The only slight issue I experienced with CyberGhost was that it was slightly slower than my top 2 choices when I connected to different servers in Europe. This wasn't a problem at all though, because I didn't experience any lag, slow connections, or download speeds — honestly, if I hadn't run speed tests, I wouldn't have noticed.
During my research, I was surprised that CyberGhost offers a 45-day money-back guarantee on subscriptions of at least 6 months. This is the longest money-back guarantee that I've seen on the market. If you want your money back during this period, you can contact customer service via live chat and process the refund easily. I even tested it myself — and it took less than 5 minutes to approve my refund and the money returned to my account in 6 days.
CyberGhost unblocks: Netflix, Prime Video, BBC iPlayer, Vudu, SkyTV, HBO Go, HBO Now, SHOWTIME, ESPN, and Spotify.
CyberGhost works on: Windows 7 and higher, Mac OS, Android, iOS, Chromebook, Linux, PS4, Xbox One, and Nintendo Switch.
Try CyberGhost for Windows risk-free!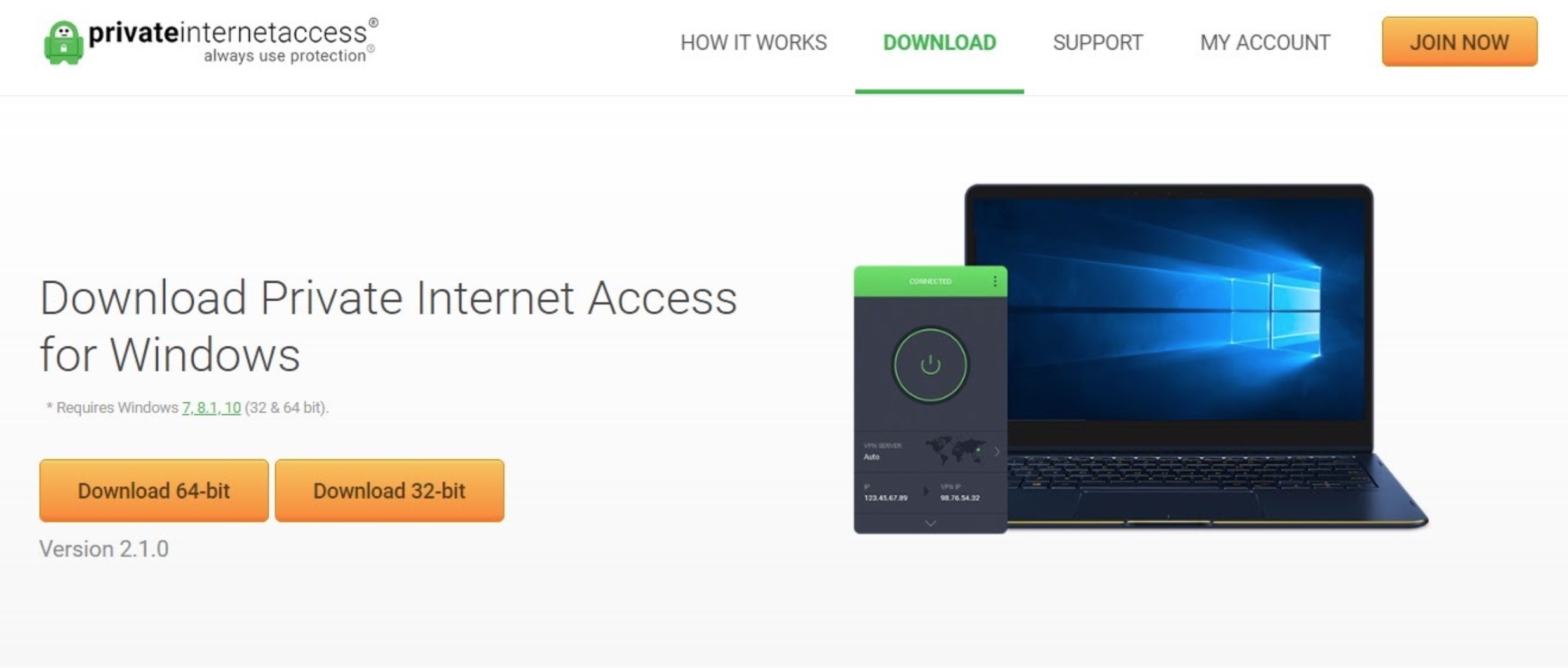 Key Features:
3,300+ servers in over 48 countries for quick global connections
Connect up to 10 devices simultaneously
30-day money-back guarantee
24/7 customer service with live chat and email support
Windows app works on versions 7, 8.1, and 10 as well as Windows Phone, Android, iOS, and more
Private Internet Access (PIA) is an impressively fast VPN, even when you're connected to faraway servers. Its reliable speeds make it a good choice if you want to stream your favorite shows and movies on your Windows computer. However, it doesn't always manage to get around tough restrictions like Netflix's proxy technology.
I tested PIA's speeds on my Windows laptop and connected to 10 different servers in locations including the US, Australia, Japan, and Greece. My average speed was just over 30Mbps, which meant that I could stream in HD and download torrents with zero lag or buffering.
While PIA allowed me to stream in HD, I was only able to connect to Netflix in the UK, Australia, France, and Japan consistently. Netflix US was hit-or-miss (I managed to connect using the Washington DC and New York City servers) so I ran some DNS leak tests to see if any of my data was escaping from the VPN connection. I was reassured that the results of the leak tests showed my IP address and data was secured by PIA's strong encryption.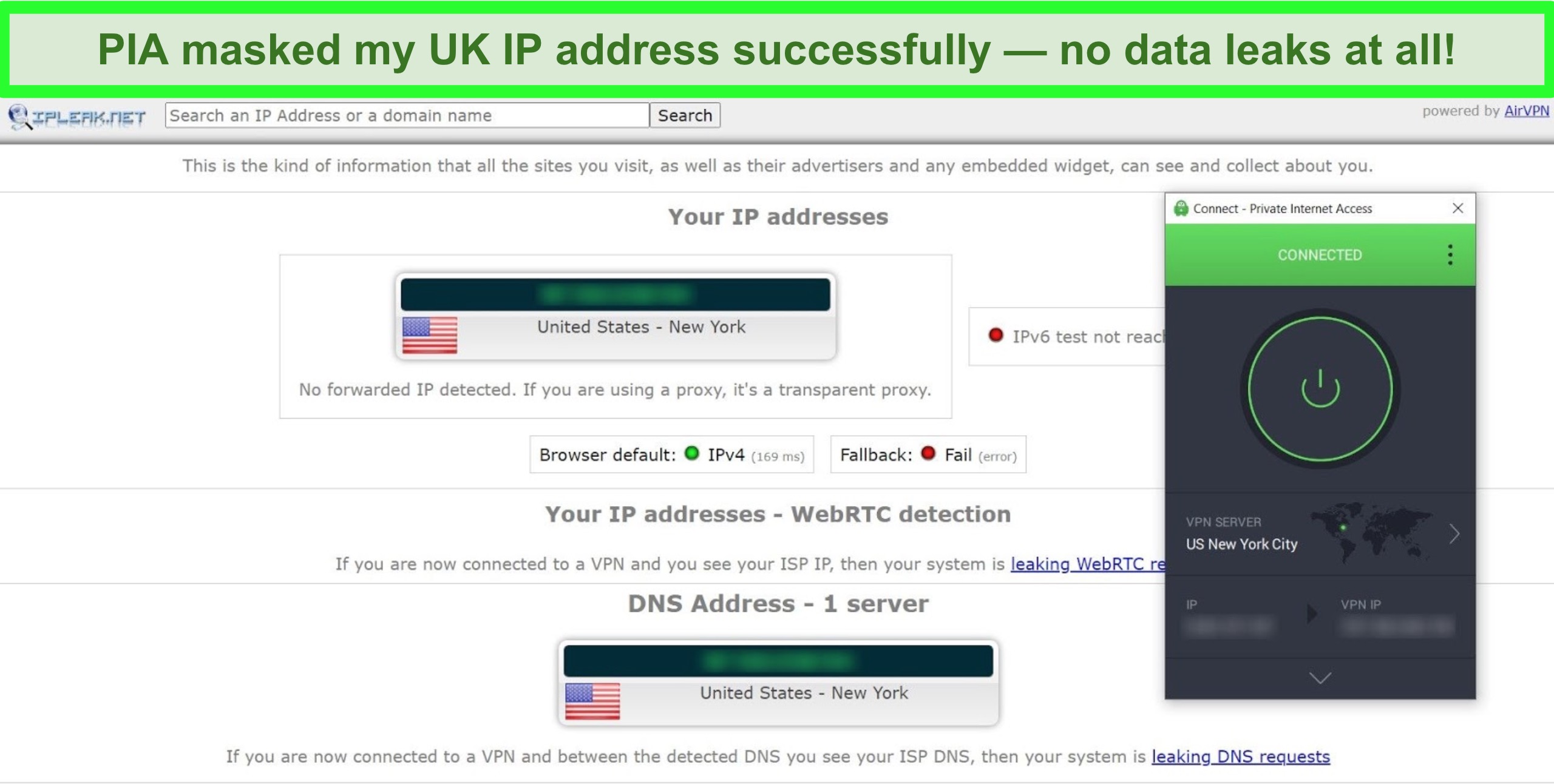 When I contacted customer service about connecting to Netflix US using the Windows app, they recommended clearing my browser cache. That worked for me!
You can test PIA for 30 days and get a full refund. Just make sure you cancel before the 30 days are up or you'll be prompted to continue your subscription.
PIA works with the following platforms: Windows 7, 8.1, and 10 (32 and 64 bit), Android, Mac, iOS, Linux, Chrome, Firefox, Opera
PIA can unblock: Netflix, Disney+, Amazon Prime, HBO, SHOWTIME, ESPN, YouTube, Kodi, Sky Go, and more
How to Choose the Best VPN for Windows
Choosing the right VPN is essential to protecting your Windows device. Without it, you can be left exposed by Microsoft's invasive privacy policy and spied on by other prying eyes. I evaluated the recommended VPNs on this list according to the following criteria:
Proven compatibility with Windows — Hundreds of VPNs claim to work with this operating system, but make sure your VPN has actually proven it. Nothing is worse than believing a product protects you when it actually exposes you more.
Secure encryption — When you select a VPN for Windows, you should make sure that it uses at least AES-256-bit encryption, otherwise you may be exposed to spying by hackers, ISPs, government surveillance, and other prying eyes.
Strict privacy policies — Some Windows-compatible VPNs track and sell user data to advertisers, Facebook, and other prying eyes. Use a VPN that has a proven record of protecting user privacy.
Ability to bypass geo-blocks — Make sure the VPN you download will give you access to the sites you want. Not all services work in all countries or with all platforms, because some sites like Netflix use tough geo-blocks to stop VPNs — only the top-of-the-line services like NordVPN work.
High speeds — Since VPNs can slow down your connection, make sure your service offers fast speeds to let you access the platforms you want.
24/7 customer support — To avoid service interruptions, make sure the VPN you choose has a helpful and responsive customer support service.
3 Easy Steps to Install a VPN on Windows
Get a Windows VPN. I recommend NordVPN as it has a fast and highly-secure custom Windows app. You can even try it for free for 30 days.
Connect to a server. I suggest choosing a server location close by for the fastest speeds.
Start browsing! That's it — now you can use the internet safely on your Windows phone or computer.
If it's your first time using a VPN and you want more detailed instructions, here are step-by-step guides for NordVPN, ExpressVPN, CyberGhost, or PIA.
Try NordVPN on Windows free for 30 days!
FAQs
🤓 Can I use a Windows VPN on my Android, iPhone, Mac, or other device?
Yes! In my tests, the 5 best Windows VPNs for 2020 all work well on Android, iPhone, and Mac. I especially like NordVPN as it has native apps for Amazon Fire Stick, Amazon Fire TV, and Android TV. You can even install it on your router, which allows you to protect every device connected to your WiFi network.
Protect all of your devices with NordVPN
😎 What is the best VPN for Microsoft Surface?
Based on my tests, NordVPN is the #1 VPN for Microsoft Surface. However, all the recommended VPNs on this list work well with Windows 7, 8, 8.1, or 10 on Microsoft Surface devices. You can simply download the Windows .exe file and install it with the same process as a desktop.
🤑 Can I use a free VPN on Windows?
Some free VPNs work on Windows — but I would recommend you avoid them. Most free services don't work well. They have few servers and data limitations, causing slow speeds and limiting your streaming. Even the best free VPNs only let you watch a maximum of about 10 hours of Netflix per month (that is, if they can even access the platform). In fact, most free VPNs can't get around the geo-blocking used by Netflix or other strict sites.
Aside from poor service, many free VPNs also put your security at serious risk. Because free services don't charge you to download their product, they often monetize your data. In other words, they sell information about you to third parties. Other services have been shown to install malware on user devices. Some free VPNs are even involved in financial fraud and identity theft. Even though you might save a little on the subscription price, you might end up losing even more money because of these threats.
You can avoid these unnecessary risks if you use a secure service like NordVPN. If you only need a free VPN for a few weeks while traveling, take advantage of NordVPN's 30-day money-back guarantee. You can get a refund by email or live chat in a few minutes.
Keep Your Privacy Secure on Windows With a Top Quality VPN
Especially if you're a Windows user, a VPN is essential to keeping you safe online. Like all operating systems, Windows has security flaws that puts your privacy at risk. Even Microsoft's intrusive privacy policy might expose you to unwanted surveillance. Plus, government surveillance, hackers, ISPs, and other prying eyes constantly look for new ways to monitor users like you.
In addition to keeping you safe, VPNs can give you greater freedom online. Premium VPNs can bypass geo-blocks, thus giving you access to location-restricted sites like Netflix, online banking, and other platforms.
Out of all of the VPNs I tested, I recommend you try NordVPN because of its secure high-speed servers and Windows-compatible apps that are ideal for browsing, streaming, and downloading. It also lets you try it with a 30-day money-back guarantee, so you can test the service totally risk-free.