Visit Private Internet Access Website!
Private Internet Access

Review 2023: Before You Buy, Is It Worth It?
Private Internet Access Overview 2023
Private Internet Access is a popular VPN with budget-friendly plans and a large user base. But I wanted to know if its bargain price comes at the sacrifice of good performance. So I tested its speeds, security features, privacy policy, and many other attributes to get a full picture.
I discovered that PIA (Private Internet Access) stands shoulder to shoulder with top-tier VPN services. It boasts military-grade encryption, high-speed local servers, split tunneling, a robust MACE ad blocker, Tor support, and several advanced features that set it apart from many other VPN providers.
But PIA has its limitations and therefore is not suitable for everyone. For example, I wouldn't recommend PIA if you often need to make long-distance connections as they can be slow. Plus, PIA's US headquarters will make you uneasy if you're concerned about privacy. Also, if you travel to restrictive countries a lot, you'll have a hard time getting PIA to work there.
I found out tons of things about PIA so read on for the full report, or check PIA out for yourself risk-free by signing up with a 30-day money-back guarantee. If you're not fully satisfied, it's easy to request a full refund by contacting PIA's customer support.
2023 Update! You can subscribe to PIA for as low as $2.19 per month + get extra 2 months free with the 2-year plan (save up to 82%)! This is a limited offer so grab it now before it's gone. See more information on this offer here!
In a Rush? Here's a 1-Minute Summary
PIA Unblocks Netflix, Disney+, Max, Amazon Prime Video, Hulu, and BBC iPlayer (but Can't Access DAZN, 10 play, and SkyGo)
PIA is a reliable VPN for unblocking streaming platforms like Netflix and Disney+, plus local services like UKTV and Australia's 9Now.
To assist you in this matter, PIA possesses a range of streaming-optimized servers located in the US, UK, Australia, Japan, Italy, Sweden, Denmark, and Finland. In many instances, these servers proved to be the most rapid, as we conducted multiple attempts with the standard servers, some of which remained unsuccessful. However, it's worth noting that for certain services, PIA's regular servers are equally reliable or even superior when it comes to enjoying your preferred shows regardless of your location.
| | | | | | |
| --- | --- | --- | --- | --- | --- |
| Netflix | Disney+ | Max | Amazon Prime Video | Hulu | Kodi |
| Crunchyroll US | BBC iPlayer | YouTube | CBC | Peacock TV | Sling TV |
| Paramount+ | ITVX | BBC iPlayer | Channel | Eurosport | FranceTV |
| Canal+ | ZDF | ARD | Disney+ Hotstar | RaiPlay | YLE |
| Ruutu | C More | MTV Finland | HBO Nordic | Cmore SE | TV4Play |
Netflix: Unblocked
During tests, PIA's streaming-optimized servers in the US (East and West) unblocked Netflix US within seconds to play The Irishman in UHD without buffering.
Besides testing whether PIA can be used to watch American Netflix, I also had my colleagues around the world test several different servers with other libraries. Though I couldn't unblock my home Netflix content in Malaysia, my colleagues easily accessed the libraries in these countries with PIA's regular servers:
| | | | | |
| --- | --- | --- | --- | --- |
| Canada | India | Spain | The Netherlands | Turkey |
Surprisingly, PIA's streaming servers in Japan and Finland couldn't unblock Netflix libraries in the 2 countries. The regular servers in Tokyo fared better but Netflix Finland was totally inaccessible with PIA despite the optimized servers. Other Netflix libraries PIA couldn't access include Brazil, Poland, Switzerland, Indonesia, South Africa, New Zealand, and more.
Here's a summary of PIA servers that worked. Bear in mind that your own results will likely look very different than this depending on your location.
| | | |
| --- | --- | --- |
| Country | Optimized Netflix Server? | Buffering |
| US – East | ✔ | Some |
| US – West | ✔ | Some |
| UK | ✔ | None |
| Japan | ✔ | Inaccessible |
| Italy | ✔ |  None |
| Finland | ✔ | Inaccessible |
| Sweden | ✔ |  Minimal |
| Canada | Regular server |  Some |
| Finland | Regular server |  Minimal |
| India | Regular server |  Some |
| Japan | Regular server | Some |
| Spain | Regular server |  Minimal |
| The Netherlands | Regular server | None |
Disney+: Unblocked
I was pleased to find out that PIA unblocked Disney+ with ease during tests since several other VPNs struggled due to the strong geo-blocks.
PIA is able to access US Disney+ accounts and stream The Mandalorian within a few seconds.
Max: Unblocked
PIA is one of the few streaming services that reliably unblocks Max, giving you access to its library of movies and exclusive TV shows. It was easy to stream popular shows, like Game of Thrones and The Righteous Gemstones, in UHD using PIA's fast connection speeds.
Amazon Prime Video: Unblocked
I was surprised to find out that PIA easily unblocked Amazon Prime Video during tests. Even though many VPNs can't get around Amazon Prime Video's restrictions, PIA did and could stream The Boys on their Prime Video account.
Kodi: Unblocked
During my testing with Kodi, I encountered no problems with any of the servers I tried. As there is no centralized location to unblock, there is no requirement for optimized servers in this case. It's worth noting that a significant portion of Kodi content is peer-to-peer (P2P) based, which means the primary concern is replacing your IP address for security purposes.
Still, I tested Kodi with various European PIA servers and my teammate from Canada streamed content with the Popcornflix add-on with minimal buffering and good speeds.
Hulu: Unblocked
PIA was able to access Hulu although I've read several review sites reporting to the contrary. The US streaming-optimized servers (both East and West) worked on the first connection attempt. Palm Springs streamed with no buffering and the quality was UHD.
BBC iPlayer: Unblocked
For a long time, PIA wasn't able to access this major platform but during recent tests, the streaming servers in the UK unblocked BBC iPlayer on the first try. The  London streaming-optimized server had a steady connection, and PIA had no issues streaming The Graham Norton Show.
DAZN, 10 play, and More: Blocked
Unfortunately, PIA wasn't able to unblock DAZN even with the optimized streaming servers. It had the same issue with 10 Play in Australia and SkyGo in the UK.
I reached out to PIA's customer support to see if it could recommend any alternative servers or ports to access these channels. They reminded me that PIA only works with a limited number of streaming services and sent me a list of platforms it could access. This list, however, isn't up-to-date and didn't match the results from my own tests.
Overall, I was very impressed by the breadth of the services accessible compared to what I expected. However, if you're looking for a VPN that can access DAZN and more Netflix libraries, ExpressVPN works with more streaming services than most VPNs on the market.
Is PIA Fast? Its Nearby Servers are Fast Enough for UHD Streaming and Gaming
To make sure I had a good understanding of PIA's speeds around the world, I connected to several different servers and alternated protocols. After measuring each one's speed, I evaluated how much distance affected PIA's performance.
My conclusion is that PIA is a good VPN for high-bandwidth activities like streaming and gaming if you use its nearby servers. Despite a 57% drop, my speeds stayed above 150Mbps on servers within 350 miles of my location in Europe to watch movies in UHD. My connections were also on average 12% faster with the WireGuard protocol compared to OpenVPN.
PIA's speeds on nearby servers were good enough for all my online activities
The biggest surprise for me was when the decline in speeds was upwards of 90% with distant servers in the US and Australia. If you have fast internet connections, these steep falls might not affect your online activities too much. But if your baseline speed is already slow, you may face intense lags with long-distance connections.
Speed Test Results
I ran all my speed tests on a MacBook Pro and my average baseline speed was around 450Mbps. To check the change in speed when connecting multiple devices, I added additional devices like phones, tablets, PCs, and smart home devices like my Fire Stick. I then connected to Ookla's speed test and ran multiple speed tests to find an average speed.
There are a few things in particular that I pay attention to when measuring the performance of a VPN server:
Download speed — The overall most crucial metric that you want to score highly.
Ping (latency) — This tracks the time it takes for a local command to reach the server and get back to your device. Ideally, this should be as low as possible, especially for online gaming.
The dropoff from base speed — Since my speeds will be quite different from yours, I tracked the overall change from my baseline speed so you can see how PIA servers affect performance.
Local Servers vs Distant Servers
All VPNs affect speed to some degree due to the encryption involved. The farther the server you select, the longer your data will need to travel as well. PIA is better than many VPNs I've tested in terms of speed, but it's not the best for distant connections, especially for high-bandwidth activities.
With PIA's automatic server selection tool, you'll be connected to the fastest server near you. Each time I used the feature, I was connected to a different server in Germany, Slovakia, or Luxembourg. Although not within the Netherlands, they weren't too far from my location.
As you've already seen, the difference between my baseline speed and VPN speed was very big with PIA. But in reality, anything over 100Mbps is not bad and capable of handling high-resolution streaming and large downloads. With nearby servers, PIA has no problems achieving this. It's the distant-server connections that you have to worry about.
| | | | | | |
| --- | --- | --- | --- | --- | --- |
| Server Location | Base speed (without a VPN) | Download speed % | Difference from base speed | Ping | Distance from the actual location |
| US | 451Mbps | 38.65Mbps | -92% | 155 | 4,600 miles |
| UK | 451Mbps | 285.95Mbps | -37% | 40 | 700 miles |
| Australia | 451Mbps | 14.79Mbps | -96% | 293 | 9,200 miles |
| Germany | 451Mbps | 192.78Mbps | -57% | 38 | 370 miles |
The Sydney server is the farthest from me at 9,200 miles away, so it's no surprise that it was the slowest. The Chicago server in the US also only achieved a small fraction of my base speeds. However, both US and Australian servers were fast enough to stream in UHD without any lag or buffering.
Because Germany and the UK are relatively close to my location, those servers had the best speeds. Though Germany is the nearest to me, PIA's server there was curiously slower than the one in the UK. The decline in speed was steeper than I would've liked but because my connection was already fast, I was happy with the actual speeds.
Of course, these results will change based on your location and the base speed of your internet, so I recommend you test PIA's speeds for yourself. If you're unhappy for any reason, you can use its 30-day money-back guarantee and get a full refund.
Are PIA's Speeds Fast Enough for Gaming? Yes!
I always asked PIA to automatically connect to the fastest server and as a result, had consistently high speeds and low ping while playing games. Ping (latency) is the most important metric to look out for when gaming. The lower it is, the faster your inputs are being sent to the game server and back, giving you a lag-free experience.
I tested this out by playing a few games, including Splitgate and Rocket League. Both are fast-paced online games where every millisecond counts, so a laggy VPN connection just wouldn't work. Fortunately, the local server that PIA connected me to had a ping of just 32ms, which was the same as my actual ping without a VPN connection.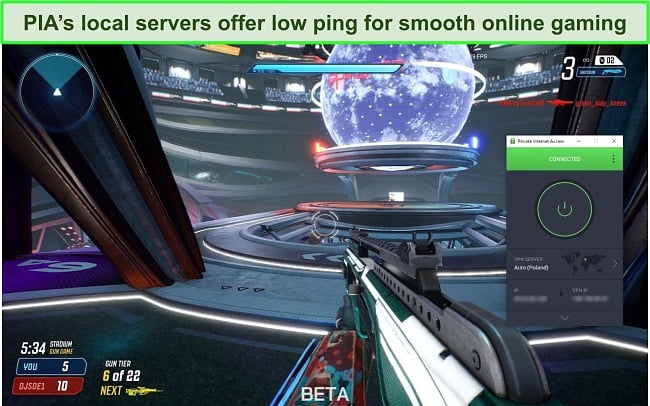 Even servers a bit further away like in Stockholm or Madrid, both with a ping of around 56ms, were perfectly fine for gaming. With such low pings, PIA is one of the best VPNs for fast-paced games like Call of Duty: Warzone.
Why Most Speed Tests are Pointless & How We Correctly Test VPN Speeds
Speed determines how fast content uploads, so if you're torrenting or streaming, you want the speed to be somewhat identical to your regular internet speed. Since a VPN encrypts your data, it usually takes a bit longer to send your data back and forth, which can slow down your connection. However, if your ISP deliberately slows down your connection (also known as throttling) a VPN might increase your internet speed. Testing a VPN is somewhat pointless because new servers pop up and affect speed. Your speed can also differ according to your location, so your speed test might not match ours. Having said that, we tested the speed in numerous locations to provide you with the average.
Large Server Network (35,000 Servers in 84 Countries)
With over 35,000 servers worldwide in 84 countries, PIA has one of the largest server networks among premium VPNs. PIA even has IP addresses for all 50 states in the US. This means that you won't have any difficulties accessing content that's only available in a certain state.
Although there are many reviews suggesting otherwise, PIA doesn't own its servers but rents from third-party data centers. However, this isn't unusual as very few VPNs actually own and manage their entire network. However, all of PIA's servers are RAM-based. This means they can't store your information because it's all erased every time they're rebooted.
Besides physical servers, PIA uses virtual servers (marked by a globe icon), especially in restrictive countries like China, Saudi Arabia, Turkey, Brazil, India, and elsewhere. This allows PIA to operate its servers without being pressured to abide by local laws that are against its privacy policy. In total, about 50% of PIA's servers are virtual, including many in the US.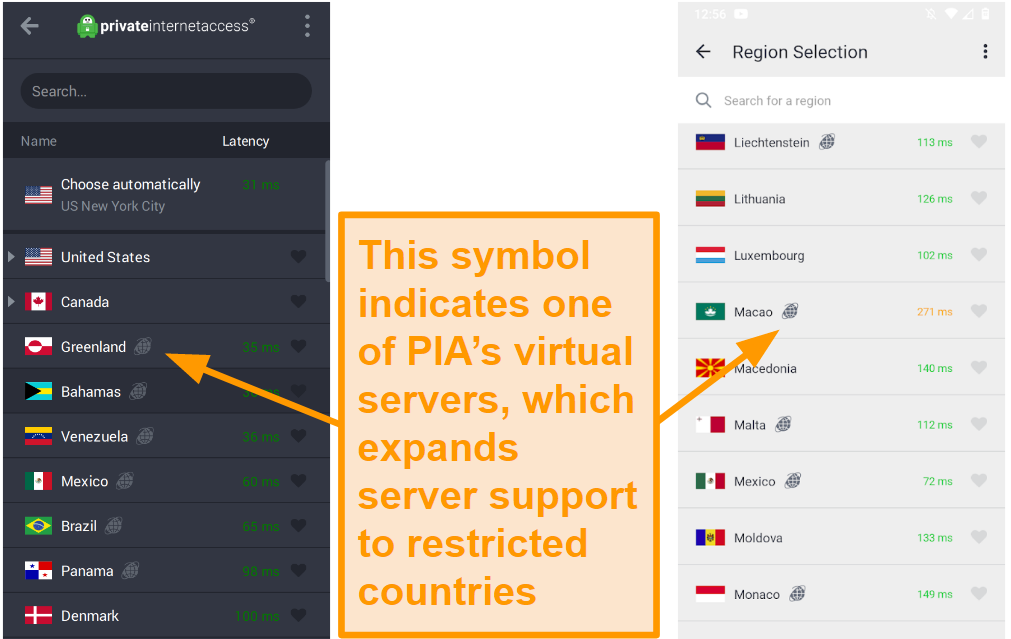 Virtual servers allow you to get a different IP address while routing your connection through a geolocated server elsewhere without leaking your information. I ran several DNS leak tests to ensure that the physical server location couldn't be detected and found none. This proves that you can trust PIA to hide your location with reliable encryption.
PIA doesn't offer any obfuscated servers to bypass anti-VPN firewalls. This means PIA doesn't work in some countries, including some schools and workplaces where VPNs are banned. In fact, ExpressVPN is one of the few VPNs with obfuscated servers, but keep in mind not to break any laws with a VPN.
However, there is an option to use a proxy to hide the fact you're using a VPN. PIA's SOCKS5 Proxy and Shadowsocks are great when you don't want online spies and firewalls to know that you're using a VPN. If you want to run your own tests, try PIA's network risk-free with the backing of a 30-day money-back guarantee.
Torrenting — No-Logs Keeps Your Data Safe!
Compared to most, PIA is an outstanding VPN to download torrents safely. It has everything you need including fast uploading speeds, unlimited bandwidth, port-forwarding capabilities, and a strict no-logs policy.
Although the auto-select feature always connected me to the fastest server, you can readily see which has the lowest latency from the UI. During my tests, I also found out that P2P traffic is supported on all PIA servers and successfully downloaded a 2.5GB file in just 9 minutes.
PIA is one of the few VPNs to offer port forwarding to improve your P2P speeds within its app. It selects a port automatically for you, which is prominently displayed so you can easily insert it into your torrent program settings. This allows you to bypass firewalls and connect to more of your torrent's peers for higher download speeds.
The kill switch ensures that your unmasked IP address is immediately hidden if your connection drops. This is especially useful for activities like torrenting. PIA also has MACE to protect you from ad trackers and malware when you're downloading files from unknown sources.
While waiting for my torrent to download, I ran some leak tests and was glad to see that no leaks were detected. That said, it's essential to remember that a VPN doesn't give you a license to commit illegal acts — especially since PIA is under US jurisdiction. You should always make sure to download only copyright-free content.
Does PIA Work in China? It Might With a Few Steps Before You Travel
According to PIA's support team, PIA isn't guaranteed to work in China. But they suggested first connecting via the WireGuard protocol. If that doesn't work, then try the OpenVPN protocol's native app — OpenVPN Connect App.
Thankfully, the live chat agent sent me an online guide on PIA's knowledge base to set up OpenVPN with my subscription. Keep in mind that using a non-approved VPN provider in China is illegal. That said, there are no reports of tourists or foreigners on business trips getting in trouble for using one while in the country.
If you don't want to install a separate app or deal with complicated settings, my team and I have tested these VPNs that are guaranteed to work when you travel to China.
Security Features
Military-Grade Encryption — Powerful Encryption as Standard
PIA uses some of the highest and most customizable VPN encryption settings on the market. You can choose which level of security is suitable for your needs by changing your VPN protocol and data encryption strength.
For example, you can choose between AES 128- and 256-bit encryption. In practice, both levels of encryption are considered highly secure. PIA used to offer more OpenVPN settings such as encryption handshakes and authentication but removed these for compatibility issues and smoother updates.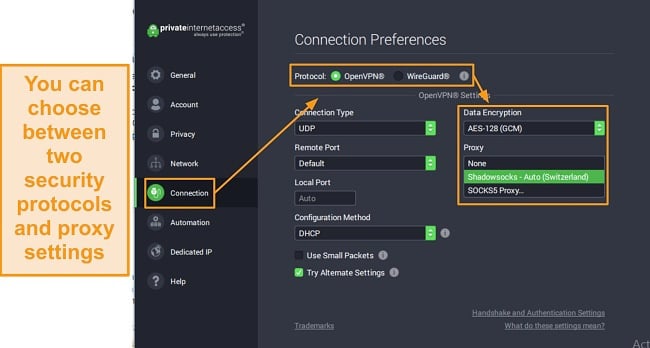 Like all the top VPNs out there, PIA supports the Perfect Forward Secrecy encryption method to protect future data exchange. It prevents relying on a single private key when you go online. Instead, each session's private key is unique. So, even if a hacker breaks one key, they can't use it to decrypt any past (or future) data.
Security Protocols — Strong Choices, but Selection Could Be More Extensive
PIA allows you to choose between OpenVPN, which is the most common security protocol, and WireGuard. iOS is slightly different, offering just IPsec as standard. You can select which VPN protocol you'd like to use in the Connections tab. WireGuard was the faster protocol during my tests, both in terms of potential speeds and connection time.
You can also manually configure your devices with PIA using OpenVPN, PPTP, L2TP/IPsec, and SOCKS5 proxy. This is useful when you can't install or even download the native PIA app on a device.
For an extra layer of security with your VPN, use the Shadowsocks or SOCKS5 proxy in your settings. To test it, I used the France server via the Switzerland Shadowsocks proxy. The additional hop routed my internet traffic through two locations at the same time. Although more secure, it's not necessary for most people.
Split Tunneling — Easy Setup on Windows and Android Devices
Note that split tunneling is called 'Per App Settings' on Android and isn't available on iOS. However, it functions well on Windows and Android. It allowed me to designate which apps pass through the encrypted tunnel and which continue normally.
I was impressed with PIA's split tunneling feature while using it on my Windows computer. It allowed me to safely torrent on qBittorrent with a PIA server while leaving my online gaming unencrypted to maintain a faster connection. You can easily turn this feature on from the 'Network' tab in the Settings menu.
Split tunneling is available on Mac, but I don't recommend using it as Apple doesn't support this feature for macOS 10.15 and higher. It totally blocked my internet connection when I tried to use it — even after I had disconnected PIA and closed the app. This isn't necessarily PIA's fault, but I wish the feature wasn't available at all because it's unusable.
Kill Switch — Reliable Protection on All Operating Systems
You can find PIA's kill switch across all main operating systems, including Windows, Mac, Android, and iOS. It being on iOS is particularly good news since many VPNs don't offer this feature.
My internet access was immediately disconnected when my VPN connection suddenly stopped so my real IP address wasn't compromised. This feature is also easily customizable. You can either set it to 'off', 'auto', or 'always'. If your connection to a server drops, 'auto' blocks traffic while PIA is running, while 'always' will block your traffic even when PIA isn't running.
Built-in Leak Protection — No Leaks Detected
PIA has its own DNS servers to handle your DNS requests privately instead of using your ISPs. ISPs can track your online activities by linking your queries to your IP address. Worse, they store and share your data with other third parties. The Windows app lets you use any custom DNS, P2P DNS, or even your ISPs, but I always used PIAs.
To ensure PIA's servers have strong leak protection, I ran several extended DNS leak tests on different servers, including both the virtual and geolocated servers. The results were consistent with the server locations, so I knew my IP address was hidden.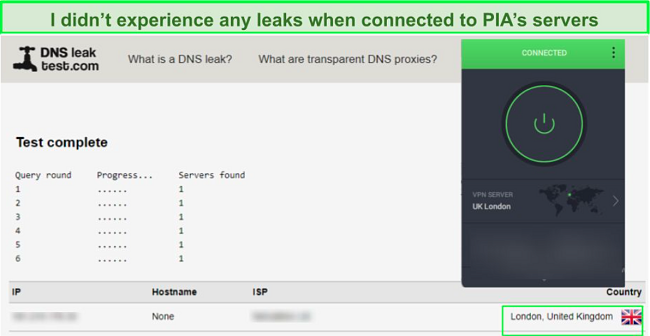 PIA protects against numerous types of leaks, from IPv4 to IPv6 and DNS leaks. This is enabled by default on Macs but has to be manually turned on for Windows.
Extra Features
Identity Guard
This feature lets you get alerts if your email address has been compromised or breached on the internet. You can access this through the Client Support Panel (not the app), under the tab 'Identity Guard.' It will continuously scan for your email address once you register it.
Command-line VPN control and multihop servers
PIA's desktop apps include 'piactl', a capable command-line tool geared towards more advanced users. The regular user interface has limitations and can only be automated in a few basic ways. With piactl, you can set up command-line tasks to execute under specific circumstances or times.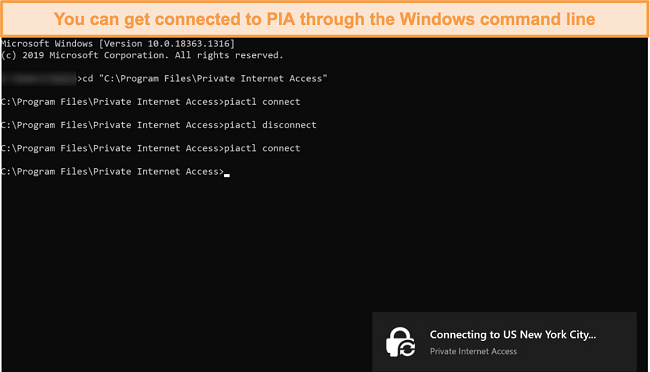 You could set it up to connect to a server 5 minutes after you turn on your device, for instance, or create a shortcut that first connects to a specific location and then opens up a specific app.
This sounds complex but it's actually easier to set up than I thought. PIA offers documentation on all available commands, but some of the more complex ones are better left to the pros.
Automation
If you prefer not to use the command line, you can set up some basic automation within the regular desktop app. This only extends to automatically connecting when you connect to a protected, unsecured, or wired connection. Still, it can be useful to protect yourself automatically while traveling and on public networks.
Tor Support
Tor or The Onion Router is a browser that routes your traffic through a free volunteer network with thousands of relays to make it near impossible to trace your activities. It's necessary to access onion websites that are on the dark web. With a VPN, not even the entry relay can see your real IP address.
PIA supports Onion over VPN connections for truly anonymous browsing on the deep web. PIA recommends switching on the kill switch before connecting to one of its servers. After that, you can browse with Tor as usual. Your Tor traffic will be encrypted by PIA and no one will know you're using Tor.
SOCKS5 and Shadowsocks Proxies
Although PIA doesn't offer obfuscated servers, it does have the option to hide your connection. In the settings, activate multi-hop and use the Shadowsocks or SOCKS5 proxy to add an unencrypted proxy location before your VPN connection. This is useful in countries where VPN use is restricted but not illegal, as proxy traffic is generally not blocked in the same way.
Proxies are different from VPN connections, being less secure (no encryption) and more detectable. Because of this, I prefer to use the Shadowsocks proxy. The app automatically chooses the fastest proxy location. Then, once it's enabled, all you have to do is choose which VPN server you want to use and connect as usual.
The SOCKS5 proxy has a few more steps to connect, but if you don't need a VPN connection — it's easy to use once it's set up. PIA has step-by-step guides for both proxies, and you can also talk to one of the live chat agents for help.
Paid Add-ons: Dedicated IP Addresses and PIA Antivirus for Windows
For a small fee, you can add a dedicated IP address or PIA's antivirus software to your subscription. Since shared IP addresses are used by many users, websites can recognize that you're connecting via a VPN. A dedicated IP address is yours alone, so you won't run into any problems. It also makes securing your WiFi network easier as you can block all IPs except your dedicated IP.
PIA's antivirus includes a DNS-based ad and malware blocker, a tool to detect vulnerabilities in your devices, continually updated virus definitions, and more. Its features are pretty standard for antivirus software, but I like that it's more privacy-focused than others. PIA doesn't store or monitor your usage, and you have complete control over what data is sent to PIA's database.
Privacy Features
No-Logs Policy — Tested and Passed
A customer support agent confirmed that PIA doesn't keep any logs as stated in their policy. I was also pointed to a transparency report showing subpoenas and court orders requesting user logs for real-life cases. In 2015 and 2017, the US government requested logs for an investigation, but PIA had nothing to hand over to them.
PIA's privacy policy has also undergone an independent audit by Deloitte to confirm its claims that it doesn't keep any logs. The result of this audit validated these claims, which means you can rest assured that PIA is taking its stance on privacy seriously.
The only information PIA keeps on file is a record of your email address and payment method, as stated in its privacy policy. For extra caution, you can create an email strictly for signing up for PIA and use an anonymous payment method.
Located in the US — An Unfortunate Location
A concern for some is PIA's location in the US. The company presents this as positive, claiming the US has strong data retention and privacy laws. However, the US is a central member of the 5, 9, and 14 Eyes — powerful groups of countries that routinely share intelligence.
Ultimately, it comes down to whether PIA can be trusted not to store any sensitive data in its logs. Fortunately, evidence shows that PIA is indeed a trustworthy, no-logs VPN.
MACE Ad Blocker — Above and Beyond for a VPN Ad Blocker
My team and I have tested many ad blockers that come with VPNs but most aren't good. Surprisingly, PIA's MACE is good at blocking ads. I put it to the test across multiple ad-heavy websites (like Forbes and the LA Times) and didn't encounter a single ad — not even those annoying videos that autoplay when you open a website.
Besides ads, MACE maintains a database of servers hosting malware and trackers and blocks them before they can load. This combination helped me feel safe when I visited sketchy streaming websites that would normally bombard me with pop-up ads and make all sorts of tracking attempts.
It's worth mentioning that MACE is a basic on/off offering, with no additional settings or whitelisting option. This is quite different from many other dedicated ad blockers that have extensive customization options. However, for most people who simply want to block known ads and malware, MACE should do the job just fine.

MACE is available on Windows, Mac, and Android, but not iOS. Note that the native Play Store version on Android doesn't include MACE — instead, you'll have to download the .apk from the PIA website.
Server Locations
Australia
Austria
Belgium
Brazil
Canada
Czech Republic
Denmark
Finland
France
Germany
Hong Kong
Hungary
India
Ireland
Israel
See all supported locations...
User Experience
- 9.0
/ 10
PIA allows unlimited simultaneous connections on a single account, so you can easily protect all the devices you own. I tested a maximum of 12 and didn't encounter any glitches while using them.
Though PIA supports many popular devices, it's not as extensive as some other major VPNs. For example, CyberGhost offers native apps across many devices including Fire Stick but PIA has to be sideloaded. Although this isn't very difficult, it's a less user-friendly process. You can see the main natively supported devices here:
| | | |
| --- | --- | --- |
| Computer | Mobile | Router Firmware |
| Windows | iOS | DD-WRT |
| Mac | Android | Tomato |
| Linux | | Merlin |
| | | Pfsense |
| | | OpenWRT/LEDE |
Native Apps for Windows and Mac — User-Friendly and Useful
PIA's Windows and Mac apps have great user interfaces, which can be expanded to reveal plenty of detailed connectivity information, or collapsed to keep things simple. Since PIA arranges its servers in order of latency, you can easily choose the one that's currently the fastest for your location.
Although there are no dedicated server categories, I found a few 'streaming optimized' servers amongst the regular server locations. I also liked being able to mark my most-used servers as favorites so they're easily accessible from the Quick Connect menu.
Settings are also easy to find and make sense of, with simple descriptions next to every option so you immediately know what you're changing. It's a good balance of powerful connectivity options, combined with simpler functionality like turning on the kill switch or switching between the light and dark themes.
You can install PIA on Windows devices running Windows 8.1, and 10 (32 or 64-bit), and macOS (64-bit only) running 10.13 or newer. I do wish that PIA would release an app for Macs with M1 chips, but most VPNs don't yet so this isn't surprising.
Dedicated Apps for Android and iOS — Slick Apps with Some Subtle Differences
The key features between PIA's desktop and mobile apps are mostly the same, but there are a few differences. iOS, for example, doesn't have the MACE ad and malware blocker. This was replaced with Safari Content Blocker due to a conflict with Apple. Unfortunately, this tool doesn't block ads system-wide like MACE and doesn't work with other browsers.
On the other hand, iOS offers the most protocols of all PIA apps (OpenVPN, IPsec, and WireGuard). It also offers a Network Management section where you can tag specific WiFi networks as trusted or not. It's useful for connecting or disconnecting to PIA based on your location. Siri is also integrated so you can give voice commands to connect or disconnect.
PIA will run on the following versions:
Android 5.0 or newer (mobile devices only)
iOS 11 or newer (only 64-bit devices)
I also used Exodus to scan the Android app to see if it collected any usage data. I was pleased to find that PIA had no trackers installed on its Android app. Several other popular VPNs, like NordVPN, are known to include multiple trackers in their mobile apps (realistically just harmless usage data but the less of this, the better).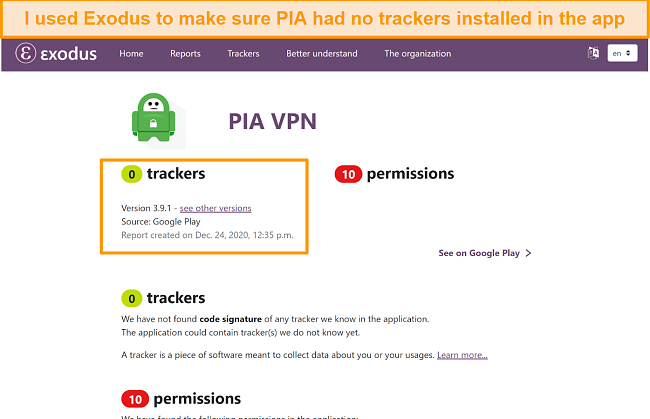 InBrowser — Free Browser App With Excellent Privacy Features
PIA has also created a free private browser for Android and iOS called InBrowser. Once you close the browser, InBrowser will clear all data and history created during that session. This is great if you want to browse sensitive or adult content, or if a family member or friend temporarily wants to log into one of their accounts on your device.
You can also activate Tor mode so all traffic is routed through the Tor network for additional privacy and encryption. There are no ads or trackers included with the app (which would seem counterintuitive in any case).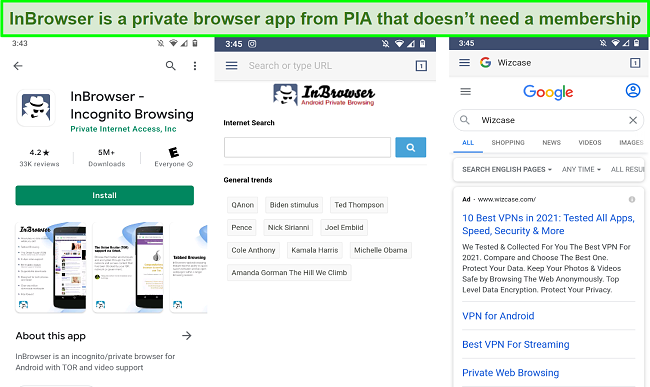 I was pleasantly surprised by InBrowser's speed and simplicity, as well as the fact that it didn't seem to have issues loading any type of content. In some other private browsers I've used there have been problems loading videos, so that's a definite plus. One thing that stood out to me was how aggressive the app was by default.
On Android, InBrowser immediately shut down and wiped all browsing data after I clicked the button to show all background apps. But you can change the settings to allow it to run in the background for some time. With iOS, you'll have to manually enable automatic data wiping. Plus you have the option to get the app to remind you to clear your data if you forget.
Browser Extensions — A Surprisingly Strong Offering
With PIA's browser extensions, you can connect to a VPN server from within your Chrome, Firefox, or Opera browser without applying it to your whole device. This will ensure that your browser's traffic is encrypted and anonymized, which can be useful in situations when you can't install the VPN to a particular device but still want to be protected while browsing.
PIA currently supports the following browsers:
Chrome v48 or newer
Firefox v57 or newer
Opera v52 or newer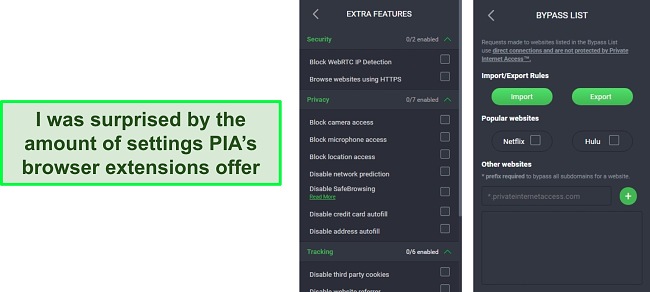 With the extension, you can block third-party cookies and trackers, as well as access to your camera, microphone, and location data. I'm also a fan of the options to block WebRTC IP detection (to prevent leaks) and force the use of HTTPS across websites to keep your data encrypted. Overall, these extensions are a solid addition to PIA's app library.
Other Platforms Supported — Linux and Routers
Although Linux users will likely have some ability to use the command line, PIA is one of the few VPNs that doesn't require you to. PIA offers Linux users a full graphical user interface to interact with, change settings, and connect to servers. Of course, you still have the option to use the command line. Having this choice is simply a great addition to the Linux app.
PIA supports the following Linux distros (64-bit and desktop versions only):
Ubuntu 18.04 or newer
Mint 19 or newer
Arch
Debian
It's super practical to install PIA on your router rather than on each device individually because every device you connect to the router will be automatically protected. It's also a great option when you want to use a VPN on your smart TV. The downside is that you have to choose a location for all your devices.
PIA supports the following router firmware:
DD-WRT
Tomato
Merlin
Pfsense
OpenWRT/LEDE
OpenVPN-compatible routers
PIA has a robust knowledge base, email support, and live chat, but its Twitter support has poor feedback. However, I found the knowledge base had helpful information, and both live chat and email support worked well for me.
Tested: 24/7 Live Chat
During my tests, I connected to live chat support at least 15 times. I didn't have to wait more than 1 minute every time to get connected to an agent. The support agents were friendly, but their knowledge varied a lot depending on the complexity of the question.
You can contact PIA support 24/7 through live chat, although it's only available in English. I liked being able to connect to a customer support agent without entering any details or having an active subscription like many other VPNs. This makes it easier to get the help you need or simply inquire about things before you decide to subscribe.
Tested: Email Support
To test PIA's email support, I created multiple support tickets and sent several emails for different inquiries. I always received fast responses within 24 hours and found more details than I'd seen in the live chat replies.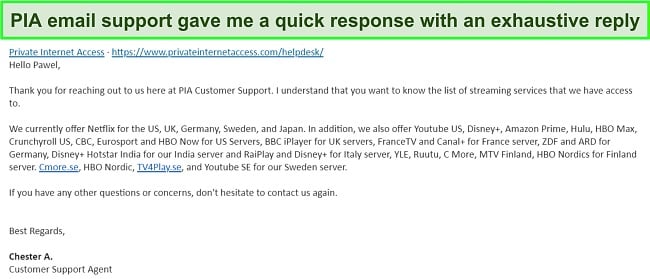 Importantly, I sent some initial requests from non-customer email addresses and still received quick responses.
Tested: Twitter Support
I tweeted @PIACSM and sent a DM enquiring about its browser extension but I didn't get any response until 20 hours later. I expected a significantly faster response time for this channel compared to email but it was about the same. If this is the standard, it's somewhat irrelevant as a support channel, although having a public platform to voice your complaints is always useful.
Online Knowledge Base
During my interaction with the live chat support channel, I was directed to several pages in PIA's knowledge base. I was impressed with the information in some of the articles, covering many general and technical aspects of using all PIA apps.
The forums on PIA's website and Reddit were also filled with a ton of information about PIA's features and troubleshooting tips. PIA even has representatives on the Reddit forum and its knowledge base community to provide accurate information and answer questions.
How We Test Customer Support and Why Should You Care
We personally test the customer support team of every VPN we review. This means asking technical question through the live chat feature (where applicable) and measuring the response time for email questions. Whether you need to connect to a specific server, change your security protocol, or configure a VPN on your router, finding a VPN with quality customer support should be important to you.
Payment Methods — Multiple Card and Anonymous Payment Options
Private Internet Access has a variety of unique payment methods, including:
Credit Cards (Visa, Mastercard, American Express, and Discover)
PayPal
Amazon Pay
Cryptocurrencies (Bitcoin, Litecoin, Ethereum, and the BitPay platform)
Popular retail gift cards (Starbucks, The Home Depot, Walmart, and more)
The option to pay with a gift card is great since it's a more anonymous way to pay for your PIA membership compared to using your regular bank card. To access this feature, you have to go to a special page for gift card payment, scroll down, and then choose which retailer's gift cards you want to trade in.
You can also use cryptocurrencies for more anonymity when paying, although these are mostly pseudonymous and not completely anonymous (depending on how you acquired them). If you want to get the most features for your money, PIA's 2-year + 2 months subscription is currently the best deal.
Money-Back Guarantee
You can try PIA risk-free and test its features with the 30-day money-back guarantee. When I tested it, all I had to do was reach out to PIA's customer support through live chat. I told the agent that I wanted to cancel my account, and they asked if there was anything they could do to troubleshoot. I explained that I didn't need the service anymore and wanted a refund.
It's worth mentioning that the representative requested my invoice number to verify my identity for the account cancellation process. Surprisingly, the agent proactively sent my initial invoice to the email I had used for registration. This was highly convenient as it spared me the effort of searching for it on my own. Once I supplied the necessary number, the agent efficiently managed my request within moments, and I received my refund within four days.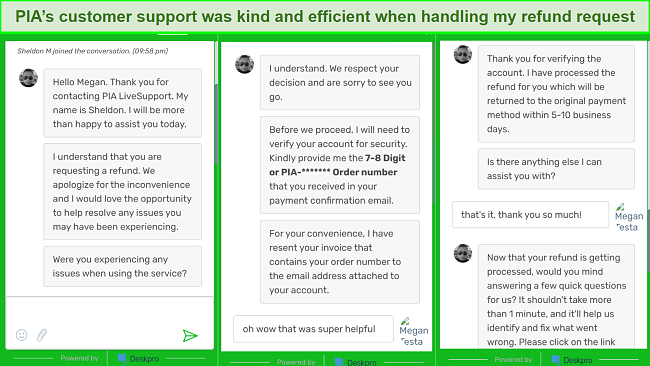 One of the unique features of PIA's refund policy is that you can take advantage of the money-back guarantee every 3 months — albeit with a new account.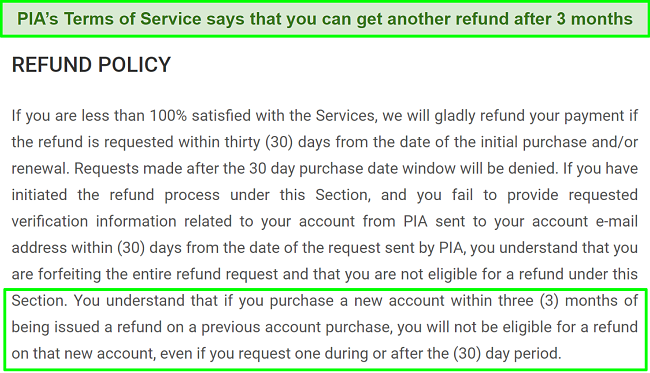 I found this information listed in its Terms of Service under the Refund category.
Private Internet Access offers the following plans
Final Verdict
I found that PIA has a lot to offer for its price. I like its approachable user interface across all platforms, customizable security features, and useful extras like the powerful ad blocker, split tunneling, and command-line functionality.
On the other hand, PIA's headquarters in the US is a red flag for some, no matter how convincing its no-log policy is. Additionally, its ability to function from within China (and other restrictive nations) is hit-or-miss. I was also surprised by how harshly its speeds dipped on distant servers compared to other premium VPNs I've tested.
If you make frequent use of long-distance servers, you may want to make use of the money-back period before locking it in. Fortunately, it's risk-free — you can try PIA for yourself with the 30-day money-back guarantee without making a commitment.
FAQs About PIA
We rank vendors based on rigorous testing and research, but also take into account your feedback and our commercial agreements with providers. This page contains affiliate links.