Large Server Network (34400 Servers in 78 Countries)
PIA has over 34400 servers worldwide in more than 78 different countries, giving it one of the largest server networks among premium VPNs. I was impressed to learn that it owns all its servers hosted in third-party data centers worldwide. In fact, PIA has the highest average number of servers per country of all premium VPNs — the latest figures I've seen have it at well over 400 servers per country! In contrast, most other VPNs have under 100 per country.
In addition to physical servers, PIA uses virtual servers that allow you to route your connection using a geolocated server elsewhere without leaking your information. You can find them with the globe logo on desktop and mobile. This way, you can get a UK IP address even though your connection is being routed through a physical server elsewhere.
I ran several DNS leak tests to ensure that it couldn't detect the physical server location. So, even though I was actually routed through physical servers in another country, there were no leaks. This proves that PIA will hide your actual location with reliable encryption. It also has virtual servers in locations that had previously been removed due to regulatory restrictions — such as Brazil.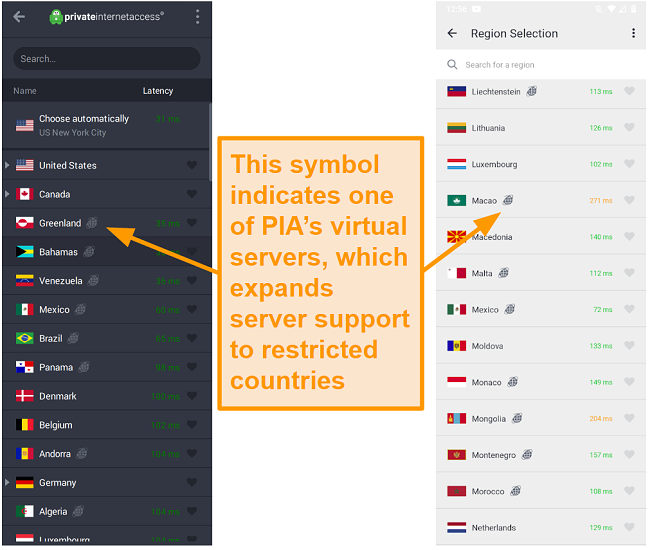 Unfortunately, PIA doesn't offer any obfuscated servers. These are great when you want to connect to a VPN without letting anyone (like your ISP or government) know that you're using a VPN. In most countries this doesn't matter but in countries where VPN usage is frowned upon or illegal, obfuscation is a must-have. If you need a VPN with this technology, ExpressVPN is one of the few services that offers obfuscated servers, which makes it one of the best VPNs for bypassing internet censorship.
When testing the default server (Auto), the server that PIA chose for me was consistently the same and the one with the highest speeds and lowest latency. I generally had speeds of around 300Mbps, which was plenty for all my online activity. If you want to pick a specific server location, PIA's desktop interface shows the current latency on a given server, so you can select the fastest one in the region you're interested in. It's super easy to get connected with PIA. If you want to run your own tests, you can try PIA's 'NextGen VPN Network' for yourself risk-free as it's backed by a 30 day money-back guarantee, so it's easy for you to get a refund if you're not satisfied.
Is PIA Good for Torrenting and P2P? Yes, and No-Logs Keeps Your Data Safe!
PIA offers all the things you need to torrent: fast uploading speeds, unlimited bandwidth, port-forwarding capabilities, and a strict no-logs policy. During my testing, I was able to torrent speedily without any restrictions, and was pleased to find that P2P traffic is supported on all servers. Although the auto-select server feature always connected me to the fastest server at all times, you can handily see which has the lowest latency from the UI.
To check how PIA's servers handle torrenting, I successfully downloaded a 2.5 GB file in just 9 minutes. Although this average speed of 40Mbps was good, it's far from the peak I achieved with the same server (over 300Mbps). However, individual torrent speeds are impacted by far more than just the server you're connected to (like the seed/leech ratio), so there's not a huge amount we can draw from this.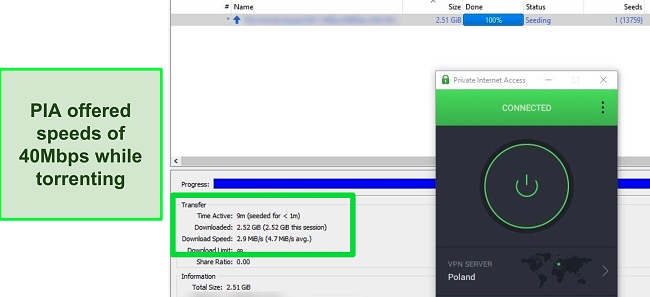 PIA offers port forwarding to improve your P2P speeds, which you can activate from the 'Network' tab under Settings to open up faster connections. It selects a port automatically for you, which is prominently displayed so you can easily insert it into your torrent program settings. Technically speaking, this allows you to bypass NAT firewalls and connect to more of your torrent's peers for higher download speeds.
The included kill switch also ensures that should your VPN connection drop, the internet connection is blocked so your unmasked IP address is immediately hidden. This is especially useful for activities like torrenting.
While waiting for my torrent to download I ran some leak tests and was glad to see that no leaks were detected. That said, it's important to keep in mind that a VPN doesn't give you a license to commit illegal acts — especially since PIA is under US jurisdiction. This makes it a less than ideal place for anyone who wants to download copyrighted materials. Although the chances of anything happening are low, it's best to make sure that the torrents you download are copyright-free.
Does PIA Work in China? It Might With a Few Steps Before You Travel
The PIA support team informed me that PIA belongs to the group of VPNs that are blocked in China, but offered some workarounds. They suggested first connecting via the WireGuard protocol, and if that didn't work then using the OpenVPN protocol's native app.
Although PIA doesn't run any obfuscated servers that would normally hide your VPN usage, you can configure a Shadowsocks proxy that works similarly. This creates an encrypted path to an outside server which is then the one that makes requests to content that's normally censored in China, before sending it back to you. So far, Shadowsocks has been remarkably good at bypassing Chinese online restrictions.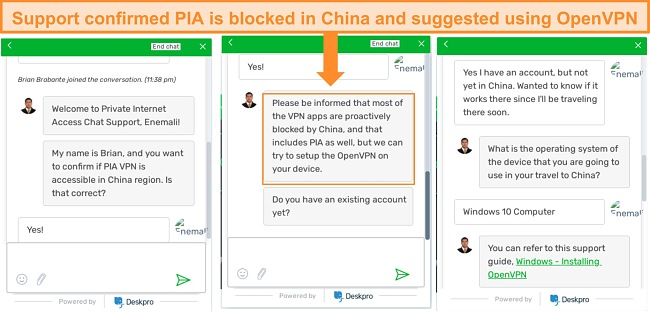 A live chat agent directed me to an article on PIA's knowledge base that guided me through how to set up OpenVPN with my subscription to work in China. Keep in mind that using a non-approved VPN provider in China is illegal. That said, there are no reports of tourists or foreigners on business trips getting in trouble for using one while in the country.
If there's a VPN my team has personally tested and confirmed to work 100% in China, it's ExpressVPN. You can easily surf the internet safely in China with ExpressVPN. It even comes with a 30-day money-back guarantee so you can try it for yourself.
Military-Grade Encryption — Powerful Encryption as Standard
PIA uses some of the highest and most customizable VPN encryption settings on the market. You can choose which level of security is right for your needs by changing your VPN protocol and data encryption strength.
For example, you can choose between AES 128- and 256-bit encryption. In practice, both levels of encryption are currently considered highly secure. PIA used to offer more OpenVPN settings such as encryption handshakes and authentication, but removed these due to compatibility issues and for smoother updates going forward.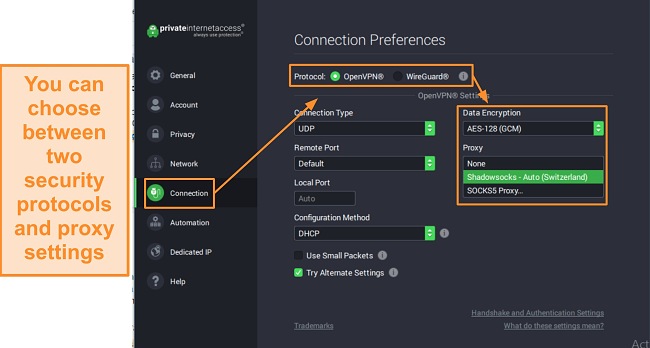 PIA also supports the Perfect Forward Secrecy encryption method that works to protect future data exchange. This method prevents reliance on a single private key during data exchange. Instead, each session's private key is unique. So, even if a hacker breaks one key, they can't use it to decrypt any past (or future) data.
Security Protocols — Strong Choices, but Selection Could Be More Extensive
PIA allows you to choose between OpenVPN, which is currently the most common security protocol, and WireGuard. iOS is slightly different, offering just IPsec as standard. You can select which VPN protocol you'd like to use in the Connections tab. WireGuard is seen as the faster protocol, both in terms of potential speeds and connection time, but my tests didn't demonstrate this (and it hasn't proven itself for as long as OpenVPN).
You can also manually configure your devices with PIA using OpenVPN, PPTP, L2TP/IPsec, and SOCKS5 proxy. This is useful when you can't install or even download the native PIA app on a device.
You can also always add an extra hop to your VPN's security by going through a ShadowSOCKS or SOCKS5 proxy in your settings. During my tests, I used the France Server via the Switzerland ShadowSocks proxy to give me an additional hop to route my internet traffic through two locations at the same time. This granted me an extra layer of security but won't be necessary for most people.
Split Tunneling — Easy Setup, but Not on iOS
I was impressed with PIA's split tunneling feature while testing it. It allowed me to designate which apps pass through the encrypted tunnel and which continue normally. This way, I was able to safely torrent on qBittorrent with a PIA server while keeping my online gaming unencrypted to maintain a faster connection. You can easily turn this feature on from the "Network" tab in the Settings menu.
Note that split tunneling is called "Per App Settings" on Android and currently doesn't exist on iOS at all. However, it functions well on Windows, Mac, and Android.
Kill Switch — Reliable Protection on All Operating Systems
You can find PIA's kill switch across all main operating systems, including Windows, Mac, Android, and iOS. It being on iOS is particularly good news since many VPNs don't offer this feature.
During my tests, I was happy to see how effective PIA's kill switch is. My internet access was immediately disconnected when my VPN connection suddenly stopped. This way, my real IP address was never compromised. This feature is also easily customizable. You can either set it to "off," "auto," or "always." If your connection to a server drops, "auto" blocks traffic just while PIA is running, while "always" will block your traffic even if PIA isn't running.
Built-in Leak Protection — No Leaks Detected
I was pleased to see that PIA has strong leak protection. To ensure PIA's servers are truly airtight, I ran several extended DNS leak tests on different servers, including both the virtual and geolocated servers. The results were consistent with the server locations, so I knew my IP wasn't leaked.
PIA protects against numerous types of leaks, from IPv4 to IPv6 and DNS leaks. Be aware that this is enabled by default on Macs, but has to be manually turned on for Windows.
Extra Features
Dedicated IP Addresses
For a small fee, PIA offers dedicated IP addresses. When you normally connect to a website such as your online banking or other services, they'll likely recognize that you're connecting via a VPN. This can lead to them showing you frequent CAPTCHAs, slowing you down and generally annoying you. It's also much more likely you'll run into issues with streaming, since streaming services attempt to track VPN IP addresses and block them.
With a dedicated IP, you can bypass these problems. If you value your time, prefer to have a reliable experience connecting to your most important services securely, or want reliable streaming from specific libraries, a dedicated IP is the way to go.
Command-line VPN control and multihop servers
PIA's desktop apps also include "piactl", a capable command-line tool that's geared towards more advanced users. While the regular user interface has limitations and can only be automated in a few basic ways, you can set up command-line tasks to execute under specific circumstances or times. You could set it up to connect to a server 5 minutes after you turn on your device, for instance, or create a shortcut that first connects to a specific location and only then opens up a specific app.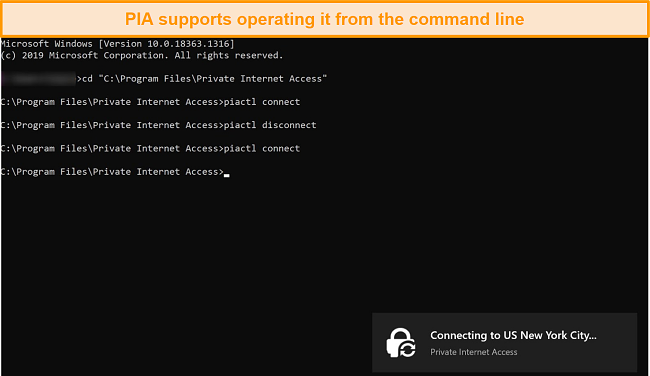 Although this sounds a little complex, it's quite a lot easier to set up than I first thought. PIA offers documentation on all the available commands, although I found that some of the more complex ones are better left to the pros.
Keep in mind that the graphical interface for PIA has to be running for several core command line prompts to work. However, as long as you have "Launch on System Startup" selected, this shouldn't be an issue.
Automation
If you prefer not to mess about with command line stuff, you can set up some basic automation within the regular desktop app. This only extends to automatically connecting when you connect to a protected, unsecured, or wired connection, but can be useful to automatically protect yourself while traveling and on public networks.
SOCKS5 Proxy
Many people don't seem to be aware that within PIA you can access a SOCKS proxy service. It's different from a VPN connection, being less secure (no encryption) and more detectable. In conjunction with a VPN, this doesn't matter.
Activating SOCKS5 requires a little more effort, but it offers some benefits. This includes being able to bypass VPN IP blocks, higher speeds on P2P services, and overall better performance compared to older SOCKS versions.
No-Logs Policy — Tested and Passed
I chatted with customer support about PIA's no-logs policy and was assured that they do not keep any logs. I was pointed to a transparency report showing subpoenas and court orders requesting for user logs. These real-life cases have proven PIA's lack of logs. In two separate instances, in 2015 and 2017, the US government requested logs for an investigation, but PIA had nothing to hand over to them.
The only information PIA keeps on file is a record of your email address and payment method, as stated in its privacy policy. For extra caution, you can create an email strictly for signing up for PIA and use an anonymous payment method.
Located in USA — An Unfortunate Location but Good Reputation
A concern for some is PIA's location in the US. The company itself presents this as a positive, claiming the US has strong laws on data retention and privacy. However, the US is a central member of the 5, 9, and 14 Eyes — powerful groups of countries that routinely share intelligence. Ultimately, it comes down to whether PIA can be trusted not to store any sensitive data in its logs. Fortunately, the evidence would suggest that PIA is indeed a trustworthy, no-logs VPN.
It's worth noting that PIA is owned by Kape Technologies, which also owns CyberGhost and ZenMate. I've checked all of their privacy policies and overall functioning, and I'm content that each company is run independently from the other.
MACE Ad Blocker — Above and Beyond for a VPN Ad Blocker
My team and I have tested many ad blockers that come bundled with VPNs, and the vast majority are far from great. Fortunately, PIA's MACE is surprisingly good at blocking ads. I put it to the test across multiple ad-heavy websites (like Forbes and the LA Times), and didn't encounter a single advert.
Besides ads, MACE also maintains a database of servers hosting malware and trackers, and intercepts them before they can load. This combination helped me feel somewhat safe even when I visited extremely sketchy streaming websites that would normally bombard me with pop-up ads and all sorts of tracking attempts.
It's worth mentioning that MACE is a basic on/off offering, with no additional settings or whitelists to be changed. This is quite different to many other dedicated ad blockers that have extensive options to be catered to your needs. However, for most people who simply want to block known ads and malware, MACE should do the job just fine.
MACE is available on Windows, Mac, and Android, but not iOS. Note that the native Play Store version on Android doesn't include MACE — instead, you'll have to download the .apk from the PIA website.

Server Locations
The Big Mistake When Comparing Number of Servers and What to Really Look For