PIA has over 34400 servers worldwide in more than 78 different countries and 90 server locations, giving it one of the most robust server networks among premium VPNs. The company states that it owns its servers hosted in third-party data centers worldwide. It also has virtual servers in locations that had previously been removed due to regulatory restrictions in countries like Brazil and Russia. You can find them with the globe logo on desktop and mobile.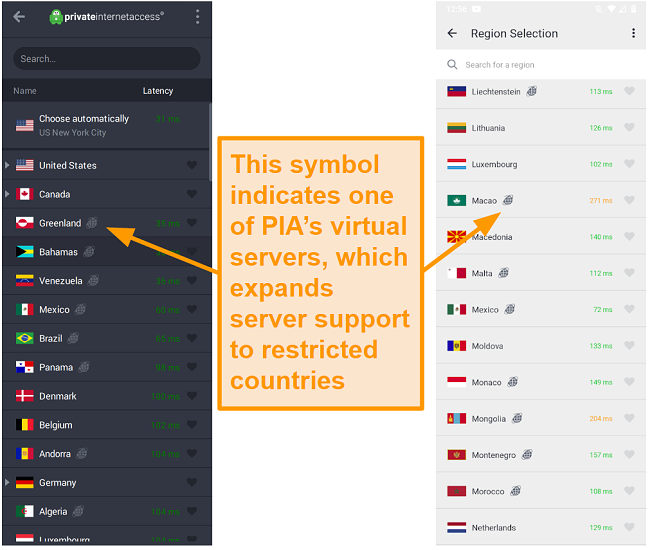 For an extra layer of security, you can use a geolocated server to disguise your connection through another server. I ran several DNS leak tests to ensure that the host country's location couldn't be detected. I was pleased to find the Greenland server was detected, even though I was actually routed through Amsterdam. This proves that your real location will definitely be hidden with heavy and reliable encryption. You can find a list of these special servers with their true locations on PIA's website.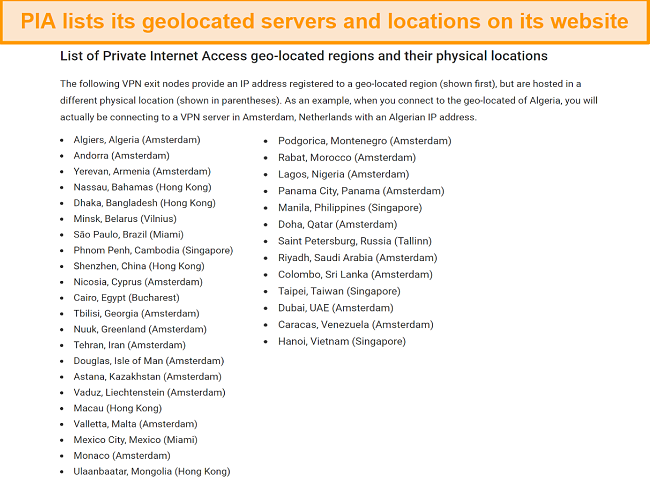 PIA uses bare-metal physical servers for improved performance and better speeds as they lower latency. Even the virtual servers are routed through dedicated bare-metal servers in secure data centers. Each server has one location, which helps to ensure that the connection you have is more stable. Using bare-metal servers also allows PIA to control the server environment in its entirety, ensuring that it meets security requirements and is appropriately maintained.
Is PIA Good for Torrenting and P2P? Yes, and No-Logs Keeps Your Data Safe!
PIA emphasizes its support for P2P file sharing on its homepage, which is excellent for anyone looking for a VPN to download files safely. You can use uTorrent, BitTorrent, Deluge, and more on any of its servers. Its no-logs policy ensures there's no record of what you do while connected to the VPN, making it essential for sharing large files over the web.
Since PIA doesn't have dedicated servers for P2P sharing, speeds can sometimes be slower. To improve this, PIA offers port-forwarding to open up faster connections.
Does PIA Work in China? It Might With a Few Steps Before You Travel
While PIA has several resources to help customers get around firewalls in China, its support team was unable to confirm that it's 100% successful. The customer service agent suggested using the OpenVPN or WireGuard protocol to increase my chances of bypassing blocks while abroad.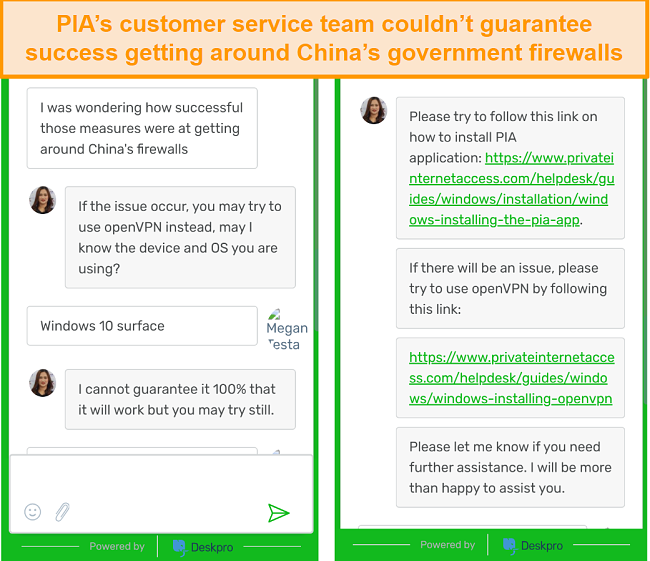 If you regularly travel to China and need a VPN that will definitely work whenever you're abroad, you can take a look at some of the best VPNs for China. ExpressVPN is one of the top VPNs proven for getting around rigid government censorship and firewalls anywhere.
Security
One thing I really like about Private Internet Access is its full suite of unique features that you can customize for your needs. For starters, you can choose between AES 128- and 256-bit encryption. The program has 128-bit encryption as the default, which is a great option to maximize speed and security. If you need more protection when you're using unsecured WiFi or torrenting, you can switch to 256-bit encryption in the Connection tab within the settings menu.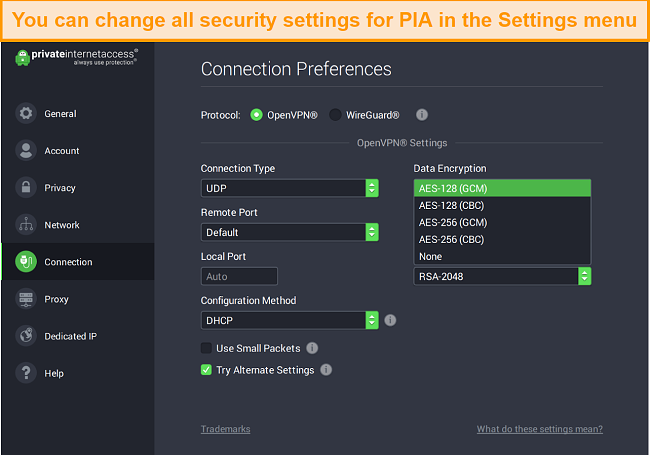 You can also select which VPN protocol you'd like to use in the Connections tab. PIA defaults to the OpenVPN protocol, which is currently the most common security protocol. You can also increase your protection to the newer and safer WireGuard protocol without sacrificing any speed. Since there's no drop in speed, I recommend using WireGuard for the extra level of security, especially if you plan to download files.
PIA's Split tunneling feature allows you to designate which apps go through the encryption tunnel. This allows you to safely download files on BitTorrent with VPN encryption, while keeping your online game unencrypted to maintain faster speeds. The option can be turned on from the Network tab in the Settings menu. There have been problems with split tunneling for some versions of Mac OS 11.0 and iPhone, so it might not work for these devices.
You don't have to worry about your data being compromised if you lose connection to one of PIA's secure servers, thanks to its automatic kill switch. You can customize this feature by turning it to either "off," "auto," or "always." If your connection to a server drops, "auto" only stops incoming data from accessing your information, while "always" cuts your network entirely if you lose connection with the server. I recommend using the "always" setting to ensure your data is kept completely safe all the time.
While its name sounds trustworthy, Private Internet Access has had a rocky history. In 2018, PIA's parent company London Trust Media (LTM) hired Max Karpeles as the new CTO. Karpeles was the former CEO of Bitcoin exchange Mt. Gox, previously ousted from his company for manipulating data to harm his clients. The chairman and co-founder of LTM hired Karpeles anyway to give him a second chance. In 2019, PIA was acquired by Kape Technologies, an internet company initially known as Crossrider. This company had a history of creating predatory advertisements, developing such a notorious reputation that it eventually had to be renamed. With the new name, Kape also changed its shady practices.
While it seems that its dark history doesn't impact the end-users of PIA as proven by its widespread transparency in the platform and reports, it's important to be aware of the company's history before you subscribe. Despite its past, I can confirm that my security was never compromised by malware or ads during my tests.
Get PIA's advanced security features
Privacy
Private Internet Access truly lives up to its name in its privacy features. To ensure each of PIA's servers were airtight, I ran several leak tests on different servers, including both the bare-metal and geolocated servers. I found the results showed that I was in the location of the server I was connected to, without detecting my real location.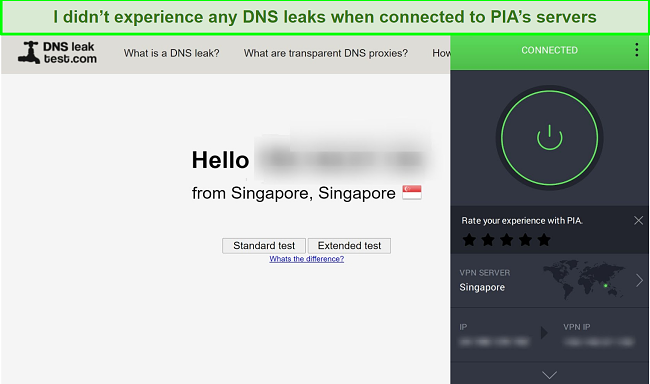 PIA has a well-documented no-logs policy, which means it doesn't record any customer data. Some VPNs will keep track of their customer's activities while connected, but PIA doesn't record any of this. The only information PIA keeps on file is a record of your email address and payment method, as stated in its privacy policy. For extra caution, you can create an email strictly for your PIA account and use an anonymous payment method, like cryptocurrency or gift cards. This helps to decrease the amount of personal information that can be traced back to you.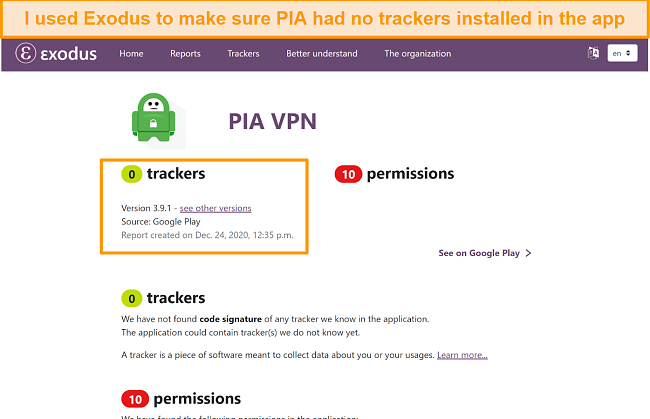 If you're worried about Private Internet Access being located in a Five Eyes country, you should find comfort knowing that it has repeatedly fought litigation where governments asked for customer data. In a 2015 court case in Florida, PIA stated that it didn't log any customer data under threat of perjury and had nothing to share when requested by the court.
When Russia demanded that all web providers keep customer data for a year, PIA pulled all servers out of the country in 2016. PIA has only recently resumed service in Russia by relying on geolocated servers based in Tallinn.
Since these incidents, PIA has committed to publicly releasing regular transparency reports to tell customers how many times it's been asked to release data to local governments. These reports are hosted on PIA's website, where you can see the latest report and an archive of all previous reports going back to December 2018.
PIA is one of few VPNs that runs on an open-source platform, which means that you can look into the source code to make sure there's nothing questionable buried in the program.
Without requiring a membership, Private Internet Access has a free private browser for Android and iOS called InBrowser. Each time you leave the app, it deletes your cache and cookies. This keeps advertisers from tracking your browsing habits and your mobile browsing secure. PIA makes money off InBrowser by showing you 2 HTML-based ads on the start screen, but that's it. These ads are generally plain text and don't use cookies, which helps to keep your session anonymous.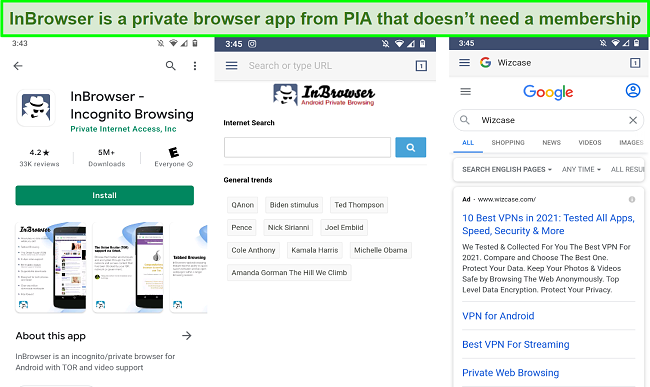 Although PIA's parent company Kape Technologies is known for its aggressive advertising, I was able to browse the internet without any annoying pop-ups with MACE adblocker. After I turned it on, I went to an ad-riddled website, like Speedtest.net. I found that all of the ads were removed entirely just by pressing a button in the PIA desktop client under "Quick Settings". The feature is so seamless that I keep it on full-time to remove ads while browsing my favorite sites.