10 Best Parental Control Apps for iPhone & Android 2021

Last Updated by Shauli Zacks on March 18, 2021
I tested over 30 of the best parental control apps and was shocked at how poorly most of them performed. Some were so easy to bypass that my kids quickly found ways around them, which made the filters and screen time limits I set irrelevant. However, I did find a few apps that passed my tests and proved to be reliable and responsible.
I created this list for parents like me who want to create some boundaries and protect their children online. You'll find here ONLY the apps you can really trust, so you can easily choose which one is right for your family based on your budget and the features you need.
I found Qustodio to be the best app for my family, and you can read what I like (and dislike) about it down below. However, if Qustodio isn't right for your family, you can be sure each one of the apps listed here also performs very well.
Without using one of these apps, it's nearly impossible to know what your kids are really doing online and what apps they are using. While some people might call it spying, I call it parenting.
Protect your kids with Qustodio
Quick Guide: 10 Best (and Safest) Parental Control Apps for 2021
Tip: It's important to be open with your kids about why you're doing it, so they don't feel like you're invading their privacy and spying on them.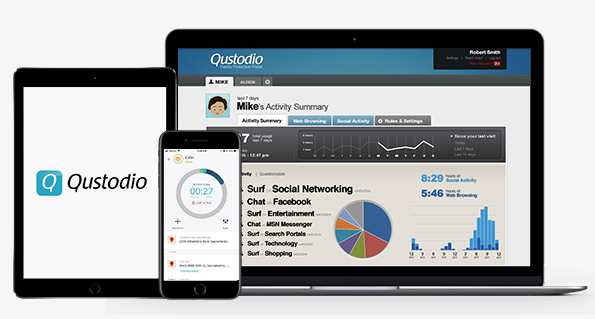 Screen-time limits for general use and apps
Monitor activity on popular social media sites
Comprehensive reporting in dashboard
In my house, where limiting screen-time is my real priority, Qustodio worked better than any other app I tested. I really liked the flexibility that allowed me to set up daily limits, create a detailed schedule of when the devices can be used, and set limits on specific apps that I felt the kids were using for way too long. I was able to choose which apps, if any, I wanted to work even after the time expired. This was really useful because it meant that I could keep the phone and contacts apps available on their phones. While that may sound obvious, many of the apps I tested don't have this option, blocking the phone completely.
The parent dashboard makes it easy to monitor the kids' online activities. I was able to see what websites they visited, searches they made on Google, videos they watched on YouTube, and where they are in real-time with GPS tracking. There is also an alert section that lets me know when they triggered the web filter, whether by trying to get on a site with a banned category or one that just issues a warning that the site might be harmful.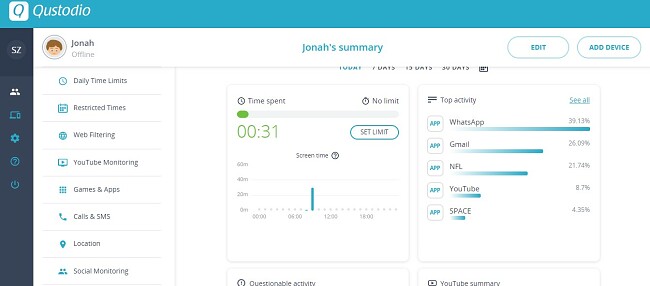 The one feature I used that could be improved was the SOS feature. It's supposed to be used to alert a trusted contact in case of an emergency. It's a great idea, but it still needs some work before it can be effective. I had my son push the alert button, so we would see what happens in case of an emergency. Instead of getting an alert through my dashboard or a notification on my phone, I received an email, which I don't check very often. I found the SMS option, but it requires the child to actually send it.
While I was testing Qustodio, the web filter worked very well. It scans content and images before the page loads, but I didn't notice any significant slow-down in the page load time. The filter has 30 categories, and you can assign each a rule of allow, block or warn — which gave the kids a warning that the page may be inappropriate but gave them the option to go there anyway.
If you're looking for a parental control app that has an excellent web filter and time management tools, then Qustodio is for you. I found this hidden deals page that has low prices for plans that cover 5, 10, or 15 devices. Qustodio has a 30-day money-back guarantee which I personally tested by canceling my subscription after 27 days. I sent an email to the customer support team and got a refund without any hassle.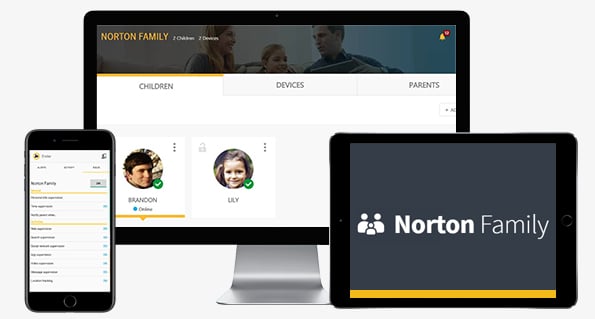 Web filter with 40 categories
Parent dashboard is easy to navigate
Monitors unlimited devices
The first time I tested Norton Family I was extremely disappointed with the program, and I expected more from a Norton program. However, following a recent update, which fixed many of the errors, I'm comfortable listing them in my top 10.
The web filter has over 40 categories, and you can either use the default preset categories, based on the child's age, or you can go through the categories and adjust each one specifically for your kids. Unlike in previous versions, the web filter now works with most major browsers and will also monitor Private or Incognito Mode. However, if your kids prefer DuckDuckGo or StartPage instead of Google or Bing, you won't be able to see their search results.
Norton Family does a really good job with the time management features. Once again, I had the option to keep the default settings, which limited the amount of screen time based on my kids' ages or set up a schedule myself, which is what I always prefer.
Norton Family has shown some serious improvements, although it still doesn't work with macOS. I was able to find a great deal, which was still available the last time I checked out their site.
Monitor Your Kid's With Norton Family
Customizable web filter
Set screen time limits
See your child's location in real-time
Net Nanny makes it very easy to set filters on your children's devices. There are 15 adult categories that the web filter will recognize and block. This is pretty standard for a web filter, but what I really liked and didn't see with most other apps I tested, is that I was able to block a website, even though it wouldn't trigger one of the categories. This is helpful for blocking games or other websites that wouldn't trigger the filter, but that I still don't want my kids going to. You can also add phrases or keywords to block as well.
One feature that they have, which I haven't seen elsewhere is a profanity filter, which I think is great if you have little kids. It replaces all known swear words with ### signs.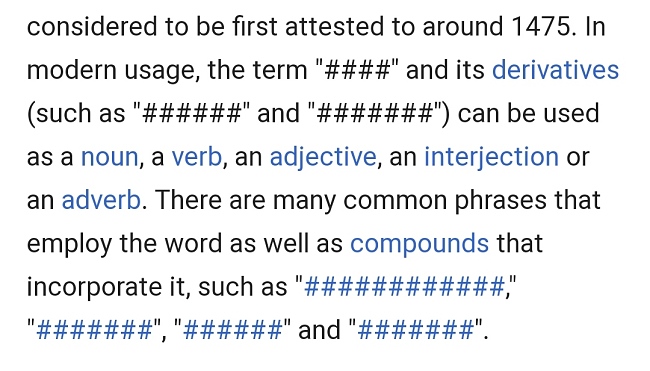 However, I was a bit disappointed with the YouTube Monitoring. It's supposed to show the video search history and videos seen on my dashboard. But I didn't get any updates when my kids were using the app, and when they watched on YouTube.com, I only saw the search history — not the viewing history.
When I tested Net Nanny, I was a big fan of the screen time limits, much to my kids' annoyance. They never like it when I lock their phones. With most apps I tested, the feature wasn't very flexible. I could only set the daily limit in blocks of 15 or 30 minutes, or the schedule was limited to blocking the phones once per day. With Net Nanny, I could set the limit down to the minute and create as many segments in the calendar as I wanted. There is also the option to block the device at any time, regardless of the schedule.
Net Nanny has apps for all the major platforms, and I found it really easy to manage on both my PC and Android phone. Take advantage of this special offer and try it risk-free for 14 days.
Protect Your Kids with Net Nanny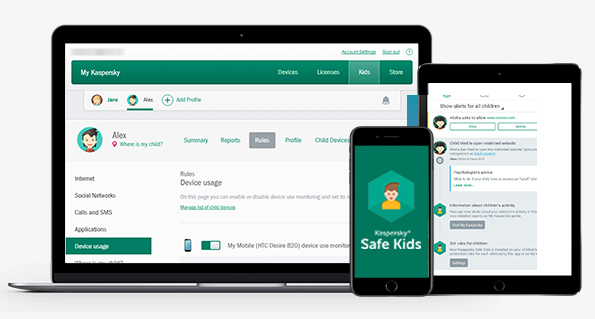 Strong internet filter
Forces SafeSearch on Google and YouTube
GPS tracking and geofence
The Kaspersky Safe Kids app makes it easy to manage your kid's devices. There are three settings on the web filter: Block, Alert, and Allow. If my child tried to access a website that was set as 'Block' or 'Alert', I received an alert on the Dashboard with the URL they tried accessing. I like this better than an app that just blocks the site but doesn't send a detailed report. It allows me to see exactly what they are doing, and if I see that the site is actually appropriate for my kids (one time a page was blocked due to an ad) I have the ability to adjust the filter to allow the page.
One feature that I don't recall seeing anywhere else is a battery monitor. It let me know how much battery power my daughter's devices had, and when it went below 20% I would get an alert on the dashboard.
I was disappointed with the Social Media Monitoring feature, which only monitors Facebook and VK. Despite connecting my daughter's Facebook account through the link Safe Kids sent me, it was never able to connect. I tried several times and contacted the Safe Kids customer support who were unable to figure out why it wouldn't connect.
One thing that really impressed me while testing Safe Kids was the control I had over the apps on my daughter's phone. I was able to set a daily time limit for each app, which I love since she can spend hours watching YouTube videos. It also allows me to mark certain apps as available when the phone is locked. I like this because if she needs her phone for homework or to use it as a telephone, I can allow that, without worrying that she'll be playing games or searching the web.
With Safe Kids, you'll always know where your kids are (GPS Tracking) and what they are doing online. If this sounds good to you, check out this hidden discount page and get the best price I saw online.
Protect Your Kids with Safe Kids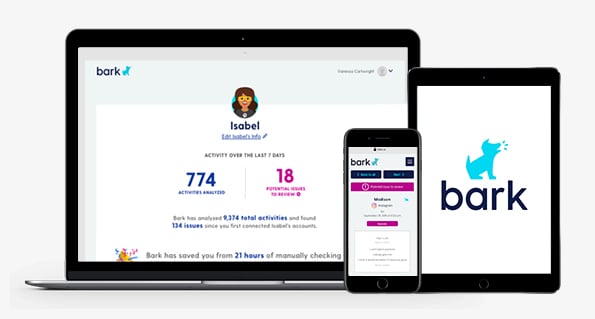 Sends alerts to parent dashboard when it detects potential issues
Monitors SMS and Emails
Screen time limits – New Feature!
I could tell right away that Bark was different from the other parental control apps I tested. It focused on social media sites and emails, and would send me alerts when it found anything questionable. There are over 25 social media sites that are compatible with Bark, and once you give access, it can read emails, chats, comments, and recognize images. It will flag anything that is deemed inappropriate and send an alert to the Parent account.
For example, I got alerts about my son's emails that referenced violence, lyrics from songs in his Spotify playlist, and the content of a Facebook chat that talked about partying.
To get Bark to work, I had to sit with my kids and connect to each of their social media accounts, which was a little time-consuming. It only sends alerts when it finds content that triggers one of its filters, which did result in a few alerts that weren't actually necessary. Still, I'd rather get one or two false alerts with Bark than have to go through all their SMS, Whatsapp, Snapchat, TikTok, and Facebook accounts myself.
The Bark app for kids is not available in Google Play because Bark felt that the regulations limited what it can do. You'll have to download the file and install it directly on your phone for it to work.
The main complaint I had when I initially tested Bark, was that it had no screen time limit or web filters. These have both been added to the Bark app in its latest update, which makes it a more complete app.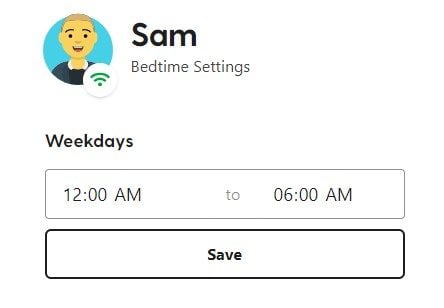 There are no device limitations with Bark and it works on Windows, Mac, Android, and iOS. Along with their latest update, Bark has a special offer (the last time I checked), but even better, you can try it risk-free for 7 days and see if it works for you.
Monitor Your Kids Social Media with Bark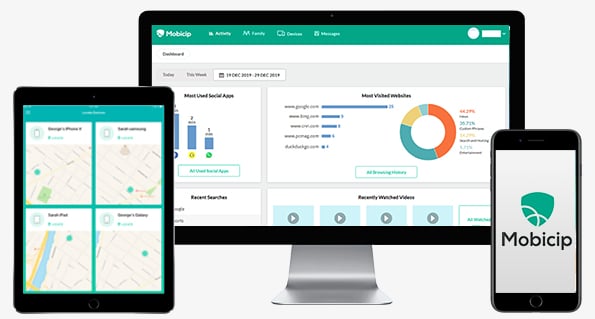 Thorough web filter
Cloud-based parent dashboard
GPS Location tracking
Mobicip comes with 3 sensitivity levels for the web filter, or you can build a custom web filter by selecting which apps, website categories, and social media sites you want to allow or block. This type of control is rare among the Parental Control apps that I tested.

One thing that stood out to me was that when my son was searching for something about Fortnite on YouTube, it didn't automatically block the entire page. He couldn't click on the videos that were flagged by the filter, probably because of the text used in the video's title and description. However, it didn't just block everything Fortnite related, and he was able to watch some of the tutorial videos.
The biggest issue I had with Mobicip was the time management feature. While I was able to lock everyone's devices from the dashboard, there is no daily time limit and the schedule feature only works in hour-long segments.
While I was reviewing Mobicip I found the program to be very user-friendly. Starting from the setup, which has a step-by-step wizard that walked me through setting up the web and app filters, to the visually pleasing dashboard that uses pie charts and graphs to make all the information very easy to read.
Mobicip is a great option if you're more concerned with setting up a filter and screen time management is not an important factor for you. If so, check out this special deal or even better, try it yourself risk-free for 7 days
Filter the Internet with Mobicip Now!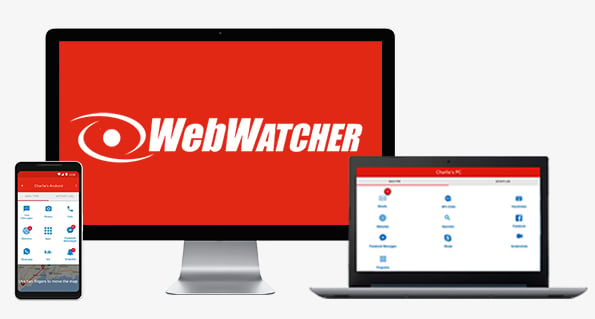 Alerts parents when it detects risky behavior
GPS location tracking
Takes screenshots of kid's devices
WebWatcher is a monitoring tool that records all the data on the specified device and sends it to the secure parent account. This includes taking screenshots of text messages, Facebook messages, Tinder, TikTok and more. The complete list varies by platform, as does the number of monthly screenshots.
I was disappointed to see that there are no filters or screen time management tools available. My other issue with WebWatcher is the price structure. Each subscription includes only one device, which can get expensive if you have 4 children, like me.
WebWatcher is able to recognize what it calls Risky Behavior and send the alerts to a secure parent dashboard. There are no customization options or sensitivity levels to adjust, WebWatcher determines what is a Risky Behavior based on keywords, hashtags, meta titles, and more.
If you want to see what your kids are doing online, without setting restrictions, WebWatcher is a good option and you can check for their latest deal right here.
Monitor Your Kids With WebWatcher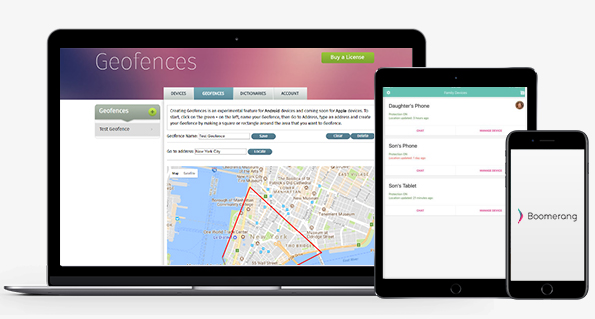 Set time limits per app
Approve new app downloads
GPS Tracking
A friend turned me on to Boomerang when I was complaining about how much time my kids were spending on their phones. It has several different time management tools, such as setting a bedtime, a daily limit, and putting a time limit on certain apps.
One feature that I haven't seen with other apps is that I was able to choose apps that don't count against my kids daily time limit. This was really important for my oldest kid who didn't think it was fair that he'd use up his screen time while using an app for his homework.
However, I found the web filter to be pretty disappointing. Boomerang doesn't filter any major browsers. Instead, I had to download their SPIN browser, which isn't nearly as fast or easy to use as Chrome or Safari.
Boomerang has both Android and iOS apps, although the iOS app lacks some features, like text message and phone call monitoring. Both apps can access the phone's GPS and give real-time updates and allow for setting up a safety zone, or geofence, for the kids. As a screen time management app, Boomerang did a good job and if that's a priority for you, check it out.
Set Screen Time Limits with Boomerang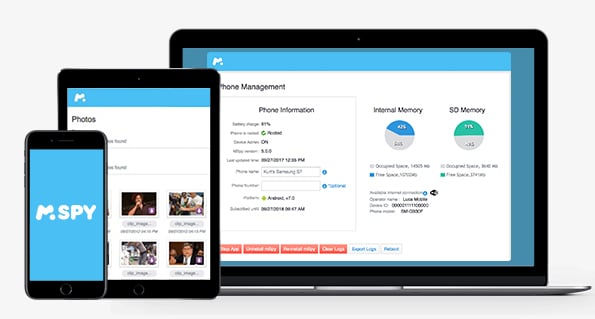 Read incoming and outgoing messages
Tracks Social Media apps
Invisible on the child devices
I generally don't like parental control apps that have "Spy" in the name. However, there is a time and a place where applications like these are necessary, so I decided to test it out. There was nothing to set up, no filters or restrictions, it just monitors all incoming and outgoing information. This felt more like an invasion of privacy than parental monitoring.
For my son's Android phone, I was able to set up the frequency of the updates I receive and I was able to see all the SMS, and WhatsApp messages, activity on social media, emails, videos watched, and more. All the information is stored in the parent dashboard and can be organized by keyword, day, and type of media. I was pleasantly surprised by how easy it was to manage the dashboard, even with all this data.
I had to root my son's Android for the premium features to work, which can be difficult for someone who has never done it before, although the mSpy team says that they can walk you through the process after you get a subscription.
I would only recommend this app if you have teenagers and you're worried that they may be looking to do something dangerous online, such as buying drugs, alcohol, or weapons. If this sounds like something you need, check out their latest deal here, but take note, each license only covers one device.
Spy on Your Kid's Android or iOS Device with mSpy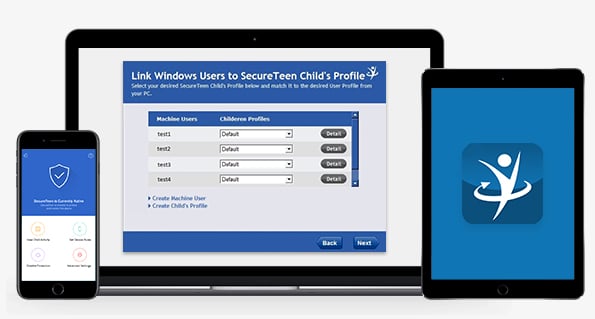 Blocks applications of your choice
Monitors major chat messaging apps
Strong web filter
When I first started looking into SecureTeen I thought it would be another spy program. It didn't take long to see that it's not really, as no root is required of Android devices.
SecureTeens has the basic functions that I was looking for in a parental control app for all my kids, not just the oldest ones. I was able to set time limits for each app as well as a daily time limit.
The web filter is pretty basic, but still was able to block all porn sites, and most of the gambling sites I tried to access during the testing period.
There are some advanced features, such as keylogging, Gmail, SMS, and call monitoring that I could be especially useful when monitoring teenagers.
Unfortunately, SecureTeen slowed down the kids' phones considerably. It also lacked some features that I like using, such as remotely locking the device, even if they haven't used up all their allowed device time.
If you want to stay on top of what your kids are doing, SecureTeen is a decent option although there are better alternatives in this list.
Monitor your Kids with SecureTeen
Google Family Link – A Big Disappointment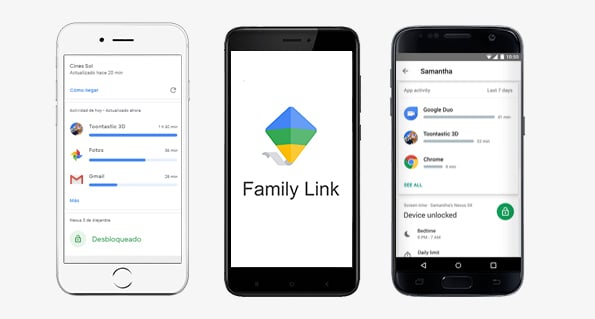 I probably get asked about Google Family Link more than any other parental control app. Friends were surprised when I showed them my list and it wasn't included. The truth is, before I started testing out different programs, I used Family Link and was shocked at its limited functionality.
While it has a daily time limit and a bedtime schedule, my kids quickly figured out how to get around them.
The one thing I did like about Family Link is that it shows me a list of how much time my kids spent using each app every day. It would be better if it showed details like what videos they watched on YouTube, but at least I knew that my daughter spent 3 hours on the YouTube app.
There are no web filters or alerts to let me know if my kids are going to porn sites or any other type of website that a basic web filter would block.
Google Family Link is only available for Android devices (although there is a parent app for iOS). It's basically a screen time prevention app with GPS tracking, but as far as parental control is concerned, Google really dropped the ball on this one.
How to Choose the Best Parental Control App For You
As a father of 5 kids, ranging from 4-16 years old, finding the best parental control app is a necessity. I decided to test as many as I could, on different devices, so I can not only find the best one for my family but help you get what you need as well. I looked at several factors when choosing the best parental control app for my family, and you should too:
Overall features: As I quickly found out, not all parental control apps are created equal. Some of them focused on monitoring, some only had web filters, while others only had time management tools. Obviously, finding one app that could handle everything was a priority for me, and those types of apps received a higher rating. It's important that you know exactly what you want the parental control app to do for you since some do better in monitoring while others do better in time management tools.
Web filters: There is a big difference in what I'd let my 7 year old see and what my 16 year old can see. Finding a web filter that allowed me to customize it for each kid was important. I also wanted to make sure that my kids couldn't bypass the filter, and if they could, was there a way I could block their hacks.
Time management tools: I found that there are three kinds of ways to limit time; daily limit, schedule, and a per-app limit. The best apps will combine all three options, so you can experiment with the options and find what works best for your family.
Ease of use: While I'm pretty good with the technical side of things, my wife is not. I needed to find an app that was easy to use from setting up the account to creating filters and managing multiple devices. If you're nervous about setting up the account make sure to choose an app that has a free trial and a responsive customer support team.
Value for the money: The cost of the app is a big factor, but instead of just looking at the bottom line, I focused on the value I was getting for my money. Qustodio costs a little more per month than Safe Kids, but I was getting more features and flexibility with it as well. It's also important to look at the pricing plans and see how many devices can be protected with a single license.
What Makes a Great Parental Control App
With so many different Parental Control apps on the market, it's important to find the best one for you. After looking at the best (and worst) options available, I've found 4 things that separate the average parental control apps from the great ones.
Easy to Use Parental Dashboard
The dashboard is the parental control's activity hub. It's where you can see what your children are up to, what websites they visit, flags that are activated, and the amount of time each of your children is spending on their phones or computer.
A great dashboard has a nice flow. It allows you to easily find all the data you need. The best dashboards will use charts and graphs to not only make it visually pleasing, but easy to understand as well.
Real-Time Updates
An hour or two can be an eternity when it comes to child safety online. Whether it's chatting with unsavory characters or trying to visit websites that should be off-limits, as a parent I want alerts sent to my mobile phone in real-time. Waiting until the evening to login to your account and check the dashboard shouldn't be an option.
Another advantage that you get with real-time alerts is updates when the kids request access to an app or website. The option to instantly grant or refuse their request will remove a lot of stress and uncertainty from their day.
Excellent Customer Support
A responsive customer support staff is incredibly important. Whether you have questions regarding setting up the parental control app on your phone or your kids or you're not sure why there's no data being added to your dashboard, getting answers quickly is important.
I personally prefer companies that have live chat options, but if it's not available, at the very least it must have a quick response through email.
Multiple Pricing Plans
Every family has different needs. A large family like mine will need more devices protected than a family with a single child. I prefer that the payment options reflect the number of protected devices and not a multi-tiered featured package.
FAQ
🔍Why do I need a parental control app on my kid's devices?
Having access to an unlimited amount of information can be extremely harmful to kids. They are a quick Google search away from learning about sex, drugs, alcohol, and more in an uncontrolled environment. Even if you have a "good kid" who isn't going to websites that are not age-appropriate, do you know who they are talking to online? Are they being cyberbullied, or even worse, about to become a victim of an online predator? These are situations that have been prevented by parents who are monitoring their children.
❓Isn't using a parental control app just a fancy way of saying spying?
You can call it spying or you can call it parenting. The dangers online are all too real to worry about whether your kids are upset that you are following what they are doing online. As long as your children are minors there are no legal or ethical issues by monitoring their phones and computers.
💡Should I let my kids know that I'm monitoring their phone?
I'm a big believer in having an open and honest discussion with kids about why apps like these are being installed on their phones. It will build trust between you two, and not cause any surprises or unnecessary fights in the future. However, there are some cases, usually with teens who you are already worried about, where the situation requires installing and monitoring them using an app that has a stealth mode.
💰Are there any free Parental Control apps?
I tested a lot of free parental control apps and none of them made my top 10 list. This wasn't an accident or an oversight. The features on the free apps are severely limited, usually because they wanted me to sign up for the premium plan. If an app was truly free, I had to wonder what the company angle was and how they are running a business without charging a subscription fee.
Here Are The Best Parental Control Apps for 2021:
Rank
Provider name
Our score
Price