Mobicip Overview September 2021
While it seems like Mobicip can do everything I want from a parental control app, such as manage screen time, block apps, location tracking, and YouTube monitoring, I had to see for myself if these features really work.
I have 5 children, ages 4 – 16, and they spend a lot of time on their smartphones, tablets, and the family computer. I downloaded over 50 apps and started testing them out on my kids. I wanted to see whether the features were as good as advertised, could my kids bypass the restrictions, was the subscription price fair, and how easy it was for me to manage all the kid's devices.
This time, I chose Mobicip's cheapest plan, which comes with a free 7-day trial, and installed it on my son's Android phone and on my Windows 10 laptop and Android phone.
Get a Mobicip 7-Day Free Trial!
The whole downloading and setting up process took less than 10 minutes, and I was able to customize most of the settings for my son. There are four sensitivity settings:
Strict: This blocks any site that is even a little bit questionable, it's the ideal setting for young children.
Moderate: This seems to be the middle school or early high school-aged filter. It blocks content related to drugs, suicide, weapons, pornography, and more.
Mature: This is for older kids and it's the least restrictive, blocking only sites and apps with adult ratings.
Monitor: This doesn't block any apps or apply a web filter; it just monitors the device activity and sends alerts and reports to the parent dashboard.
There is also a Custom option that allowed me to choose which apps and websites I wanted to allow or block. I found this to be the best option, because as I looked at the preset list of accepted apps, there were some apps that were blocked, like Instagram, that I decided my son could use. This is important because everyone knows their kids and what is good for one kid isn't necessarily good for another.
I quickly saw that it's true, Mobicip is a powerful monitoring app with a reliable web filter, but there were some areas that I saw that could use some major upgrades.
The time management tool was the biggest disappointment. It isn't very flexible; the schedule consists of hour-long blocks with no option for anything shorter. It also completely blocks the device, including the phone and SMS, which is a big problem for me. It means that my son can't call me or, should the need arise, emergency services.
This is the only real issue I had with Mobicip, otherwise, it's a great monitoring tool. But, if the time schedule is a deal-breaker for you, check out my review of Qustodio, which has a flexible schedule feature and allows you to set a daily limit.
Features
8.2
After setting up all the filters and a daily schedule, Mobicip immediately started monitoring my son's phone.
I really liked the dashboard. It broke up all the information into sections and used graphs and pie charts to make all the data easy to read.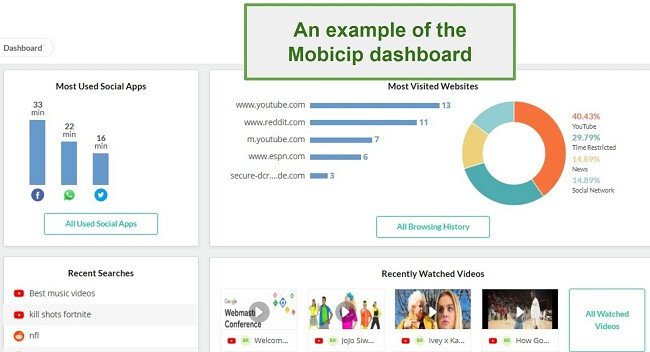 It is also the base of operations. Through the dashboard, I was able to adjust the web filter, schedule, check my son's location, and more.
You can always make changes or adjustments to the level of monitoring, filters, schedule, and apps, by clicking where it says Family on the menu, and then it will show a list of each of the family members. At the bottom of each child overview is a link that says Configure. This will take you back to the settings page.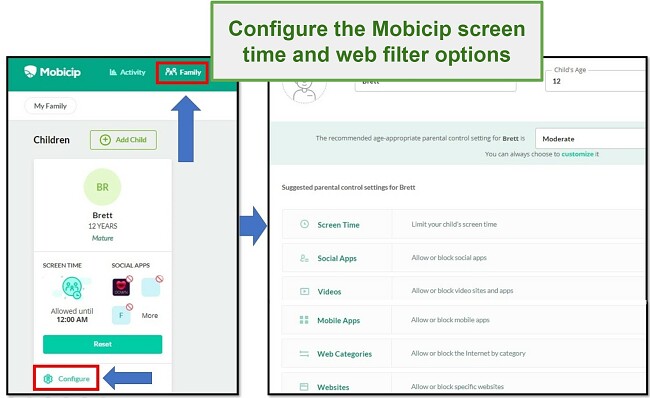 Customize The Web Filter
When creating the child profile, the Mobicip setup wizard showed a list of 30 web categories that I could choose to allow or block. Additionally, it asked if there were any specific websites, phrases, or keywords that I wanted to allow or block, regardless of what I chose for the category.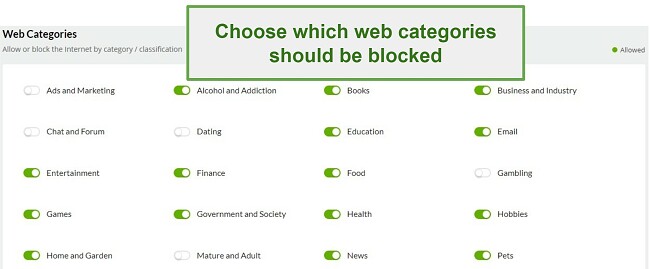 My son did try and visit a sports blog, and it was blocked. I can't say for sure why it was blocked, it could have been because of an ad or perhaps a story about an athlete suspended for drug use was somewhere on the page. Whatever the reason, there was an option for my son to send a request to unlock the page. I got the message on my dashboard and gave him access to the website.
Try Mobicip for Free for 7 Days!
Time Management Feature Needs Improvement
I came away unimpressed with the screen time feature. There is no option for a daily time limit, only a schedule. The calendar can only be set in hour-long segments that begin at the top of the hour. This is extremely limited and not really in sync with how our schedule at home works.

Not only that, but during the times when the phone is blocked, it is completely blocked. This means that if my son is out of the house when the phone is blocked, or I'm not home, he can't call me or access his text messages. I did try calling him while the phone was locked, and he was able to answer the phone by pulling down the notification window and clicking on the call notification.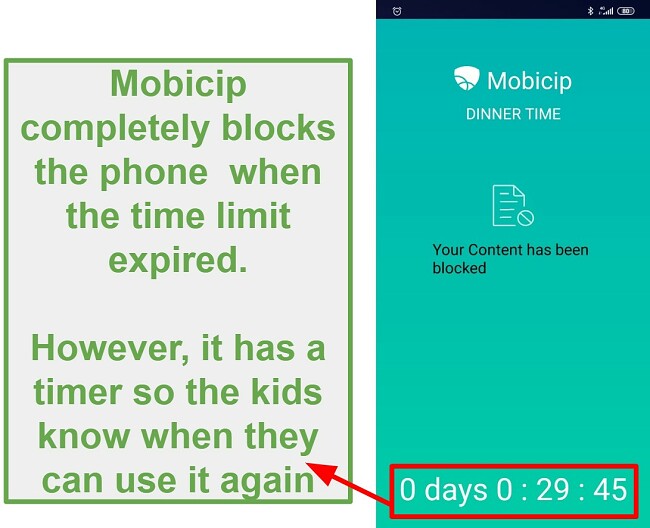 While I do like that it has a timer showing when the phone will be unblocked, I don't understand why there is no warning before the phone is blocked.
There is also an option to temporarily block a single device or all devices on your account. Go to the Family section of the dashboard, and you'll see the option to Block Screen Time or Block all screens. It's Family Time.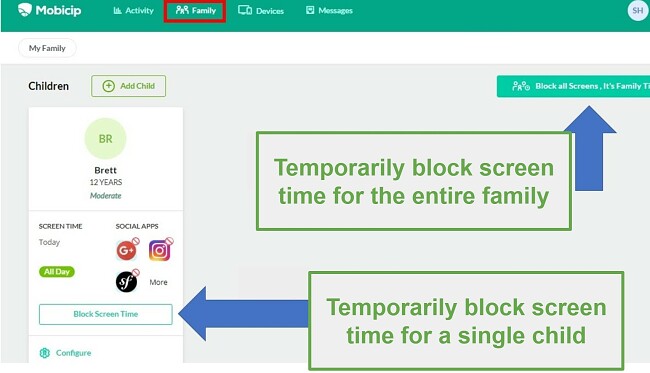 Protect your kids with Mobicip
Only Monitors Searches Done in the Browser
I like the idea of seeing what my son is searching for online. It gives a window into his mind, and I can see if he's getting bullied, looking for adult content, or just searching for the latest sports news.
I was surprised at first when I saw he wasn't searching for much, but then I noticed that he usually uses the Google search widget on his phone, which bypasses the Mobicip tracking.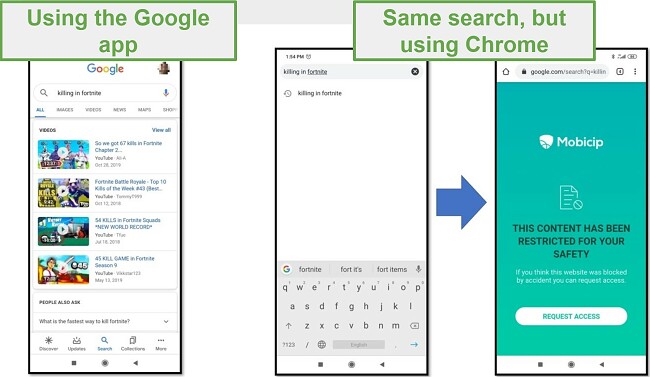 I was able to fix this problem by blocking the widget, so he had to start performing searches in the browser.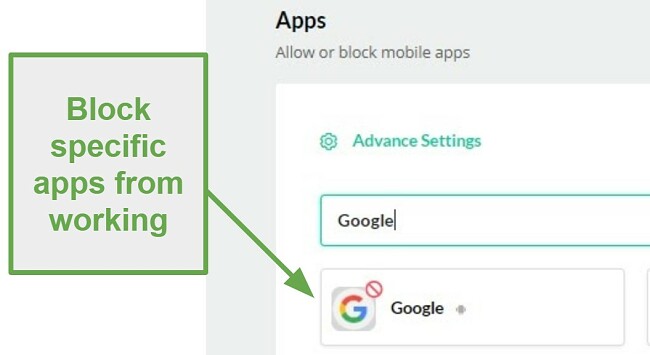 Good YouTube Monitoring Feature – If You Do This…
I was interested to see how the video supervision feature worked with Mobicip, because I've been disappointed with some of the other apps I tested. At first, I was disappointed with this one as well because I saw no search results, even though I know that he spends a lot of time on YouTube. I realized, much like the Search monitoring, video supervision has an easy bypass as well. Mobicip can only monitor the browser-based YouTube, while the app is completely unmonitored.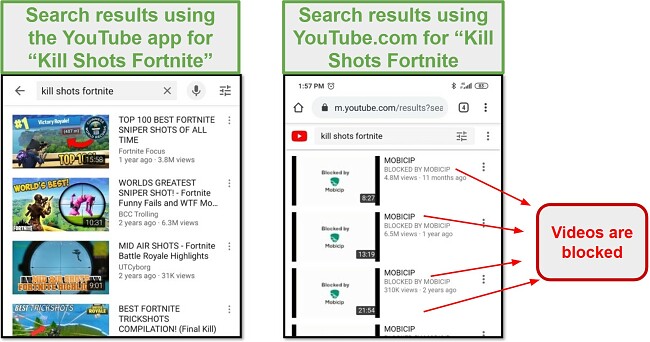 Thankfully, I was able to stay one step ahead of him. I blocked the YouTube app and informed him that he would have to start watching through his browser (I tested Chrome and the preinstalled Browser that came on his Android phone). Once he started using the browser, I was able to see his searches and views. It might be a little annoying for my son, especially because the apps are easier to use than the browser, but he's not really complaining. I was surprised that Mobicip can't monitor the apps, especially since other parental control programs I've tested had no issues with it.
Manage Apps and Games
I like that Mobicip gives me complete control over which apps my son can use. I can rely on the preset list, determined by the sensitivity level I chose (Strict, Moderate, or Mature), or I can go through the list and customize it. To make things more manageable, the apps are divided into groups; general apps, social media, and videos.
My only issue with the app management is that there is no way to set a time limit for a specific app. I liked that option when testing other parental control apps, such as NetNanny because it gave me the option to restrict the time my son could spend on YouTube or Roblox while giving the calculator app extra time so he can do his homework.
Location Tracking, but No Geofencing
The location tracking feature allows me to see where my kids are, or at least where the phone is, at all times. It took me a few minutes to look around the dashboard before I found the location tracking option. Click on the Devices section on the dashboard menu, and then under the device name, click on the location pin icon. It opens up the map, and I can see what my son's current location is, based on the phone's GPS.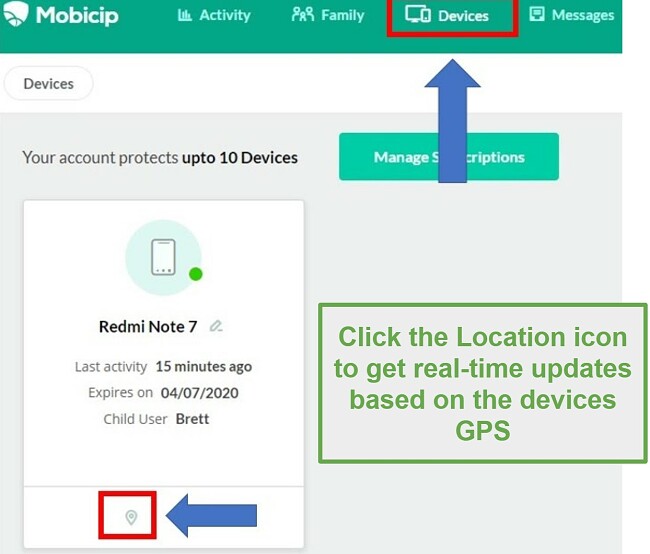 I would have liked to see a geofence option, so I could set the locations where my kids are supposed to be, but it certainly isn't a deal-breaker for me.
Installation
8.3
Before you download the app, I recommend first getting a subscription (I found the cheapest price on this hidden page). This way, you can set up the child profile first, and then Mobicip will instantly start monitoring your kids' devices.
I liked the simplicity of the installation process for Android. The first part is no different than downloading any app for your chosen device. Once the software is installed, follow the setup guide, which will walk you through all the steps needed to change the settings and grant required permissions for Mobicip to run correctly.
The last step before the child account is ready to start monitoring is connecting it to the parent account by scanning a QR code that is located in the parent dashboard.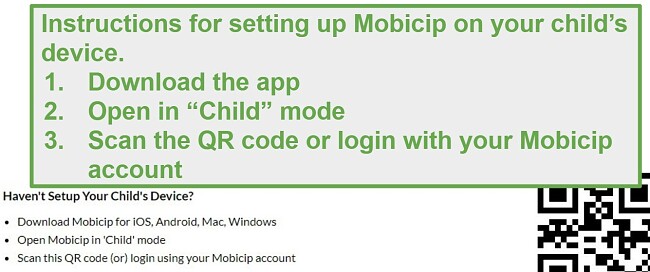 Ease of Use
8.3
I found Mobicip to be one of the easiest parental control apps I've set up. After creating the child account, I was able to create a customized filter for my son by following the step-by-step setup wizard. I was able to choose the filter sensitivity levels, and then it walked me through 8 categories. I could either choose to keep the preset options (based on the sensitivity level) or make changes based on my personal preferences.
This whole process took less than 5 minutes, and, once it was finished, I immediately started getting reports on my dashboard. I view the dashboard as my control center, so it's really important that all the important information is easily accessible.
All it takes is a quick glance, once in the morning and once in the evening and I have a complete picture of what my son has been up to. There is the option to look at a daily, weekly, or monthly summary, or I choose a specific set of dates. I liked this, because when my son claimed that he didn't spend so much time on YouTube, I was able to pull up the past few days and show him exactly how much time he's watching videos.
Support
8.3
I was a little disappointed that Mobicip doesn't have a live support option. I had a few issues that I wanted to clarify when I was first getting started and wanted instant answers.
However, I do have to say that I was very impressed with the response time from the ticket system. I wanted to know if there was a way to allow phone access while the phone was blocked. I received a response in under an hour with my answer. I also liked that I was able to ask some follow up questions by replying to the email, and I didn't have to go back to the Contact Us page and fill out a new form.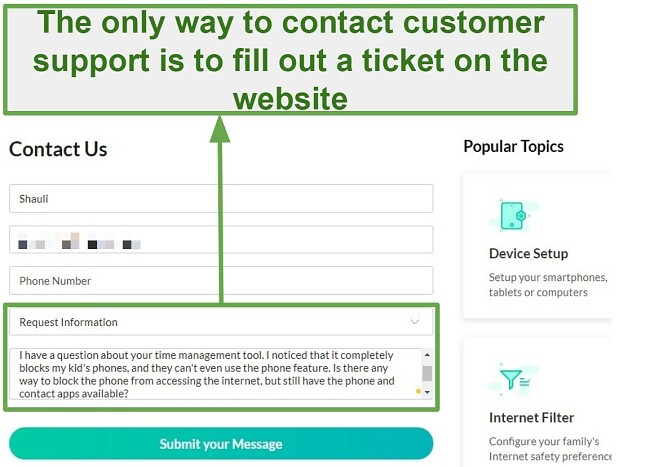 In addition to the email ticket system, Mobicip has an FAQ section that can answer most of the commonly asked questions. There is also a community forum, which I found to be a convenient place to ask questions and get advice from other parents.
Get a Mobicip 7-day Free Trial!
FAQ
?Is Mobicip Safe?
It's always a concern when you allow an app complete admin rights over your phone. It gives them access to all the personal data, contacts, GPS, and more. I read through the privacy policy to see what Mobicip does with data, and I didn't find anything, such as selling the data to marketers, that raised any flags. I also tested the app in VirusTotal and it showed no viruses or malware. It's important to download the app from an official site to ensure there is added malware in the file. Go to this hidden page for the best price I've seen online for Mobicip.
?Can Mobicip limit screen time?
Mobicip does have a screen time management tool. It allows you to set a daily schedule of when the phone is blocked and when it's available. The one flaw with the schedule is it's limited to hour segments.
?Is there a way to bypass Mobicip features?
There are some apps, such as Google and YouTube that aren't monitored by the Mobicip. If your child uses these apps you won't see the search history of videos viewed. However, you can block these apps, forcing the kids to use the browser.
I didn't find any ways to bypass the lock screen, when the phone is blocked. It completely blocks the phones leaving very few options to bypass it.
?What platforms does Mobicip support?
Mobicip can be used on Windows, macOS, Android, Chromebook, and Amazon Kindle.
?Does Mobicip work with iOS?
All parental control applications have some limitations with the iPhone and iPads because Apple won't allow them complete access to the phones. To set up Mobicip on iOS devices you will have to set the device to the "Supervised" setting. This will give you a little more access than an unsupervised device.
Pricing
8.4
Mobicip is reasonably priced. It's not the most expensive or cheapest parental control app I've seen, and you get good value and protection for the price.
There are 3 plans, all of which come with the same features, they only differ in terms of how many connected devices.
Small – 5 devices
Medium – 10 devices
Large – 15 devices
I was able to save more money when I found this hidden discount page, but if you are not sure yet, there is a free 7-day trial, which is enough time to get a good feeling for the power of the monitoring and filtering feature. You will need to enter credit card details to get started, but your account won't be charged until the end of the trial period.
Mobicip offers the following plans
Bottom Line
I started this review to see whether the Mobicip features are as good as advertised. After extensive testing, I came away impressed with the overall features and ease of use for this app. I found some issues, most notably the time management feature, but it wasn't anything I couldn't navigate through.
If Mobicip sounds like a good fit for your family, get a great deal from this hidden page. You can try it risk-free for 7 days and see for yourself how effective it is at managing your kids online activities.
At the end of my 7-day trial I was cancelled my account and confirmed that my card wasn't charged.