Valid mSpy Coupons for 2023: Save up to 30% Today!
Finding real coupons can be challenging, especially since every website claims they have "amazing deals" while just publishing fake deals. They promise discounts that sound too good to be true, only to find out after your click on them and start the registration process that the "deals" are fake or simply outdated.
The deals below, which I personally test, have been confirmed as real deals by the mSpy customer support team. The best deal is the yearly offer, with just over 30% savings, with all premium features included.
mSpy has three subscription options. Each of the plans includes all the premium features, such as timed screen captures, keyloggers, geo-tracking, chat, and social media monitoring, and much more. The only decision you need to make is whether you want to monitor your child's device for a month, three months, or a year.
Save 30% and Lower the Price to $11.67 a Month When Subscribing to the 12-Month Plan
Not only will you pay the lowest monthly fee with this deal, but you'll have access to all the mSpy premium features such as keylogging, screen captures, SMS and chat monitoring, geo-tracking and more for a year. This is a great way to split the protection and get a good sense of how everyone in the family is using their phone or tablet.
Save 30% and Lower the Price to $28.00 a Month When Subscribing to the 3-Month Plan
The three-month deal is a solid choice if you need to closely monitor your child for a few months. mSpy gives you the tools needed to see what websites they're looking at, who they're chatting with, and where they're going at any given time.
Save 30% and Lower the Price to $48.99 on a 1-Month Subscription Plan
While it is a little more expensive than the three-month or annual subscription, a monthly subscription is perfect if you just need a quick glimpse into your child's world.
How to Use a mSpy Coupon
Use this link to get the discount page and click on the "Try Now button".
You will need to enter a valid email address to advance to the payment page.
When you see the three subscription plans, a message will appear in the Live Chat box with these special coupon deals. To apply the coupon code, just click on the link for the subscription plan of your choice, and the discount will be automatically applied.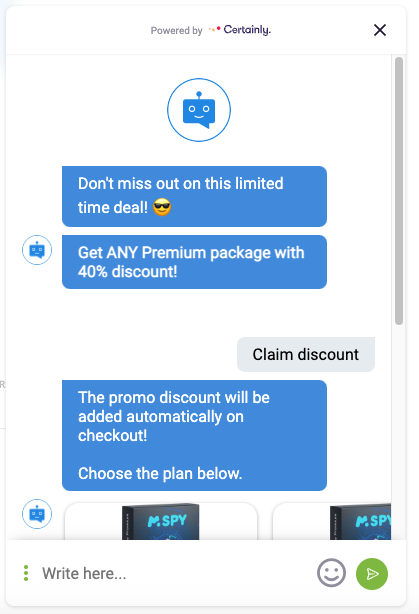 Watch Out for Fake mSpy Coupons
The internet is filled with so many websites that they need to rely on click-bait titles to convince people to visit them. From there, it's just a classic bait and switch, promising an 80% discount on the title, and instead, just offering an 18% or 15% coupon code – that may or may not work. In the example below, the website is promising an 83% discount:

But when I clicked through to the website, the best I found was a 15% discount.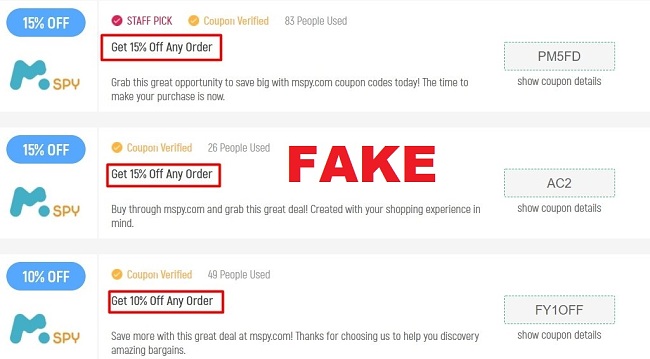 It's not that all sites are malicious (although some are); what is typically happening is the website adds up all the coupons on the page and gives the total as the coupon.
Other common tricks of the trade are to promote expired coupons or publishing coupon codes that don't work.
mSpy stands out as one of the most inclusive monitoring tools available for parents to install on their children's smartphones. It provides a distinct perspective into every aspect of your child's online activities, including their online interactions and real-time location.
I personally test every coupon before publishing it and remove them as soon as they expire.
FAQ
Bottom Line
mSpy is one of the most comprehensive monitoring tools for parents to install on their children's smartphones. It gives a unique insight into everything that your child is doing online, with whom they're talking, and exactly where they are at any time.
mSpy has three subscription options, a monthly, three months, and an annual package. Click on this special link to get the best coupon deal and start monitoring your kid's Android or iOS device today.