Norton vs Avira 2022: Only One Is Worth Your Money
Last Updated by Lucca RF on August 01, 2022
Both are popular antivirus brands so I wanted to compare Norton versus Avira in a series of head-to-head tests.
While it doesn't match Norton's full antivirus package, I found Avira has less impact on device performance and the user interface is fantastic. If you'd like to see for yourself, you can try Avira with the 30-day money-back guarantee.
However, Norton ultimately came out as the winner — it has stronger malware detection scores and wide range of bonus features. This includes a VPN, password manager, encrypted cloud storage, firewall, and parental controls (many of which Avira is missing). Better still, you can try Norton risk-free for 60 days with its money-back guarantee.
No Time? Here's a 1-Minute Summary
| | | |
| --- | --- | --- |
| | | |
| Virus Scanner | Detected 100% of malware with 3 scan types | Detected 95% of malware with 3 scan types |
| Real-Time Protection | Caught 100% of malware in real-time tests | Caught almost all malware in real-time tests |
| System Performance | Small impact (8.33% average) | Very little impact (4.66% average) |
| VPN | 30 server locations, unlimited data, and can unblock Netflix and HBO Max — but slow speeds | 34 server locations, unlimited data, average speeds, and can unblock Netflix and Disney+ |
| Parental Controls | Includes content filters, GPS tracking, and time restrictions | ✘ |
| Firewall | Strong protection by default with plenty of customization | ✘ |
| Password Manager | Unlimited passwords on all plans with a unique auto-change feature | Unlimited password storage (but lacks auto-fill on forms) |
| Gaming Mode | Blocks pop-ups when apps are in full screen | Blocks pop-ups when apps are in full screen |
| Optimization Tools | Includes tools for faster startup, disk defragmentation, and temporary files removal | Includes tools for faster startup, disk defragmentation, and temporary files removal |
| Other Features | Useful additions include cloud backup, identity theft protection, and webcam blocking | File encryption and secure deletion are very niche features |
| Device Compatibility | Works on old and new versions of Windows, Mac, Android, and iOS | Only supports recent versions of Windows, Mac, Android, and iOS |
| Customer Service | Fast support via live chat, email, and phone | Slow responses via email and phone, and no live chat support |
| Price | Feature-packed plans to suit every budget | Cheaper prices, but its packages have less features |
| Free Version | 7-day free trial | Includes a free version and 30-day free trial |
| Money-Back Guarantee | 60 days | 30 days |
How I Tested and Compared Norton and Avira
These are the criteria I used to compare Norton and Avira — Norton won the majority of categories.
1. Virus Scanner — Norton Detects 100% of All Malware
Norton's virus scanner beats Avira, thanks to its perfect detection scores and variety of scans. Although Avira has some decent scanning options, it doesn't quite match the strength of Norton's.
Both have a full scan and custom scan options that let you scan your whole device or specific files of your choice. Norton offers a quick scan to check the most vulnerable parts of your hard drive, which was useful for when I didn't have time for a full scan. Avira also offers a smart scan, which checks for malware, outdated apps, privacy issues, and programs that cause performance issues. I found this to be a unique way of combining optimization and malware detection in 1 feature.
Although both Norton and Avira use advanced antivirus engines based on a combination of signatures, machine learning, and heuristics, Norton is better. Norton detected 100% of threats during tests, while Avira only found 95%. I was glad to see that neither antivirus flagged any false positives. These are harmless files that are sometimes wrongly detected by antivirus software, potentially causing the deletion of files you want to keep.
Avira's full scan lasted around 1 hour and 45 minutes, while Norton's took 1 hour and 23 minutes. Although the difference in time was noticeable, performance-wise I couldn't tell the difference when they were active.
Although Avira's smart scan is a useful feature, Norton wins this category due to its excellent malware-detection scores and faster scans.
Secure your device with Norton
2. Real-Time Protection — Norton Wins by a Narrow Margin
Both Norton and Avira offer strong real-time protection, but Norton is the winner. I set up a machine with newly released malware and ran a series of tests with both antivirus programs. I was impressed by the results — Norton detected 100% of threats while Avira caught 99.96%. Both are effective at stopping threats, Norton's perfect score is better.
Additionally, Norton found no false positives while Avira flagged 5. While this isn't that many, I found it slightly tedious to manually mark my files as safe.
Norton wins by a slim margin due to its perfect test results and complete lack of false positives.
Real-Time Malware Protection Winner: Norton
Defeat live malware with Norton
3. System Performance — Avira Wins All Speed Tests
Avira's virus scanner is faster than Norton in all scenarios I tested. Norton was 5% slower than Avira at launching websites and apps, and 1% slower while copying files to an external hard drive.
I ran these tests on the same device for each antivirus, measuring the exact time it took to fully load a page, app, or copy files. It's important to note that although 11% slower may seem high, in reality, the difference is less than 2 seconds.
Average Slowdown
Launching popular websites
Copying files (locally)
Launching standard apps
Average
Norton
11%
3%
11%
8.33%
Avira
6%
2%
6%
4.66%
Both antiviruses performed quite well, but Avira's average speed was almost twice as fast as Norton's, so it wins this category.
System Performance Winner: Avira
4. VPN — Avira Unblocks Netflix and Disney+ at High Speeds
Norton and Avira's VPNs are similar, but Avira's speeds are slightly better. They both offer access to 2 popular streaming platforms, almost the same number of locations, and good security.
I tested both VPNs with US, UK, Germany, and Australia servers. Norton reached an average of 90Mbps on local servers (UK and Germany) but fell to about 12Mbps with the US and Australian servers. I was impressed that Avira managed to maintain speeds of roughly 85Mbps across all regions, making it a great choice for those who need high-speed connections worldwide.
You can unlimited bandwidth with both antiviruses on every plan, except Avira's free plan (it restricts you to only 500MB every month). If you intend to do anything more than a few hours of basic browsing per month while connected, you'll need the unlimited version. However, it's hard to complain about free!
When it comes to streaming sites, it's an even match. I unblocked Netflix and HBO Max on Norton's US server. With Avira, I could watch Netflix and Disney+ in the UK. Unfortunately, I couldn't access any more streaming platforms with either antivirus, like Hulu or Amazon Prime Video.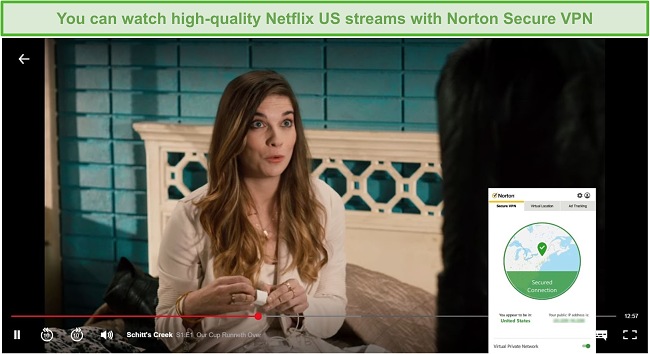 Since both antivirus programs unblocked the same number of streaming services, Avira is the winner as it has consistently fast speeds.
Browse at high speeds with Avira
5. Parental Controls — Norton Is Better for Families With Kids
This category is an instant win for Norton since Avira doesn't offer any parental controls. In contrast, Norton's parental controls are extensive and allow for a robust overview of your child's digital life.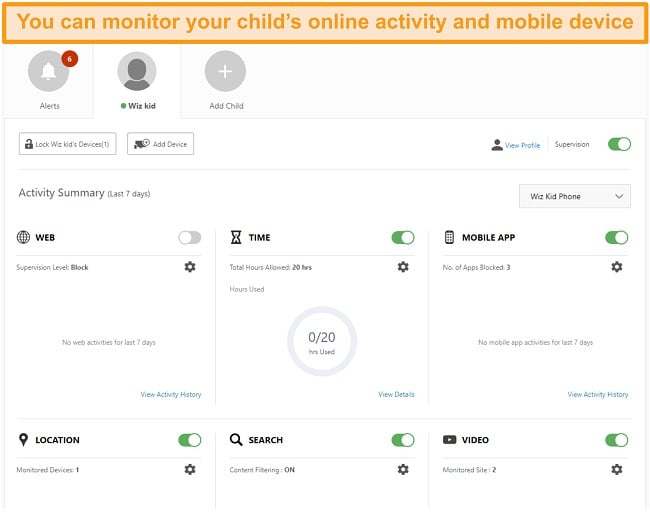 Norton's standout feature is its YouTube tracking tool. This shows you which YouTube videos your child has been watching — it can even generate a preview so you can see if it's appropriate for them. More and more videos are blurring the line between child-friendly and adult content, so I found this feature was very useful.
There are also standard parental control options, such as tracking how much time has been spent in each program, which websites were visited, and GPS location tracking for mobile devices.
Avira's complete lack of parental controls means Norton wins by default. You can try Norton risk-free for 30 days to check these features for yourself.
Parental Controls Winner: Norton
Protect your child online with Norton
6. Firewall — Only Norton Monitors Incoming and Outgoing Network Traffic
Norton's firewall is excellent, while Avira doesn't have a firewall at all. I especially liked that Norton's firewall has a whitelist (a list of trusted programs), so you don't need to manually allow your popular apps. The firewall also monitors and adapts its rules based on suspicious app behavior.
Although the pre-installed whitelist should be enough for most users, I found there are plenty of customization options. I could block individual ports and even check for suspicious devices on my network.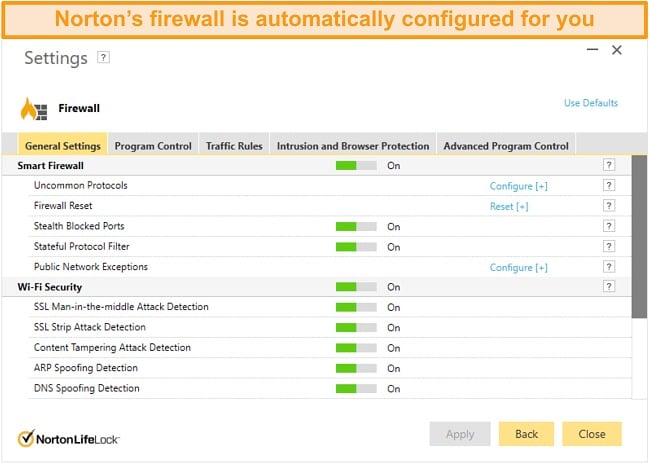 I believe Norton's firewall is suitable for beginners and more advanced users. You can try Norton risk-free with its money-back guarantee.
Protect your network with Norton
7. Password Manager — Norton Is Better for Storing Login Credentials and Personal Data
Both Norton and Avira offer powerful and easy-to-use password managers, but Norton wins due to its extra features. Both come as standalone free versions, which is an excellent way for you to try these password managers first before committing to an antivirus subscription.
Both Norton and Avira's password managers both offer password saving, auto-filling, secure notes, and a 2-factor authentication tool. You can also run an audit on your login credentials to check the level of security or if there are any duplicates.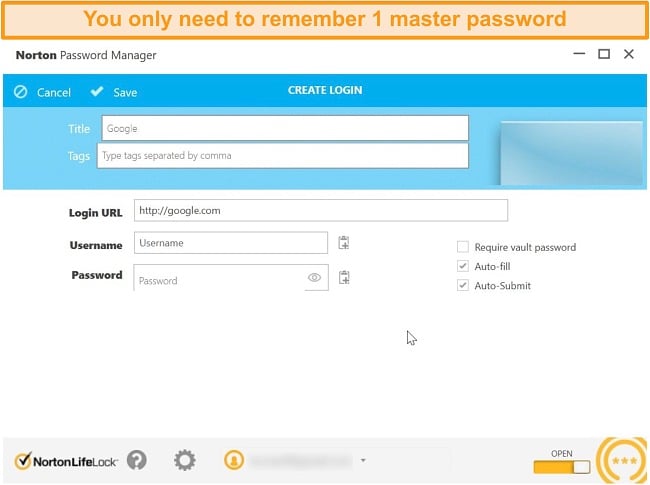 Norton's most unique feature is its auto-change password tool. It works with many popular websites (like Reddit) and controls the whole password change process for them. Simply choose which account needs changing and it will generate a new password, save it to your vault, and also change it on the site for you. Although I was impressed the first time I tested this, I'm not sure how much I'd use it. However, for first-time users it could be a great time-saver.
Norton also has a form auto-fill system, which Avira lacks. This allows you to fill in online forms with personal information (not just your password) — such as your name, address, and credit card details. It may not be a necessity to all users, but it's a missing feature nonetheless.
Although both are closely matched, Norton's password manager is packed with more features. You can try Norton's password manager for free or as a bundled package with its antivirus plans.
Password Manager Winner: Norton
Store passwords securely with Norton
8. Gaming Mode — Both Norton and Avira Are Good for Gamers
This is a tie between Norton and Avira. Both provide a very similar gaming mode experience, but neither goes above and beyond.
Norton and Avira's game mode suppress notifications and background tasks, so there are no interruptions in the middle of a game. This can also lead to performance improvements since fewer tasks are making use of your CPU.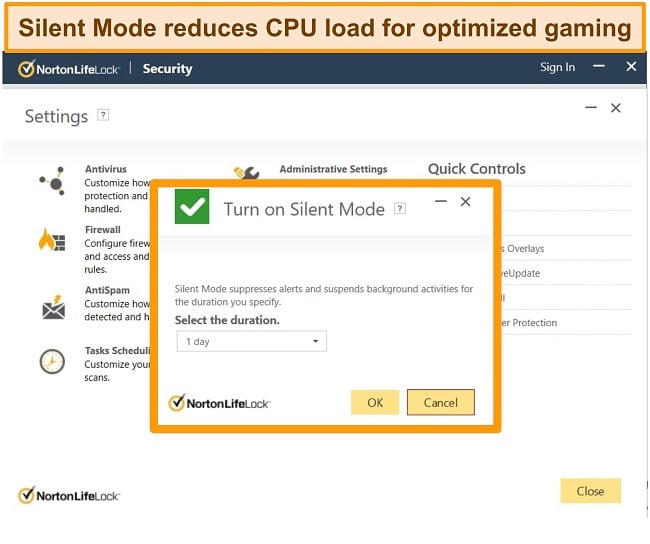 I ran tests with both Norton and Avira while playing the game Call of Duty: Warzone and Rocket League. Neither resulted in noticeable performance improvements (although this may differ with your computer) — but I enjoyed not being disrupted by notifications.
Game without interruption with Norton
9. Optimization Tools — Both Norton and Avira Will Improve Your Device Performance
Norton and Avira offer practically the same optimization tools. They both include tools to remove junk files, increase startup times, and clear your browser for privacy reasons. Avira can also disable unnecessary services to save power.
I tested all of these features on a Windows 10 PC, and had no issues at all. My own PC was unaffected in terms of time saved during startup, but these tune-ups tend to have more of an impact on older PCs and are to be done regularly for benefits over time.
You can see how optimizations work on your own device and try Norton for up to 60 days with its money-back guarantee.
Optimization Tools Winner: Tie
10. Other Features — Norton Is Packed With Useful Additions (Like Cloud Backup)
Although both Norton and Avira have a useful collection of bonus features, I find Norton offers more value to the majority of users.
| | | |
| --- | --- | --- |
| | Norton | Avira |
| Cloud Backup | ✓ | ✘ |
| File Shredder | ✘ | ✓ |
| Webcam Blocker | ✓ | ✘ |
| Encrypted Storage | ✘ | ✓ |
| Identity Protection | ✓ | ✓ |
The feature I find the most useful is Norton's cloud backup — you can use it to store your most treasured or sensitive files securely. If ransomware infects your device, you'll have an off-site backup that can restore these files in the future. This is included with all plans, from 2GB of space up to 100GB.
Avira's 2 notable additional features are its encrypted storage and file shredder. I've used both to secure and destroy files, and the process was fast and simple.
However, Norton wins this round as I find its cloud backup and webcam blocker are more commonly used with a wider audience.
11. Device Compatibility — Norton Works on a Wider Range of Operating Systems
Norton and Avira both support Windows, Mac, Android, and iOS. However, Norton is compatible with more versions.
| | | |
| --- | --- | --- |
| | Norton | Avira |
| Windows | 10, 8.1, 8, Vista, 7 SP1, and XP (32 bit) | 10, 8.1, 8, Vista, 7 SP1 |
| Mac | 10.13 – 10.15 | 10.12 |
| Android | 4.1 or higher | 5.0 or higher |
| iOS | 8 or later | 11 or later |
I tested Norton and Avira on all of the above devices, and installation was finished in just 3 minutes on desktop and under 1 minute on mobile. On your computer, you can do this through an installer that takes care of the process. On mobile, just download the app from the website and you'll be given a safe link to the app store.
Device Compatibility Winner: Norton
12. Customer Service — Norton's 24/7 Support Is Fast and Helpful
Norton offers the best customer support with more contact options and quick response times.
I was particularly happy with Norton's 24/7 live chat process. It took just 2 minutes for me to get a reply, and the agent was friendly and knowledgeable. Unfortunately, Avira doesn't offer a live chat option, which is a huge downside. If there are any urgent technical issues, you won't be able to resolve them immediately.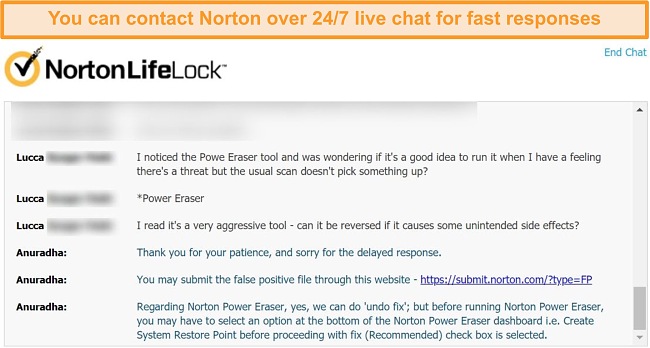 When I contacted Norton via phone, it took 15 minutes to connect to an agent. The agent solved all my issues within 5 minutes. However, Avira was a little faster over the phone. It only took 11 minutes to put me through to an agent and another 3 minutes to fix the same problem.
You can see my full tests results below:
| | | |
| --- | --- | --- |
| | Norton | Avira |
| Live Chat | ✓ | ✘ |
| Average Live Chat Wait Time | 2 minutes | ✘ |
| Email Support | ✓ | ✓ |
| Average Email Support Wait Time | 1 day | 3 days |
| Phone Support | ✓ | ✓ |
| Community Forum | ✓ | ✓ |
| Online Knowledge Base | ✓ | ✓ |
| Video Guides | ✓ | ✘ |
Norton easily wins due to its comprehensive customer service options. Although Avira's support was good once I was connected, the company needs to work on offering additional contact options.
Customer Service Winner: Norton
13. Price — Both Norton and Avira Are Great Value for Money
Norton and Avira are closely matched in plans. I'm more impressed with how many features Norton includes, but its prices can rise dramatically in the second year (anywhere between 16% to 120% higher depending your plan). In contrast, Avira's prices remain the same.
Due to this pricing setup, I can't give Norton a clear win. However, Norton is the better choice if you're only subscribing for 1 year. Norton's base plan offers a huge amount of value with top-tier virus protection against the latest threats, 10GB cloud backup, and even a VPN with unlimited bandwidth.
14. Free Version — Avira Is One of the Best on the Market
Only Avira provides a free version, while Norton offers a trial period instead of a completely free version.
Although it's missing a few key features, Avira's free version provides an impressive level of basic protection. This includes its core antivirus engine, ransomware protection, safe browsing, ad blocker, limited bandwidth VPN, and password manager.
Norton does have a 7-day free trial, which gives you access to all premium features. However, this is easily beaten by Avira's 30-day free trial. I recommend checking both out if you're undecided on which antivirus to choose, so you can see which is best for you.
Free Version Winner: Avira
15. Money-Back Guarantee — Norton's Is Twice as Long
Norton's money-back guarantee is 60 days long — twice as long as Avira's. Thanks to its live chat support option, I found it's easier and faster to get a refund from Norton.
After signing up for Norton and using it for a few weeks, I opened a live chat with a Norton support agent. I was connected in under 5 minutes and my refund request was approved in a couple of minutes. I received the money back from Norton just 5 days later.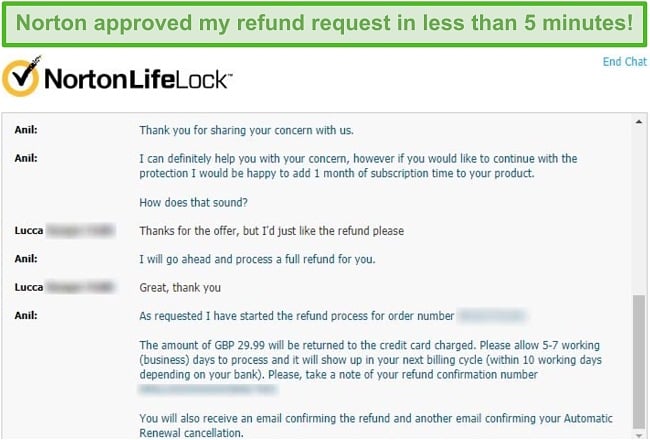 Avira's money-back guarantee process took a little longer. Since I was already in touch with an agent via email, I asked them for a refund in a new reply. The agent approved it for me the same day, and I received the money back into my account the following day. However, I sometimes waited for up to 3 days for responses to my other emails, so I recommend asking for a refund well before the money-back guarantee period expires.
Although neither antivirus has a particularly complex refund process, Norton wins since you can easily request a refund through 24/7 live chat. If Avira had this extra support option, it would be a tie. As it stands though, I find it too important for users to have the easiest possible refund experience.
Money-Back Guarantee Winner: Norton
And the Winner Is… Norton
Norton and Avira are both quality antiviruses that can protect your devices against the most recent cyberthreats. Although they have similar qualities, Norton outshines Avira in numerous ways.
Norton has a stronger overall antivirus package. It comes with a huge range of bonus features and faster customer support. Avira simply can't compete with any of Norton's paid plans. However, I was surprisingly impressed with the decent level of protection provided by Avira's free plan.
You don't have to take my word for it though. You can try Norton with its 60-day money-back guarantee or test out Avira risk-free — and see which antivirus better suits your specific needs.
Protect your devices with Norton
---
Other Top Antivirus Brands for 2022