Avira

Review 2022: Is the Free Plan Worth the Hassle?
Avira Overview May 2022
Avira offers a decent free antivirus but there are always drawbacks when you're not paying for a service. You could be pestered by pop-up ads trying to get you to upgrade and key features are often missing. So I wanted to see whether the free plan is good enough — or if it's just a trap to force you into upgrading to the full-featured version.
I thoroughly tested Avira's free and paid versions on Windows, Android, Mac, and iPhone — and I found the paid plan essentially has the same antivirus protection as the free version. Both plans use the same powerful malware detection tool against ransomware, trojans, viruses, and more. While the paid plans have more security features, not many are worth the price. If you need additional benefits like a VPN and device optimization settings, you can easily get a cheaper (and more powerful) antivirus like Norton 360.
Overall, Avira's free version is one of the best no-cost antivirus packages out there. The biggest downside is that you don't have access to customer support and the constant upselling can be annoying. However, if you're happy with basic antivirus protection, the free version is definitely good enough to keep your devices safe.
In a Rush? Here's a 1-Minute Summary
Security - 9
Avira is regarded as one of the best free antivirus providers on the market. In my tests, it scored a near-perfect malware detection rate. In comparison to other free services, it's only outperformed by a handful of competitors like Panda and Kaspersky. Obviously, you'll get better detection rates if you choose a premium (paid) service like Norton or McAfee.
While Avira's protection rates are impressive, I'm disappointed that the free version doesn't offer dedicated ransomware protection. With attacks on the rise, this feels like a significant oversight. That said, the virus scanner is able to detect ransomware threats but you won't get the same level of security as those who pay for the service.
Virus Scanner — Successfully Detects 95% of Malware
To see how well Avira performs as an antivirus, my team and I ran malware through a test machine running Microsoft Windows 10 Pro 64 bit. Avira detected 95% of malware found in the last 4 weeks. While I was impressed with Avira's detection rate, it didn't quite catch everything. If you want antivirus software with stronger virus scan capability, Norton achieved a 98.1% detection rate in the same test.
Avira's virus scanner is separated into 2 main tools: a Smart scan and full system scan. Additionally, power users can access to rootkit scans, active process scans, local drive scans, and external device scans. While the variety of different scans is valuable, you'll likely only need to use Smart scan on a regular basis. I'm a fan of Smart scan as it not only checks for malware, but also ways to improve overall device performance.
It took less than 2 minutes to perform a Smart scan on my personal PC, and while it didn't find any malware, it did uncover a number of other issues. This included outdated apps, privacy setting problems, and apps that were slowing down my system startup. The free plan freed up some hard drive space and cleaned 169 registry entries, although Avira wouldn't let me fix all the optimization issues unless I upgraded to the paid version. I found this quite frustrating because all the features appeared to be available for free on the app.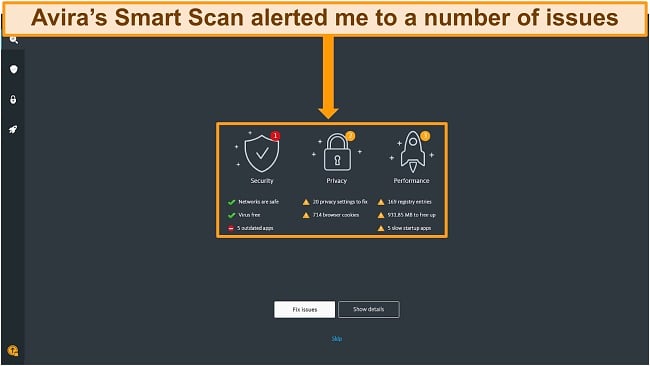 The full scan took around 1 hour and 45 minutes to perform, which is much slower than other leading antivirus providers. On the same PC, Norton's full scan only took 1 hour and 23 minutes. That said, the slow scanning time isn't a huge issue since you don't need to run a full scan very often.
Real-Time Protection — Advanced Cloud Technology Blocks 99.96% of Zero-Day Threats
It's essential for an antivirus to block zero-day threats (new and undiscovered types of malware) in real-time. Avira includes real-time protection on all its plans, including the free version. I'm particularly impressed by this because I'm particularly impressed by this because most competitors only offer real-time protection to paying customers (like Kaspersky). (like Kaspersky).
Not only does Avira make this functionality free to all users, but it uses cloud technology to keep its real-time protection up-to-date. In fact, it's one of the few antivirus providers to integrate cloud-based technology into its real-time scanner. This is why I'd rate Avira's real-time detection higher than a competitor like Panda Dome, which requires users to run separate cloud-based scans.
To ensure Avira's real-time protection is reliable, my team and I collected over 1,300 malware items and entered them one-by-one on a test machine. Avira's real-time protection immediately began detecting and quarantining the malware files. Since Avira only benefits from its cloud-based scanning when it's connected to the internet, my team and I ran both offline and online detection tests. This way, I could confirm how well Avira's protection works in an offline setting and how much benefit the cloud technology really provides.
Only 90.6% of the malware samples were detected and blocked in offline tests. However, Avira achieved a 99.96% protection rate when online. This tells me that Avira's ability to stop zero-day threats is improved significantly by its Protection Cloud technology, as the offline scanner simply can't keep up with new threats. While its offline performance is still decent, Avira's real-time protection is most effective when connected to the cloud. I highly recommend you keep your device connected to the internet whenever you're downloading new files or browsing online.
Avira also only recorded 5 misidentified files (known as false positives), which is an outstanding result for a real-time protection test. In the same test, free antivirus Avast recorded twice this number.
Protect your device with Avira!
Web Protection — Claims to Block Dangerous Sites (But Doesn't Work)
Web Protection alerts you to any phishing scams or dangerous links, and it's included in all of Avira's paid plans. You can find it under the "Security" tab in "Protection options". Once you switch it on, Web Protection will automatically activate across your entire network Unfortunately, I found Web Protection is essentially useless as it didn't protect me against any threats in my tests.
When I turned off Google Chrome's in-built browser protection, Avira failed to identify most of the known phishing sites I visited. I don't understand why Avira charges for Web Protection when it offers the free (and much better) Safe Shopping tool.
Mail Protection — Real-Time Email Scanner That's Not Worth Paying For
Mail Protection is an email scanner that ensures all messages in your inbox are malware-free. It's only available on Avira's paid plans and you can manually configure it to scan for incoming and outgoing messages.
However, I didn't find Mail Protection was worth the money or effort. Your emails are already secure due to the real-time protection feature, which will alert you to any incoming malicious attachments or links.
Protect your device with Avira!
Features - 5
Antivirus protection is Avira's core product but it does offer a large number of additional features such as a VPN, password manager, and more — many of which are available for free! This is a big deal, as many antiviruses make you pay for extras like this. For instance, AVG AntiVirus Free's VPN is totally restricted to its paid subscriptions and has no password manager whatsoever.
As much as I enjoyed Avira's rich feature set, I was disappointed that it doesn't always make it clear which features you have to pay for. There's no indication in the app UI that certain features are locked, meaning you'll have to click through them individually to find out whether you have access or not. For your convenience, I've done it for you below so you can clearly see which feature is free or paid.
Device Optimization Tools — Improves System Performance and Speed
Avira has a large number of optimization tools dedicated to improving system performance. However, with the exception of the basic startup optimizer, all of these features require a paid subscription to Avira's Internet Security or Prime packages.
Startup Optimizer (Free): Improves the boot time of your PC or Mac by blocking apps that slow down your device
Hyper Boost (Paid): Part of Startup Optimizer, this tool saves up to 25% of your startup time by structuring your system's booting sequence and other advanced optimizations
Battery Saver (Paid): Optimizes and monitors your device's battery usage to help extend its life
Driver Updater (Paid): Automatically updates outdated software
Duplicate Finder (Paid): Frees up space on your drive by removing double files
Power Cleaner (Paid): Speeds up overall system performance by removing junk files and fixing registry errors
When I tested the Startup Optimizer tool, it alerted me to programs that were slowing down my PC. After scanning my system, Avira gave me 2 optimization options: standard and hyper boost. I tried standard first and saw my start time fall from about 180 seconds to 151. This is an improvement, but still quite slow.
I was most impressed with the Hyper Boost tool. This required 5 full restarts in order to optimize my start time. While the process took a while, it was worth the wait as my boot time dropped all the way to 62 seconds — well above the 25% improvement Avira advertises! Avira recommends only using the hyper boost once every 6 months, but it's definitely worth the time investment if your computer is slow to start up.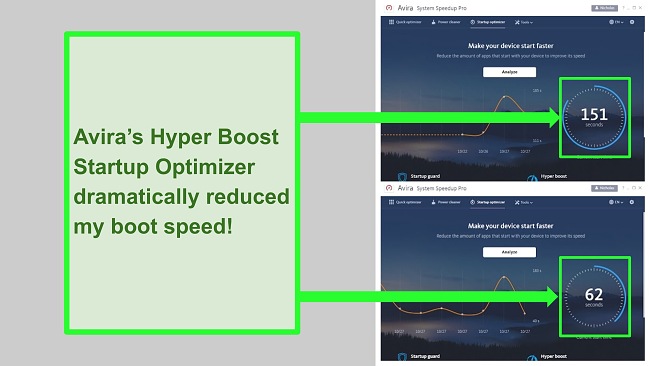 In addition, I liked Avira's power cleaner tool as it scanned my system for unnecessary files and other issues that negatively impact performance (like registry errors and browser trash). Using Avira's free software, I was able to clear 106MB of storage space and clean up 169 registry entries. Unfortunately, I needed to upgrade to a paid plan in order to optimize my system further. Once I did, the power cleaner freed up 2GB of space and removed over 11,000 unwanted files.
Outside of these tools, I didn't find the rest of Avira's optimization features essential. Battery saver includes performance and energy boost settings, but I didn't find they provided more value than you'll find with your PC and Mac's default battery settings. There's more utility when it comes to mobile devices, as I was able to implement a number of battery-saving features on my Android phone. The smart optimization settings help push your battery life further and could be worth using if your phone dies really quickly.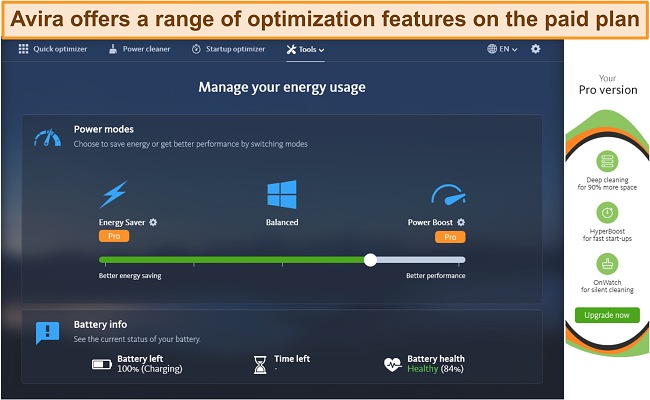 Driver updater and duplicate finder are throwaway features, as you don't really need to use either of them. Being able to scan for new drivers is nice but as long as you regularly update your system software, you likely already have the latest versions of all your apps anyway. Getting rid of duplicate files is a feature I'm sure some people could benefit from but unless your storage drives are constantly full, it probably won't do much for you.
While the startup optimizer and power cleaner are useful, I don't think they're worth upgrading from Avira's free package for. Norton 360 offers similar optimization features for a lower price. Best of all, you can try Norton 360 free for 30 days using its money-back guarantee.
Avira Phantom VPN (Free) — No-Logs VPN With Disappointing Speeds
I was surprised to find Phantom VPN included in Avira's free antivirus tier, as many of its competitors restrict their VPNs to paid plans. Better still, Phantom VPN has a strict no-logs policy, so none of your browsing data is tracked or shared with third parties.
While having access to a free VPN is welcome, it does come with some significant restrictions.You can only connect to the nearest server and are limited to 500MB of free data each month, which is far too little for streaming or torrenting. If you upgrade to a paid plan, you'll have access to unlimited bandwidth, 150 servers across 37 countries, and advanced security settings like a kill switch.
Unfortunately, Phantom VPN doesn't measure up to the competition when it comes to geo-unblocking. Connecting to servers in the US and UK, I was unable to bypass popular streaming services like Amazon Prime and BBC iPlayer. However, I was able to reliably access both Netflix and Disney+ content. This was a bit disappointing considering Norton 360's bundled VPN works with Netflix, HBO Max, and even local streaming platforms like UKTV.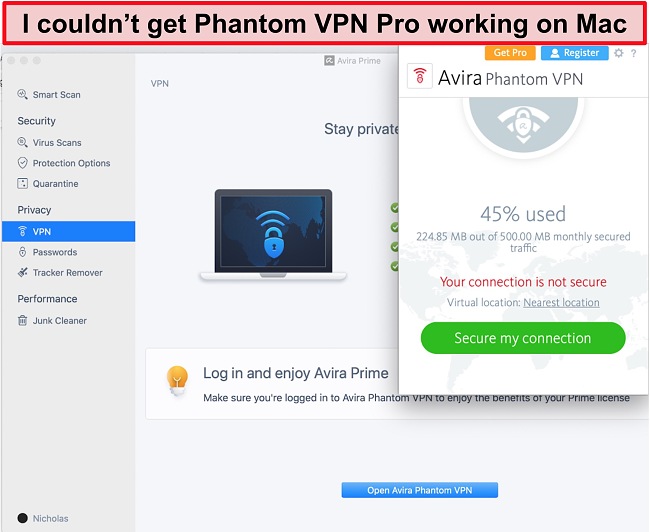 I did struggle with a glitch that prevented me from activating the full Phantom VPN service on Mac. The VPN client didn't recognize my Prime membership and after doing some research, I discovered this is a known issue with the Mac version. I found some troubleshooting tips on the Avira website, which recommended I delete and reinstall the VPN client. Thankfully, this fixed the issue but it was a little frustrating to encounter this glitch on the Mac version after having a smooth experience with the VPN on Windows.
Despite having slower speeds and less servers than a standalone VPN, Avira's VPN will serve most users well — especially if you have a premium subscription. The data limit won't get you far if you're a free user but the Pro version's unlimited data and devices make it a great part of the Avira Prime subscription.
Browse privately with Avira Phantom VPN!
Password Manager — Store Unlimited Login Credentials in Encrypted Cloud
Avira includes a password manager in every antivirus plan (even the free version!). In addition to 2-factor authentication and generated passwords, you can also store an unlimited amount of passwords. While it doesn't include advanced features like Norton Identity Safe's ability to save personal data for filling web forms, it's a free utility that gets the job done.
You can use it across all of your devices as it installs as a browser extension for Chrome, Firefox, and Opera.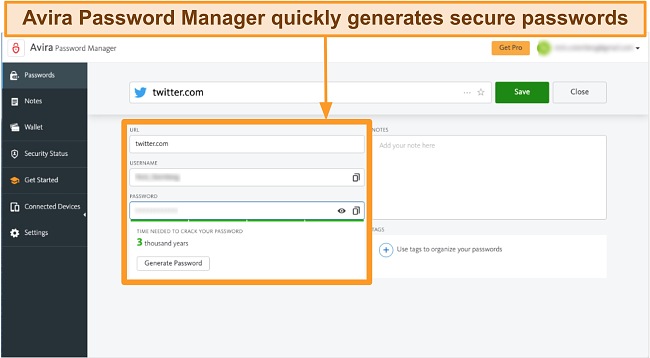 Avira Safe Shopping — Protects Your Privacy While Online Shopping
Safe Shopping is a free extension available for Google Chrome, Opera, and Microsoft Edge. You need to download it separately from Avira. While it might sound like a gimmicky browser extension, I actually found it very useful for protecting all online activities (not just shopping transactions).
Once installed, it scans every URL you visit and blocks ads, trackers, and other malicious activities. You can see whether or not a website was safe, and how many ads and trackers were blocked using the handy dropdown menu.
Unlike the disappointing Web Protection premium feature, Safe Shopping actually stopped all the phishing links I used in my tests. It also blocked a number of targeted ads. When I browsed the Best Buy website with Safe Shopping turned on, the extension blocked 10 trackers and 3 ads as soon as I navigated to the homepage! I didn't see any targeted Best Buy ads on my personal social media accounts or Google afterwards either.
I really dislike it when online stores start targeting me with ads after I've casually browsed through their products. It's even creepier when I see the same advertisement appear all over my social media channels, so I'm very happy with the performance of the Safe Shopping feature.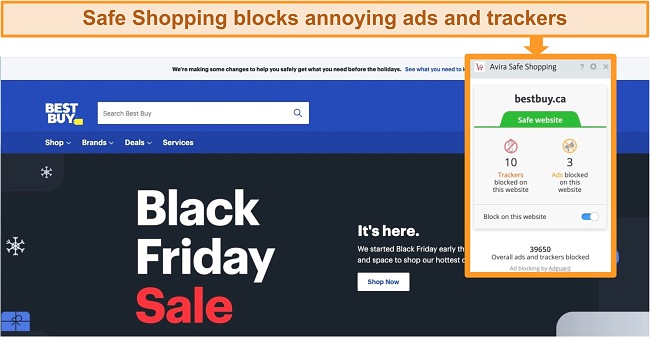 Browse anonymously and safely with Avira!
Extra Features — Includes File Shredder, Disk Defragmenter, and More
Avira is loaded with extra features on the paid plans, which can make it difficult to know which ones are actually worth the cost. After testing them all, Avira's VPN, startup optimizer, and Safe Shopping browser extension stand out as the most valuable add-ons across Avira's product line. However, you'll also get the following features if you subscribe to Avira's top tier Prime subscription plan:
File optimization features — Includes file shredder, disk defragmenter, file encryption, and file recovery.
Process manager — Tracks all running processes and stops unnecessary ones.
Game booster mode — Suspends unnecessary applications and services for better game performance.
Network traffic manager — Monitors your network traffic and lets you stop unwanted applications or devices.
System restore — Lets you restore your system to a previous state.
Software updates (Windows only) — Manages updates and patches for over 150 programs.
Most of these are housed in Avira's System Speedup Pro, a Windows-exclusive app that launches when you select specific features from the Avira client (Mac users get a separate app called Avira Optimizer that performs similar functions but has a much more stripped-down feature set).
While most of these features were designed with power users in mind, they add up to a comprehensive optimization suite. In combination with the startup optimizer and power cleaner, I was able to noticeably improve my PC's performance by making use of these features.
Ease Of Use - 8
Avira offers custom apps for Windows (7 or above), Mac (OS X 10.15 Catalina or above), Android (5 or above), and iOS (11 or above). I found that Avira's apps are good for beginners and experienced users alike — it only takes a couple of minutes to install on both desktop and mobile.
However, the most annoying thing I found about the free plan is that I couldn't tell which features were locked behind a paywall. Whenever I unwittingly clicked on a paid feature, I'd be redirected to a new page prompting me to upgrade to a premium plan. Avira offers a huge range of features, so it didn't take long for me to become frustrated by the upselling attempts. While a clever marketing tactic, I would've preferred to avoid the hassle and have Avira simply highlight the features unavailable on the free plan.
On the plus side, you don't need to enter any payment information to download the free Avira antivirus app. That said, I found the process of upgrading to a paid plan tedious. You can upgrade through the Avira app or on the company's website. I chose the latter and expected a simple purchasing process.
Unfortunately, I had to wait for two separate confirmation emails after purchase, which was a bit unusual. The 1st email told me that my purchase request had been received and that my order would be processed "within the next hour". About 10 minutes later, I received a 2nd email confirming my purchase with a prompt to install Prime.
Although I didn't have to wait long for my order to go through, I was a bit surprised at how dated the process felt. In addition, Avira didn't automatically update to unlock premium features. Instead, I had to close the app and restart it.
Desktop Apps — Well-Organized Interface for Windows and Mac
Avira uses the same antivirus software for both Windows and Mac, including malware and phishing protection. The Mac version is missing the Web and Email Protection features, but neither perform well so it's not a great loss.
As soon as I launched the Windows app, I found the key features grouped into Security, Privacy, and Performance categories on the homepage. The remaining features and customization options are located in the Settings tab, which is hidden in the top right-hand corner of the app window. The app is easy enough to use but could use bigger text to increase accessibility.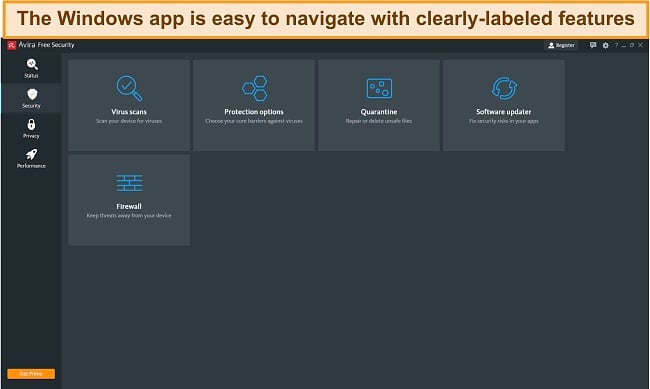 Unfortunately, one major issue is that the Windows app automatically installs the Opera browser without your consent and pins it to the taskbar. I found this incredibly invasive and I had to waste time uninstalling Opera afterwards. I'd like to see Avira include an opt-in message in the future.
The Mac app is drastically different in terms of aesthetics and layout (although it's equally easy to navigate). Navigation is similar to the Windows app but with some notable differences to how features are organized. Rather than click tiny icons to unfold features in a given category, the Security, Privacy, and Performance groupings are clearly indicated on the left-hand sidebar, with included features listed under each one.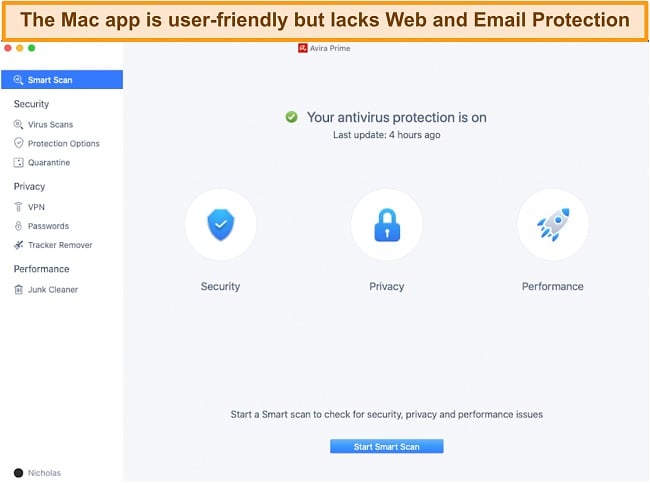 Mobile Apps — Includes Unique Features for Android and iOS
Avira offers an Antivirus Security app for Android and iOS devices. I found the mobile apps are just as easy to navigate as the desktop versions. The main dashboard displays a large "Smart Scan" button at the bottom, so you can immediately start scanning for malware as soon as you open the app.
It took just over 1 minute for Avira to scan my entire device— no malware was found but the app did provide me with recommendations to optimize my smartphone.
The Android and iOS apps have the same Security, Privacy, and Performance tabs as the Windows and Mac clients (though Security is changed to "Protection" on iOS), but with mobile-specific features under each one. The biggest changes are found in the Privacy features, as you can activate tools to protect your camera, microphone, and other mobile functions.
One thing I didn't like about Avira's Android offering is you have to download a separate app (Avira Optimizer) in order to access its optimization features (this app isn't available on iOS). This includes functions like boosting your device's battery and cleaning the storage. I'm not sure why Avira would spread these features across 2 different apps, as I found it annoying to flip back and forth between them.
The iOS app is similar to Android in layout, but offers less protection overall. This is mainly because Apple has many malware safeguards built into iOS, so it's redundant for antivirus companies to put their own malware security tools on the platform. There is a Smart Scan feature that checks for issues related to protection, privacy, and performance. When I scanned my iPhone, Avira found no issues with my device outside of some unused files that were slowing down my performance.
If you have a paid subscription, you can access Web and Identity Protection features. Web Protection keeps you safe from online content containing phishing, malware, spam, or fraud, but is restricted to the Safari browser. The Identity Protection tools (also available on Android) will protect your iPhone or iPad in the event they're stolen and include functions like location tracking and remote yell (triggers an alarm on your device).
While these features are useful, I think you're better off sticking with the free version Avira on iOS. You only really need the Smart Scan to keep your iPhone or iPad secure and running well.
Secure your mobile device with Avira!
Support - 2
Free users only have access to Avira's website but paying customers can contact Avira over email and phone. However, even as a paying customer, I was extremely disappointed by Avira's unreliable email and phone support. Unlike the majority of competitors, Avira doesn't offer live chat as an option either.
I wouldn't recommend Avira if you're new to using antivirus software. If you run into any urgent and complex problems, there's sadly no quick solution. You're better off looking for an antivirus with 24/7 assistance. For instance, Norton offers 24/7 live chat and phone support (and it's free for 30 days with the money-back guarantee).
Email Support — Slow but Best Option for Contacting Customer Service
You can contact Avira over email by filling out an online form on the website. Unfortunately, I was disappointed by the slow response times.
I sent a query about whether Avira includes ransomware protection in its free service. After submitting my question through Avira's web portal, I received an email confirming that my request had been received and that I would get a response "as soon as possible". It took 3 days to get a reply.

The good news is that the customer support representative was friendly and helpful. I asked additional questions in the email chain and I got a response in less than 4 hours — a significant improvement compared to my first question.
Phone Support — A Complete Waste of Time (Does it Even Work?)
Avira's phone support should be the quickest way to contact the company, but I could never get it to work.
Like email, phone support is available to paid subscribers only. Avira lists a toll free number on its website you can call anytime between 9am-11pm Central European Time (CET) in 30+ countries, including the US, Canada, Germany, China, and more. Since I live in Canada, I assumed I'd easily be able to use this number. However, I got an automated response saying the call couldn't be completed when I dialled the number.
I reached out to customer support through email and received an unhelpful response that simply repeated the phone number without addressing the issue I was having. Despite repeated attempts on the Canadian line, I was unsuccessful in using Avira's phone service.
Online Knowledge Base — Helpful but a Poor Substitute for Email and Phone Support
Since Avira locks its customer support behind a paywall, its online knowledge base is the only official support tool available to free users. The good news is it's easy to navigate and has an extensive amount of valuable information. You'll find troubleshooting tips for Avira's products, as well as answers to common questions like "What is malware?" and "How does a VPN work?".
Price - 6
Avira offers a free plan and 3 paid packages. While the free version is fantastic value, I'm not convinced Avira's paid plans are worth the cost. However, every paid plan comes with a 30-day money-back guarantee, so you can always try it for yourself before committing to a subscription.
Avira Free Security Suite — One of the Best Free Plans Available
This is one of the best free antivirus plans out there. The standout feature is easily its powerful antivirus engine. Better still, you've got access to a wide range of premium features at no extra cost. This includes:
Antivirus scanner
Real-time protection
Safe Shopping browser
Phantom VPN (500MB of free data per month)
Password Manager
File Shredder
With the exception of the VPN, you don't have any limitations or restrictions on any of these features. This is extremely rare to see in the industry. Unfortunately, the free version is hobbled by the lack of customer support. You'll only be able to use the FAQ page, as Avira's email and phone support are only available with its paid plans.
Avira Antivirus Pro — Basic Paid Plan That's Not Worth the Money
The Antivirus Pro plan includes everything from the free version, but adds the Web and Email Protection tools. Neither feature performed well in my tests, so I don't think it's worth the upgrade. This means you're essentially paying more just for customer support (which I also found lacklustre).
Avira Internet Security — Advanced Paid Plan With Some Extra Features
The Internet Security offers better value than Antivirus Pro, but is still a disappointing plan overall. It includes everything in the previous plan, plus the pro version of the Password Manager and automatic Software Updater and Driver Updater.
There's simply not enough included in the Internet Security bundle to recommend it over Avira's free plan. While the update tools are nice to have, I found the free version of Password Manager is good enough for everyday use.
Avira Prime — Premium Paid Plan But Value is Questionable
Avira's most expensive package offers the best value of all the company's paid plans, as it gives you access to every one of Avira's free and commercial products. In addition to all of the features included in the Internet Security plan, Prime gives you access to:
Phantom VPN (unlimited data)
Advanced optimization and privacy tools for desktop and mobile devices
While Prime is the fully-featured version of Avira, While Prime is the fully-featured version of Avira, it doesn't quite measure up to the best premium security suites available. At a cheaper price, you'll have the same features and more with Norton 360 Deluxe. This includes encrypted cloud backup and parental controls. You can try Norton for free for 30 days using its money-back guarantee.
30-Day Money-Back Guarantee
Avira offers full refunds if you cancel within 30 days, but make sure you submit a request well before the 30 days expires. In my experience, it can take at least 3 days to receive an email response once you've submitted a refund request through Avira's website. You'll need to take into consideration so you can get your refund processed in time.
When I tested the money-back guarantee, I was fortunate to already have an email chain established with a customer support representative. I asked the representative directly if I could have a refund and she had my request processed the same day. I was happy to see the refund in my bank account a day later, even though I was told it could take 5-7 business days to get my money back.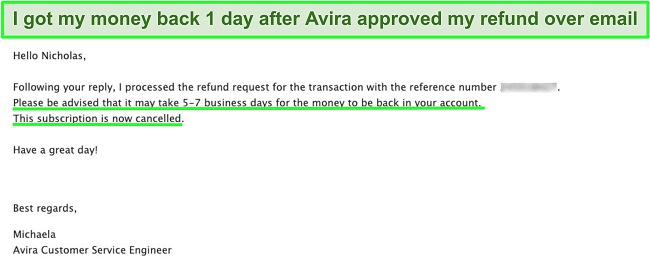 Final Verdict
I initially had reservations about Avira as I believed its free antivirus protection was too good to be true. After extensive tests, I found Avira is one of the best free antivirus programs on the market. The free plan offers excellent value with powerful malware protection, easy-to-use apps, and a huge range of bonus features.
It's not perfect though. You'll have to deal with the hassle of in-app upselling and the lack of customer support. Although free users aren't missing out — the phone and email support is shockingly bad even if you purchase the most expensive package. Frankly, it's unacceptable that Avira doesn't provide 24/7 customer support at such prices.
I don't think Avira's paid plans are worth the money. You're better off with a more powerful antivirus like Norton 360, which outperforms Avira across the board and has 24/7 customer support at cheaper prices. However, you should definitely consider Avira's Free Security Suite if you're willing to deal with the downsides.
FAQ: Avira Antivirus
? Is Avira's antivirus any good?
Yes, Avira scored close to 100% detection rates in malware and real-time protection tests. The software is backed by Protection Cloud, a cloud-based technology that helps Avira stay up-to-date on current threats. Its interface is also very user-friendly, making it easy to run scans and keep your devices protected.
? Can I use Avira antivirus for free?
Yes! Avira offers a pretty good free plan. In fact, when I compared its free plan to other antivirus services, I found that it's one of the best no-cost options. In addition to the powerful malware scanner, you'll have free access to bonus features like a password manager and Safe Shopping browser extension. This makes Avira a good choice if you only need basic protection for your Windows, Android, Mac, or iOS device.
? Will Avira slow down my computer?
Based on test results, Avira shouldn't slow your computer down to any noticeable degree. Avira's antivirus software is a well-optimized service that ran well on my Windows, Mac, Android, and iOS devices. I periodically checked Avira's performance in Windows Task Manager and it never took up more than a small percentage of my computer's processing power.
I regularly have 10+ programs simultaneously running on my Windows desktop — so if Avira isn't slowing it down, I'm confident it won't impact more lightweight devices. In fact, Avira actually enhanced my PC's performance with its device optimization features and halved my device's startup time!
? Is Avira's VPN safe to use?
Yes, Avira's Phantom VPN is safe. It uses military-grade encryption to hide your IP address from advertisers, hackers, and legal authorities. Your private data is further protected by the strict no-logs policy. In other words, it doesn't track your online activities or sell your browsing data. These are important security features to look for in a VPN.
However, I wouldn't recommend it as an everyday VPN if you need access to multiple servers or locations. The free version can only connect to the closest server and you have a strict data cap of 500MB per month. This is only enough for streaming up to 15 minutes in HD quality. Even if you subscribe to a paid plan, Phantom VPN's small server network makes it a poor choice for streaming or torrenting in multiple countries.