5 Best Password Managers in 2023 — Safe and Easy to Use
Last Updated by Deep Shikha on February 05, 2023
In an ever-evolving world of cyber threats and keyloggers, a password manager is an essential tool in ensuring your private information stays private. I tested all of the top password managers on the market to see which ones stood out from the rest in terms of security, privacy, and ease of use.
Unfortunately, many password managers simply aren't trustworthy or are too overpriced for what they offer. I went ahead and sourced the ones that deliver a great mix of safety and features while also offering reasonable price plans. Also, I tested each of them thoroughly to check if they could live up to their promises.
After all my tests, I chose 5 great password managers that are clearly better than the rest. 1Password is my top choice, but all 5 of these come with reliable security, a wide variety of features, intuitive designs, and affordable prices. Each one of these options kept my precious login data safe and secure while I browsed the web.
Quick Guide: Best Password Managers in 2023
The Best Password Managers — Full Test Results in February 2023
Key Features:
Uses a secret key alongside your master password to secure your data.
Lets you track your overall security with its Watchtower feature.
Offers full support for two-factor authentication, including authentication through USB keys like YubiKey.
1Password is my top password manager. It offers support for many devices, tons of great password management features, and intuitive apps that are easy to use. Plus, it's incredibly safe as it uses AES 256-bit encryption and various other security features to safeguard your data.
While most password managers use a single master password for decryption purposes, 1Password combines this with a secret key to make your data safer. When you create a master password upon using 1Password for the first time, the app will also generate a secret key on your device. This key, together with the master password, encrypts and decrypts your data, thus increasing your overall security.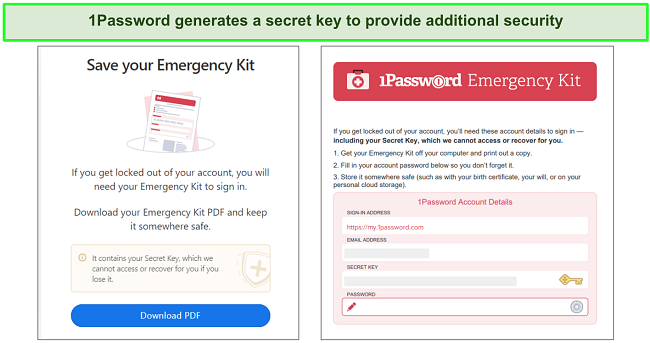 1Password works on a zero-knowledge policy, meaning it doesn't know what you store on it, and only you have access to your data. It supports two-factor authentication (2FA) that you can set up by using Authy or Microsoft Authenticator for an added layer of security. Also, it'll let you use USB tokens such as YubiKey to set up 2FA if this is what you prefer.
1Password has also seen many independent audits recently, including audits by, Cure53, AppSec, CloudNative, BugCrowd, and other cybersecurity platforms. It's also SOC 2 Type 2 certified, meaning it has taken all the necessary measures to safeguard your data.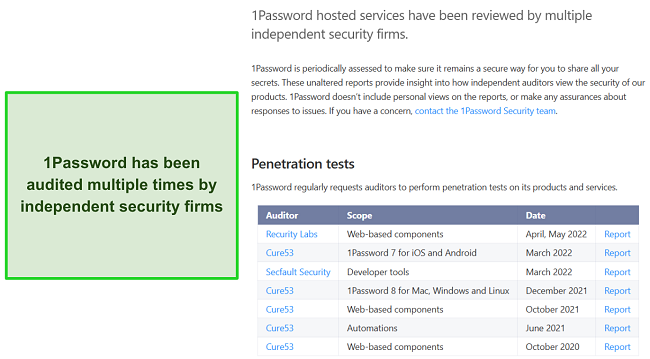 One of my favorite 1Password features is the Watchtower. I used Watchtower to get various insights about just how secure my passwords are. It'll let you know if your passwords are weak, if you're reusing them too much, or if they've been involved in a breach. Plus, Watchtower lets you know if your stored credit cards or licenses are nearing their expiry dates.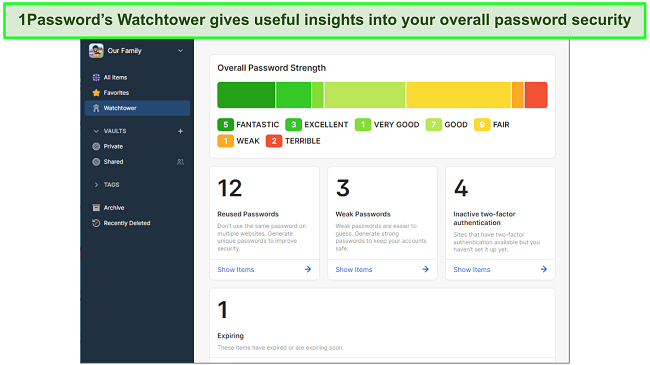 Alongside being secure, 1Password is superb at password management as well. It lets you create many different vaults to store your data. Being able to create so many different vaults made it really easy for me to keep track of all my data. I used these vaults to safely store logins, bank details, personal notes, identities, and more. It also comes with a password generator that you can open up and use any time you need to create a secure new password.
If you ever end up deleting any of your passwords by mistake, 1Password keeps a 365-day history that helps you restore them. There's also an interesting travel mode that'll let you highlight which of your vaults are safe for travel so you can temporarily remove the rest from the app. This is good for managing your vaults and ensuring your information stays secure if someone like a family member might have access to your devices while you are away.
I was quite impressed with 1Password when it comes to its pricing. It offers multiple plans, including plans for individuals, entire families, teams, and businesses. 1Password has 1-year-long plans, and although they aren't the cheapest out there, they're well worth the price considering how effective it is. Plus, you'll get a 30-day money-back guarantee that'll let you test the password manager risk-free before you fully commit.
I consider 1Password well worth its price and highly recommend using it. It offers industry-standard security, many great password management features, and values your privacy.
Key Features:
Comes with a VPN to give you added security.
Uses Dark Web Monitoring to check if any of your passwords are compromised.
Has a zero-knowledge system to ensure that your data remains as safe as possible.
I found Dashlane to be one of the most feature-rich password managers on this list. It's a great choice if you want an app that excels at password management and offers many other useful features.
Dashlane has a zero-knowledge architecture, ensuring that no one but you can access your data. It also uses end-to-end AES 256-bit encryption, which, paired with its zero-knowledge security, makes sure that all your logins and information will remain safe. Of course, there's also support for 2FA that you can easily set up using apps like Google Authenticator.
Another highlight of Dashlane's security is that it uses HTTPS to secure communications between your devices and its servers. This means that no third parties can get their hands on your data. Plus, Dashlane is fully GDPR/CCA compliant, which ensures that Dashlane always has to prioritize the safety of your data. It's also SOC 2 Type 2 certified, meaning it follows all the industry-standard practices to manage your data.
Dashlane offers storage for all kinds of information. You can store your login information, card details, license details, passports, addresses, and entire identities in its vaults with ease. You can't create folders on your own, though, which makes organizing a bit difficult.
You can use Dashlane to generate secure passwords whenever you need them. I used this feature to generate secure 40-character-long passwords with a combination of letters, numbers, and various special characters. These passwords are very secure, and Dashlane even keeps a history of the passwords you've generated.
Dashlane comes with a very useful password health feature to inform you about your overall password security. I often used this feature to check if I had any weak passwords or if I was reusing a certain password too much. It also informs you if any of your passwords get leaked in a breach, so it's a great way to keep your logins secure.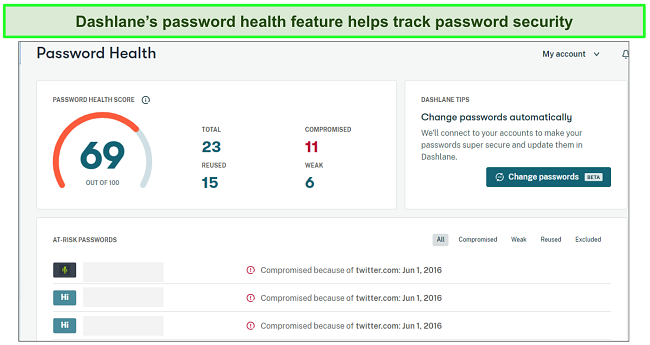 Another really useful feature is Dashlane's automatic password changer. It lets you automatically change your passwords on a variety of different websites with just a few clicks. The feature works directly with many different websites, so you don't have to go through multiple menus just to change your passwords. Simply make the password changes through Dashlane and it'll take them around a minute to take effect.
Dashlane is constantly monitoring the dark web with its Dark Web Monitoring feature. It'll immediately inform you if any website is compromised and exposes your login information. This feature actually helped me find multiple passwords of mine that were compromised, and I changed them immediately.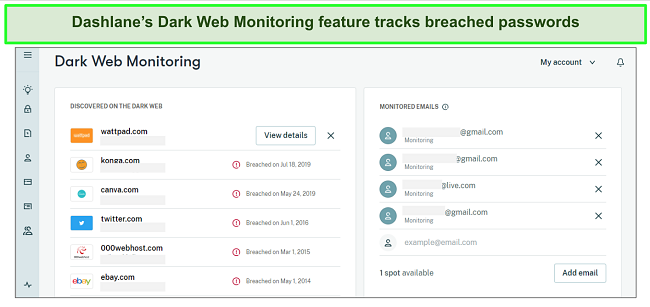 Alongside everything else, Dashlane offers a VPN as well. Dashlane's VPN is powered by Hotspot Shield, a renowned VPN provider. The VPN is fast, effective, and offers an extra layer of security as you browse the web. It also sets Dashlane apart from other password managers on the list because no other option comes with a VPN.
Dashlane is the most expensive password manager on this list, but I consider it worth the price because of all its great features. It offers plans for individuals, families, teams, and businesses. You can choose between monthly or 1-year-long plans, but I recommend the yearly option because it's much better value. There's also a 30-day money-back guarantee, and even a 30-day trial for individual and family plans.
Overall, Dashlane is loaded with many useful features and is great at password management as well. It's one of the most well-rounded password managers that you can get. It might be a bit more expensive than the other options on the list, but I found it absolutely worthwhile considering how much it offers for the price.
Key Features:
Offers seamless login capture and reliable form-filling features.
Uses industry-standard encryption paired with local decryption to keep your data safe.
Has safe storage for all sorts of information ranging from passwords to identities.
RoboForm started out as a form filler but has since become one of the most reliable password managers available. It's secure, values your privacy, and offers safe storage for any kind of information you want to store.
What sets RoboForm apart is that it has some of the best form-filling features you can get in a password manager. It instantly captures any login information you use across the web and lets you save it with a single click.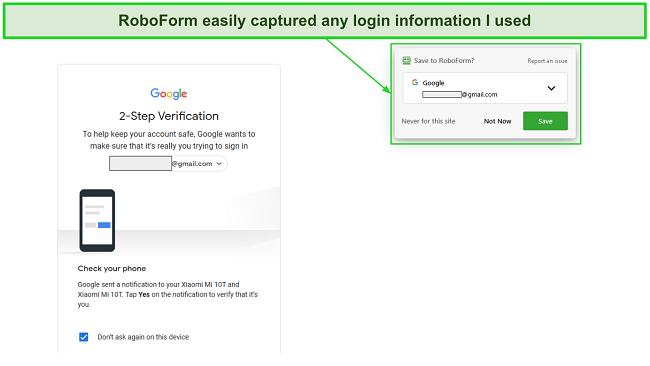 Filling in saved information with RoboForm is really easy as well. It'll give you the option to auto-fill with one click whenever you visit a website with a login you've saved before. This is also true for all forms other than logins as well, such as those where you have to enter your address and personal details.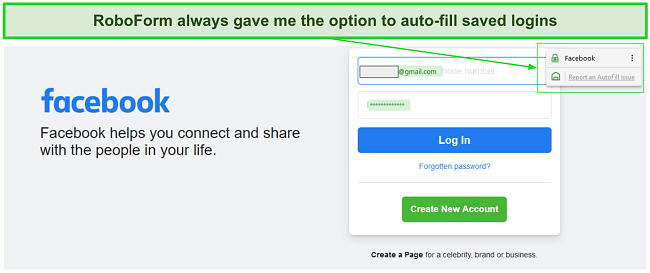 Of course, RoboForm is fully secure as well. It uses AES 256-bit encryption to secure all that data you store on it, and it's all decrypted locally using your master key. Thanks to industry-standard encryption and the fact that it's decrypted locally on your device, you can be sure that your data is always going to be as safe as possible on RoboForm.
RoboForm also values your privacy. It's fully GDPR compliant, so it works according to all the safeguards and regulations of the EU's GDPR legislation. It's also Privacy Shield certified, meaning it follows the best possible practices for protecting and managing your data. It even has measures in place that'll immediately inform you if your data is breached.
RoboForm offers very reliable password management features. It offers safe storage for all your logins and information and will let you generate secure passwords whenever you need them. You can also customize the types of passwords RoboForm generates by choosing what characters they should include and how long they should be. Plus, you can give others emergency access to your information in case you're not able to access it yourself.
RoboForm is quite impressive when it comes to value for money. It's very affordable and offers plans ranging from 1-year-long to 5-years-long. There are separate plans for individuals, families, teams, and businesses, and each one of them is very well-priced. Of course, there's a 30-day money-back guarantee, so you can test the entire app risk-free before committing.
RoboForm is very affordable and is actually the cheapest password manager on this list if you go for its 5-year plan. Overall, it's a great choice because it comes with industry-standard security and solid form-filling features that'll help you save a lot of time.
Key Features:
Has intuitive and easy-to-use apps.
Secures your data with AES 256-bit encryption.
GDPR, US-EU Privacy Shield, and ISO 27001 compliant.
Keeper is a great password manager that feels very easy to use. It offers many excellent password management features, top-notch security through military-grade encryption, and support for many devices.
I found that I could use Keeper on every single device I have. It works on macOS, Windows, and Linux, and has extensions for every single popular browser ranging from Chrome to Opera. Plus, it offers mobile apps for Android and iOS that you can use on the go. The native Windows apps worked great for me, and the browser extensions also performed well.
Keeper offers a very user-friendly experience. The apps are easy to install and have intuitive designs so you'll be able to navigate through them with ease. All of Keeper's apps have similar designs so, once you've learned to use any one of them, you can use the rest with ease.
Keeper keeps your data secure by using a secure cloud infrastructure to store all of it. The servers hosting your data are fully secure, and you can only access your data by using your master password. Keeper uses AES 256-bit encryption so you can be certain that your data is as safe as it can possibly be.
Keeper is also very privacy-friendly and has a zero-knowledge and zero-trust approach to privacy. Not even Keeper's own staff can ever get access to your data. Plus, every single device you use to access your Keeper storage will have to be authenticated. Keeper has also gone through several security audits and is GDPR, ISO 270001, and US-EU Privacy Shield compliant. All this made me comfortable using Keeper because I could be sure that my data would be managed using industry-standard practices.

Keeper's vaults gave me safe storage for a variety of information. Not only could I save my passwords with ease, but I was also able to save other things like card details, identities, and entire files. The vaults have storage for just about everything you want to keep safe, and what's great is that Keeper lets you safely share whatever you store with ease with trusted users.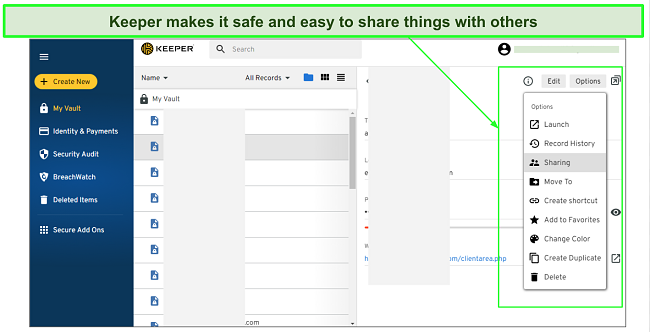 Keeper offers great password management features to help you keep track of all your passwords' security. It has a security auditing tool that'll constantly monitor your passwords and inform you if any are too weak or have been reused somewhere. Keeper also comes with BreachWatch, a tool that monitors the dark web and tells you if your passwords are ever compromised. Of course, it also offers a secure password generator that you can use any time you want to create strong passwords.
Keeper also has an interesting feature called KeeperChat. This is basically its own encrypted chat that sets itself apart in many ways. It may not be as popular as other chat apps used around the world, but KeeperChat lets you unsend any sent messages, set a self-destruct timer for messages, and even tells you if the person you're talking to takes a screenshot of the conversation.
Keeper's customer support is among the best available as far as password managers are concerned. You can reach out to support via 24/7 live chat, email, or a phone call. No matter what method you choose, you'll receive a timely response and it'll be helpful in most cases. I spoke to Keeper's live chat multiple times, and the agents always answered all my questions in an informative and helpful manner.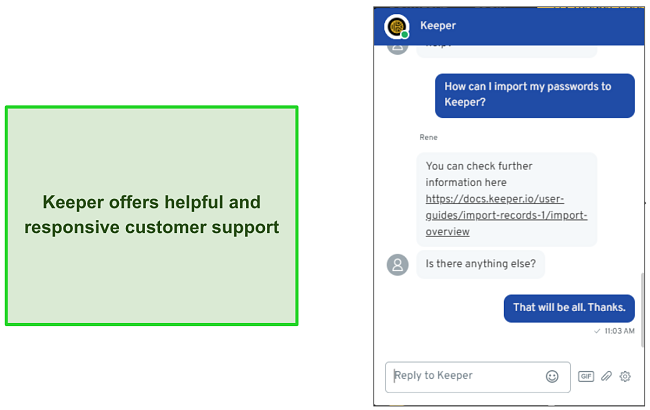 Keeper offers 2 different plans, a standard plan and the Keeper Plus Bundle. The standard plan comes with all the important password management features. However, the Keeper Plus Bundle is a better value because it includes all password management features and also Dark Web Monitoring and secure file storage. Keeper only offers 1-year-long plans and comes with different plans for individuals and families. Also, there's a 30-day money-back guarantee that'll let you test everything risk-free before you commit.
Keeper isn't the cheapest on this list, but it is absolutely worth the price. It's privacy-friendly, offers secure and effective password management, has a variety of useful features, and comes with very helpful customer support.
Key Features:
Simple and easy-to-use interface for all apps and extensions.
Fast and reliable form-filling features.
Secure Me feature to remotely control sessions on all your devices.
Panda Dome Passwords is an effective password manager that's been built with simplicity in mind. It's a great choice if you want a simple and straightforward password manager that isn't too flashy but gets the job done. Installing and setting it up can be a bit of a hassle but, once installed, it's really easy to use.
Panda Dome Passwords offers intuitive and easy-to-use apps. Even if you've never used a password manager before, you'll have no trouble navigating through its interface and making the most of all its features. It doesn't have native desktop apps, but this is more than made up for by its browser extensions that have all its necessary features.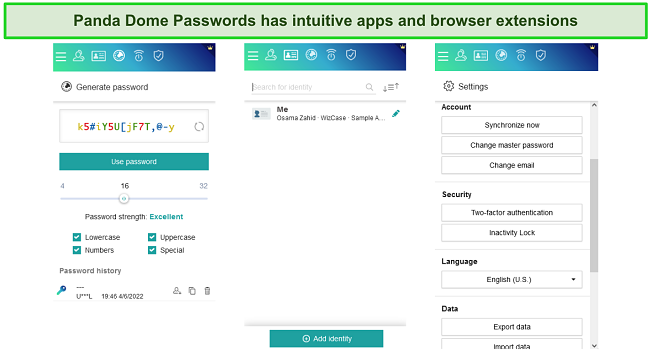 Something worth noting about Panda Dome Passwords is that it never explicitly says what encryption it uses. Other password managers on this list use AES 256-bit encryption, and Panda's own full security suite uses Microsoft Bitlocker which is either 128-bit or 256-bit. So, there's a good chance that it's using AES 128-bit or AES 256-bit encryption, but there's no way to be sure.
Panda Dome Passwords has all the necessary security features a good password manager should have. It comes with secure storage for any information that you want to store ranging from logins to card details. Plus, it fully supports 2FA, which can easily be set up from the settings menu.
Panda Dome Passwords is fully GDPR compliant. This means that it follows all the safeguards and data management practices outlined by the EU's GDPR legislation. There's also the fact that it comes from Panda Security, a company that has a great reputation in this space. All this makes me feel quite comfortable using it because I know that my data is in good hands.
Panda Dome Passwords also comes with a really useful security report section. This section gives you insights into your security and helps you improve it. The security report section will let you know if you still haven't set up 2FA, if your passwords are weak, or if you're reusing passwords. Also, it'll inform you if any of your passwords get leaked in a security breach.
Panda Dome Passwords' password management features are great. Thanks to the secure password generator, you can store all your passwords safely and even generate new ones. It's also great at filling in forms and will automatically capture and ask to save any new login information you use.
One of Panda Dome Passwords' most interesting features is Secure Me, which lets you remotely control sessions on any of your devices. You can even use it to log out of websites and delete your browser history entirely, but this functionality only works on its web browser extensions.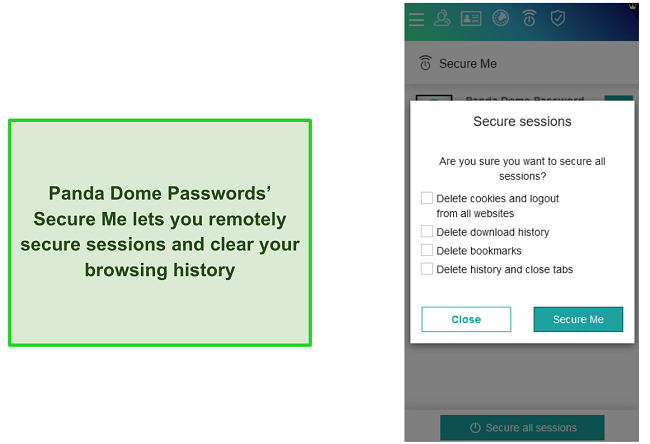 Alongside everything else, Panda Dome Passwords is quite affordable. It isn't the cheapest password manager on this list but offers multiple affordable plans. You can get 1-year-long, 2-year-long, or 3-year-long plans with the three-year plan offering the best value. You can get even more value for your money if you get it by subscribing to Panda's entire premium security suite that includes other useful software like their antivirus. Plus, it offers a 30-day money-back guarantee, so you can fully test the password manager before committing.
Overall, Panda Dome Passwords is a solid choice for anyone who wants an affordable and easy-to-use password manager that gets the job done.
Top Password Managers That Didn't Make the Cut
1. LastPass
I found LastPass to be a secure and reliable password manager throughout my experience. It has industry-standard encryption, many features for password management, and is fully compliant with data protection laws.
It also comes with great auto-fill features, a secure password generator, a useful security dashboard, and even credit monitoring for US users. Unfortunately for LastPass, the top 5 password managers are a lot more well-rounded, and some are also cheaper, so it couldn't make my list.
2. Sticky Password
Sticky Password is a solid password manager. However, it didn't make the top 5 because it doesn't do enough to stand out from the rest. It's still great at storing your sensitive information, though, and offers top-tier security.
Sticky Password is a very well-rounded password manager that'll do everything a basic password manager should do. It'll capture any passwords you use, let you share information with others, and has great sync features. Unfortunately, it doesn't offer anything groundbreaking that would set it apart from the crowd, so it isn't in my top 5.
3. PassFab
PassFab is a decent password manager and certainly the most unique one on this list. PassFab stands out because it's been designed only for iOS devices. It's also unique in terms of how it works and is privacy-friendly.
Most password managers capture passwords as they're used and provide storage for other kinds of sensitive information. However, PassFab simply imports all the information you have on your iOS device. This information includes logins, WiFi passwords, and more. It can also export this information to other password managers. It doesn't offer anything other than this, though, so it couldn't break into the top 5.
Quick Comparison Table: 2023's Best Password Managers
| | | | | | | |
| --- | --- | --- | --- | --- | --- | --- |
| Password Manager | Encryption | Password Generator | 2FA | Local Storage | Starting Price | Money-Back Guarantee or Free Plan |
| 1Password | AES 256-bit | ✓ | ✓ | ✓ | $2.99/mo | ✓ |
| Dashlane | AES 256-bit | ✓ | ✓ | ✘ | $3.33/mo | ✓ |
| RoboForm | AES 256-bit | ✓ | ✓ | ✓ | $1.65/mo | ✓ |
| Keeper | AES 256-bit | ✓ | ✓ | ✘ | $2.91/mo | ✓ |
| Panda Dome | Unknown | ✓ | ✓ | ✘ | $2.5/mo | ✓ |
How I Tested and Ranked the Best Password Managers in 2023
Strong security — Security was among my top priorities in testing and finding the very best password managers. I use these apps to store my logins and lots of other sensitive information. So, I ensured that any password manager I recommend would safeguard all the information you keep on it.
Every password manager on this list comes with industry-standard encryption — which secures your data and makes sure no one else can view it. They also offer other features such as two-factor authentication, informative security reports, and dark web monitoring to inform you if your passwords get leaked.
Quality features — Alongside being secure, a password manager needs to have a good variety of quality features to make password management more convenient. Each of the password managers I've recommended here has many features to make things more convenient for you. You can expect them to have many useful features like password generators, storage for all kinds of information, password sharing, form-filling features, and more. Some even manage to stand out, such as Dashlane with its Virtual Private Network (VPN) and Panda Dome Passwords with its Secure Me feature.
Ease of use — Of course, it's important for a password manager to be easy to use so even newcomers can use it without problems. I've only recommended password managers with intuitive and straightforward designs. Even if you've never tried a password manager before, you'll find that the ones on this list are easy to figure out and use.
Compatibility — I use multiple devices throughout my day, like many others, so it's important for the password manager I recommend to work on all of them. For this list, I only picked password managers that you can use on pretty much every device you have. You can use them to store passwords and sensitive information on your PC or use them on your phone while on the go.
Value for money — No matter how good a password manager is, it needs to be somewhat affordable to be worthwhile. Thankfully, every password manager on this list offers great value for money. Some are just a bit more expensive than others, but they are absolutely worth it considering how many features they all offer.
FAQ: Best Password Managers in 2023
Do I really need a password manager?
Yes, you need a password manager if you want to keep track of all your passwords effectively. Nowadays, it's impossible to keep track of all your accounts unless you have the same password for every single one, which is a significant security risk.
Using a password manager like 1Password will let you use incredibly secure passwords and track them with ease. It'll also give you a great deal of convenience since you'll automatically be logged into websites most of the time. They're also incredibly secure and value your privacy, so your data is going to be in good hands.
Are password managers safe?
Completely! The password managers on this list are all safe. They all use industry-standard encryption to safeguard your data at all times. Plus, they offer many other kinds of security features to ensure that your sensitive information never falls into someone else's hands.
All the password managers I've recommended like Dashlane and 1Password also have trustworthy privacy policies. They don't keep any data other than what they need to provide you with effective services. Also, they have zero-knowledge policies, which means that no one but you can access and view your data.
Do password managers sell my data?
No, the password managers I've recommended do not sell your data. The zero-knowledge policies mentioned above mean that there's no way for them to access your data. This makes it impossible for password managers like RoboForm to track and sell your data in any way.
Are all password managers the same?
No, while all password managers have similar features, they're not entirely the same. Every password manager has unique aspects that set it apart from others and give it its own use cases.
RoboForm, for instance, has some of the best form-filling features out of all the top password managers, while 1Password offers support for USB authentication tokens. even comes with a secure messenger you can use to communicate safely with people.
How to Choose the Best Password Manager in 2023?
Overall, while there are many amazing password managers available right now, the best choice comes down to which one fits your needs best. The top choices I've recommended excel at the basics of password management and have unique aspects of their own.
Password Managers like RoboForm are great if you want the best auto-filling functions, while Dashlane is a good choice if you want a feature-rich experience. Similarly, 1Password is a solid option if you want a well-rounded password manager, while anyone looking for simplicity will prefer Panda Dome Passwords.
Although my top choice is 1Password, you can be sure that all the password managers I've recommended are secure and reliable. They come with industry-standard security, many features for effective password management, and also offer great form-filling tools for your convenience. Plus, they're all privacy-friendly, so your data will always be in good hands.
---
Summary — Best Password Managers in 2023