ProtonVPN's network includes over 1,200 servers in 50+ countries — but the free version only comes with 15+ total servers in the US, the Netherlands, and Japan. Speeds are slow, but you are allowed to download torrents and use Tor on some of these servers (as indicated by a small icon in the interface). I could also see the user load on each server, which is a helpful feature that can help you avoid slow, overcrowded servers. Sadly, all the servers I could access with my free version of the VPN were congested, with a user load of 90% or more. That's why I wouldn't recommend using ProtonVPN's free version for a high-bandwidth activity like torrenting files — its servers are just too slow.
I was also a bit concerned when I learned that ProtonVPN rents most of its servers instead of owning them. Although rented servers are normally safe as long as the provider manages the leased equipment, this practice still exposes your connection to possible interference from third parties.  If you're a privacy-minded user, you should opt for a VPN that owns all of its servers, like IPVanish.
Even with access to ProtonVPN's full network, its bare-bones Basic plan is still restrictive. Along with throttled speeds, you don't get options like double VPN, Tor over VPN, or the ability to unblock geo-restricted content. These bonuses are only included if you get the Plus or Visionary subscriptions. In contrast, Private Internet Access (PIA) gets you top-grade features and over 34400 servers for a fraction of the cost. You can even try PIA and all these features risk-free using its 30-day money-back guarantee — a policy that ProtonVPN doesn't offer.
During my tests, ProtonVPN's servers were reliable — they always worked on my first try and never unexpectedly disconnected. There are handy icons next to each server showing whether it's Tor compatible (onion icon) or P2P compatible (arrows icon).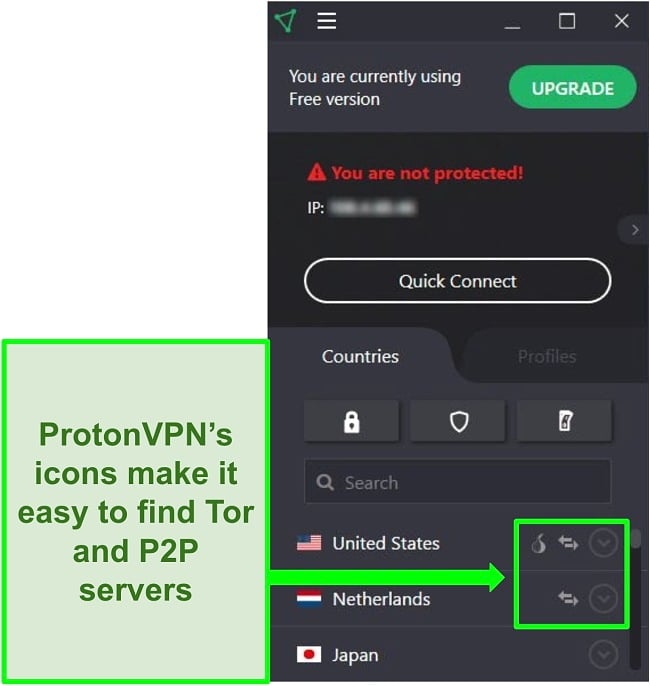 You can also connect automatically to the fastest server, or use a random one. Using random servers is an effective way to make yourself even harder to track, and it's a feature I haven't seen in other VPNs.
ProtonVPN hides your data with 256-bit encryption — the most powerful cipher available, which not even governments can break. It also uses the 4096-bit RSA handshake to authenticate the connection, thus establishing "trust" between your network and the VPN. For added protection, ProtonVPN then uses the ECDH key exchange to produce a set of private keys that will be unique for each VPN session. This process is known as "perfect forward secrecy", and it ensures that hackers won't have continued access to your connection if a single session gets hacked.
I found that ProtonVPN has a limited, but still secure selection of tunneling protocols. You can choose between OpenVPN and IKEv2/IPsec on all apps except macOS, which only supports IKEv2. Though ProtonVPN has promised to eventually deploy the newer WireGuard protocol, it hasn't done so yet.
The Secure Core feature is another security bonus on ProtonVPN's Plus and Visionary plans (which I couldn't test). ProtonVPN owns 40 Secure Core servers, all of which route your data through 2 locations, starting with one either in Iceland, Switzerland, or Sweden. These are privacy-friendly countries that don't surveil web users. These servers are built and maintained in-house, kept in tightly controlled facilities, and connect to the internet only via networks owned internally. ProtonVPN claims that by passing through Secure Core servers first, your data will stay hidden if a subsequent server has been compromised by malicious third parties.
While ProtonVPN offers a split tunneling feature on its Windows and Android apps, I couldn't test it because the VPN's free version I used didn't have it. It's too bad — split tunneling is a convenient feature that lets you exempt certain apps and websites from the VPN connection. With this feature, you can use the VPN to access geo-restricted sites while also viewing local content on your home network.
My tests revealed that ProtonVPN keeps data like your IP address, location, and browsing activities completely hidden. To see if any of my data was leaking past ProtonVPN's encryption during communication requests, I connected to a server in the Netherlands and performed a DNS leak test. The test only detected ProtonVPN's server in the Netherlands — this means it really kept me anonymous.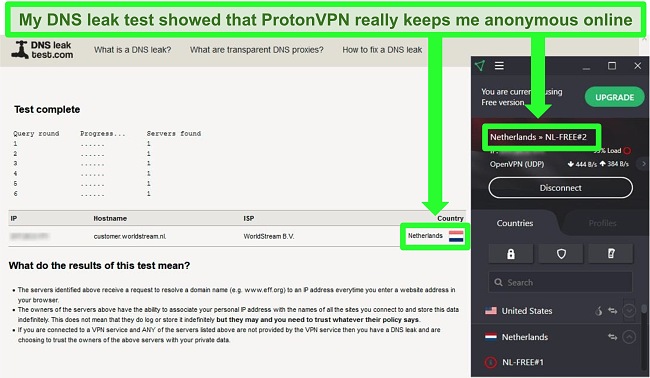 I also performed a WebRTC leak test to see if my browser was leaking my real IP address despite the VPN connection, and once again ProtonVPN successfully passed. In a final check, I ran an IPv6 leak test to see if ProtonVPN was capable of channeling newer, less common IPv6 connections through its VPN tunnel. I'm happy to report that the IPv6 leak test also didn't reveal a leak. All these leak tests confirmed that even the free version of ProtonVPN was capable of fully safeguarding my IP address. Note that I could only run these tests on my Windows machine, as ProtonVPN's free version gave me a single device license.
ProtonVPN is headquartered in Switzerland, a country with strong laws protecting your data privacy. This makes me feel confident that my online activities remain anonymous with Proton VPN. Switzerland is also outside the Fourteen Eyes intelligence-sharing alliance, which includes the US, UK, Australia, and other nations that engage in electronic surveillance. Despite this, there was a case where Swiss courts approved a data request from a foreign government — but thanks to its zero-logs policy, ProtonVPN had nothing to provide to authorities anyway.
Although ProtonVPN has a strict no-logs policy, it does admit to collecting timestamps of successful connection attempts. These logs only record the date and time of the connection and omit any personally identifiable information, so they can never be traced to your device. ProtonVPN states that it logs timestamps to monitor password guess attempts and prevent password brute force attacks. 
Apart from these anonymous timestamps, ProtonVPN also records your email address, payment information, and anything you share when submitting a service ticket. These types of logs are generally harmless, and the majority of VPNs keep them. That said, I was glad to learn that ProtonVPN lets you use a ProtonID to hide your identity from the provider and pay with Bitcoin so you don't share personal data while paying.
The only inconsistency I found in ProtonVPN's privacy policy is the claim that it doesn't throttle — artificially slow down — users' internet connection. As a user of the VPN's free version, I found that ProtonVPN slowed my internet speed by over 98%, all while promising faster speeds with its paid plan. That's the classic definition of internet throttling.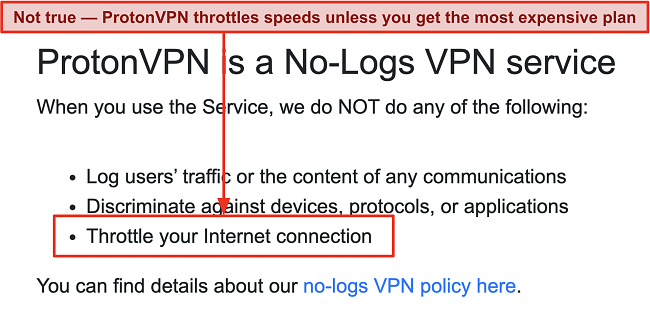 One important privacy function is ProtonVPN's kill switch, which is included in all plans but available only on the Windows and macOS apps. This feature prevents you from being exposed if your VPN connection gets cut off due to the VPN client crashing, a server failure, or other reasons. I was disappointed that this essential feature is off by default. I switched it on using a button at the top of the server menu, but when I disconnected from the server it didn't shut off my internet. Competing providers (like ExpressVPN and CyberGhost) have kill switches that engage if I disconnect for any reason — even if I click the "disconnect from server" button in the app.
ProtonVPN supports P2P file sharing protocols like BitTorrent. Its free version claims not to offer torrent support, but I noticed P2P icons next to some of the free version's servers in the Netherlands. When I tried them out, I was able to download a 1.3GB video file. The download took over 2 hours, but keep in mind that I was limited to the free version (which has throttled speeds). Servers that didn't have the P2P icon didn't work when I tried using them to download torrents. Remember that torrenting copyrighted material is illegal in most countries, so please only download content that's in the public domain.
ProtonVPN admits that its service was blocked by the Chinese authorities back in 2019, and hasn't resumed since. My team and I were unable to verify if ProtonVPN works in the country again. That said, there are a few VPNs that will let you access the free web in China. Just remember to install their apps before you arrive in the country as they're blocked there. Also, note that while Chinese authorities block VPNs with technology instead of apprehending tourists who use it there, the protection of a VPN doesn't give you the license to commit illegal acts.