McAfee vs Bitdefender 2022: Which Antivirus Is Best for You?
Last Updated by Kate Hawkins on August 01, 2022
McAfee and Bitdefender appear to be similar on the surface, making it tough to choose between them. That's why I put both antivirus programs to the test and compared them in 15 different categories to find out which brand is really the best.
In short, McAfee came out on top — but only by a small margin. Its low-impact malware protection won't slow down your devices even when running high-intensity scans. Plus it has a huge range of excellent features that boost performance, keep your whole family safe online, and secure your overall network. Better still, you can try McAfee for 60 days risk-free with its money-back guarantee. I tested the refund policy and the process was quick and easy — I had my money back in a week.
In comparison, Bitdefender is a powerful antivirus but it does have limitations (for instance, several plans only work on Windows). However, I was particularly impressed with its fast VPN, dedicated Game Mode, and password manager. If you'd like to test the service for yourself, you can take advantage of Bitdefender's 30-day money-back guarantee. I used this and got my refund in just 5 days.
No Time? Here's a 1-Minute Summary
Virus Scanner
Multiple scan types detected
and quarantined 100% of
malware
5 types of virus scanners but
missed 1 malware test file
Real-Time Protection
Detected 100% of newly-released threats
Flagged and blocked 99.7% of latest threats
System Performance
No noticeable system impact
Minimal device slowdown
VPN
Servers in 23 countries — but slow and struggles to unblock streaming services
Fast speeds with servers in 27 countries and unblocks Netflix US
Parental Controls
Comprehensive and user-friendly protection with location tracking, web filtering, and screen time schedule
Difficult to set up and navigate. Features geo-fencing, web filtering, and screen time schedule — iOS has very limited options
Firewall
Fully-customizable firewall on all plans
Highly customizable firewall — but unavailable on Antivirus Plus or Free plan
Password Manager
Only stores 15 passwords for free
Unlimited password storage on all plans
Gaming
Only included in a separate Gamer Security package
Game Mode automatically detects and optimizes gameplay
Optimization Tools
QuickClean, App Boost, and Web Boost
Battery Saver and OneClick Optimizer
Other Features
Browser extension, secure file shredder, ransomware protection, and more
Browser extension, secure file shredder, ransomware protection, and more
Device Compatibility
Windows, Mac, Android, and iOS
Windows, Mac, Android, and iOS
Customer Service
24/7 live chat, phone support, and community forum
24/7 live chat, phone support, email ticketing, and community forum
Price
Great value for money — all features available on every plan
Average value for money — limited features on all plans except 1
Free Version
No free trial or plan
Basic free version available
Money-Back Guarantee
60 days
30 days
How I Tested and Compared McAfee vs Bitdefender
1. Virus Scanner — McAfee's Fast Scans Detect 100% of Known Malware
McAfee and Bitdefender both have accurate malware scans. However, McAfee's scans are faster and during my tests, McAfee didn't miss a single item of malware on the test PC.
To compare the antiviruses, I looked at the scans types they offer:
| | | |
| --- | --- | --- |
| | McAfee | Bitdefender |
| Quick Scan | ✔ | ✔ |
| Full Scan | ✔ | ✔ |
| Custom Scan | ✔ | ✔ |
| Vulnerability Scan | ✔ | ✔ |
| Rescue Environment Scan | ✘ | ✔ |
I like that both antiviruses have a Vulnerability Scan, as this examines your device for any apps or software that needs updating. Keeping your devices updated reduces the chance of malware exploiting vulnerabilities to attack your system.
Bitdefender does offer 1 extra scan type, which I think is a great addition. The Rescue Environment Scan checks your devices in "Safe Mode" and removes any threats that it can't access in a normal operating mode. I'd like to see McAfee offering something similar for devices that are deeply infected with malware.
When it comes to scan times, McAfee is the faster choice by a few minutes. Its Quick Scan took less than 5 minutes to check vulnerable areas, while the Full Scan took just under an hour to examine my entire device (268GB!) Bitdefender's Quick Scan was slightly slower, taking 7 minutes. Its Full Scan took just under an hour.
My main focus, however, is on the detection rates — McAfee discovered and quarantined every malware test file, while Bitdefender missed 1. Bitdefender's almost perfect score is well above the industry average, but 1 file is all it takes for a virus to infect your device.
Both of these antivirus services offer top-tier virus scans and you may find that Bitdefender works perfectly for you. However, from my own test results, I recommend McAfee for its ability to detect all types of existing malware.
Protect your device with McAfee
2. Real-Time Protection — McAfee Defends Against 100% of New Malware Attacks
In my tests, McAfee successfully protected my devices from all real-time threats. While Bitdefender also had an almost-perfect detection rate, I prefer the protection that McAfee offers.
To achieve a perfect score, McAfee uses Global Threat Intelligence technology. This cloud-based software analyzes the behavior of malware to accurately predict how threats will behave. When it discovers suspicious behavior in unknown items, McAfee blocks them before they can infect your device. Due to the cloud-based nature of this technology, McAfee is constantly updating to protect you from the latest threats.
Bitdefender uses similar technology to effectively protect your devices from real-time malware attacks. Using a technique called "Behavioral Detection", it closely monitors apps, software, and network connections (including downloaded files) for any suspicious behaviors. If these are detected, the items are immediately quarantined for you to look at so you can determine whether they're safe or malicious.
Overall, there isn't a huge difference between these antivirus packages — both McAfee and Bitdefender are capable of protecting you from zero-day malware attacks. However, in my tests McAfee was slightly better than Bitdefender and achieved a perfect score.
3. System Performance — McAfee Operates With Almost Zero Impact on Your Devices
It can be difficult to measure how much an antivirus affects system performance, especially with low-impact packages like McAfee and Bitdefender. After careful testing, McAfee beats Bitdefender.
With McAfee running in the background, my system slowdown was negligible. I could work, check my emails, stream HD-quality video, and install software without any lagging or interruptions. It was as though McAfee wasn't busy protecting my device! I found it particularly impressive that McAfee had better results than other industry leaders in similar tests.
Bitdefender is also low-impact, and it's unlikely you'll notice an obvious difference when it's protecting you from online threats. However, it does slow down your devices. During tests, web pages opened 17% slower than usual, and installations slowed the system by up to 28%. This means waiting a few more seconds to load a website and several minutes waiting for an installation to complete. With McAfee, this wait time is practically non-existent which makes it the better option for overall system performance.
4. VPN — Bitdefender Has Faster Download Speeds and Unblocks Streaming Services
To gain access to the VPN, McAfee requires you to be signed up for auto-renewal and Bitdefender only includes its VPN with its Premium plan. Between the 2 VPNs, I much prefer Bitdefender. Not only does Bitdefender's VPN secure your online activities, but you can even watch Netflix and other streaming platforms.
Unfortunately, McAfee's VPN couldn't access Netflix at all. McAfee also has fewer server locations (only 23 verses Bitdefender's 27 server locations) and slower speeds. When I ran speed tests, Bitdefender's VPN was fast enough to stream shows with only a couple of seconds of buffering.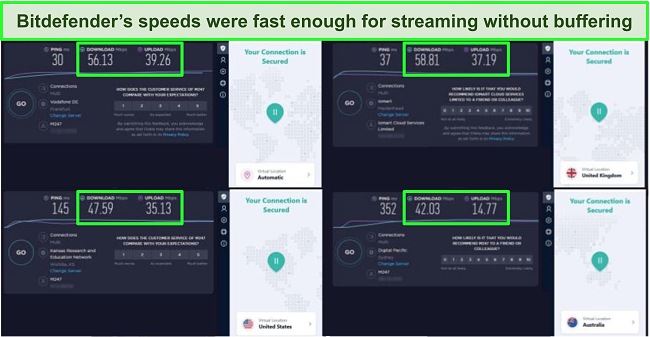 In terms of security, both VPNs have high encryption levels that hide your online activity and prevent data leaks. I felt secure when accessing my online banking app as well as shopping online, knowing that no-one (not even my Internet Service Provider) could see what I was doing.
Try Bitdefender for 30 days risk-free!
5. Parental Controls — McAfee Provides More Comprehensive Control for Children's Devices
McAfee and Bitdefender both offer parental controls with their antivirus plans, but McAfee is better due to its advanced options and easy setup.
It took less than 3 minutes to download and set up McAfee's Safe Family feature, and I like that I could easily see all the controls from the main dashboard. From there, you can accurately track your child's location, schedule downtime away from screens, and filter harmful or inappropriate web content.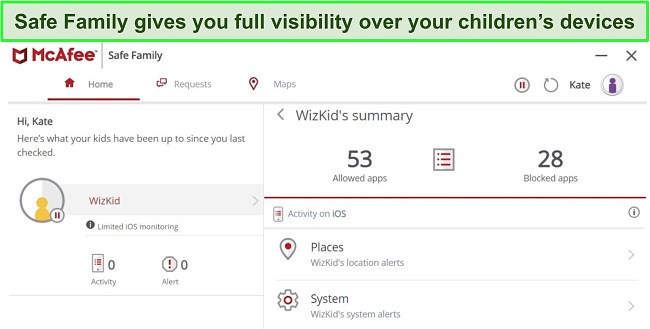 I also like that Safe Family alerts me if any changes are made to the app on my child's device or if rules are breached. Kids are increasingly tech-savvy these days, so it's a relief to know they can't change any of McAfee's settings without you being notified.
Bitdefender has a geo-fencing feature and solid web filtering but the apps are difficult to set up. I spent more than 10 minutes downloading and configuring the apps to my child's iPad because the settings were difficult to navigate.
McAfee's Safe Family is available on Windows, Mac, Android, and iOS with similar features on all apps. Bitdefender's Parental Advisor is supported on the same operating systems but is significantly less functional on iOS. For ease of use and level of coverage, I prefer McAfee's Safe Family option.
Try McAfee for 60 days risk-free!
6. Firewall — McAfee's Firewall Is Available on All Plans
Both firewalls from McAfee and Bitdefender provide top-tier network security, but McAfee provides this feature with all of its antivirus plans. Bitdefender doesn't offer the firewall on its Antivirus Plus package. Having a strong firewall is essential to maintaining security, so to find Bitdefender excludes it from a plan means McAfee comes out on top in this category.
McAfee's firewall offers a huge range of customizable options so you can configure network security exactly to your liking. If you find all the options overwhelming, you don't have to touch them at all — the firewall is automatically configured to provide top-tier protection.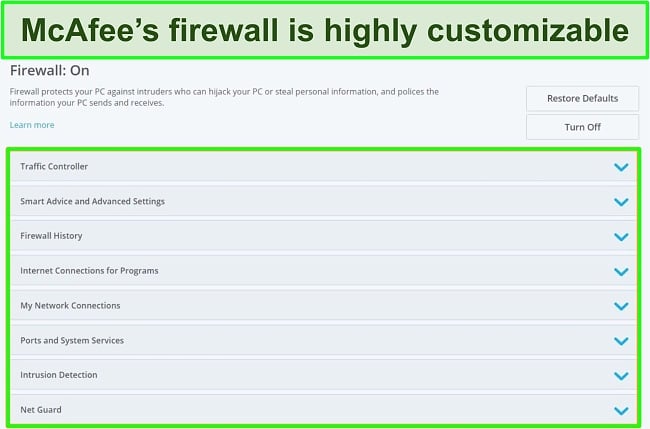 I particularly like the Intrusion Detection and Net Guard features, which are unique to McAfee. Intrusion Detection alerts you to potential hackers trying to gain access to your device, while Net Guard flags unwanted or suspicious network connections.
Bitdefender's firewall cleverly configures itself depending on the network you connect to, whether you're at home, work, or in public. For an extra layer of protection, you can enable its Stealth Mode which will effectively make you invisible — especially useful if you're on public WiFi. Unfortunately, the fact that Bitdefender doesn't include its firewall from its lowest-priced plans means you won't get coverage unless you purchase a more expensive package.
Try McAfee for 60 days risk-free!
7. Password Manager — Bitdefender Offers Unlimited Password Storage
While McAfee's True Key is a decent feature, Bitdefender's password manager is one of the best I've tested from an antivirus package. I'm particularly impressed that Bitdefender provides unlimited password storage — McAfee limits you to just 15 passwords, which isn't nearly enough for all of my accounts.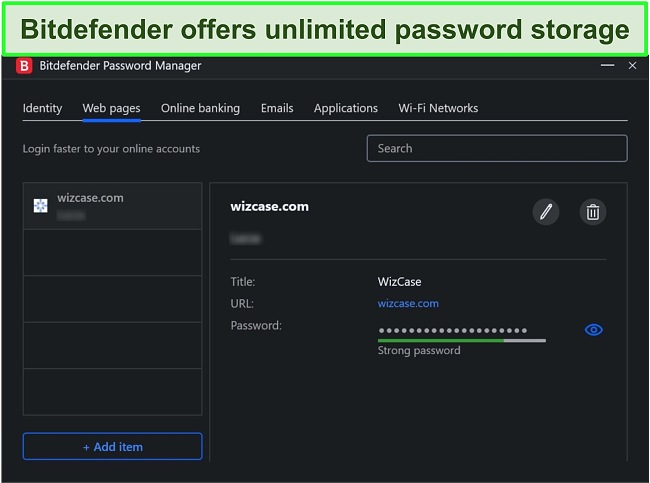 It was very easy to transfer my passwords from my existing password manager to Bitdefender. I also found that I didn't experience any delays when Bitdefender automatically filled my login credentials. Many password managers take a while to autofill the details, but Bitdefender entered my information in less than a second.
Both Bitdefender and McAfee have unlimited storage for personal details like credit card numbers, social security information, and sensitive documents. All information you enter into either password manager is heavily encrypted, using the same AES-256-bit standard that militaries and government agents employ.
If you don't have many passwords, McAfee's True Key is a secure option. However, most people have far more than 15 passwords so Bitdefender's password manager is the superior choice overall.
Keep passwords safe with Bitdefender!
8. Gaming — Bitdefender Optimizes Gameplay With In-Built Game Mode
I was surprised that Bitdefender beat McAfee in this category as McAfee has a dedicated Gamer Security antivirus package. Unfortunately, to make it low-impact, McAfee compromised on some essential security features — meaning Bitdefender is the better choice for a gaming antivirus.
Bitdefender has a specific Game Mode designed to optimize your system's performance when you're gaming. It diverts CPU power away from background processes towards your game, making them run more smoothly. Best of all, Game Mode starts automatically when it detects you're playing so you don't have to manually set it up. Bitdefender also has Autopilot Mode that learns how you use your device and suggests optimizations. If you game regularly, you'll find Bitdefender adjusts settings automatically for optimal gameplay.
McAfee's antivirus plans don't have a dedicated Game Mode unless you opt for the Gamer Security package. However, I found McAfee's Gamer Security was ineffective when it comes to blocking malicious websites and phishing scams. So while it performs well for playing games, you're compromising on overall security. It's better to stick with the comprehensive coverage Bitdefender offers, even though the antivirus isn't specifically tailored towards gamers.
Try Bitdefender for 30 days risk-free!
9. Optimization Tools — McAfee Significantly Boosts Device Performance
McAfee excels in this category, offering a range of tools designed to optimize the performance of your devices. Bitdefender does have some features that improve overall performance, but I found they weren't as impactful as McAfee's extras.
McAfee has 3 great optimization tools: QuickClean, App Boost, and Web Boost. The QuickClean tool gets rid of cookies, junk files, and browsing history to free up space on your device. In my tests, it took less than 20 seconds to run and it found over 4,000 unnecessary items that could be safely deleted. This freed up almost 400MB of space on my Windows laptop.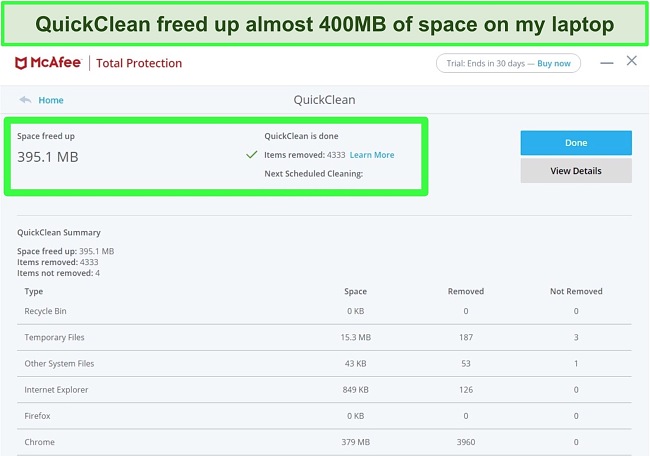 The App and Web Boost features work similarly to improve performance while you're using your device. The App Boost determines which apps are open and diverts CPU power towards them, keeping speeds high and performance smooth. It also learns which apps you use the most to help them open and load more quickly. Web Boost noticeably improved my browsing by stopping auto-play videos and ads, which also boosted my battery life. Unfortunately, this feature is only available as a Chrome browser extension for Windows.
Bitdefender's optimization tools work behind the scenes to improve performance. It has a Battery Mode that saves battery life for laptops and tablets, and its OneClick Optimizer is supposed to boost performance and speed in a single click. However, during my tests I didn't notice Bitdefender actively optimizing device performance. McAfee is a better antivirus for device optimization.
Try McAfee for 60 days risk-free!
10. Other Features — Wide Range of Useful Tools on Both McAfee and Bitdefender
This category resulted in a tie because both McAfee and Bitdefender have features that work well to improve your security. Bitdefender has a bigger number of extra features, while McAfee's offerings worked more effectively.
I've assembled the features of both antiviruses in this table.
| | | |
| --- | --- | --- |
| | McAfee | Bitdefender |
| Browser Extension | ✔ | ✔ |
| Ransomware Protection | ✔ | ✔ |
| Network Monitor | ✔ | ✔ |
| Anti-Spam Email Monitor | ✘ | ✔ |
| Webcam and Mic Protection | ✘ | ✔ |
| File Shredder | ✔ | ✔ |
| Identity Theft Protection | ✔ | ✘ |
| Encrypted Storage | ✔ | ✘ |
| Secure Banking | ✘ | ✔ |
Some features have limitations — McAfee's WebAdvisor browser extension is only available on Windows, while Bitdefender's Anti-Spam only works with a couple of email platforms.
Both antiviruses have standout features too. I was especially impressed by McAfee's Ransom Guard feature that protects against ransomware attacks. It monitors and blocks any suspicious changes to apps or software. It also alerts you when ransomware or spyware is present so you can take steps to prevent it.
Bitdefender's most impressive feature is its SafePay tool, designed to secure your online banking and shopping. It opens a new desktop environment that blocks screenshots, keylogging, and any kind of data interception. I recommend using it whenever you need to access sensitive information.
I was pleased to find the features offered by both antiviruses are high-quality and tools that you're likely to use. If you want features that will secure your device, McAfee has some better options. For protecting personal information online, Bitdefender's features are more appropriate.
Try McAfee for 60 days risk-free!
11. Device Compatibility — Bitdefender Is Easier to Use on Multiple Devices
McAfee and Bitdefender have apps available for Windows, Mac, Android, and iOS. They're both quick to download and set up, but Bitdefender comes out on top because of its easy-to-navigate apps for all devices.
I found Bitdefender's apps are intuitively designed, so it's easy to navigate between settings, make changes, and run scans. I like that the apps are suitable for beginners while more advanced users can make specific configuration changes quickly.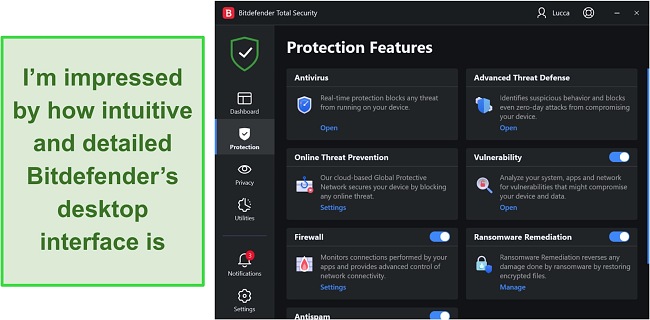 McAfee is trickier to figure out, despite having a bright and inviting interface. Its apps for Windows and Mac are confusingly labeled, making it difficult to find the settings you're looking for. For example, the QuickClean feature is a button labeled "Remove cookies and trackers." It takes some time to learn where features and settings are with McAfee.
While McAfee's mobile apps are much easier to navigate, Bitdefender is the better choice if you're looking for a user-friendly antivirus app.
Try Bitdefender for 30 days risk-free!
12. Customer Service — Bitdefender Has Speedy 24/7 Support
Bitdefender excels in this category, with customer service available through 24/7 live chat, email ticketing, and phone support. Bitdefender also has a community forum which is a good option if your queries aren't time-sensitive. Unfortunately, I was disappointed with McAfee's live chat service as it took more than an hour to get my issue resolved.
I tested all of Bitdefender's customer service options and found the live chat was the most effective way to get help. I was connected to a representative in less than a minute and got detailed responses to my questions. Email ticketing was equally as impressive, I had an answer in just over an hour! If you contact Bitdefender by phone you'll probably spend a little time on hold, but it's a great option if you have more complex questions.
I found that McAfee's phone support and community forums were easy ways to get answers. I like that I didn't have to wait on hold with McAfee as an agent called me back, so I could go about my day — I got a call back in 10 minutes. Phone support operatives are knowledgeable and helpful, but McAfee's live chat was quite the opposite. It took 40 minutes to answer a relatively simple question, which I had to rephrase several times as the agent didn't understand what I was asking. Live chat is usually the best way to get immediate support, but McAfee's service was a disappointing experience.
Try Bitdefender for 30 days risk-free!
13. Price — McAfee Total Protection Is Better Value for Money
While Bitdefender is cheaper overall, McAfee includes its premium features on all plans (except its Safe Family feature, which is only available on the Family plan). Bitdefender restricts some features for more expensive plans. This means that McAfee Total Protection is great value even on its cheapest plans.
Bitdefender's cheapest plans (Free and Antivirus Plus) only work on Windows — and don't come with a firewall, device optimization tools, or parental controls. You won't get these features unless you upgrade to the Premium package.
I find McAfee's higher prices are reasonable for multiple device compatibility and comprehensive coverage. Both McAfee and Bitdefender accept credit/debit cards and PayPal.
Try McAfee for 60 days risk-free!
14. Free Version — Only Bitdefender Has a Free Plan
Bitdefender comes out on top in this category, as McAfee does not offer a free plan.
With the free version, you get Bitdefender's advanced threat detection and real-time malware protection. I'm also pleased to see that you get web protection that filters harmful sites and optimization tools that improve device performance. You'll find that Bitdefender's free plan is very low-impact due to its cloud-based scanning. If you're using a Windows device, you'll also have anti-phishing and anti-fraud protection.
This free plan is missing advanced ransomware protection, so you're not getting full-coverage security — but it's standard practice for antivirus packages to reserve advanced features for premium users. If you're looking for basic coverage on a device that isn't used for sensitive information (like online banking or important documents) Bitdefender Free is a solid choice.
15. Money-Back Guarantee — McAfee Offers 60 Days to Test the Service and Get a Full Refund
Both antiviruses offer a money-back guarantee, but McAfee's policy is the longest at 60 days. Bitdefender only has a 30-day money-back guarantee.
Both McAfee and Bitdefender make it easy to get a refund, but I was more satisfied with McAfee's quick response time. I requested a refund using McAfee's support site and chose "Other" when asked for a reason — I wasn't asked to explain any further.
I was then asked to enter some contact details and waited less than 10 minutes for an agent to call me. I wasn't asked to reconsider canceling — McAfee's agent quickly processed my request and I had my money back in 7 business days.
Bitdefender's process is more straightforward but longer. I just had to send an email to customer support asking for a refund. However, it took 5 days to get an email response which isn't as quick as I'd like — I suggest sending a cancellation email a few days before the guarantee period runs out, just to be sure you don't miss the refund window. I had my money back from Bitdefender in another 5 days.
Try McAfee for 60 days risk-free!
And the Winner Is… McAfee (But Only Just!)
Based on rigorous head-to-head tests, McAfee came out on top in 8 categories while Bitdefender won 6 categories. Only 1 category resulted in a tie. As such, McAfee wins by a small margin.
Both McAfee and Bitdefender are excellent antivirus packages that provide top-tier protection from malware and help secure your devices.
If your focus is more on device security, McAfee is the better choice. With 100% malware detection rates for both new and known threats, McAfee provides consistently high-level protection. It's surprisingly low-impact on your system too, considering the intensity and thoroughness of its scans.
While it's slightly more expensive, McAfee provides better value since you can access all of its features no matter which plan you choose. Plus, you can try McAfee for yourself risk-free using its money-back guarantee. If you're subscribed to auto-renewal, you get a full 60 days to test the service and get a refund.
Bitdefender is more configurable, making it a solid option for more advanced users. That's not to say it isn't good for beginners too — it has a clear interface and easy-to-use features that make choosing the right settings simple. If you do have issues, Bitdefender has excellent customer service available 24/7. You don't have to take my word for it though — Bitdefender gives you 30 days to test the service with its money-back guarantee, so you can make sure it's right for you. If you change your mind, getting a refund is easy.
Try McAfee for 60 days risk-free!
---
Other Top Antivirus Software to Try in 2022