Iolo

Review 2022: Before You Buy, Is It Worth It?
Iolo Overview July 2022
iolo System Mechanic is an excellent tune-up utility exclusive to Windows PCs. It also claims to be a full-featured antivirus capable of providing powerful online security and privacy.
While I'm impressed with iolo's PC optimization and real-time protection, the virus scanner could use improvement. The full system scan detected all malware strains (including adware and spyware), but it was much slower than Windows apps from industry leaders like Norton 360.
That being said, iolo's System Mechanic Ultimate Defense is great value for an all-in-one antivirus and tune-up utility package. Better still, you can try iolo yourself for 30 days risk-free with its money-back guarantee. That way, you can test every feature and ensure it's right for you before committing to a subscription.
In a Rush? Here's a 1-Minute Summary
Security - 8
iolo was originally created as a Windows PC optimization tool, so it hasn't been extensively tested by any independent labs for its malware detection. While iolo performed well in my tests and detected the malware sample files on my Windows PC, I can't confirm a reliable malware detection rate on a broader scale.
It's worth noting that antivirus and malware protection are only on the System Mechanic Pro and System Mechanic Ultimate Defense subscription options — they're not available on iolo's basic System Mechanic package.
Virus Scan — Detects Existing Malware but Slows PC
To test iolo's virus scan, I downloaded test files to my PC from the reputable site EICAR.com. I'm pleased to report that iolo's System Mechanic Pro detected and quarantined every malicious file, even the ones that contained low-risk adware. This impressed me, as iolo's products are geared towards system optimization rather than malware detection.
System Mechanic Pro offers 2 different scan choices: a Quick Scan and a Deep Scan. I ran the Deep Scan first, which checked every item on my PC. It took an hour and 20 minutes to complete — in contrast, Norton 360 took only 12 minutes to complete a similar scan. However, I'm still pleased with the results despite the slow speed. iolo scanned 855,000+ items and detected all of the hidden malware test files on the test PC. iolo also didn't accidentally flag any incorrect files as harmful, which meant I didn't have to spend time sorting through quarantined files.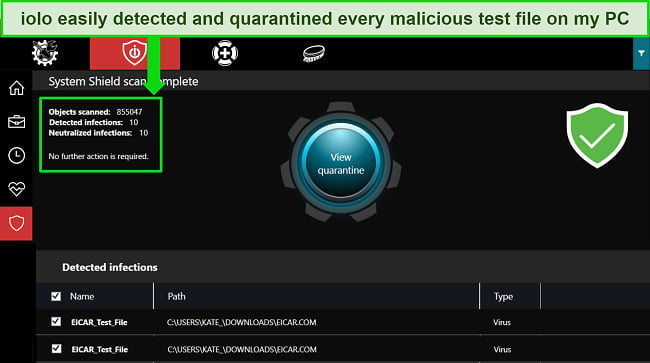 During the Deep Scan, I found that I experienced significant lag. My CPU utilization jumped from 15% to 40%, more than doubling the amount of processing power my computer was using. As a result, my PC slowed down considerably, meaning I couldn't use it as effectively while the scan was running. During a scan, I also found that the rest of the System Mechanic Pro interface is inaccessible — I couldn't configure settings or look at other options.
The Quick Scan option is considerably faster, taking less than 10 seconds to perform a very fast check of key areas where problems are likely to lurk. The issues it checks for include internet and Windows junk files, available memory, and deceptive or unwanted files in the C://programs drive.
This is one of the areas on a PC most likely to be attacked by malware as it's used frequently. When performing a Quick Scan, none of the malware hidden in other file directories was detected at all. This is a concern, as a service like Norton 360 checks additional folders like downloads even with its Quick Scan — I actually ran Norton afterward and found its Quick Scan picked up the malware that iolo missed!
Spyware Protection — Effectively Blocks Spyware and Adware
I found that iolo's spyware protection is effective at blocking spyware, adware, and other less intrusive kinds of malware. I was impressed to find that it correctly identified all the spyware and adware test files I used. This feature is available on the System Mechanic Pro plan.
Many antiviruses, including Windows's built-in Microsoft Defender, tend to ignore adware and similar files. This is because they're not necessarily malicious, just inconvenient for the user. On the other hand, spyware hides on your PC and secretly collects your data for weeks or even months without being noticed. Knowing that iolo's software identifies these quiet, often-undetected kinds of malware gives me confidence in its overall ability to protect PCs from online threats.
System Shield — Real-Time Protection Blocks Malware
The System Shield feature gives you a good overview of your existing malware protection. It details when the last scan was performed and when the software was last updated and lets you see if real-time protection and automatic updates are enabled.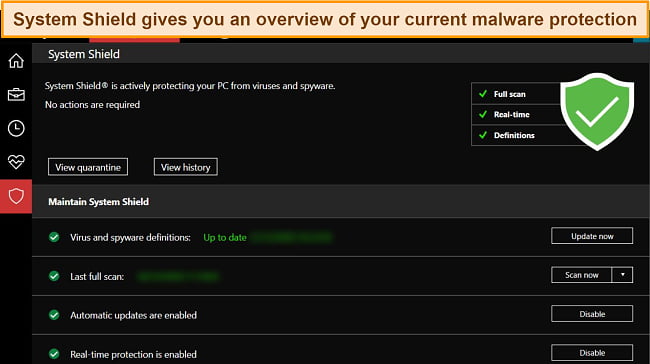 I was pleased to see that iolo's real-time protection was automatically enabled when I downloaded the software. I also like that the System Shield feature lets me quickly see if I need to adjust any settings to get full protection.
To check that the real-time protection was working, I visited several test malware sites and tried to download files. System Mechanic Pro blocked every potentially malicious file download and even stopped me from visiting some of the sites altogether.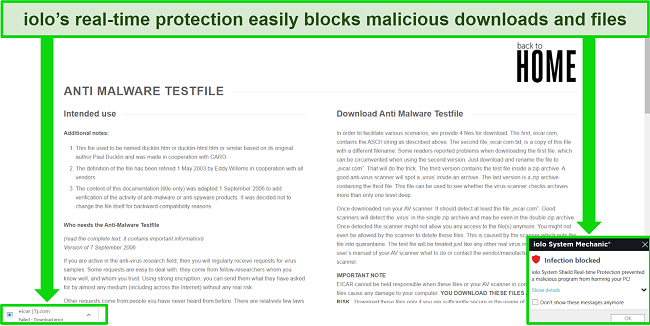 This gave me peace of mind that I wouldn't accidentally download malicious software, although I was disappointed that System Shield still let me access potentially malicious sites. I'd like to see this element of iolo's real-time protection improved, as downloads aren't the only type of malware out there — phishing scams are a huge problem and iolo doesn't always detect this kind of threat.
Features - 7
iolo's focus is on device optimization, and it's excellent at making your PC run faster and more smoothly. Its System Mechanic Ultimate Defense package offers most features I expect from an antivirus, like a password manager, clean-up, file retrieval, and privacy tools.
PC Cleanup — Removes Junk Files and Apps Quickly
It's easy to let your PC get overloaded and bloated with junk and duplicate files or apps that are largely redundant. iolo's PC Cleanup features work well to locate and remove unnecessary items from your computer, helping it to run faster and more efficiently. It has several options to choose from:
All-in-One PC Cleanup — Tackles multiple areas at once for a quick and easy clean, including junk files, registry issues, and browsing data removal
Internet Cleanup — Checks your browsers for junk files and clears your browsing history
Windows Cleanup — Scans Windows to remove broken shortcuts and clear unnecessary files
Registry Cleanup — Cleans and repairs registry issues
Advanced Uninstaller — Completely removes apps from your PC without leaving behind temporary files or profile settings
I found the All-in-One PC Cleanup to be the most useful optimization feature, as it tackles the most-used areas that are likely to have junk files and apps. When I ran the PC Cleanup tool, it took less than 30 seconds to complete and found 200 unnecessary items. I was surprised as I regularly check and clean my PC, so this showed me how easily junk files could hide in random folders. Removing these items was just as quick and cleared over 300MB of space on my PC.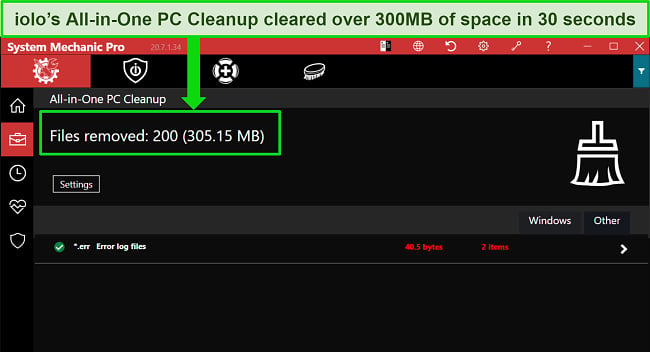 I like that iolo offers an all-in-one PC cleanup tool as well as more in-depth options you can use to focus on specific areas of your computer. The Advanced Uninstaller is particularly useful, as it guarantees all files and settings are removed from your PC when you uninstall an app. Typically when you uninstall an app, there are profile settings and other temporary files left behind in case you decide to reinstall in the future — but iolo removes everything to create as much free space as possible.
Startup Optimizer — Noticeably Improves PC Boot-Time
The more applications you add to your PC, the slower your startup time is, especially if the new apps all run when your computer boots. iolo's Startup Optimizer (part of its Speed Up tools) analyzes the programs on your PC to determine what starts when your computer does. This gives you the option to stop programs from booting if it isn't necessary.
By switching off items like Adobe Reader, email monitoring, and an automatic updater for a rarely-used program, iolo reduced my PC's startup time from 30 seconds to less than 15. This is a huge improvement to an already fast time and is a feature that top antivirus services like Norton 360 and Bitdefender don't currently offer.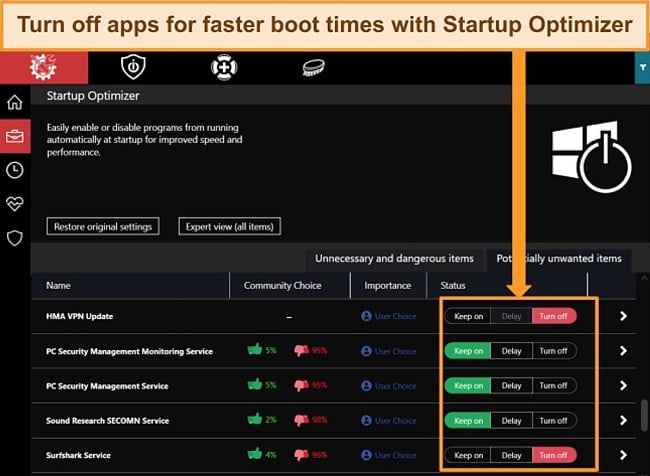 I like that iolo's Startup Optimizer found startup programs that didn't appear on Windows' own Startup Apps setting. This tells me that it's an in-depth tool that performs accurately to find additional apps and programs. I'd like to see this feature on a greater number of antivirus services to improve boot time.
Speed Up — Tools Designed to Improve How Quickly Your PC Operates
Part of iolo's focus is boosting how quickly your PC runs and its System Mechanic Ultimate Defense package has several tools to increase speed. These work by maximizing the performance of your CPU and diverting power away from unnecessary operations when you're using high-power apps. These features include:
PowerSense — Adjusts your PC's performance when high-impact software is in use and has modes for gaming, video and music production, programming, and more
OptiCore — Increases the responsiveness of your PC by preventing low-impact programs from freezing or lag
RAMJet — Reallocates RAM when your PC has heavy use — when available RAM falls below 35% memory, it searches your system for RAM that can be freed up for an instant performance boost
Disk Defragmenter — Defragments chosen drives to improve their efficiency, including how quickly you can access files and folders
Program Accelerator — Re-aligns program data on your drives to make them more efficient at finding files
AcceleWrite — Allows file writing to disk to happen in sequence, helping to prevent data fragmenting to boost overall performance
Memory Mechanic — Defragments your PC's RAM to improve speed and stability
ActiveCare — Looks for ways to optimize PC performance while your computer is idle to minimize system disruption
Net Booster — Gives you the ability to customize hidden broadband settings to improve your connection speed
I was particularly impressed by the Memory Mechanic, which took seconds to run and recovered almost 1.5GB of RAM. All of iolo's optimization tools work quickly and efficiently to improve device performance — and when it comes to PC cleanup tools in general, there are very few antivirus suites that can match what iolo offers.
Drive Scrubber— Removes All Items, Files, and Apps From Drives
Some antiviruses have an option to permanently delete individual files. For instance, McAfee has a File Shredder that overwrites files multiple times to ensure they can't be restored. However, iolo takes this a step further and allows you to completely wipe drives — like USB drives, external hard drives, and camera storage — removing all traces of any files or apps on them.
I like that iolo gives me the option to choose how many times I want the feature to overwrite the data to ensure it can't be recovered. If you're not sure how many passes it should take, you can opt for iolo's default wipe setting, which is approved by the National Institute of Standards and Technology. The only item that iolo won't wipe is Windows itself, so the Drive Scrubber won't run if the drive has Windows installed on it.
If you want to delete individual files rather than a whole drive, iolo also has a desktop Incinerator app that you can download (included with the System Mechanic Pro software). This acts kind of like Windows' own Recycle Bin, only the data deleted from it cannot be restored. The files and folders that go through the Incinerator app are permanently destroyed for total privacy and data security.
Search and Recover — Restores Deleted Files to Your PC
We've all accidentally deleted a file or folder at some point, which can be a frustrating experience when you have no way to recover it. iolo helps you avoid lost files with its Search and Recover feature.
To use Search and Recover, you'll need a drive (internal or external) that's different from the drive where the files originally existed. This will prevent any accidental overwriting to give you the best chance of recovering your items intact. I connected an external hard drive to my PC and was pleased to find that iolo recovered more than 100 files I'd deleted, some from as long as a year ago. While these were deleted purposefully, it's a relief to know that iolo has the ability to find and restore files from long ago.
I'd also suggest using iolo's Registry Backup tool if you're concerned about losing important files or documents. This feature regularly backs up your registry to protect the integrity of your operating system — and it saves you from having to back it up manually for your convenience. For minor changes that you want to revert, iolo also has a System Restore tool. Using this, you can use iolo to retrieve recently deleted files or undo system changes with minimal hassle.
Privacy Features — Designed to Keep Your Data Protected
Windows is notorious for sharing tons of user data with Microsoft, and it's not easy to opt out of data-sharing. Fortunately, iolo's System Mechanic Ultimate Defense provides you with tools that help you keep your personal information and the way you use your PC private. These features include:
Privacy Shield — Disables Microsoft's data collection services to opt you out of sharing your personal data, like browsing habits and program use
System Guard — Blocks programs from loading or changing your browser settings without authorization
Privacy Guardian — Stops websites and data services from profiling you through your browsing activity, preventing "fingerprinting"
I really like the addition of the Privacy Shield as I prefer to have the choice when it comes to sharing my personal data. As Privacy Shield disables Microsoft's data collection, I don't have to spend time opting-out manually (which is really tricky!) and I can rest assured that I'm only sharing what I want to.
Password Manager — Easily Encrypt and Secures Passwords With ByePass
Many top-tier antivirus plans come with a password manager so I was pleased to see iolo had included one with System Mechanic Ultimate Defense. It's designed to make keeping track of your passwords easy — you only have to remember one master password to access your login and banking information for all of your online accounts.
I found ByePass very easy to use as it logs passwords automatically when they're entered into login fields. When collected, ByePass also assesses the security level of your passwords and suggests a better alternative if they're not complex enough. I particularly like that I could install iolo's password manager as a browser extension as that's where I use most of my passwords. I was even able to import my passwords from another password manager so I didn't have to manually input my data into ByePass. It's compatible with Chrome, Firefox, Safari, and Edge, and works on Windows, Android, and iOS.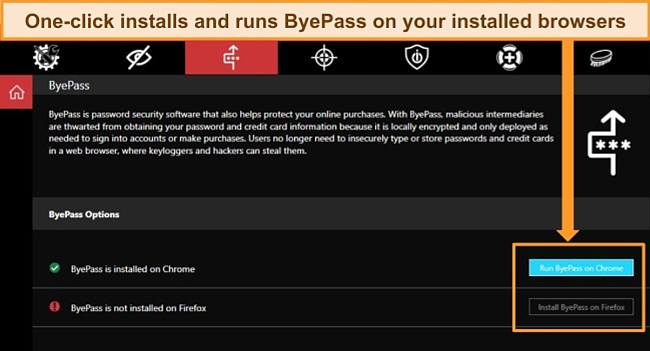 I was impressed that ByePass supports 2-factor authentication, as this is something that even Norton 360's password manager doesn't have. By utilizing 2-factor authentication, ByePass provides an even greater level of data security. This is reassuring as ByePass stores data like credit card numbers and I can even keep personal notes there, so it's almost impossible for anyone to break in.
Ease Of Use - 7
iolo's System Mechanic Ultimate Defense app is, for the most part, easy to use and fairly simple to navigate. I found it downloaded and installed quickly, taking less than 5 minutes to finish setting up.
I did find it a little confusing when the app first loaded, though. Like many antivirus services, the initial download is a trial version that prompts you to enter your activation code before you can use the premium features. The app ran an optimization tool and asked me to "activate trial to repair," which opened a new browser window. I entered my activation code but was only asked to extend my subscription. When I went back to the app, it was still in trial mode. I had to enter the activation code there as well before I could get to the features I'd paid for.
Fortunately, after entering the code it all worked smoothly. iolo is available on Windows 11, 10, 8.1, 8, and 7. I was impressed to find that the app is also available in 11 different languages: English, German, Spanish, French, Italian, Japanese, Korean, Dutch, Brazilian Portuguese, and Chinese.
Desktop App — Easy to Navigate and Configure (Windows Only)
The System Mechanic Ultimate Defense desktop app is pretty simple and easy to use. I like that it isn't cluttered with a ton of features and writing — the layout makes it intuitive, and hovering over icons and menus reveals the names of each feature.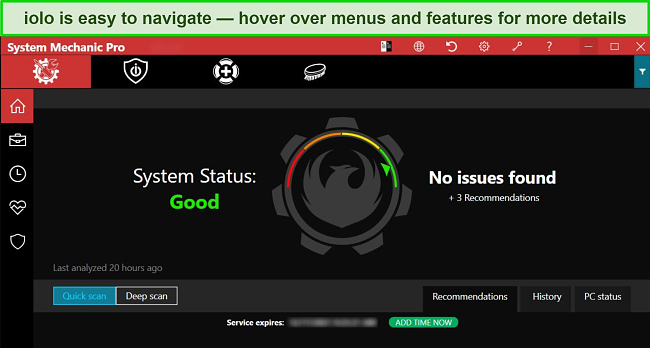 In terms of navigating the app, I found it annoying that there's no "back" button. For example, if I want to use a feature from the Toolbox, like Clean or Speed Up, I have to go back to the first Toolbox menu to access any other feature in that section. A "back" button would be more convenient for smooth navigation.
You can tweak the individual settings for all of iolo's features by clicking on the cog icon in the upper right of the app. I like that the features are customizable depending on what you want the app to scan, how often it should check for updates, and more. You can also choose between dark and light options, depending on your personal preference (the app automatically starts in dark mode).
Support - 6
Overall, I wasn't impressed with iolo's customer support. There are 3 options to choose from — live chat, phone support, and a knowledge base on its website — but I didn't find any of these to be particularly fast or comprehensive.
The best way to get immediate support is iolo's live chat but be prepared to have to ask your question several times to get an answer. When I contacted the live chat, the agent kept steering the conversation towards upgrading my service rather than answering my queries.
Live chat and the knowledge base are available to everyone, while phone support is only for those in the US and Canada.
Live Chat — Speedy Responses but Tons of Upselling and Inaccurate Information
I had high expectations for iolo's live chat as I was connected to a customer support agent immediately. I've rarely had such a quick response with other high-quality antivirus services so I was pleased I didn't have to wait to be connected. However, I found the live chat to be a disappointing experience.
I asked about software updates for iolo's antivirus as I couldn't find anything on the website about it. The agent answered half of my question, then asked if I was subscribed already. The focus of the live chat shifted away from my initial question — which was half-answered with a couple of sentences — and towards my account and the services I'd already purchased.
The agent also told me that System Mechanic Pro was not an antivirus (despite the product page telling me otherwise) and that I'd only get antivirus protection if I upgraded. I refused the upgrade and the agent switched to asking me if I had premium tech support or a VPN. After that, I ended the chat.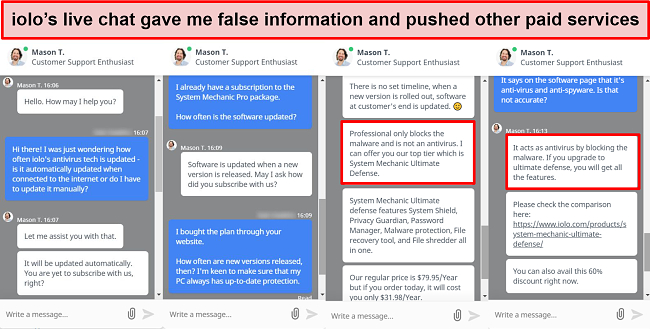 Despite telling the agent several times that I wasn't interested in buying anything, they insisted on pushing other products. I wasn't satisfied with the half-answers to my questions and ended the chat early to stop the aggressive upselling.
I'm glad I connected quickly, but the quality of live chat responses was poor (with a lot of copying and pasting from the agent). As such, I'd only recommend using iolo's live chat for simple issues that can be easily resolved.
Phone Support — Informative Agents but Limited Support Area (US and Canada Only)
I was hoping to see global phone support for iolo but, unfortunately, both free and premium options are only available in the US and Canada. I asked a colleague to call from the US and ask the same question I had failed to get an answer for from the live chat agent I spoke with.
My colleague waited on hold for just under 10 minutes, which is not an excessively long time — Norton 360's phone support took longer than 10 minutes when I tried it. The phone support agent was well-informed, polite, and answered the question in full while also detailing how to configure the desktop app to automatically check for updates on a schedule. The agent did try to upsell premium tech support as well as a VPN but was understanding when my colleague declined.
iolo's free phone support is available to anyone and operates during standard PST business hours, Monday to Friday on (808) 207-3783. Premium support, which is an optional paid extra, is available 24/7 on (801) 857-2345. You can pay for premium tech support on a monthly or yearly subscription, but I wouldn't recommend it unless you have excessive issues with your PC. iolo also offers a one-time premium support call for a fixed fee.
Knowledge Base — Good for Basic Product Information
iolo's Knowledge Base is available for anyone to access on the support section of its website. I found the Knowledge Base informative, with around 90 articles addressing different aspects of iolo's services. There are articles dedicated to product installation and customization, purchase and refund questions, and specific support information.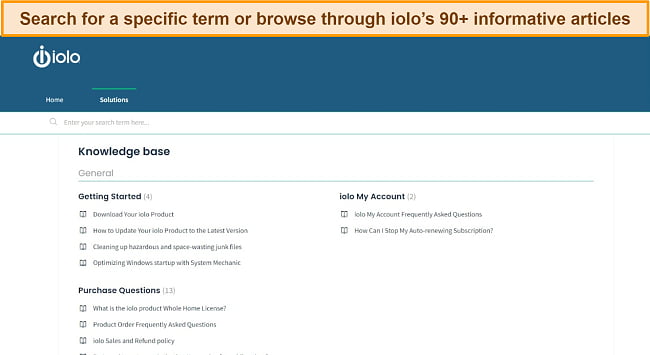 However, it's not totally comprehensive — if you have a more complex question, you'll need to call phone support or use the live chat for assistance. But for basic information, the Knowledge Base is a good place to start.
Price - 7
I found iolo to be reasonably priced. That said, the features you get with each plan differ quite significantly so it's a good idea to carefully consider exactly what you want before making a purchase. iolo's base System Mechanic doesn't offer malware protection, so I've omitted it from this list.
It's important to note that all of iolo's products come with unlimited PC installations as long as all computers are on the same network. This is generous, as even some top-tier services like Norton 360 and TotalAV don't offer unlimited installations.
Most of iolo's extra features are available as standalone tools, like System Shield, DriveScrubber, and Privacy Guardian. However, these tools are very expensive when compared to iolo's System Mechanic subscriptions, which give you more comprehensive optimization and security at a much lower price. Unless you're looking for a specific tool, it's better value to purchase a premium System Mechanic package.
System Mechanic Pro — Good Value With Powerful Optimization Tools
System Mechanic Pro is the lowest-priced plan to include antivirus and malware protection. It also has the following features:
System Shield Real-Time Malware Protection
Virus Scans
Spyware Protection
PC Cleanup
Startup Optimizer
Speed Up tools
DriveScrubber
Search and Recover
This package has some solid malware detection and blocking features, as well as a number of high-quality PC optimization tools. With unlimited PC protection, it's a good choice if you're looking for software that mainly improves performance and protects you from malware, too.
System Mechanic Ultimate Defense — Full Suite of Features for a Reasonable Price
This is iolo's most comprehensive package. It comes with all of the features from the Pro plan, plus:
Privacy Guardian — Stops Windows, other apps, and websites from monitoring your browsing or online behavior, plus detects and removes suspicious emails and tracking cookies;
ByePass Password Manager — Protects against keyloggers by securely storing passwords and banking information (like credit card numbers) to auto-fill them when you visit a site;
Malware Killer — Detects and removes malware (including ransomware, spyware, viruses, and Trojans) that are already present on your PC.
If you're looking for the best combination of malware protection and PC optimization features, I highly urge you to try iolo's System Mechanic Ultimate Defense plan.
Quick Glance: Comparison Table for System Mechanic Packages
Here's a quick overview of the different System Mechanic options iolo provides, so you can decide which package best suits your needs.
| | | | |
| --- | --- | --- | --- |
| | System Mechanic | System Mechanic Pro | System Mechanic Ultimate Defense |
| Optimizes PC Performance | ✔ | ✔ | ✔ |
| Boosts Speeds | ✔ | ✔ | ✔ |
| Patches Windows Vulnerabilities | ✔ | ✔ | ✔ |
| Removes Junk and Duplicate Files | ✔ | ✔ | ✔ |
| Protects Network and Blocks Nuisance Files | ✔ | ✔ | ✔ |
| System Shield | ✘ | ✔ | ✔ |
| Search and Recover | ✘ | ✔ | ✔ |
| DriveScrubber | ✘ | ✔ | ✔ |
| Privacy Guardian | ✘ | ✘ | ✔ |
| Malware Killer | ✘ | ✘ | ✔ |
| ByePass Password Manager | ✘ | ✘ | ✔ |
Malware Killer — Basic Malware Detection and Removal
The Malware Killer plan is designed solely to detect and remove malware already present on your PC. Its cloud-based scanning is lightweight so it doesn't interfere with the overall performance of your computer. It can even identify and block just-released cyber threats! Unfortunately, Malware Killer doesn't have any extra features — there aren't any device-optimizing tools or online threat detection when you're browsing, shopping, or banking online.
When compared to Bitdefender's Windows-only Antivirus Plus plan, iolo is seriously lacking when it's only slightly cheaper. Bitdefender scored 100% detection for real-time threats in recent tests, plus the software includes optimization and privacy features. As such, I can't recommend iolo's Malware Killer as standalone software since it's significantly less comprehensive than similar services.
System Shield AntiVirus and AntiSpyware — Overpriced for Simple Software
iolo's System Shield software is a basic antivirus and antispyware service designed to defend against zero-day attacks in real-time, as well as to detect and remove previously known malware threats. It uses cloud-based technology with artificial intelligence to learn and detect unknown malware, guaranteeing total protection for your PC.
However, I find it's very overpriced for such a basic service (there are no extra features at all). At the same yearly price, Norton 360 offers a password manager, firewall, a VPN, and cloud backup as well.
30-Day Money-Back Guarantee
All of iolo's plans have a 30-day money-back guarantee that you can use to test the service risk-free. To make sure the 30-day money-back guarantee was authentic, I tested it for myself.
The process is simple — just send an email to support@2checkout.com with your 2Checkout order number and your reason for canceling. 2Checkout is the payment processor for iolo's products so you have to contact them to get a refund (rather than iolo). If you purchased your iolo plan from a physical retailer, you'll need to contact the seller for a refund.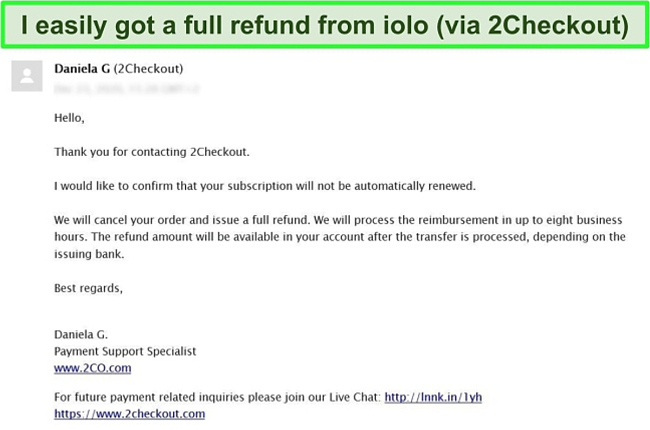 I sent an email with my order number and gave a reason for canceling my subscription (I said that my circumstances had changed and wanted a refund). I had a reply in less than a day accepting my refund request with the full refund deposited back into my account 3 days later.