PC Protect Antivirus Review 2022: Is It Any Good?
PCProtect Overview August 2022
Like many antivirus companies, PC Protect makes a lot of claims about its powerful antivirus engine. So I decided to put it to the test to see how well the software really performs.
While I was impressed by its high malware detection scores, I was surprised that PC Protect doesn't offer features that come standard with competitors. While PC Protect does have a VPN, browser extension, and system clean-up tools, leading antivirus brands like Norton, TotalAV, and McAfee include all of these features and more (like parental controls, gaming modes, file shredders, and firewalls).
What makes PC Protect stand out is its low-cost pricing in the first subscription year — in fact, it's one of the cheapest antivirus plans available. This makes it excellent value for money, even with its more limited range of features. I recommend you try PC Protect risk-free with the 30-day money-back guarantee to find out whether it's the right antivirus for you.
Try PC Protect risk-free today!
In a Rush? Here's a 1-Minute Summary
Security - 8
PC Protect runs on the powerful Avira engine used by TotalAV, so I was hardly surprised when my tests revealed its strong performance in security. Despite this, PC Protect still couldn't match the top-tier detection rate of TotalAV.
Virus Scan — Strong Protection Using the Avira Engine
Throughout testing, PC Protect successfully detected 98% of malware that my team and I put onto the test system (this also included ransomware files and trojans). Keep in mind your experience might be different from ours in a real-life scenario than to the rates monitored on the test machine.
You have 2 scanning options: Malware Scan (checks for virus threats) and Smart Scan (looks for duplicated, outdated, or junk files). Within Malware Scan, you can choose to perform a quick scan or system scan. Every scan usually comes with statistics that allow you to see how the antivirus has performed.
PC Protect is the only one I've used that fails to provide me with these valuable results — which I use when compiling test data.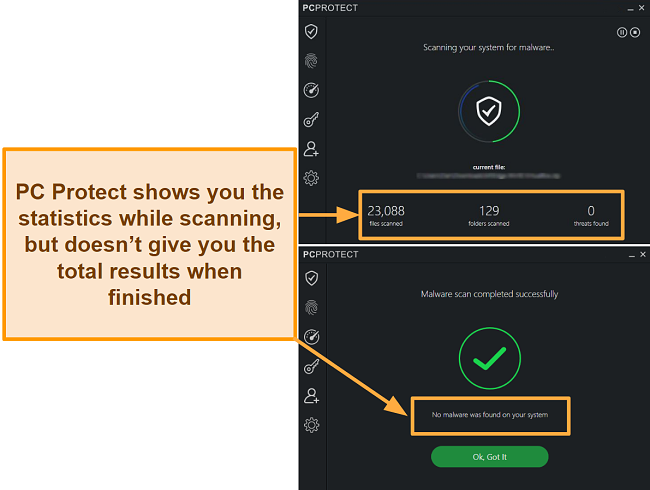 The quick scan took only 19 minutes to complete, while the system scan needed 46 minutes. It's also worth noting that PC Protect lacks file caching — a feature that marks previously scanned files so the antivirus can focus only on new files (shortening the scan time).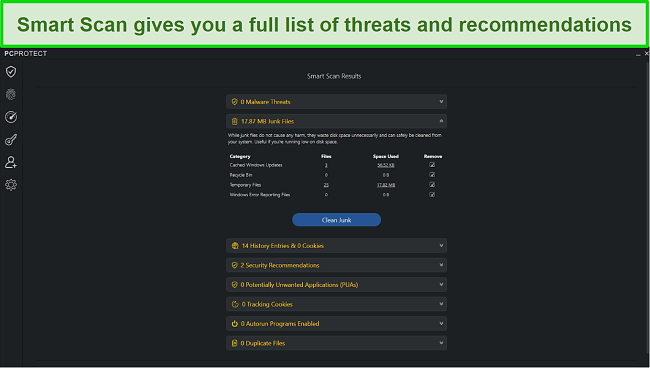 Thankfully, Smart Scan gives you a results page full of recommendations and any threats it encounters on your device. It also scans through your applications to find duplicate, outdated, or junk files, helping to speed up and secure your machine. When testing, the smart scan only took 10 minutes to complete, which is impressive considering the range of files it searched.
I could easily customize both types of scans, including the scan location and when it should run. This allowed me to use my computer without performance being bogged down by any background scans. I also found you can quickly exclude specific files and folders, which can drastically reduce scan times.
Real-Time Protection — Near-Perfect Detection of New and Unknown Malware
Real-time protection protects against the latest emerging cyberthreats. Fortunately, PC Protect blocked 97% of the real-time threats during tests. This is on par with other premium antivirus programs. The settings for real-time protection are simple but you can easily change how it deals with threats and view them in quarantine before deletion.
WebShield — Safe Site Browser Extension Provides Internet Security
WebShield protects you from phishing attempts and malware when browsing online. Although this feature is on by default, you'll need the browser extension to receive full protection. PC Protect makes it easy for you to find the browser extensions by including a built-in page that directs you to downloads for Chrome, Microsoft Edge, and Firefox.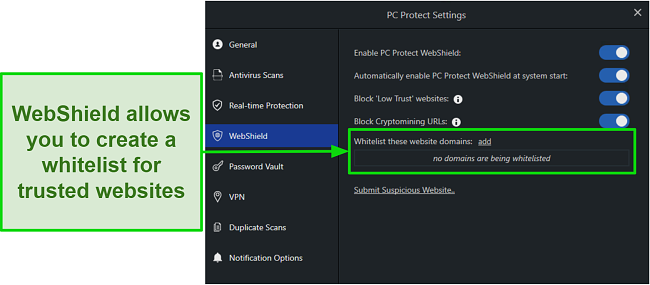 The browser extension is called Safe Site and it offers the basic function of clearing history, cookies, or browsing privately — which you can do without installing this add-on. However, I did find that Safe Site successfully blocked all malicious websites and phishing attempts.

Features - 6
PC Protect provides a wide range of features to further secure your device and enhance its performance.
Safe Browsing VPN — Great for Secure Browsing and Streaming
This is a no-logs VPN with more than 100 servers in over 15 countries. I found its speeds are average to fast, depending on how close you are to PC Protect's servers. During my tests, I easily streamed TV shows and movies in HD. I could even unblock Netflix US without any buffering or connection issues.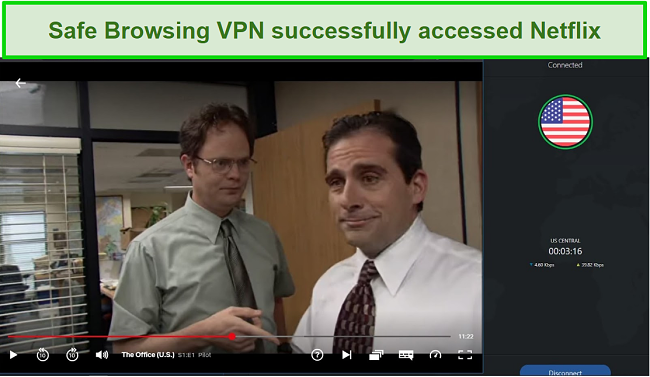 However, I did run into a couple of errors after I changed the encryption protocol to OpenVPN. The VPN failed to connect me several times to a variety of locations.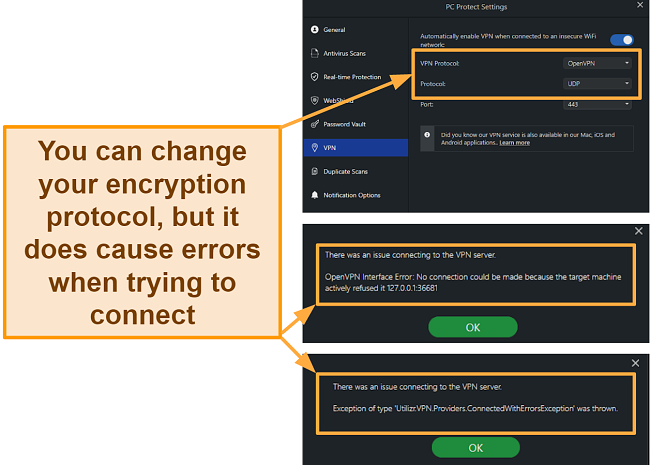 System Tune-Up — Easy Scans That Keep Your Device Clean and Fast
PC Protect provides optimization tools to clear hard drive space and keep your device running fast. Each scan was quick during testing, and gave me a list of recommendations about what could be deleted or disabled on my device.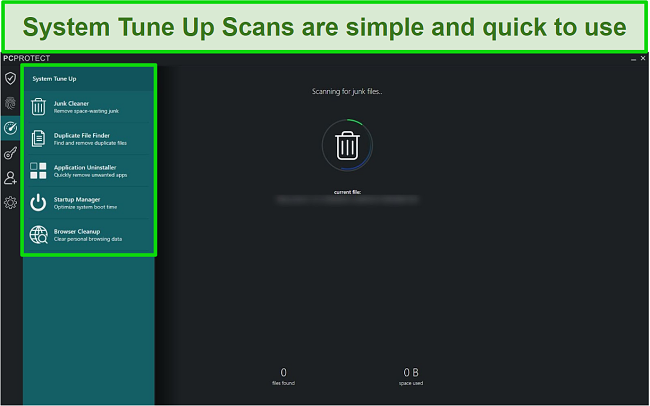 Though I did find each scan useful, the tasks are still basic and most can be done directly through Windows or Mac. It's also worth noting that the Smart Scan is just all of the System Tune-Up scans combined.
Password Manager — Useful Auto-Lock With Browser Integration
PC Protect's Password Vault has an excellent auto-lock feature to help keep your device secure. It also offers the usual integration seen in password managers so that you can install browser extensions for seamless integration.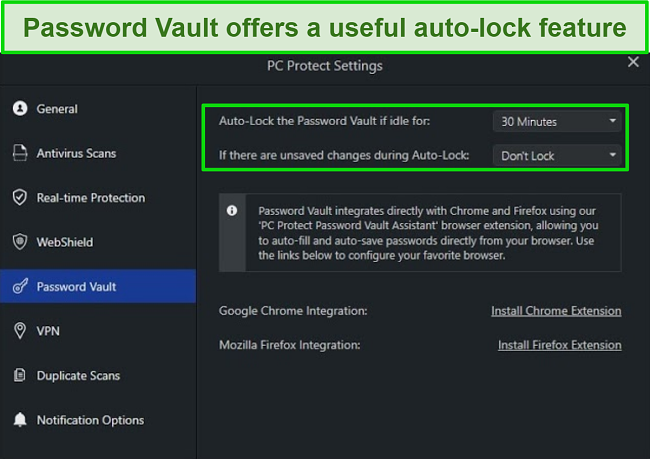 Identify Theft Checker — Alerts You When Your Email Appears in a Data Breach
This tool checks public data breaches going back to 2007 to see if your passwords and emails are at risk. The tool is just a button that links you to a website where you can choose to be notified if your specified email appears in any new breaches. If you want a better identity theft checker with your antivirus, Norton 360 has a more powerful checking system.
Ad Block Pro — Browser Extensions Blocks All Ads
PC Protect successfully blocked adverts on all sites I visited. You can whitelist websites through the Safe Site extension, meaning Ad Block Pro won't work on the specified sites.
Ease Of Use - 7
PC Protect works on Windows (XP, Vista 7, 8, 10), Mac OS X (10.9 and above), Android (Oreo 8.1 and above), and iOS (11.3 and above). The download and installation process was quick and easy for every device. Once downloaded, it runs you through a quick smart scan that gives you an overview of what needs deleting or disabling to secure and speed up the device.
PC Protect does a good job keeping its interface simple to use and doesn't complicate any critical features. The Android app contains almost every feature from the desktop version — a stark difference from the lackluster iOS app. If you're looking for an antivirus that works on iOS, check out these alternatives.
Desktop Apps — High-Performing Software for Windows and Mac
The Windows and Mac version have identical features, although the layouts are very different. The Mac version feels more functional than the Windows design with lists and titles replacing the simple icons. This is a personal preference, and it's easy to grow accustomed to the minimal interface used on Windows.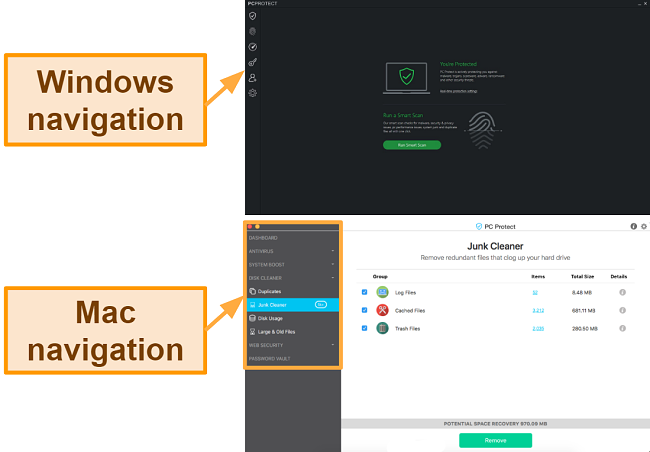 Mobile Security — Great Android App but iOS App is Lacking
The Android app scans your device to keep it secure and help clear space. I liked that I could do everything within the app, without being forced to launch the browser to access any features. The App Lock feature is especially useful as it prevents any unauthorized access to specific applications. This implements an extra layer of security on your device using a custom pattern or passcode.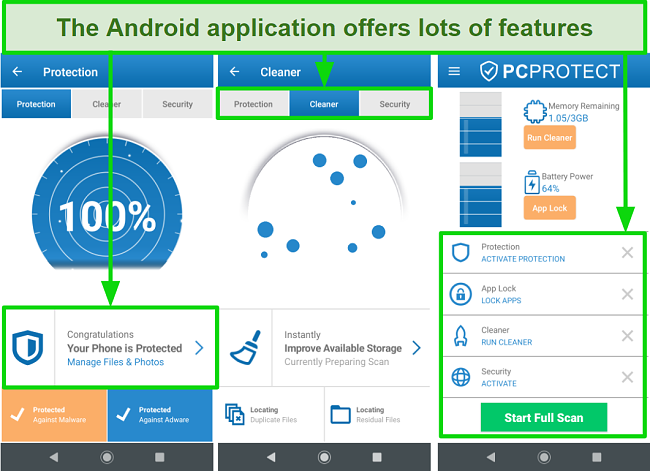 The Android app is significantly better value compared to its iOS counterpart. I downloaded and installed PC Protect on my iPad and found the process to be quick and simple. Once logged in, I realized there were only 3 features available for iOS: VPN, Photo Manager and Battery Monitor.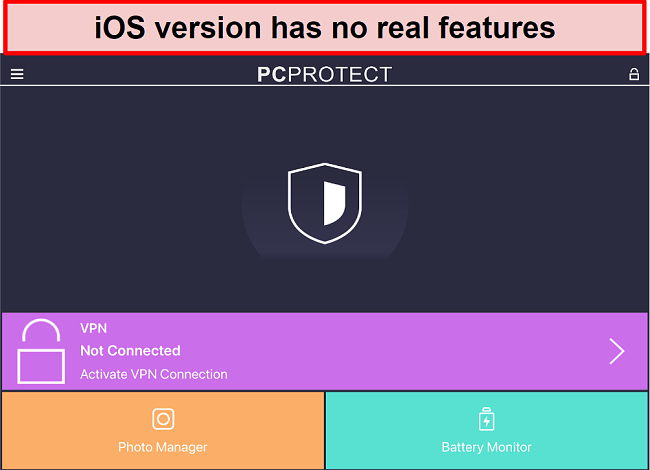 Support - 3
PC Protect offers support through phone, live chat, email, and the website. The quickest method of contacting support is through live chat, but it took me a while to figure out just how to find it (you have to sign out of the website first).
24/7 Live Chat — Fast Response Time but Terrible User Experience
You can't access the live chat service until you log out of the PC website. There's no clear reason why — I only discovered this through trial and error during my tests. The replies were quick, but some answers were too vague to be helpful.
For example, no one could tell me if there was a free version or trial version of the software. I had to find this out myself (there is!). On occasion, the representative also closed down the chat before finishing the conversation, meaning I had to restart it again with someone else. This was extremely frustrating.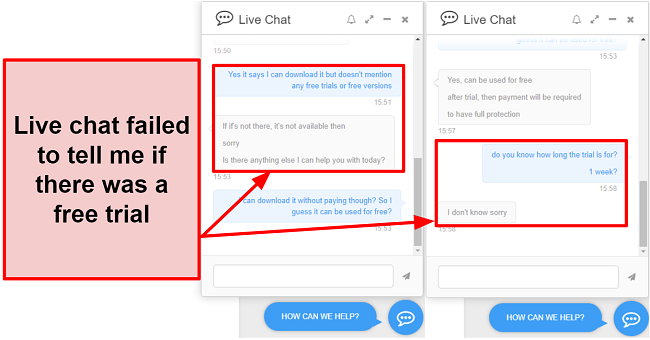 Phone Support — Only for Billing and Cancellation Enquiries
Phone support is only available for customers to discuss subscriptions or cancellations (not for technical issues). When I tested the phone support, I waited for almost 10 minutes before connecting to a customer support representative. The representative asked me 3 questions about why I wanted to cancel and offered me a couple of discounted deals, before sending me a cancellation email.
After my phone call, I had to prompt live chat to send through the cancellation email as it never appeared (I gave it 24 hours before reminding them). Once the email arrived, I could start the refund process and cancel the subscription.
Email Support — Fast Responses Within 1 Hour
While most of the responses felt scripted, I received fast and helpful and friendly information over email. However, I noticed an embarrassing mistake. In some emails, a representative forgot to swap out TotalAV's name for PC Protect.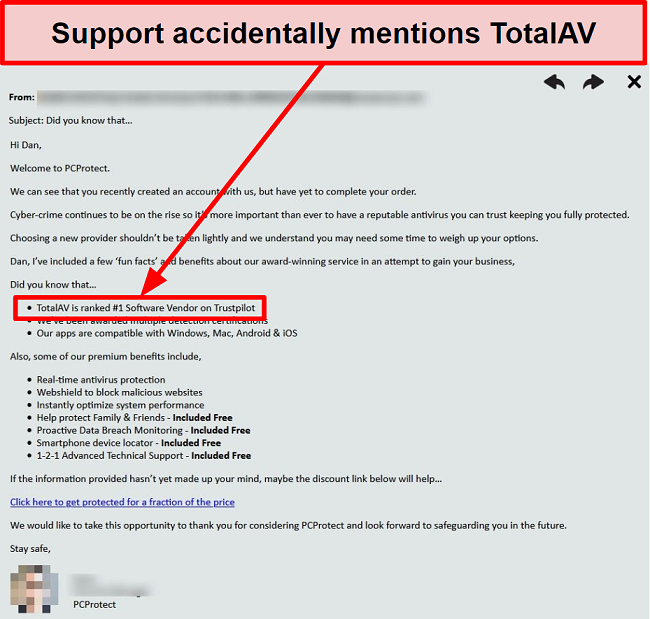 Website — Great Online Tutorials but Only Has Basic Information
PC Protect offers a decent range of video tutorials on its website that help you set up your software and teach you how to keep safe online.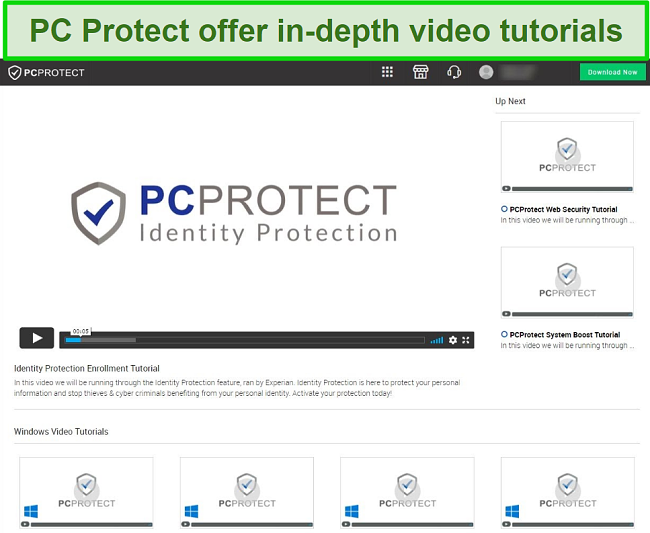 Price - 8
PC Protect only has 1 plan: PC Security Premium. It's packed with useful features at a very affordable price, especially in the first year. The plan comes with a 30-day money-back guarantee, so you can test it out risk-free and get a full refund if you change your mind.
PC Protect also has a 7-day free trial and free version — but it's only accessible if you download the software first. The free trial will automatically activate (no need to create an account) and revert to the free version afterwards.
Free Version — Only Includes Smart Scan (Nothing Else)
The free version isn't advertised on the website and after downloading it, I understood why. You can only run the Smart Scan and once it's done, you have to pay to remove malware or fix any issues. That said, you can't get the free version without being pushed through the trial version first.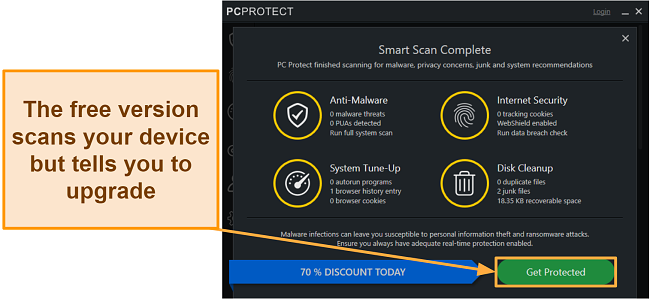 Free Trial — Unlimited Access to All Features for 7 Days
PC Protect doesn't offer its free trial anywhere on its website. You can only access it if you decide to download the software before purchasing a package. However, I did like that the free trial doesn't require an email address or credit card information. It also doesn't restrict you to a limited range of features — you've got access to every feature on the paid plan.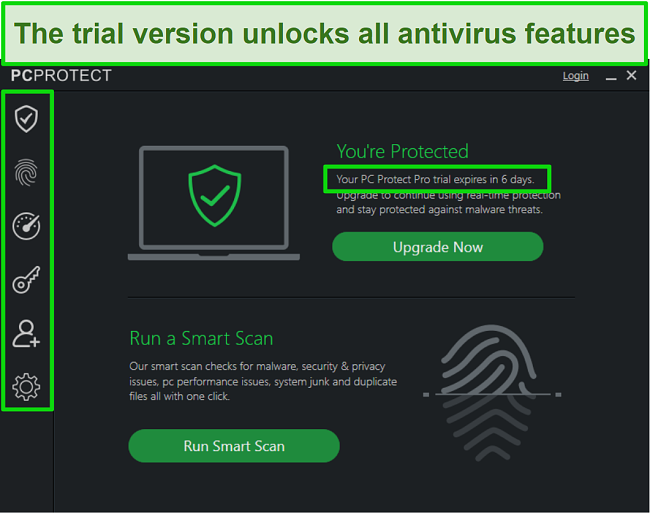 PC Security Premium — Excellent Value for Money
This is PC Protect's flagship offering and it works on Windows, Mac, Android, and iOS. It includes:
Real-time protection (including advanced cloud scanner)
Safe Browsing VPN
Protection against phishing attacks, adware, and spyware
Disk cleaner and system tune-up optimization tools
Web Shield browser extension
Browser cleaner and manger
24/7 customer support
2 device licenses
The low price in the first year makes PC Protect one of the cheapest plans on the market, especially considering all the features packed inside. However, the price more than quadruples in the second year. This makes PC Protect less appealing than top-tier competitors like Norton, TotalAV, and McAfee after the first year of subscription.
30-Day Money-Back Guarantee
PC Protect has a 30-day money-back guarantee, which can be canceled through live chat or phone. To make sure it really works, I tested it myself by calling up phone support. I was a bit annoyed by the sales representative's pushiness — I was asked for a reason and offered multiple discounts to stay.
Once I confirmed my cancellation, I was surprised to find that I had to wait for a cancellation email to start the money-back guarantee process. When the email still hadn't arrived after 1 day, I called PC Protect again — and finally received the email within the hour. This allowed me to begin the cancellation process, which is done online in the browser. There were many attempts to keep me as a customer as I clicked through each step.
It took 6 working days for the money to return to my bank account. Oddly, the refund arrived in 2 separate transactions. The first amount appeared after 4 days and covered the extra add-ons I purchased. On day 6, I received the refund for the antivirus itself.
PC Security Premium
$19.00 per year
You Save inf%
Final Verdict
Based on my tests, PC Protect is a strong antivirus that includes useful tools at no extra cost (like a VPN). Better still, the discounted price in the first year is extremely affordable – although you'll pay more than double the price after that.
Personally, I believe PC Protect is only excellent value for money in the first year. Once the price jumps up, you're better off with a similarly-priced (but stronger) antivirus like Norton 360. Norton 360 is one of the best antivirus programs in 2022, and it's packed with extra features like a VPN, password manager, parental controls, encrypted cloud storage, and more.
You don't have to take my word for it though. It's completely risk-free to test out PC Protect for yourself. You can try PC Protect with the 30-day money-back guarantee. I tested the money-back guarantee myself and the money returned to my account in 6 days.
Try PC Protect risk-free today!
FAQ: PC Protect Antivirus
Is PC Protect any good?
Yes, PC Protect is a good antivirus. I was impressed with the results of its virus scanner, as well as the performance of its secure browser extension, VPN, and device optimization tools. All of these in combination will provide you with comprehensive security against the latest cyberthreats.
Can I use PC Protect for free?
Yes, PC Protect has a secret free trial. You won't find it advertised anywhere on the website, but it's available once you download the software and you'll have access to all the features for 7 days. PC Protect also has a free version that's not advertised on the website – but that's because it only lets you run the Smart Scan. Once that's done, you need to upgrade to remove any viruses.
I recommend you try PC Protect for a longer time with the 30-day money-back guarantee. This allows you to fully test out every feature before committing to a long-term subscription. I tested the money-back guarantee process myself and I got a complete refund in 6 days.
Which devices does PC Protect work on?
PC Protect works on Windows, Mac, iOS, and Android. Windows and Mac offer Smart Scan that helps clear space on your device and speed it up. The Android app works smoothly and even has an App Lock feature, which gives you an extra layer of security on your device and prevents unauthorized access. Sadly, the iOS app only has a battery optimizer and photo manager.
Top Choice