5 Best Parental Control Software for Windows PC in 2021

Last Updated by Shauli Zacks on January 12, 2021
Even though my kids spend most of their time on their smartphones, they still manage to find time to use our Windows laptop as well. In my quest to give them the freedom to use these devices, while still being a responsible parent, I tested over 50 premium parental control programs over the course of a few months. I was surprised at how many of them, even some of the "popular" ones were not very good.
While all the programs are compatible with Windows, 4 out of 5 of them also have very good mobile apps as well. I prefer the multi-platform capability because it allows me to have one program that monitors all of my family's devices.
During my tests, Norton Family performed very well and had the best overall score out of all the programs I tested. It has a strong web filter, flexible screen time management tools, and a parent dashboard that I could access from any device. While I found several programs that could do one or two of these very well, I only found a couple that could REALLY do it all.
Try Norton Family for Windows!
Quick Guide: Rundown of the Best Parental Control Programs for Windows in 2021
Top 5 Parental Control Programs for Windows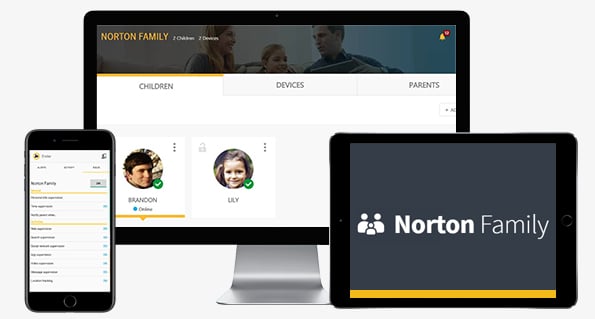 Key Features
Customizable web filter
Remote Learning accessibility
Forces safe search results for major search engines
Unlimited child profiles
User-friendly parent dashboard
When it comes to monitoring my kids while using our Windows computer, Norton Family was the best parental control app I tested by far.
One of the best things about Norton is how easy it makes everything. From installing the software and setting up child accounts to customize the web filters and the screen time limitations.
Of course, none of this would matter if the software didn't work the way it should, so I challenged my kids to beat the app. They tried to extend their screen time limits, access websites I blocked, and watch YouTube videos to see if I knew what they watched or how much time they spent on it. I was happy to see that they were unable to bypass the restrictions and that Norton Family includes a link for the kids to ask permission to access what they can't, so you can open a dialogue about it.
With its web filter, Norton Family gives me complete control over when setting the web restrictions. Based on the text, metadata, and images on the website, Norton Family uses AI to place every website into at least one of 47 categories. You can then choose from the four filter options, which will restrict categories based on the restriction level.
Very High: Recommended for ages 8 and younger
High: Recommended for ages 8-11
Moderate: Recommended for ages 12-14
Low: Recommended for ages 15-17
I was able to add websites to a whitelist or blacklist if I wanted to give or restrict access to a website, regardless of the website category.
Not only was I able to monitor everything from the parent dashboard, but I was also able to set up phone notifications for specific alerts, such as if my kids are attempting to change the device time or other settings so they can bypass the restrictions or if they need to send me a message asking for permission to view a blocked site. While Norton Family isn't perfect, and I've yet to find the perfect parental control app, the areas it can improve are minor. The one thing that comes to mind is the video supervision feature which is limited to YouTube and Hulu.
I really like that Norton Family has a "House Rules" breakdown. This lets each kid know exactly what they can and can't do online, so there are no surprises. The kids can see which actions are being monitored and how much time they can spend online each day.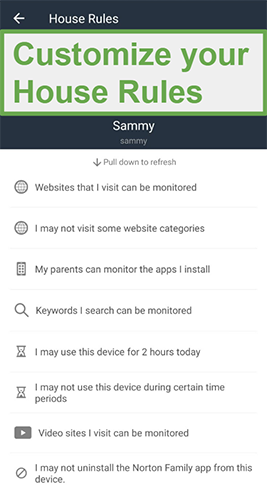 One of my favorite features is the School Time option. It allows the kids to do their homework or attend classes remotely, without counting against their total screen time. It allows me to restrict which websites can open, so they won't start browsing the web or playing online games while they should be doing school work.
But you don't have to take my word for it. You can try out Norton Family for 30 days without having to enter any payment information. This will give you full access to all its features and unlimited account across multiple devices for your kids. If at the end of your free trial you don't feel that is the best parental control software for your kids, you can delete the program and try one of the others on this list. There is no need to cancel your account, request a refund, or chat with a pushy sales agent, it's 100% free.
Try Norton Family for free for 30 days!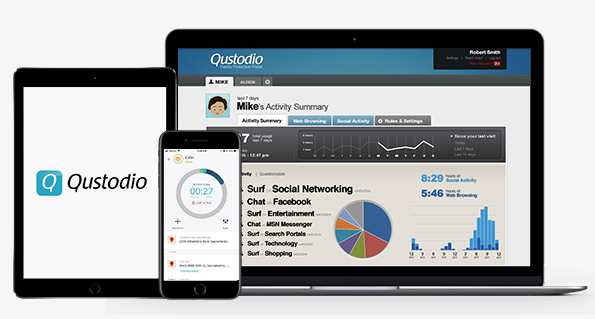 Key Features
Advanced time management tools
Web filter has 30 categories
Access parent dashboard from any device
YouTube monitoring
The first thing that jumped out to me when I tested Qustodio for Windows was that I was able to set up different user profiles for each kid, on one computer. This was important since my 16-year-old didn't want to have the same web filter as the 7-year-old, and it would be impossible to enforce time limits if all the kids were grouped together.
Speaking of time limits, I was very happy with the flexibility of the screen time controls. I was able to set both a daily time limit and create a schedule that blocked the computer at specific times. Qustodio gives two options for what happens when the screen time is up:
Lock Navigation: This disables the internet, but the computer is still functional. I liked this option, as it allowed my kids to use the computer for writing assignments on Word or PowerPoint, but kept them from getting distracted and going online instead.
Lock Device: This option logs all users off the desktop. I found this to be a good option at bedtime.
The only issue I had with the schedule feature was that the schedule grid is broken up into hour-long segments, with no option to adjust it. So if, for example, I wanted the computer off from 6:00 – 6:30 for dinner — I wasn't able to.
The web filter is fully customizable. It has 30 categories and gives the option to Allow, Block, or send me an Alert if the kids try to go to a site with that category. I tested the filter on Chrome, Firefox, and Edge and it worked very well.
The parent dashboard can be accessed from any device and makes it easy to set up the rules, time limits, and get details on what the kids are doing on the computer.
I found a great deal for Qustodio, which includes monitoring 5 devices (they don't all have to be on the same platform) and you can try it for free with their 30-day money-back guarantee. I tested it by requesting a refund during the 3rd week, which I quickly received without any trouble.
Monitor Your Windows PC with Qustodio
Key Features
Set Screen time limits
Smart Filter
Enforce Google SafeSearch
One thing I really liked about the Net Nanny web filter is that it doesn't just block words (unless I instruct it to) but it understands the context. So for example, if my son was looking up a chicken breast recipe, it didn't block it according to the "Sex" guidelines.
The parent dashboard makes it easy to monitor all of the children. There is a Family Feed that shows me what all the kids are doing in real-time. This includes how much time is spent on each website, YouTube, and Google searches and what videos are being watched. I also liked that I could pause the internet or lock down the computer for all users from the dashboard. This was helpful when trying to get everyone to the table for dinner.
I set up different profiles for each of the kids and had them log in each they got on the computer. This way, I was able to set up a detailed schedule and a daily screen time limit. I really liked that I could block the internet at any time and from anywhere, through the parent dashboard.
The web filter proved to be up to the job as well. It has different settings, which gave my oldest child much more freedom than the younger ones.
While Net Nanny works with multiple platforms and tracks the time limits according to profile, the one flaw I found is that when the kids are using the phone and computer at the same time, it doesn't count as double the screen time.
I got a great deal from this page and signed up for its plan that includes 5 devices. They also have a Desktop Only plan, which is perfect if your kids don't have a smartphone. Whatever plan you choose, you can try it risk-free with their 14-day money-back guarantee before making a decision.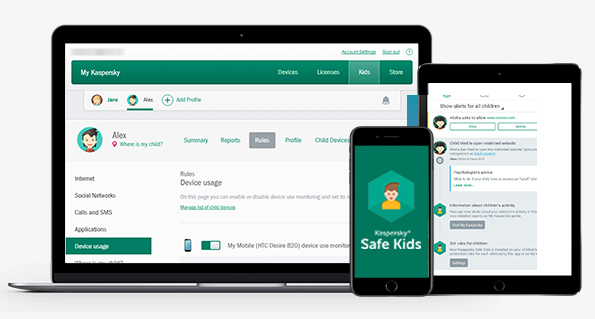 Key Features
Strong web filter
Enforces SafeSearch
Kaspersky excelled at filtering the internet when I tested it with all major browsers. Despite my kids' best efforts, which included browsing in Incognito and Private mode, the websites wouldn't load.
In addition to the filter, Kaspersky enforces SafeSearch for Google and YouTube, which did a good job of removing inappropriate search results.
One problem I had with Kaspersky Safe Kids is that it's not compatible with the McAfee antivirus software. I had to remove it, then uninstall and reinstall Safe Kids for it to work properly.
Safe Kids only has a basic time management filter. This means that you can set up either a daily time schedule, or a daily screen-time limit per child — but not both, as some others allow. Once the time expires, Safe Kids will block the computer from accessing the internet. Once the time expires, Safe Kids will block the computer from accessing the internet.
I don't recommend Safe Kids if screen time management is an important issue for you, but if you're looking for a strong filter, with one of the lowest prices I've seen, this is a good option and you can get a 7-day free trial, with no credit card required.
Try Kaspersky Safe Kids For Free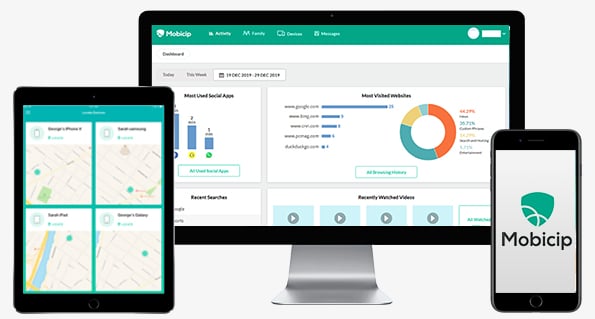 Key Features
Thorough web filter
Cloud-based parent dashboard
I was impressed with how easy it was to customize the web filter with Mobicip. It comes with three sensitivity levels that I could choose from, or customize it myself. In addition, I was able to add URLs, keywords, and search terms that I wanted to Allow or Block.
Mobicip includes several screen time monitoring features, including a "Dinner Time" option that locks devices at the same time. Unfortunately, when the computer is locked, the computer is completely unusable. All the kids can see is a screen with a timer counting down until the device will be unlocked. This was a problem for me since I want my kids to be able to use the computer for schoolwork, with just the internet turned off.
The dashboard, which can be accessed from any device, is one of the best I've seen. It uses great visuals, such as charts and graphs to illustrate what the kids are doing and how many alerts have been triggered.
If you don't mind completely blocking your computer when the schedule or time limit expires, then Mobicip is a good solution for your family and you can get it risk-free for 7-days.
Filter the Internet with Mobicip Now!
How I Tested and Rated the Best Parental Control Programs for Windows
Over the course of several months I purchased and tested over 50 parental control programs on my Windows 10 laptop and desktop. (but I made sure all the software I recommended here works well with Windows 8 and 7 as well, so you don't have worry about what version you are using)
The rankings were mainly based on the following criteria:
Time management tools: The program must allow me to put screen time limits on the computer. It got bonus points if I could set up separate profiles for each kid.
Web Filter: The program needs a strong web filter that works on multiple web browsers. My kids were able to find ways to bypass many of the filters or they would get notifications that pages were being blocked, even though the content was acceptable. The programs on my list proved to be too strong for my kids to bypass and they used advanced technology to recognize the context of the content.
Ease of use: The easier a program was to download, install, and set up, the happier I was.
Customer Support: I tested the customer support teams of every program I used. If they had Live Chat I would ask questions and see if I was dealing with a real person or a bot. When there was no live chat option I sent emails and opened tickets to test out the response time and quality of the answer. I also looked through the knowledge base and FAQ questions for each company to find answers to questions I had. I always tested the money-back policy to see if they would honor it and return my money.
FAQ
🤑 Are there free parental control programs for Windows?
I tested several free parental control programs for Windows but wouldn't recommend using them. Most of them were just partial releases of premium versions, and if you want to access the premium features you'll have to buy the program. The few that were truly free just weren't very good.
😅 Can I monitor my computer without the kids knowing?
There are a few programs that I was able to install without my kids knowing. Obviously, it couldn't have any screen limits or a web filter, because then the kids would know the program was running. These would just monitor what was happening on the computer, logging every keystroke, and recording everything.
🤓 Can I monitor the computer from my Android or iPhone?
All of the parental programs on my list are compatible with Android and iOS. You'll be able to login to your account and manage the computer from the dashboard.
Windows comes with built-in parental control, do I really need another program?
While it's true that Windows 10 comes with parental control options, they are very limited. The web filter and time management features are very basic and don't offer true protection.
Bottom Line
A good parental control program for Windows should be a requirement for all parents. It will give our kids the freedom to go online while protecting them from potential harm.
After extensive research and testing, Norton Family was the best program I tested for Windows, and it's what I've continued to use on my home computer. I found a great deal that included a 30-day money-back guarantee, which is great if you want to test the program out before you commit to it. I tested the refund policy and received a full refund within a few days.
Monitor Your Kids with Norton Family!
Here Are The Best Parental Control Apps for 2021:
Rank
Provider name
Our score
Price