Best VPNs for China in 2022 – Only 3 Work Well! (Tested Daily)
Last Updated by Chase Williams on January 02, 2022
Don't buy a VPN for China without reading this first! Even some of the best VPNs are failing to access the internet safely in China. My team and I conducted on-the-ground tests, and found that only Astrill VPN, ExpressVPN, and PrivateVPN consistently work.
The last thing you want is to be completely cut off from your go-to websites and apps in China. That's why it's important to get a VPN that's been proven to work before you arrive. While not impossible, it can be very tricky to find a VPN once you're already inside the country. You'll struggle to even find a download link that isn't blocked.
To save you money and frustration, I've shortlisted the only 3 VPNs that can bypass China's firewalls. With advanced security protocols, you can trust all these providers to keep your online activities safe. The best choice is Astrill VPN as its servers are fast, secure, and reliable. You can even try Astrill VPN for free depending on where you live.
It is important to note that the protection of a VPN doesn't give you license to commit illegal acts, so please exercise a basic level of caution when using a VPN in China. Non-government-approved VPNs are illegal in China, but there have been no public cases of tourists being penalized by the Chinese government.
Try Astrill VPN for China now!
Quick Guide: Best VPNs That Still Work in China in 2022
Astrill VPN — The #1 VPN for China that works consistently to access the free internet with fast speeds.
ExpressVPN — Works in China and has a 30-day money-back guarantee, but only limited servers work.
PrivateVPN — Can access popular websites, but streaming quality is inconsistent.
3 Easy Steps: How to Use a VPN in China
What to Look for When Choosing Your VPN for China
If you arrive in China with a VPN that doesn't work, there's not much you can do to access your online accounts and popular sites. So choose your VPN carefully. Here's what you should look for when deciding which VPN to use in China:
Proven ability to access the free internet in China — The large majority of VPNs don't work well in China. My team and I use the recommended VPNs regularly, so I'll update this page if any of these services stop working.
Servers close to China — Speed often depends on the distance between you and the VPN's server. That's why you'll get the fastest speeds from servers in neighboring countries, like Japan, Taiwan, Hong Kong, and South Korea.
Strong encryption — Military-grade encryption and advanced protocols (like OpenVPN and WireGuard) are the best for getting access to the internet in China.
24/7 technical support — You want to be able to solve any connection problems in a few minutes.
Money-back guarantee — Even proven VPNs will sometimes struggle due to China's constant updates (although the best will recover in a few hours). That's why it's worth having at least 1 backup VPN. I suggest signing up to multiple VPNs and using the money-back guarantee to get refunds later.
Quick Tip: Make sure you download a VPN before arriving in China. That's because most VPN websites are blocked, along with the Google Play and Apple App Stores. It's very tricky to install a VPN once you're already in China. You'll need to download a VPN through mirror links, which aren't easy to find and don't always work.
Download Astrill VPN for China now
The 3 VPNs That Still Work in China — Don't Waste Time With Others
Key Features:
Servers in the US, UK, Canada, Australia, Hong Kong, and Taiwan all worked
Fast speeds for Google, Facebook, YouTube, Netflix and more
Automatic kill switch keeps your data secure at all times
Connect up to 5 devices at the same time
Free trial available in some countries
Astrill VPN is the best option to use in China. You can connect to servers in the US and UK, as well as servers close to China in Hong Kong and Japan. My colleagues tested multiple servers and didn't have any problem accessing their email and streaming accounts while visiting China.
I especially like that Astrill VPN has developed features specifically to use while in China, like Smart Mode. Smart Mode uses virtual IP addresses to improve connection speeds and make it harder to spot that you're using a VPN. You can turn on Smart Mode and select a remote server from the settings.
Another unique feature is the priority protocol StealthVPN. This protocol is designed to keep you secure as you surf the web in China. You can use Stealth Mode with Astrill VPN's multihop feature for an even greater level of privacy too — this routes your connection through several servers to make it impossible to trace your activity. However, be prepared for a drop in speed.
Your data is further protected by military-grade encryption and an automatic kill switch. The research team told me that connection issues are frequent in China, so having a kill switch to protect you from potential data leaks is very important.
The slight downside to Astrill VPN is that it has a higher monthly premium than other VPNs — and a strict no-refund policy. So if you find that it isn't working to your expectations, there's not much you can do about it. Even though Astrill VPN claims to offer a 7-day free trial to users based outside of China, it didn't work when I tried signing up from Europe. Customer support only offered me a 2-day trial — which is still something, but not amazing.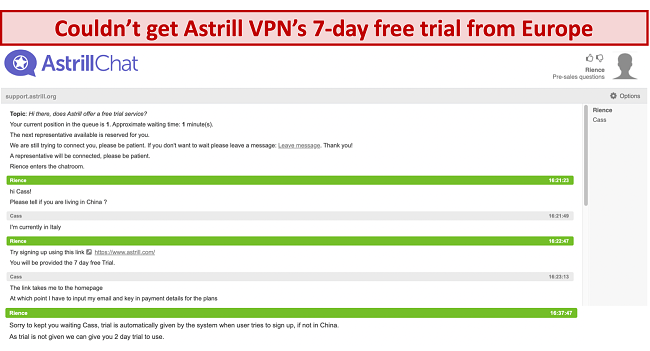 You'll have to pay if you want to use Astrill VPN in China, even if it's just for a short period of time. But given how well Astrill VPN has performed in these tests, I would say it's worth it. You can see the full lab test results below (spoiler: Astrill VPN was the only VPN to pass all tests).
Astrill VPN works on: Windows, Android, Mac, iOS, Linux, and routers.
Get internet freedom with Astrill
Key Features:
Working servers in the US and Japan
Unblocks Facebook, Google, Instagram, and more at varying speeds
Kill switch, powerful encryption, and no-logs policy help you avoid detection
Allows 5 device connections at once
30-day money-back guarantee (use it free for 30 days!)
ExpressVPN is one of the best VPNs on the market today and one of the most reliable for connecting in China. Its strict zero-logs policy is guaranteed by its RAM-based servers, which wipe all data every time they reboot. This makes sure your sensitive data is never stored so it cannot be seized or demanded by government bodies.
My colleagues in China were more than satisfied with ExpressVPN's AES-256-bit encryption, which is the same standard used by militaries and governments worldwide. They were especially impressed with how well it kept data secure and anonymous after running multiple leak tests — ExpressVPN protected all personal and location data with zero leaks. The team found it easy to access popular sites.
Even if you've got an unstable internet connection at your home or hotel, ExpressVPN keeps your device protected at all times with its automatic kill switch. This blocks all internet traffic until your VPN connection is safely restored so you don't risk exposing yourself.
However, not all of the servers worked from within China. My colleagues had the most reliable results with the New York and Japan servers. The speeds you get may also vary depending on your actual location and your internet provider. We found that on some days streaming videos could be really laggy, but on other days it would be fine. You can take a look at the full test results below to see which ExpressVPN servers work in China.
You can test ExpressVPN out completely risk-free as it's backed by a 30-day money-back guarantee — if you don't like it, you can easily get a full refund. Just make sure to download ExpressVPN and note down the customer support email address before you get to China, as you can't access the website while you're there.
ExpressVPN works on: Windows, Android, Mac, iOS, Linux, and routers.
Get internet freedom with ExpressVPN
January 2022 Update! ExpressVPN has dropped prices for a limited time to a crazy $6.67 per month for the 1-year plan (you can save up to 49%) + 3 months free! This is a limited offer so be sure to grab it now before it's gone. See more information on this offer here.
Key Features:
Servers worked in Canada and Hong Kong
Unblocks most websites and apps but speeds are slow
Kill switch and strict no-logs policy protects your personal data
Supports 6 device connections simultaneously
30-day money-back guarantee
PrivateVPN is a small but powerful VPN for ensuring your online privacy in China. It uses the L2TP protocol and AES 256-bit encryption to bypass firewalls and censorship, as well as hide your internet traffic at the same time. You can activate its Stealth VPN feature that disguises your traffic to look like regular traffic — no-one will know you're using a VPN! I also recommend turning on the IPv6 leak protection and kill switch features in the app as these aren't automatically enabled.
You can choose from 150 servers, some of which are located in countries close to China (like Taiwan and Japan). Local servers provide better speeds but you can also connect to servers in further locations — my research team found servers in Canada worked well to unblock sites like Instagram, YouTube, and Netflix. I suggest contacting customer support to find out which servers have the most reliable connections from China.
My colleagues did experience more lags and buffering when trying to stream, but the quality really varies from day to day. If you're looking for a VPN mainly for streaming in China, you should try Astrill VPN instead. Astrill VPN's speeds are consistently fast so you'll have the best chances of getting good streaming quality.
You can use PrivateVPN on 6 devices at once, which is great if you want to share a single account between friends or family in China. You can even see how well it performs on everyone's device before you commit to a subscription. PrivateVPN has a 30-day money-back guarantee, so you can try the VPN service risk-free. If you're not satisfied, just send an email to PrivateVPN with your reason for leaving. When I tested this process myself, I simply said that I changed my mind — and it worked! I got my money back in 5 days.
PrivateVPN works on: Windows, Android, Mac, iOS, and Linux.
Stay safe in China with PrivateVPN
Full Test Results: Comparison of Working VPN Servers in China 2022
For each VPN, my colleagues and I tested 8 servers to see which of those servers could successfully unblock popular sites. Astrill VPN was the only one that could remain undetected and access the free internet with ease. Both ExpressVPN and PrivateVPN struggled, and my teammates only found 2 servers that worked.
My research team in China still tests these VPNs on a daily basis — results are updated every time there's a change.
Astrill VPN — 8/8 working servers
| | | | | | | |
| --- | --- | --- | --- | --- | --- | --- |
| | USA for China servers 1 + 4 | UK London + Manchester servers | Canada server | Australia server | Hong Kong server | Taiwan server |
| Facebook | ✓ | ✓ | ✓ | ✓ | ✓ | ✓ |
| Netflix | ✓ | ✓ | ✓ | ✓ | ✓ | ✓ |
| Youtube | ✓ | ✓ | ✓ | ✓ | ✓ | ✓ |
| Google | ✓ | ✓ | ✓ | ✓ | ✓ | ✓ |
| Wikipedia | ✓ | ✓ | ✓ | ✓ | ✓ | ✓ |
| Google Maps | ✓ | ✓ | ✓ | ✓ | ✓ | ✓ |
| Instagram | ✓ | ✓ | ✓ | ✓ | ✓ | ✓ |
| Pinterest | ✓ | ✓ | ✓ | ✓ | ✓ | ✓ |
| BBC News | ✓ | ✓ | ✓ | ✓ | ✓ | ✓ |
| Wall Street Journal | ✓ | ✓ | ✓ | ✓ | ✓ | ✓ |
ExpressVPN — 2/8 working servers
| | | |
| --- | --- | --- |
| | New York server | Japan server |
| Facebook | ✓ | ✓ |
| Netflix | ✓ | ✓ |
| Youtube | ✓ | ✓ |
| Google | ✓ | ✓ |
| Wikipedia | ✓ | ✓ |
| Google Maps | ✓ | ✓ |
| Instagram | ✓ | ✓ |
| Pinterest | ✓ | ✓ |
| BBC News | ✓ | ✓ |
| Wall Street Journal | ✓ | ✓ |
PrivateVPN — 2/8 working servers
Toronto, Canada server
Hong Kong server
Facebook

✓

✓

Netflix

✓

X
Streaming error presented
Youtube
X
But video lagged

✓

Google

✓

✓

Wikipedia

✓

✓

Google Maps
X
Could connect but failed to load directions

✓

Instagram

✓

✓

Pinterest

✓

✓

BBC News

✓

✓

Wall Street Journal

✓

✓
VPN Not Connecting in China? Try These Troubleshooting Tips
Even the best VPN services will struggle from time to time. Below are some easy fixes to help you re-establish a working connection (if you're using ExpressVPN, here's a step-by-step troubleshooting guide).
Update the VPN software — Make sure you've got the latest version of the VPN app. New updates could prevent any issues you might be having with your VPN.
Connect to a new server — Go to the server list and choose another server location to see it works.
Change the VPN protocol — In your VPN settings, you should find a section for "Protocol" and be able to choose a different one for your connection.
Port forward to port 433 — Port 433 is most often used for encrypted communication, so this could get you connected again.
Email customer service — If your regular email service isn't blocked, you can contact your VPN's customer support team for assistance.
Here's a tip: Before you go to China, ask your VPN for a list of recommended servers to use in China and note down the customer support email address. Once you're in China, the VPN's website will be blocked so you won't have access anymore.
Popular VPNs That Don't Work in China (Tested January 2022)
I can confirm that none of these VPNs consistently work in China: NordVPN, Surfshark, VyprVPN, TunnelBear, and Windscribe. China's blocking and firewall technology is constantly improving, and not even the best VPNs always stay ahead of the restrictions.
ExpressVPN, Astrill VPN, and PrivateVPN are the most reliable and consistent VPNs in China. Not only will you be able to securely access the internet in China, but they're also fast so you won't waste time waiting for sites to load. On the odd occasion when these 3 VPNs can't connect, the providers will quickly add new servers for you to use.
Hidden Dangers of Using Free VPNs in China
There are free VPNs that work well in China, but you always have to compromise when you're not paying for a service. This includes small inconveniences, like limited data allowances, slower speeds, and no streaming or torrenting support.
You might even encounter more serious security and privacy risks. If you're in China and see a VPN service advertised, that means it's government-approved. I would caution you not to use them — it's almost guaranteed that the VPN is sharing your browsing history and personal information with the local authorities. In China, the consequences of this can be dangerous. You could even face prosecution or jail time for accessing "illegal" sites.
A recent example is the Shadowrocket VPN app. A Chinese citizen was caught using Shadowrocket to illegally watch adult content (pornography is blocked in China). While it's unclear how this happened, it's very likely that Shadowrocket was leaking private user data to the local police. A quick online search confirms Shadowrocket's shady background — there's no official website but I found many questionable websites with free download links to the app.
Free is always tempting but it's not worth risking your safety in China. If you don't want to commit to paying for a VPN right away, you could test ExpressVPN out risk-free. If you don't feel it's right for you, you can get a full refund within the 30-day money-back guarantee period.
Get ExpressVPN for free for 30 days!
FAQs on VPNs in China
Why use a VPN in China?
With the right VPN, you can access the sites you would usually have access to at home. The Chinese government heavily censors the internet, so you'll find most of the accounts you subscribe to at home are banned or simply won't load.
A quality VPN also keeps your online activities safe from third-party surveillance. If you take your privacy seriously, then a VPN is essential for securing your personal data while in China.
Which free VPNs work in China?
I've tested dozens of free VPNs for China and I find Hide.me is decent enough for a free VPN. It keeps you safe in China with its strict no-logs policy, military-grade encryption, kill switch, and leak protection. However, like any other free VPN, you should expect frustrating limitations — Hide.me only provides 10GB of free data each month and 5 server locations.
If you don't want to deal with the hassle, you're better off using a premium VPN with a money-back guarantee. Based on rigorous tests, my team and I found ExpressVPN is one of the best VPNs on the market and for China. It's a premium VPN but it does come with a 30-day money-back guarantee, so you can use ExpressVPN for free for almost a month.
Are VPNs legal in China?
Government-approved VPNs are legal but heavily monitored. This obviously isn't ideal for privacy reasons. The government bans all non-approved VPNs, which are actually the best VPNs to use in China as your data will be kept safe from the authorities.
In my research, almost all foreigners arrive in China with a non-approved VPN and there haven't been any records of government action. The ban seems to apply more to Chinese nationals than foreigners. For instance, it's unlikely that you'll get into legal trouble if you're a foreigner using ExpressVPN on a business trip in China. However, it's much riskier for locals to use banned VPNs, especially in politically-sensitive areas like Xinjiang or Tibet.
What is "The Great Firewall of China"?
The "Great Firewall" is the nickname for a group of laws, regulations, and technology used by the Chinese government to regulate internet usage in China. These regulations block users in China from accessing certain external sites and applications, like Snapchat, YouTube, Twitter, and WhatsApp. Even for foreign websites that aren't blocked, internet speeds can be significantly throttled.
Which sites and apps are blocked in China?
You can't access Google, YouTube, Facebook, Twitter, Instagram, WhatsApp, Gmail, Google Maps, Spotify, Pinterest, Snapchat, Skype, Twitch, The New York Times, The Washington Post, BBC, and WordPress. Unfortunately, you'll find that the majority of Western social networks, new sites, and media platforms are blocked in China.
Some blocks are based on location. For example, a website that's restricted in Tibet might be available in the Sichuan province. However, widespread censorship is guaranteed during protests, scandals, and sensitive political dates. During these periods, you can expect heavy bandwidth throttling and a broader (but temporary) ban on all on all international sites.
Do VPNs work 100% in China?
Based on tests, Astrill VPN and ExpressVPN are the most reliable options in China. However, it's difficult to guarantee that even the best VPNs will work 100% of the time. The government conducts periodic crackdowns on VPN services, which means that you might find some servers are suddenly blocked. However, Astrill VPN and ExpressVPN both refresh their server network on a regular basis, so you'll never have to wait too long for a working connection. Alternatively, you can try these quick and easy troubleshooting tips if you're in a rush.
Can I download VPNs when I'm already in China?
Yes, you can still download a VPN if you're in China. It can be trick