Best VPNs for China in 2020 – Only 3 Work Well! (Tested Daily)
Last Updated by Chase Williams on November 09, 2020
Don't get a VPN for China without reading this first! I couldn't believe how many review sites have outdated information on China. When I tested all the alleged "best VPNs for China", only AstrillVPN, ExpressVPN, and PrivateVPN actually worked inside the country.
If you want to access your favorite sites from China, you need to get a VPN that has actually been proven to work in the country. It's often too late to decide once you're in China. You might struggle to even search for a VPN because websites are blocked.
Unfortunately, many review sites don't actually bother testing VPNs in China. But I did — and the results were surprising. Many of the recommended VPNs for China are actually blocked. Due to the government's tightening restrictions, even some of the best VPNs (like NordVPN) are failing to bypass the country's firewalls.
To save you time and money trying out VPNs that don't work, I've shortlisted the only 3 tried-and-tested VPNs that can bypass China's firewalls. With advanced security protocols, you can trust all these providers to keep your online activities safe from China's surveillance.
My top choice is AstrillVPN as it's the fastest and most reliable VPN, and you can even get a free trial depending on where you live.
Quick Guide: Best VPNs That Still Work in China in 2020
Astrill VPN — The #1 VPN for China that works consistently to bypass restrictions and has fast speeds.
ExpressVPN — Works in China and has a 30-day money-back guarantee, but only limited servers work.
PrivateVPN — Can access popular blocked sites, but streaming quality is inconsistent.
What to Look for When Choosing Your VPN for China
If you arrive in China with a VPN that doesn't work, there's not much you can do to access blocked sites. So choose your VPN carefully. Here's what you should look for when deciding which VPN to use in China:
Ability to bypass China's aggressive censorship: Is the VPN robust enough to break through "The Great Firewall of China" and freely allow internet access?
Servers close to China: Does the VPN have servers located close by, or in neighboring countries like Japan and Taiwan?
Fast speeds: Is the VPN fast enough for smooth internet browsing and buffer-free streaming?
Kill switch: Does the VPN have a kill switch if server connection drops? Is the set-up manual or automatic?
Multi-platform/device capability: Does the VPN have apps that support a range of platforms so all devices are protected?
Simultaneous connections: How many devices can use the VPN service at the same time? Is it enough for you?
Short-term subscription options: Does the VPN offer a short-term subscription for users traveling in China for a week or two?
Quick Tip: Make sure you download a VPN before arriving in China. That's because most VPN websites are blocked, along with the Google Play and Apple App Stores. It's very tricky to install a VPN once you're already in China. You'll need to download a VPN through mirror links, which aren't easy to find and don't always work.
Download AstrillVPN for China now
The 3 VPNs That Still Work in China — Don't Waste Time With Others
Pros
All tested servers worked to access blocked content
Servers located in Taiwan and Hong Kong for fastest possible speeds
Automatic kill switch keeps your data secure even during connection drops
Smart Mode split-tunneling keeps speeds high while bypassing geo-restrictions
Supports up to 5 device connections simultaneously
Cons
No free trial available in China (and not straightforward to get from other countries)
No-refund policy or money-back guarantees
Keeps temporary connection logs so some of your data is stored
Astrill is the best VPN for bypassing China's "Great Firewall". All the Astrill VPN servers I tested connected successfully and I was able to access Facebook, Google, Youtube, and Netflix without issues.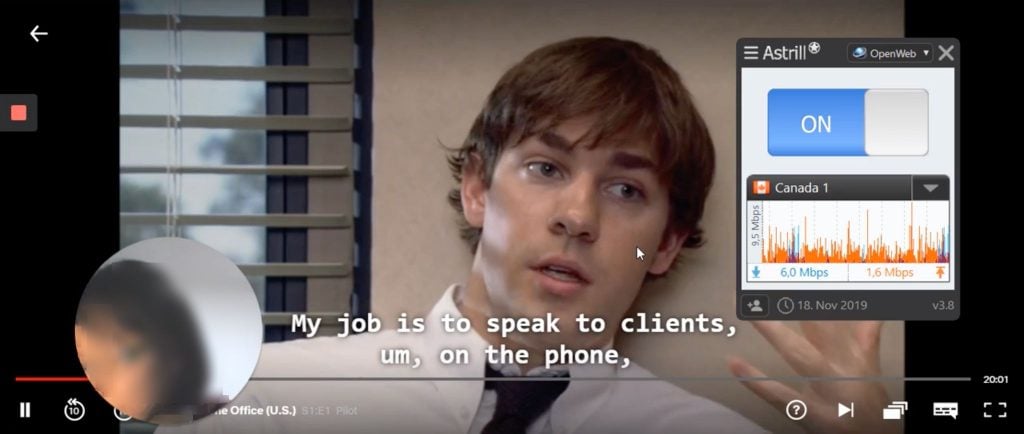 Astrill VPN's Smart Mode feature allowed me to bypass the firewalls to unblock global content, and it did so without any DNS leaks. Smart Mode also uses regional IP addresses which are supposed to improve connection speeds for faster browsing and streaming. I found this to be true as my download speeds were faster with the VPN connected. I was even able to stream Netflix with minimal lags.
You can use Astrill with several different VPN protocols, but the only protocol that works in China is Stealth Mode. It gives you unrestricted access to the internet and is built to keep you under the radar of the Great Firewall so that it can't detect you using a VPN. Military-grade encryption and an automatic kill switch also ensure your browsing data stays secure.
The slight downside to Astrill is that it has a higher monthly premium than other VPN services — and it has a strict no-refund policy. So if you find that it isn't working to your expectations, there's not much you can do about it.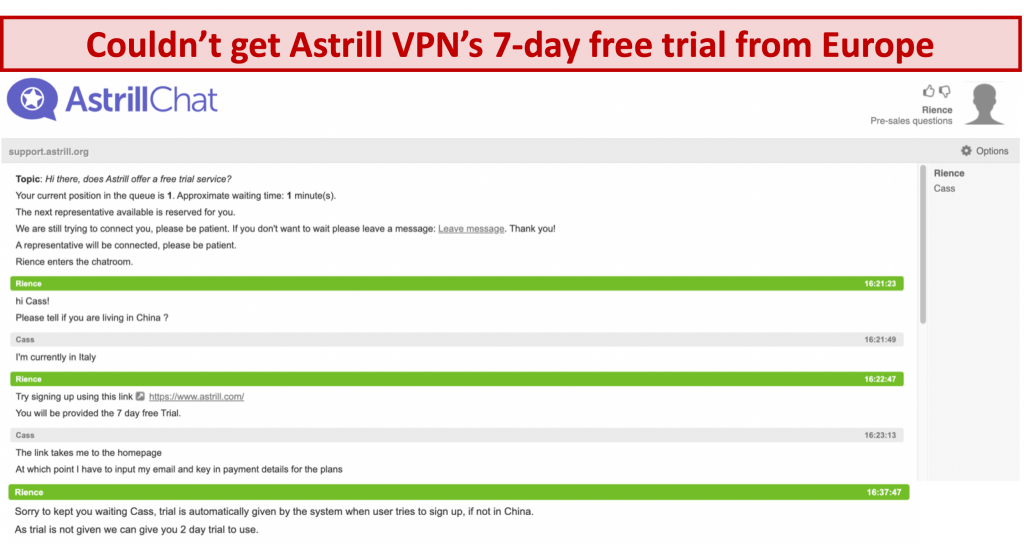 Astrill VPN claims to offer a 7-day free trial to users based outside of China. I wanted to see if this free trial could be used for short stays in the country so you don't have to pay for a full month's subscription.
However, I didn't manage to get a free trial when I tried signing up from Europe. Customer support said the only thing that they could do was to give me a 2-day trial — which is still something, but not amazing.
If you want to use Astrill VPN in China, even if it's just for a short period of time, you'll have to pay. But given how well Astrill VPN has performed in these tests, I would say it's worth it. You can see the full lab test results below (spoiler: Astrill VPN was the only VPN to pass all tests).
Astrill VPN works on: Windows, Android, Mac, iOS, Linux, and routers.
Astrill VPN unblocks: Google, YouTube, Facebook, Twitter, Instagram, Wikipedia, WhatsApp, Netflix, Gmail, Google Maps, Spotify, Pinterest, Snapchat, Skype, and more.
Get internet freedom with Astrill
Pros
Access to all restricted websites
US and Japan servers could bypass restrictions
Strong security including a kill switch helps you avoid detection
Connects with up to 5 devices at the same time
30-day money-back guarantee lets you use the VPN for free for a month
Cons
Limited servers that work to unblock sites
Experienced lags with streaming
Speeds were inconsistent
ExpressVPN is an all-round fantastic VPN and it's my second choice for China. The provider employs AES-256-bit encryption to break through China's censorship technology — this is the same encryption level used by militaries and governments worldwide.
Even if you've got an unstable internet connection at your home or hotel, ExpressVPN keeps your device protected at all times with its automatic kill switch. This blocks all internet traffic until your VPN connection is safely restored.
During my tests, I could access blocked sites like Netflix, YouTube, Facebook, Google, Wikipedia, and more.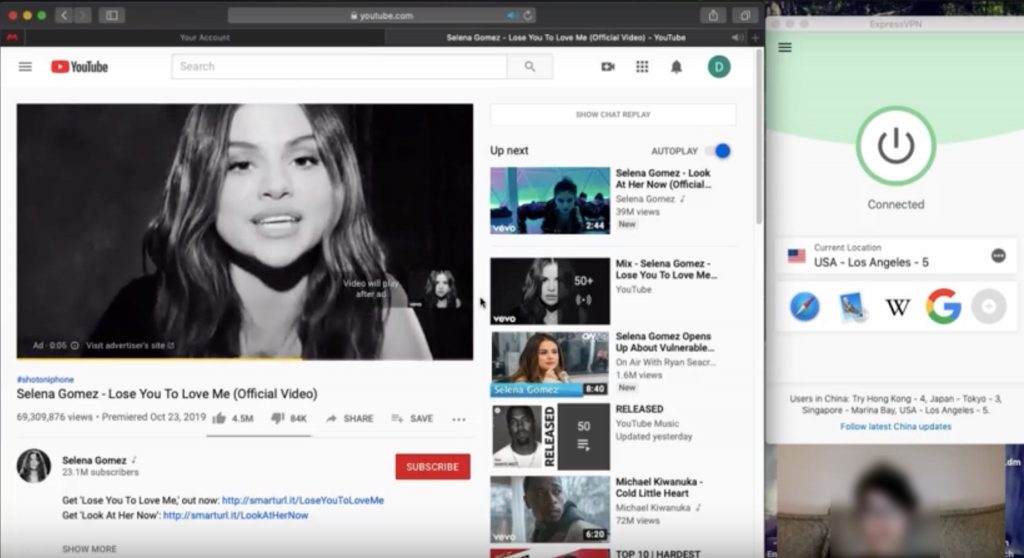 A slight downside to ExpressVPN in China is that not all its servers work at unblocking sites, so you'll have to find the ones that do (the Los Angeles and Japan servers worked for me when I tested them). The speeds you get may also vary depending on your actual location and your internet provider. I did find that on some days streaming videos could be really laggy, but on other days it would be fine. The full test results below show you exactly which ExpressVPN servers I found to work in China.
If you're going to China for less than a month, you could actually use ExpressVPN at zero cost with the 30-day money-back guarantee. I even tested this process myself to confirm that it works. After using the service for nearly 4 weeks, I'm happy to report that ExpressVPN approved my refund request immediately and the money returned to my account in 4 days. Just make sure to download ExpressVPN and note down the customer support email address before you get to China, as you can't access the website while you're there.
ExpressVPN works on: Windows, Android, Mac, iOS, Linux, and routers.
ExpressVPN unblocks: Google, YouTube, Facebook, Twitter, Instagram, Wikipedia, WhatsApp, Netflix, Gmail, Google Maps, Spotify, and more.
Get internet freedom with ExpressVPN
Pros
Kill switch keeps your traffic encrypted even when your connection drops
Strict no-logs policy protects your personal data
Supports 6 device connections at the same time
30-day money-back guarantee
Cons
Struggles to access Netflix content
Limited number of servers left me with less options to connect to
Not many servers worked
PrivateVPN is a small but powerful VPN for ensuring your online privacy in China. It uses OpenVPN and AES 256-bit encryption to bypass firewalls and censorship, as well as hide your internet traffic at the same time. As an extra safety measure, I also recommend turning on the IPv6 leak protection and kill switch features in the app.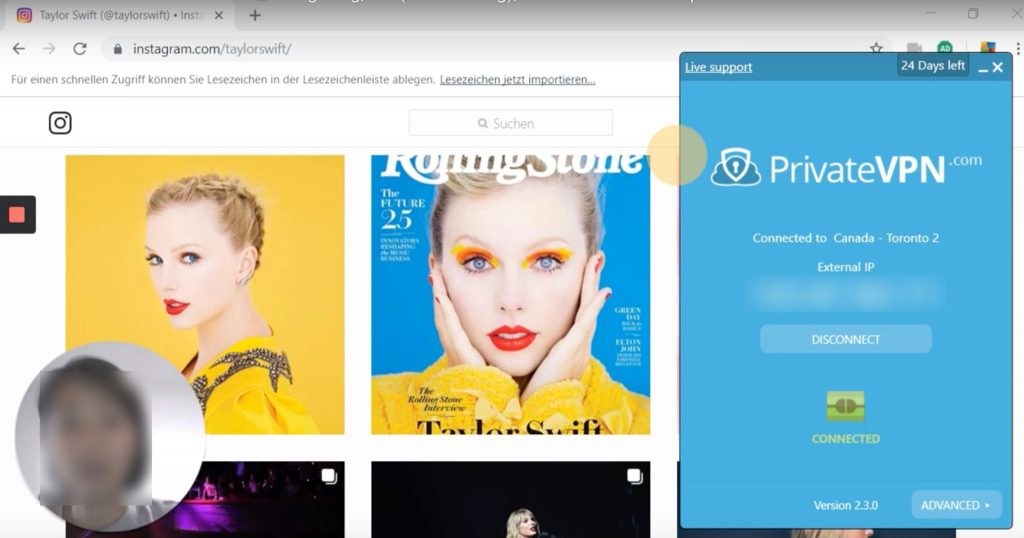 I did experience more lags and buffering when trying to stream Youtube and Netflix, but the quality really varies from day to day. If you're looking for a VPN mainly for streaming in China, you should try Astrill VPN instead. Astrill's speeds are consistently fast so you'll have the best chances of getting good streaming quality.
You can use PrivateVPN on 6 devices at once, which is great if you want to share a single account between friends or family in China. You can even see how well it performs on everyone's device before you commit to a subscription. PrivateVPN has a 30-day money-back guarantee, so you can try the VPN service risk-free. If you're not satisfied, just send an email to PrivateVPN with your reason for leaving. When I tested this process myself, I simply said that I changed my mind — and it worked! I got my money back in 5 days.
PrivateVPN works on: Windows, Android, Mac, iOS, and Linux.
PrivateVPN unblocks: Google, YouTube, Facebook, Twitter, Instagram, Wikipedia, WhatsApp, Netflix, Gmail, and Google Maps.
Stay safe in China with PrivateVPN
Full Test Results: Comparison of Working VPN Servers in China 2020
For each VPN, I tested 8 servers to see which of those servers could successfully unblock popular sites. Astrill VPN was the only one that could remain undetected and bypass all restrictions with ease. Both ExpressVPN and PrivateVPN struggled, and I only found 2 servers that worked.
I'm still testing these VPNs on a daily basis and update these test results every time there is a change (I tend to find one every two weeks or so, though it really depends).
AstrillVPN — 8/8 working servers
| | | | | | | |
| --- | --- | --- | --- | --- | --- | --- |
| | USA for China servers 1 + 4 | UK London + Manchester servers | Canada server | Australia server | Hong Kong server | Taiwan server |
| Facebook | ✓ | ✓ | ✓ | ✓ | ✓ | ✓ |
| Netflix | ✓ | ✓ | ✓ | ✓ | ✓ | ✓ |
| Youtube | ✓ | ✓ | ✓ | ✓ | ✓ | ✓ |
| Google | ✓ | ✓ | ✓ | ✓ | ✓ | ✓ |
| Wikipedia | ✓ | ✓ | ✓ | ✓ | ✓ | ✓ |
| Google Maps | ✓ | ✓ | ✓ | ✓ | ✓ | ✓ |
| Instagram | ✓ | ✓ | ✓ | ✓ | ✓ | ✓ |
| Pinterest | ✓ | ✓ | ✓ | ✓ | ✓ | ✓ |
| BBC News | ✓ | ✓ | ✓ | ✓ | ✓ | ✓ |
| Wall Street Journal | ✓ | ✓ | ✓ | ✓ | ✓ | ✓ |
ExpressVPN — 2/8 working servers
| | | |
| --- | --- | --- |
| | Los Angeles server | Japan server |
| Facebook | ✓ | ✓ |
| Netflix | ✓ | ✓ |
| Youtube | ✓ | ✓ |
| Google | ✓ | ✓ |
| Wikipedia | ✓ | ✓ |
| Google Maps | ✓ | ✓ |
| Instagram | ✓ | ✓ |
| Pinterest | ✓ | ✓ |
| BBC News | ✓ | ✓ |
| Wall Street Journal | ✓ | ✓ |
PrivateVPN — 2/8 working servers
Toronto, Canada server
Hong Kong server
Facebook

✓

✓

Netflix

✓

X
Streaming error presented
Youtube
X
But video lagged

✓

Google

✓

✓

Wikipedia

✓

✓

Google Maps
X
Could connect but failed to load directions

✓

Instagram

✓

✓

Pinterest

✓

✓

BBC News

✓

✓

Wall Street Journal

✓

✓
VPN Not Connecting in China? Try These Troubleshooting Tips
Even the best VPN services will struggle from time to time, especially during a government crackdown. Below are some easy fixes to help you re-establish a working connection (if you're using ExpressVPN, here's a step-by-step troubleshooting guide).
Connect to a new server — Go to the server list and choose another server location to see it works.
Change the VPN protocol — In your VPN settings, you should find a section for "Protocol" and be able to choose a different one for your connection.
Port forward to port 433 — Port 433 is most often used for encrypted communication, so this could get you connected again.
Email customer service — If your regular email service isn't blocked, you can contact your VPN's customer support team for assistance.
Here's a tip: Before you go to China, ask your VPN for a list of recommended servers to use in China and note down the customer support email address. Once you're in China, the VPN's website will be blocked so you won't have access anymore.
Popular VPNs That Don't Work in China (Tested November 2020)
I can confirm that none of these VPNs consistently work in China: NordVPN, Surfshark, CyberGhost, VyprVPN, TunnelBear, and Windscribe. China's blocking and firewall technology is constantly improving, and not even the best VPNs always stay ahead of the restrictions.
ExpressVPN, AstrillVPN, and PrivateVPN are the most reliable and consistent VPNs in China. Not only can they bypass the "Great Firewall of China", but they're also fast so you don't waste time waiting for sites to load. On the odd occasion when these 3 VPNs can't connect, the providers will quickly add new servers for you to use.
Hidden Dangers of Using Free VPNs in China
There are free VPNs that work well in China, but you always have to compromise when you're not paying for a service. This includes small inconveniences, like limited data allowances, slower speeds, and no streaming or torrenting support.
You might even encounter more serious security and privacy risks. Some of the best free VPNs collect and sell your private data, which could expose your physical location and other personal information. In China, the consequences of this can be dangerous. You could even face prosecution or jail time for accessing "illegal" sites.
Free is always tempting but it's not worth risking your safety in China, especially when you can use ExpressVPN for free for 30 days with its money-back guarantee. This offer is particularly ideal if you're only in China for a few weeks — you could use the service without paying anything!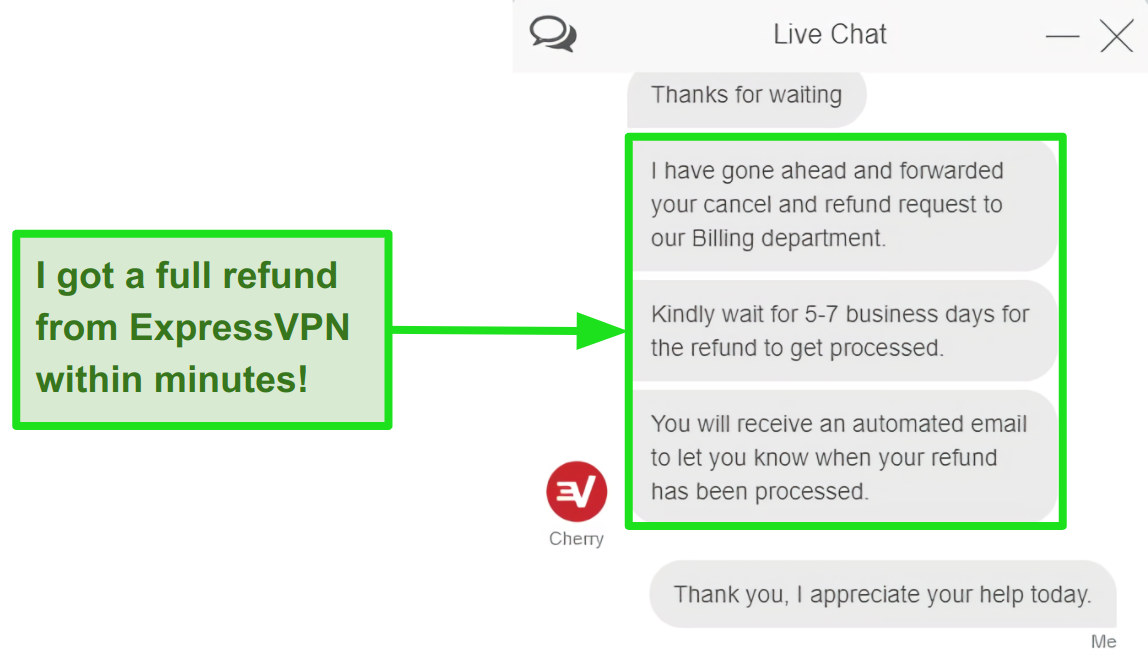 Get ExpressVPN for free for 30 days!
FAQs on VPNs in China
🤓 Why use a VPN in China?
With the right VPN, you can access blocked sites like Google, Facebook, Instagram, Gmail, Wikipedia, Netflix, and more. The Chinese government heavily censors the internet, so you'll find most of your favorite sites are banned or simply won't load.
A quality VPN also keeps your online activities safe from government surveillance. If you take your privacy seriously, then a VPN is essential for securing your personal data while in China.
🤑 Which free VPNs work in China?
I've found that free VPNs that work reliably in China are rare. Most of them are not equipped with the technology to bypass China's strict censorship.
The popular free VPNs I tested had connection issues, which means your traffic may be left unprotected while using the VPN. They also couldn't bypass restrictions consistently for me to access blocked sites. Speeds also tended to be too slow to stream any videos, and you'll have loading times on normal webpages.
For that reason, I recommend using a premium VPN to ensure you can get past internet restrictions and browse freely.
😅 Are VPNs legal in China?
Technically, no. On February 1st 2018, China's Ministry of Industry and Information Technology (MIIT) made it illegal to use a VPN in China.
However, government-approved VPNs are allowed as these are closely monitored and provide the Chinese government with backdoor access to logged information. Use of non-approved VPNs can result in a fine. In my research, fines seem to be more for Chinese nationals rather than foreigners. Almost all tourists to China arrive with a VPN and there was no record of any claims by the government against tourists.
🤔 What is "The Great Firewall of China"?
The "Great Firewall" is the nickname for a group of laws, regulations, and technology used by the Chinese government to regulate internet usage in China. These regulations block users in China from accessing certain external sites and applications, like Snapchat, YouTube, Twitter, and WhatsApp. Even for foreign websites that aren't blocked, internet speeds can be significantly throttled.
😐 Which sites and apps are blocked in China?
You can't access Google, YouTube, Facebook, Twitter, Instagram, WhatsApp, Gmail, Google Maps, Spotify, Pinterest, Snapchat, Skype, Twitch, The New York Times, The Washington Post, BBC, and WordPress. Unfortunately, you'll find that the majority of Western social networks, new sites, and media platforms are blocked in China.
Some blocks are based on location. For example, a website that's restricted in Tibet might be available in the Sichuan province. However, widespread censorship is guaranteed during protests, scandals, and sensitive political dates. During these periods, you can expect heavy bandwidth throttling and a broader (but temporary) ban on all on all international sites.
😥 Do VPNs work 100% in China?
Based on tests, Astrill VPN and ExpressVPN are the most reliable options in China. However, it's difficult to guarantee that even the best VPNs will work 100% of the time. The government conducts periodic crackdowns on VPN services, which means that you might find some servers are suddenly blocked. However, Astrill VPN and ExpressVPN both refresh their server network on a regular basis, so you'll never have to wait too long for a working connection. Alternatively, you can try these quick and easy troubleshooting tips if you're in a rush.
Can I download VPNs when I'm already in China?
Yes, you can still download a VPN if you're in China. It can be tricky though. Nearly all VPN websites are blocked, and the Google Play store and Amazon Appstore aren't available. Even though the Apple App Store still works, all the local VPNs offered for iOS and Mac are heavily monitored by authorities.
You can download a government-approved VPN, but I strongly advise against this if you value your privacy and safety. All local VPNs must comply with Chinese laws and regulations, and your personal information could be shared with the government.
I highly recommend downloading a trustworthy VPN before you arrive. Astrill VPN is a reliable VPN that's been proven to work in China — and you can install it beforehand so you're prepared once you're inside the country.
Can I watch Netflix in China?
Yes, Netflix is accessible from China if you have Astrill VPN or ExpressVPN. Just launch your VPN, choose a server located outside of China (I recommend connecting to a US server to get access to the whole Netflix library!) and log in to your Netflix account.
Do I need a VPN in Hong Kong and Taiwan?
You should definitely use a VPN in Hong Kong and Taiwan. China still controls Taiwan, but internet censorship is far less intense. Popular sites can be accessed without a VPN, but for data security, it's in your best interest to use one. In Hong Kong, internet regulations are much freer, but after the 2019 protests there is a chance that internet freedom could be restricted in the future. Using a VPN keeps your internet unrestricted.
Top Tip: It's always worth having a backup VPN in case one doesn't work. If you're traveling for a short time, you can use the money-back guarantees many premium VPNs offer to have a back-up VPN. That way, you're sure to have premium protection and internet freedom.
Be Careful! Not Every VPN Is Safe or Works in China
It's essential to find a reliable and trustworthy VPN to use in China — but it's not easy. Many safe VPNs struggle to bypass the government's firewalls. Local VPNs that do work in China are government-approved and share your online activity with the authorities.
Based on my tests, I can confirm that Astrill VPN, ExpressVPN, and PrivateVPN are trustworthy and work well in China. You'll enjoy secure and unlimited access to blocked sites like Google, Facebook, WhatsApp, Netflix, and more.
For long-term residents in China, I recommend Astrill VPN as every server works inside the country. But if you're only in China for a short amount of time, I suggest you try ExpressVPN with its 30-day money-back guarantee instead. You could even use ExpressVPN entirely for free — just request a refund within the first 30 days (no questions will be asked when you cancel).