VyprVPN has over 700 servers in 70+ countries. The company also boasts over 300,000 IP addresses on these servers, allowing for high connection rates.
Unlike most VPNs on the market, VyprVPN owns all its servers through its parent company, Golden Frog. This adds a level of security as you don't have to worry about a third party having any influence over the server network.
The VPN also has its own DNS servers, which help protect your information from DNS leaks. The app allows you to connect to a third-party DNS server as well.
Is VyprVPN Good for Torrenting and P2P? — No, It's Not.
VyprVPN stance on P2P file sharing isn't clear. Golden Frog's official statement is that torrenting is allowed through VyprVPN.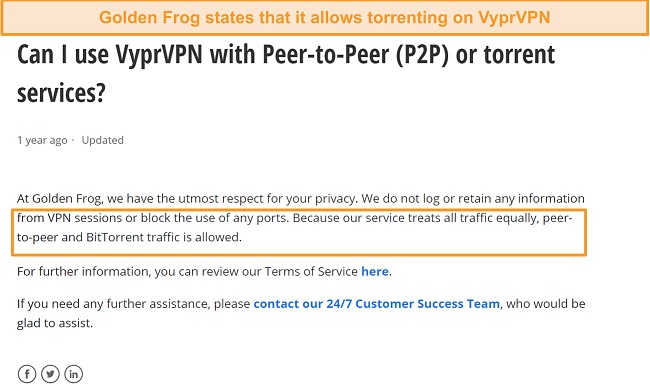 However, when I asked a live chat agent what servers they'd recommend for torrenting, the agent told me that VyprVPN does not support this activity at all.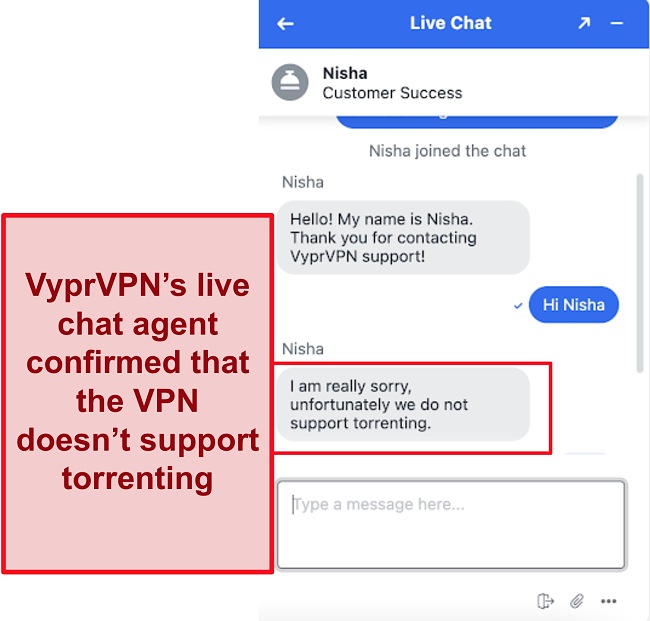 If you regularly torrent, you want to make sure you're protected by a VPN that keeps you safe and supports whatever you do on its platform. Private Internet Access (PIA) has military-grade security, an automatic kill switch, and it supports torrenting. You can use PIA to torrent safely risk-free for 30 days thanks to its money-back guarantee. To avoid legal consequences, please remember to only download files that are in the public domain.
Does VyprVPN Work in China? — It Might.
The company claims that its revamped Chameleon protocol can shuffle your metadata enough to conceal your VPN traffic from the Chinese government's deep-packet inspection process. In theory, this protocol should allow you to bypass Chinese censorship as long as you install the VPN app before arriving in the country. I'm not located in China, so I wasn't able to test this for myself, but one of my colleagues recently tested over 30 VPNs in China and found only 3 that work. VyprVPN isn't one of them.
While a VPN protects your online privacy, it doesn't give you the right to commit illegal acts. Please exercise a degree of caution when using a VPN in China.
Security — Has Military-Grade Security Features
VyprVPN has a full range of security features that safeguard your connection when browsing the web. Chief among them is its military-grade AES-256-bit encryption, which makes your network traffic almost impossible to decipher. The VPN also relies on Perfect Forward Secrecy (PFS), a process that creates a unique encryption key for every single session. The key disappears once the session is terminated; however, only one session would be exposed if it's still ever compromised.
VyprVPN gives you the option to use 4 different VPN protocols, including WireGuard, IKEv2, Chameleon, and OpenVPN. When I connected to VyprVPN the first time, I was pleased to find that I was automatically connected using WireGuard, the most advanced protocol available. Here's a quick look at the four different protocols so you know which one is right for you.
Wireguard offers top speeds, high security, and top device performance
IKEv2 provides stability when you move between internet connections
Chameleon gives you a way to hide your VPN connection from government data packet inspection when traveling to countries with strict censorship policies
OpenVPN is the most popular VPN protocol, is highly secure and compatible with multiple platforms
It also has a kill switch that stops data leaks by cutting off your internet if the VPN connection fails. This way, you needn't worry about your IP addresses being abruptly exposed if there's a power outage, your device goes to sleep, or the VPN's server shuts down. It's important to note that this feature isn't turned on by default, so make sure to activate it when you download VyprVPN for the first time.
Finally, VyprVPN has a NAT Firewall, a feature that only allows internet traffic that your device has requested. With the feature activated, VyprVPN can protect you from unsolicited data packets sent during hacking attempts.
All of these features come together to safeguard your internet whether you're using a secured home connection or public WiFi. Using unsecured public networks can allow cybercriminals to spy on the data you send to your favorite websites, like billing information or passwords. VyprVPN has a feature that will automatically detect if you connect to public WiFi and turn itself on, so you can benefit from its encryption whenever you browse the web.
I was disappointed to learn that VyprVPN doesn't offer split tunneling, a helpful function that allows selected apps to bypass the VPN. This feature is essential if you use your computer to control LAN devices, such as a printer, over WiFi. Split tunneling is also useful if you need to access local content while using a VPN to spoof your location. If you like to multitask, I suggest you try using ExpressVPN and its split tunneling feature. ExpressVPN is backed by a 30-day money-back guarantee, so you can always get a refund if you're not satisfied.
Privacy — May Not Keep Your Online Presence Anonymous
Whenever I review a VPN, I perform a quick DNS leak test to see if my connection is genuinely secure when using the software. Although I was located in New York, the test detected no DNS leaks when connecting to a server in Kyiv.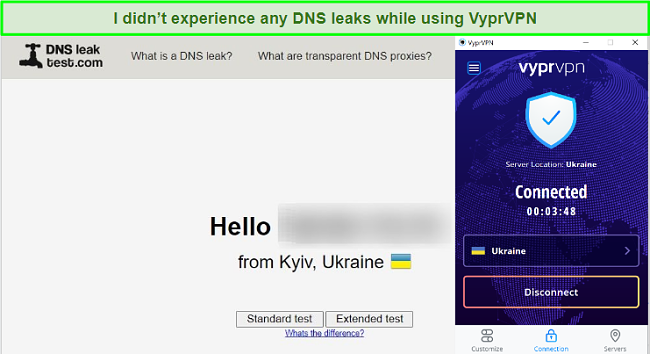 While most VPNs claim to have bulletproof no-logs policies, there's often no way to check their claims unless they participate in an audit with a third-party company. In 2018, VyprVPN decided to put its reputation on the line and work with Leviathan Security Group to produce an independent audit of its system. Leviathan found minor, unintentional infractions, which VyprVPN promptly fixed. This result compelled Leviathan to confirm that VyprVPN does not log any VPN activity or collect customer information without consent.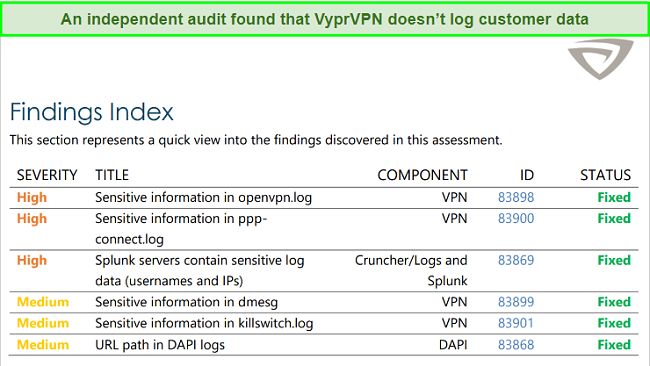 While this is excellent news, it's essential to consider other parts of VyprVPN's privacy policy. One important thing to note is that VyperVPN's parent company, Golden Frog, is located in Switzerland. While Switzerland is outside of the 5, 9, and 14 Eyes Intelligence Agencies, the country does participate in fact-finding investigations and is friendly with 5/9/14-member nations. This influences VyprVPN's policies, which state that VyprVPN can be compelled to share your information with law enforcement.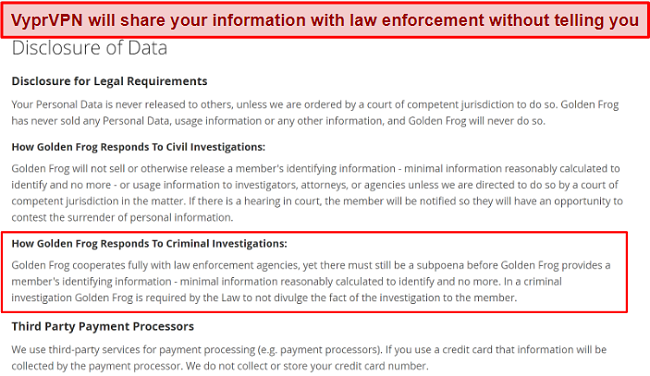 VyprVPN does collect some user information, like billing information, your name, email, and payment information. Many VPNs will accept anonymous payment methods, like Bitcoin or gift cards, to pay for a subscription. However, VyprVPN only accepts major credit cards and Paypal, which are all linked to a billing address.
If you're genuinely concerned about identifying information being logged while you browse the net, VyprVPN may not be the optimal choice. I'd recommend you use CyberGhost's NoSpy servers to ensure that your identity, location, and online activities are never recorded.