A Wide Selection of Servers Worldwide, But Lacks City-Level Choices
With 700 servers in 70 countries, VyprVPN doesn't offer the biggest network on the market, but it's enough to find a working connection in most popular locations. The VPN also boasts over 300,000 IP addresses stored on its servers' databases. However, I was sad to see that the VPN has a minimal choice of city-level servers in each location. I could choose from 8 US locations and 3 Australian cities, but I noticed there was no option to select a specific location in the UK or Canada. This is unusual, as most VPNs I tried had multiple city-level options in these countries, which are a popular choice among users.
Unlike most VPNs on the market, VyprVPN owns all its servers through its parent company, Golden Frog. This ownership adds a level of security, as you don't have to worry about a third party having any influence over the server network.
I was a bit surprised that VyprVPN doesn't state which servers are physical or virtual. Most other VPNs disclose this information, making it easy for you to avoid specific server locations. That said, VyprVPN confirms that most of its servers in restrictive countries are virtual — this helps the VPN keep its hardware out of the hands of governments that spy on citizens.
The VPN has its own DNS servers, called VyprDNS, which help protect your information from snoopers. DNS servers convert website URLs you use (like www.wizcase.com) into numbers, also known as IP addresses, your computer has to read to connect you to the right website. If your ISP or another company manages a DNS server you're using, every site you visit is automatically logged and censored if necessary. Since VyprVPN uses its own DNS service, your browsing info will remain anonymous and private.
Secure your connection with VyprVPN
I was impressed to find that VyprVPN is great for secure torrenting as it keeps your downloads fully anonymous with its zero-knowledge VyprDNS servers. This means that the VPN doesn't log your DNS requests, and your data won't be collected or stored at any point. The DNS servers are also entirely owned by the vendor, which removes the possibility of a third-party company accessing your information. VyprVPN's privacy features were verified by a third-party cybersecurity company, so I know it's not just a marketing gimmick.
Disclaimer: VPN's privacy features don't give you the right to download copyrighted material, so make sure to check the rules and regulations in your country before you start torrenting.

The VPN doesn't offer P2P-optimized servers, but any VyprVPN server you connect to protects your privacy and enables fast file downloads. I find that VPNs with separate torrenting servers regularly experience a high user load, which massively slows down my speeds, making torrenting a struggle. So I was relieved to see that since VyprVPN has so many servers, I rarely came across a slower, overcrowded connection.
Disappointingly, VyprVPN doesn't support port-forwarding, a function that lets you prioritize your torrenting traffic to accelerate download speeds. Without it, your downloads may not always be as fast as you'd like when you're using a P2P client, like uTorrent. Personally, it didn't bother me as VyprVPN is fast enough to torrent multiple files at the same time without compromising on streaming quality or browsing speeds. I comfortably watched Netflix while downloading a large 30GB file — I didn't notice much disruption on my stream while the file was ready in my torrenting client in 5 hours. Keep in mind that experience may differ if your base network speed is lower than mine.
When my team tested VyprVPN in China, they reported very mixed results. Countries with strict online censorship, like China, Turkey, and the UAE, use Deep Packet Inspection (DPI) to check if your traffic runs through a VPN server. This means that your VPN has to use obfuscation technology to hide the fact that you're using a VPN at all. While VyprVPN says its Chameleon protocol is designed to scramble your connection's data packets, we found it doesn't work as well as it should in China. The results were mixed — some of my colleagues were blocked from various websites, while others had no problems at all while using VyprVPN to access the web there.
Finding a VyprVPN server that works is time-consuming, and the results are not guaranteed, so you should use a VPN with a proven record of bypassing firewalls in China. Based on my team's tests, only Astril VPN, ExpressVPN, and PrivateVPN reliably unblock restricted platforms in China. These 3 VPNs will let you access websites like Google, YouTube, Facebook, Spotify, and more so you don't have to miss out on your favorite content when you travel in China. Just remember that a VPN's protection doesn't give you a license to commit illegal acts; please exercise a basic level of caution when using a VPN in China.
Military-Grade Encryption and Secure Firewalls That Protect Your Every Click Online
VyprVPN has military-grade AES-256-bit encryption, which makes your network traffic almost impossible to decipher. The encryption is authenticated by a SHA256 algorithm which changes the data you send online into hashed text that no one can read. If you don't need the strongest security, you can switch to 160-bit encryption by customizing your OpenVPN protocol. This will make your connection quicker because the VPN won't need to slow it down to encrypt it as much.
The VPN also relies on Perfect Forward Secrecy (PFS) — a process that creates a unique encryption key for every single session. The key disappears once the session is terminated, so only the one current session would be exposed in the unlikely event of your connection being compromised.
I found that VyprVPN has a NAT Firewall, a feature that only allows internet traffic that your device has requested. With the firewall setting activated, VyprVPN can protect you from unsolicited data packets sent during hacking attempts.
All of these features come together to safeguard your internet whether you're using a secured home connection or public WiFi. You can use VyprVPN to stay protected on unsecured public networks as it automatically turns itself on when it detects an open WiFi connection. This meant I didn't even have to think about turning the feature on in a café, and I still benefited from its security features. However, I initially had to enable WiFi protection when I first downloaded the VPN app, so be sure to turn it on before using a public network.
Secure your devices with VyprVPN
Several VPN Protocols to Choose From Across Your Devices
VyprVPN gives you the option to use 4 different VPN protocols, including WireGuard, IPSec (L2TP and IKEv2), Chameleon (also known as ChameleonTM or Chameleon 2.0), and OpenVPN. VyprVPN also used to offer the PPTP protocol, but it's not available anymore. It's not a big deal, though, as the PPTP protocol is now so outdated many VPNs replace it with better alternatives. When I connected to VyprVPN the first time, I was pleased to find that I was automatically connected using WireGuard, the most advanced protocol available. If you're not sure which protocol is ideal for your online habits, take a look at their main features below.
Wireguard offers top speeds, high security, and top device performance.
L2TP/IKEv2 provides stability when you move between internet connections.
Chameleon gives you a way to hide your VPN connection from government data packet inspection (DPI) when traveling to countries with strict censorship policies.
OpenVPN, the most popular VPN protocol, is a highly secure and fast option that runs just as smoothly as normal SSL/TLS traffic.
VyprVPN's choice of protocols differ slightly depending on which device you're using. The only operating systems to offer all 4 protocols are Windows, macOS, and iOS. Android users lose the ability to choose IKEv2 — and if you want to download VyprVPN on Linux, you won't be able to choose WireGuard. OpenVPN and Chameleon protocols are also available to use directly on routers.
To switch your protocol, simply click on the "Customize" tab and go into "Protocol." WireGuard protocol is selected by default as it's the most advanced all-around option. Every protocol has a detailed description underneath, so you'll always know what exactly you're getting. Tap the protocol you're the most interested in, and the VPN will instantly configure your connection.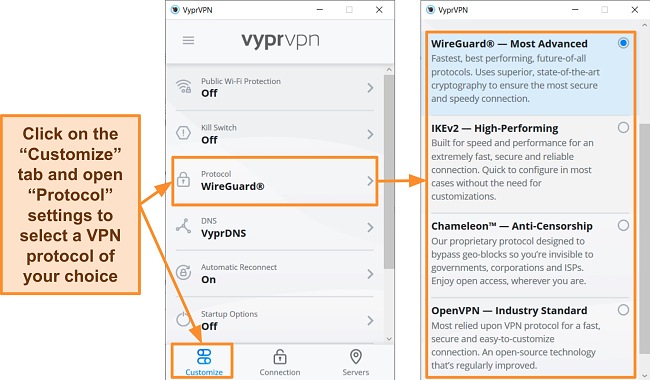 Try VyprVPN's security features today
Fully Automated Kill Switch — Effectively Protects Your Traffic Against Data Leaks
The VPN has a kill switch that stops data leaks by cutting off your internet if your connection drops. This way, you needn't worry about your IP addresses being abruptly exposed if there's a power outage, your device goes to sleep, or the VPN's server shuts down. The feature is available on both desktop and mobile versions of the VPN app.
To test the kill switch on my Windows laptop and Android phone, I kept switching between different servers. My connection was blocked as soon as I disconnected from a current location and remained offline until my traffic was securely rerouted through a new server.
I also noticed that there is no kill switch on iOS, so the traffic on my iPhone wasn't protected during sudden disruptions to my connection. If you want to secure your iPhone or iPad, I recommend you check out CyberGhost, as it's one of few VPNs to offer a kill switch on iOS.
It's important to note that this feature is turned off by default, so make sure to activate it on every device when you download VyprVPN for the first time.
IP and DNS Leak Protection — No Discrepancies or Leaks Detected During Tests
I used ipleak.net to run independent tests on my Windows PC. I connected to VyprVPN servers in New York, Perth, the UK, and France, and I found no IPv4, IPv6, WebRTC, or DNS leaks on any connection. The results showed the VPN location and IP address every time instead of my regular location in the UK. This proves that VyprVPN's security features definitely protect your traffic, hiding all of your information from hackers, your ISP, and the government.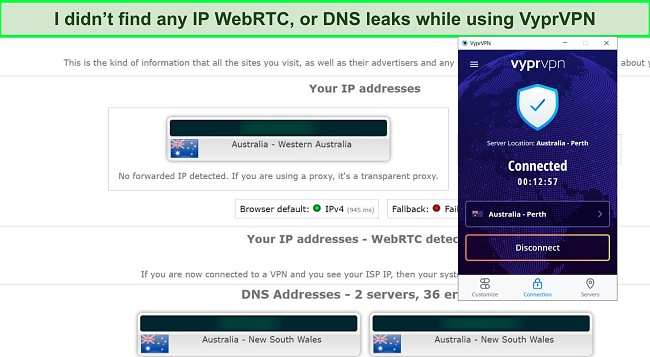 VyprVPN Cloud — Additional Security Option for Business Accounts
If you want to add extra protection to your cloud servers, VyprVPN offers a separate service called VyprVPN Cloud, which is easy to deploy on multiple internal servers at once. VyprVPN Cloud gives you a dedicated VPN server that's unique to your business, so you're always in full control of the service. The business server comes with a static IP address and ultra-secure privacy features as well as a seamless connection to any of your apps and software. This removes the need for any additional hardware installation making it easy for your IT team to set up without wasting precious time. As a business owner, you'll also get to use VyprVPN Cloud with its 7-day free trial to see how easy it is to use.
At the moment, VyprVPN Cloud works with DigitalOcean, Amazon Web Services (AWS), and VirtualBox, but the vendor is planning to expand its service area in the future.
Split Tunneling Option Available Only on Android Devices
I was disappointed to learn that VyprVPN only offers split tunneling on its Android app. Split tunneling is a useful function that allows selected apps to bypass the VPN. The feature is essential if you use your computer to control LAN devices (such as a printer) over WiFi, as it still gives you full access to them even with the VPN turned on. Split tunneling is also helpful if you need to access local content while using a VPN to spoof your location.
If you like to multitask on all of your devices, I suggest you try ExpressVPN's split tunneling feature. ExpressVPN is backed by a 30-day money-back guarantee, so you can always get a refund if you're not satisfied.
Smart DNS Replaced With More Secure VyprDNS
VyprDNS is a DNS proxy feature owned entirely by the VyprVPN, which means only the provider has access to your DNS requests (the websites you visit on your devices). Since it's a zero-knowledge DNS service, you can rest assured VyprVPN doesn't record your online activity because it's never collected by the servers. VyprDNS is automatically enabled on all of your connections, so you only have to select a server to benefit from full online privacy.
In many ways, VyprDNS is better than standard Smart DNS because the latter doesn't encrypt your traffic. This reduces the level of protection you receive and leaves you vulnerable to cyberattacks. Generally speaking, I only recommend using Smart DNS if you want to access your local geo-blocked content from abroad or using a corporate IP address. Keep in mind though, that Smart DNS may not always be able to go around online restrictions so using a VPN still gives you a better chance of bypassing the proxy error.
However, VyprDNS can't be manually set up on devices that don't support native VPN apps, like gaming consoles or casting devices, which is the main purpose of Smart DNS. This meant that I wasn't able to quickly connect my PlayStation 5 or Xbox One to a VPN DNS server. Instead, I had to set VyprVPN up on a router and turn the VPN on my whole network if I wanted to play games with friends abroad. This isn't too difficult when you follow VyprVPN's setup instructions, and it'll protect your data on every device that's connected WiFi.
Get maximum protection with VyprVPN
Audited No-Logs Policy Shows the VPN Can Be Trusted
VyprVPN used to have shady logging policies, like recording your original and VPN IP addresses, plus the start and end times of your session. This information would then be stored on the vendor's servers for 30 days. Such data could be used to expose your activities, and there were instances where VyprVPN handed it over to authorities enforcing the Digital Millennium Copyright Act (DMCA).
Luckily, the VyprVPN learned from its mistakes. In 2018, VyprVPN put its reputation on the line and hired the Leviathan Security Group to produce an independent audit of its practices. Leviathan found minor, unintentional infractions, which VyprVPN promptly fixed. This result compelled Leviathan to confirm that VyprVPN does not log any VPN activity or collect customer information without consent. So you can use VyprVPN knowing your data is safe at all times.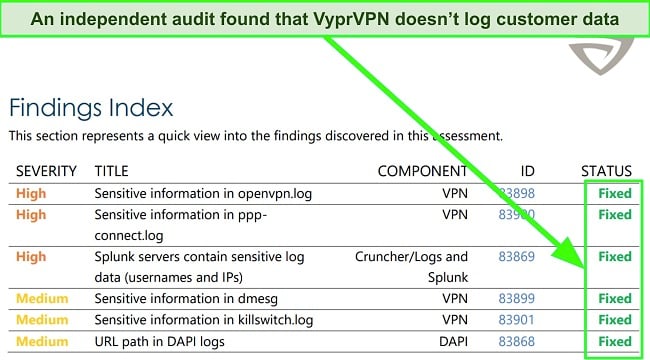 Protect your data with VyprVPN
Company Jurisdiction
Even though it's operated from the US, Golden Frog (VyprVPN's parent company) is located in Switzerland. As Switzerland isn't in the EU and outside of the 5, 9, and 14 Eyes Intelligence Agencies and SIGINT, VyprVPN isn't required by law to share its user data with other countries. However, Switzerland sometimes participates in fact-finding investigations, so the VPN may be forced to share the data it stores on its servers. Switzerland also has its own data supervision laws (BÜPF and VÜPF), but they're very vague and don't actually force the VPN to collect user logs.
Luckily, the strict no-logs policy means there's simply no user information to share, even if VyprVPN is compelled to comply with law enforcement agencies' requests. The company doesn't keep any logs of IP addresses, time stamps, browsing history, or any online activity while you're connected to VPN servers. The only data it collects is your billing and payment information, name, email, and address — but none of this information is associated with your VPN session. So, the only thing the law enforcement agencies would find out is that you have a VyprVPN account, which isn't illegal in most countries.