How to Easily Install a VPN on Samsung Smart TV in 2022
Last Updated by Joel Timothy on August 01, 2022
Samsung TVs now run on Tizen OS and the operating system doesn't support VPN apps. Luckily, I'll show you 3 easy workarounds for installing a VPN onto your Samsung Smart TV. To save you time, I also tested over 25 services to find the best VPN for Samsung Smart TV.
Out of all the VPN services, ExpressVPN ranked #1 as it has the easiest setup and fastest server network for streaming. It's backed by a 30-day money-back guarantee, so you can download ExpressVPN for Samsung Smart TV and try it for yourself. If you're not satisfied, you can easily claim a refund with ExpressVPN's "no questions asked" refund policy.
Try ExpressVPN on Samsung Smart TV
How to Install a VPN on a Samsung Smart TV
For older Android-based Samsung Smart TVs, you can simply download a VPN from the Google Play store. For TVs with Tizen OS, you'll need to set up a VPN on your router, use Windows connection sharing, or enable Smart DNS. The easiest to set up is Smart DNS, but it doesn't encrypt your connection. This security limitation means your activities won't be kept private.
You can find standalone DNS proxies, but they could collect your personal data and are often blocked by streaming services. When I tested every VPN's Smart DNS feature on this list to make sure it unblocks popular streaming apps, I had no problems. Only ExpressVPN had a Smart DNS Media Streamer that is optimized specifically to work with Samsung and other brand Smart TVs.
If you're thinking of installing a router, make sure that your router firmware is compatible with VPNs by checking the user manual. If it isn't, you can usually download new custom firmware like Tomato or DD-WRT. Just keep in mind that this is for more advanced users only, as it can permanently damage your router if done incorrectly. If you want to try this method, you can refer to this detailed guide on setting up a VPN on a router. To make things easier, you can also just buy a pre-configured router through the VPN's website — but take note that these can cost significantly more.
With those pros and cons in mind, here are the steps for each of the 3 ways to set up a VPN on your Samsung TV:
1. How to Set Up a VPN on Your Samsung Smart TV Through Your Router
While specific routers may have slight differences in their process, the basic steps to set up routers with a VPN are as follows:
2. How to Set Up a VPN on Your Samsung Smart TV With Windows Connection Sharing or a Virtual Router
In addition to setting up connection sharing using an ethernet cable connected from a VPN-protected device to your TV, you can also share your device's WiFi connection. While ethernet gives you much faster speeds, using WiFi is a lot more convenient. With a VPN installed on your Windows PC, you can just share your VPN connection with your Samsung Smart TV by turning your PC into a Virtual Router. You will need:
A PC that has a Broadcom-based WiFi adapter (most modern computers have them)
A subscription with a VPN that uses OpenVPN
Administrative rights on the PC
To check if your PC supports setting up a Virtual Router:
Go to the Windows search bar and type "Command Prompt", then select "Run as administrator".
In the window that opens, type "netsh wlan show drivers" and hit Enter.
Look for the line that reads "Hosted Network Supported."
If it says Yes, then your PC can be used to create a Wireless Hotspot. You can now go ahead and create one.
Here are the steps to help you set up a virtual router with your VPN connection.
3. How to Set Up a VPN on Your Samsung Smart TV With Smart DNS
Try ExpressVPN with your Samsung Smart TV
5 Best VPNs for Samsung Smart TV
Key Features:
During my tests, ExpressVPN's super-fast servers streamed TV reliably in HD with no lag even when I used servers across the world. When I tested speeds in 4 different Netflix regions with some of the biggest content libraries (the US, the UK, Canada, and Greece), I got speeds fast enough to stream in 4K HD on multiple devices at once.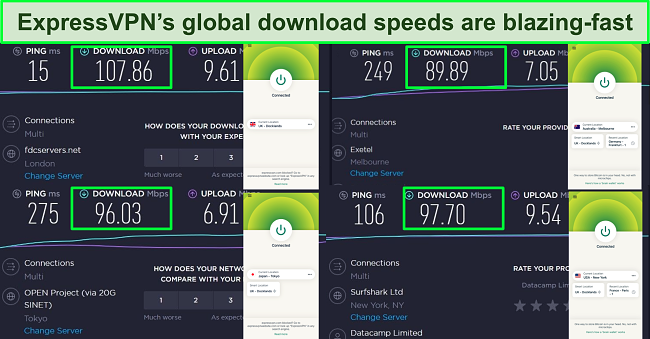 ExpressVPN has Smart DNS service through a service known as Media Streamer that makes setup really easy. Just create a Smart DNS account and add the DNS IP in the settings of your Samsung Smart TV. This won't affect your speeds, but it will give access to geoblocked platforms regardless of your location.
Although router setup is usually much more complicated, one of my favorite things about ExpressVPN is it has its own native router firmware for smart TVs. After the firmware is installed on your router, you can operate the VPN in a user-friendly console to take advantage of features such as split tunneling and a media streamer.
During my tests, ExpressVPN was able to unblock almost almost any streaming service. I accessed Netflix libraries in the US, Canada, the UK, France, Germany, the Netherlands, Japan, India, and more. I also unblocked BBC iPlayer, Hulu, Disney+, Amazon Prime Video, and even Spotify.
While there are 1-month and 6-month subscriptions available, I recommend you sign up for the 1-year plan as it offers the best value for money. The monthly cost comes down to $6.67 a month, which gives you savings of 49% (plus you get an extra 3 months for free).
Even better, you can try ExpressVPN risk-free as it's backed by a 30-day money-back guarantee. If you're not satisfied, you can get a refund. To test this, I contacted the 24/7 live chat team and requested my money back, and they processed my refund with no questions asked. The money appeared in my bank account in only a week.
Try ExpressVPN with your Samsung TV
Key Features:
CyberGhost has dedicated servers for Samsung Smart TV apps like Netflix in the US and UK, Hulu, NBC, Comedy Central, and YouTube. That means fast and reliable streams when you watch TV and movies on your Samsung Smart TV. Since these servers are optimized for streaming services, you'll get the best speeds for lag-free video in HD. Using these servers, I never had to wait for a show or movie to start and I didn't get sudden reductions in video quality.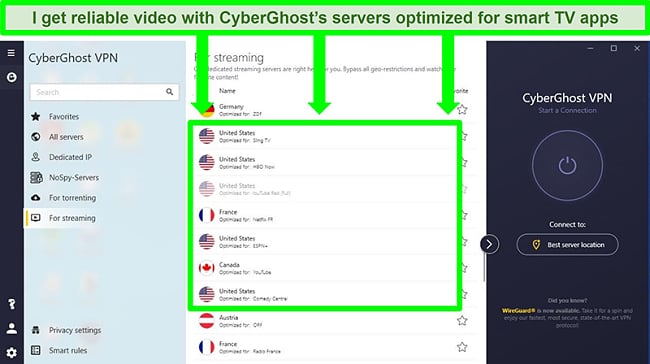 When there wasn't a server specialized for a streaming app I wanted, CyberGhost's location-based servers effortlessly unblocked streaming apps during my tests as well. No matter which server I chose, I always got buffer-free streams.
CyberGhost allows you to customize your router VPN connection easily within your web browser to set options like blocking ads and malicious sites as well as protection from online trackers. You can also set up the VPN on your PC and share the connection since CyberGhost runs on OpenVPN.
If you want to try CyberGhost risk-free for 45 days, it has a really generous money-back guarantee. I contacted support via live chat for a refund, they processed my request immediately after I explained that I couldn't afford it. The money was in my bank account 10 days later.
Try CyberGhost with your Samsung TV
Key Features:
Private Internet Access (PIA) has more servers in the US, the UK, and Canada with the most content on super popular streaming sites like Netflix. With so many servers to choose from, TV and movies never slowed down on my Samsung Smart TV due to overcrowded servers.
After installing PIA on my router and connecting to a server in the UK, I had instant access to UK exclusives like The Sweeney through my Smart TV's Netflix app. Even in HD, I never got any buffering delays during my favorite shows and movies.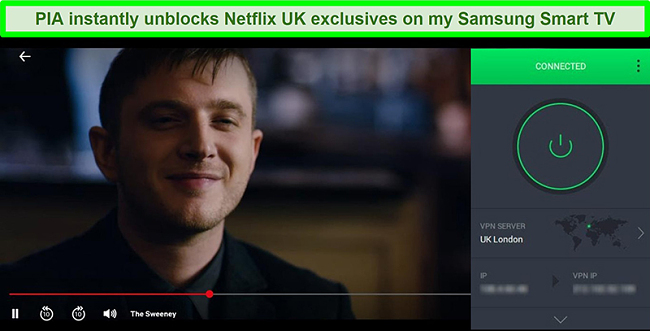 One minor con of PIA is that it can't be configured to work on your Samsung Smart TV using Smart DNS, but you can just install it on your router. Even though the router option can sometimes result in a slower connection, it offers better security than Smart DNS does.
Thankfully, PIA's online guides give you easy to follow instructions for router installation. If you aren't sure if it will work with your model router, you can try PIA for free for 30 days with its money-back guarantee to ensure setup goes smoothly before you commit.
Key Features:
PrivateVPN provides a range of VPN protocols for Samsung Smart TV, but I recommend using OpenVPN for the highest level of compatibility. This protocol ensures quick speeds and strong security with fewer connection drops, which is essential when you're trying to binge-watch your favorite TV programs.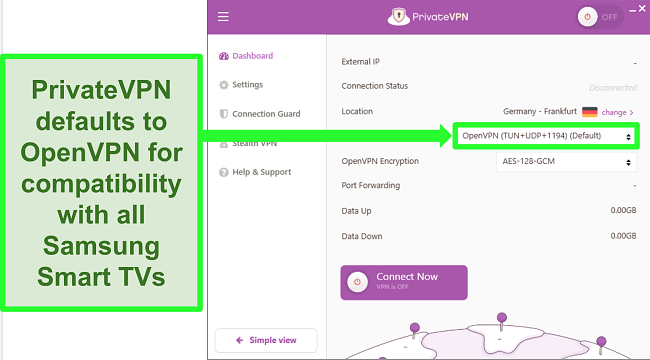 I enjoyed fast download speeds for smooth smart TV streaming. Sometimes a show or movie would take a couple seconds to start, but I didn't experience any buffering once a stream started.
You can try PrivateVPN risk-free for 30 days with the money-back guarantee. If you want a refund, you just need to speak to the customer support team over live chat. When I tested the refund policy myself, the money returned to my bank account in 5 business days.
Try PrivateVPN with your Samsung TV
Key Features:
PureVPN has multiple Samsung Smart TV setup options as it supports routers, streaming devices, and other types of connection sharing.
For example, you can install PureVPN on Amazon Fire Stick to use it easily with your Samsung Smart TV. Just plug your Fire Stick in, open the apps, choose "Categories," navigate to "Utility," and then find PureVPN. It will download and install in seconds. Then just go to "My Apps," Open PureVPN, and connect to a server in any country you want. Now you can log into your paid streaming accounts like Netflix and watch hit shows like New Girl.
There are plenty of easy-to-follow guides on PureVPN's website for connection sharing. Router installation is also an option with manuals describing the process for different router types. If you ever get stuck, you can contact the dedicated 24/7 customer support team for help.
Don't take my word for it though. You can try PureVPN risk-free for 31 days with its money-back guarantee.
Try PureVPN with your Samsung TV
How to Find the Best VPN for Samsung Smart TV
Before you try connecting your Smart TV to a VPN, it's important to ensure that you have the right VPN first. In addition to the ability to work with WiFi routers, connection sharing, or Smart DNS, here are others factors you should look for:
Can I Use a Free VPN for Samsung Smart TV?
Unfortunately, you can't use a free VPN with a Smart TV if you want to unblock streaming services like Netflix and Hulu. Even though there are some pretty good free VPNs out there, these services usually block VPNs — and you won't find a free VPN that can keep up with the constant blacklisting of new IP addresses. If you use a free VPN for Netflix, you'll generally receive the annoying proxy error when you try streaming.
If you find a free VPN that can unblock the service you're interested in, these services usually suffer from slow speeds, limited bandwidth, limited server selection, and other issues that cause lots of buffering lag and grainy video quality. Additionally, free VPNs can't offer proper privacy and security, and others even sell your data.
If you want to see what shows and movies you can access when you stream with a VPN on your Smart TV, you can try CyberGhost for free for 45 days with the money-back guarantee. I tested the refund policy myself and I can confirm you can get a full refund as late as the last day of the money-back guarantee period. When I was done using CyberGhost with my Samsung Smart TV and contacted live chat to get my money back, my request was quickly processed and the money returned to my bank account in less than a week.
FAQ: Using Samsung Smart TVs With VPNs
Which Smart TV apps can a VPN help me unblock?
As long as your VPN is capable of unblocking streaming services, then the possibilities should be endless. All you need to do is connect your VPN to a region where the service you need to access is offered. For example, if you want to use Hulu on your Smart TV, connect to a US VPN server that isn't blocked, and you'll gain access.
Here's a list of the most popular services that you can unblock with a VPN:
TV, Movies, and News
Music
Sports
How can I watch Netflix on my Smart TV with a VPN?
To watch Netflix on your Smart TV with a VPN, just follow these steps:
What if I get an IP proxy error while trying to watch Samsung Smart TV apps with a VPN?
To avoid Netflix's proxy IP error or if you get an IP error in another app, try changing a different VPN server. This is because streaming apps actively block VPNs and add detected servers to their block lists all the time. Another option is to use standalone Smart DNS services, which allows you to watch titles from anywhere without having to encrypt your online traffic. This doesn't affect your speeds and still bypasses proxy errors on streaming apps — the problem is, streaming services are constantly blocking DNS proxies. Worse yet, DNS proxies don't secure your connection or protect your privacy with encryption like VPNs do.
Get More Out of Your Samsung Smart TV With a VPN
If you pay a subscription fee every month for Smart TV streaming services, you should have access to all the available content. That's why it's well worth the effort to use a VPN to give yourself access to a whole world of shows and movies.
As an added bonus, your Samsung Smart TV will be much more secure, keeping your logins private and protecting you from hackers. Between its super reliable connections, streaming app compatibility, and top-notch security, ExpressVPN is the provider I rely on for my Samsung Smart TV. You can also try ExpressVPN risk-free — if there's something you don't like, you can just get a refund.
Watch your Samsung Smart TV with ExpressVPN
---
Summary — The Best VPNs for Samsung Smart TV in 2022