McAfee

Antivirus Review 2022: Is It Really All That Great?
McAfee Overview August 2022
With so many new players and technologies in the antivirus industry, I was skeptical about McAfee. It's been around for so long that I wasn't sure if it was still any good. As a result, my team and I ran multiple tests to find out whether McAfee could live up to the competition and detect the latest cyberthreats.
I'm impressed to say that McAfee is a powerful antivirus that blocks 100% of real-time malware attacks. The app is easy to use, and I especially liked the True Key password manager and parental controls. While I was disappointed that McAfee doesn't have as many extra features as Norton 360 or TotalAV, it does offer very affordable prices in the first year.
McAfee offers a 30-day money-back guarantee. It also offers a 60-day money-back guarantee if you sign up for the auto-renewal. So you can test out all of McAfee's features yourself completely risk-free to make sure it's right for you.
Try McAfee risk-free for 30 days
In a Rush? Here's a 1-Minute Summary
Try McAfee risk-free for 30 days
Security - 10
I'm impressed to say that McAfee detected and blocked 100% of real-time viruses, trojans, and malware attacks in tests. This is what I'd expect from any premium antivirus software, and it ranks McAfee up there with the best services on the market.
However, McAfee still struggles to overtake industry leader Norton. It simply doesn't offer as many extra features, like encrypted cloud storage or a VPN (both of which are included in every Norton package). Despite this, I'm still very pleased with McAfee's strong performance. The provider has proven itself to be a highly reliable antivirus and its industry reputation is well-deserved.
Virus Scan — 3 Scans Available With 100% Detection Rate
My team and I set up a test machine and downloaded malware up to 4 weeks old — and McAfee's virus scan detected 100% of all threats.
You can choose between Quick Scan, Full Scan, or Custom Scan. If you're short on time, the Quick Scan and Custom Scan options give you the flexibility to do a surface-level check. However, I recommend using Full Scan whenever possible. It takes longer, but it's more thorough as it reviews every single file, folder, and program on your device.
When I ran a Quick Scan on my Windows desktop, it took less than 5 minutes to check over 10,200 items! The Full Scan took 53 minutes, which I think is reasonable considering it scanned over 590,000 items. While McAfee isn't the fastest antivirus I've tested (Norton took half the time to complete similar scans), it's definitely not the slowest either (Bitdefender took a few minutes longer in the same tests).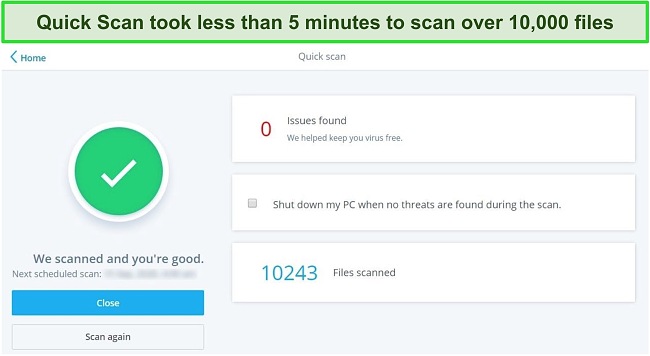 When I tested McAfee on my iPhone and Android smartphones, the scans took less than 20 seconds to complete on both devices. While it didn't detect any issues on either phone, McAfee did remind me to update my iPhone to the latest version of iOS.
I'm pleased to see that a Quarantine function has been added to the latest version of Total Protection since my last review. This means that if McAfee detects a suspicious file, it's automatically sent to Quarantine so you can review it at a more convenient time. You can then choose to delete or restore the files.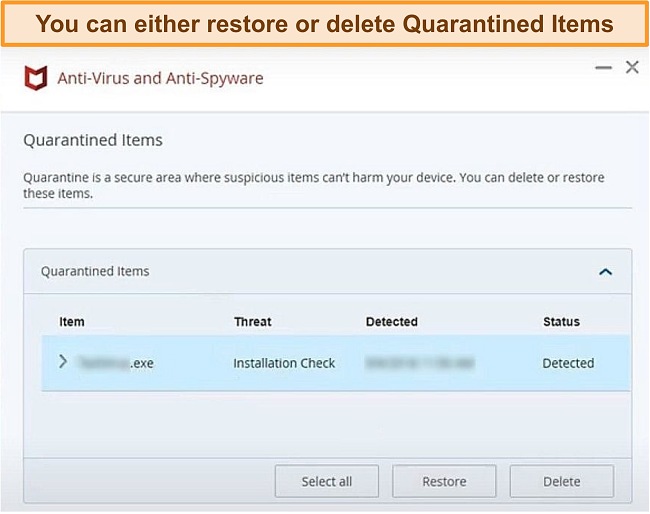 Malware Protection — Real-Time Defense Against Cyberattacks
McAfee has a detection rate of 100% against zero-day malware attacks. This is impressive as zero-day attacks are emerging threats that specifically target known vulnerabilities in operating systems. To protect you, McAfee uses advanced Global Threat Intelligence. This cloud-based software examines known malware and viruses to predict the characteristics of novel cyber threats.
During my testing, McAfee mistakenly flagged 8 safe files as malicious and presented them to me for my review. In my experience, this type of false flagging is common with antivirus programs (and I'd rather this happen than miss a dangerous file). For example, top competitor Norton incorrectly marked 27 files as malicious in the same set of tests.
Malware protection is available only on Windows and Mac, whereas iOS and Android offer a virus scan and Safe Web to protect you. The difference between malware protection and the virus scan is how they secure your devices. Malware protection continually defends against threats as you web browse and checks suspicious files on your device. On the other hand, a virus scan only checks for existing threats already on your device.
WebAdvisor — Blocks Phishing Scams and Cryptojacking
WebAdvisor is an extension that protects you from phishing attacks and other scams. It does so by warning you about malicious websites and downloads before you even click on them. It comes as part of the Total Protection package or you can download it from McAfee's website for free. Downloading the app was quick and easy, although navigating to the right site page was frustrating. I clicked "Protect me on the web" and was directed to a page explaining what WebAdvisor is but not the actual download — it was easier to run a web search for the app than find it through McAfee's dashboard.
I tested Web Advisor by searching for "BBC news" on Google. I could instantly see the websites marked as safe (like the BBC News Twitter page), as a small green shield icon appeared next to the search result.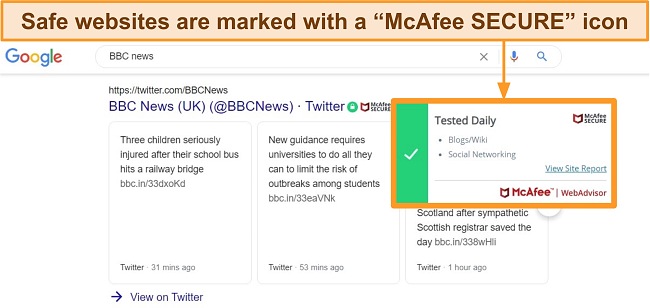 I noticed that some sites I know are secure didn't have the shield present, like the BBC News website. I know this website is genuine and it uses HTTPS (an encrypted communication protocol that is more secure than the HTTP). Unfortunately, McAfee's WebAdvisor feature appears to have a small database of checked sites, so it won't be able to tell you if every site is safe or not. While seeing the shield gives me peace of mind, to me it's confusing that only some sites are in its database.
In testing, it was able to protect against 98.8% of malicious URLs and download links. While this is good, it could be better. For instance, Norton 360 blocked 100% of all cyberthreats in the same tests.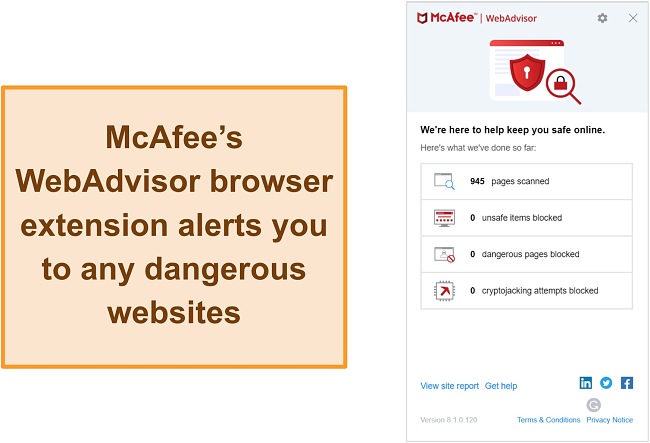 I was also impressed that McAfee's WebAdvisor Windows Chrome extension automatically blocks cryptojacking attempts. Cryptojacking is malware that uses dodgy mobile apps and compromised websites to sneak onto your device. It then drains your CPU to mine for cryptocurrency. WebAdvisor stops websites from deploying malware designed to mine cryptocurrency by blocking harmful scripts.
WebAdvisor is only available on Windows devices (7, 8, and 10) for Chrome, Firefox, Internet Explorer, and Microsoft Edge. For non-Windows devices, McAfee provides standard anti-phishing protection by filtering spam emails and blocking you from clicking on suspicious links in your inbox. I'd like to see WebAdvisor extended to other platforms as the cryptojacking protection is a useful feature for all users, not just those on Windows.
Ransom Guard — Defends Your Device from Ransomware Attacks
Ransomware is one of the most profitable (and therefore popular) methods of attacking a device. It occurs when hackers infiltrate your device and lock you out of it — and then demand you pay them to restore your access to important documents.
To protect you from this malware, McAfee has a Ransom Guard feature that monitors your devices for suspicious changes to files. It will warn you when ransomware or spyware could be present and suggests the actions you should take to stop it. It uses advanced machine learning, global malware resources, and databases to detect threats. Ransom Guard also protects you from zero-day ransomware attacks.
I was pleased with how well Ransom Guard works, but McAfee could improve it by implementing encrypted cloud storage (like Norton 360). After all, hackers can't hold your files to ransom if they're stored in the cloud.
Secure Firewall — Highly Configurable to Your Desired Level of Security
I was impressed that McAfee's firewall offers many customizable options. I find the whitelister feature is particularly useful as it lets me add programs and websites I know are safe in order to optimize scans. Other unique features include Intrusion Detection (alerts you to potential hackers) and Net Guard (flags any suspicious network connections.)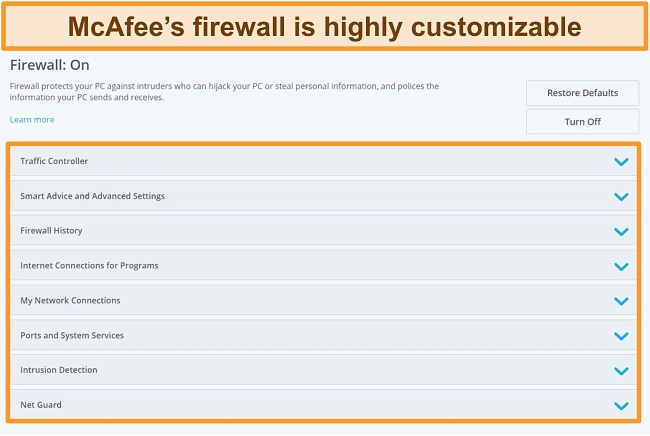 If you want basic firewall protections without fussing with configurations, you can simply leave the default settings engaged. This is especially appealing if you're a first-time user and find all the customization options overwhelming.
System Performance — Minimal Impact on Device and Operating Speed
The last thing you want is an antivirus that's so slow that you just want to shut it off. However, I'm more than satisfied with McAfee. I didn't notice any slowdown in speed when I ran tests on my Windows, Mac, iPhone, and Android devices. While McAfee was running in the background, I installed and uninstalled apps, copied files from my computer to an external hard drive and back, torrented large files, and streamed live videos online.
Here's an idea of how well McAfee minimized impact on system performance, compared to Norton and TotalAV:
Slowing down when launching a popular website: 5% slowdown (versus Norton 11% and TotalAV 35%)
Copying files, both locally and in a network: 0% slowdown (versus Norton 3%, and TotalAV 2%)
Launching standard software apps: 11% (versus Norton 11% and TotalAV 5%)
It was impressive that McAfee was either on par or faster than industry leaders in all these metrics.
Try McAfee risk free for 30 days
Features - 10
In addition to antivirus protection, McAfee's Total Protection plan comes with a number of extra features. These are designed to improve security and optimize performance for a faster and smoother online experience.
These extra features are fairly standard among top-tier antivirus software. Both Norton and TotalAV include a password manager, performance optimization tools, and parental control options. However, while TotalAV and Norton offer extra features across all of their platforms, I was disappointed that some of McAfee's tools are only available on Windows or are limited to US users.
Vulnerability Scanner — Automatically Updates Software For You
The Vulnerability Scanner reviews your device to ensure your operating system and programs are up-to-date. This lowers the risk of hackers exploiting known vulnerabilities on your device. I appreciated how fast it was — it took less than 3 minutes to check all of my apps and Windows for vulnerabilities. When the scanner finds an update, it rates how important it is to keep that particular app up-to-date and secure.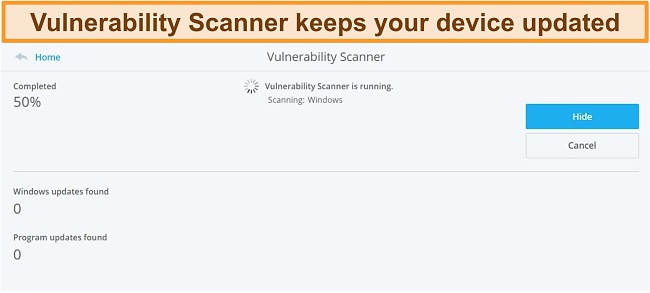 This scanner automatically runs every other week without prompting, or you can configure it to run weekly, bimonthly, or monthly. You also don't have to manually check for any new updates as McAfee automatically installs them.
One issue I had with the Vulnerability Scanner is that it isn't clearly labeled on the app. To find it, I had to click "Update my apps" on the main dashboard. This can be confusing and I found that many of McAfee's features are similarly ambiguous with their labels.
Try McAfee risk-free for 30 days!
My Home Network — Monitor All Third-Party Connections Remotely
McAfee's Home Network app gives you control over your device connections and security from a single app. This is especially useful if you have multiple devices that require constant protection.
This central app lets you manage device security, get an overview of your network, and fix software vulnerabilities. It gives you a detailed breakdown of which devices need to be updated and monitors the network for attempted connections. This includes unwanted visitors like hackers who might try to access your device when you're downloading torrents or using P2P connections.
I found the Home Network convenient for monitoring device connections and remotely updating software. I didn't have to be sitting at my computer to keep my software up-to-date, I could check the app from my iPhone and make the necessary updates on-the-go.
Protect your home network with McAfee
Shredder Tool — Securely and Permanently Delete Unwanted Files
When you delete an item manually, it isn't completely removed from your device. With the right tools, a hacker could recover your sensitive information. McAfee's Shredder destroys files so it's completely unrecoverable — just like using a physical paper shredder to dispose of sensitive documents. If you have any digital files that are sensitive or private, you can rest assured that it's permanently deleted.
I found it convenient that McAfee lets you shred the contents of your recycle bin, temporary internet files, or removable external hard drive (like a USB stick or backup drive).
You can choose between the following settings: Basic Shred (the fastest option that destroys files twice), a Safe Shred (destroys files 5 times), or Complete Shred (destroys files 10 times to ensure they are totally unrecoverable).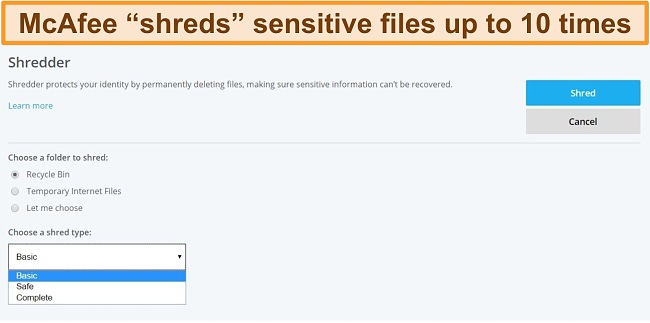 Try McAfee for free for 30 days!
QuickClean — Removes Unwanted Files to Prevent Online Tracking
The QuickClean feature is an easy way to get rid of cookies, temporary files, your online history, and more. By removing these items from your devices, you eliminate the risk of your activity being tracked online. You can even opt to have your Recycle Bin and deleted email folders emptied regularly so unnecessary files don't clutter your device.
I ran the QuickClean feature and it took less than 20 seconds to check for unwanted files and remove thousands of items (including cookies, trackers, and documents in my Recycle Bin). I didn't notice a difference in my device's speed before and after the clean, but QuickClean freed up almost 400MB of space on my computer. This shows how easy it is for trackers and cookies to go unnoticed on your device.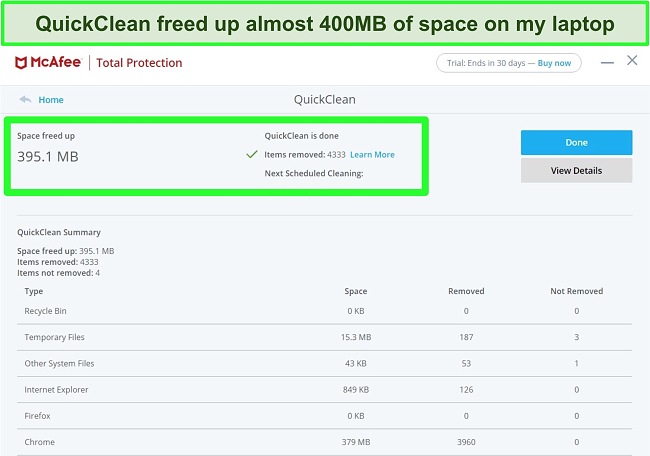 Secure your devices with McAfee
App and Web Boost — Improves Device and Browsing Performance
I found McAfee's App Boost and Web Boost features noticeably improved my Windows laptop's performance. App Boost identifies which apps are open and need the most resources to keep them running fast. It also monitors frequently-used programs and diverts resources to help them open and load more quickly. I found that with App Boost enabled, my browser was more responsive and my communication apps (like Slack) loaded several seconds faster than normal.
The Web Boost feature improves your browsing speed by pausing auto-play videos ads. I was surprised my browsing speeds and battery life noticeably improved when I enabled it. The only downside is that Web Boost is only available as an extension on Google Chrome for Windows 8 and 10.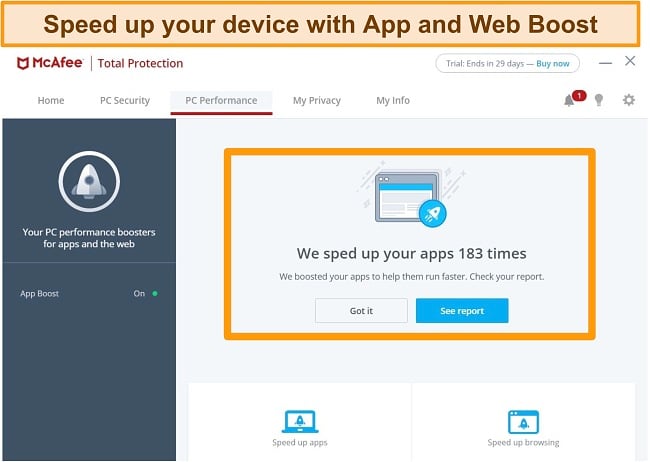 Download McAfee on your device
True Key — Includes Password Manager, Safe Notes, and Digital Wallet
McAfee's True Key is an all-in-one password manager, note-keeping tool, and wallet. You download it either as a separate app (available on Windows, Mac, Android, and iOS) or browser extensions (works on Google Chrome, Mozilla Firefox, and Microsoft Edge).
The password manager only allows you to store 15 passwords for free, but you can upgrade to unlimited storage if you pay extra for a premium True Key account. I was slightly disappointed by this, since both Norton 360 and TotalAV have password managers that let you store an unlimited number of passwords at no extra charge.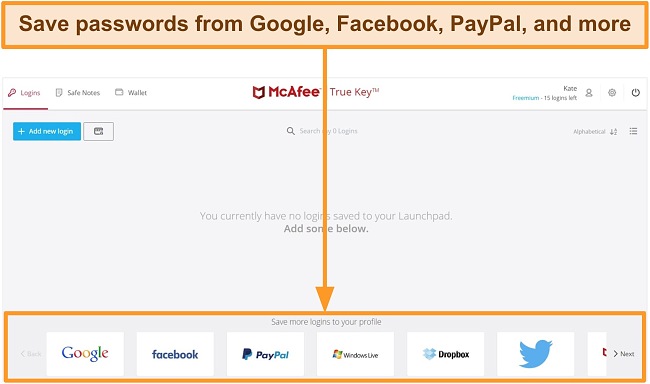 Fortunately, there are no restrictions to the Safe Notes or Digital Wallet features. When I tested True Key, I added a couple of product keys and lock combinations to Safe Notes. I stored my credit card information, driver's license registration number, and even my social security details to the Digital Wallet. All data is safely encrypted with AES-256-bit standards. This is highly-secure and the same level of encryption used by militaries and governments worldwide.
Protect your privacy with McAfee
Safe Family Parental Controls — Monitors and Protects Your Family's Devices
Safe Family is a parental control feature available on Windows, Mac, Android, and iOS. You'll need to download a separate app to manage it on your own device (it's less than 350MB and quick to install). You'll also need to download the app onto your child's device.
Once installed, you can remotely block inappropriate or malicious sites, monitor their browsing history, track the device's location, and control how long they're online.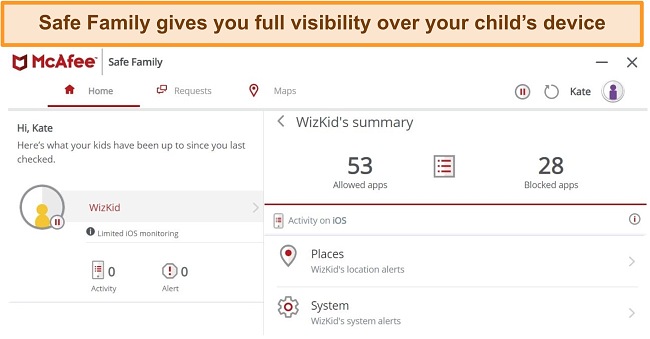 Safe Connect VPN — Good for Casual Browsing but Expect Slow Speeds
McAfee's Safe Connect VPN encrypts your internet connection and hides your physical location, browsing activity, and personal data. This is particularly useful for online shopping and banking. It also lets you connect securely to public WiFi networks, which are notoriously insecure and a hotspot for hackers.
I ran multiple IP leak tests to see if any data was compromised. McAfee effectively protected my connections — there were no data leaks at all.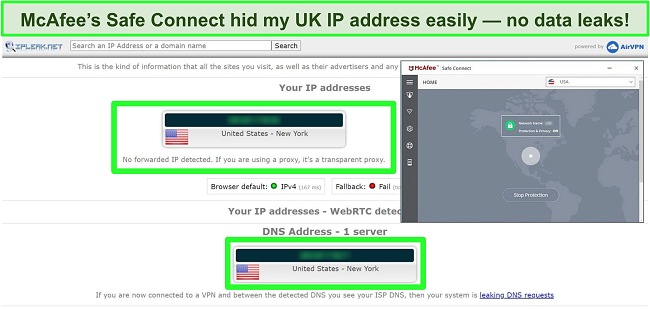 Unfortunately, my speeds were extremely slow. I couldn't even watch local Netflix without buffering and lag. I also tried connecting to Netflix and Disney+ in other countries but was unsuccessful, as Netflix detected I was using a VPN and blocked access to its content library. The slow speeds make Safe Connect a poor choice for torrenting as well.
Safe Connect is included as part of McAfee's antivirus packages, provided that you're enrolled for automatic subscription renewal. If not, you don't get access to the VPN but you can purchase it separately. However, considering its slow speeds, you'd be better off with a top antivirus like Norton 360. In tests, Norton 360's VPN vastly outperformed competitor packages.
Identity Theft Protection (US Only) — Alerts You to Personal Data Leaks on the Dark Web
Identity Theft Protection sends you an email alert if any of your private data has been hacked or leaked on the Dark Web. This includes your email address, social security number, bank account, credit or debit cards, driver's license, and passport details.
Unfortunately, Identity Theft Protection is only available in the US. Norton 360 offers a similar LifeLock security option, which works in the US, UK, and Germany.
Ease Of Use - 10
McAfee is compatible with Windows 11, 10, and 8.1 fully patched (32-bit and 64-bit), macOS (10.12 onwards), Android (7 onwards), and iOS (13 onwards). I found McAfee's antivirus software very easy to use. I installed all of the apps on my different devices in less than 10 minutes.
The app interface is simple to navigate, although I would prefer individual features to be more clearly labeled. For example, I couldn't find the WebAdvisor feature in the app and had to visit McAfee's support site to locate it. On the dashboard, it's a button labeled "Protect me on the web." The same goes for apps like the Vulnerability Scanner ("Update my apps") and QuickClean ("Remove cookies and trackers").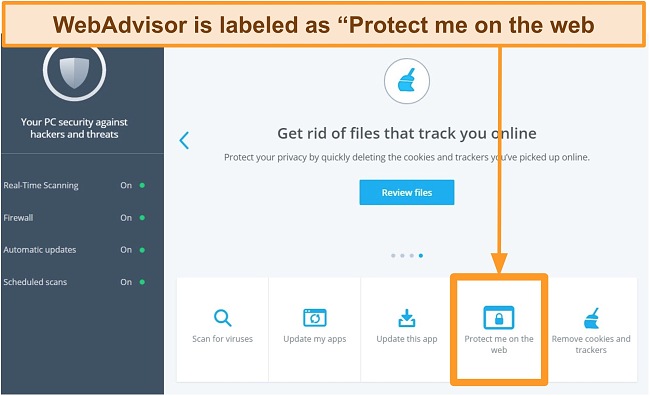 In addition, I found it inconvenient that the default scheduled scans are programmed to start at 4:00am. None of my devices would be on at that time (as I'm sleeping!). Since my device was off at the scheduled scan time, McAfee automatically started a scan when my device booted up.
Desktop Apps — Comprehensive Antivirus for Both Windows and Mac
McAfee mainly focuses on PCs, so the Windows app has the most customization options and extra features. It's easy to set up and gives you access to everything McAfee has to offer — premium antivirus security, parental controls, identity theft protection, and more.
Features like the WebAdvisor extension are great add-ons for Windows, though I wish they were available on more platforms. I was also happy that I was able to download the software, install it, and run a Quick Scan on my Windows laptop in under 10 minutes.
The Mac app offers top-tier antivirus protection but has fewer features. Its firewall, customizable scans, and comprehensive malware protection keep you safe from zero-day attacks that target MacOS vulnerabilities. That said, I was annoyed it's missing the App and Web Boost, WebAdvisor, and Safe Family.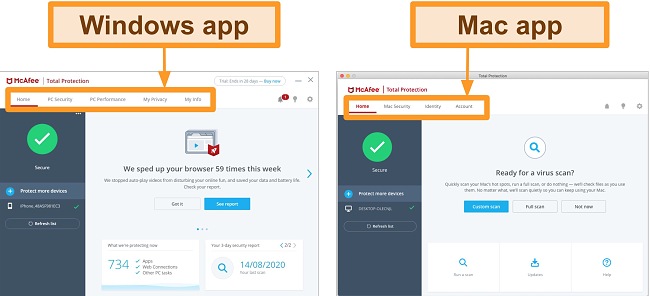 With all apps, I was pleased that I wasn't plagued by annoying pop-up notifications detailing scan progress or other background processes. The only alerts I got were for suspicious files or potential malware and needed my immediate attention.
Mobile Apps — Android Version is Slightly Superior to iOS
I found both apps are decent, although McAfee's Android app offers more security features than the iOS version. This is the case with most mobile antivirus programs unless you use an iOS-specific program like Avira's Mobile Security.
Neither McAfee app offers real-time protection like the desktop software does, but this is to be expected as most malware is deployed through app downloads. However, it's still worth installing for the security and performance boosters.
With the Android app, you can:
Optimize your device performance
Track and secure your phone with anti-theft features and lock your sensitive apps
Access 24/7 customer support by phone
Use security scans to check your device for existing malware and protect your WiFi connection
Encrypt your data with WiFi Guard VPN every time you connect to the internet — even when on public