McAfee

Antivirus Review 2021: Is It Really All That Great?
McAfee Overview April 2021
With so many new players and technologies in the antivirus industry, I was skeptical about McAfee. It's been around for so long that I wasn't sure if it was still any good. As a result, my team and I ran multiple tests to find out whether McAfee could live up to the competition and detect the latest cyberthreats.
I'm impressed to say that McAfee is a powerful antivirus that blocks 100% of real-time malware attacks. The app is easy to use, and I especially liked the True Key password manager and parental controls. While I was disappointed that McAfee doesn't have as many extra features as Norton 360 or TotalAV, it does offer very affordable prices in the first year.
You can try McAfee risk-free with the 60-day money-back guarantee, which is one of the longest available on the market. The only catch is that you have to sign up for automatic renewal (but it's easy to cancel). I even tested it myself and I got my money back in 7 working days.
Try McAfee risk-free for 60 days
In a Rush? Here's a 1-Minute Summary
Security - 10
I'm impressed to say that McAfee detected and blocked 100% of real-time viruses, trojans, and malware attacks in tests. This is what I'd expect from any premium antivirus software, and it ranks McAfee up there with the best services on the market.
However, McAfee still struggles to overtake industry leader Norton. It simply doesn't offer as many extra features, like encrypted cloud storage or a VPN (both of which are included in every Norton package). Despite this, I'm still very pleased with McAfee's strong performance. The provider has proven itself to be a highly reliable antivirus and its industry reputation is well-deserved.
Virus Scan — 3 Scans Available With 100% Detection Rate
My team and I set up a test machine and downloaded malware up to 4 weeks old — and McAfee's virus scan detected 100% of all threats.
You can choose between Quick Scan, Full Scan, or Custom Scan. If you're short on time, the Quick Scan and Custom Scan options give you the flexibility to do a surface-level check. However, I recommend using Full Scan whenever possible. It takes longer, but it's more thorough as it reviews every single file, folder, and program on your device.
When I ran a Quick Scan on my Windows desktop, it took less than 5 minutes to check over 10,200 items! The Full Scan took 53 minutes, which I think is reasonable considering it scanned over 590,000 items. While McAfee isn't the fastest antivirus I've tested (Norton took half the time to complete similar scans), it's definitely not the slowest either (Bitdefender took a few minutes longer in the same tests).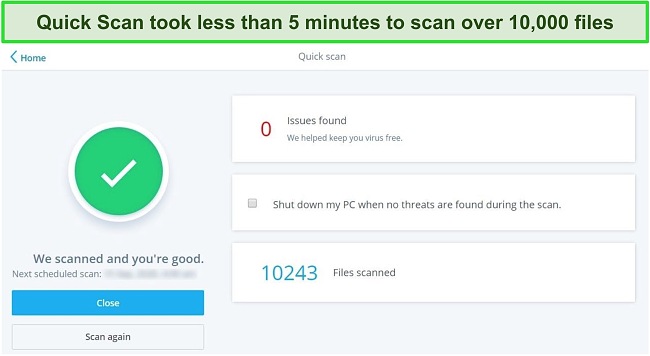 When I tested McAfee on my iPhone and Android smartphones, the scans took less than 20 seconds to complete on both devices. While it didn't detect any issues on either phone, McAfee did remind me to update my iPhone to the latest version of iOS.
I'm pleased to see that a Quarantine function has been added to the latest version of Total Protection since my last review. This means that if McAfee detects a suspicious file, it's automatically sent to Quarantine so you can review it at a more convenient time. You can then choose to delete or restore the files.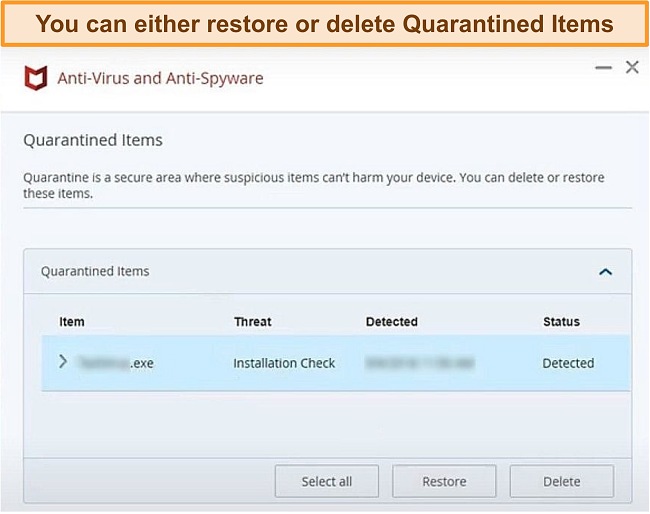 Eliminate malware with McAfee now
Malware Protection — Real-Time Defense Against Cyberattacks
McAfee has a detection rate of 100% against zero-day malware attacks. This is impressive as zero-day attacks are emerging threats that specifically target known vulnerabilities in operating systems. To protect you, McAfee uses advanced Global Threat Intelligence. This cloud-based software examines known malware and viruses to predict the characteristics of novel cyber threats.
During my testing, McAfee mistakenly flagged 8 safe files as malicious and presented them to me for my review. In my experience, this type of false flagging is common with antivirus programs (and I'd rather this happen than miss a dangerous file). For example, top competitor Norton incorrectly marked 27 files as malicious in the same set of tests.
Malware protection is available only on Windows and Mac, whereas iOS and Android offer a virus scan and Safe Web to protect you. The difference between malware protection and the virus scan is how they secure your devices. Malware protection continually defends against threats as you web browse and checks suspicious files on your device. On the other hand, a virus scan only checks for existing threats already on your device.
WebAdvisor — Blocks Phishing Scams and Cryptojacking
WebAdvisor is an extension that protects you from phishing attacks and other scams. It does so by warning you about malicious websites and downloads before you even click on them. It comes as part of the Total Protection package or you can download it from McAfee's website for free. Downloading the app was quick and easy, although navigating to the right site page was frustrating. I clicked "Protect me on the web" and was directed to a page explaining what WebAdvisor is but not the actual download — it was easier to run a web search for the