It's not hard to see why Microsoft Outlook is the leading email client for businesses. What's great about Outlook is that it's more than just an email software, it also makes it easy to manage your, calendar, to-do lists, and contacts in one place.
It's included in the Microsoft 365 collection of productivity apps, along with Word, PowerPoint, and Excel. available for free as a browser-based app.
Check out this step-by-step guide below to see how to get a free 30-day trial.
How to Download Outlook (Microsoft 365) for Free
Click the Download button on the sidebar. You will be redirected to an information page about Outlook that includes some helpful FAQs. Click on the Download Now button, and the Microsoft 365 download page will open in a new tab.
If you have a Microsoft account, you can log in now. Otherwise, you will need to create a free account before you can begin. If you sign in and see a message stating that you are not eligible for a free trial because you purchased a subscription in the past, just go back to the sign-in page and create a new account. You will need to use a different email address for the account. Just make sure it's valid because Microsoft will send a verification email.
Even though this is a free trial, Microsoft requires you to enter your payment information before you can download Outlook. Click the NExt button o move to the payment page.
Select the payment method you want to use, keeping in mind that if you don't cancel the account before the free trial ends, you will be charged. The options are: Credit Card or Debit Card, PayPal, or Mobile Phone.
Enter your payment information and click the Save button.
Microsoft 365 will confirm the payment method is valid through its secure payment portal. Once confirmed, you can push the Continue button to account is valid.
A new page will open showing all the different apps included in the Microsoft 365 package. Click the Download Desktop Apps button, and you will be redirected to your new Microsoft account dashboard.

Click the Install Office button, and the setup file will begin downloading to your computer.
Once the download is complete, open the setup file. Outlook will instantly begin installing on your computer.
How to Get a Web-Based Version of Microsoft Outlook 100% Free
Go to the Office website.
Sign in or create a free Microsoft account. If you're creating a new account, you will need to verify your email address.

Create your password and click NEXT.
You'll be emailed a verification code – enter it here and click NEXT.
Answer the Captcha to prove you're not a robot and click NEXT.
You will be redirected to the Microsoft 365 browser apps. Click on Outlook to get started.
Microsoft Outlook: Browser vs. Download Version
The free browser-based version of Outlook is very limited, contains targeted ads, and has limited storage capabilities. On the other hand, when you download Outlook, you'll get full access to the program, plus all the Microsoft 365 essential tools, with no charge for the first 30 days.
Benefits of an Outlook subscription:
6 Users
No ads
Encrypts all emails
Choose a custom domain name for your email address
Scans all links to protect from phishing, malware, or viruses
Tests all attachments and removes malicious ones automatically
50 TB of storage
1 TB of OneDrive storage
Benefits of the 100% Free Outlook:
Syncs with your work email
Filters Spam and Malware
Syncs with your calendar
15GB of mail storage
As you can see, the advantages of downloading Outlook far outweigh the browser-based version. It outperforms it from a usability, security, and storage point of view. Additionally, the free version of Outlook has annoying targeted ads.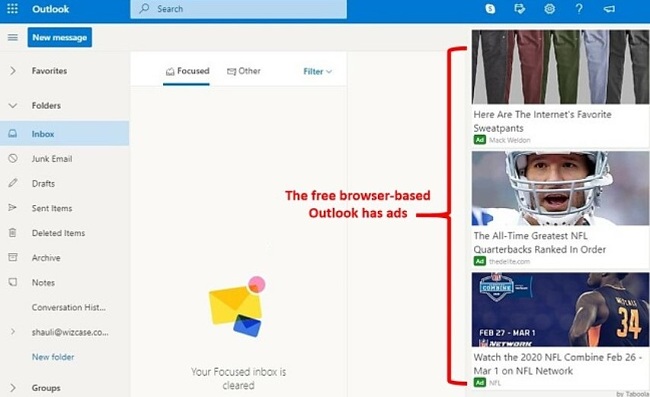 Additional Microsoft 365 Apps
In addition to a great collection of productivity software, Microsoft 365 comes with OneDrive, giving 1 TB of cloud-based storage for each user in the account. You can upload, save, and share documents, giving access to specific users to download or make changes.
Word: The most feature-rich word processing program around, Word has all the tools needed to create the perfect document. From a wide range of formatting and font options to grammar and spell and check templates for everything from resumes to detailed reports. You can add comments, track changes, and view edit history to ensure that nothing important ever gets deleted by accident.
Excel: A premier spreadsheet tool, Excel makes it easy to organize your data with tables, charts, and unlimited sheets for each file. It can also be integrated with leading business tools, so your data is automatically uploaded and saved.
PowerPoint: There are many fun features in PowerPoint that allow you to easily create a visually pleasing presentation. Choose from a wide selection of animations and transitions to give your PowerPoint presentation a little excitement. PowerPoint also includes presenter tools, so you can pre-record your message, leave notes that only you will see, and connect with a remote so you can move to the slide without touching your computer.
FAQ
Is Outlook Free?
There are two free options when it comes to Outlook.
A 100% free browser-based version of Outlook that comes with ads and limited features.
Is Outlook Safe?
As long as you download the official version, and not through a third-party website, Outlook is 100% safe with no viruses or malware.
When it comes to handling your mail and securing all your data, Outlook uses strong encryption to keep hackers and other cyber criminals away.
Can I download Outlook as a standalone app?
You can download Outlook on your iOS or Android devices as a standalone app. The desktop version comes with the entire Microsoft 365 suite of apps.
What are Groups in Outlook?
Groups are a way for work teams to collaborate on projects. It includes a shared inbox, calendar, and document library.
How do I cancel my Microsoft account?
To cancel your Microsoft account log in to your account and click on your avatar in the top right corner > My Account > Manage (located under the credit card information) > Cancel.
You will be able to use your account until the end of the billing period.
Visit Microsoft Outlook Website