It's not hard to see why Microsoft Outlook is the leading email client for businesses. It's packed with features designed to save you time and consolidate many different crucial office apps.
The one downside is that you need a subscription to Office 365 to enjoy all the benefits. However, there is a way to get around that expensive subscription and get Outlook for free. Microsoft has all of its apps, including Word, PowerPoint, and Excel, available for free as a browser-based app. Check out this step-by-step guide below to see how easy it is to create an account and use Outlook 100% free.
If you prefer a free trial for the complete ad-free Outlook, click here to jump to the step-by-step guide for downloading Outlook for Free.
How to Get Microsoft Outlook 100% Free
Go directly to the Office website by clicking on the DOWNLOAD button on the sidebar. (This won't download anything, but instead will redirect you to the Office page.)
Click SIGN IN.

Sign in or create a free Microsoft account. If you're creating a new account, you will need to verify your email address.

Create your password and click NEXT.
You'll be emailed a verification code – enter it here and click NEXT.
Answer the Captcha to prove you're not a robot and click NEXT.
You will be redirected to the Office 365 browser apps. Click on Outlook to get started.
How to Download Outlook for Free
If you prefer to download Outlook and experience all the features that come with it, there is a way to get it for free for a limited time. While this is a free trial, you will need to enter your payment details.
Click the DOWNLOAD button on the sidebar to visit the Office website.
Click GET OFFICE.

Click on the TRY OFFICE FREE FOR 1 MONTH link.

Click on the TRY 1 MONTH FREE button.

If you already have an account sign in and click NEXT. If not, click on the CREATE ONE FOR FREE link to create your account.

After you've logged in, confirm that you want a free 1-month trial and click NEXT.

You will need to pick a payment method, either a credit card or PayPal, to complete the process. But you won't be billed during the first month.

Click the SUBSCRIBE button to confirm your payment method and begin the downloading process.

Click the INSTALL button.

Click the INSTALL button again.

Office 365 will download on your computer.
Microsoft Outlook: Browser vs. Download Version
With some programs, a 30-day free trial is a perfect solution to getting an expensive program for free. However, when picking an email client, ideally you're looking for a long term solution.
Benefits of the 100% Free Outlook:
Syncs with your work email
Mobile apps for Android and iOS
Filters Spam and Malware
Syncs with your calendar
15GB of mail storage
5GB of OneDrive storage
Benefits of an Outlook subscription:
6 Users
No ads
Encrypts all emails
Choose a custom domain name for your email address
Scans all links to protect from phishing, malware, or viruses
Tests all attachments and removes malicious ones automatically
50 TB of storage
1 TB of OneDrive storage
As you can see, there are definitely some advantages to purchasing Outlook — assuming you're satisfied with it after the 30-day trial ends. However, the two options aren't drastically different. It really comes down to your specific needs. A single user who doesn't need too much storage space would benefit from the free version. If you're with a larger corporation or send classified or confidential emails, you may prefer the strong encryption that comes with the subscription-based Outlook.
The free version does have ads, which can be annoying, but you can use an ad-blocker to hide them.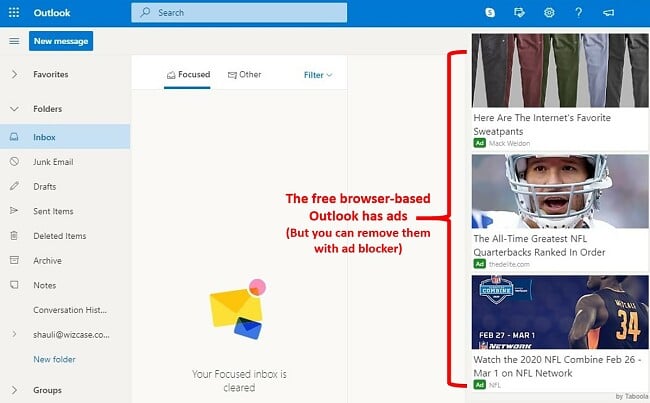 Free Alternatives to Outlook
Thunderbird: From Mozilla, the company that created Firefox, comes an open-source email client. Like Firefox, there is a strong focus on security, with strong encryption protecting all emails. Thunderbird also has a large library of plugins that can be used to customize the features and design.
eM Client: With a simple layout and compatibility with all the major mail providers, eM Client is a solid choice. Some of the better features include a built-in messenger app, to-do lists, and a contact manager.
Gmail: G-suite is a great outlook alternative for businesses. You can add your domain to your email address, it has plenty of features, and can integrate with all of the other Google features. The biggest difference between Gmail and Outlook is that you can't get your email when you're offline since there is no standalone client.
FAQ
🤑 Is Outlook Free?
There are two free options when it comes to Outlook.
A free 30-day trial.
A 100% free browser-based version of Outlook that comes with ads and limited features.
😇 Is Outlook Safe?
As long as you download the official version, and not through a third-party website, Outlook is 100% safe with no viruses or malware.
When it comes to handling your mail and securing all your data, Outlook uses strong encryption to keep hackers and other cybercriminals away.
😎 Can I download Outlook as a standalone app?
You can download Outlook on your iOS or Android devices as a standalone app. The desktop version comes with the entire Office 365 suite of apps.
🤩 What are Groups in Outlook?
Groups are a way for work teams to collaborate on projects. It includes a shared inbox, calendar, and document library.
🤓 How do I cancel my Office account?
To cancel your Office account log in to your account and click on your avatar in the top right corner > My Account > Manage (located under the credit card information) > Cancel.
You will be able to use your account until the end of the billing period.
Visit Microsoft Outlook Website