When your PC isn't working correctly, the first thing you should do is download Restoro and use this powerful tool to restore your computer to its original performance level. Restoro uses the latest technological advances to scan your PC and optimize it by freeing up disk space, removing malware, replacing damaged files, and more.
The software is extremely easy to use and runs in the background, so you don't have to think about it. Follow the steps below, and I'll show you how to download an official free version of Restoro.
How to Download Restoro on your PC for Free
Go directly to the official Restoro download page.
The exe file will instantly download to your computer.
When the download is complete, open the file, and the installation will automatically begin.
When the installation is complete, Restoro will immediately run a comprehensive scan of your PC.
Restoro Overview
Restoro is a complete solution to optimizing your PC. It combines the features of antivirus scanners, registry cleaners, and some computer technician labs into one powerful solution.
With patented technology, Restoro can go above and beyond other tools to optimize a PC and restore it to its former level.
Its most significant benefit is that it examines a program or software to see how it should behave versus how it's actually behaving. If the two are not in sync, it creates a flag and fixes the issue.
The free version of Restoro will run the scans and provide the details, so you can fix it yourself. If you want the software to fix the issues, you will need to purchase either a one time usage subscription or an annual premium package.
Restoro Features
Restoro has a deep, system wide scan that can spot all types of issues that can harm your PC. The scan analyzes both general and installation-specific settings. If it notices anything unusual, it has the ability to fix these issues. It can delete unnecessary or duplicate parts of any software or any files that conflict with its comparison module for how the software should look.
There are four main items that Restoro can change:
An invalid config file to a valid one
Add or create a missing path
Adjust a broken resource value and replace it with one that works
Fix inconsistent application data files
Comprehensive Scan: Goes through six major categories
On the Restoro client are six tabs that detail each aspect of the scan: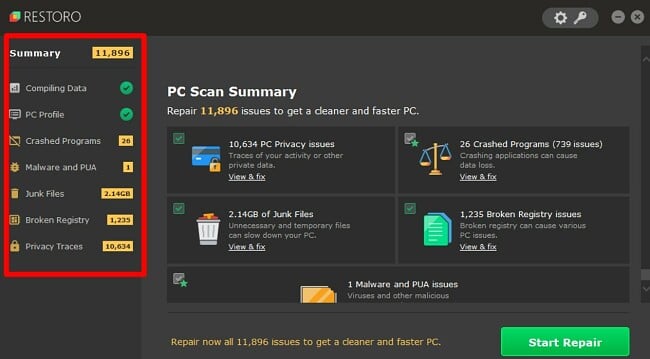 PC Profile: Create a health profile for your PC based on the system configuration and hardware, which includes every aspect of the hardware, including the CPU temperature.
PC Stability: Examines a lot of installed programs that frequently crash or shut down.
PC Security: Full system scan, including boot up files, for malware, viruses, and Trojans. It lists any program or file that could potentially leak personal data and documents.
Registry Scan: Searches the registry files for invalid or incomplete registry keys.
Temp Folder Scan: Frees up space on your hard drive by removing temporary files.
Privacy Issues: Locate tracking cookies that reveal your online activities and are a threat to your online privacy.
Each tab has a detailed report that you can view in your browser. The description is often technical, and there really isn't a need for the average user to understand all the information. However, Restoro gives its users full transparency before it starts repairing and optimizing the PC.
Repair your PC: Single Click Solution
When the scan is complete, if you purchase one of the Restoro subscriptions, you can repair all your PCs issues with a single click. Press the Start Repair button, and Restoro will get to work.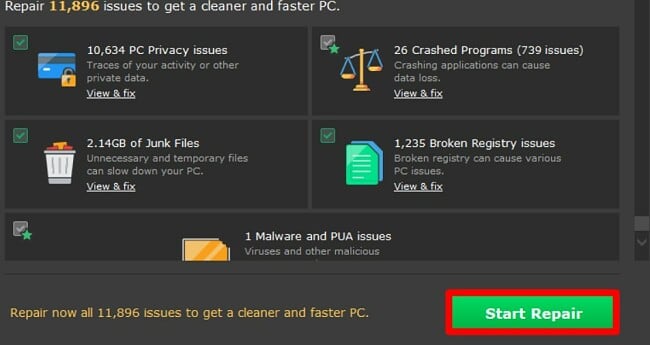 Restoro will begin by completely removing all the invalid, incomplete, and dangerous files. It will install updated files and repair all the damaged software. This is done through a database maintained by Restoro called the Spare Parts Repositor. It will delete all tracking cookies, remove viruses, malware, Trojans, and other harmful files. Restoro will reboot your system and test its stability and the affected software when the entire process is finished. You should notice an immediate improvement in your computer, and the files that were constantly crashing should remain stable.
How to Uninstall Restoro
Once you've optimized your PC, you can safely remove Restoro by following these simple steps.
Locate Restoro in the list of installed programs and click the Uninstall button.
Confirm that you want to remove Restoro, and it will be completely removed from your PC.
Free Alternatives to Restoro
CCleaner: While CCleaner won't check for viruses like Restoro, it is an excellent alternative for cleaning your system's registry and optimizing your PCs performance. It has many specialized tools designed to remove duplicate, unnecessary, and partial files. Your PC will have increased speed, performance, and space on the hard drive when the scan and repair are complete.
Avira Antivirus: You can run a full system scan with the Avira Antivirus software and find a lot more than just viruses, malware, and ransomware. The deep scan also goes through your PCs registry files and has the tools needed to boost performance, memory, and speed.
FAQ
Is Restoro free?
The free version of Restoro will run a comprehensive scan of your computer and show you the detailed results.You can fix the issues yourself through the infected files and folders if you know what you're doing. However, if you want to take advantage of the easy repair kit from Restoro, you will need to purchase a one-time usage license or an annual subscription.
Is Restoro safe?
Restoro is 100% safe to download and use on your PC. Take note, there are some antivirus programs that label it as a potentially unwanted program (PUP), but that is because of how it works, by digging through system files.
Can Restoro prevent viruses and malware?
While Restoro can remove viruses, malware, and Trojans, it is not an antivirus software. Its smart technology can recognize the corrupted files and safely remove them. However, it doesn't offer real time virus protection and doesn't prevent harmful files from attacking your computer.
Visit Restoro Website