Windows Calculator is a handy utility software package for anyone working on a laptop or desktop in the Windows 10 system. It is a small and useful utility tool for any time you need to perform basic arithmetic functions, or do more advanced functions. All of the available modes and functions make Windows Calculator a robust software package for any calculating need, either for business or personal demands.
Windows Calculator is completely free, and it is typically included with Windows 10. However, I will show you how to install it if it did not come with your system.
How to Download and Install Windows Calculator for Free
Click the Download button on the sidebar, and a new tab will open to the Microsoft Windows Calculator page.
Click the blue Get button, and a pop up window will ask you if you want to open the Microsoft Store.
Click the Open Microsoft Store button.
Click the blue Install button.
When the install is finished, click the blue Launch button to open the calculator.
How to Uninstall Windows Calculator
If you find that Windows Calculator isn't the right calculator program for you, uninstalling it is a simple process. If you're still looking for a different free calculator app, check out the free alternatives below.
You can completely remove Windows Calculator from your computer in a few easy steps.
Go to Settings.
In the Find a Setting box, type in Apps, then click on Apps & Features.
In the Search This List box, type Calculator, then click on the app.
Click on the gray Uninstall box.
Windows Calculator Overview
Windows Calculator offers three basic modes: standard, scientific, and programmer. Standard mode is what you would expect from a typical basic calculator, with addition, subtraction, multiplication, and division. Scientific mode adds exponents and trigonometric functions, and programmer mode allows you to perform operations related to computer programming.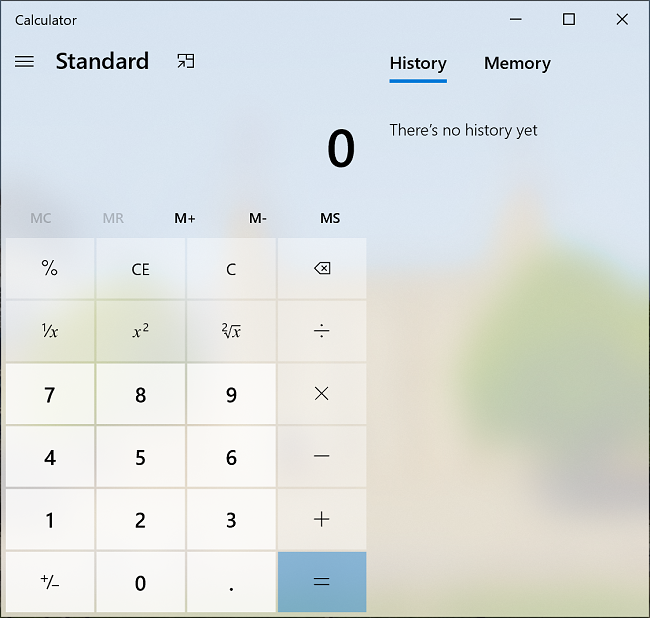 Windows Calculator Features
In addition to the three main modes, Windows Calculator has several other useful features.
Date Calculation: Open the menu at the top left corner so you can go to a date calculation function. This is helpful to know how many days occur between two dates, which is useful for developing schedules or timelines.
Converter Functions: Further down this menu, Windows Calculator offers several converter functions, including currency, volume, length, weight and mass, temperature, energy, area, speed, time, power, data, pressure, and angle.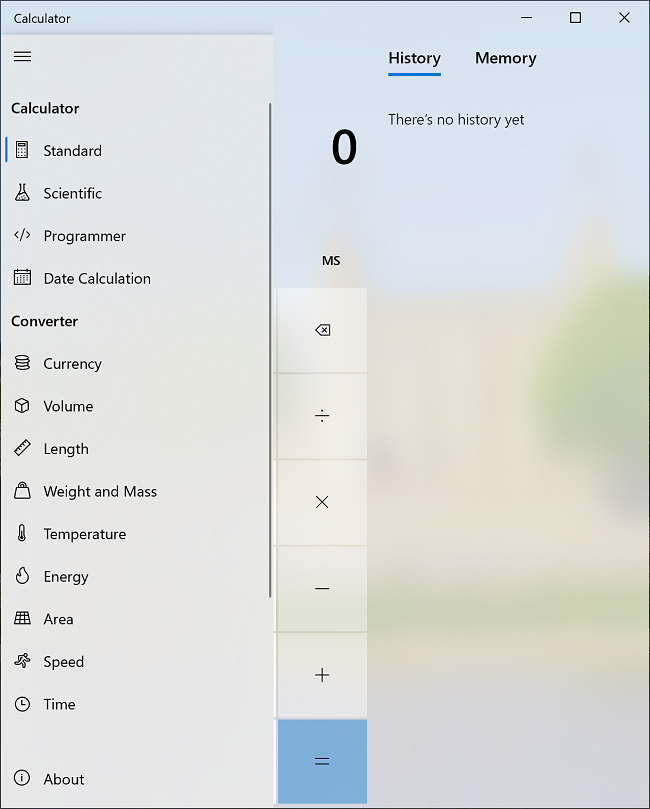 Easy to Use and Read: Windows Calculator is easy to use, and you can input numbers with the keypad, mouse, or by using the touch screen. The numbers are large and easy to read. The calculator can be enlarged to full screen size, or kept small.
History and Memory Tracking: The calculator keeps track of your history and memory in a panel on the right side. To show this panel, simply put your mouse arrow over the right edge until a double arrow appears, and slide it to the right. To hide the panel, hover over the right edge and slide it to the left.
The calculator app stays on top of your other tabs. If you are using the calculator along with other tabs, you will need to click in another place on the screen, or minimize the calculator. This can be a bit cumbersome if you have a lot of tabs open or are trying to work quickly.
Free Alternatives to Windows Calculator
FAQs
Is Windows Calculator free?
Not only is Windows Calculator free, but it is also typically included with Windows systems. If the app is not included, or it gets corrupted, then just follow the instructions above to download and install it.
Is Windows Calculator secure?
As long as you download the software from the official Microsoft Store site, you won't have any issues with viruses, malware, or spyware.
What are the System Requirements?
For the best experience, Microsoft recommends Windows 10 version 17133.0 or higher, Windows 10 version 15063.0 or higher, Xbox One, or Windows 10 Mobile version 10586.0 or higher.
Visit Free Calculator Website