Bitdefender

Antivirus Review 2022 — Is It Any Good?
Bitdefender Overview July 2022
Bitdefender is undeniably a good antivirus service for Windows users, but its limitations for Mac and iOS stop it from being the best option overall.
During my tests, Bitdefender achieved a perfect malware detection and removal rate on all its plans. There are also plenty of extra features to like, such as parental controls, webcam and microphone blocking, a firewall, and a password manager. However, I was disappointed to find some of Bitdefender's paid plans are exclusive to Windows.
Despite these limitations, Bitdefender is still a good choice in 2022, especially if you want comprehensive coverage for your Windows devices. Unlike many antivirus competitors, you can try Bitdefender with a 30-day free trial (no credit card required)! You can keep using Bitdefender afterward with the 30-day money-back guarantee. I tested it myself and easily got my money back in only 5 days.
In a Rush? Here's a 1-Minute Summary
Security - 8
No matter which Bitdefender plan you choose, you'll be protected by its core antivirus software. Even the free plan detects existing cyberthreats, although you won't get the same level of advanced security as paying customers.
Virus Scan — Multiple Scan Types With 100% Detection Rate
My team and I set up a Windows testing machine and purposefully downloaded malware and viruses. Bitdefender detected 100% of malware — it even caught threats that were discovered only 4 weeks prior to tests! While Bitdefender did flag 7 harmless files as dangerous, I was still pleasantly surprised by this result. This is less than half of what other antivirus brands I've tested typically find.
When it comes to Mac protection, Bitdefender detected all malicious files in my tests. A colleague reported similar results (it only missed 1 file on her device). Results like this put Bitdefender on par with a top-ranking service like Norton, which has a perfect malware detection rate with zero false detections.
Bitdefender offers a variety of scans to keep you safe:
Quick Scan: Review the parts of your hard drive with the highest risk of infection.
System Scan: Scans your entire device for threats.
Vulnerability Scan: Investigates your system for potentially dangerous settings and missing updates to plug security holes.
Rescue Environment Scan: Reboots your system in a safe mode to find and remove tough threats that you can't get rid of in normal operating mode.
Custom Scan: Choose which parts of your hard drive to search, when to run the scan, and what to search for.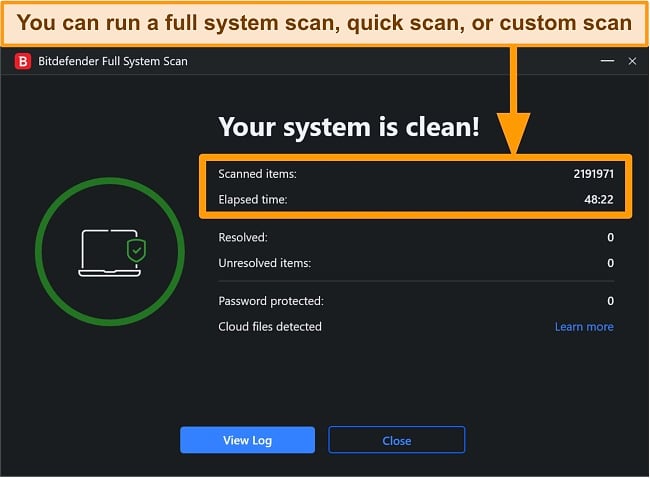 The System Scan took 48 minutes to analyze 980GB (2,191,971 files), while the Quick Scan took only 7 minutes (10,938 files). Even though the System Scan took nearly an hour, it does take less time with each subsequent scan as Bitdefender will mark certain files as safe. When I ran the System Scan later in the day, it only took 10 minutes to scan 1,461,329 files!
During scans, I noticed Bitdefender had a very low impact on my system. This is due to Bitdefender's cloud-based scanning, which reduces the disk space and CPU power needed for scans. I could easily use my PC as normal while Bitdefender ran scans with no slowdown or lag.
Real-Time Protection — Detects and Blocks 99.7% of Cyberattacks
It's important to make sure your antivirus can remove malicious software after infection — but it's even better to prevent infection in the first place.
Bitdefender detected 99.7% of real-time threats, which is a near-perfect detection rate. Not many antivirus competitors can achieve such a strong score — in fact, there are only a few on the market that do better (like Norton, which achieved 100% in the same tests). For this test, I opened a series of emails and websites with confirmed malware infections on a PC. I was pleased that it found 0 false positives (harmless files that are flagged as dangerous).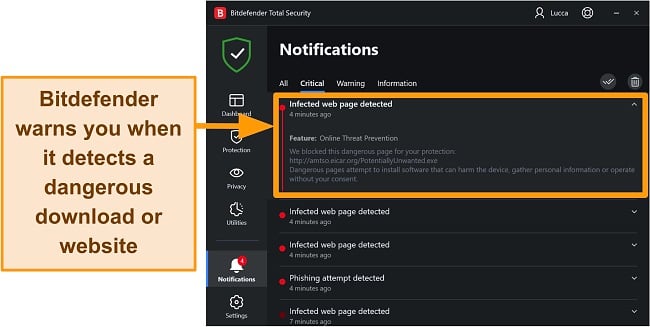 Depending on the source of the threat (file download or website), Bitdefender will either warn you with a notification or directly in the browser window. It then decides to block or quarantine the file, although you can override this decision if you feel safe doing so.
I was pleased to find Bitdefender's real-time protection also secures your devices against adware and spyware. Most antiviruses I've tested, including Windows built-in Microsoft Defender, ignore adware and similar files as they're mostly harmless. However, they can secretly collect your data and potentially expose you to identity theft and fraud. Knowing Bitdefender actively detects and blocks these files gives me peace of mind that my data is safe.
Phishing Protection — Flags 94% of Scam Emails, Links, and Websites
Phishing attacks occur when hackers trick you into entering your login credentials, financial details, or other personal information in legitimate-looking websites or emails. Bitdefender scored a high 94% detection rate during phishing tests, helping it eliminate the vast majority of brand-new threats before they can cause problems.

Bitdefender protects you against phishing with several tools including:
URL filters to match malicious sites to an existing database
A heuristic filter to check emails and websites for spam characteristics
Bayesian modules to determine if an email is phishing based on word analysis
Web Shield to review and protect activities on your network
Ransomware Protection — Behavior Monitor Tool Offers Advanced Security and File Recovery Option
Ransomware occurs when a hacker encrypts all or some of your hard drives and makes you pay a ransom to decrypt it. Worse yet, you might not be able to recover your precious files even if you pay a hefty fee.
Bitdefender prevents ransomware attacks with its Behavior Monitor tool, which prevents malware from altering your files. As a backup, it also recognizes your essential files and copies them to a secure location. That means that if you're the victim of a ransomware attack, you can easily recover these documents. Even if you don't have a backup, Bitdefender's Ransomware Remediation tool will automatically attempt to decrypt your data without paying the bounty — you don't have to configure this tool manually.
This protection won't interfere with other programs. You can add applications as exceptions, so Bitdefender never interferes with their file-modification abilities.
System Performance — Minimal Speed Impact With Zero Lag or Freezing
Running an antivirus program uses system resources, which inevitably means you'll notice a decrease in speed. Fortunately, Bitdefender barely impacts your computer's performance.
In my tests, I closely compared Bitdefender's performance with top antivirus services. I was surprised it had about the same minimal effect as Norton on app launch and file transfer speeds. It slowed my computer a bit more when opening web pages (17% vs. Norton's 9%), but the difference was practically unnoticeable. An extra few seconds doesn't bother me as long as there's no lag or freezing — something I never experienced with Bitdefender.
While running a full system scan, my CPU usage increased from 2% to 9%. However, there was no noticeable impact on device performance.
Features - 7
Bitdefender has several security extras that beat the offerings of most other antivirus suites. It has unique features, including File Shredder, SafePay, and more that I've rarely seen in other programs. However, a few of its other tools (like the VPN and Antispam) didn't meet my expectations.
Firewall — Easy to Use With Customization for Advanced Users
Bitdefender's firewall adds an additional security layer by preventing malicious software from connecting to the internet. This protection also stops cybercriminals from connecting to you. I found the firewall's security configurations to be really helpful, so it's a shame they're only available with the Bitdefender Internet Security and Total Security packages.
Another handy firewall feature is Alert Mode, which notifies you when an app attempts to go online. Similarly, Stealth Mode hides you from other devices sharing the same network. This feature helps you stay hidden from prying eyes even on public WiFi.
The firewall analyzes the applications you have installed and configures itself based on the network type you've chosen (dynamic, home/office, or public). You can also customize rules to control how you want certain apps to access the internet.
Antispam — Blocks Spam but Not on Most Email Platforms
Spam often puts you at risk for phishing. However, even when it's not a targeted attack, junk mail is a real nuisance and can prevent you from seeing important messages.
Bitdefender's Antispam feature conveniently connects to Outlook or Thunderbird and filters out junk mail. You can add emails of known contacts who should never be filtered or tag spam emails that you know are dangerous. You can even submit spam samples or legitimate emails to train the Antispam feature to better recognize junk mail. Unfortunately, Antispam isn't available on Bitdefender's Windows-only plans — it's included in Total Security and Premium Security subscriptions.
Since I use Outlook at work, I thought this feature was helpful. However, if you use any other email services (like Gmail, Yahoo, or ProtonMail) this feature won't be useful since it doesn't support most platforms.
Webcam and Audio Protection — Alerts You When Apps Access Your Camera or Microphone
Cybercriminals are increasingly targeting video and audio to steal your data — even top government intelligence officials admit to putting tape over their webcams for extra privacy.
Fortunately, Bitdefender offers software to block your webcam and microphone. It also informs you which programs attempt to access them. This feature reassured me that hackers couldn't secretly watch or listen to me while using my computer. Webcam and microphone protection is available on all plans except for Antivirus Plus and the free service.
However, I was disappointed to find webcam and microphone protection aren't available for Bitdefender's Mac app. While Apple is considered a more secure operating system, lacking this protection still puts you at risk of having your video and audio software hacked.
Password Manager — Fast and Simple to Use with Unlimited Storage
This is one of the best password managers I've tested. On every paid plan, Bitdefender can store your login details and autofill them on websites when needed. There's no limit to the number of passwords either. Competitors like McAfee only allow you to store 15 passwords unless you pay the extra money, which is nowhere near enough storage.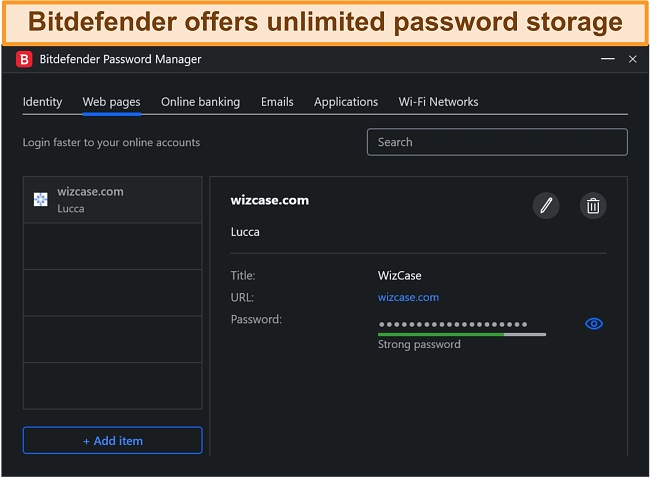 I'm especially pleased with how fast Bitdefender's password autofill works on connected sites. I've tested multiple password managers and there's often a delay before it fills in my credentials. However, I tested over 15 websites and Bitdefender always added my login details in 1 second!
Bitdefender VPN — Full Features Only Available on Premium Plans
I like that Bitdefender comes with a VPN on every plan and it works on Windows, Android, Mac, and iOS devices. I strongly believe a VPN is essential for keeping your online browsing history private, unblocking restricted content, and hiding your real IP address.
Unless you subscribe to Bitdefender's Premium plan, you're restricted to just 200MB per day per device. This data allowance is so small that it's basically useless. My data ran out in 30 seconds after I ran a single speed test! You also can't select your own server location — the VPN automatically connects you to the location it deems best.
Bitdefender's Premium VPN is decent but it's not worth the subscription upgrade. You'll have unlimited data and access to servers in 27 countries, but you can't unblock too many streaming platforms. I could only connect to my Netflix US account (and the UK and German servers worked for my colleagues). I had zero luck with Disney+ or HBO Max. However, my speeds were fast enough to stream in 4K UltraHD and torrent large public domain files. I watched the film Leave No Trace on Netflix with less than 5 seconds of buffering.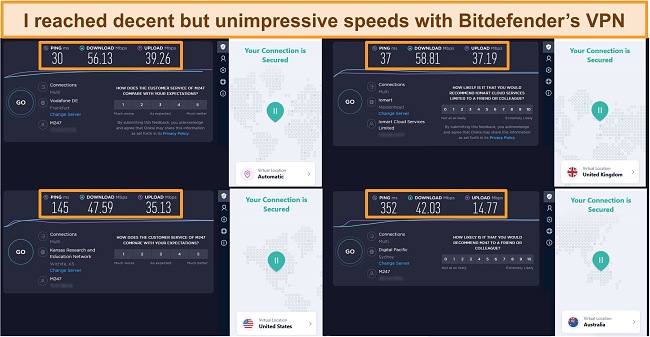 In short, Bitdefender's VPN is good if you haven't got a VPN, but it's not the best option out there. If you're looking for an antivirus with a high-performing VPN included, Norton offers a VPN with unlimited data on all plans except the basic plan.
Anti-Tracking Browser Extension — Blocks Advertisers From Monitoring Your Online Activity
Advertisers use trackers to collect your private information, and this also slows down your browsing speeds. That's why I was pleased that Bitdefender's Anti-Tracker browser extension blocks trackers on Google Chrome, Mozilla Firefox, and Microsoft Edge.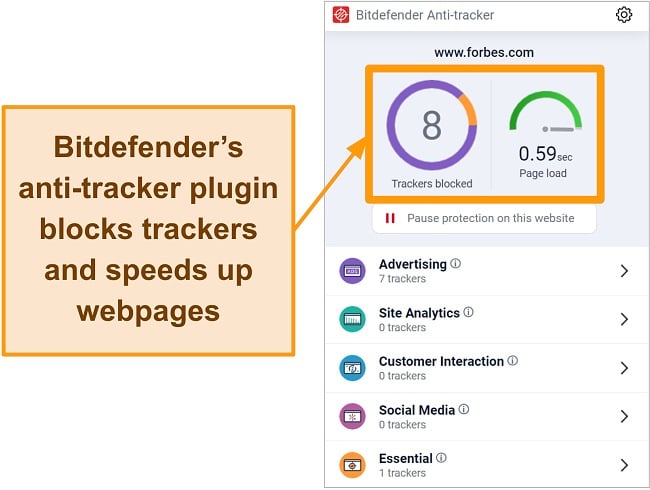 I compared this feature against the Electronic Frontier Foundation's Privacy Badger plugin across multiple sites. I was pleased to find Bitdefender's plugin blocked more trackers than the competitor.
File Shredder and Safe File — Deletes Sensitive Data Without a Trace
If you have sensitive files on your hard drive that you want to hide or destroy, it isn't enough to simply delete them. These days, sophisticated software can recover files that you thought were gone for good.
Bitdefender's File Shredder solves this issue by overwriting your files with new data multiple times instead of just deleting them. I tested it by shredding a 5GB video file, which took just over an hour to complete. This is the downside of this type of deletion — large files can take a long time to process. But besides physically destroying your hard drive, there's no better way to erase something forever.
If you're not ready to delete a sensitive file but want to keep it hidden, the Safe File feature acts as a vault for personal files. When you transfer a document to the Safe File folder, it can't be accessed or altered without your knowledge. This is another way Bitdefender can help secure your data against ransomware attacks.
SafePay — Bank and Shop With An Extra Layer of Security
Using banking or e-commerce sites on your regular browser could let cybercriminals steal your financial details. Keyloggers can swipe your username and password, attackers can take secret snapshots of your activity, and man-in-the-middle attacks can intercept data on shared or insecure connections.
When you launch Bitdefender SafePay, you open a completely different desktop environment with no links to your existing desktop. SafePay's advanced security features prevent screenshotting, data interception, and keylogging. It also blocks suspicious websites and browser extensions from loading in the first place. This lets you bank and shop without worrying.
I'm a big fan of SafePay and recommend using it whenever you need to share sensitive personal data. It's also automatically integrated with Bitdefender's Password Wallet and VPN for added protection and ease of use.
Parental Control — Monitor Your Child's Internet Activity Remotely
You can use Bitdefender's parental control tools to locate your children's devices, track how they spend time online, and block websites or apps. This is useful for blocking access to adult content and temporarily shutting off access to social media or streaming platforms. Parental controls are available on Bitdefender's Internet Security plan and higher.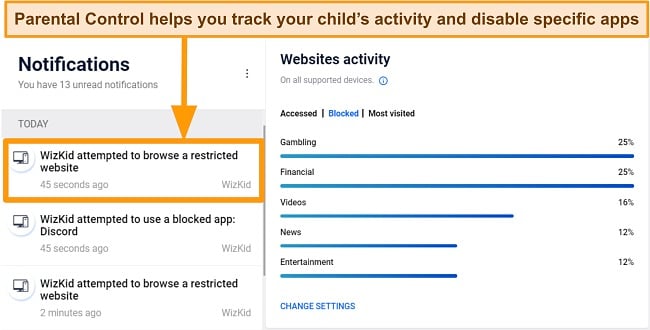 You can easily add a new child profile to your account and assign it to a particular device. When you send and open a download link on the new device, it automatically launches the software. Unfortunately, each device only works with 1 profile — if your children share a PC with you, you'll have to disable these controls when you want to use it.
I was disappointed to find the parental control tools were very different for each device. Some features, like daily device limits and blacklisting websites, aren't available on iOS, while others (like viewing device location) are only available on mobile apps. I'd like to see a more comprehensive parental control tool that offers the same features across apps as Norton has.
Ease Of Use - 7
Bitdefender's apps include a polished interface and simple explanations so even beginners can understand the settings. Advanced users also have the freedom to tweak precise security configurations.
You can quickly install Bitdefender's desktop or mobile apps with just a few clicks. Simply download and run the Bitdefender installer on Windows or Mac, and it will be automatically downloaded and installed. On my Windows device, it took roughly 5 minutes from start to finish. I also recommend you download the mobile apps from this link so you can easily get a refund without going through Google Play Store or Apple App Store.
While it's easy to install, choosing the best Bitdefender plan for your needs can be tricky. There is a range of plans to choose from, but some of these are exclusive to Windows and only the more expensive options cover multiple operating systems. It's important to carefully check which devices and features each plan chooses to ensure you get full protection suitable for you.
Desktop App — Great Interface With Well-Explained Options for Windows and Mac
Bitdefender's Windows and Mac desktop apps are well-designed and customizable. You can arrange your dashboard for quick access to your favorite features, including specific scans, SafePay, and more.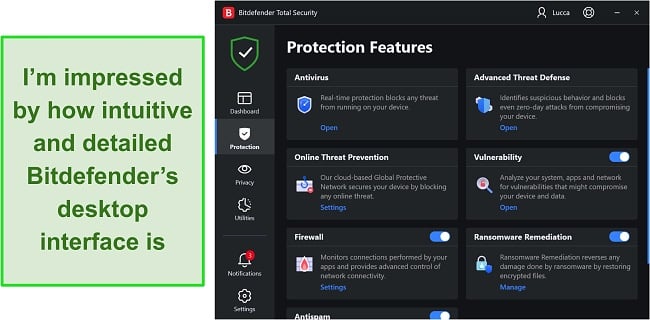 I also found Bitdefender is a good choice for users who prefer to install an antivirus and forget about it. The firewall continuously reconfigures itself and you can activate silent updates so you're never interrupted when they occur. You can also schedule regular scans so your system takes care of itself and detects threats (including ransomware) without your intervention.
Like many antiviruses, Bitdefender relies more heavily on Apple's own security software — this means some useful features are missing from the Mac app, like webcam and microphone protection, anti-theft, and vulnerability assessment. If you want more complete antivirus protection for Mac, I suggest taking a look at Norton instead.
Mobile App — Intuitive Design With Useful Extra Features for Android
Bitdefender Mobile Security is a great companion app to keep your mobile device as secure as your computer. Its useful features make the Total and Premium Security plans worth considering to protect your device. On Android, these protections include:
Threat Scanning: Scans your device for malware, ransomware, potentially unwanted applications, adware, fake apps, and more.
VPN: Encrypts your mobile connection and hides your data.
Web Protection: Scans web pages in real-time to block dangerous sites.
Anti-Theft: Lets you remotely wipe, lock, locate, and recover or erase data from your device in the event that it's stolen.
Account Privacy: Regularly scans your email addresses to inform you if you've been part of a data breach.
App Lock: Adds a pin code to any app to prevent unauthorized access.
When I downloaded Bitdefender on my Android phone, it guided me through a quick overview to explain what each feature does. The dashboard shows if your device is safe and gives you easy access to the built-in VPN. Here you can also find some suggested actions to increase your device security.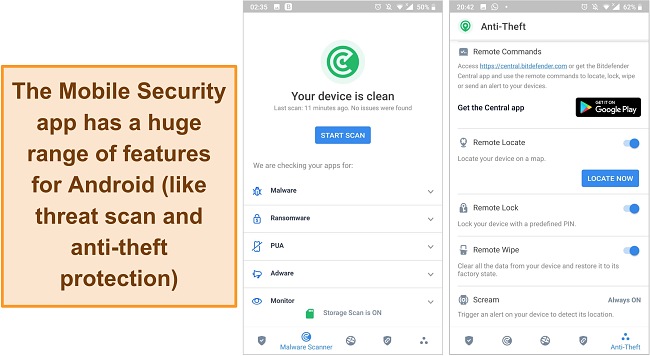 I scanned my phone and was happy to see it was free of harmful apps. The Account Privacy tool also warned me that my email had been found in 8 data breaches since 2010. I was already aware of most breaches, but it alerted me of a more recent one which allowed me to change my password to the affected service immediately.
Note that on iOS, you only get access to the Web Protection, VPN, and Account Privacy features. If you need more protection on your iPhone or iPad, there might be better choices of antivirus software optimized for iOS for you.
Support - 9
Bitdefender offers 3 ways to get in touch with support — 24/7 live chat, email, and phone. I tested all 3 options and I received helpful information each time, although live chat is the fastest method.
24/7 Live Chat — The Fastest Way to Get Help
Bitdefender's live chat is the fastest way to get help. Finding the live chat option is extremely simple and I connected to an agent in just 1 minute.
I asked for information on various features like the File Shredder and the free trial and received a quick and helpful response in all cases.
Email Support — Only Waited Around 1 Hour for a Response
If you don't have time to talk through live chat, Bitdefender's email support is fast and helpful.

When I tested this feature, it took them just 75 minutes to reply and the email clarified some contradictory information I'd spotted on the website.
Phone Support — Slower Support but Good for More Complex Queries
Bitdefender's phone support is available in 17 countries in Spanish, French, German, and Japanese. You can also reach a worldwide number with English support.
I called the UK helpline at 3:30pm CET and was on hold for just under 12 minutes. This isn't necessarily bad for phone support, but it's significantly longer than using live chat. However, it's a good option if you have a question about something complex. I spoke to an agent about problems with the Bitdefender VPN not working with P2P software, which they explained was something you can set up in the advanced options.
Community Forum — Useful for Less Time-Sensitive Issues
The forum is a good place to check before reaching out to support. It offers a ton of information about issues that other users have already troubleshot. Plus, it's available in English, German, Spanish, French, and Romanian. Bitdefender's forum is easy to navigate and contains a huge number of useful threads that you can search.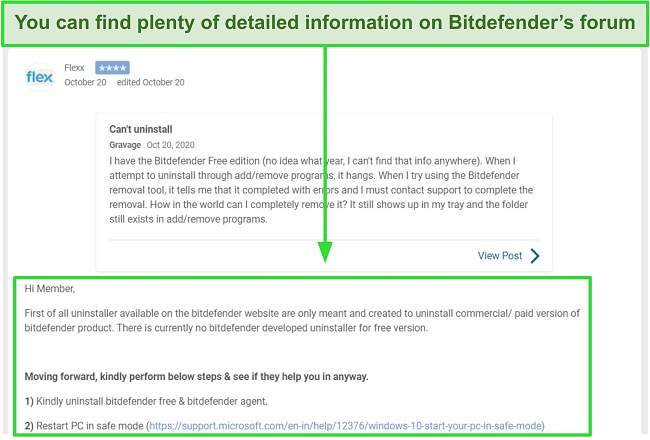 When I needed help fully removing Bitdefender from my PC, I was happy I quickly found a thread that contained the solution. If you can't find a thread that addresses your issue, creating a new one is easy — you can sign in to the support site using your Bitdefender account details and ask as many questions as you want.
Price - 7
Bitdefender offers access to its features based on price. For example, the free plan lacks advanced ransomware protection and recovery, and only the Premium plan offers unlimited VPN data. However, I found most paid plans are good value considering they give you a year of top-tier security against the latest cyberthreats.
Bitdefender Free — Only 1 Device License and Lacks Advanced Ransomware Protection
Bitdefender Free is a very basic antivirus, which is unsurprising since it doesn't cost anything. While it can detect and block most ransomware, you won't be protected from the latest evolving cyberthreats. You're also missing the extra features you get in Bitdefender Antivirus Plus, like a password manager, SafePay, VPN, vulnerability scanner, secure file deletion, anti-tracker tool, and even customer support.
Bitdefender Free does offer core antivirus software, including:
Advanced threat detection
Anti-malware tools
Real-time, anti-phishing, and anti-fraud protection (Windows only)
Web filtering of harmful sites
Hardware and software optimization tools
Cloud scanning for reduced system impact
Even though the free version is pretty good, I can't recommend it as a reliable antivirus solution due to its lack of advanced ransomware protection — especially as some free antivirus services offer ransomware protection. Ransomware is one of the most serious threats you can face, and you'll end up paying more than just money if a hacker gets hold of your sensitive documents.
Bitdefender Antivirus Plus — Basic Plan (Windows Only)
Antivirus Plus includes all of the features offered by Bitdefender Free as well as:
Protection for 1, 3, 5, or 10 devices (with tiered pricing based on the number of devices)
Network threat prevention
Multi-layer ransomware protection
Vulnerability assessment
Rescue environment
Autopilot security advice
Game, movie, and work profiles
Battery mode
VPN (200MB daily data allowance)
Anti-tracker
SafePay browser
Wi-Fi security advisor
Social network protection
Password manager
File shredder
Antispam
All customer service support options
I find Bitdefender's Antivirus Plus plan is a decent option if you already have a reliable firewall and don't need parental control features. However, I don't recommend it — at $29.99, it's about the same price as Bitdefender Internet Security and missing additional features.
Bitdefender Internet Security — Decent Protection (Windows Only)
If you only need to protect Windows devices, Bitdefender's Internet Security is an affordable choice (especially for a couple or small family). This plans includes all of the Antivirus Plus features, plus:
Protection for 1, 3, 5, or 10 devices (with tiered pricing based on the number of devices)
Microphone and webcam protection
Parental control
Firewall
The addition of a firewall is a critical improvement over the Antivirus Plus plan, which I think makes it worth the slight cost difference.
Bitdefender Total Security — Best Value for Money
Total Security is the plan I signed up for and the one I recommend. This plan includes all of the Internet Security features in addition to:
Protection for 5 or 10 devices (with tiered pricing based on the number of devices)
Compatibility with Windows, macOS, Android, and iOS
OneClick Optimizer
Anti-Theft
It's the best Bitdefender subscription for Mac users and those who want to protect their computers and their mobile devices simultaneously. The anti-theft tools are also great for recovering a stolen device or protecting your data by remotely wiping it out if you can't recover it.
Bitdefender Premium Security — Ultimate Antivirus Package With VPN
Bitdefender Premium Security is the best choice if you want an unlimited VPN for added security and lightning-fast customer support. You'll have access to all of Total Security's features plus:
Protection for 10 devices
Unlimited VPN traffic
Priority support
Premium Security is the most comprehensive plan, but it also comes with the highest yearly subscription cost. However, you can get a significant discount (up to 55%) for the first year to fully test the service and see if it's the right choice for you.
30-Day Free Trial — No Upfront Payment Required
You can use a 30-day free trial of any of Bitdefender's plans to try it yourself before committing to a subscription. You only need your email address to register (no credit card information is required).
After you've been able to create an account, go back to Central, click "Try Bitdefender", choose which device you'd like to protect, and then click "Me" on the final screen. Save and run the installer and you'll begin your trial period.