Server Network — Modest-Sized But Powerful
PrivateVPN has a network of over 200 servers in 63+ countries — far smaller than most top-grade providers. While it isn't a huge network, the list is always getting longer — I discovered dozens of new servers that were added throughout the year. I also found that the list in the server menu didn't always provide 200 individual options, so I reached out to support. The agent told me that some locations have several servers, but the app automatically picks the fastest one in the location you select.
There are two server menu tabs — "All Servers" and "Dedicated IP." It's great to have both options, as dedicated IPs allow you to connect with a unique IP address each time. You don't have to share these IPs with other users on these 10GB servers — they're exclusive to you for every connection. Not only does this make it really hard for streaming sites to identify these servers as VPNs and block them, but using new IPs every time makes it almost impossible to track you online. Having no other users on the same IP helps these servers stay super-fast as well — so whether you're gaming, streaming, video chatting, or just want the security of a unique IP, I recommend using them.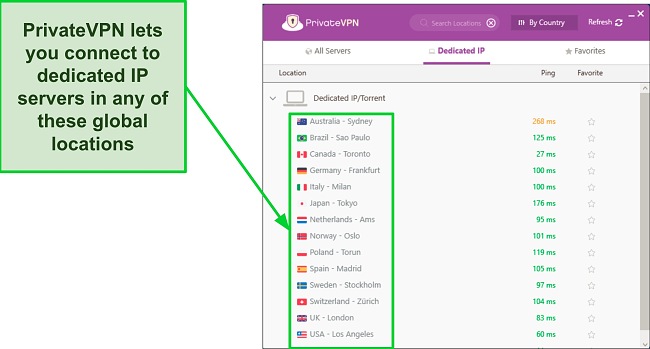 Better yet, PrivateVPN owns and operates these dedicated IP servers themselves. This boosts your security and privacy because it means you don't have to trust a third-party server company to adhere to PrivateVPN's strict safety practices.
Since PrivateVPN has a much smaller network than top-grade providers like ExpressVPN, I was afraid that the server I picked would become crowded. Overcrowding slows speeds down, as multiple users are forced to share increasingly limited bandwidth. To my surprise, I never experienced speed drops caused by overcrowding while connected to PrivateVPN.
A high number of servers in a given region offers greater flexibility if you want to mask your location, as you have more options to keep third parties off your tracks. That's why I'm still glad PrivateVPN is always adding more servers to its small network.
If you'd rather use a VPN with thousands of server options, I found plenty of lightning-fast server locations when I tested ExpressVPN. Its network is much broader (with over 3000 servers) and can access more of the major streaming sites, like Disney+. You can also try streaming Disney+ with ExpressVPN's optimized servers without risking your money, as every subscription is backed by a 30-day money-back guarantee.
I had no problems browsing .Onion sites on the Tor browser with PrivateVPN. While Tor already uses encryption to hide data, adding VPN protection makes you safer from threats that are unique to the Dark Web. Just connect to a PrivateVPN server, open the Tor browser, and navigate to your chosen URL.
Although the Onion network is already slow due to its encryption and small, volunteer-only infrastructure, I didn't notice further slowdowns while connected to PrivateVPN. Despite PrivateVPN's good performance with Tor, there's no way to access Tor directly from your regular browser. Other VPNs make it easier. For example, you can visit Onion sites on the Dark Web with ExpressVPN without downloading any extra software.
All of PrivateVPN's servers support torrenting on P2P clients, like BitTorrent. There's even a guide to downloading torrents on PrivateVPN's website. It was definitely helpful to get some extra tips and tricks to increase my speeds and security, such as port forwarding.
I used the Dedicated IP server in New York and torrented Bruce Lee: The Legend, and despite being over 2GB, the download only took 10 minutes with 5-7 peers seeding. Usually, you need more peers sharing bits of the file for speeds that fast, but PrivateVPN's speedy network made up for the lack of peers.
I wouldn't torrent on some of the servers in countries with bad privacy laws (like Hong Kong or the US). Instead, connect to countries with privacy-friendly laws like Sweden (recommended by PrivateVPN), Switzerland, Romania, or Poland for that added peace of mind that your data will stay private. Dedicated IP servers in these locations are ideal, since they use unique IPs that are harder for third parties to track. Since all the Dedicated IP servers have ports open by default, they're also all pre-optimized for fast torrent downloads. Just remember not to use VPNs to violate copyright with torrent sites. Even if you own the file, it isn't necessarily legal to share it.
You can optimize your PrivateVPN connection for torrenting (and increase speeds) with extra configuration. After you connect to a server, you need to find its port number in the settings menu. Then, enter this number under "Port used for incoming connections" in your torrent's connection settings. This ensures that data can flow freely between you and other P2P users. Even without this extra step, PrivateVPN works with torrent clients reliably and downloads files fast.
I did find a concerning clause in PrivateVPN's privacy policy saying it will share your data with authorities if ordered by courts. However, its no-logs policy means that none of your torrenting activities are ever recorded, so there should be nothing to share in the first place. Since even accidental downloads of copyrighted content are illegal, I'm glad that PrivateVPN's logging policy lives up to its name. You should never torrent copyrighted material even with a VPN, but I feel safe torrenting with PrivateVPN, since even an accidental violation could lead to legal problems.
Torrent safely with PrivateVPN
Other than ExpressVPN and Astrill VPN, PrivateVPN is the only provider that can bypass internet filters in mainland China. To get past China's firewalls with PrivateVPN, you need to turn on the obfuscation feature. This makes your traffic look like normal web traffic instead of coming from a VPN. To do this, activate the Stealth VPN setting in the Advanced View tab, and you're ready to browse the open web in China. PrivateVPN has several servers that are physically close to China — like those in Hong Kong, Taiwan, and Tokyo — so you needn't worry about slowing down your network too much.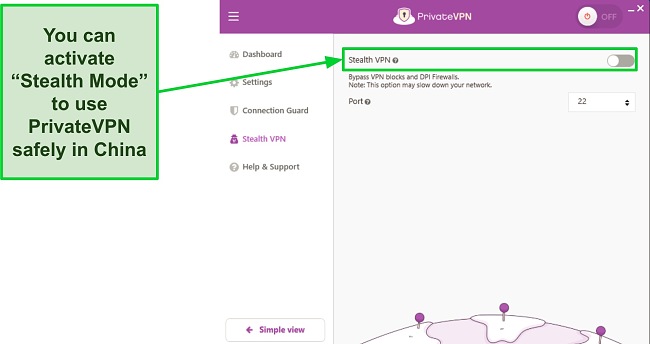 PrivateVPN's obfuscation function uses an encrypted Shadowsocks proxy to trick the Chinese government's internet filters. However, it isn't the most dependable form of obfuscation because Shadowsocks proxies can be easily blocked. That's why I still prefer a more powerful provider like ExpressVPN, which uses a proprietary obfuscation technology to access the open web in China reliably and anonymously.
If you want to try PrivateVPN in China, be sure to install it when you're still at home, as the website is blocked in that country. Also, check the law before you go — while the Chinese government isn't known to go after VPN users, it's still illegal to bypass censorship.
Encryption — Keeps Your Data Safe With Military-Grade Protection
PrivateVPN uses the military-grade AES 256-bit cipher, as well as SHA256 and 2,048-bit RSA keys for authentication. These are some of the most advanced encryption systems available — PrivateVPN makes it nearly impossible for hackers to decrypt your communications by brute force. It gets very technical, but you can learn more about encryption here to find out how PrivateVPN's technology really works.
VPN Protocols — Choose From a Range of Industry-Leading Tunnels
I was delighted to find PrivateVPN defaults to the OpenVPN with UDP protocol — it's known for speed, security, and broad compatibility. The full selection of tunneling protocols is:
OpenVPN over TCP is a bit more reliable than OpenVPN UDP — it works with more websites. If a website doesn't load while you're connected to OpenVPN TCP, switch to UDP and see if it fixes it.
L2TP/IPsec are usually combined, because L2TP doesn't offer trong encryption on its own. It has better security than PPTP (an older protocol) but slower speeds than OpenVPN. This is a popular protocol for iOS devices due to its compatibility.
PPTP is a much older, mostly obsolete protocol that is still occasionally useful if you want to connect on an outdated operating system or mobile device. It's fast but has lackluster security, so it isn't recommended for risky online activities. For low-risk activities that demand high speeds (like streaming), it's worth trying it out if you have performance issues.
IKEv2 is popular on iOS and Android mobile devices, as it's designed to maintain your VPN connection seamlessly even as the device switches between cellular and Wifi data. This challenge is unique to mobile phones, so IKEv2 developed to meet that need.
Leak Protection — Protected Me from DNS, WebRTC, and IPv6 Leaks
PrivateVPN successfully protected my real IP address when I tested it for common types of leaks. Even with powerful encryption, certain types of data leaks can still occur and reveal your true IP address and location. Smaller VPNs don't protect well against these types of leaks, potentially revealing who you really are to website administrators and other third parties.
My first test was for DNS leaks, which happen when a DNS request goes to your internet provider instead of through your VPN. When I ran the test, it found a server near my real location instead of the PrivateVPN server in Sweden I had connected to. This led me to think my DNS queries weren't being routed through the VPN server. However, chat support quickly figured out the problem for me. I had to disable DNS over HTTPS in my Firefox network settings, which he showed me how to do via a link to an easy-to-follow guide. This setting is meant to protect the privacy of Firefox users who don't use a VPN, and leaving it on while connected to PrivateVPN can skew DNS test results.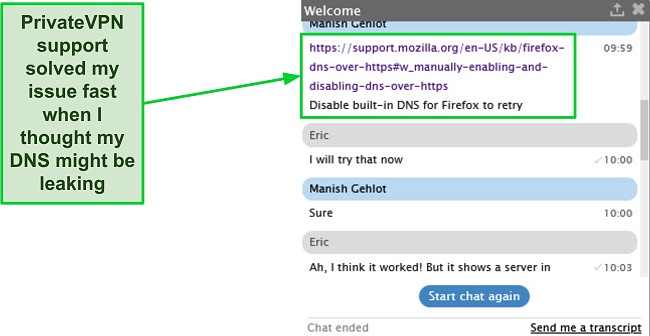 I re-ran the test, and this time, my real location stayed hidden. However, I thought it was odd that the leak test revealed a server in Germany instead of Sweden (where I had connected).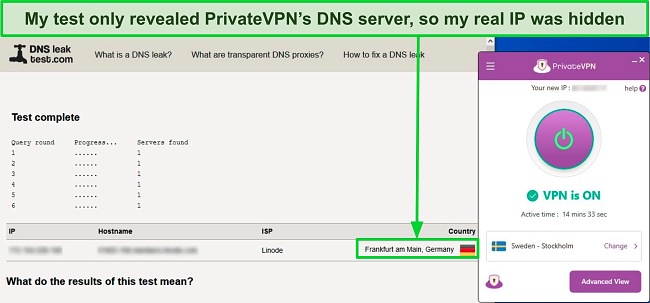 Support explained that this is because PrivateVPN's Western European servers channel your DNS requests through a relay server in Germany, and that this was normal. The agent assured me that the server I was connected to was a physical server in Sweden, and not a "virtual server." This is ideal, as virtual servers aren't actually located in the countries where they claim to be. Conveniently, PrivateVPN's server list indicates which of its locations are virtual.
I was also relieved to see PrivateVPN's IPv6 leak protection works perfectly, which is critical for masking my IP address. Your ISP very likely uses IPv6 — short for Internet Protocol version 6 — which is the latest version of the Internet Protocol that's gradually replacing IPv4. With IPv6 enabled on your device, your data can sometimes leak to your ISP or other third parties when you use a VPN — that's because most VPNs still don't support IPv6. I ran an IPv6 leak test while connected to PrivateVPN's server in Frankfurt, and the results confirmed that my IP address was never compromised.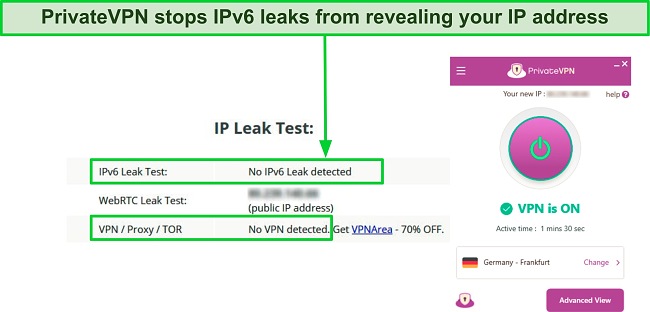 In addition to DNS, IPv6, and standard IP leaks, I tested for WebRTC leaks. WebRTC is a protocol built into most web browsers (including Chrome and Firefox) to enable real-time communications, like video chat. WebRTC transmissions are often broadcast outside the encrypted VPN tunnel, causing IP address and location leaks. That's why I was pleasantly surprised that PrivateVPN passed every single WebRTC leak test I ran on my Windows desktop, Android, or iOS. This result shows that PrivateVPN really does keep my data private and my online activities anonymous.
Kill Switch — Protected My Privacy When I Lost My Connection
An internet kill switch is an essential security function for a VPN. If you experience an unexpected server crash, power outage, your computer goes to sleep, or you accidentally disconnect from a server, your IP address and location can be revealed in a split second. PrivateVPN's kill switch worked perfectly, activating when my PC went to sleep so that my data would never be revealed during a moment when the VPN wasn't connected.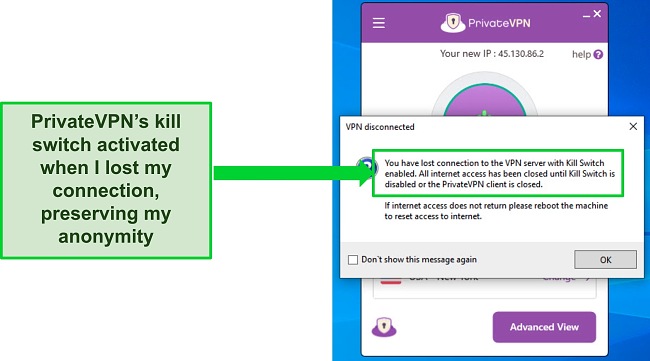 There's also an "Application Guard" feature, which allows you to apply the kill switch only to specific apps. This is helpful if you use multiple apps simultaneously, and don't need all of them protected by the VPN.
Split Tunneling — No Way to Exclude Apps and Sites From the VPN Connection
I was surprised that PrivateVPN lacks a split tunnelling feature, as it's common among almost all premium VPNs. For example, ExpressVPN's split tunnelling exempts selected apps from the VPN connection, and is particularly useful if you have devices that you control over your WiFi, such as a wireless printer. You can also ensure access to your country's content while you're connected to a VPN server in another country to perform a sensitive task like torrenting.
Ad and Malware Blocker — No Extra Ad Blocking
PrivateVPN has many useful security features, but an ad and malware blocker is not among them. For this, you'll have to consider slightly pricier VPNs, such as CyberGhost. It has integrated malware protection that automatically scans every URL your device tries to communicate with, and cross-references it with a database of over 3.5 million malware sites. During my tests, CyberGhost automatically blocked malicious URLs and protected my devices.
No-Logs Policy — PrivateVPN Vows to Never Log Any Data
PrivateVPN's privacy policy is clear: it never logs any of your data, such as, who you are, the sites you visit, when or how long you connect for, or any other information. While no VPNs have the liberty of completely refusing to cooperate with authorities, ones that take your privacy seriously simply have no logs to disclose to begin with.

Company Jurisdiction — Based in Privacy-Friendly (But Imperfect) Sweden
PrivateVPN's parent company is Privat Kommunikation Sverige AB, based in Sollentuna (about 12 miles outside Stockholm). Sweden exempts VPNs from data collection laws, which gives it a reputation for being a better place than most Western countries for VPNs to set up. However, the country is still part of the Fourteen Eyes Alliance. This is a data-sharing arrangement between Sweden and other governments that involves collecting data on internet users. The good news is that zero-logs VPNs like PrivateVPN can keep your data safe from these intrusive international agreements. That's because they never record any of your activities or other personally identifiable information.
Independent Audits — No Third-Party Security Audit
The only problem with PrivateVPN's security and privacy is that it has never undergone a third-party audit. These audits, done by objective cybersecurity firms, demonstrate that a VPN's security practices, data management, and server infrastructure keep your data private and safe.
Some of the best VPNs on the market have undergone these audits, so you don't have to believe their security and privacy claims blindly. But since these audits cost money, a lot of smaller providers don't take the initiative. If you prefer a VPN with a verified zero-logs policy, try ExpressVPN — its security practices were proven in a real-life incident involving a raid on its servers by Turkish authorities. Because of ExpressVPN's zero-logging practices, the police couldn't find any user data on the server they seized.