Visit PrivateVPN Website!
PrivateVPN

Review 2023: Cheap, Safe, & Great for Streaming!
PrivateVPN Overview 2023
PrivateVPN vows it "unlocks anything and protects everything" for a low price, but I tend to be skeptical of such bold claims. To cut through the hype and see how it measures up, I spent a few weeks running detailed tests.
It turns out that PrivateVPN does live up to its claims. Its servers easily unblock Netflix and other popular streaming sites. PrivateVPN even works in countries with severe censorship, like China!
While the suite of security features may not match those offered by industry leaders like ExpressVPN, you can still ensure your online safety with essential features such as military-grade encryption, a kill switch, and protection against DNS and IP leaks.
If you want first-hand experience, you can try PrivateVPN risk-free with its money-back guarantee. You have 30 days to ask for a full refund. After testing it for 3 weeks, I asked for a refund with the money-back guarantee and I got 100% of my money in 5 business days.
In a Rush? Here's a 1-Minute Summary
PrivateVPN Unblocks Netflix, Disney+, Amazon Prime Video, Hulu, HBO Max, and BBC iPlayer
As a TV and movie junkie, I was glad to find that PrivateVPN delivered fully on its "unblock anything" tagline during my tests.
Although PrivateVPN no longer has a "Streamed Services" tab with specialized servers, its "Dedicated IP" servers consistently accessed the most popular streaming services. These are dynamic addresses that aren't shared with other users.
To guarantee a reliable way of accessing streaming sites, our servers create a new IP address each time you connect. If, by chance, I encountered any difficulty in finding a working server on my own, PrivateVPN's 24/7 support team was readily available to assist me in the right direction.
Netflix: Unblocked
PrivateVPN accessed Netflix libraries in the US and other countries I tested with my team abroad. The company's website has a full menu of countries PrivateVPN works with Netflix in, and my team and I used almost every server on the list. However, there were some discrepancies — for example, there's no longer a Helsinki server in Finland. My teammate there used the only Finland location she found (Espoo), and was able to log into Netflix with no issues. Other colleagues even accessed Netflix in some countries (like the Czech Republic) that weren't on the list at all.
You may notice minimal buffering if you access Netflix using a distant server. I found the network speed decreased the farther I got from my location in Virginia (which is normal for VPNs). I connected to a server in Los Angeles and only got speeds of 22Mbps. However, this was still fast enough for HD streaming — I got up to 10 seconds of buffering, but once my show started I didn't have any further interruptions. PrivateVPN's Miami server was the fastest during my tests, giving me 45Mbps — more than enough to stream Stranger Things on Netflix in 4K.
Disney+: Unblocked
Using the main PrivateVPN server menu, I couldn't find an option that worked with Disney+. I asked support for help and they told me to use the New York server in the Dedicated IP menu. Sure enough, it worked with Disney+ instantly. I logged into my paid account and watched all the Star Wars I wanted without having to deal with buffering interruptions.
Other Dedicated IP servers (including locations in Germany, Italy, Canada, the UK, and Australia) also work great with Disney+, meaning PrivateVPN can access all of the Disney+ libraries worldwide.
Amazon Prime Video: Unblocked
PrivateVPN is able to instantly access Amazon Prime Video in Australia and parts of Europe, including Germany, France, Italy, Spain, and Switzerland.
For other countries, if the standard servers don't work, Dedicated IP options such as those in the US, UK, Canada, Japan, and elsewhere will let you watch The Boys with no lag, even in HD.
Hulu: Unblocked
I had no problems logging into Hulu with any of PrivateVPN's servers in the US. I was able to load Palm Springs in just 3 seconds, and it didn't buffer once during the entire film. Even better, I got to watch in HD and didn't miss one moment of Andy Samberg's antics.
Since PrivateVPN's speeds can drop off significantly over long distances, I recommend trying the US server that's closest to you geographically when possible.
HBO Max: Unblocked
Most PrivateVPN servers throughout Latin America can access HBO Max right away. After having less success with standard servers in the US, I tested options from PrivateVPN's Dedicated IP tab. Dedicated IP servers in New York and Los Angeles worked with no problems.
While occasionally my show or movie would start out pixelated, this only lasted 2-3 seconds before it would change to HD quality.
BBC iPlayer: Unblocked
With servers in London and Manchester, PrivateVPN easily accesses BBC iPlayer content like Peaky Blinders and lets you stream comfortably with no lag, buffering, or image issues.
Is PrivateVPN Fast? (Yes)
PrivateVPN is really fast, but you'll get better speeds from a top competitor like ExpressVPN or CyberGhost. The most impressive thing I found was that PrivateVPN's speeds stayed high even when I connected to servers on the other side of the world. Faraway servers usually make it difficult to live-stream, watch 4K movies, or play online games due to higher ping. Fortunately, my download speeds were almost as fast in Tokyo as they were in Atlanta, despite servers having higher ping.
Speed Test Results
I got similar speeds on PrivateVPN's standard and dedicated IP servers. I first ran a benchmark speed test without any VPN connection and saw that my baseline download speed was 188Mbps. With a baseline download speed of 188Mbps, I connected to the New York server (near my real location) and saw my speeds reduced to 82Mbps.
Although a reduction of 66% might appear significant, it provides ample speed for activities like streaming in 4K, engaging in HD video conversations, and participating in bandwidth-intensive tasks. Moreover, it surpasses my previous test results from 6 months ago, where I achieved 68Mbps on the identical server.
However, if your network speed is already slow, ExpressVPN offers more consistent speeds across its global network — even on faraway servers.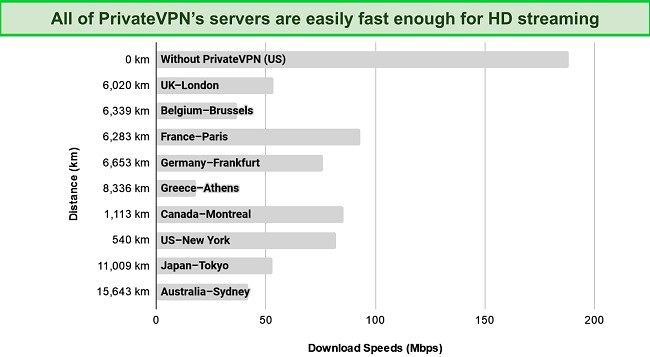 I was impressed that whether I connected to servers in the US, the UK, or Japan, my speeds generally stayed in the same solid range of 50-90+Mbps. Despite the 45-75% reduction from my baseline of 188Mbps, my ability to stream in HD or play multiplayer games wasn't affected. However, if your usual speeds are 50Mpbs or slower, most PrivateVPN servers can affect your performance significantly.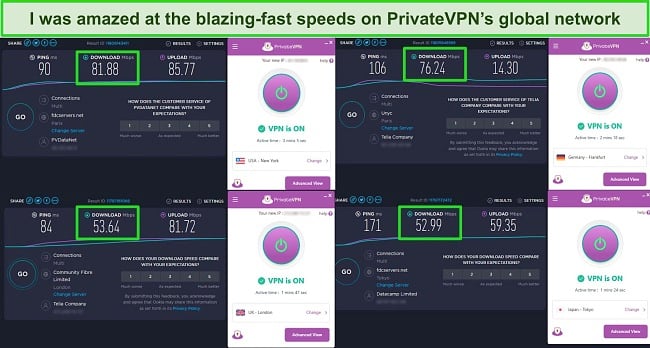 Gaming Speed
I never missed a headshot due to lag on PrivateVPN's gaming servers. To test their limits, I connected to a distant location in Brisbane, Australia, and launched Counter-Strike: Global Offensive. Even at only 19Mbps, the game stayed smooth without any stuttering or choppiness that would have gotten me fragged. Thanks to PrivateVPN's fast and robust network, it was easy to find servers with low ping so I didn't encounter annoying lag while playing.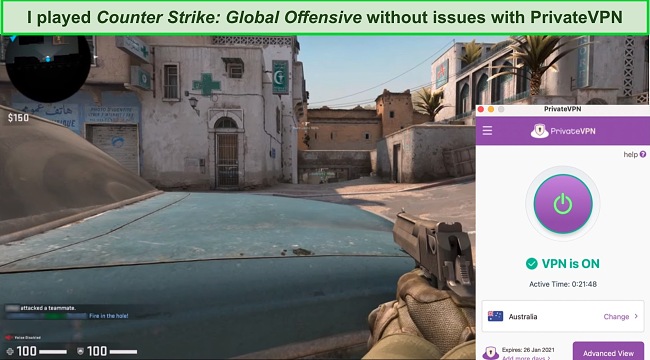 I also liked that I could play online games like Call of Duty: Warzone with PrivateVPN without the risk of throttling. ISPs throttle — or artificially reduce — network speeds when users consume too much bandwidth, and gamers are frequently targeted. My DNS leak test revealed that PrivateVPN successfully hid my gaming activities, bypassing any potential speed throttling.
Why Most Speed Tests are Pointless & How We Correctly Test VPN Speeds
Speed determines how fast content uploads, so if you're torrenting or streaming, you want the speed to be somewhat identical to your regular internet speed. Since a VPN encrypts your data, it usually takes a bit longer to send your data back and forth, which can slow down your connection. However, if your ISP deliberately slows down your connection (also known as throttling) a VPN might increase your internet speed. Testing a VPN is somewhat pointless because new servers pop up and affect speed. Your speed can also differ according to your location, so your speed test might not match ours. Having said that, we tested the speed in numerous locations to provide you with the average.
Server Network
PrivateVPN's network has over 200 servers in 63+ countries — far smaller than most top-grade VPNs. While it isn't a huge network, the list is always getting longer — I discovered dozens of new servers that were added throughout the course of the year. I also found that the server menu list didn't always provide 200 individual options, so I reached out to support. The agent told me that some locations have several servers, but the app automatically picks the fastest one in your selected location.
There are two server menu tabs, "All Servers" and "Dedicated IP." It's great to have both options, as dedicated IPs allow you to connect with a unique IP address each time. Not only does this make it hard for streaming sites to identify these servers as VPN traffic, but using new IPs every time makes it almost impossible to track online. Having no other users on the same IP helps these servers stay super-fast — so whether you're gaming, streaming, video chatting, or just want the security of a unique IP, I recommend using them whenever possible.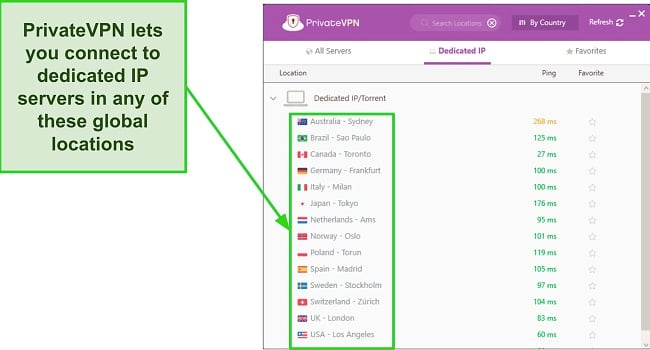 Better yet, PrivateVPN owns and operates all its dedicated IP servers. This boosts your security and privacy because it means you don't have to trust a third-party server company to adhere to PrivateVPN's strict safety practices. The only downside is that PrivateVPN has hardly any information within the app or online about the benefits of using dedicated IP servers. They're a great addition, so it's a shame the company doesn't do more to help beginners understand how to use them.
With a much smaller network than some of the top VPN providers, I was afraid that PrivateVPN's servers would be congested. Overcrowding slows speeds down, as multiple users are forced to share increasingly limited bandwidth. To my surprise, I never experienced speed drops caused by overcrowding while connected to PrivateVPN. A high ratio of servers per location offers greater flexibility if you want to mask your location, so I'm glad PrivateVPN is always adding more servers to its network.
If you'd rather use a VPN with thousands of server options, I found plenty of lightning-fast server locations when I tested ExpressVPN. Its network is much broader (over 3,000 servers in 94+ countries) and can access more major streaming sites. You can also try ExpressVPN's optimized servers without risking your money, as every subscription is backed by a 30-day money-back guarantee.
Tor Support
I had no problems browsing Onion sites on the Tor browser with PrivateVPN. While Tor already uses encryption to hide data, adding VPN protection makes you safer from Dark Web threats. Just connect to a server, open the Tor browser, and navigate to your chosen URL.
Although the Onion network is already slow due to its encryption and small, volunteer-run infrastructure, I didn't notice further slowdowns while connected to PrivateVPN. Despite its good performance with Tor, other VPNs have "Onion over VPN" servers that let you access Onion sites using typical web browsers. For example, you can try ExpressVPN to visit Onion sites without downloading any extra software — just use your ordinary web browser to access the Dark Web.
Is PrivateVPN Good for Torrenting? (Yes)
All of PrivateVPN's servers support torrenting on P2P clients, like BitTorrent. There's even a guide to downloading torrents on PrivateVPN's website, with useful tips to increase your speed and security.
I used the Dedicated IP server in New York to download a 2GB file and was impressed that it only took 10 minutes with 5-7 peers seeding. Usually you need more peers sharing bits of the file for speeds that fast, but PrivateVPN's speedy network picked up the slack.
That said, I wouldn't torrent on PrivateVPN's servers in countries with bad privacy laws (like Hong Kong or the US). Instead, connect to privacy-friendly countries like Sweden (recommended by PrivateVPN), Switzerland, Romania, or Poland for additional peace of mind that your data will stay private. Dedicated IP servers in these locations are ideal, since they're harder for third parties to track. Since all the Dedicated IP servers have ports open by default, they're pre-optimized for fast torrent downloads. Just remember not to use VPNs to violate copyright with torrent sites. Even if you own the file, it isn't necessarily legal to share it.
I did find a concerning clause in PrivateVPN's privacy policy stating it will share your data with authorities if given a court order. However, its no-logs policy means that none of your torrenting activities are ever recorded, so there would be nothing to share. Since even accidental downloads of copyrighted content are illegal, I'm glad that PrivateVPN is backed by a no-logs policy. You should never torrent copyrighted material even with a VPN, but I feel safe with PrivateVPN since even an accidental violation could make you legally liable.
Does Private VPN Work in China? (Yes)
In addition to ExpressVPN and Astrill VPN, PrivateVPN is one of the few top VPNs that work in China and other restrictive countries. By turning on obfuscation (Stealth VPN), PrivateVPN has several servers that are close to mainland China — like those in Hong Kong, Taiwan, and Tokyo — so you needn't worry about slowing down your network too much.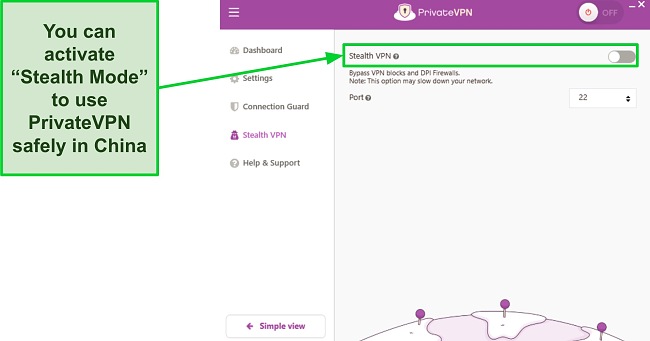 Stealth VPN uses an encrypted Shadowsocks proxy, but it isn't the most dependable form of obfuscation because Shadowsocks can be easily blocked. That's why I still prefer a more powerful provider like ExpressVPN, which uses a proprietary obfuscation technology to access the open web in China reliably and anonymously.
Just be sure to install PrivateVPN when you're still at home, as the VPN website is blocked in China. Also, check the law before you go — while the Chinese government isn't known to go after VPN users, VPNs not approved by the government are illegal in China and I don't condone breaking the law.
Security
Military-Grade Encryption
Top-grade encryption protocols are essential for hiding your sensitive data from cybercriminals and spying governments. PrivateVPN uses the military-grade AES 256-bit cipher, as well as SHA256 and 2,048-bit RSA keys for authentication. These are some of the most advanced encryption systems available — PrivateVPN makes it nearly impossible for hackers to decrypt your communications by brute force.
VPN Protocols
PrivateVPN defaults to OpenVPN with UDP protocol — it's known for speed, security, and broad compatibility. The full selection of tunneling protocols is:
OpenVPN over TCP is more reliable than OpenVPN UDP and works with more websites. If a website doesn't load while connected to OpenVPN TCP, try switching to UDP.
L2TP/IPsec are usually combined because L2TP doesn't offer strong encryption on its own. It has better security than PPTP (an older protocol) but slower speeds than OpenVPN. This is a popular protocol for iOS devices due to its compatibility.
PPTP is an older, mostly obsolete protocol that is still occasionally useful if you want to connect on an outdated operating system or mobile device. It's fast but has lackluster security, so it isn't recommended for risky online activities. However, it's a good fit for low-risk activities that demand high speeds (like streaming).
IKEv2 is popular on iOS and Android mobile devices, as it's designed to maintain your VPN connection seamlessly even as the device switches between cellular and WiFi data. This challenge is unique to mobile phones, so IKEv2 was developed to meet this need.
Leak Protection — Protected Me From DNS, WebRTC, and IPv6 Leaks
PrivateVPN successfully protected my real IP address when I tested it for common leak types. Even with powerful encryption, data leaks can still occur. Smaller VPNs don't protect well against these types of leaks, potentially revealing who you really are to website administrators and other third parties.
My first test was for DNS leaks, which happen when a data request goes to your internet provider instead of through your VPN. When I ran the test, it found a server near my real location instead of the PrivateVPN server in Sweden I had connected to. After some trial and error, I figured out the issue was caused by my Firefox network settings. Firefox's DNS over HTTPS setting protects user privacy but can skew DNS test results while you're connected to a VPN.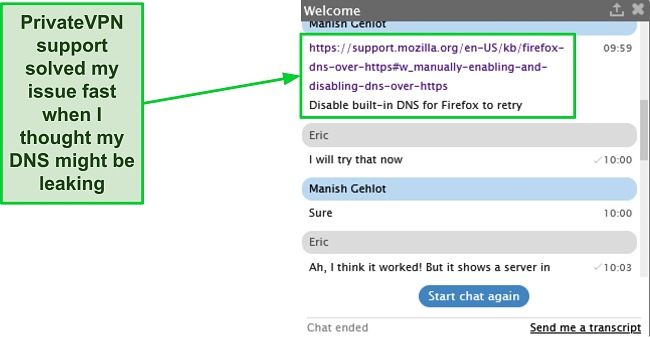 After disabling the Firefox setting, I re-ran the test and my real location was successfully hidden. However, I did think it was odd that the leak test revealed a server in Germany instead of Sweden (where I had connected).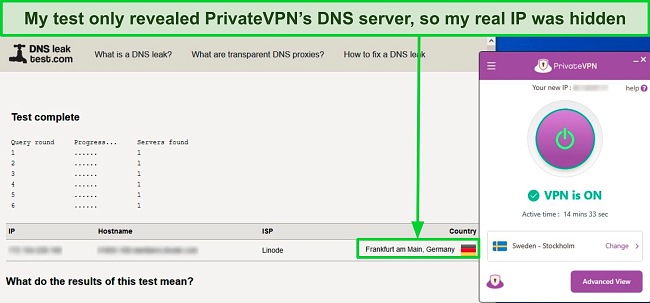 Support explained that this is because PrivateVPN's Western European servers route DNS requests through a relay server located in Germany. The agent assured me that I was connected to a physical server in Sweden, not a virtual server. Conveniently, PrivateVPN's server list indicates which of its locations are virtual.
While this was reassuring, it does come with privacy concerns. As an alternative, ExpressVPN offers private DNS on all of its servers, ensuring your DNS requests are never shared with third-parties.
I was also relieved to see that PrivateVPN's IPv6 leak protection works perfectly, which is critical for masking your IP address. With IPv6 enabled, your data can sometimes leak to your ISP or other third parties when you use a VPN because most VPNs still don't support IPv6. I ran an IPv6 leak test while connected to PrivateVPN's server in Frankfurt, and the results confirmed that my IP address was never compromised.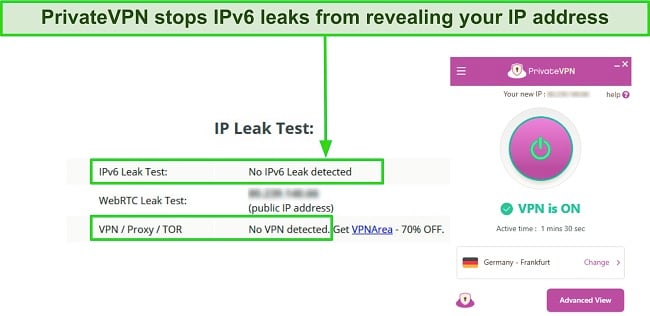 In addition to DNS, IPv6, and standard IP leaks, I tested for WebRTC leaks as well. WebRTC transmissions are often broadcast outside the encrypted VPN tunnel, causing IP address and location leaks. That's why I was pleasantly surprised that PrivateVPN passed every single WebRTC leak test I ran on my Windows desktop, Android, or iOS. This result shows that PrivateVPN really does keep my data private and my online activities anonymous.
Kill Switch — Protects Privacy During Lost Connections
A kill switch is an essential VPN security function. If you experience an unexpected server crash, power outage, or accidental server disconnection, your IP address and location can be revealed in a split second. PrivateVPN's kill switch worked perfectly, activating when my PC went to sleep so that my data would never be revealed during a moment when the VPN wasn't connected.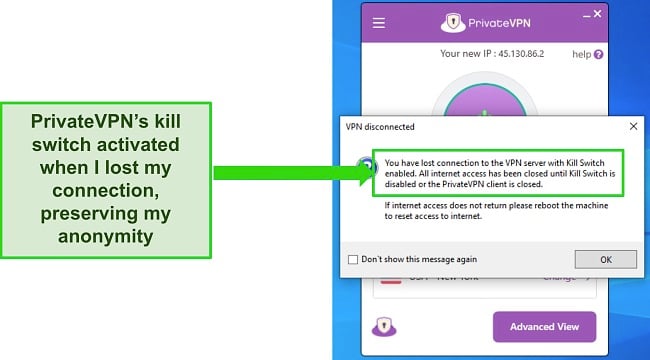 There's also an "Application Guard" feature, which allows you to apply the kill switch to specific apps. This is helpful if you use multiple apps simultaneously, and don't need all of them protected by the VPN.
Split Tunneling — No Way to Exclude Apps and Sites From the VPN Connection
After discovering the Application Guard, I was surprised that PrivateVPN lacks split tunneling. Split tunneling is a common feature that allows users to exempt certain apps from the VPN connection and is useful if you have devices controlled over WiFi, such as a wireless printer. You can also ensure access to local content while connected to a VPN server in another country.
To exclude certain apps from your VPN connection with a split tunnel, you'll need to use the whitelister in another service like ExpressVPN. This allows you to completely customize which programs connect through the VPN tunnel so you can torrent, check the weather, and use your online bank all at once without VPN interference.
No Ad or Malware Blocker
PrivateVPN has many useful security features, but unfortunately it doesn't have built-in malware and ad-blocking. For this, you'll have to look to slightly pricier VPNs such as CyberGhost. During my tests, CyberGhost automatically blocked malicious URLs and protected my devices. Plus it has a huge, regularly-updated database of malware threats.
Privacy Features
No-Logs Policy — PrivateVPN Vows to Never Log Any Data
PrivateVPN's privacy policy is clear: it never logs any of your data, such as who you are, the sites you visit, when or how long you connect for, or any other information. While no VPNs have the liberty of completely refusing to cooperate with authorities, ones that take your privacy seriously simply have no logs to disclose to begin with.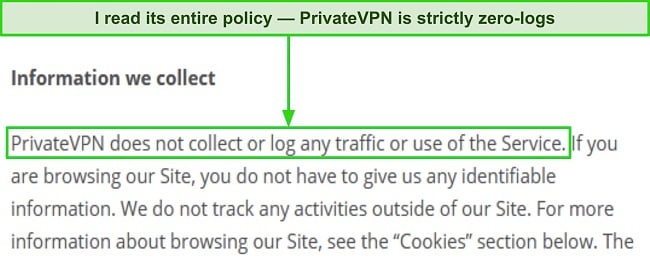 Company Jurisdiction — Based in Privacy-Friendly (But Imperfect) Sweden
PrivateVPN's parent company is Privat Kommunikation Sverige AB, based in Sollentuna, Sweden. Sweden exempts VPNs from data collection laws, which makes it more VPN-friendly than most Western countries. However, it is still part of the Fourteen Eyes Alliance — a data-sharing arrangement between Sweden and other governments that involves collecting data on internet users. The good news is that zero-logs VPNs like PrivateVPN's zero-logs policy keeps your data safe from intrusive international agreements.
Independent Audits — No Third-Party Security Audit
Unfortunately, PrivateVPN has never undergone a third-party audit. Independent audits conducted by cybersecurity firms demonstrate whether a VPN's security practices, data management, and server infrastructure keep your data private and safe.
A few of the top VPNs have undergone such audits but since these audits cost money, a lot of smaller providers don't take the initiative. If you prefer a service with a completely proven zero-logs policy, try ExpressVPN — its security practices were proven in a real-life incident involving a raid on its servers by Turkish authorities. Due to ExpressVPN's logging practices, the police couldn't find any user data.
Server Locations
Argentina
Australia
Austria
Belgium
Brazil
Bulgaria
Canada
Chile
Colombia
Costa Rica
Croatia
Cyprus
Czech Republic
Denmark
Egypt
See all supported locations...
User Experience
- 9.0
/ 10
All of PrivateVPN's apps were generally reliable during my tests — but there were times when I couldn't connect to some of the "Dedicated IP" servers. I eventually fixed it by using the "Install/Repair Windows TAP Adapter" option in the menus but unfortunately, the same issue happened the next day. This time, repairing TAP drivers didn't work. Support said I just had to wait a few hours for these servers to come back online. They returned after about 2 hours, which wasn't convenient.
Other than the rare connection troubles, I never encountered glitches in the apps themselves. While I found accessing the settings menu in the Windows and Mac apps slightly clunky at first, I got used to it.
Simultaneous Device Connections — Works Well on Up to 10 Devices
You can have up to 10 simultaneous device connections on a single PrivateVPN license, with no noticeable performance dips. Most VPNs start to lag and slow down when you connect a bunch of devices at once, but that wasn't the case with PrivateVPN. I used 2 Windows PCs, 2 Android phones, a Mac, and an iPhone to connect to a nearby server and had no problem watching Netflix on all 6 devices. Aside from a few seconds of buffering, I didn't notice any reduction in my speeds.
In the unlikely event unlimited devices aren't enough, I found a couple providers that have unlimited connections. IPVanish has no limit on devices and performed well during my streaming tests. However, PrivateVPN's unlimited device limit was plenty to fit my needs.
Device Compatibility — Apps for Common Devices and Routers
Desktops and Laptops — Broad Compatibility and Easy Installation
PrivateVPN is one of the best VPNs for Windows platforms, but it also has native apps for macOS 10.11 and up, Chrome OS, and Linux (Ubuntu or Debian distributions). There are handy setup guides for each device type online, including multiple Linux guides.
Both the Windows and macOS apps are almost identical in style and layout. That consistency is a plus, but I wasn't crazy about PrivateVPN's Basic and Advanced View layouts. Basic View is just a big button to connect or select a server, while Advanced essentially just opens the settings menu. It would have made more sense to have a clearly-defined "Settings" button or something similar on the home screen.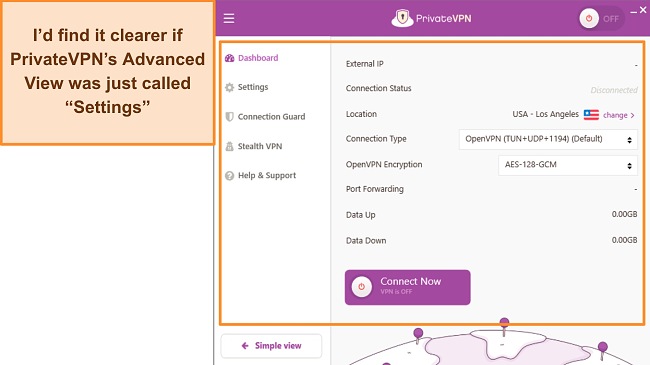 There are also little question marks next to settings that you can hover over for an explanation of what each setting does, but most of these weren't helpful. For example, under "Port" it says "Select the port you would like to connect to," which doesn't help me if I don't know what the purpose of different ports is. Other explanations were more helpful, like the one for Stealth VPN, but I wish all the explanations were more descriptive.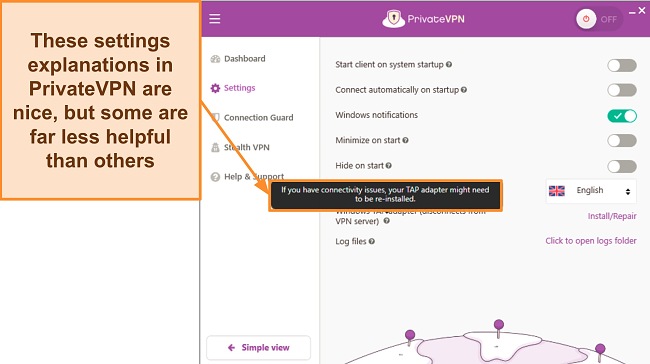 The only difference between PrivateVPN's Windows and macOS apps was that Windows has DNS leak protection and Application Guard features, which aren't available on Mac (though the Mac version still passes DNS leak tests). In addition to solid security, all PrivateVPN desktop apps gave me reliably smooth TV streams, lag-free FPS games, and speedy torrent downloads.
Phones and Tablets — Similar Apps With Plenty of Features
PrivateVPN supports iOS and Android-based devices, as well as Blackberry.
The iOS and Android apps are nearly identical, with mostly the same layouts and lots of options. It's easy to connect with one tap using the big button on the home screen. Instead of "Advanced View" like on the desktop apps, there is a button labeled "VPN Settings" that serves the same purpose. Within this menu, you can change VPN tunneling protocols, choose a different encryption level, activate Stealth mode for getting around censorship, and more.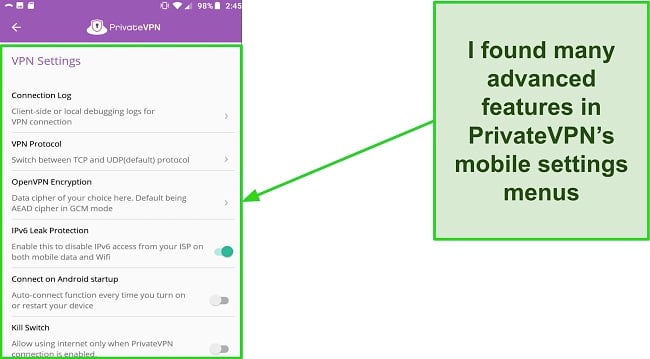 The one big difference is there's no kill switch in the iOS app. There's also no IPv6 protection option, but my tests didn't find any data leaks. Lastly, only iOS offers IKEv2/IPSec protocols, which are slightly faster than the OpenVPN protocol used on Android. Other small differences (like not being able to start the iOS VPN on startup) are negligible, but could have an effect on usability if you prefer having the same features across multiple apps.
Despite inconsistent features, I appreciated that both PrivateVPN's iOS and Android apps are very customizable. For example, lowering your encryption from 256-bit to 128-bit when you're streaming or gaming can increase your speeds when the extra security isn't necessary. I'd still stick to 256-bit encryption for activities where privacy is key, such as torrenting or bypassing government censorship.
As far as which mobile version is superior, there are trade-offs between each. Privacy is the most important factor for me, so I like having the kill switch on Android. However, if you want the same level of security for your iPhone or iPad, CyberGhost offers a kill switch on its iOS app.
Video Players — Easy to Install but Quirky Apps
You can use PrivateVPN on Amazon Fire TV Stick, Chromecast, and Kodi. I found a native app in the Amazon app store but if you can't find it, the Getting Started page has documents walking you through installation on all of these devices.
Just keep in mind that there's no kill switch on the native Fire TV Stick app, which could put your privacy at risk if you use Kodi or similar apps. It's also ported directly from Android, which I noticed made the layout and navigation quite clunky. However, my streaming experience on Fire TV Stick was lag-free with minimal initial buffering.
Unfortunately, PrivateVPN doesn't offer Smart DNS. Having a non-encrypted proxy server is helpful for accessing streaming sites and other geo-restricted websites. so I hope PrivateVPN adds one in the future. As an alternative, ExpressVPN offers Smart DNS through its Media Streamer feature, making it one of the best VPNs for smart TVs and other devices that lack a dedicated VPN app.
Routers — Technical Installation, but Protects All Your Devices
On PrivateVPN's website, I found setup guides for the following compatible routers — AsusRT, Synology, DD-WRT, Tomato, Linksys, QNAP, and pfSense.
Router installation allows you to protect any device connected to your internet without installing the VPN on each one individually. For example, PrivateVPN doesn't have native apps for Apple TV, Playstation, or Xbox, but you can still protect these devices through router installation. While it's a technical process that can damage your equipment if you don't know what you're doing, router installation is really useful if you need to protect devices that aren't compatible.
Con: No Browser Extensions
There isn't a PrivateVPN extension for Chrome, Firefox, Safari, Edge, or other browsers.
If having a browser extension is important for you, ExpressVPN has a native extension for Firefox, Chrome, Brave, Microsoft Edge, and Vivaldi that fully encrypts your traffic. At $2.00 per month, It costs more than PrivateVPN but conveniently packs your VPN directly into the browser itself to make you anonymous online. If you want to try ExpressVPN's browser extension, all plans are backed up by a 30-day refund policy so you can buy it in confidence.
Ease of Setup & Installation — PrivateVPN is Easy to Set Up and Use
You'll have no problems getting PrivateVPN installed on Windows, macOS, iOS, or Android. It's easy and only takes a few minutes for most platforms. Router and Linux setup is more difficult, but this is true for all VPNs because of the technical process involved with these platforms.
Signing up for PrivateVPN's Android free trial was also easy — it took me less than 5 minutes. All I had to do was provide my email, create a password, and confirm the email link that arrived in 20 seconds. Although PrivateVPN issued a trial code during registration, I didn't have to use it — all I needed were my login credentials.
Even if you use the trial you can get a subscription to try PrivateVPN risk-free for almost a full month using its 30-day money-back guarantee. Just keep in mind that the guarantee is valid for all platforms, but the trial is Android-only and won't work elsewhere.
PrivateVPN gave me effective and friendly support, with prompt replies via email and live chat. While you can reach out to PrivateVPN through its social media accounts on Twitter and Facebook, the company uses these primarily to promote its blog posts rather than answer questions. I sent a few Twitter DMs with support questions just to see if an agent would reply, but never heard back.
24/7 Live Chat — Fast and Helpful Answers
Whenever I used PrivateVPN's live chat, I always got a response within 3 minutes or less. Replies were thorough and helpful but if your question is beyond the scope of what agents can help with, you'll be referred to a manager via email. These replies can take up to 24 hours, but almost all my issues about servers, streaming, Stealth Mode, and other features were solvable by regular agents.
Since the 24/7 support team is based in different time zones all around the world, even at odd hours there was someone available to answer my questions. You can even get a transcript of the chat emailed to you once it's over.
When I discovered PrivateVPN's live chat is sourced through a third party called LiveAgent, I wanted to find out if I could trust my interactions to stay private. LiveAgent's privacy policy states all chats are encrypted and it doesn't share any information with other parties. It also says all data is stored in a facility secured with multiple perimeter access points, 24/7 guards, CCTV video, biometric access, alarms, and other measures. However, since LiveAgent personnel can work remotely, there are lots more opportunities for security slip-ups.
I'd prefer that live chat data not get stored on a server, but doing so makes it easier for users of LiveAgent to assess and improve their support services. Concerningly, I had to enter my email address to get help, which could potentially connect my real identity to my online activities based on the support questions I ask. It's not a major concern if you're just doing things like web browsing and streaming, since the VPN is zero-logs.
However, if you're a torrenter, warzone journalist, or someone else who needs 100% ironclad privacy, you may be concerned about getting support from a third-party provider. To stay as anonymous as possible, always contact the VPN using a dummy email address and opt for a service like ExpressVPN that employs its own internal support team.
Email Support — Answers are Fast, Polite, and Helpful
PrivateVPN promises to respond to emails within 24 hours, but I had a reply to my question about unblocking Disney+ in just 15 minutes! The longest I ever had to wait for an email was 1.5 hours, when I asked a question on a Friday night. That's still pretty fast, and if you're desperate for a quicker reply you can just use live chat instead. Starting a live chat automatically sends you an email with a link allowing you to review the conversation.
Online Resources and FAQs — Brief Online FAQ and Setup Guide
While PrivateVPN does have an online FAQ, I could only find answers to basic questions. There are also setup guides for different devices, including Linux and routers, but no extensive knowledge base like some other providers (such as ExpressVPN) have.
Remote Assistance — A Unique and Helpful Support Bonus
Remote assistance is a unique way to get help from PrivateVPN, as I haven't seen this feature offered by any other VPN. I had to download and install a free third-party app called TeamViewer (which took 2 minutes), then shared my remote access username and password with a 24/7 chat agent.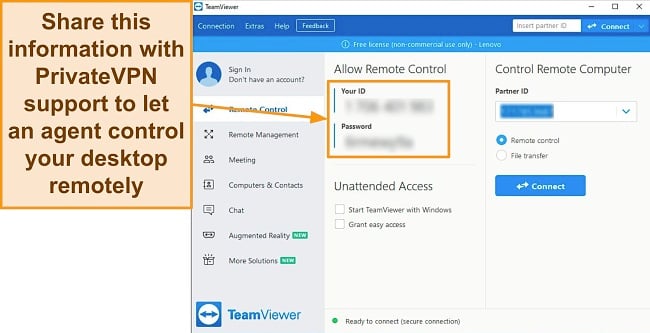 The agent can then control your desktop. You can have support demonstrate PrivateVPN features and functions in real-time, or even install the VPN for you. I could then take back control when I was satisfied by moving my own mouse to close the TeamViewer box that appears in the corner. This can be a helpful tool if you're a visual learner like myself, but I'd recommend only using this support option if you absolutely need to — allowing remote access to your devices always comes with some level of risk.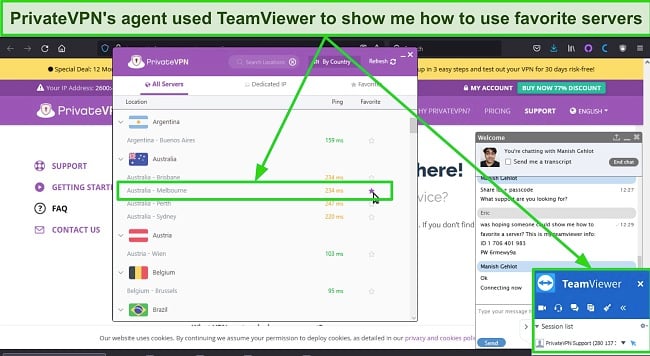 How We Test Customer Support and Why Should You Care
We personally test the customer support team of every VPN we review. This means asking technical question through the live chat feature (where applicable) and measuring the response time for email questions. Whether you need to connect to a specific server, change your security protocol, or configure a VPN on your router, finding a VPN with quality customer support should be important to you.
PrivateVPN lets you pick from 3 subscription plans and offers a 30-day money-back guarantee on all its paid plans. You can also access a 7-day free trial on Android, which gives you the full version with no feature restrictions and doesn't require you to enter a payment method. Plus, the refund policy is still valid on paid plans even if you use the trial first.
I found all 3 subscription options far more economical than what most premium VPNs charge. You can choose to pay monthly, quarterly, or every 3-year years, with the most substantial discount for the latter option. This works out to $2.00 per month — a 85% discount!
If you'd prefer to use a monthly VPN plan, PrivateVPN's 1-month price is only a bit cheaper than ExpressVPN or CyberGhost but you can still make use of the 30-day money-back guarantee if you change your mind.
Payment Methods — Allows Anonymous Bitcoin Payments
You can pay for your PrivateVPN subscription with credit, debit, PayPal, or Bitcoin. I love that bitcoin payment is an option, as it shows that PrivateVPN really cares about letting you use its service anonymously. Just sign up with a dummy email account, pay with bitcoin, and no one (not even a credit card processing company) will even know you subscribed to a VPN.
PayPal is a nice option as well, as it doesn't require your payment data to be sent or stored anywhere other than on PayPal's servers. It's also faster than entering your credit card information every time you buy anything.
Money-Back Guarantee — Legitimate Guarantee With Easy Refund Process
Like most of its contenders, PrivateVPN offers a money-back guarantee with all its paid plans. With this policy, you can try PrivateVPN's features without commitment for 30 days, and easily get your money back if you're not satisfied. You just have to give a reason.
To see whether the guarantee actually works, I reached out to a live agent over chat. The process was smooth and stress-free. The agent asked why I was canceling, and I told him that I changed my mind. He confirmed my refund, and I had my money back 5 business days later.
PrivateVPN offers the following plans
Final Verdict
PrivateVPN is great for watching Netflix and other streaming sites, and a solid pick for lag-free games with its lightning-fast speeds. The zero logs policy, must-have security features, and data leak protection gives me the confidence that I can stay safe doing sensitive activities like torrenting, banking, or accessing restricted content from countries with strict censorship.
The main drawback is PrivateVPN's small server network — for increased global coverage, I recommend you use a provider like ExpressVPN that offers a large network (3,000+ servers in more than 94 countries). Comparatively, PrivateVPN still gives you a solid VPN and great value for the cost. The best part is, with a 30-day money-back guarantee you can try PrivateVPN for yourself and get a refund if you don't like it.
FAQs About PrivateVPN
Is PrivateVPN a good choice for Netflix?
Yes,
PrivateVPN worked great with my paid Netflix account
. During my tests, PrivateVPN accessed Netflix libraries in every country I tested with my team abroad. I was impressed with its fast streaming speeds too — connecting to a server far away gave me only a few seconds of extra buffering. Despite this, every server I tested was fast enough to watch Netflix without lags or image quality issues.
Can I get PrivateVPN for free?
You can get a completely free 7-day Android trial of PrivateVPN to test its features risk-free. Like with most of the best free VPNs, all you need is a working email address to subscribe — I had my free trial up and running in less than 5 minutes.
All of the paid plans also come with a money-back guarantee even if you use the Android trial. That means you can test PrivateVPN for 7 days plus an additional 30 days, then get a full refund if you're not satisfied with the service. I tested the policy and was surprised with how fast and smooth the refund process was. It only took a few minutes, and I had my money back in only 5 business days.
Is PrivateVPN safe?
Yes, PrivateVPN has powerful encryption to keep you safe and anonymous whie browsing the web.
It offers a kill switch to protect your privacy even if you lose your connection and a zero-logs policy to keep your activities anonymous. It's also one of the few VPNs that work safely in China. While it hasn't had an independent security audit, it passed every data leak test I did and I personally verified that its kill switch really works.
We rank vendors based on rigorous testing and research, but also take into account your feedback and our commercial agreements with providers. This page contains affiliate links.