10 Best VPNs for iPhones in 2021 (Works on All iOS Devices)
Last Updated by Kate Hawkins on September 01, 2021
Despite Apple being one of the more secure operating systems, iOS software is not enough to defend you from cyberattacks. This is especially true if you're connecting to public WiFi. With hackers and advertisers all trying to gain access to your personal data, a VPN app for iOS is essential for online privacy and anonymity.
To save you time, I put together the top 10 VPNs for any iOS device. Based on my tests, ExpressVPN is the #1 VPN app for iPhone and iPad due to its fast speeds, strong security, and custom iOS app. It even works with streaming platforms like Netflix — without slowing down your browsing speed and other apps. Better still, you can try ExpressVPN on iOS for yourself. If you don't like the service (although I think you will), you can easily get a full refund within 30 days with the money-back guarantee policy.
Quick Guide: Best VPN Apps for iOS in 2021
Download the ExpressVPN iOS app!
The Best VPN Services for iPhone and iPad (Tested September 2021)
Key Features:
ExpressVPN is the top choice for iOS as its fast app won't cause any noticeable slowdown. I was particularly impressed with how fast ExpressVPN's servers were (even over long distances!). I had speeds of over 89 Mbps when I connected to servers in Japan and Australia from the UK. My standard speed is around 115Mbps, so this is a relatively small drop. These speeds make ExpressVPN a great choice for streaming and gaming on your iPhone or iPad — you won't experience annoying lag in the middle of a movie or match.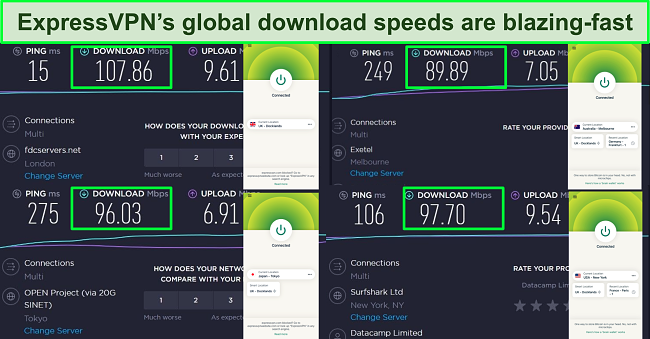 Every connection is secured by its powerful encryption and data leak protection. I ran multiple leak tests connected to global servers and found ExpressVPN kept my true location and activity hidden at all times.
This strong security is what makes ExpressVPN so good at accessing streaming sites. This is ideal if you regularly travel abroad and want to access your favorite apps back home. In my tests, I easily accessed my Netflix account while connected to ExpressVPN's servers. This security also meant I could download content to my iOS devices safely without exposing my location or activity to malicious third parties.
Another plus for ExpressVPN is its sleek iOS app. It just takes a single tap to connect to a fast server nearby. The app is automatically configured to the best security settings and protocols, so you don't have to manually set anything up. There's even an auto-reconnect feature that triggers if your internet connection is unexpectedly interrupted.
You can pay with credit card payments, bitcoin, PayPal, and even Apple Pay. Better still, it's completely risk-free to sign up and test the service for yourself. This is because ExpressVPN is backed by a 30-day money-back guarantee. If you don't feel it's right for you, it's easy to get a full refund. You won't even be asked for a cancellation reason — I confirmed this when I tested it myself. It took a minute to get my refund approved over 24/7 live chat and I had my money back in less than a week.
Download ExpressVPN for iPhone or iPad
Key Features:
CyberGhost's optimized servers are ideal for connecting to streaming services on your iOS devices. There are 49 different servers that are regularly tested to make sure they can access restricted sites. I put CyberGhost's Netflix UK server to the test and didn't get the proxy error message at all.
I found connecting to the optimized servers was easy on my iPhone XS as there's a menu just for "Streaming" servers. By tapping on the streaming service I wanted unblocked, CyberGhost connected to the dedicated server — it took less than 3 seconds and I could access the streaming service with no problems. CyberGhost has dedicated servers for platforms like Disney+ and Hulu, as well as less popular services like 6Play and Rai Play.
I ran multiple speed tests to see if the optimized servers were faster. CyberGhost's Netflix UK server gave me a speed of 106Mbps, fast enough to stream in UltraHD video quality with zero lag. The standard server was slightly slower at 103Mbps — which is still fast enough to stream without buffering, but unblocking the service isn't always guaranteed. If you're streaming on your iOS device with CyberGhost, I recommend connecting to an optimized server.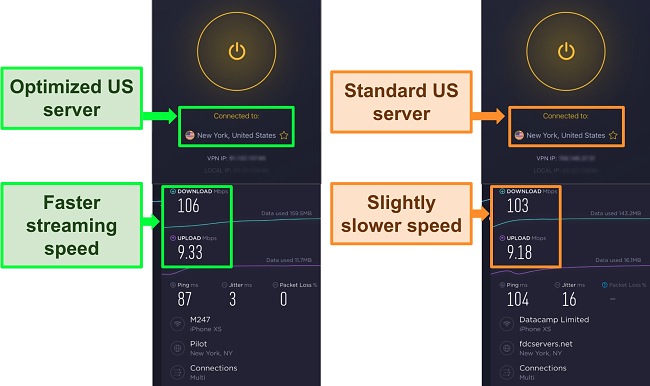 However, I didn't like that CyberGhost wouldn't let me switch servers while I was still connected. I had to disconnect, then choose a different server to reconnect. While this only took about 10 seconds (or a little longer if I was searching for a particular server), I would rather be able to browse the server menu while still connected.
To make sure that it's the right VPN for you, you can use CyberGhost's money-back guarantee to stream on your iOS devices risk-free for 45 days to test the service. It's easy to get a refund by contacting customer service through email or 24/7 live chat.
Download CyberGhost for iPhone or iPad
Key Features:
Private Internet Access (PIA) takes up little storage space on your iOS devices. The app is a tiny 61MB — I have more space for apps, photos, and downloads on my iPhone.
To ensure PIA encrypted my data I connected to a US server and ran a leak test. PIA secured my connection with no DNS or IP leaks at all. PIA also has military-grade encryption, a kill switch, and leak protection on its iOS apps. You can customize security settings if you're a more advanced VPN user. While I'd recommend the highest settings, it's useful to reduce encryption for a speed boost.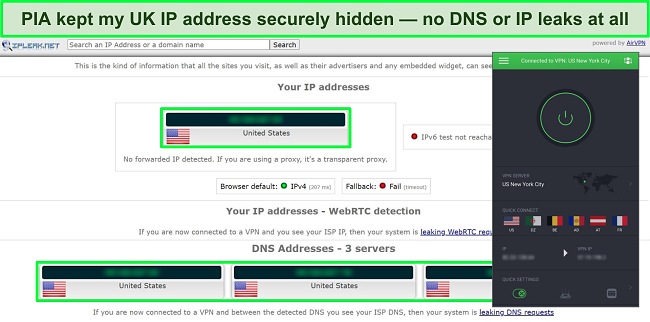 I also tested PIA's connection speeds for fast streaming with Netflix on my iPhone XS. I'm happy to report that I could stream Netflix on my iPhone with a few seconds of buffering. In tests, PIA's servers accessed Netflix US, Canada, Australia, and Japan in HD quality. While not every server was successful, it took less than 3 minutes to find a working connection.
However, what I really like is how well PIA integrates into Apple technology with its app. It has a widget available for iOS 14 and a haptic menu from which you can connect to a server or choose a region. There's even an ad blocker specifically for Safari. You can switch it on by tapping 'Safari Content Blockers' within the settings menu.
You can try Private Internet Access on iOS risk-free with its 30-day money-back guarantee. It's easy to request a full refund by emailing customer support if you decide it's not for you.
Download PIA for iPhone and iPad
Key Features:
HMA's IP Refresh feature allows you to quickly change your IP while you're securely connected on your iOS devices. I felt that this increased my overall security as I could change IPs at the push of a button.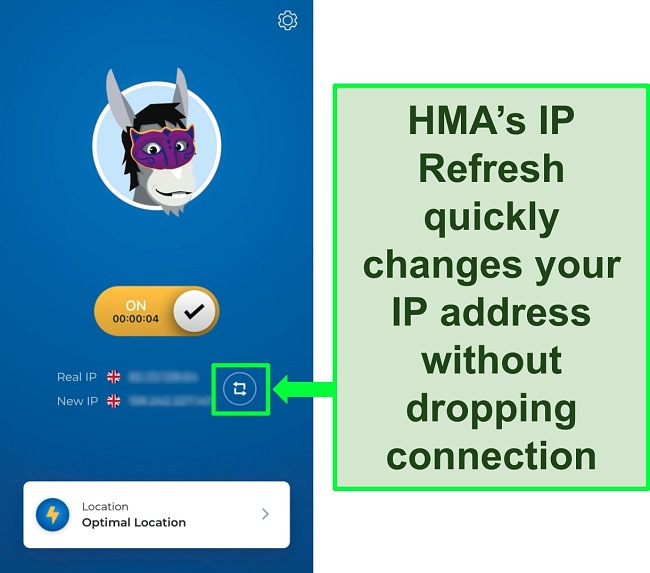 I thought that my connection may drop while HMA switched IP addresses, but was impressed to find it remained stable throughout. This meant that my traffic stayed secure at all times — I didn't have to worry about data leaks while using IP Shuffle, which is especially important when I connect my iOS devices to public WiFi.
However, I found it a bit tedious to manually refresh my IP address. I'd like to see HMA allow you to schedule an automatic refresh on iOS, as it does on its desktop apps.
I found HMA is consistently fast as my speed only dropped by 10% even when I used distant servers — which is great if you want to access your favorite apps while you're traveling abroad. HMA's servers are able to access Netflix libraries in the US, the UK, and Germany.
HMA provides top-tier encryption, advanced leak protection, and won't log any identifying data so you can be assured your connection is secure. Unfortunately, there's no kill switch or split tunneling, both of which would improve security. This does make HMA's iOS app more limited in comparison to other services like CyberGhost.
Considering its low cost, I'd recommend that you subscribe to HMA and test it risk-free on your own iOS devices. You have 30 days to get a full refund if you change your mind.
Download HMA on iPhone or iPad
Key Features:
IPVanish's iOS app is really easy to use — 1-click instantly connects you to the best available server. It also has shortcuts for Siri to make connecting even easier.
If you want to manually select a server, you can see precise locations to pick the best one. I like that IPVanish shows you server load (how full the server is) and the ping (how fast data travels from your device to the server). With this information I made sure I got the fastest connection every time.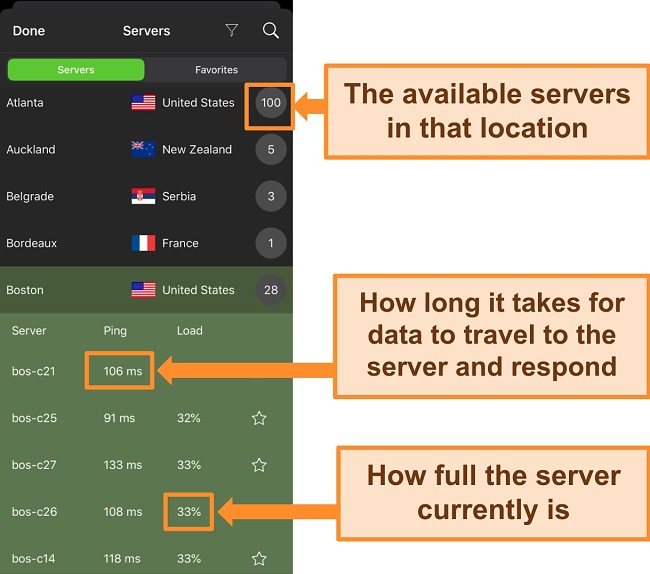 One of my favorite IPVanish iOS app features is its built-in customer support. If you have an issue, you don't have to exit the app and head to your browser for help. I used the feature to check troubleshooting guides and contact live chat support straight from the app. It was an easy and fast way to get the information I needed.
Unfortunately, my tests showed that IPVanish isn't a great option for streaming. While IPVanish's servers do work with Netflix and Disney+ in the US, it can't access other regions. Servers are also inconsistent when it comes to accessing Netflix US, and customer support frequently has to suggest working options. On the plus side, IPVanish's speeds averaged at 85Mbps on local servers which is fast enough for HD-quality streaming.
With military-grade encryption and leak protection, IPVanish is a secure and intuitive VPN for your iOS devices. You have the option to try IPVanish for 30 days risk-free with its money-back guarantee.
Download IPVanish for iPhone and iPad
Key Features:
PrivateVPN's Stealth VPN feature is one of the best for getting around content blocks and firewalls. This disguises your connection to look like regular traffic, which makes PrivateVPN one of the best VPNs for China and countries with strict internet regulations.
PrivateVPN has a network of 200 servers in 60 countries. Its impressive list of optimized streaming servers reliably access streaming services like Netflix. During testing, PrivateVPN's servers accessed Netflix in the US, the UK, Japan, and more.
It took less than 8 seconds for PrivateVPN to connect to a local server, and it accessed my country's Netflix library easily. On choosing a show, my video started streaming in HD with zero buffering. I ran a speed test and got a result of 69Mbps, which is slower than I would like, but more than enough to stream in HD without lag.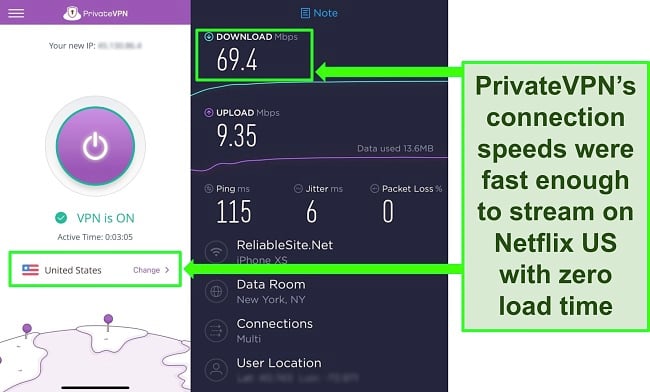 With such a small server network, I experienced some congestion at peak traffic times. It was hard to connect and my speeds could be sluggish at times, dropping to 30Mbps. It's worth considering this if your standard speeds are slow.
That being said, PrivateVPN has a 30-day money-back guarantee you can use to test its speeds before you commit to a subscription.
Download PrivateVPN on iPhone or iPad
Key Features:
VyprVPN's Public WiFi protection is a great way to protect your iOS devices while you're traveling. If you've ever left the house with your iPhone or iPad and forgotten to switch on your VPN, you're at risk when you connect to public or unknown WiFi. VyprVPN's feature automatically connects you to a server when a potentially unsafe network is detected. This means you get constant protection for your iOS device without even thinking about it.
WiFi Protection isn't on when you download the app, but VyprVPN's easy-to-navigate iOS app makes it quick to switch it on. Just click "Customize" and then toggle "Public WiFi Protection" on.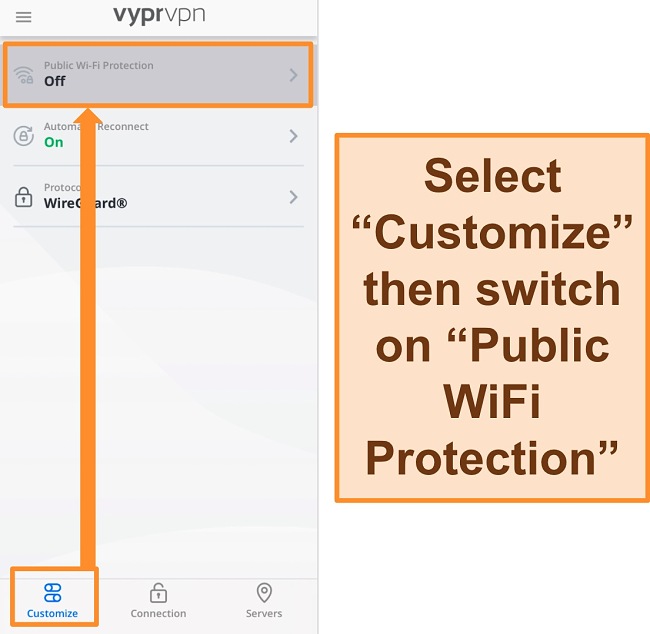 Overall, VyprVPN's security is top-notch. It provides the military-grade encryption and leak protection I expect from a premium VPN. Plus, its privacy policy has been independently audited so it's guaranteed to not save your data.
The downside is that VyprVPN suffers slow speeds over long distances. While its proprietary Chameleon protocol can access Netflix, I experienced a speed reduction of 60%. This could make a big difference if your existing speeds are slow.
As VyprVPN is one of the cheapest VPNs with public WiFi protection for iOS, it's worth testing for yourself if you travel around a lot. If you decide it isn't right for you, you can use VyprVPN's money-back guarantee to get a refund.
Download VyprVPN on iPhone or iPad
Key Features:
Hide.me is a basic iOS VPN with high-level security that protects your devices when you're traveling. Its military-grade encryption and leak protection stop your traffic and data from being seen when you're on public WiFi, securing you from potentially malicious actors. I ran multiple leak tests and my data was secure every time.
To further protect your iPhone and iPad, Hide.me also offers a kill switch on its iOS app. I found this useful for when my iPhone switched from my secure home network to public WiFi — I didn't have to worry about sudden data leaks, because Hide.me cut the connection when the VPN stopped.
I was impressed by Hide.me's speeds, which never dropped below 88Mbps during my tests. These fast speeds meant I could easily stream on Netflix with minimal buffering, as well as browsing, banking, and shopping online uninterrupted.
My issue with Hide.me is it's a pricier option but doesn't have the extra features — like an Apple-integrated interface — other iOS VPNs offer. However, it's still a secure VPN for your iPhone or iPad. To try it risk-free, Hide.me has a 30-day money-back guarantee you can use to make sure it's right for you.
Download Hide.me on iPhone or iPad
Key Features:
ZenMate has a range of optimized servers for iOS that connect you with your favorite streaming services. Like CyberGhost, ZenMate's dedicated servers are tested regularly to ensure they can access streaming sites like Netflix without errors. In tests, ZenMate's servers accessed multiple Netflix libraries, as well as Hulu, Amazon Prime Video, and Disney+.
Unfortunately, ZenMate's servers experience lag over long distances. The closest servers have the best speeds for both streaming and gaming. This means ZenMate isn't a great choice if you want to stream your home content while abroad.
Despite the lag, I was pleased with ZenMate's overall performance. Its military-grade encryption and one-touch server connection made securing my iOS devices easy. While it doesn't have haptic menus designed for iOS, ZenMate's VPN is still intuitive to use.
As a less expensive option, ZenMate is worth trying if you need tougher security. Plus, ZenMate is backed by a 30-day money-back guarantee so you can test the service before committing to a subscription.
Download ZenMate on iPhone or iPad
Key Features:
TunnelBear has paid and free plans available, but the free plan is where it really stands out. I was impressed by TunnelBear's fast download speeds even when I connected to distant servers (and the free plan gives you access to every server!). My average speed was 96Mbps, which is fast enough to browse, stream, and play mobile games on my iPhone without interruption.
I also like that TunnelBear's iOS app has a haptic menu from which I can connect the VPN and choose a server. This makes accessing the app and securing my iOS devices much quicker. TunnelBear also has an iOS 14 widget for easy connection monitoring.
With military-grade encryption, leak protection and regular independent audits confirming its zero-logs policy, TunnelBear offers top-tier security for your iOS data. There's no kill switch for the iOS app, but I didn't have connection issues.
Unfortunately, you're limited to 500MB per month. This isn't a lot — but it's enough to check your emails or casually browse the internet. Since TunnelBear doesn't offer a money-back guarantee on its paid plan, I suggest you try TunnelBear for free and decide if you want to upgrade later.
Quick Comparison Table: 2021's Best VPNs for iOS (iPhone and iPad)
Below is an overview of the top VPNs for iOS. To measure the speed decrease, I've used my base speed of 115Mbps to calculate the reduction.
Warning! Free iOS VPN Apps Have a Hidden Cost
You'll see hundreds of free VPNs on the App Store, but downloading them isn't worth the risk to your iOS devices. They have been known to sell your personal information to third-party advertisers, even if they claim to keep your activity anonymous. Many don't properly secure your connections, leaking your IP address and other data. Worse still, some free VPNs are loaded with malware designed to steal your data — which is a greater security risk than not using a VPN at all!
There are several free VPNs that have strong security and strict no-logging policies. However, they're limited in terms of data allowance, servers, and speeds. Most secure free VPNs cap your monthly data and throttle your speeds to encourage you to upgrade the service. These free VPNs usually restrict streaming access too — operating these servers is an expensive business, so connecting to premium sites is reserved for paying customers.
If you want a high-quality iOS VPN app, you can try CyberGhost for free for 45 days. Simply sign up for a plan and request a refund — you're eligible with the 45-day money-back guarantee. I've tested this myself and it works! I easily got a refund with no issues at all.
How I Tested and Ranked the Best iOS VPN App
There are hundreds of VPNs on the Apple App Store, making it difficult to know which is the best for your iOS device. I carefully checked the VPNs I tested against the following criteria to ensure they're secure, easy-to-use, and fully compatible with iOS.
Fast speeds and performance — I ran multiple speed tests to see which VPN apps caused minimal internet slowdown when streaming, browsing, and downloading files. I even checked how much battery drained when the VPN apps were simply running in the background.
Strong security and privacy features — The best VPNs have military-grade encryption, a strict no-logs policy, and either WireGuard or IKEv2 protocols. I also ensured they have DNS and IP leak protection to prevent your online activity from being revealed to any trackers.
Global server network — The VPNs on this list all have extensive server networks with locations available worldwide for all types of internet activities, including streaming, torrenting, and gaming.
Native app for Apple — Every VPN I shortlisted has a custom app for iPhone, iPad, iPod Touch, MacBook, iMac, Apple Watch, and more. Some even have Siri compatibility and haptic touch options (this is when you press and hold the app icon for quick access to server connections). The top iOS VPNs also work on Windows and Android, so you can use your VPN subscription on other operating systems.
Easy Guide: How to Set Up a VPN on Your iOS Device
Download ExpressVPN for iOS now
FAQ: iPhones, iPads, and VPNs
Is my iOS device really secure?
It depends. While secure from most malware, iOS devices are still vulnerable to third-party spying and hacking. Hackers are constantly finding new ways to breach iOS security, so you risk exposing your personal information if you're not protecting yourself. Fortunately, a VPN secures your iPhone or iPad by encrypting your internet traffic. This keeps your passwords, private photos, and messages safe from outside interference.
Which VPN is best for watching Netflix on my iPhone or iPad?
Based on my tests, ExpressVPN is the best iOS VPN for watching Netflix. Its servers can access Netflix libraries in the US, the UK, Japan, or elsewhere. Best of all, ExpressVPN's fast download speeds mean you can stream shows and movies in high quality. The VPN is backed by a 30-day money-back guarantee, so it's risk-free to get a refund if you're not completely satisfied.
Will using a VPN impact my iPhone's battery life?
Yes, just like any other app. However, a quality VPN app will be designed to operate in the background without significantly draining your iPhone's battery. In my tests, ExpressVPN had minimal impact on my iPhone and I didn't notice any difference when using other apps. My battery lasted even longer when I dimmed my screen's brightness and closed other background apps.
Which iOS VPN works in China?
The best iOS VPN for China is ExpressVPN. Its military-grade encryption and kill switch work together to keep your internet connection secure. You can access restricted sites like Google, Facebook, Instagram, WhatsApp, and YouTube with any privacy concerns. During tests, ExpressVPN proved to be the only VPN to consistently break through China's firewalls.
While you should exercise caution if you decide to use ExpressVPN within China, you likely won't be prosecuted for doing so. The common practice is that China fights VPNs by technologically blocking the services, and not by chasing after the people who use them.
Can I use a VPN on more than just my iOS devices?
Yes. If you're a big Apple fan, you can use any of the top VPNs to connect your iPhone, iPad, MacBook, and more. The best iOS apps — like ExpressVPN — are even compatible with Windows, Android, routers, game consoles, Linux, Chromebook, and browsers.
Does my iOS device come with a VPN?
There's no built-in VPN on iOS devices. However, you can manually add a VPN configuration in the Settings menu. This is a complex method that requires you to set up the VPN connection on your own, including the protocol and server. Personally, I find it easier and faster to choose a VPN with a dedicated iOS app. This option means that everything will be automatically set up and pre-configured for you.
Stay Safe Online With a VPN for Your iPhone and iPad
Your private iOS data is vulnerable to hackers and spies — but unfortunately, many VPNs on the App Store simply aren't good enough to protect you. I've run rigorous tests, and I can definitively say that ExpressVPN is the best choice for iPhone, iPad, and iPod Touch. ExpressVPN encrypts your data, so you can shop and bank online without accidentally leaking your credit card information. It even works with streaming sites like Netflix and Amazon Prime Video.
My advice is to download ExpressVPN onto your iOS device and test it out for yourself. You have 30 days to decide if it's right for you with the 30-day money-back guarantee. If you're not satisfied with the performance (although I find this unlikely), ExpressVPN has 24/7 customer support that you can contact at any time. When I tested the refund policy as part of my tests, it only took a few minutes to connect to a representative and I got my money back in 5 days.
---
Summary — Best VPNs for iPhone and iPad in 2021