10 Best VPNs for iPhones and iOS in 2023 (Cheap, Fast & Safe)
I travel a lot with my iPhone, so I'm always connecting to unsecured public WiFi networks in airports, cafes, AirBnBs, and malls. Hackers love to exploit weaknesses in public networks, but I stay safe using a VPN. Unfortunately, not all VPNs are equally effective at keeping me safe from hackers trying to steal my data on iOS.
Since most VPNs aren't advanced enough to work reliably, I tested 40+ VPNs to find the best ones for your iPhone, iPad, and iPod. ExpressVPN is the fastest, most secure VPN for iOS. It worked flawlessly with all streaming platforms and comes with a generous 30-day money-back guarantee. If you subscribe to ExpressVPN, you can get a full refund if you decide that it's not for you.
Quick Guide: Best VPN Apps for iOS in 2023
The Best VPNs for iPhones and iOS (Tested in 2023)
Key Features:
ExpressVPN's network of ultra-fast servers makes it the #1 VPN for secure streaming, gaming, browsing, FaceTime, and more on iOS devices. I got speeds over 330 Mbps during my tests of various ExpressVPN servers, which was only 11% slower than when I wasn't connected to VPN at all. Since you only need 25 Mbps for 4K video, I never experienced any issues while I used FaceTime with friends, had Zoom calls for work, played Minecraft, or watched videos in HD.
I travel a lot for work, so I often have to access sensitive data on my iPhone while connected to unsecured WiFi networks. I feel at ease knowing that ExpressVPN's 256-bit military-grade encryption hides my data — I was able to safely access my iPhone banking app safely while connected to a random free hotspot in the airport. There's even a built-in ExpressVPN Threat Manager that blocks malicious URLs and trackers that violate your privacy while you use iOS apps.
To check if ExpressVPN really conceals data like my actual IP address and location, I tested it for common types of data leaks. Every ExpressVPN server I tested for DNS, WebRTC, and IPv6 leaks successfully disguised my IP address. Since these leaks can occur in certain iOS apps even with encryption, it's essential that every VPN for iOS is able to prevent them.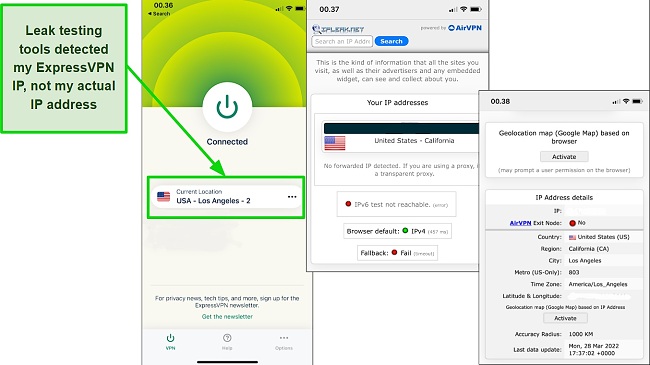 During streaming tests, ExpressVPN worked reliably with Netflix on iOS, unblocking both the Netflix app and website instantly. Stranger Things played in 4K along with content on HBO, Hulu, Amazon Prime Video US, Disney+, and BBC iPlayer on multiple ExpressVPN servers.
At $6.67 per month (for a 1-year + 3 months plan), ExpressVPN is slightly pricier than my other top VPNs for iOS. However, ExpressVPN is a great value for its ultra-fast servers and security and privacy bonuses like iOS Threat Manager. You can also get ExpressVPN for 49% off by taking advantage of one of its current deals.
Regardless of which plan you pick, ExpressVPN is backed by a 30-day money-back guarantee that lets you get a full refund easily. To make sure you can really subscribe to ExpressVPN for iOS worry-free, I tested the policy myself by asking for my money back via live chat. A customer support agent approved my request in seconds, and the money was back in my account in 2 days.
Key Features:
CyberGhost's optimized servers ensure that you get access to global streaming services and local TV channels lag-free on any iOS device. These servers make it easy to choose a server that works with most streaming services: in just a few taps, you can directly connect to servers that unblock Netflix, Hulu, HBO Max, Servus TV Austria, Globo TV Brazil, and dozens of other TV and movie apps.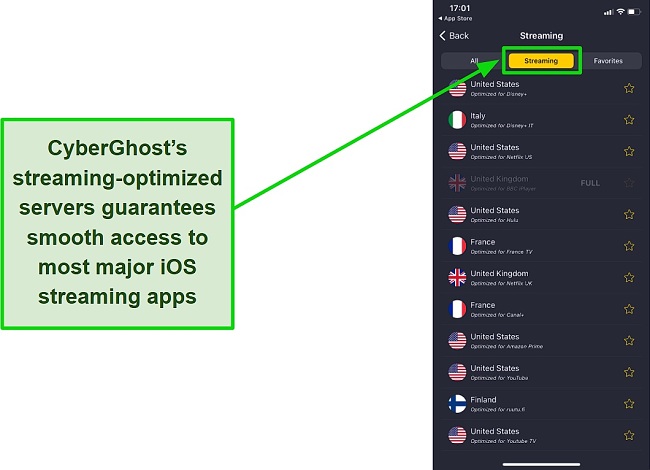 During my tests of CyberGhost's optimized streaming servers, I got average speeds of over 300 Mbps. This was way above Netflix's 15 Mbps minimum for 4K. Plus, my speeds were consistent no matter how far I was from any given server location. That means lag-free TV and movies even on channels that are located on the other side of the world. Non-streaming servers weren't quite as fast during my tests — but at 180 Mbps on average, they had no issues playing 4K videos on my iPhone and iPad.
On top of the essential security and privacy features you need from iOS VPNs like military-grade encryption, IP leak protection, and a kill switch, CyberGhost also offers NoSpy servers. Its NoSpy network is located in Romania, where the government doesn't participate in international intelligence-sharing alliances. Managed directly by CyberGhost, these servers give you another layer of privacy since you don't have to trust your data to third-party server providers.
Although it doesn't have as many advanced security features as ExpressVPN, it also costs a little less — you can get Cyberghost's 2-year + 4 months subscription for $2.03 per month. This plan also comes with a generous 45-day money-back guarantee.
That way you can try CyberGhost's iOS app for free. The 45-day money-back guarantee ensures that you get your money back if you decide it's not for you. I requested a refund via live chat after a few weeks of testing it, and I was approved in under a minute. The money was back in my account within 3 days.
Key Features:
PIA gives you access to the largest server network of any iOS VPN in the market today. The more servers and IP addresses a VPN has, the harder it is for services like Netflix to blacklist all their servers. This gives you a higher chance of finding a server that works with your chosen Netflix library.
During testing, my speeds stayed within the 285-192 Mbps range when I was connected to servers in the US and Europe. They decreased to 14 Mbps when I tested a server in Australia. However, even then PIA was fast enough to watch TV shows and movies in HD — the minimum speed for HD streaming on iOS is only 5-7 Mbps.
It's easy to try PIA's native iOS app, with 2-minute installation and an intuitive interface that makes it easy to connect instantly to the fastest server. You can also save locations on a "Favorite" list to easily connect to a server.
The VPN hides your iOS data using military-grade encryption and keeps zero logs of your app use, browsing history, or other activities. There's even an ad blocker designed specifically for Safari — switch it on by tapping 'Safari Content Blockers' in the settings.
The one real con I found to PIA for iOS is that it's based in the US, a member of the 5 Eyes Alliance, unlike ExpressVPN which is located in the privacy-friendly British Virgin Islands. This intelligence sharing deal keeps watch on internet users — but since PIA keeps zero logs of your activities, I'm not too concerned. And at $2.03 a month for a 2-year + 4 months plan, PIA is one of the best month-to-month VPNs and is a really affordable option for iOS.
You can even try PIA on iOS for free since its plans are backed by a 30-day money-back guarantee. I asked for a refund via 24/7 live chat support, and my request was approved in a few minutes. The money was in my bank account 4 days later.
Key Features:
NordVPN is one of the best VPNs on the market — and you can get super cheap prices when you sign up for a long-term subscription. One thing to note, however, is that when it's time to renew your subscription, prices do increase quite significantly.
I was particularly impressed with the high performance of every server I tested. Just because a VPN has thousands of servers doesn't mean they all work. Servers can still struggle to work — and some can even fail to connect completely. However, NordVPN's servers work with Netflix for smooth, buffer-free streaming.
I did, however, have issues with using NordVPN's native Fire TV app. Although it mostly worked with Netflix, it sometimes had issues and kept crashing. I also found that NordVPN's user interface for desktop devices was less user-friendly than ExpressVPN and CyberGhost.
NordVPN has the following security and privacy features:
AES 256-bit encryption
kill switch that cuts your internet access if your connection to a VPN server drops suddenly
built-in ad and malware blocker, so you don't need a third-party ad blocker
fully audited no-logs policy (audited by PwC) – NordVPN doesn't store any personal or identifying data while you're connected to the VPN
In addition, NordVPN includes Threat Protection that protects you from viruses, infected websites, and trackers – and it works whenever you have the NordVPN app open, even if you're not connected to a VPN server.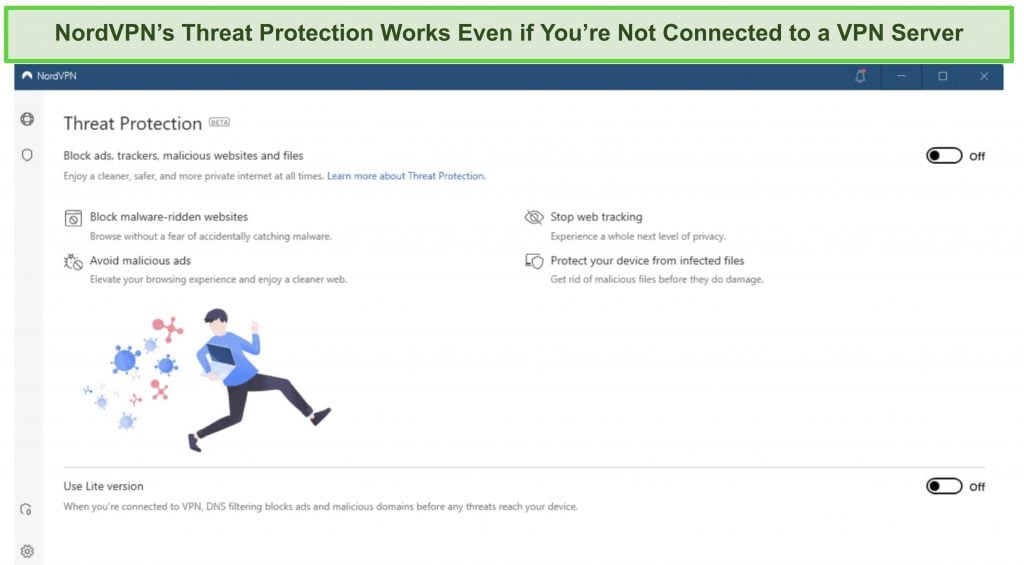 With plans that cost as little as $2.99 per month, it's easy to find a NordVPN subscription plan that suits your needs. You can also stream, torrent, and browse for free for up to 30 days with its money-back guarantee. I tested this to ensure that you'll really get your money back. At first, the support team tried to give me an extended trial period — but they initiated my refund right away after I told them I wasn't interested in the extension. I got my money back in 6 business days.
Key Features:
Surfshark offers the best value for money out of every premium VPN on the market. You can connect an unlimited number of devices with a single subscription, which means you can use Surfshark on all your devices without getting logged out.
I tested Surfshark's simultaneous connections on 2 PCs, 2 phones, a Fire Stick 4K, and an iPad. My connection remained reliable on all 6 devices. Even while I was actively streaming on all my devices, my average speed was 112 Mbps — fast enough for UHD quality.
When I saw the price of this service, I thought it couldn't possibly have top-grade security features for such a low price, but I was pleasantly surprised.
Surfshark has the following security and privacy features:
AES 256-bit encryption on all devices, with ChaCha encryption available for Android users
Wireguard VPN protocol enabled by default
diskless, RAM-only servers to protect your privacy (no data can be physically extracted from any servers)
kill switch (although this isn't enabled by default)
IP and DNS leak protection
Surfshark offers two-factor authentication (2FA) on your account. This feature requires you to enter an extra code before you can log in to ensure that only you can access your account.
While Surfshark does have slightly fewer global servers than rivals such as CyberGhost and PIA, I didn't experience any issues during my tests. I easily connected fast working servers every time, and I had excellent speeds for streaming, downloading torrents, and browsing the internet.
You can try Surfshark for yourself with the 30-day money-back guarantee. It has plans that cost as little as $1.99. Requesting a refund is easy with Surfshark's live chat feature. Although the support team asked why I wanted to cancel my subscription, I had no problem getting my money back (and it only took 4 days!).
Key Features:
PrivateVPN's StealthVPN protects your privacy by disguising your VPN use. This feature ensures that no third party can detect you're using a VPN on your iOS device.
Aside from Stealth VPN, PrivateVPN also includes effective security and privacy features for iOS. It uses military-grade encryption, a network kill switch, and IP leak protection, but it also has Perfect Forward Secrecy. This creates new encryption keys each time you connect, keeping you one step ahead of hackers on iOS.
Servers across PrivateVPN's network unblocked most major streaming platforms. During testing of its global server locations, my team confirmed it's one of the best VPNs to access various Netflix libraries, as well as Disney+, Amazon Prime Video, HBO Max, Hulu, BBC iPlayer, and other services.
PrivateVPN doesn't have as wide a server network as some other VPNs listed here, especially PIA. This can lead to certain websites blocking specific IP addresses. However, this doesn't worry me much since the VPN consistently adds new IP addresses to its network.
Plus, PrivateVPN is one of the cheapest China-friendly VPNs for iOS I tried at $2.00 a month for a 3-year plan. It's also risk-free to try PrivateVPN's iOS apps for yourself. All its plans are backed by a 30 money-back guarantee that I tested myself. After asking for a refund via live chat support, my request was confirmed and I had my money in under a week.
Key Features:
IPVanish is one of the only VPNs that let you connect unlimited iOS devices at once. Even when I connected to servers on 10 simultaneous iPhones and iPads and played games, ran apps, and watched HD YouTube videos, I barely noticed any slowdowns.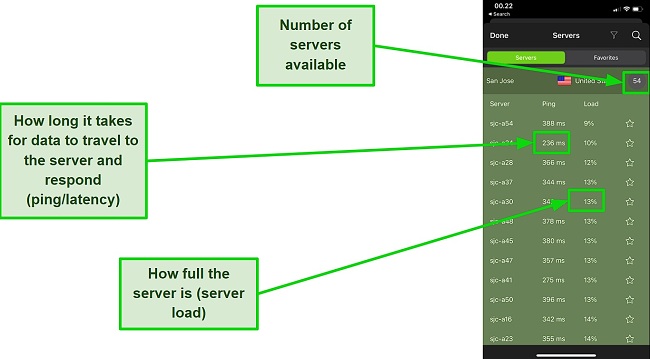 At 300+ Mbps, IPVanish's speeds on iOS were close to when I wasn't connected to a VPN at all. They also stayed consistent whether I was connected to a server 3,000 km or 7,000 km away. IPVanish's ping rates are also consistently low — this refers to how long it takes your iPhone or other device to communicate with the server.
Since it costs $2.49 a month for a 2-year + 3 months plan, IPVanish is pricier than some other VPNs on this list, but it's still a good value since it allows unlimited iOS connections. If you're looking for a VPN to protect all your devices at once, you can try IPVanish on iOS with no risk. Its 30-day money-back guarantee lets you enjoy it for a few weeks and request a full refund afterward.
I used the easily accessible 24/7 live chat option to ask for a refund. The customer support agent went the extra mile and offered an extra 2 months to encourage me to keep my subscription. I respectfully declined, and my refund was swiftly approved without any wait. In just a week, the money was successfully deposited back into my bank account.
Key Features:
Proton VPN's SecureCore feature protects you from network attacks on iOS by routing your data through multiple encrypted servers located in privacy-friendly jurisdictions. This makes it harder for any third parties to see your private information on iOS. There's also an ad, malware, and tracker blocker called NetShield that prevented malicious links from opening in emails and websites while I used Safari.
Streaming tests across Proton VPN's global network showed it can unblock Netflix, Hulu, BBC iPlayer, and HBO Max. Due to its impressive speeds between 200-300 Mbps, TV and movies played lag-free on iOS streaming apps in both HD and 4K mode. While the Basic plan doesn't include streaming support, Netflix and Hulu still worked during testing.
You can get Proton VPN for $3.99 per month if you choose 2-year + 6 months Plus plan giving you access to Proton VPN's network of 3,000+ secure and private servers in 65 countries. You also get up to 10 simultaneous device connections and no speed restrictions.
We stand out from the other VPNs mentioned in this list by not offering an unconditional money-back guarantee. However, it's worth noting that our free version for iOS ranks among the best free VPNs, even though it has limited features and only a few servers available.
If you pay for a plan you can request a refund within 30 days, but you'll only be reimbursed for the remaining days in your subscription. However, you can save up to 60% if you get the 2-year + 6 months plan for $3.99 a month. That makes it affordable to use Proton VPN for iOS and see for yourself.
Key Features:
PureVPN's VPN On Demand feature lets you assign automatic VPN protection to websites you visit often on iOS without manually connecting to a server. I found this helpful since I sometimes forget to enable my VPN before opening Safari.
I tested speeds on servers in the US, the UK, and Germany, and got results between 86 Mbps to 150 Mbps. These speeds are fast enough to stream videos on iOS without much buffering, and allowed me to enjoy mobile games without much lagging.
The VPN didn't have any issues accessing Netflix, Hulu, Disney+, Amazon Prime Video, HBO Max, and BBC iPlayer's iOS apps during testing. No one on my team encountered VPN or location errors getting in the way of a TV show or movie.
While PureVPN had a privacy breach years ago, it restored my trust by updating its processes and creating a random audit policy. This invites top cybersecurity firms like KPMG to do spontaneous PureVPN audits, giving me confidence its servers keep my data safe on iOS. Plus, its 256-bit encryption is military-grade and its servers keep zero logs of your activities while you use PureVPN's servers.
I found PureVPN plans for $2.03/month that are backed by a 31-day money-back guarantee, so you can try PureVPN risk-free on iOS. If you don't like it, you can easily claim a refund. I tested the policy by requesting a refund via live chat, and it took a little over a week for the refund to appear in my bank account.
Key Features:
ZenMate has specialized servers for streaming sports on Fox Sport, Globo Sportv, ServusTV, and other global sites on your iOS devices. Just tap "Streaming" in the server menu to open the menu, then select your sports channel of choice.
In addition to its sports streaming capabilities, ZenMate instantly unblocked the websites and iOS apps for Netflix, Disney+, HBO Max, and even international channels like Hotstar, ORF, TF1, Europe1, and more. The VPN's solid speeds averaging 90 Mbps resulted in smooth streams whether it was a live sports match or a new Netflix show.
The 1-year + 3 months ZenMate plan costs $1.99 a month, which means you can get a ZenMate discount of 85%. There is a cheaper "Pro" version, but it only covers web browsers and Safari isn't included. That's why it makes more sense to just get the 1-year + 3 months plan and use the 30-day money-back guarantee if you change your mind.
That gives you plenty of time to check out ZenMate for iOS and see if it suits your needs. While there isn't a 24/7 live chat support option, I got my refund by filing a ticket on the website. I was refunded in a week.
Key Features:
VyprVPN has an interactive map view on iPad that will let you easily compare and connect instantly to servers in 70+ countries. Map view lets you switch servers without having to navigate through multiple screens. While abroad, I used map view to instantly switch from a local server to one in my home country to check my Citibank balance without getting a fraud alert.
VyprVPN has top-standard security features such as military-grade encryption, a kill switch, and leak protection. It even published the results of a full audit completed by Leviathan Security proving it keeps zero logs of your IP address, connection times, online activities, or other data.
One small con to VyprVPN is its 1-month plan is a little expensive. However, it's a solid deal if you get VyprVPN for iOS for $5.00 per month with the 1-year plan. VyprVPN's 30-day money-back guarantee lets you try it for free. I asked for my money back using 24/7 live chat, and it was back in my bank account in just over a week.
Key Features:
Ivacy VPN's Secure Downloading feature automatically blocks malware and viruses hidden in iOS downloads. This makes me feel extra safe since I frequently download files to my iPhone and iPad.
When I conducted tests on Ivacy's servers, I observed an average speed of around 79 Mbps on servers located nearby. Although the speed on the Melbourne server was approximately 14 Mbps, which remained sufficient for video streaming, I did encounter an additional 5-10 seconds of initial buffering before my content began to play.
Ivacy offers a 7-day money-back guarantee for its 1-month plan and a 30-day money-back guarantee for longer-term plans. The 5-year subscription lets you try Ivacy for iOS risk-free and only pay $1.00 per month. If you change your mind for any reason, you'll be fully refunded.
I asked for my money back via 24/7 live chat, and it was approved in a few minutes. The money was back in my PayPal account in 3 days, but the chat support agent mentioned that if you subscribe to Ivacy VPN via credit card, your refund can take up to 40 days to process.
What Are the Benefits of Using a VPN on an iPhone?
A premium VPN for iPhones and iOS devices gives you:
1. Enhanced online privacy and anonymity. A VPN keeps your iOS activities private by concealing your real IP address and making it seem like you're accessing apps and websites from a different location.This hides your data from hackers, websites, and other third parties that watch everything you do in iOS.
Some of the top VPNs on the market like CyberGhost and PIA even have integrated ad and tracker blockers. In addition to protecting your privacy, these give you faster performance on iOS apps and web browsers by freeing up bandwidth.
2. Protection from WiFi attacks. Your iPhone is at risk every time you connect to public WiFi, since these networks are vulnerable to multiple threats including::
Evil twin — This is when hackers make a fake WiFi hotspot that your iPhone connects to, giving them access to data like the login credentials for your banking apps.
Man-in-the-middle — This is when a hacker eavesdrops on your iPhone and presents you with a fake website, or messages that pretend to be from someone you know. They'll then scam you into giving over your passwords or other sensitive data.
Packet sniffing — This is when a hacker monitors your iPhone activities by exploiting network administrator tools.
3. Maximum connection speeds. Your ISP can restrict your speeds if it detects that you're using too much bandwidth. A VPN prevents speed throttles by hiding data usage from ISPs.
Quick Comparison Table: 2023's Best VPNs for iOS (iPhone and iPad)
| | | | | | |
| --- | --- | --- | --- | --- | --- |
| | My top speeds | Cheapest Monthly Rate | Highest discount deal | Simultaneous device connection | Money-back guarantee (days) |
| ExpressVPN | 330+ Mbps | $6.67 | 49% | 8 | 30 |
| CyberGhost | 300+ Mbps | $2.03 | 84% | 7 | 45 |
| PIA | 280+ Mbps | $2.03 | 84% | unlimited | 30 |
| NordVPN | 110+ Mbps | $2.99 | 69% | 6 | 30 |
| Surfshark | 110+ Mbps | $1.99 | 86% | Unlimited | 30 |
| PrivateVPN | 100+ Mbps | $2.00 | 85% | 10 | 30 |
| IPVanish | 300+ Mbps | $2.49 | 81% | Unlimited | 30 |
| Proton VPN | 300+ Mbps | $3.99 | 60% | 10 | 30 |
| PureVPN | 100+ Mbps | $2.03 | 83% | 10 | 31 |
| ZenMate | 200+ Mbps | $1.99 | 85% | Unlimited | 30 |
| VyprVPN | 300+ Mbps | $5.00 | 50% | 10 | 30 |
| Ivacy VPN | 120+ Mbps | $1.00 | 90% | 10 | 30 |
How I Tested and Ranked the Best iOS VPN App
With hundreds of VPNs on the Apple App Store, it can be overwhelming when you try to find the best one. I carefully evaluated more than 40 VPNs against the following criteria:
Native app for iOS — Every VPN on this list has a custom app for iPhone, iPad, iPod Touch, and Apple TV. Some even have Siri compatibility and haptic touch controls. This is when you press and hold the VPN app icon to display instant connection options.
Fast speeds — I ran speed tests on multiple global servers to see which VPN apps performed best for streaming, browsing and downloading on iOS.
Strong security and privacy features — All the top iOS VPNs have military-grade encryption, a strict no-logs policy, and automatic kill switches. I also ensured they have DNS and IP leak protection to prevent your online activity from being revealed to any trackers. I also reviewed each VPN's history and headquarters location.
Large global network — The VPNs on this list all have extensive networks, giving you less chance of your iOS activities slowing down due to server congestion from too many users. A large network also makes it harder for location-restricted iOS apps to keep up with blacklisting a VPN's IP addresses.
Reliable money-back guarantee and customer service — I made sure that every VPN on this list has a money-back guarantee that lets you get 100% of your subscription fee back. Proton VPN is the single exception that has limits to its refund policy — you only get refunded for unused days. All the VPNs on this list also include 24/7 support via live chat, email, or both.
Unblocks streaming sites — Since many people use their iPhones and iPads to stream shows and movies, I chose VPNs that work with multiple iOS streaming apps.
Easy Guide: How to Set Up a VPN on Your iOS Device
FAQ: iPhones, iPads, and VPNs
Stay Safe Online With a VPN for Your iPhone and iPad
Your iOS devices are at risk of eavesdropping, malware, and hacks, but many VPNs on the App Store can't protect your data without compromising speeds. After testing speeds, encryption, unblocking capabilities, and other features, I found that ExpressVPN is the best VPN for iPhones and other iOS devices. As someone who constantly travels for work, I use ExpressVPN to protect my data while connected to unsecured wifi networks.
You can try ExpressVPN's iOS app for yourself with no risk because it's backed by a 30-day money-back guarantee. If you decide that it's not for you, you can ask for a refund via 24/7 live chat. I got my request approved with no questions asked.
---
Summary — Best VPNs for iPhone and iPad in 2023