Scanguard Antivirus Review 2022: Are the Rumors True?
ScanGuard Overview July 2022
I heard a lot of rumors that Scanguard is actually a scam. As I don't like to rely on hearsay alone, I tested Scanguard for myself to see how well it actually performed. Surprisingly, Scanguard is very effective at detecting and blocking malware — it easily found all the malicious files during tests.
Unfortunately, Scanguard also displays many alarming behaviors that need fixing. I initially found it hard to get onto Scanguard's website because my existing antivirus flagged it as a suspicious site containing PUPs (Potentially Unwanted Programs). I also struggled with Scanguard bizarrely uninstalling when I shut down my PC, meaning I had to repeatedly reinstall the software.
Despite Scanguard's impressive virus scanner and security features, the software's behavioural issues aren't easy to overlook. If Scanguard can fix these problems, it has the potential to be a great antivirus. At the time of writing, it's not worth downloading when there are better antivirus options like Norton 360.
If you'd like to test out Scanguard for yourself, you can try Scanguard with its 30-day money-back guarantee.
Try Scanguard risk-free for 30 days!
In a Rush? Here's a 1-Minute Summary
Security - 10
As a relatively young company, Scanguard hasn't been put through the rigorous testing of independent labs. It also hasn't yet been certified by companies like Microsoft. These seals of approval guarantee that an antivirus program offers top-tier security. As Scanguard doesn't have these yet, it's important to remember that your experience could be different to the results I got during my testing.
That being said, I was impressed by Scanguard's security features. It successfully detected the malware test files I hid on the PC and on a virtual machine, as well as defending me from real-time attacks and suspicious websites. I was more than satisfied with Scanguard's protection from online threats.
Virus Scan — Thorough Scans Detect Hidden Malware
Scanguard has 3 different scan types you can run to detect malware:
Quick Scan — Checks areas most likely to be infected by malware, including downloaded files and general system items
Smart Scan — Scans your device for malware, junk files, privacy and security issues, and performance issues with a single click
System Scan — An in-depth, thorough scan of your entire system, including archived files
Custom Scan — You choose the files and folders you want Scanguard to examine for malware
I ran a full System Scan as soon as the software was finished installing and I was impressed with how fast it was. Scanguard checked almost 900,000 items in just 40 minutes — compare this to Malwarebytes' scan that took 90 minutes to check 750,000 items.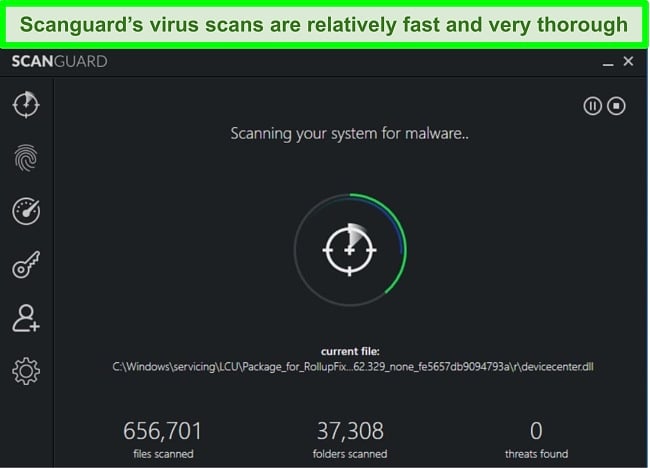 I also ran a Quick Scan and found that it was equally as thorough, checking 34,000 files in just under 5 minutes. I compared this to Norton 360's quick-scan equivalent, which checked 11,000 items in 2 minutes. I was pleased to find that Scanguard's Quick Scan looked at even more files as this means any hidden malware is likely to be found.
It's important to point out that your experience may be different from mine. While there aren't many independent lab tests regarding Scanguard's effectiveness, it performed well in my personal tests. I downloaded several malware test files onto a virtual machine from reputable test sites like EICAR.com. After running a System Scan, I was pleased to find that Scanguard detected and quarantined every malware file I'd hidden on the virtual machine.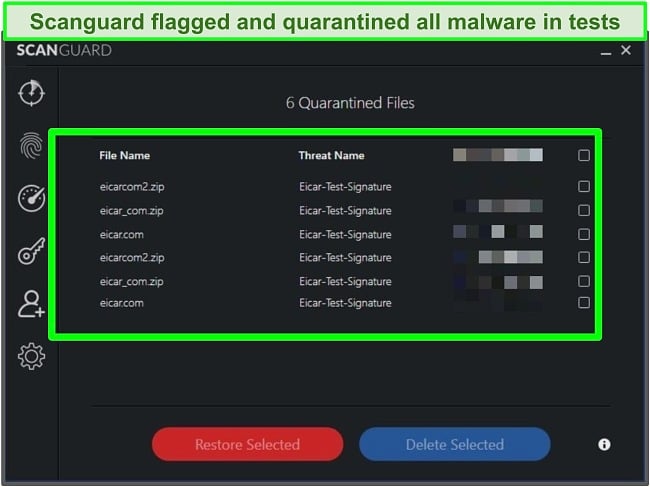 I did find that while scans were running, there was a noticeable impact on my system performance. Programs took longer to open, web pages were slow to populate, and my overall system felt sluggish. I checked and found that where my CPU utilization is normally around 9%, it jumped up to 70% during Scanguard's System Scan. This is a huge leap and significantly slowed down my PC. As such, I'd recommend letting scans complete before using your device or running them before you shut down your system.
Real-Time Antivirus Protection — Effective Defence Against Online Threats
Real-time antivirus protection is essential for comprehensive security against online threats. Without real-time protection, you put your devices at risk of attack from zero-day malware, ransomware, viruses, and more.
When I installed Scanguard, I found that its real-time protection wasn't active — I had to manually switch it on. I found this odd as usually, an antivirus program will automatically have real-time protection enabled immediately. It's a concern, as having to manually activate real-time protection put my PC at risk of attack from malware.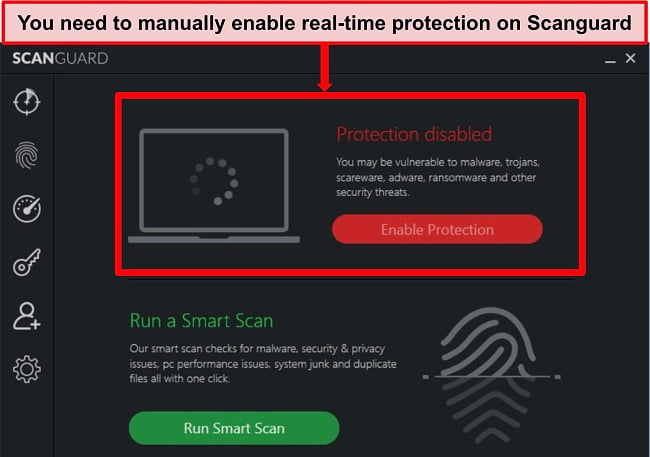 To protect your devices from malware, Scanguard uses layers of security that focus on different threats. These include:
Malware protection — Stops items like worms and Trojans
Ransomware protection — Blocks software designed to lock you out of your device until you pay to have it released
Spyware guard — Defends against malware that goes undetected to steal your sensitive data
Adware guard — Blocks malware that presents itself as annoying pop-up ads, sometimes in browser windows you cannot close
File guard — Stops malware hiding in seemingly innocent file downloads
Working together, these layers form a solid defence against many kinds of malware threat. Scanguard's real-time protection constantly monitors incoming traffic as well as the programs and files already on your device. It checks for any changes or suspicious activity and if it's detected, Scanguard prevents them from opening or running until you can approve or deny the change. I like that Scanguard is both dedicated and thorough when it comes to monitoring activity — I'd rather it picks up on potential issues quickly to stop them from progressing into dangerous malware threats.
Data Breach Monitoring — Useful Tool to Prevent Identity Theft
Identity theft is a growing problem, and hackers and spies have sophisticated methods to steal your sensitive data. Scanguard's Data Breach Monitoring tool checks that your personal information isn't being used in fraudulent sales, data breaches, and even the dark web. It's powered by Experian which is one of the most trusted and effective credit monitoring services in the world — so you can trust that you're in good hands.
If Scanguard finds anything suspicious or unusual, you're immediately alerted to the issue so it can be resolved as quickly as possible. This gives you peace of mind as you know that if your data is compromised, there are agents standing by to help fix the problem.
WebShield — Blocks Access to Suspicious Sites
Scanguard's WebShield is designed to assess the sites you visit and determine whether or not they're safe for you to access. There are a lot of very convincing scam and phishing sites online that look legitimate to make you enter your login or payment details. WebShield filters these websites known to host malware or that have "low trust" because they're misleading or unethical. I tested several malware test websites like maliciouswebsitetest.com and found WebShield easily blocked them — not a single test site got through Scanguard's defenses.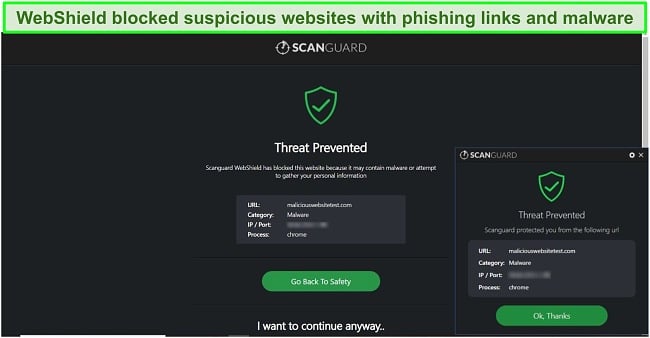 Not only does WebShield block malicious sites hosting phishing scams, it's also able to detect cryptomining sites. Cryptomining is a newer threat and a growing issue as cryptocurrency increases in popularity. These sites use your PC's resources to mine currency, resulting in considerable slowdown and consuming a lot of operational power. As cryptomining scams are increasing, I'm glad to know that Scanguard is keeping on top of new issues and protecting me from the latest threats.
I was pleased to find that Scanguard's WebShield feature was already active when I installed the app, so I could start browsing securely straight away. I'm also pleased that I had the option to add exclusions to sites that WebShield registers as "low trust" but that I know are safe. It's compatible with Chrome, Firefox, Safari, and Microsoft Edge.
Features - 6
Scanguard offers a good range of extra features designed to improve your devices security and performance. Its optimization tools are particularly impressive.
Safe Browsing VPN — Fast Speeds and High-Level Encryption Keeps You Secure Online
Scanguard's VPN has over 100 server locations to choose from. This is a high number for an antivirus VPN — in contrast, Bitdefender only has servers in 27 countries. When your internet connection passes through Scanguard's VPN server, no one is able to see what you're doing online. Scanguard's VPN works on Windows, Mac, and Android devices, so you can ensure your browsing history and activities remain anonymous at all times.
I even ran multiple leak tests to make sure Scanguard's VPN could successfully hide my real IP address — and it passed every time. I even got around censorship and location restrictions on streaming platforms like Netflix US.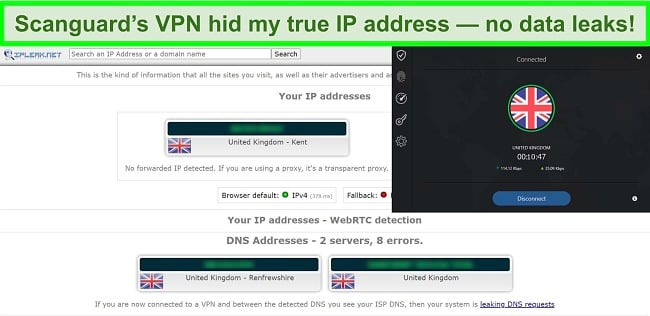 In addition, I was impressed by the fast speeds. I tested several different servers in the UK, US, Australia, and Japan, and every server took less than 10 seconds to connect. My speeds never fell below 35Mbps — even with servers 9,000 miles away! These speeds are fast enough to stream HD-quality videos and play online games with minimal lag or buffering.
Unfortunately, Scanguard does log and store some of your data — including your IP address, email address, name, and phone number if you provided it during sign up. Scanguard also shares this data with "trusted third parties," which defeats the purpose of the VPN in the first place. Check out these alternative antiviruses with VPNs to keep your data and online activity totally private.
PC Optimization — Useful Tools to Improve Windows and Mac Performance
Scanguard has a variety of optimization tools designed to help your PC or Mac run faster, more smoothly, and with less lag and interruptions. These include:
Junk Cleaner — Finds and removes empty files, broken shortcuts, and other "junk" items
Duplicate File Finder — Deletes copies of files to free up space on your device
Application Uninstaller — Shows you all installed apps so you can quickly choose which ones you want to keep or uninstall
Startup Manager — Optimizes your system boot time for faster device startup
Browser Cleanup — Checks browser data and deletes unnecessary browsing data, including cookies, browsing history, and more
I tested all of these tools and they all worked well, boosting my Windows PC's performance noticeably. I was especially impressed by the Startup Manager which took seconds to find all the programs on my PC that run at startup. After disabling some unnecessary startup programs, my boot time decreased by almost 10 seconds — a significant difference when my initial boot time was already fast at around 40 seconds.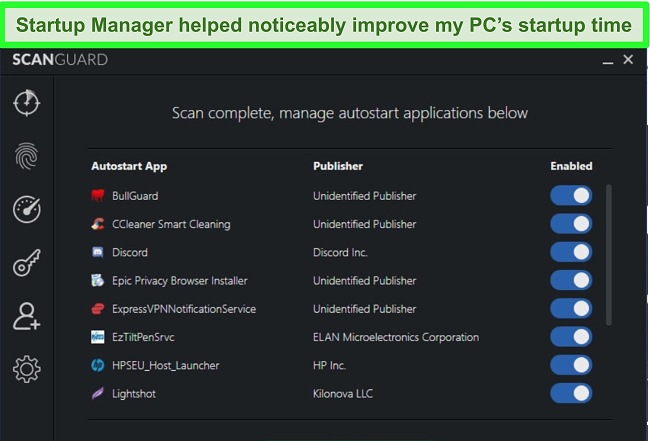 All of Scanguard's optimization tools boosted my PC's performance by freeing disk space, removing broken shortcuts, and reducing the amount of junk on my computer. Plus, these tools were all quick to run, taking less than 15 seconds to complete.
I was also pleased to find that Scanguard has a Silent Mode option. When you use an app in full-screen, like playing a game or watching a movie, Scanguard automatically goes into Silent Mode. This means all notifications and scans are paused so you can play or stream without any interruptions. Best of all, real-time protection keeps running quietly in the background so your devices are always secured.
Password Vault — Time-Consuming to Set Up
I was happy to see that this feature was included in its antivirus package. However, I quickly found out that the Password Vault was inconvenient to set up and use.
While Scanguard claims you can import your passwords from Chrome and Firefox, it didn't work for me. I couldn't import my passwords from either Chrome or my regular password manager, so I had to manually input them. I found this very time-consuming and inefficient, especially when Norton 360's password manager automatically fills out pre-saved login credentials.
I also found that the Password Vault didn't always register when I'd clicked onto a login field. Rather than auto-filling the fields like it's supposed to, I had to copy and paste my details from Scanguard's Vault. This was a minor inconvenience as it saved me the trouble of having to type out long, complex passwords — but I'd like to see login field recognition improved.
Smartphone Optimizer — Great Tool for Improving Android Performance
I was very impressed by Scanguard's Smartphone Optimizer as it worked well to boost the overall performance of my Android phone. After installing the app, I ran the "Cleaner" scan to see if I could free some space on my phone. In less than a minute, Scanguard found I had over 1GB of duplicate photographs on my device.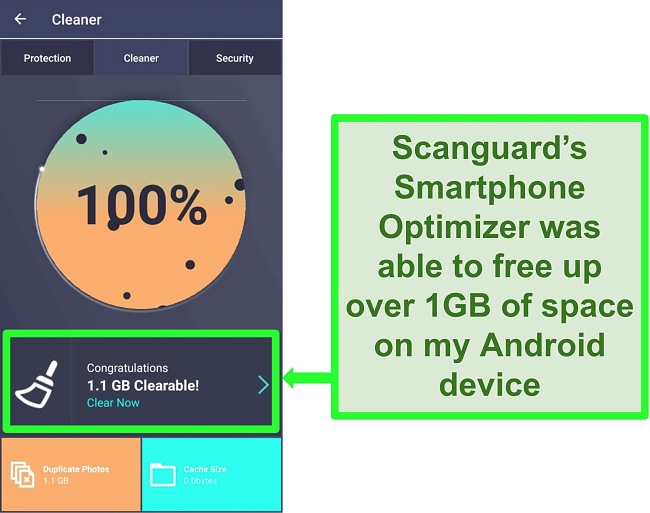 After clearing this space, I found that my photos app in particular performed better — I could scroll through pictures and videos without having to wait for the files to load. I really like that it made a noticeable impact on my Android's performance and I like to see even more improvement across my entire device. Scanguard's Android app previously had a performance booster that is no longer available — this would be a great feature to reintroduce, as even top services like Norton 360 don't offer smartphone optimization on mobile apps.
Ease Of Use - 1
Scanguard supports Windows 7 (SP1) or higher, Mac OS X 10.9 Mavericks or higher, and Android 5.0 or higher. The apps are available in several different languages, including English, French, Turkish, Polish, and Dutch. There is no availability for iOS devices.
I'd heard that Scanguard exhibited malware-like behaviors (leading to rumors that the software is a scam) and I found out why when I initially tried to access the website. My existing antivirus blocked Scanguard's website as it had detected PUPs!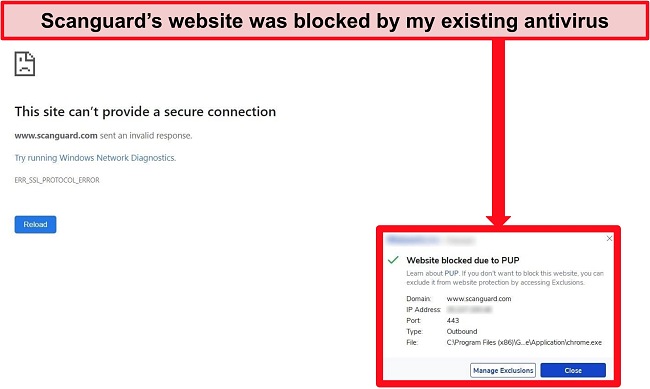 After disabling the antivirus and Windows Defender, I could access Scanguard's website — and I can safely say that it didn't infect my PC with malware or PUPs of any kind.
Scanguard is very easy to use and it's quick to set up too. My initial download and installation took less than 3 minutes, but it took a further 10 minutes to enable real-time protection against malware.
The apps are intuitive to use and won't confuse a first-time antivirus customer. However, I encountered a few issues with the Windows app — namely the software kept uninstalling after I'd shut down my computer — that I found frustrating to deal with. As customer service was very slow at responding, I had to deal with the issue myself by repeatedly reinstalling Scanguard. This made my overall experience with the app less than satisfactory.
Desktop App — Intuitive Interface but App Does Not Perform Well
Scanguard's Windows and Mac apps are markedly different in appearance but are both well laid out and easy to navigate. I found the interface for both to be intuitive as all features are clearly labeled and accessible from the available menus.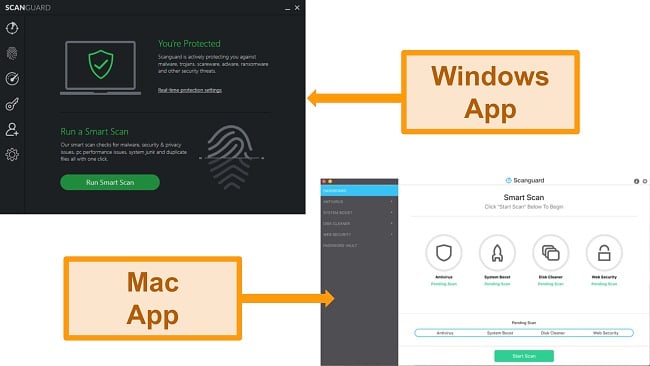 The user-friendly interface makes Scanguard simple to configure even for beginners. I like that I had quick access to important functions like malware scans and optimization tools, as they are all just a click or 2 away. Even advanced settings are easy to understand, with more complex features described by hovering the mouse over a little "i" icon to get more information.
However, on my Windows PC and on the virtual machine I used for testing, I encountered a strange problem that kept occurring. When I'd shut down my device and reboot it, Scanguard kept uninstalling. Where the icon should be on my desktop, I was left with a broken shortcut and no antivirus installed.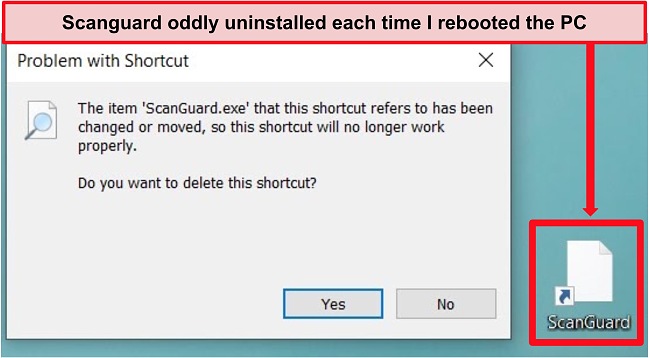 I contacted customer service about this issue as it happened multiple times. Unfortunately, my questions were never answered as I didn't receive a response from Scanguard.
While Scanguard is very quick to download and install, I found it frustrating that I had to keep reinstalling the service to use it. I've never had this issue with any other antivirus software that I've used. I even made sure to uninstall other antiviruses, plus disable Windows Defender in case these other services were affecting the installation. It's disappointing as Scanguard as an antivirus works well, but keeping it functional on my PC was very difficult.
Mobile App — Easy to Install and Use (Android Only)
On the other hand, Scanguard's Android app is well-designed and user-friendly. The installation process was quick, taking less than a minute to download and setup. After logging in, I was prompted to run a scan that took a couple of minutes to complete — I thought this was fast considering my smartphone has 62GB of apps and files on it.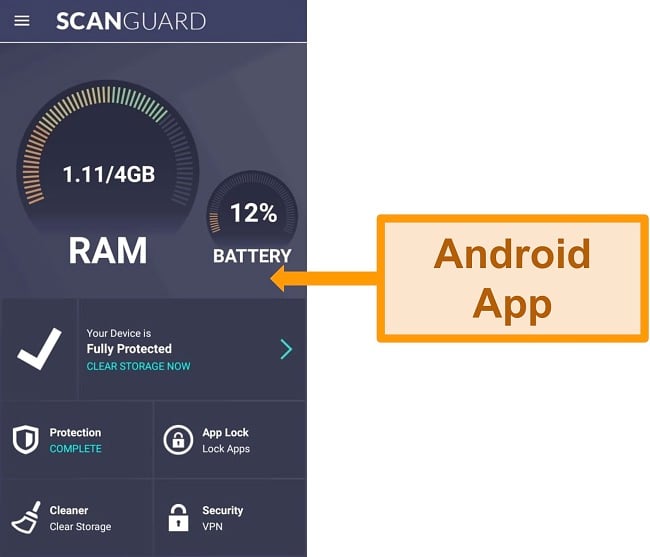 The app provides real-time malware protection and optimization tools designed to improve the speed and function of your smartphone. I also found the App Lock feature useful for securing private messages on WhatsApp and Facebook — you can add a pin or password to apps so no-one can access them apart from you.
I like Scanguard's functionality for its Android app but I'd like to see a greater offering of features. Norton 360 has parental controls and anti-theft features to protect your smartphone, and I think Scanguard would benefit from adding similar items to its mobile app.
Support - 2
Scanguard's customer support options are disappointing. The company claims to have a 24/7 support team but I couldn't even connect to a representative over live chat and I found email responses were extremely slow. Unfortunately, phone support is only for billing issues (not technical). In addition, customer support options are only available in English.
All of these options need considerable improvement if Scanguard wants to compete with the top-tier antivirus brands. For instance, it's quick and easy to contact Bitdefender over live chat, email and phone in multiple languages.
Live Chat — Not Actually Available 24/7
Live chat is usually the best way to get support quickly, but unfortunately Scanguard's live chat option was unavailable to me for the duration of my testing. Even when logged into my account, the "Start Live Chat" button was unclickable — I didn't get a pop-up window or message saying that live support wasn't available, it just didn't work.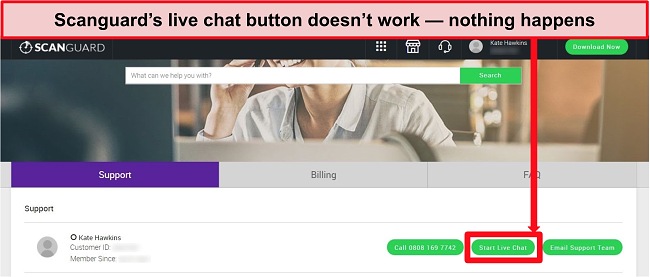 I found this disappointing and frustrating. If live chat isn't available or not 24/7, I'd expect Scanguard to have this information somewhere on its support site but I couldn't find it. This meant I had to wait for email support to respond to my queries, which is a concern as it took more than a day to get an email back.
Email Support — Long Wait for an Average Response
Scanguard claims to respond to 95% of emails within 24 hours, but I was in the 5% that took longer — I had to wait almost 40 hours before I had a message back. I emailed customer support with 2 questions — the first was about getting a notification to update my details (even when I'd already updated them) and the second was asking about iOS compatibility. I sent these as 2 separate messages and received answers to both in the same email, which was convenient for me.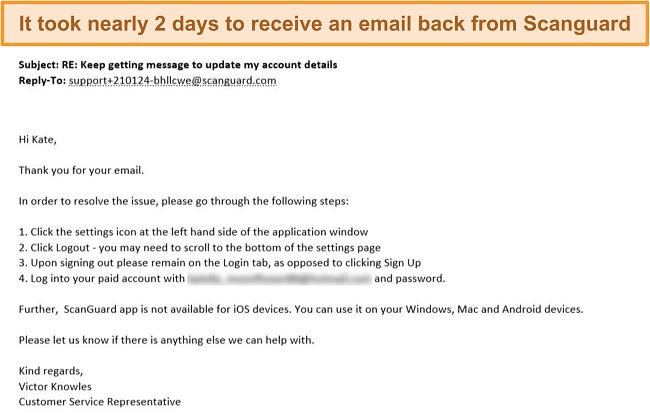 The responses I got were somewhat helpful, although I'd already mentioned in my original question that I'd signed out and into my account. Overall, I feel email responses could be much better. I'm not sure the agent properly read my first question, although I was satisfied with the response to iOS compatibility. I'd like to see improved response times too — Norton 360 has an email response time of only 3 hours.
Phone Support — Waited More Than 20 Minutes (Billing Issues Only)
Scanguard has a phone number listed on its support website with no indication that it's only for billing issues. I only found this out after waiting on hold for 20 minutes before being told that phone support didn't deal with technical issues. The agent was apologetic when I pointed out the site doesn't say it's only for billing but directed me to contact email support for any technical queries.
I find it bizarre that Scanguard's phone support only deals with billing issues. It's a concern as phone support is often the fastest way to get help (when there isn't a live chat option). If there were an urgent problem, like a ransomware attack, the only contact option is email which simply doesn't offer a fast enough response time.
Help Center — Well-Rounded Knowledge Base has Informative Articles
Of all of Scanguard's support offerings, its Help Center has the most useful information that is easy to access. There are lots of articles available, whether you're an existing customer or not, to help with installation, troubleshooting, configuration, and more. I found the step-by-step configuration guides especially useful as they cover all aspects of Scanguard's apps.
The Help Center is the best place to go for basic information and how-to guides that don't require specialized knowledge. The articles are well-written and easy to understand which makes them a good place to start, especially if you're not familiar with antivirus software.
Price - 8
Unlike other antivirus brands, Scanguard packs all its offerings into a single Essential Antivirus package. This is ideal if you're just looking for a capable antivirus and you don't want to pick and choose between different plans. However, this might not suit everyone — especially if you're looking for specific features or you have a large number of devices to protect.
Scanguard Essential Antivirus — Great Value for Money
This is Scanguard's only plan and it includes:
3 device licenses
Real-time malware protection
Web Shield browser extension
Password vault
Safe Browsing VPN
Ad Block Pro
Cookie cleaner
Optimization tools (including system optimization scan, disc cleaner, battery monitor, and browser manager)
24/7 customer support
I'm impressed with all the features packed into this single plan, especially considering the affordable price. Unfortunately, there's a steep price rise after the first year's promotional discount.
30-Day Money-Back Guarantee
Scanguard has a 30-day money-back guarantee so you can try the service risk-free. To get a refund, you just need to email the billing department at billing@scanguard.com or call Scanguard's dedicated billing number (varies depending on your country).
I tested the money-back guarantee to make sure you really do get your money back. Unfortunately, the experience took a long time and I felt pressured to stay subscribed because of Scanguard's upselling. I emailed Scanguard with my customer number and the email address used to make the purchase. I said that my circumstances had changed and I no longer needed Scanguard. I got a response after 2 days, asking me to reconsider canceling. I wrote back confirming my cancellation and received another email 2 days later, which included a link that took me to a confirmation page.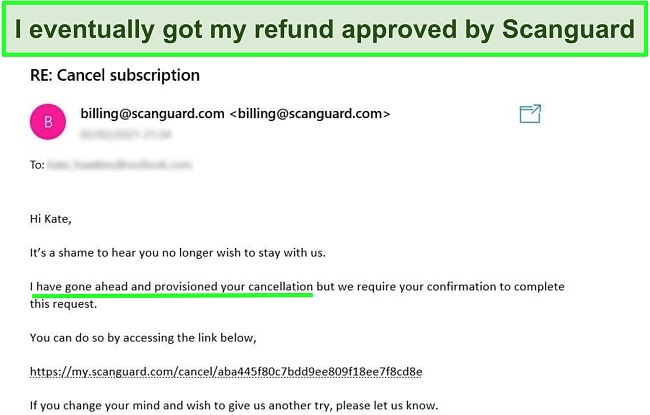 On the browser page, I had to give a reason for canceling (I said I no longer needed the service) and then had to click through several pop-ups and browser pages asking me to stay. One offered a steep discount for a year's subscription and another gave a fixed price of $2.99 per month for a lifetime's subscription. When I finally got through to the actual cancellation page, Scanguard confirmed that I'd receive a full refund and that it could take up to 7 days. I had my money back in only 3 days after I confirmed my cancellation, which was surprisingly fast.
Essential Antivirus
$24.95 per year
You Save inf%
Final Verdict
Scanguard's powerful antivirus engine easily outperforms many competitors — but there are simply too many user issues. I was concerned by the software and the website's malware-like behaviour, which triggered alerts from my pre-existing antivirus program. On top of that, Scanguard kept uninstalling itself every time I rebooted the PC.
Even though my testing showed Scanguard is safe to use, these issues meant I didn't have the peace of mind I expected from an antivirus service. If Scanguard finds a way to fix these problems, it could definitely rank among the top antivirus options on the market. As of now, I recommend sticking with better established brands like Norton, McAfee, and Bitdefender.
You may find your experience is different to mine, so I suggest you try it yourself and see if Scanguard is a good fit for your needs. You can test Scanguard with its 30-day money-back guarantee and get a full refund if you change your mind.
FAQ: Scanguard Antivirus
Is Scanguard a scam?
No, Scanguard is not a scam. In my tests, I found that Scanguard legitimately works as an antivirus to detect and remove malware, including the latest ransomware attacks, phishing scams, and other viruses. However, I can understand why some people might be cautious about using Scanguard. It's a relatively young service, especially in comparison with established names like Norton and McAfee, and I found multiple user experience issues that need to be significantly improved.
Can I use Scanguard for free?
You can download and run virus scans for free, but Scanguard won't quarantine or remove any malware from your device. If you want unlimited access to all of Scanguard's features for free, I suggest you sign up with the 30-day money-back guarantee. I tested the money-back guarantee myself and I got a full refund.
If you're looking for a totally free antivirus program that detects and removes malware, I suggest you take a look at Panda Dome. Panda Dome has a free plan that achieved excellent malware detection scores in tests, making it a reliable security option for zero cost.
What devices does Scanguard protect?
Scanguard supports Windows, Mac, and Android devices. There is no iOS protection available as of July 2022.