Norton vs Bitdefender 2022: Which Antivirus Is Better?
Last Updated by Kate Hawkins on November 01, 2022
On the surface, both Norton and Bitdefender appear to be powerful and well-established brands in the antivirus industry. However, only 1 antivirus can truly be the best. So I decided to compare Norton and Bitdefender across 15 categories to see which antivirus came out on top.
I was impressed to find that both antivirus programs provide excellent defense against all strains of malware — but Norton ultimately outperformed Bitdefender. Despite both having a wide range of add-ons (like a password manager, VPN, firewall, and parental controls), Norton's features are more effective, easy to use, and security-focused. In comparison, Bitdefender's standout features are its device optimization tools.
However, the best way to choose the best antivirus for your needs is to test it out yourself. You can try Bitdefender with the 30-day money-back guarantee, which lets you request a full refund if you're not satisfied. At the same time, you can sign up for Norton with its generous 60-day money-back guarantee, which makes it completely risk-free to use Norton for almost 2 months.
No Time? Here's a 1-Minute Summary
| | | |
| --- | --- | --- |
| | | |
| Virus Scanner | 4 scan types with a perfect malware detection rate | 5 scans available with a perfect detection rate (but more false positives) |
| Real-Time Protection | Detects 100% of new malware threats | Detects 99.7% of new malware threats |
| System Performance | Minimal system impact | Slightly slows down the device |
| VPN | 30 server locations that unblock streaming services with no data limit | 27 server locations, but a restrictive daily data cap |
| Parental Controls | Easy to set up with a range of features for multiple devices | Tricky to set up and iOS parental controls are lacklustre |
| Firewall | Customizable firewall available on all plans | Robust firewall but only available on premium plans |
| Password Manager | Unlimited password storage with a unique auto-change feature | Unlimited password storage |
| Gaming | Silent Mode stops interruptions and optimizes performance | Game Mode stops interruptions but has a heavier system impact |
| Optimization Tools | ✘ | Photon technology, OneClick Optimizer, and Battery Mode |
| Other Features | Cloud backup, webcam protection, browser extension, and identity theft protection (US only) | Webcam and microphone protection, email monitor, browser extension, file shredder, and secure browser |
| Device Compatibility | Windows, Mac, Android, and iOS | Windows, Mac, Android, and iOS |
| Customer Service | 24/7 support with prompt and knowledgeable responses | Fast and helpful 24/7 support |
| Price | Premium features available on every plan, but more expensive | Budget plans have fewer features, but cheaper overall |
| Free Version | ✘ | Free plan includes basic malware protection and some extra features |
| Money-Back Guarantee | 60 days | 30 days |
How I Tested and Compared Norton vs Bitdefender
1. Virus Scanner — Norton's Fast Scans Detect 100% of Known Malware
I'm impressed by Norton and Bitdefender's virus scanners as both scored a perfect detection rate for known malware. However, Norton emerges as the winner due to its exceptionally fast scanning times.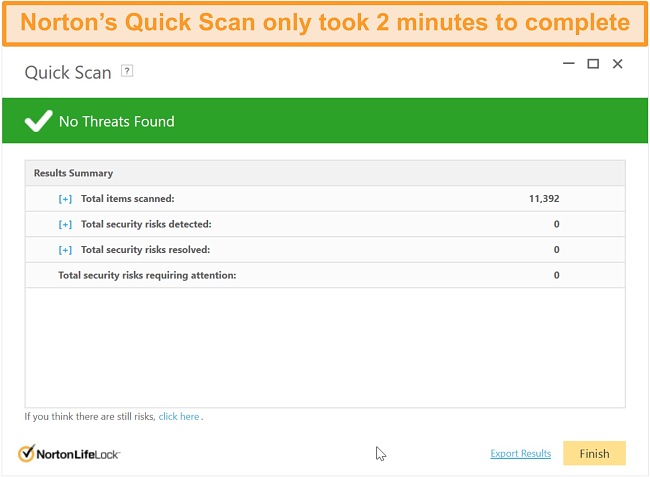 Below is an overview of my test results for the most-used scan types: Quick Scan and Full (or System) Scan. For reference, my Windows laptop has 500GB of data stored on it.
Quick Scan
Full Scan
Norton
First Scan
2 minutes
12 minutes
Subsequent Scan
>1 minute
3 minutes
Bitdefender
First Scan
7 minutes
48 minutes
Subsequent Scan
3 minutes
10 minutes
I particularly like that Norton's scan times improve even more with its Insight feature. This learns which files are secure and excludes them from future scans. Norton reduces scan time by 75% with this feature. Bitdefender employs a similar technique to reduce its scan times, but it's not as effective.
Another stark difference between the 2 antiviruses is the number of false positives they produce during scans. Some antiviruses can be overly aggressive and mark safe files as malicious, so you have to spend time manually recovering them. Norton didn't have a single false positive in tests. Bitdefender had 7 false positives, and I found it inconvenient to go through the quarantine folder and restore them.
I did like that Bitdefender has more scan types, including a Rescue Environment Scan that reboots your device in safe mode to detect the toughest threats. Norton has a similar Power Eraser feature, but it's only available for Windows devices.
Both antiviruses caused minimal CPU spikes. Both Bitdefender and Norton bumped my CPU usage up from 4% to 9% which wasn't enough to cause a noticeable difference in performance.
Although these 2 antiviruses both provide top-tier protection from known malware — Norton provides more reliable malware detection with no false positives and faster scans.
2. Real-Time Protection — Norton Protects Against All New Threats
Norton has a perfect detection rate of the latest cyberthreats. However, Bitdefender scored extremely well at 99.7%.
Both Norton and Bitdefender use similar protection technology. Bitdefender's Threat Detection uses behavioral detection to recognize threats before they infect your devices. Norton's SONAR analysis uses 2 methods to secure your devices; first, it matches known threat signatures against the files or websites you interact with; secondly, it examines the behavior of software to determine potentially malicious activity before the threat is widely known. Using this 2-step approach, Norton is slightly more effective at finding new threats.
I particularly like that Norton and Bitdefender don't require any manual input when they detect malware. The malicious files are sent directly to quarantine where they cannot infect your device. You can choose to delete them later, or they can stay in quarantine indefinitely.
These antivirus services have excellent real-time protection from advanced threats like viruses, spyware, and ransomware. However, if you want the absolute best then Norton is the top choice because of its excellent detection rates.
Real-Time Protection Winner: Norton
3. System Performance — Norton Runs With Minimal Impact on Device
This category was a particularly close call as both Norton and Bitdefender are designed to be as low-impact as possible. However, Norton wins due to having almost no impact on your system.
Norton only utilized between 4-9% of my CPU power even during full-system scans. I didn't experience lag during scans, could download and launch apps quickly, and even transferred a 5GB file without slowdown.
Bitdefender's software also barely impacted my computer. It had a similar CPU usage as Norton when running scans (jumped up to 9%) but I noticed a much bigger impact when launching websites. Bitdefender slowed my PC by 17% when I opened a new web page, which equates to a few more seconds of wait time. This isn't a huge issue for me as my computer didn't freeze but it was a noticeable difference.
If you want your devices to always work at top speed then Norton's software makes a much smaller impact on your system's performance.
System Performance Winner: Norton
4. VPN — Norton Has Unlimited Data for Streaming and Safe Browsing
Norton's Secure VPN beats Bitdefender's equivalent by providing unlimited data for free. Secure VPN is available on all of Norton's plans as a separate app and doesn't cost extra. Unlike Bitdefender that only gives you 200MB per day, you won't be restricted by a tiny data allowance with Norton. You can use Secure VPN as much as you want for browsing, shopping, and banking online.
I was especially pleased to find Norton's Secure VPN can bypass location restrictions for streaming platforms like Netflix, HBO Max, Hulu, and Amazon Prime Video. However, the limited number of server locations (30 worldwide) did result in slower speeds and some buffering while streaming.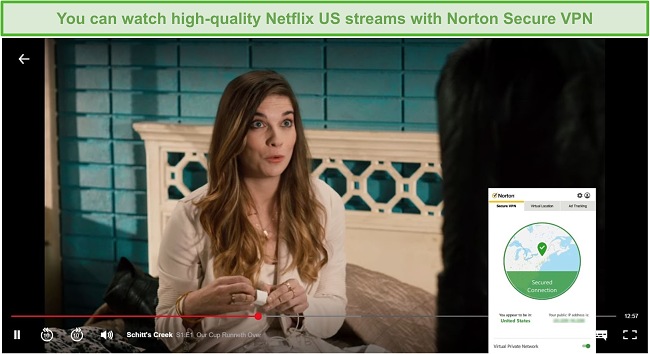 Bitdefender's VPN has faster speeds for streaming without lag — over 40Mbps in most locations, which is fast enough for Ultra HD quality. However, server locations are even more limited (only 27 worldwide). In addition, the 200MB data cap made it impossible to do more than just check my emails and run a speed test.
If you're looking for an antivirus with a free integrated VPN, Norton's Secure VPN is a better option than Bitdefender.
Try Norton's Secure VPN today!
5. Parental Controls — Norton Is the Better Antivirus for Families
Norton's parental controls are the clear winner, providing full-coverage and customizable protection. In fact, I find Norton is the best antivirus for parental controls in 2022. While Bitdefender is decent (especially it's geofencing feature), it's too complex to configure and use on a daily basis.
The parental controls are only available through the standalone Norton Family app, which is included free in all subscription plans. I found it very easy to download and set up the app on all of my devices. Norton provides a step-by-step guide that's easily located on it's support site. I also like that I can access parental controls from anywhere. I monitored my child's iPad activity from my Chrome browser through Norton Family's central dashboard. This gave me peace of mind that I could check on them whenever I needed to.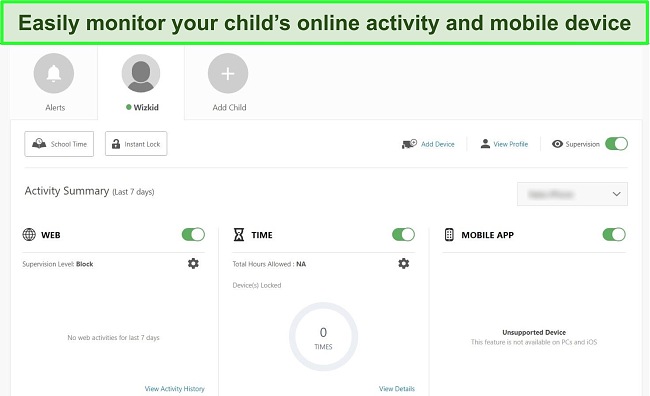 Bitdefender's parental controls were much trickier to set up. It took me a while to find the parental controls as they are tucked away in Bitdefender's Privacy settings — not where I expected them to be. I then had to wait more than 10 minutes to have it ready to use on my Windows PC.
Both antiviruses have content filtering (blocks inappropriate websites) and GPS tracking (track and locate your child's device). You can also schedule downtime and set time limits, which is useful for monitoring overall screen time. I like that both plans include app control too, allowing you to block apps that aren't appropriate for your children. This includes social media and messaging apps like Facebook or Twitter.
Norton's parental controls are much more effective on Android and iOS. I found that Norton's coverage was similar on both apps, featuring GPS tracking and app control on both. With Bitdefender, parental controls for iOS were almost non-existent and only included call monitoring.
They both offer parental controls on all their plans except the cheapest. However, if you're concerned about your children using the web safely then Norton Family is worth the extra cost.
Parental Controls Winner: Norton
Protect your family with Norton!
6. Firewall — Norton's Sophisticated Firewall Is Available on All Plans
Norton is the winner as Bitdefender's firewall is exclusive to its premium packages — so if you choose a low-cost plan, you'll miss out.
However, Norton's firewall is very impressive in itself as it needs no configuration. As soon as you launch the app, Norton's firewall completely protects you from incoming and outgoing threats. It's also very customizable, making it a great choice for more advanced users who want greater control over how apps connect to the internet.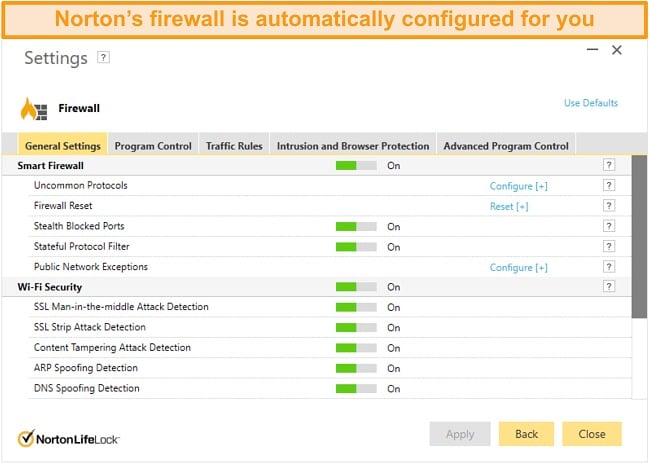 In addition, Norton's firewall allows you to "whitelist" apps that can access the internet freely. While you can manually configure the whitelist, the firewall will also gradually learn which apps are safe through frequent use and background monitoring.
Bitdefender's firewall is equally powerful and customizable. You can configure the firewall for different networks (like home, work, and public) to adjust the protection settings. Bitdefender also includes a unique Stealth Mode that hides your presence on a connected network.
Overall, both firewalls are effective at securing your network from threats. However, Norton is slightly better as its firewall is included across all its plans.
7. Password Manager — Norton Offers a Unique Auto-Change Feature
Norton's auto-change feature is something I haven't seen on other password managers, giving it the edge over Bitdefender in this category.
I found Norton's auto-change very useful for improving my account security. I used it with sites like Reddit and Netflix to update passwords that were at risk of being compromised. Norton created a new secure password and even automatically changed it on the website. It's a convenient feature as I didn't have to manually change any of my passwords to upgrade my security. Auto-change doesn't work for every site, but it has broad functionality across popular websites and streaming services.
Both Norton and Bitdefender have unlimited password storage which is ideal if you have a lot of online accounts. They're also both very easy to use and set up. I found both password managers worked well when auto-filling credentials and logging me in — I didn't have to wait long to access my accounts. Bitdefender was a little faster than Norton, taking about 1 second to automatically fill in my details. However, Norton's unique auto-change feature and easy-to-use interface make it the top choice.
Password Manager Winner: Norton
Secure your passwords with Norton
8. Gaming — Norton's Silent Mode Lets You Game Without Interruptions
Both Norton and Bitdefender have tools that optimize gaming, but Norton's Silent Mode and low system impact makes it the better choice for gamers.
Norton doesn't have a dedicated Game Mode like Bitdefender, but its Silent Mode is essentially the same thing. When it's switched on, Norton will stop notifications so you can play without interruption. It also diverts CPU power away from background processes and sends it to your full-screen app or game, resulting in smoother gameplay.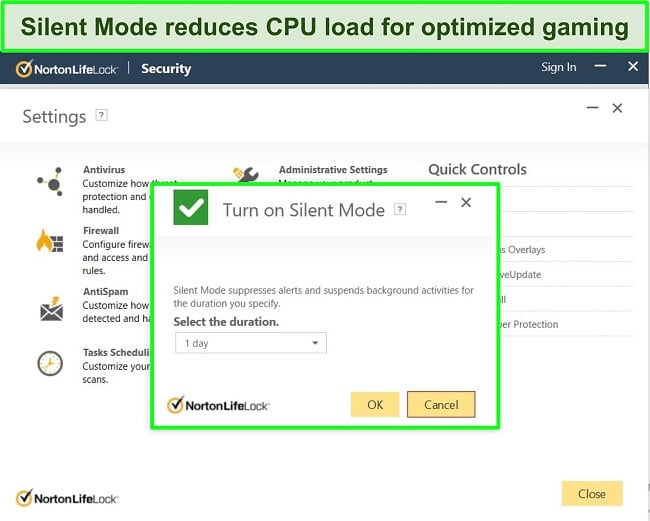 To see if Norton did boost my computer's performance while gaming, I checked its Performance Graph Tool after playing. I could see that Norton had optimized my system while the game was active, even minimizing its own impact to boost overall performance. I like that I could manually switch Silent Mode on through the Norton app or configure it to automatically function when I have an app in full-screen.
Bitdefender's Game Mode is highly configurable, making it a solid choice for users who want to customize which games or apps it works with. I like that when Game Mode is combined with Bitdefender's AutoPilot, the software learns how you use your device and makes optimizations automatically.
However, Bitdefender does have a slightly higher system impact so Norton is the better choice for gamers.
9. Optimization Tools — Bitdefender Significantly Improves Device Performance
Bitdefender wins in this category for 2 reasons. Firstly, its optimization tools have a noticeable impact on overall performance, and secondly, Norton doesn't offer optimization tools.
While Bitdefender doesn't have a huge range of optimization tools, the features it does include are high quality and work well. Bitdefener's tools include:
Photon — Helps the software to adapt to your system and the way you use it, making automatic optimizations to improve overall performance, speed, and increase computing resources (not available on Antivirus Plus or Internet Security plans)
OneClick Optimizer — Scans your device for junk files, broken shortcuts, tracking cookies, and more. It also removes unnecessary items to clear space and speed up your device
Battery Mode — Saves battery life by making small changes to device settings, like Bluetooth, system updates, and display settings
I particularly like the Photon feature, which works in the background to constantly monitor and optimize your device. I'd like to see it available on all plans as it's a useful tool that requires no manual configuration. The OneClick Optimizer is also useful. When I tested it, Bitdefender deleted over 1.5GB of unnecessary files and items to free space and speed up my system.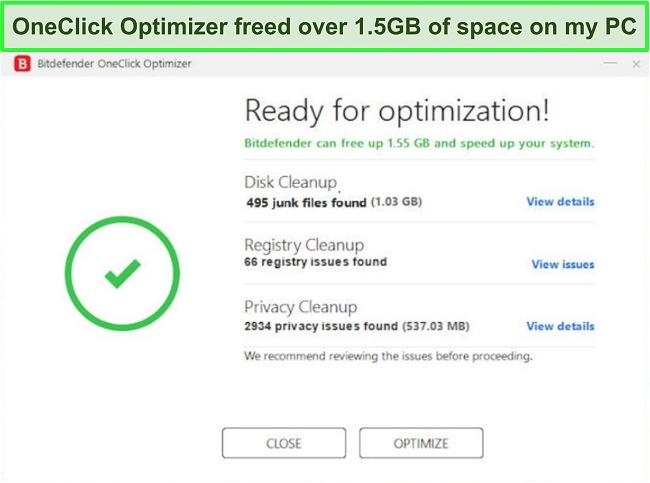 I'd like to see Norton introduce some similar tools to improve device performance, as these features come as standard with most antivirus software. Bitdefender's optimization tools work well to boost performance and create valuable space on your device.
Boost performance with Bitdefender!
10. Other Features — Bitdefender Has More Bonus Security and Privacy Tools
Bitdefender wins in this category as it has several features that provide more security. In contrast, Norton has very few additional features outside of the standard ones that most antiviruses contain.
| | | |
| --- | --- | --- |
| | Norton | Bitdefender |
| Cloud Backup | ✔ | ✘ |
| Webcam Protection | ✔ | ✔ |
| Microphone Protection | ✘ | ✔ |
| Identity Theft Protection | ✔ | ✘ |
| Anti-Spam | ✘ | ✔ |
| Browser Extension | ✔ | ✔ |
| File Shredder | ✘ | ✔ |
| Secure Browser | ✘ | ✔ |
What I particularly like about Bitdefender's features is that they all add layers of security to your devices. It's important to have security when browsing, banking, and shopping online. Bitdefender's features help secure your devices from more than malware by protecting you from hackers, keyloggers, phishing scams, and other online threats.
Norton's features are minimal and some, like its Identity Theft protection, are only available for US customers. However, I do like the addition of Cloud Backup on all of its plans. This is a way to further protect your sensitive information from ransomware attacks — if your data is in cloud storage, hackers can't hold it to ransom. The amount of storage you get depends on the plan you choose, ranging from 10GB to 75GB.
Boost security with Bitdefender
11. Device Compatibility — Both Antiviruses Support Windows, Mac, Android, and iOS
This category is a tie as I found that both Norton and Bitdefender are compatible with desktop and mobile operating systems.
Both antiviruses provide a clear and easy-to-navigate interface for Windows and macOS. I'm particularly impressed with Bitdefender's apps as all the features are explained in detail. This means you can make easy changes without worrying about switching off an important setting, reassuring for first-time antivirus users.
Norton's desktop apps are also very user-friendly, although I had some trouble locating the firewall feature hidden in the settings section.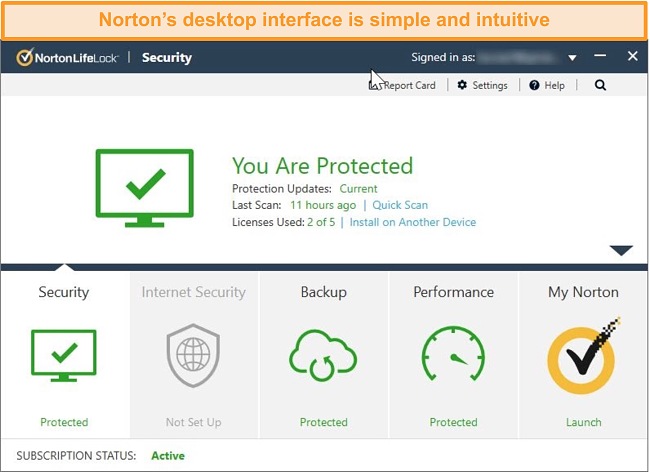 Both antiviruses have easy-to-use apps for Android and iOS. You'll find that the Android apps are considerably more comprehensive for both, given that iOS "sandboxes" its apps so full system scans aren't possible.
Here's a quick look at what Norton and Bitdefender include in their Android apps:
| | | |
| --- | --- | --- |
| | Norton | Bitdefender |
| Anti-Malware Scanning | ✔ | ✔ |
| Privacy Report | ✔ | ✔ |
| WiFi Security | ✔ | ✘ |
| Web Protection | ✔ | ✔ |
| Call Blocking | ✔ | ✘ |
| Contact Backup | ✔ | ✘ |
| VPN | ✘ | ✔ |
| Anti-Theft | ✘ | ✔ |
| Account Privacy | ✘ | ✔ |
| App Lock | ✘ | ✔ |
The iOS apps for both antiviruses have minimal features and don't have real-time malware protection. These apps are largely designed to scan for existing malware and add a few security features, like anti-phishing and web security. Norton has a few more iOS features than Bitdefender, including call blocking and a privacy report that monitors your personal details.
Device Compatibility Winner: Tie
12. Customer Service — Norton and Bitdefender Offer Helpful 24/7 Support
I was pleased to find that both Norton and Bitdefender have excellent customer support. There's nothing worse than having an issue and not being able to resolve it promptly, but these antiviruses addressed my concerns quickly. Both antiviruses have a 24/7 live chat, phone support, and community forum. Bitdefender also has email ticketing as a support option for non-urgent queries and refund requests.
I was connected to an agent in less than 1 minute when I tested 24/7 live chat for Norton and Bitdefender. The support staff was knowledgeable, and I was given thorough answers that fully resolved my issues.
Phone support is equally excellent for both antiviruses. I waited around 10 minutes on hold with both before being connected to support agents, who knew the software extremely well. Norton's phone support is available in 53 countries, while Bitdefender offers phone service in 17 countries and global phone support in English.
Bitdefender's email support is surprisingly fast — I got a response in just over an hour! This is great if you don't want to talk to live chat but need a speedy reply. The email I received was polite, helpful, and answered my question.
Regardless of which antivirus you choose, both Norton and Bitdefender have top-tier customer service for resolving questions quickly and thoroughly.
Customer Service Winner: Tie
Try Bitdefender risk-free today!
13. Price — Norton is Better Value for Money
Bitdefender is considerably cheaper than Norton — its most expensive plan is only a little more than Norton's cheapest. However, Norton's feature-packed plans are great value for money.
Every Norton plan has real-time protection, firewall, password manager, VPN, and webcam protection. Every plan also supports Windows, Mac, Android, and iOS devices. Norton's most expensive package even has unlimited device licenses.
In contrast, Bitdefender's firewall isn't available on the 2 cheapest plans and the optimization tools are only included in the most expensive plan. It's also worth noting that Bitdefender's Antivirus Plus and Internet Security plans are Windows-exclusive.
Both antiviruses offer steep discounts for the first year's subscription and double the cost on renewal. It's worth considering how much the price will jump if you continue your subscription. If you're looking for a high-quality antivirus that is a bit more budget-friendly, Bitdefender is an excellent choice. However, Norton's plans have more comprehensive antivirus protection.
14. Free Version — Bitdefender's Free Plan Includes Malware Protection
Bitdefender wins this category by default as Norton does not offer a free plan. That being said, I'm impressed by the coverage you get with Bitdefender's free plan.
You can sign up for Bitdefender Free without any credit card details. You'll get the basic virus scanner, anti-phishing and anti-fraud protection, web filtering, and optimization tools. However, Bitdefender Free is missing ransomware protection so it isn't full coverage. That being said, if you're not using your device to store sensitive data like banking information or confidential work, Bitdefender's free version is better than no protection at all.
15. Money-Back Guarantee — Norton Gives You 60 Days to Test the Service and Get a Full Refund
Norton's money-back guarantee period is twice as long as Bitdefender, making it the winner of this category.
I also found that the process for Norton was a little easier. I simply contacted Norton over 24/7 live chat and requested a refund. The agent offered to troubleshoot the software and even add a free month to my subscription in an attempt to get me to reconsider. However, the agent promptly processed my refund when I confirmed I wanted to cancel. I had the money back in my account in 5 days.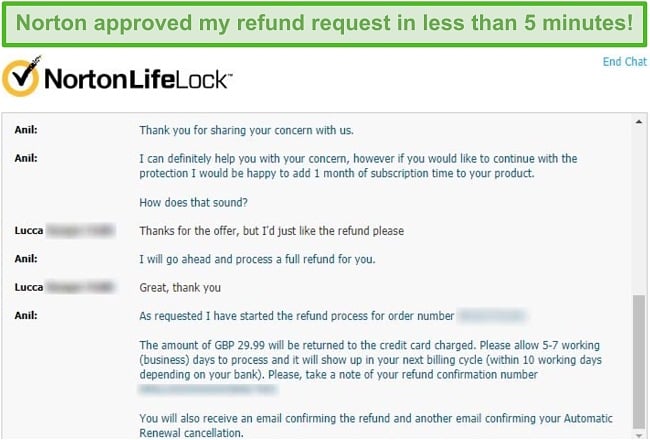 In comparison, Bitdefender takes longer to get a refund confirmation. The process is just as easy — I sent an email to Bitdefender's customer support canceling my subscription — but it took 5 days to get a response. This worried me a bit as I wanted to make sure my cancellation request was within the deadline. I recommend sending an email well ahead of the 30-day deadline to ensure you don't miss out on the money-back guarantee. After I received confirmation, I had my money back from Bitdefender in 5 days.
It's always worth testing antivirus software for yourself to ensure it's right for you. I recommend you sign up with Norton's 60-day money-back guarantee as it's a generous amount of time (plus you get almost instant confirmation of your refund).
Money-Back Guarantee Winner:
Norton
And the Winner Is… Norton
Norton emerges as the winner and comes out on top in 9 categories. Bitdefender won 3 categories, and the remaining 3 are a tie between the 2 antiviruses. Despite Norton winning so many categories, it's important to note that Bitdefender is second by a very small margin.
Both Norton and Bitdefender are excellent choices. Whichever antivirus you choose will protect your devices from existing malware, as well as secure your data from real-time threats.
Norton is security-focused, including a firewall, password manager, VPN, and cloud storage with every plan. It's the best choice if you want to secure your devices and make sure that your sensitive data stays private.
Bitdefender has more optimization tools. It has features like its OneClick Optimizer, Photon technology, and antivirus profiles that boost your device's performance. It's a great choice if you're looking for an antivirus that will speed up your device.
Ultimately, the best way to make sure a product is right for you is to try it for yourself. You get 60 days to test Norton risk-free using its money-back guarantee. The refund confirmation takes a couple of minutes and you'll have your money back quickly. Bitdefender gives you a 30-day money-back guarantee to use. It takes longer to confirm the refund, but you'll still be able to get your money back in less than a week.