5 Best TRULY FREE Windows Antivirus Software (Tested 2022)
Last Updated by Lucca RF on July 01, 2022
Microsoft Defender is the default antivirus for PC but it only provides a very basic level of protection. The unfortunate truth is that it simply can't keep up with the increasing number of cyberattacks targeting Windows. While I strongly believe the best protection is a low-cost Windows antivirus like Norton 360, I've also tested some 100% free antivirus brands that offer decent protection against malware.
To save you time, I ranked and shortlisted the top free antivirus programs for Windows 10, 8, and 7. Each option will protect your Windows PC from the most common strains of malware. The best antivirus software (like Avira) can even defend against newly-released cyberattacks in real-time, as well as optimize your PC for enhanced performance. You can try Avira for free on Windows — it only takes a few minutes to set up and secure your device.
Quick Guide: Best Free Antiviruses for Windows in 2022
Update July 2022: Norton 360 doesn't have a free version any longer, but it's the best antivirus for Windows and you can still try Norton 360 for free for 60 days with the money-back guarantee. In tests, my team and I found that Norton even blocks specific cyberthreats targeting Windows.
Microsoft Defender is Good, But Not Enough Protection for Windows in 2022
Microsoft Defender (formerly known as "Windows Defender") is the free default antivirus that comes with every Windows PC. After running extensive tests with my team, I was disappointed to discover that Microsoft Defender just doesn't stand up to the competition. Even free antivirus brands often include key cybersecurity features like VPNs, parental controls, password managers, and PC optimization tools — none of which Microsoft Defender offers.
While Microsoft Defender can act as a basic firewall, that's nowhere near enough to keep private data safe on your Windows device. I strongly suggest you combine Microsoft Defender with a free antivirus like Avira. This ensures you'll have at least a minimum level of protection.
The Best Free Antivirus Software for Windows 10, 8, and 7 (Updated July 2022)
Key Features:
Real-time malware scanner detects the latest cyberattacks
Bonus features include password manager, PC optimization tools, and file shredder
Supports all versions of Windows
Phone and email support available
Use on up to 5 devices
Avira is the best free antivirus for your Windows device. Not only does Avira's antivirus engine have near-perfect detection rates, but it also offers real-time and ransomware protection (which most brands make you pay for).
After putting Avira through multiple scans, I was impressed by its high detection rate. It scored an almost perfect rate of 99.9%, which is higher than many premium antiviruses out there. You can use 2 scan types: Smart Scan or Full Scan. The Smart Scan checks for malware and also alerts you to any privacy or performance issues on Windows. During my tests, Smart Scan suggested that I delete unnecessary registry entries (although it wouldn't actually do this for me unless I upgraded to the paid plan).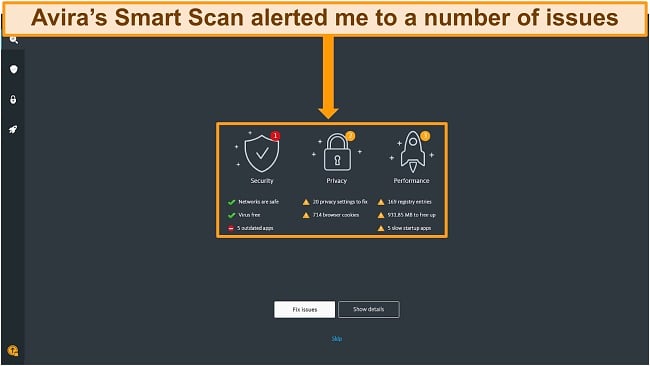 Avira's impressive results are due to its integrated cloud-based technology, which means you need to be online for the best protection levels. I was especially pleased to see that Avira only mistakenly flagged 5 safe files as dangerous (also known as a false positive), which is significantly below the industry average of 16.
I also like that Avira comes with a Safe Shopping browser extension. The browser extension works on Google Chrome, Microsoft Edge, Opera, and Mozilla Firefox, and it successfully detected phishing links and blocked trackers and ads in tests. The file shredder is another great addition — it permanently deletes sensitive files, making them completely unrecoverable even with specialized software.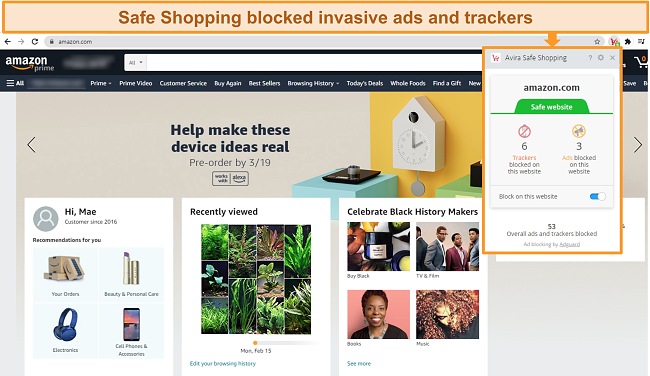 Avira's free plan comes with many features that other antiviruses only offer on their premiums plans. It includes real-time protection, the phantom VPM, a password manager, and a file shredder. Except for the VPN, you don't have any limitations or restrictions on these features. This is extremely rare to see on a free plan. The only significant limitation is that the free plan does not give you access to its full customer support. If you want to compare Avira's free plan to its premium plans, it offers a 30-day money-back guarantee. I tested it and was pleased with how quickly and efficiently my refund was processed.
Key Features:
AI-based malware scanner protects against the newest viruses
Extra features include parental controls and remote management tools
Apps available for Windows 7, 8, and 10
Customer support via email only
Protects 3 devices
Sophos Home Free is a great Windows antivirus if you've got kids as it comes with parental controls and a remote dashboard. This is especially useful for managing your kids' devices — you can configure settings, run scans, and get a quick overview of everyone's devices in a single place.
Parental control is generally reserved for paid antivirus programs, so I was pleased to see that Sophos offers a decent version for free. You can use web filtering to block access to specific website categories, such as gambling or adult content. This works with Chrome, Firefox, Edge, and even some browsers like Vivaldi (although some browsers like Brave aren't supported, so it could be used to circumvent these blocks). On the supported browsers, Sophos' parental controls successfully blocked all the content I chose to be restricted.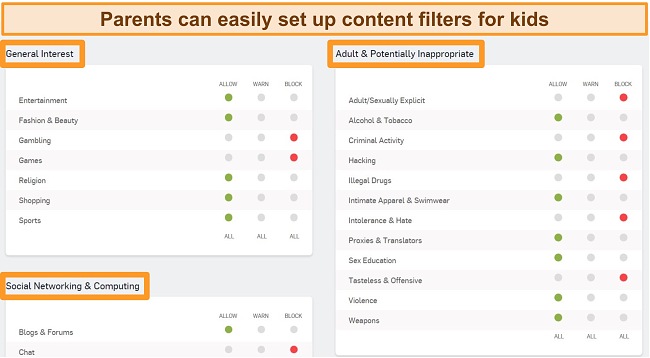 Sophos' powerful antivirus engine ensures no one will accidentally download any dangerous files onto your family's Windows PC. In tests, Sophos detected 100% of threats. It took just 10 minutes to run a full system scan and it didn't mistakenly flag any safe files. Sophos also detected 100% of malware threats found in the last 4 weeks, another impressive accomplishment. It has advanced protective capabilities due to its deep learning-based malware identification. Unlike signature-based protection that needs malware to be previously identified, Sophos' AI can detect new malware only by matching threat characteristics to it.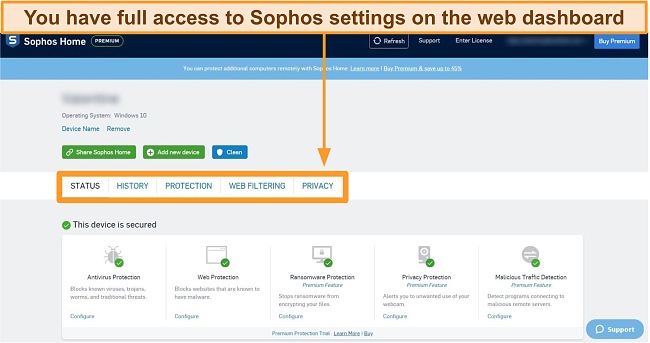 Sophos' main weakness lies in its phishing protection. Sophos only detected 84% of phishing threats and doesn't offer a dedicated browser extension like Avira. Compared to Avira and premium Windows antivirus programs, Sophos has a long way to go with its phishing protection.
Try Sophos for free on Windows!
Key Features:
Advanced virus scanner that detects and quarantines malware
Comes with optimization tools for PC
Works on all versions of Windows
Customer support available via 24/7 live chat, email, and phone
1 device license only
TotalAV has a decent free plan with excellent malware detection rates, although it doesn't protect against the latest threats and ransomware attacks.
In tests, TotalAV detected 100% of malware during scans. The Smart Scan checked over 55,000 files, which only took about 5 minutes. I was impressed by the fact that TotalAV was able to detect tracking cookies, search history, duplicate files, and auto-run programs that slowed down my computer at startup. Even better, I didn't notice any slowdown on the test Windows PC during the scan.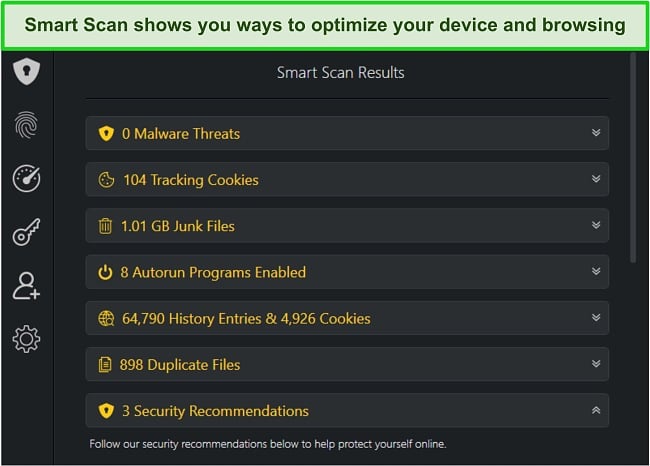 The Full Scan checked over 940,000 files in about 22 minutes. This was pretty impressive as it's nearly as fast as some premium antiviruses like Norton.
Unlike Avira, TotalAV doesn't come with extra features on the free plan (like a VPN, password manager, or parental controls). I also found it difficult to figure out which features were actually free on the app. On the TotalAV dashboard, there are no labels indicating the free features, and I had to go through each feature individually. If a certain feature wasn't free, TotalAV only alerted me after clicking and displayed an upsell message prompting me to buy the premium version.
If you do want to test out some of TotalAV's premium features, it offers a 30-day money-back guarantee and some of the most competitive prices on the market for the first year of your subscription. I signed up for the premium plan to test its features and was impressed with its performance.
Try TotalAV for free on Windows
Key Features:
Strong antivirus that detects adware, spyware, and ransomware
Features include a firewall, Game Mode, and VPN (limited version)
Compatible with Windows 7, 8, and 10
24/7 live chat, email, and phone support
Protects 1 device
Panda has a free antivirus plan with a few advanced features, such as a firewall and Game Mode. I was pleasantly surprised to see these features offered for free, since many competitors usually restrict it to their premium plans.
The Game Mode prevents notifications from popping up when you launch a full-screen app. I found the firewall equally effective — you can even set it up with a location-based filter. For example, you can customize the firewall specifically for public WiFi networks and home networks.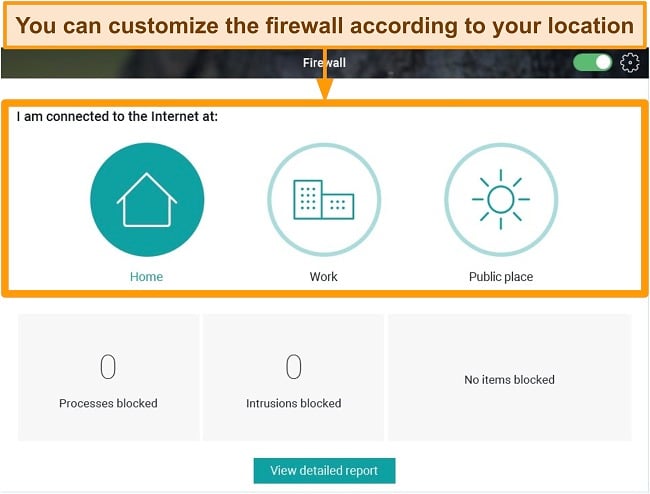 When it comes to virus scans, you can choose between a full, critical, or custom scan. The critical scan took just 3 minutes to scan 600,000 files, while the full scan took just under an hour. Panda even includes its Cloud Cleaner scan on the free version, which runs a scan in the cloud to reduce performance impact. I was impressed by the results — Panda detected every threat in real-time tests and 99.7% of malware in scans.
The downsides are Panda's limited VPN and lack of phishing protection. The VPN only has 150MB of free data every day. Unfortunately, Panda also doesn't offer the Safe Browsing feature on its free version, so you won't be alerted in advance to phishing attacks until you've already downloaded the file. If you wanted to try these features out for free, you would need to sign-up for one of Panda's premium plans using its 30-day money-back guarantee.
Key Features:
Advanced malware scanner that detects spyware, trojans, adware, and more
No bonus features (like a VPN, firewall, or parental controls)
Compatible with all Windows versions
24/7 live chat, phone and email support
Only 1 device license
Bitdefender's free version is a simple antivirus for Windows. There are no flashy features (like a VPN or browser extension) unless you upgrade to a paid plan. However, it does offer great protection against malware. On the test Windows PC, Bitdefender blocked all types of malware while scanning and in real-time. It didn't even incorrectly flag any safe files. While there's no Quick Scan option, you can choose to run a full scan or customized scan — the full scan took just over an hour to complete.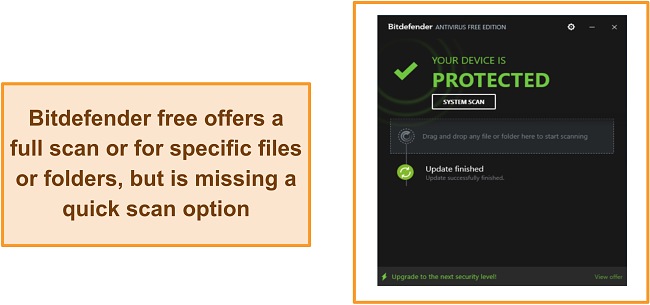 I was also impressed with Bitdefender's phishing protection. It's integrated into the free app and will protect your Windows device against fraudulent websites and phishing scams. However, Bitdefender's free plan doesn't have anything else to offer. It'll protect you against malware, but you're still vulnerable to online spying, tracking, and other types of internet threats. If you are only looking to protect a Windows deceive, Bitdefender has really affordable premium plans for Windows. You can also try them for free for 30-day, no upfront payment required.
Try Bitdefender for free today!
Key Features:
Top-tier antivirus engine protects you against malware, phishing, ransomware, and more
Features include webcam protection, VPN, password manager, and firewall
Compatible with Windows 7, 8, and 10
24/7 customer support through email, chat, and phone
Coverage for up to 10 devices
Even though it's not free, Norton 360 deserves a mention as it's #1 antivirus for Windows in 2022. In tests, Norton achieved 100% malware detection rates in scans. Despite the affordable price, Norton even includes a huge range of premium features. This includes a VPN, webcam protection, smart firewall, password manager, parental controls, and encrypted cloud backup. It's top value for money if you're looking for maximum protection for your Windows device.
Don't take my word for it though — you can try Norton risk-free with its 60-day money-back guarantee. I tested this myself by signing up for Norton, testing it for a few weeks, and requesting a refund through its 24/7 live chat. My refund was approved within 5 minutes and I had the money back in my account 5 days later.
Try Norton 360 risk-free on Windows!
Comparison Table: 2022's Best Free Antivirus Software for Windows (All Versions)
Warning! These Free Antiviruses Aren't Enough for Full Windows Security
1. Avast and AVG
Avast and its sub-company AVG used to be very popular antiviruses for Windows. Unfortunately, it was discovered that Avast was secretly collecting user data and selling it to major companies through its Jumpshot subsidiary. This includes browsing data and even visits to adult websites. Although Avast claimed all sold data was anonymous, it's been proven that this data could be linked to specific users. Due to this breach of trust, I can't include Avast (or its subsidiary AVG) even though both programs are free.
2. Microsoft Defender
Microsoft Defender is better than having no antivirus, but it's just not powerful enough to rely on solely. While it did scan and flag existing malware in tests, Microsoft Defender failed to protect the test PC in real-time or against complex ransomware attacks. You're better off with a free antivirus from Avira, Sophos, or any other brand on this list — you'll even get features like a VPN, parental controls, and optimization tools at no extra cost. These are all features that Microsoft Defender fails to deliver on.
How to Use a Free Antivirus on Windows in 2022
Download a free antivirus for your Windows device. I recommend Avira Free Security as it's the #1 free Windows antivirus.
Launch your antivirus software. You won't need to set up an account or provide any credit card information.
Run a scan to detect any malware on your PC. I suggest running a Full Scan in order to detect any existing threats.
Fix any issues. The antivirus will walk you through the steps. Alternatively, you can set up features like the password manager or browser extension.
Try Avira for free on Windows!
How I Rated the Top Free Antivirus Programs for Windows
I checked multiple free Windows antivirus products to narrow them down to top 6 options. I used my Windows 10 64-bit computer to test each antivirus for the following criteria:
100% free — Many antiviruses claim to be free but are actually timed trials (or worse, still require your credit card information). I personally downloaded each Windows antivirus to ensure there are no hidden catches.
Strong virus scanner — I ensured each free antivirus is capable of detecting and blocking viruses, trojans, worms, and other malware. The best options even offer real-time protection against complex threats, such as ransomware.
Extra features — Many free antiviruses offer bonus features, such as a VPN, parental controls, and password managers. However, some often have limitations (for instance, the VPN might have a data cap).
User-friendly Windows app — Even thought it's free, the antivirus needs to work well on Windows 10, 8, and 7 without any system impact.
FAQ: Using a Free Antivirus on Windows PC, Laptops and Tablets
Does Windows 10 really need an antivirus?
Yes, you really do need an antivirus on Windows 10. Windows is the world's most popular operating system and it's a huge target of many malware attacks. Although Windows 10 comes pre-installed with Microsoft Defender, it's only the most basic layer of protection and won't protect you nearly as well as a dedicated antivirus company. Even many free antivirus brands perform much better than Microsoft Defender on its own.
Is Microsoft Defender good enough for Windows?
While it offers decent protection, Microsoft simply isn't powerful enough to defend your Windows device against newly-released cyberthreats. I'd actually avoid using Microsoft Defender as your primary antivirus since it's missing a number of features that you can get with other free programs. You can try Avira for free on Windows and still get plenty of features and a higher malware detection rate than Microsoft defender. It lacks a lot of features, but it's still better than nothing (or just using Microsoft Defender by itself).
Which antivirus is best for Windows?
Based on tests, the best antivirus for Windows is Norton 360. Norton 360 offers powerful protection for Windows 10, 8, and 7. It even comes with extra features, like a VPN with unlimited data, parental controls, password manager, firewall, and much more. Norton 360 has a 60-day money-back guarantee, which allows you to test out the software risk-free and get a refund if you're not satisfied.
Is a free antivirus safe for Windows?
It depends. You can't just download any free antivirus onto your Windows device — unfortunately, most of what's available on the internet is actually malware in disguise. However, I've personally vetted the best free antiviruses for Windows in 2022. Each antivirus is a legitimate program run by established companies — some even come with a VPN, password manager, and other tools at no extra cost. The free programs are are support by each company's paying customers, so you should expect to see some restrictions or upselling attempts (although I think it's worth it in return for a trustworthy free antivirus!).
If you don't want to deal with the hassle of restrictions or ads, you can always consider using a premium antivirus for Windows instead. For example, I put Norton 360 through a number of tests and found out it has a perfect malware detection rate and multiple features such as parental controls, a VPN, firewall, password manager, and more.
---
The Best Windows Antivirus Software in 2022 (Try FREE With Money-Back Guarantees)