5 Best Antivirus Software for PC Gaming in 2021 (+ Game Mode!)
Last Updated by Kate Hawkins on May 01, 2021
It only takes a few seconds to win or lose a game. So the last thing I want is an antivirus program to interrupt me with pop-up notifications or cause my PC to lag on higher graphic settings. The good news is that you don't have to sacrifice excellent gameplay in order to protect your PC from malware. You just need to find an antivirus with features that have been exclusively developed for PC gaming.
I tested dozens of antiviruses while gaming online and offline on my PC, and I shortlisted the top 5 antivirus programs for 2021. Each option includes Game Mode or an equivalent feature that ensures smooth full-screen gaming. Some even optimize your PC with boosters to ensure there are no slowdowns.
In short, the best choice for gamers is BullGuard for its impressive Game Booster (it actually improves your PC's gaming performance!) and excellent protection against all types of malware. It's easy to set up and Game Booster is automatically enabled, so you don't have to spend time manually configuring settings. You can try BullGuard free for 30 days with its money-back guarantee — I tested it myself and had my money back in less than a week.
Try BullGuard for free for 30 days!
Quick Guide: Best Antivirus for PC Gaming (2021)
How I Ranked the Top Gaming Antiviruses in 2021
I tested a range of different antivirus software packages to find the best for PC gaming. I looked for antiviruses that support Windows primarily, boost PC performance, and provide comprehensive malware protection. I used my gaming rig to test each antivirus, which includes an Intel Core i7 (9th generation) CPU, an Nvidia GeForce RTX 2060 Super GPU, and 1TB of storage. I played a variety of games too, from Left 4 Dead 2 to Apex Legends.
To determine which ones made the list, I checked them against the following criteria:
PC performance optimization — I looked at how the antiviruses affected and boosted my PC's performance. I didn't want an antivirus that slows my PC when I'm gaming, so I checked for features like cloud-based scanning which performs more efficiently. I also checked for tools like junk file removal and other device cleaning features that free up RAM and memory (more space for more games!)
Malware protection — It's essential to have complete coverage while you're gaming, so I tested the real-time malware protection to guarantee each antivirus fully protects your PC. I made sure all services meet or surpass industry standards for detection and blocking, especially for zero-day threats that could attack your PC while you game online.
Ease of setup — I wanted to make sure that the software is easily accessible and intuitive to use, even for those who aren't familiar with antiviruses. I checked that the software downloads and installs quickly, and if Game Mode is automatically enabled or has to be configured manually.
Value for money — There's no point purchasing a service that isn't worth the monthly or annual price. That's why I made sure every antivirus on this list is good value for money and protects more than just your PC (so you can use them on multiple devices!) I also made sure that paying for coverage is simple and that you can easily get a refund if you change your mind.
Bonus features — I looked at all the extra features each antivirus includes and tested them for overall performance and reliability. These features include parental controls, webcam and microphone protection, a password manager, a VPN, and more.
It was a challenge to find antivirus software that met my needs, but I found 5 providers that had just what I'm looking for. I'm confident every antivirus package offers high-quality antivirus security with minimal impact to gameplay (and all at affordable prices!).
5 Best Antivirus Software for PC Gamers — Tested May 2021
Key Features:
Dedicated Game Booster optimizes PC performance for smooth play
Customizable game profiles boost performance for different games
Full-coverage antivirus protection from real-time malware attacks
Compatible with Windows, Mac, and Android
24/7 customer support team available
30-day money-back guarantee
BullGuard's Internet Security package is one of the best available for PC gaming due to its impressive Game Booster. It's automatically configured to run when you start up the software, so there's no need to manually switch it on. When the Game Booster detects that you're gaming, it reroutes CPU power to your game and away from background apps. This means that with Game Booster active, your games run better than if you didn't have BullGuard.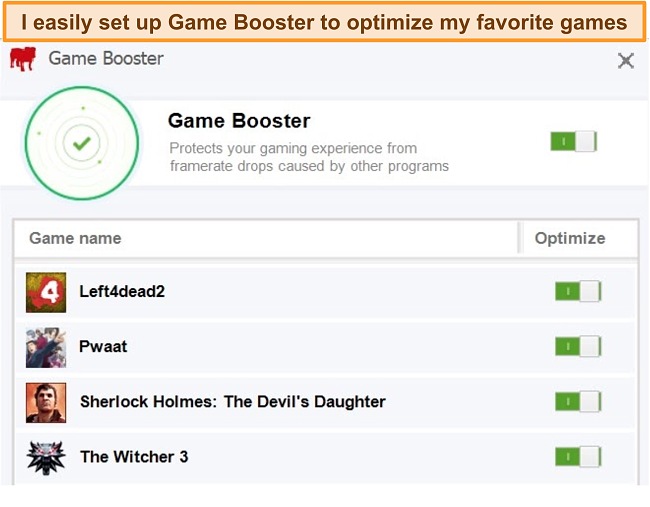 One thing I really like about BullGuard is its game profiles — I can optimize my PC's performance and the antivirus protections for each specific game. For example, I can tell BullGuard which ports to connect to and which programs to let through the firewall. This means that my experience playing Left 4 Dead 2 online is different to when I play The Witcher 3 locally. If I want to adjust the optimization for a particular title, I can easily do that in the "My Games" setting. Overall, I found it very easy to configure BullGuard to work how I wanted it to while I was gaming. The initial download and setup was simple too, taking less than 5 minutes altogether.
Better yet, BullGuard's gaming optimization doesn't impact its real-time malware protection. You can rest assured that while you're playing online, you're effectively protected from online threats as they happen. During tests, BullGuard successfully detected 100% of zero-day malware attacks. This is an important feature, as it indicates BullGuard's software is powerful enough to stop threats that haven't been identified yet! It also blocked 100% of threats discovered in the previous 4 weeks. This means you get superior malware defense with minimal impact to your CPU for smooth, lag-free gaming.
BullGuard is packed with extra features too, including parental controls, a secure browser, a firewall, and an optional VPN service. It doesn't have a password manager or identity theft options but when comparing its price point to other top-rated antivirus software, I'm fully satisfied with its feature offerings. The most important thing is that the Game Booster is available on every plan (even the cheapest tier!).
If you want to see how well it works for your PC while you're gaming, you can try BullGuard for 30 days risk-free with its money-back guarantee. I was surprised by how easy it was to get a refund — I simply contacted the live chat with my order reference number and asked for my money back. The agent asked for a reason for canceling (I said that my financial circumstances had changed) and they were happy to process my refund promptly. I had my money back in less than a week.
Boost gameplay with BullGuard!
Key Features:
Quiet Mode and Silent Mode options for gaming
Minimal impact on system performance for lag-free play
Superior malware protection detects 100% of zero-day threats
24/7 customer support
60-day money-back guarantee
Norton has long been at the forefront of malware protection and you can rely on it to protect your PC from online threats — even when you're gaming! I was a little disappointed to find that Norton doesn't have a dedicated game booster but thankfully, there are 2 similar modes — Silent Mode and Quiet Mode — that do pretty much the same thing. When both of these are on, they work together to detect when a high-CPU app (like Apex Legends) is full-screen to prevent notifications and divert processing power away from other apps.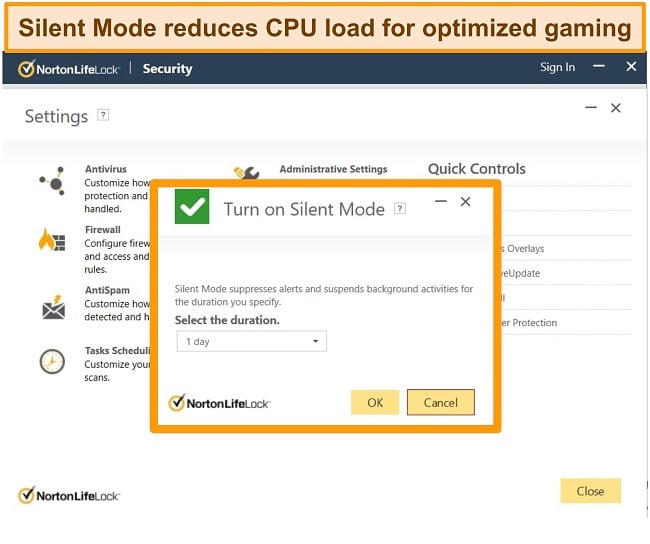 I could also monitor Norton's CPU impact using its Performance Graph tool. I could see for myself that while I was gaming, Norton's overall performance impact was minimal.
As far as malware protection goes, Norton is second to none. I was particularly impressed to see that in tests, Norton detected 100% of zero-day malware and new threats from the previous 4 weeks. Norton has long-term consistency when it comes to protecting against malware, achieving perfect scores for years. This puts my mind at rest when I'm gaming, as I can focus on playing and not on my PC's security
Norton has a wide range of extra features that not only protect you while gaming, but when shopping online, browsing the web, or your kids are using the internet. It includes a password manager, VPN, parental controls, and a SafeCam feature that blocks unauthorized access to your webcam. This great selection of additional features make Norton one of the best all-round antivirus packages on the market.
You can also test Norton risk-free with its 60-day money-back guarantee. If you decide not to subscribe, just contact customer service within 60 days of your purchase and request a refund. You'll have your money back in about a week.
Key Features:
Multimedia Mode blocks notifications when apps are full-screen
Cloud-based scanning causes less CPU-impact
Protects against malware (but anti-ransomware excluded from "Essential" plan)
Phone and email support
30-day money-back guarantee
Panda is one of the most straightforward security packages I've used. Its Multimedia Mode (designed specifically for games and movies) is automatically enabled and ready to go when I start my PC. This allowed me to start gaming quickly without searching through multiple menus and options.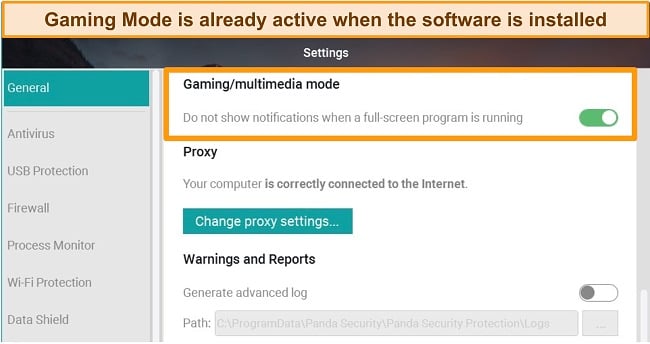 As Panda's virus scans are all cloud-based, I noticed minimal impact on my CPU while I was gaming. There was a little slowdown, but I didn't experience any lag or performance interruptions while I was playing games like Apex Legends and Phoenix Wright.
I especially like Panda's parental control features, if you're looking to download an antivirus with gaming mode for your kids. Panda let me limit time on apps, track devices, and monitor internet use from my PC. I could see what online games my child played and knew there wouldn't be any accidental clicks on malicious apps or websites.
The only real downside is that you have to opt for one of the more expensive plans in order to benefit from Panda's parental controls and ransomware protection. However, Panda does offer a range of packages and you can pay for them as you go, which is great for the budget-conscious gamer. All of the plans have a money-back guarantee so you can try Panda risk-free for 30 days.
Try Panda risk-free for 30 days!
Key Features:
Mutes notifications during gaming
Autopilot Mode optimizes PC performance
Complete real-time protection from malware
24/7 support available — live chat, phone, and email ticketing
30-day money-back guarantee
Bitdefender has multiple modes that can be used for gaming, all of which are customizable to your needs. Work, Movie, and Gaming Mode all mute notifications and divert processing power away from background applications so you get the best performance from your PC. Bitdefender also has an Autopilot Mode that can further improve your gaming experience. As you play, Autopilot learns how you use your PC and suggests security and optimization actions to make your gaming even better.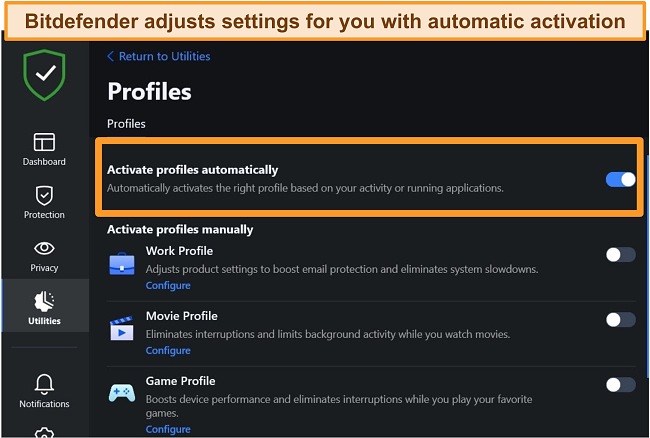 In tests, Bitdefender proved itself to be a top-tier antivirus with strong malware protection for your PC. It also has lots of extra features including parental control options, a VPN, webcam protection, a password manager, and more. While you get a lot included, Bitdefender is one of the more expensive options (especially after the first year's discount expires). As such, it may not be the most cost-effective antivirus solution if you're on a budget.
That being said, Bitdefender is great if you want to fine-tune your PC gaming optimization settings, as there are so many options to choose from. And thanks to its money-back guarantee, you can try Bitdefender risk-free for 30 days to see if it's the right choice for you.
Enjoy gaming with Bitdefender!
Key Features:
Exclusive "Antivirus for Gamers" package
Tiny file size saves space for more games
Protects against malware, ransomware, spyware, and more
Email and phone support
70-day money-back guarantee
Webroot is a great choice for your PC antivirus if you're looking for software that has minimal impact on your CPU and memory. It's a tiny downloaded file (just 4MB), thanks to most of the data needed to operate being stored in the cloud. This maximizes space for games and means Webroot draws very little operating power from your CPU. Designed to run unobtrusively in the background, Webroot's Antivirus for Gamers package had almost no impact on my PC when I tested it. I experienced lag-free gaming the whole time Webroot was operating, even when it performed a virus scan and I was playing Left 4 Dead 2 online with friends.
I also like that Webroot features a system optimizer that cleared up some unused background files on my PC (and made more space for games!). As a lightweight app, it doesn't have a lot of extra features but it does provide real-time protection from malware attacks.
Webroot offers an impressive 70-day money-back guarantee on all of its software plans. This means you can test Webroot for a full 70 days risk-free and get a full refund by completing a request form on its website.
Try Webroot for 70 days risk-free!
Comparison Table: 2021's Best Antiviruses for Gamers
BullGuard takes the #1 spot for its impressive Game Booster, effortlessly optimizing your PC's performance so you can play games without lag or interruption. It beat out the rest of the competitors as no other antivirus could outperform BullGuard's Game Booster feature during gameplay. While Norton doesn't have a specific Game Mode or Game Booster, it does offer the equivalent Quiet and Silent Modes, as well as the best malware detection rates out there.
Game Mode
Malware Protection
Parental Controls
Money-Back Guarantee
1. BullGuard

✔


(with Game Booster)

✔

✔

30 days
2. Norton

✔

✔

✔

60 days
3. Panda

✔

✔

✔

30 days
4. Bitdefender

✔

✔

✔

30 days
5. Webroot

✘

✔

✘

70 days
Top Brands That Didn't Meet the Criteria
McAfee was close to making it on this list but unfortunately, I simply can't recommend it as a reliable antivirus. While McAfee's Gaming Security package may seem like the perfect antivirus, the company has significantly cut down on protective measures in order to make the software low-impact on your CPU. As a result, McAfee doesn't detect or block malicious websites hosting viruses or phishing scams in real-time protection tests.
Avira's antivirus software is pretty good but its Game Mode just wasn't as powerful or effective as the others on this list. While it automatically suspended notifications and closed background apps when I started my game, it didn't boost gaming performance at all. That being said, its free antivirus for Windows will provide sophisticated protection while you game online — just know that it doesn't include a Game Mode, so you may experience pop-up alerts and notifications while you're playing.
While Kaspersky scores excellently in malware detection tests, it disappoints when it comes to gaming. Kaspersky's file size (1,500MB) is significantly larger than BullGuard (600MB) or Norton (300MB), taking up precious space for games. Not only that, but Kaspersky doesn't automatically enable Gaming Mode. This means you have to spend time manually switching it on every time you start up your PC.
Avast is a popular free antivirus package that offers excellent malware detection and a dedicated Game Mode. Unfortunately, it's not a trustworthy company that you can rely on to protect your PC. Avast was discovered to have collected and sold the sensitive data of millions of its users, raising global concerns over the unethical nature of its privacy practices. For this reason, my team and I no longer recommend it as a viable antivirus solution.
FAQ: Using an Antivirus for PC Gaming
🤓 Does antivirus software affect gaming performance?
Yes, every antivirus will have some type of impact. This is because virus scans are notorious for their high CPU usage, which can result in lag. However, top antivirus brands will offset the slowdown with dedicated Game Modes and performance optimization tools. For example, BullGuard actually improved my PC's speed and gaming experience!
Antivirus programs that don't have a "Game Mode" can display intrusive, annoying pop-up notifications while you're playing in full-screen. Obviously, this isn't ideal when you're in the middle of an intense gaming session!
😎 What's the best antivirus for gaming?
Based on my tests, the best antivirus option for PC gaming is BullGuard. It provides exceptional protection and boosts your PC for smooth, high-performance gaming. BullGuard boosts your CPU's performance while you game, giving you more responsive gameplay with less lag. BullGuard also has specific game profiles that automatically adjust settings for optimal performance, depending on which game you're playing.
Best of all, you can use BullGuard's 30-day money-back guarantee to play as much as you want and make sure the service is right for you. Getting your money back is easy — I spoke to a customer representative on the live chat option and had my refund in less than a week.
🙃 Can I use a free antivirus for gaming?
I wouldn't recommend using a free antivirus for gaming, as most don't have a dedicated Game Mode. This means you could get pop-up notifications while you play or experience in-game lag due to CPU-intensive virus scans and software updates.
If you're willing to sacrifice some speed and get the occasional notification, Avira isn't too bad for a free antivirus program. It has robust security that will protect your PC during gameplay, although it won't be as smooth or unobtrusive as the best antivirus options for gaming.
🤔 Do gamers use antivirus?
Many gamers don't use antivirus, but they should. High-quality antivirus services with Game Modes and Game Boosters are specifically designed for malware protection without sacrificing high-performance gaming. The issue is that many antivirus packages lack this functionality and the last thing you want in the middle of your game is a pop-up notification blocking your view!
When you connect to the internet to game without antivirus protection, you put your device at risk of malware and other threats. There are hacked mods for games you could download accidentally or malware that detects when you're in full-screen mode before it attacks your PC. This makes gamers a prime target for hackers, as they're expecting you not to have antivirus protection switched on.
The best way to protect your PC while gaming is with an antivirus that has a dedicated "Game Mode," like BullGuard. This way, you can play without interruption and keep your device secure.
Don't Put Your Gaming PC at Risk — Protect It With a High-Quality Antivirus
Many gamers overlook antivirus software because it's notorious for slowing down PC performance. Unfortunately, this puts you at risk of getting a virus — and that's not what you want when you're in the middle of a game! Fortunately, antivirus services provide dedicated "Game Modes" so you can experience lag-free gaming and maintain superior malware defense.
I found that the best antivirus for PC gaming is BullGuard. Its Game Booster features optimizes PC performance and provides full-coverage malware protection. That means you can play all your favorite games, both on- and offline, without worrying about your device security. Better still, you can try BullGuard for free with the 30-day money-back guarantee to make sure it's right for you!
Try BullGuard for free for 30 days!
Summary: Top Antivirus Software for PC Gamers in 2021