10 Best Windows Antivirus Software for PC Protection (2021)
Last Updated by Kate Hawkins on October 01, 2021
There are hundreds of antivirus packages geared towards Windows on the market, making it difficult to choose the right one. I have found so many that claim they're the best, but after testing dozens of different antiviruses I found 10 that truly are the best.
Unfortunately, you can't just rely on Window 10's built-in antivirus either. While it has decent cybersecurity protection, it's nowhere near as powerful as premium antivirus options. Relying purely on Microsoft Defender leaves you vulnerable to advanced malware attacks — nearly all malware is targeted explicitly at existing flaws in the Windows operating system.
After extensive testing, I've found 10 high-quality antivirus plans that provide the malware protection needed for your Windows PC. The top 5 services I found kept my Windows PC running smoothly, performed above industry standard in detection tests, and are very affordable. Norton 360 takes the number 1 spot for its powerful malware protection, low system impact, and range of useful extra features. Even better, you can test Norton 360 for yourself for 60 days risk-free by using its money-back guarantee.
Try Norton 360 for Windows risk-free!
Quick Guide: Top Antiviruses for Windows Security in 2021
How I Tested & Ranked the Best Windows Antivirus Protection
I ensured that the antivirus software on this top 10 list proved more effective than Microsoft Defender and surpassed the industry standard for security. I tested each antivirus using the following criteria:
Powerful antivirus engine — The majority of advanced malware specifically targets Windows, so it's vital to have powerful malware detection and blocking capabilities. I tested each antivirus to ensure it met or surpassed industry-standard detection rates (99.1% detection or higher), guaranteeing full protection for your Windows PC.
Fast speeds — It's true that running an antivirus scan can bog down your computer's performance. Still, some of the top AVs on this list are actually super-efficient and won't affect your computer. I also tested to see if they can run quietly in the background with minimum notifications and how long their scans took overall.
Bonus features — Many antivirus plans offer additional features designed to improve security and functionality, but they're not always high-quality. When I found an antivirus with additional features like a VPN, password manager, or file shredder, I tested each one to make sure it was worth using.
Value for money — All of the antivirus services on this list are reasonably priced — better yet, they all have money-back guarantees, so you're free to test them risk-free and get a refund if you change your mind.
10 Best Antivirus Software for Windows 10, 8, and 7 (Tested October 2021)
Key Features:
Powerful malware scanner won't slow down your PC
Features include firewall, cloud backup, parental controls, and more
Supports Windows 10, 8, and 7 (SP1)
60-day money-back guarantee
After thorough testing, Norton 360 emerges as the top choice for Windows 10 because of its excellent security features at a very affordable price. Its layered protection defends against new and known malware in real-time, and the advanced firewall blocks unwanted network connections. I'm particularly pleased to see that Norton's antivirus engine got a perfect score during testing, detecting and blocking 100% of real-time threats. This means it didn't let a single item of malware onto the test Windows PC.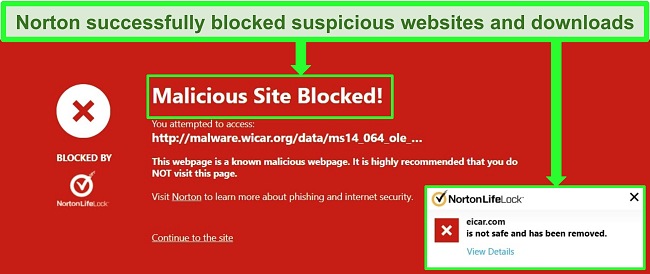 As well as protecting PCs from malware, Norton 360 offers a range of high-quality features designed to improve performance and overall security. Its low-impact scans don't draw unnecessary power from my CPU, so I can play video games, stream movies, and work on my PC without annoying lag or interruptions.
I like that Norton 360 offers cloud storage for free, providing space for up to 75GB of important files and information and protecting my sensitive data from potential ransomware attacks. Its integrated firewall-protected my PC at a network level, blocking unauthorized users and apps. It also has parental controls and a secure VPN, downloadable as additional apps, that secure my kids' devices and mask my online activity with unlimited data and a wide range of servers. These extra features act as layers of protection, not only from malware but attempt to hack into my PC, access my childrens' devices, or see what I'm doing online. Norton 360 really does provide comprehensive coverage for my Windows PC in more than just malware protection.
While Norton 360 is automatically configured to provide excellent protection, making changes is simple too. All of its features are clearly labeled so you can find what you're looking for quickly.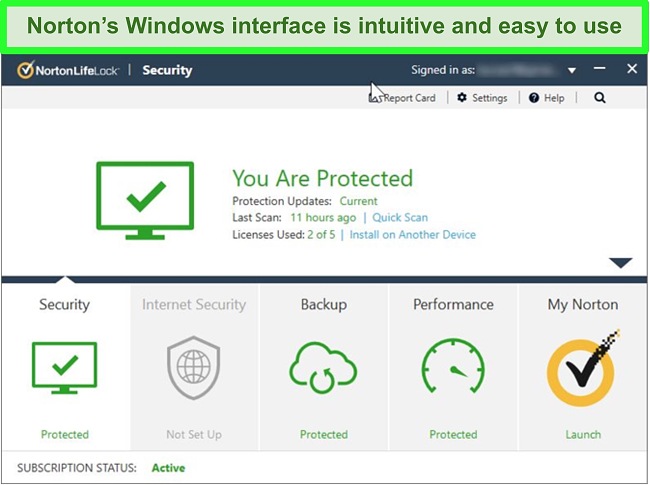 Norton 360 is undoubtedly the top choice antivirus for Windows 10 (and 8, and 7!) but you don't have to take my word for it. I'd recommend trying Norton 360 for yourself and taking advantage of its 60-day money-back guarantee. My colleague tested Noton's money-back guarantee and was surprised by how easy it is to get a full refund — just contact customer service through the live chat, request your money back, and it'll be processed in 5-7 business days.
Try Norton 360 risk-free for 60 days!
Key Features:
Excellent virus scanner defends against all types of malware
Comes with parental controls, VPN, password manager, and more
Works on Windows 10, 8, and 7,
30-day money-back guarantee
Bitdefender is right on Norton's tail when it comes to malware protection as it boasts a 100% detection rate in recent tests. This high level is on par with Norton 360, and Bitdefender is only second on the list due to the big price leap after the first year's subscription.
Bitdefender also offers cutting-edge features geared towards Windows 10 performance and protection. During my tests, every feature surpassed my expectations. I was especially impressed by Bitdefender's optimization tools for improved system performance, web filtering to block harmful sites and links, VPN, webcam and microphone protection, parental controls, password manager, and file shredder. All of this can be done from its informative and straightforward Windows desktop app.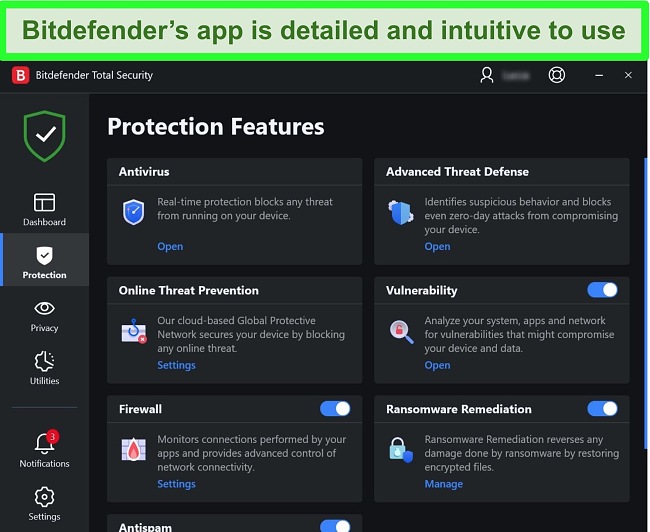 Bitdefender also gives you the option to reorganize your dashboard so you have the features you use the most readily available. This customizability level is unique to Bitdefender and makes it a top option if you want to have complete control over how your antivirus looks and operates.
I believe this antivirus is well worth the first year's price, especially as you can also test Bitdefender risk-free for 30 days with its money-back guarantee. To get a refund, you just need to send an email ticket through the support site. It took a few days for Bitdefender to send an email response, but I had my money back in 5 days once the cancellation was confirmed.
Get Bitdefender for Windows 10 now!
Key Features:
Robust malware protection secures your PC from harmful software
Extra features include optimization tools that boost performance
Available on Windows 10, 8, 7, Vista, and XP
30-day money-back guarantee
TotalAV's antivirus plans provide excellent malware protection, scoring above the industry average in recent detection tests. What makes TotalAV stand out for your Windows PC is its range of optimization tools designed to improve your computer's overall performance. This gives you premium protection and a performance boost in a single service, saving you money. These features include:
File cleaner: Scans your computer and removes unused and duplicate files
App remover: Easily uninstall rarely-used apps that are taking up space
Startup program manager: Improve PC boot time by managing which programs start when your PC does
Junk file remover: Checks your web browser and clears unnecessary data
I found having these optimization options available immediately was a great way to get my PC working better without having to navigate the app.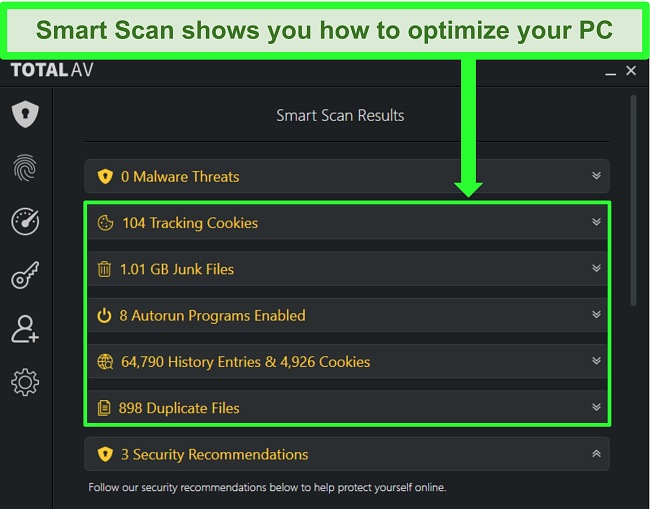 I was impressed with how well these features worked during my tests and how much faster my Windows PC ran after using them. Not only did TotalAV clear almost 3GB of space from duplicate files and junk items, but it also removed cookies from all of my browsers. I was able to configure the apps that started up when I booted my PC and reduced start time by over 50%, from 3 minutes to less than 90 seconds.
Unfortunately, I was less impressed with TotalAV's customer support. It's important to have access to help when you need it but I found both the live chat and email support were difficult to use and slow to respond. It's a concern as urgent issues could take a long time to resolve, which isn't what you want when it comes to your security.
However, with TotalAV's strong anti-malware protection plus its optimization tools, I think it's a top choice for high-performance Windows PCs. It will effectively secure your device against advanced malware, viruses, Trojans, and more while helping your PC run efficiently. You can try TotalAV risk-free for 30 days with the money-back guarantee. You can call TotalAV or send an email to request a refund — I got confirmation straight away and had my money back 2 days later.
Get TotalAV for Windows 10 now!
Key Features:
Antivirus engine defends against all strains of malware
Range of specialized tools to boost overall device security
Available on Windows 10, 8, and 7
60-day money-back guarantee
McAfee is a good option for your Windows PC because of its impressive security features and excellent malware protection. During tests, I found that McAfee detects and blocks 100% of the latest threats and previously discovered malware. This is the best possible result and ranks McAfee with other top-tier services like Norton 360. By adding powerful security features like Web Protection and a VPN, McAfee takes a strong approach to security with all the extra features. Some of its features include:
Web protection tools: McAfee includes a premium firewall, phishing, and adware protection, and WiFi scanning to protect you when you're online
Vulnerability scanner: Scans your Windows OS and installed apps to check for important updates, maintaining security
File shredder and encryption: Permanently deletes files or securely encrypts them in case of device theft
Secure VPN: Encrypts your online activity so no-one can see what you're doing or where you are — features unlimited data
Identity Theft Protection (US only): Monitors the dark web and your credit report, alerting you to stolen information or unusual changes
These tools effectively improved my Windows PC's security and, if you're in the US, it'll improve your personal security with ID Theft Protection. Even better, some of these features are Windows exclusive so you get access to McAfee's full range of extras.
While I'd like to see McAfee expand its security features to other platforms, it certainly ranks as one of the most secure services available for Windows 10. If you'd like to try it on your Windows PC, you can use McAfee's 60-day money-back guarantee to test every feature. Be careful if you're not subscribed to an auto-renewal plan, you'll only have 30 days to request a refund. After requesting a refund with my contact details, a representative got back to me in less than 10 minutes by phone to tell me my refund was accepted. It was only 7 days after that until I received the money back in my account.
Key Features:
All detected threats get blocked and quarantined
Bonus features include Game Booster, VPN, and parental controls
Dedicated app for Windows (versions 10, 8, and 7)
30-day money-back guarantee
Just like our other top antivirus picks, BullGuard manages a perfect detection rate of 100% and blocks every threat it finds. What makes this antivirus stand out is BullGuard's Game Booster feature that enhances gameplay and still protects against harmful programs. This feature automatically detects when you're playing a game and pulls CPU power away from background processes, diverting them to your game. Overall, this means that your games will run better with BullGuard installed than if you were using no antivirus at all. When I tested BullGuard, the difference was noticeable — my games loaded more quickly, I had zero lag, and reactions were more responsive.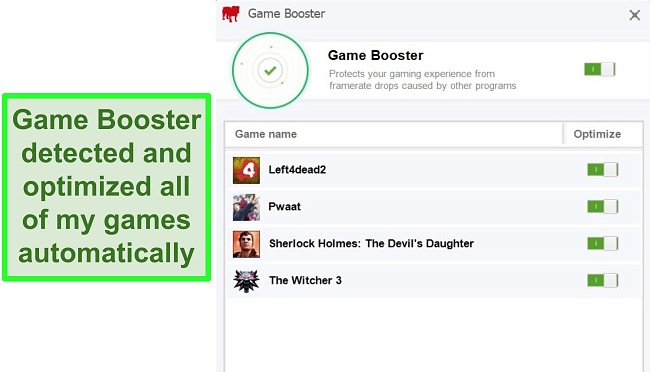 While its interface is a little outdated and tricky to navigate, BullGuard's optimization tools make it worth the effort to find your way around. It'll improve your gaming performance automatically, as well as your system — it has a startup manager, temporary file cleanup, boot manager, and more. Best of all, most of these optimizations take place in the background, so you don't have to worry about manually activating the features. Using BullGuard's optimization tools, I was able to free up over 1GB of space on my PC from junk and duplicate files.
However, not all of its features are as impressive as the Game Booster. Its parental controls are too easy to bypass if your kid is tech-savvy and its VPN is limited (and expensive!). You can still try BullGuard for 30 days risk-free with its money-back guarantee. Just send an email to customer support before the 30 days are up to request a full refund. I had my money back in 5 business days.
Try BullGuard for Windows 10 now!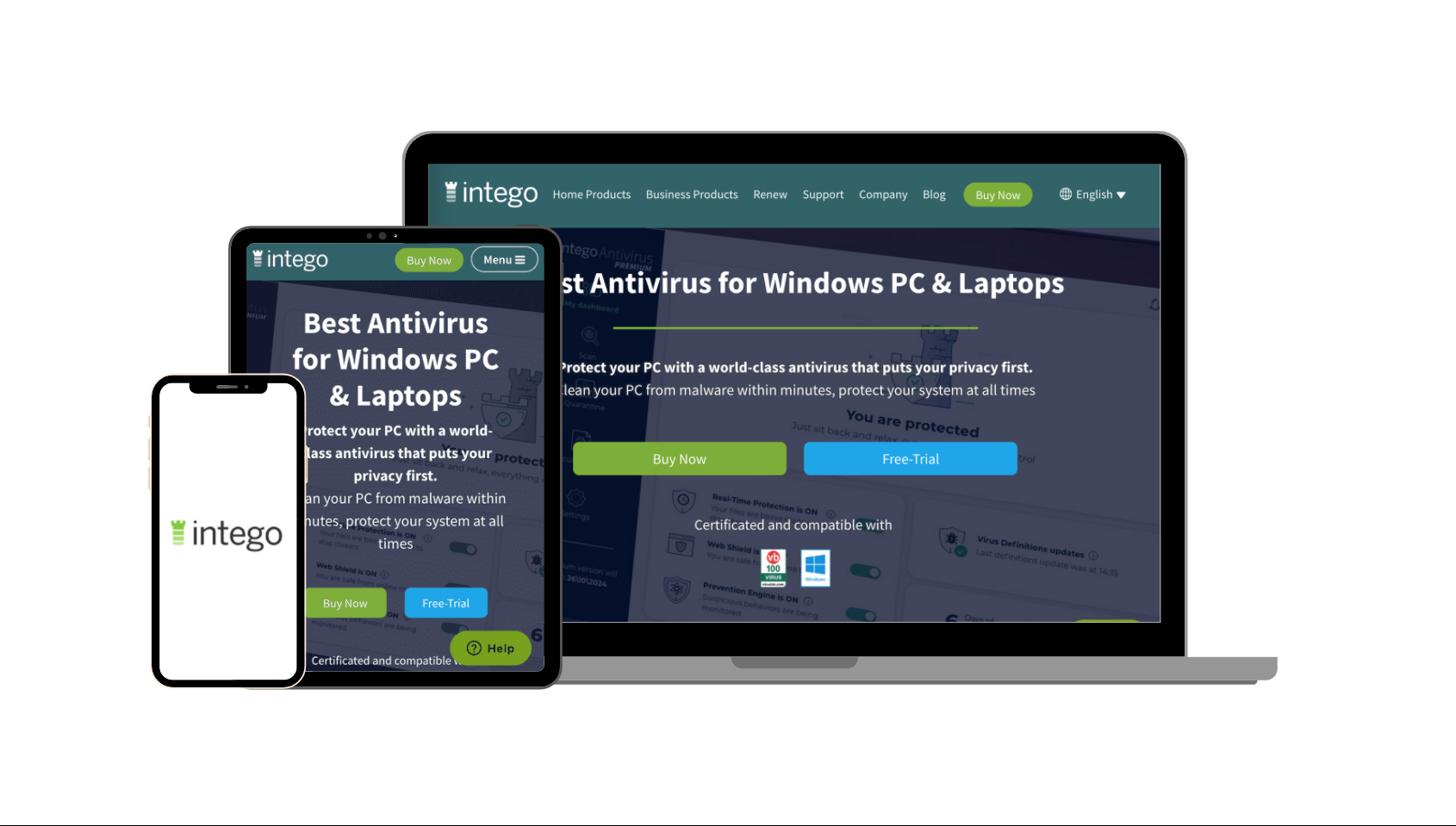 Key Features:
Caught all viruses and almost all the malware on my testing PC
Security bonuses include Web Shield to block malicious URLs and files
Apps work on Windows 10, 8, and 7
30-day money-back guarantee
A Mac antivirus mainstay for many years, Intego has released a version designed specifically for Windows. It's an intuitive program and doesn't require any configuration, so you can start using it immediately.
When I tested out the software on my PC, Intego caught 100% of viruses but missed 1 just-released piece of malware. However, I tested it again a few weeks later and every malware strain was successfully detected. It's clear that Intego is constantly updating its database to identify the latest threats (not just against Windows, but even Linux). Better still, there was no slowdown to my PC during the scans.
The Web Shield feature is a good addition that prevents your browser from opening malicious URLs. Turned on by default, it protects you from suspicious domains and phishing scams — even if you click a malicious link, Web Shield won't allow your device to communicate with it. The Shield is customizable, letting you add domains to a list if there are additional ones you'd like to block. Just go to the Security Settings tab, click "Block List," and add a URL.
You can try Intego with the free trial for 7 days. If you like it, then you've got another 30 days risk-free with the money-back guarantee. While Intego isn't jammed with as many features as competitors (like parental controls), I'm happy to report that it's ultimately a very effective virus scanner at an inexpensive price.
Try Intego on Windows for free
Key Features:
Quick and efficient malware scans that won't bog down your PC
Available features include PC optimization, a file shredder, and password manager
Supports Windows 10, 8, and 7, plus Mac, Android, and iOS
30-day money-back guarantee
Avira is a lightweight antivirus for Windows. Its scanning software is very fast, meaning you don't have to spend time waiting around for scans to finish before you can use your PC. Smart Scan finishes in as little as 2 minutes and doesn't noticeably impact your system while it's running. I found I could still stream, play games, and work on my computer without any lagging.
What makes Avira stand out for me is its automatic software updating. One of the biggest threats to your Windows security is outdated apps, as these present vulnerabilities ready for malware to exploit. Avira regularly checks your entire system for potential app updates and will automatically download them to your PC, keeping it secure at all times. I really like this feature — even though many antiviruses offer something similar, it's not always automatic.
This feature is especially important as Avira's recent malware tests showed only 98.9% detecting and blocking the most recent malware. This is above the industry standard but isn't the perfect score of services like Norton 360. As such, it's vital that Avira works to protect your PC with the latest security updates.
If you find yourself forgetting to update your software and want an antivirus that is both lightweight and fast, Avira is a good choice on top of Window's pre-installed Microsoft Defender. It's not quite as comprehensive as Norton 360 or Bitdefender, but it's great value for money.
Get Avira for free on Windows!
Key Features:
Defends against the latest malware and ransomware attack
Features provided include a rescue kit, VPN, anti-theft tools, and Password manager
Supports Windows 10, 8, and 7, plus Mac, Android, and iOS
30-day money-back guarantee
Panda Dome is another top antivirus for Windows. It comes with a unique feature that I haven't seen on any other premium antivirus plans (not even Norton 360 or Bitdefender!) called a Rescue Kit. This feature is exclusively for Windows PCs and is able to restore an infected computer back to working order. It has 2 functions:
Create a Rescue USB Drive: Plug into a PC so infected with viruses that it won't boot and let Panda's software remove malware quickly
Detect Hidden Advanced Malware: Cloud Cleaner download runs a thorough, deep scan to catch malware traditional antivirus might miss
I tested Panda's Rescue Kit on an old Windows laptop that kept crashing because it was infected with multiple viruses. To my surprise, it managed to remove the viruses and I could use the laptop again in about 20 minutes. When I tested the Cloud Cleaner, Panda discovered several PUPs (Potentially Unwanted Programs) in less than 30 minutes. The scan was very thorough and finished pretty quickly too.
Panda Dome offers other extra features on top of its high-quality malware protection (it detects and blocks 100% of real-time malware attacks). Not all of these features are as effective as its Rescue Kit. Panda's VPN is limited in terms of speed and available connections, while its Password Manager is difficult to set up despite working well once configured. I'd like to see Panda Dome put effort into making its extra features better and take a "quality over quantity" approach to its Windows app.
Get Panda Dome risk-free on Windows!
Key Features:
Strong malware protection and easy to navigate for first-time users
Features include cloud storage, file shredder, and a VPN
Supports Windows 10, 8, and 7
30-day money-back guarantee
Kaspersky is a good choice if you don't want to invest too much time into your Windows antivirus. After the initial download and installation, you don't need to do anything else to get complete protection. I found I didn't need to adjust any settings or manually update Kaspersky after installing it on my Windows PC. The plan runs automatically (and quietly!) in the background and it doesn't take up too much of your CPU power. I could easily play video games, stream movies, and work on my PC even when Kaspersky ran scans. I didn't experience any noticeable lag or interruption.
I'm more than satisfied with Kaspersky's high-level Windows protection. During testing, I found that it detected and blocked 100% of new and known malware. This result is equal to the best antivirus services, like Norton 360 and Bitdefender. It reassures me that my Windows PC is continuously protected even on Kaspersky's free plan.
However, I don't like that Kaspersky tries to lure you into upgrading by displaying features you can't access unless you pay for a higher plan. I feel like it would be more beneficial for the customer if the app only shows what you can access rather than showing features you have to pay more to unlock.
Try Kaspersky for free on Windows!
Key Features:
Detects and blocks 100% of malware in real-time tests
Comes with a browser guard extension, play mode, and VPN
Supports Windows 10, 8, and 7, as well as Mac, Android, and iOS devices
60-day money-back guarantee
Malwarebytes' robust malware protection and easy-to-use interface make it a great choice for beginner antivirus users. It's automatically configured to provide full coverage when it's installed, so you don't have to change settings to protect your PC. It will even automatically schedule a daily Threat Scan to check the areas of your computer that are used most often (and most likely to be attacked by malware!)
If you'd like to adjust the settings, that's easy to do too. Malwarebytes' settings are clearly labeled and mostly changed by toggling them off and on with a single switch. There aren't any complicated dropdown menus to navigate — everything is laid out for you to edit if necessary. Not that you need to, as Malwarebytes is one of the most simple antivirus products I've tested. It will protect your PC in real-time from 99.4% of the newest threats and 100% of known malware threats.
My main complaint is the significant slowdown I experienced when it scanned downloading apps. The intensive scans are designed to ensure the software is safe, but my PC was sluggish and unresponsive during installation. As I frequently install new software, this was inconvenient, but it shouldn't affect you too much if you're a casual downloader.
Try Malwarebytes for 60 days risk-free!
Comparison Table: 2021's Best Antivirus Software for Windows
Top Windows Antivirus Software That Didn't Make the List
1. Heimdal
Heimdal didn't perform well in tests — it simply couldn't keep up with the likes of Norton or Bitdefender. However, Heimdal does have great system performance and won't slow down your PC while it's running behind your day-to-day activities.
2. Cylance
Cylance is another antivirus service that scored poorly in tests. This is a concern as many advanced attacks, like ransomware and spyware, need to be blocked immediately. On the plus side, Cylance is very lightweight and is stored mostly in the cloud, resulting in fast scans and low impact on your PC during use.
3. Webroot
Webroot's most recent malware detection results were very disappointing — the software blocked just 66.5% of real-time threats. This is a very low number, and I can't recommend it as protection for your Windows PC, despite its easy setup and quick scans.
Quick Guide: How to Use an Antivirus on Windows 10
Launch the official website of your chosen antivirus. I recommend Norton 360 as it's the #1 Windows antivirus in 2021.


Choose the plan you want to purchase. Norton 360 has a money-back guarantee you can use to test the antivirus without any risk or committment.


Download the software to your Windows PC. You will be asked by Windows to allow the antivirus to make changes to your device.


Click "Install" and let the installer download and set up your antivirus. This will take a couple of minutes — Norton 360 was finished downloading in less than 4 minutes for me.


Familiarize yourself with the antivirus app. Norton 360 is intuitive to use and clearly labeled so you can see features and settings easily.


Run a virus scan. This will check if there is any hidden malware already on your Windows PC. Any malware discovered will be quarantined to secure your device.


You're done! You can configure additional settings if you want to, or you can let the antivirus protect your PC automatically.
FAQ: Using a Windows Antivirus on PC, Laptop, & Tablet
Do I still need an antivirus if I have Windows 10?
Yes, you still need antivirus even if you have Windows 10. Microsoft Defender — Windows' default antivirus software (formerly known as Windows Defender) — just isn't enough to protect your PC from advanced malware.
While it offers satisfactory defense against Trojans, viruses, ransomware, and more, it can leave you exposed to smaller, less dangerous malware. Unlike top-tier services that provide comprehensive malware protection, Microsoft Defender often misses "low risk" adware and other annoying, but not damaging, malware. These won't necessarily hijack your PC or steal your data but they're irritating to deal with, especially when a service like Norton 360 blocks all types of malware — even the low-risk items.
Microsoft Defender also doesn't get updated very often, leaving your PC vulnerable to the newest threats and hackers exposing holes in Windows' defenses. This is okay if you don't have anything sensitive or private on your PC that you don't want to lose. If you store anything important, like financial information, passwords, or login details, it's worth guaranteeing your safety with a high-quality antivirus.
Will a Windows 10 antivirus work on Windows 7 and 8?
Most antiviruses that work on Windows 10 will also support 7 and 8, but it depends on the individual plan. The comparison table above details which antivirus plans are compatible with Windows 7 and 8 as well as Windows 10. If you're still unsure, you can take a look at the system requirements for your chosen antivirus package. These will be available on the antiviruses' website, usually on the same page as the plan details. There, you'll see exactly which versions of Windows the service will work on.
What's the best free antivirus for Windows 10?
A free antivirus package isn't going to protect your Windows PC with the same high-level software as a premium service. They won't have features like real-time malware detection, PC optimization tools, and low system impact designed for comprehensive Windows coverage. As such, I'd recommend avoiding relying on a free antivirus to provide your device security.
However, you can test out many premium antivirus plans risk-free — some have free trials and others, like Norton 360, offer a money-back guarantee that lets you test the service and get a full refund if you change your mind. Norton 360 has a generous 60-day money-back guarantee you can take advantage of to see if it's the right fit for you.
Will an antivirus slow down my Windows computer?
Sometimes, yes — using an antivirus, particularly when it's performing an in-depth system scan, can cause minimal slowdown to your PC. However, the antivirus packages on this list have been thoroughly tested to ensure they won't slow down your Windows computer so you can use it without any performance issues.
Using the wrong antivirus for your PC can cause your system to slow down, too. For example, if you play a lot of video games but use an antivirus that isn't gaming-optimized, you'll notice lag and buffering when you play. This could also be the case if you stream shows and movies online, have an older PC, or run apps that require a high level of CPU power. Fortunately, there are high-quality antivirus plans that won't slow your computer. You won't experience any lag or interruptions when you can try Norton 360 free for 60 days.
Can I use a Windows antivirus on Android, iOS, or Mac?
Usually, yes — most antivirus plans available on Windows will also be compatible with other operating systems and platforms. You can find out which antivirus services work with multiple operating systems by looking at this comparison table.
The top antivirus for Windows 10, Norton 360, has broad platform compatibility — depending on which plan you choose, you can secure up to 10 devices across Windows, Mac, Android, and iOS. You should note that most antivirus services are designed primarily to combat Windows-based malware (as this is the most prevalent) and may not have the same level of coverage for other platforms.
Protect Your Windows 10 PC With a Top-Quality Antivirus
The majority of malware is designed to exploit Windows software vulnerabilities, making it vital to protect your computer with a top-tier antivirus package. But with so many antiviruses promising to be the best, it's hard to make the right choice. After thorough testing, I've done the hard work for you and can confidently recommend Norton 360 as the best antivirus for your Windows 10 computer.
Norton 360 provides comprehensive, real-time malware protection plus a host of high-quality extra features for multi-layered Windows security. Best of all, it has a generous 60-day money-back guarantee that lets you test every feature for a full 60 days risk-free. If you change your mind about subscribing, you can get a full refund — easy!
Get Norton 360 for 60 days risk-free!
---
Summary: These Are The Best Antivirus Software for Windows PC in 2021