Save 58% With Private Internet Access (PIA) Coupon
Last Updated by John Bennet on November 25, 2018
Private Internet Access (PIA) is a United States-based VPN that still manages to provide uncompromising security through a large number of servers, combined with several other features that aren't found with many other VPNs.
It's also one of the most affordable, with prices so low that some may think there's a catch of some kind.
There's not.
Before we get to the actual prices, here are a few features of PIA to be aware of:
Nearly 3,500 servers
No logs
Includes Kill switch
Incredibly cheap
DNS leak protection
PIA VPN Discounts on Already Low Prices
Like I said, Private Internet Access VPN is one of the most affordable entries in the VPN world.
And while a monthly subscription may seem enticing due to the shorter commitment, the truth is that choosing a longer subscription results in huge discounts.
Take a look: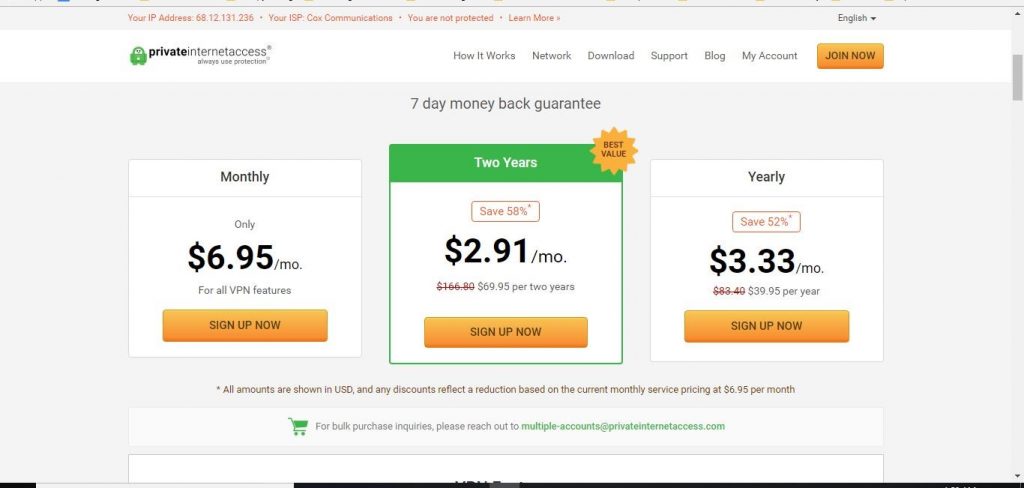 $6.95 per month is pretty good, and $3.33 per month on a yearly plan is even better.
However, if you want to save 58% off your VPN subscription, a two-year plan is the path you should take.
Consider this: If you go with a monthly subscription, you'll pay $166.80 for two years of service. By signing up for two years upfront, you'll get the same service for $69.84, a savings of $96.96, or $48.48 annually.
That comes out to $0.13 cents per day — a very small price to pay for effective VPN service you can rely on.
VPN prices are always changing.
Private Internet Access has been one of the most affordable VPNs for years, and I don't see that going away. Still, changes in the market and maintenance costs contribute to rapid changes in VPN prices each year.
So, if you want to get in on this exceptional price of $69.84 for two entire years of Private Internet Access VPN, today is the day to do it.
Click the button below to lock in this price before it disappears forever.
Get more VPN deals and coupons