Server Network — 210 Country Locations
HMA provides you with over 1100 servers in more than 210 countries around the world, including the Middle East and Africa — regions that most other VPNs neglect. This gives you a wider selection than what most top-tier VPNs offer. HMA has a handful of servers in smaller countries, whereas larger countries (like the UK) have wide selections of physical and virtual city-level servers. A high number of city-level servers typically means fewer users connecting to the same server at once, and this lack of overcrowding allows reliably high speeds.
This massive network of servers is possible because HMA has plenty of virtual servers. These virtual locations can improve your connection speeds and help you access geo-restricted content in countries that are unreachable with a physical server. However, using a virtual server means that your connection might go through other countries and slow down your speeds.
Throughout my tests, HMA's app showed if I was currently connected to a virtual server but didn't show this information on the server location list. The app also didn't always tell me what country connection was routed through when I used virtual server locations.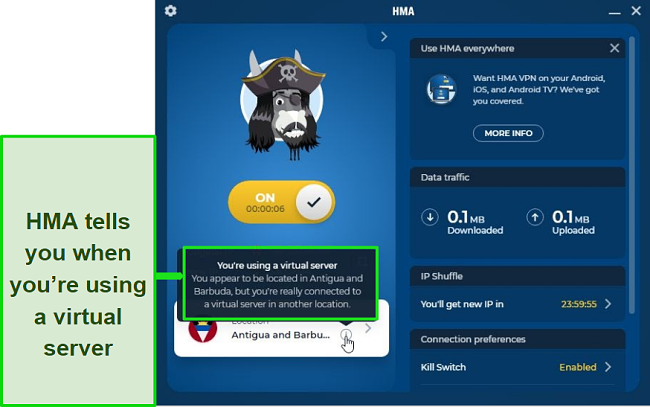 In 2019, Russian media regulator Roskomnadzor wanted access to user data from all VPN servers based in Russia. When I expressed my concern to HMA's support team about the VPN's servers there, the agent confirmed that all its servers in Russia are virtual. This proves HMA's commitment to upholding customer privacy.
Like many other VPNs, HMA rents a large portion of its servers from third-party data centers. While this practice is common, it does mean that your data may be handled by third-party-owned equipment when you connect through HMA. HMA states that it installs, maintains, and fully controls all of these rented servers, but the arrangement may still worry you if you're a privacy-minded user. In contrast, IPVanish owns all of its hardware, meaning that users' connections are never handled by third-party equipment. During my tests, IPVanish's server network also impressed me with high speeds and the ability to access the majority of popular streaming sites.
Torrenting — Specialized P2P Servers for Quick Transfers
Some of the best features HMA has to offer are its unlimited bandwidth and no data caps, which allowed me to torrent large files quickly and easily without slowing the connection. The specialized P2P servers provided me with slightly faster speeds when using uTorrent, and I can fully recommend using them.
If you're concerned about torrenting on HMA's servers, rest assured you won't get in trouble with the VPN — as long as you don't download copyrighted files. When I asked support, an agent confirmed it was permitted and even gave me a list of the specialized P2P servers.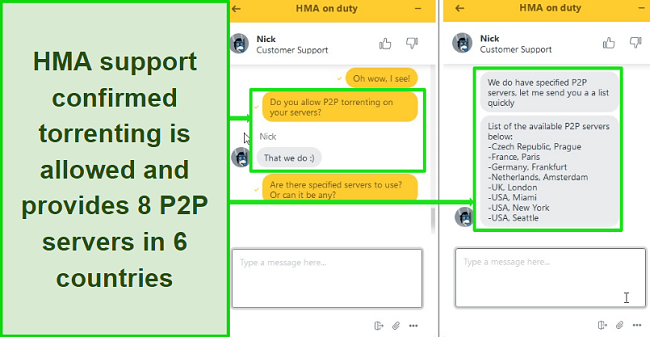 That said, using HMA to torrent copyrighted material or violating the Digital Millennium Copyright Act (DMCA) can lead the VPN to suspend your account. HMA is a great VPN to use for staying safe from malware and hackers while torrenting, but please make sure you only download material that's in the public domain.
Does HMA Work in China? No, It Doesn't
Only a small number of VPNs consistently work in China, so I wasn't surprised to learn that HMA can't bypass the country's notorious firewall. This means you won't be able to use HMA to access popular sites, search engines, and apps, like Facebook, Google, and WhatsApp. However, the VPN works well in other countries with censored internet access, including Russia, UAE, and Turkey.
If you need to use a VPN to maintain access to popular sites that are blocked in China, I suggest you use ExpressVPN instead. Its obfuscation technology gets past the country's firewall, so you can use ExpressVPN to access the free web there — as long as you install the ExpressVPN app before arriving in China.
While using a VPN in China safeguards your connection from prying eyes, note that the protection of a VPN doesn't give you the license to commit illegal acts. That said, there have been no reports of Chinese authorities harassing tourists or visitors for unauthorized VPN use. Instead, the government uses advanced technology to detect and block VPN connections in the country.
Security — Top-Tier Security for Windows and Android
I was thoroughly impressed with HMA's level of security. The VPN relies on the RSA-2048 handshake to establish your connection and uses the AES-256, military-grade cipher to encrypt it. The data's integrity is authenticated by the SHA-384 hash algorithm, and each of your browsing sessions is protected by Perfect Forward Secrecy — a process that changes the encryption keys each time you connect to the VPN.
HMA connects through the OpenVPN UDP/TCP, IPsec/L2TP, and PPTP protocols, depending on the device you're using. I was disappointed to find the mobile app using a more outdated protocol. On its Windows and Android apps, HMA connects through the OpenVPN protocol by default. In contrast, HMA's macOS and iOS apps use the older IPsec/L2TP protocol, which is often blocked by websites and services. Speeds also aren't as fast when compared to those you'd get with OpenVPN. However, HMA provides you with a setup guide for installing OpenVPN on macOS using TunnelBlick and TunTap drivers. The installation is fairly simple and comes with troubleshooting steps if you run into errors.
HMA's Windows, macOS, and Android apps have a kill switch you can use to disable your entire internet connection if the VPN connection drops (when you're changing servers, for example). This feature is disabled by default, so you'll have to enable it manually if you need it.
On my Windows and Android devices, the kill switch function blocked my internet connection each time I changed the server location or turned off the VPN. This process prevented DNS leaks in the brief period while I was disconnected from the VPN.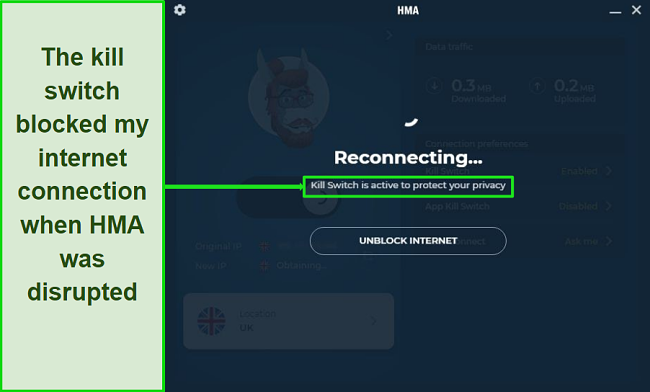 Unfortunately, I couldn't get the kill switch to work on macOS. I tried disconnecting the VPN on the app, forcing the HMA app to quit, and changing servers, but my network stayed connected even when the VPN connection dropped. On my iOS phone, I couldn't find the kill switch feature at all.
The app kill switch on Windows is used to prevent specific applications from sending data if the connection is lost. You can easily decide which applications should be closed if your connection drops by adding them to a list within the App Kill Switch feature. Android doesn't have the same function, but offers split-tunneling —  this allows you to select which applications can bypass your VPN connection. HMA's macOS and iOS apps don't have either the app kill switch or the split tunneling tools.
IP shuffle allows you to refresh your IP address and is an excellent addition to the VPN. You can manually press the "Refresh" button on the main screen or set a custom frequency for the IP address to change. This makes it even harder for your online activities to be tracked and ensures your privacy remains intact.
Sadly, HMA's iOS doesn't have any of these security features, except Lightning Connect. If you're after a VPN that offers more features on iOS, you can get CyberGhost's advanced security options on multiple devices.
Privacy — New No-Logs Policy to Bring Back Trust
Although HMA is owned by Avast in the Czech Republic, its headquarters are in the UK and under the Five Eyes intelligence-sharing alliance's jurisdiction. This means if your user data is collected, it can be shared with other countries that belong to the alliance, including the US, Canada, Australia, and New Zealand. I found this alarming, especially since HMA's history shows several instances of cooperation with government authorities.
Worse, HMA's headquarters subject it to the UK has extensive data retention laws, which I find highly concerning as a privacy-minded user. These were passed with the UK Investigatory Powers Act, and allow the government to:
Intercept electronic communications, sometimes without a warrant.
Force ISP, VPNs, and other companies that handle user data to design backdoors that would allow government agencies to bypass encryption.
Hack devices such as laptops, smartphones, and more.
In 2011, Sony was hacked by the LulzSec group, which was using HMA to carry out the cyber attack. HMA turned over evidence to the relevant authorities, which resulted in the user's arrest. This incident completely voided the trust of its user base. Another incident in 2017 led to the arrest of an ex-judge who used HMA to harass an ex-girlfriend. Though it isn't clear if HMA actively helped in this case, investigators could uncover his IP address using connection timestamps.
At the start of 2020, a third incident arose with Avast, the parent company of HMA. Avast was selling user data through a subsidiary company called Jumpshot, which collected internet activity through a browser extension. Apparently, the data sold was anonymized to protect users, but people quickly discovered the information could easily be traced to individuals. In 2018, Mozilla and Opera heard about this potential privacy threat and removed Avast's browser extensions from their extension libraries. Once the scandal became widely known in 2020, Avast quickly closed down Jumpshot.
Thankfully, things have changed — HMA now implements a strict no-logs policy that's very clear about what data the VPN doesn't collect: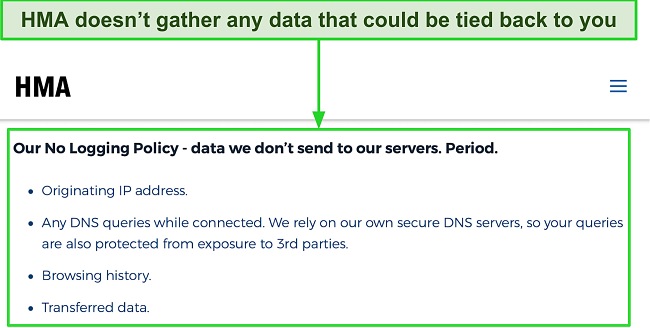 HMA also has an audit to prove its no-logs policy. Trusted cybersecurity firm VerSprite carried out this annual audit in August 2020. As the HMA website fails to discuss the report details, I contacted VerSprite directly online to ask. The support representative has yet to reply to me.
It's worth mentioning that HMA still collects a small amount of data for analytical purposes. The data is kept for 35 days for any technical issues before it's deleted. The collected data consists of:
The day and general time a connection is made (morning or evening)
The amount of data that's transmitted (rounded to the hundredth Mb)
HMA has removed the option to turn off anonymous data collection from its desktop apps. While I managed to switch it off using the Android application manually, this confirms HMA collects your data by default.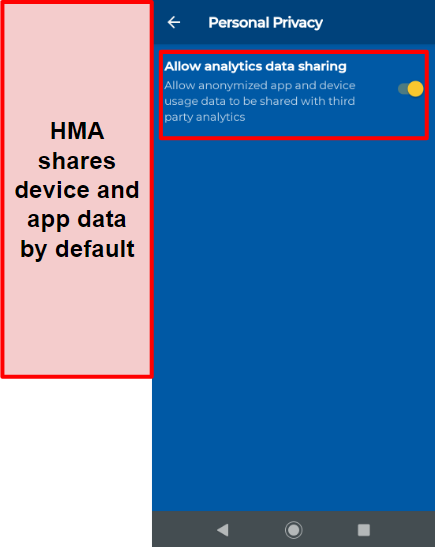 Beware of HMA's free proxy browser extension — it keeps logs of your IP address, what websites you visit, and the files you download. Even though you can bypass geo-restrictions quickly with a proxy, it doesn't encrypt your connection. Unlike a VPN, a proxy leaves you vulnerable to being monitored or hacked. To keep your device safe online, I wouldn't recommend installing or using its proxy extension.
HMA has built-in protection against IPv4, IPv6, WebRTC, and DNS leaks. While testing the VPN, I was pleased to find that HMA didn't leak my actual location when I ran a DNS leak test on its server in San Jose. This means that my privacy and connection remained hidden and secure.