10 Best Monthly VPN Plans in 2021 (Pay as You Go)
Last Updated by Kate Hawkins on September 01, 2021
Before committing to a long-term VPN subscription, it's a good idea to make sure the service is right for you. The best way to do this is by signing up for a monthly subscription – you get full access to all of the VPN's features so you can test them without having to pay a big upfront cost.
However, not all monthly VPN subscriptions offer good value for money. To find the best plans, I thoroughly tested over 20 VPNs and looked at affordability, security and privacy levels, and overall service quality.
I found that ExpressVPN provides the best monthly value plan with unlimited data and bandwidth, top-tier security, and fast speeds on its global server network. Even better, ExpressVPN is backed by a 30-day money-back guarantee. If you're not fully satisfied with the service, you can easily request a full refund within 30 days. I tried it myself and had my money back in just 5 days.
Try ExpressVPN risk-free today!
Quick Guide: Best VPNs with Monthly Deals in 2021
10 Best VPNs With Monthly Subscriptions – Tested in September 2021
Key Features:
ExpressVPN takes the top spot with its high-speed global network of 3000 servers and top-tier security. Better still, its monthly price is very reasonable for such a versatile service.
During tests, my speed never dropped below 89Mbps – even when connected to an Australian server from the UK! Torrenting is supported on all servers, so I could download large files quickly and game online without lag. In addition, I had no problem streaming HD-quality video. In fact, ExpressVPN's servers worked with Netflix US, HBO, Disney+, and Amazon Prime without issue. This is especially impressive considering many competitor VPNs often require a few connection attempts to find a working server.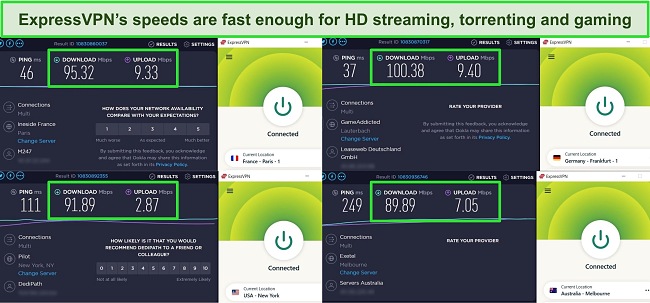 These impressive speeds are due to ExpressVPN's Lightway protocol, designed to reduce resource use while maintaining top speeds and military-grade security. I ran several IP, DNS, and WebRTC leak tests to ensure that Lightway does protect my data while I was connected and was pleased to find that it passed every time.
I looked further into ExpressVPN's security and privacy features and discovered it truly is a zero-logs VPN. It uses TrustedServer technology that automatically erases all server data with every reboot, minimizing the possibility of server compromise. I also found that Turkish authorities have previously tried to retrieve user data from an ExpressVPN server but there wasn't any data available. This proves to me that ExpressVPN maintains a high level of data security and privacy, logging no identifiable information.
Best of all, you get access to every ExpressVPN feature when you subscribe to its monthly service. Since ExpressVPN is backed by a 30-day money-back guarantee, you can always get a refund if you're not satisfied. I used ExpressVPN for several weeks before requesting a refund and was surprised by how easy it was. I contacted customer service using the 24/7 live chat and the agent processed my refund quickly, with no questions asked. I had my money back in 5 days.
Try ExpressVPN risk-free today!
Key Features:
CyberGhost's optimized servers make it easy to stream, torrent, and game online. These dedicated servers are tested regularly by the CyberGhost team so they're guaranteed to work. This means you don't have to spend time switching servers to find a working connection – you get access to the content you want quickly.
While I tested CyberGhost, I was especially impressed with its optimized streaming servers. I found that these dedicated servers always worked – with a single click, I could access my Netflix, Hulu, Amazon Prime Video, and other streaming accounts. This is a great feature if you're often abroad as you'll be able to continue accessing content you rightfully paid for.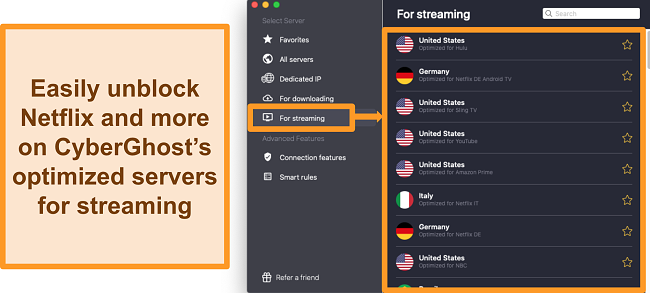 I was pleased with my speeds while streaming, as they were fast enough to watch my favorite shows and movies in HD-quality video. I did notice a significant drop in speed when I connected to distant servers. My speed dropped 70% when connected to a Japanese server – I couldn't stream without buffering and suffered lag when gaming online. To avoid this, I suggest choosing the closest possible server to your location when connecting to servers in different countries.
Fortunately, CyberGhost has a huge network of 6900 servers. No matter where in the world you are, you'll find multiple servers close to your location. It also means connecting to CyberGhost is fast, as there is minimal traffic. It took less than 5 seconds to connect and secure my devices.
CyberGhost takes device security very seriously, providing military-grade encryption, leak protection, a kill switch, and ad-blocker to protect your data. I ran leak tests and disrupted the VPN connection to check the kill switch – CyberGhost passed all tests to keep my online activity and my true location secure. It also takes data privacy seriously, maintaining a strict zero-logs policy for user data. That said, I'd like to see CyberGhost undertake an independent audit to guarantee this policy is accurate.
While CyberGhost is one of the cheapest overall VPN services, its monthly plan is a little pricier. It also only offers a 14-day money-back guarantee for the 1-month plan, so be aware of this when you subscribe. Alternatively, you can try CyberGhost risk-free using its 45-day money-back guarantee. Simply signup for an eligible plan and request a refund within 45 days.
Try CyberGhost risk-free today!
Key Features:
If you're a more advanced VPN user, Private Internet Access (PIA) provides customizability for security options. This means you get to choose the level of encryption for server connections, plus handshake encryption (this is used to establish a connection with PIA). While I'd always recommend choosing the highest level of encryption for complete anonymity, it's nice to have the option to reduce encryption levels for a speed boost – ideal if you're not sharing sensitive data.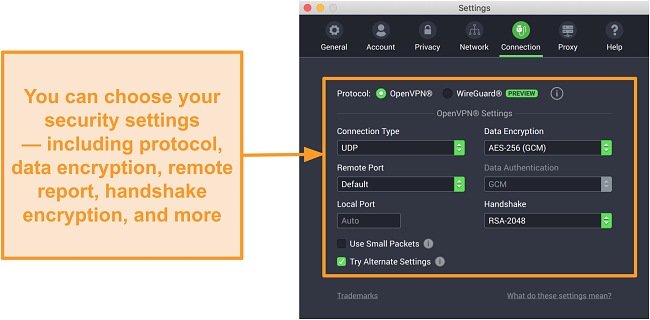 Even if you're not a VPN expert, you can rest assured that PIA's encryption settings are already at the highest levels. You don't need to alter them at all to secure your devices. After thorough testing, I can confirm PIA's encryption and leak protection hides your location and online activity. This makes PIA a good choice for a torrenting VPN as it supports P2P activity on every server and guarantees your anonymity when connected.
I was concerned about PIA's level of privacy as it's based in the US, a country that is part of several intelligence-sharing networks that record online data. However, similarly to ExpressVPN, PIA was able to prove that it doesn't retain user data on any of its servers – it even removed servers from Russia when it refused to comply with government demands to provide user data. This is reassuring as I know that my activity is secure when I'm connected to PIA's servers.
Unfortunately, I had issues trying to connect to Netflix and several servers didn't work. I contacted PIA's 24/7 customer service and an agent recommended some working servers which helped save me time and effort. When I did connect, it took a couple of minutes to fully load my Netflix content and stream in HD quality.
You can easily try PIA risk-free with its money-back guarantee for yourself. Test the service for up to 30 days and if you're not satisfied, you can request a refund.
Key Features:
Formerly known as HideMyAss, HMA has a ton of useful features packed into its desktop and mobile apps. In addition to standard fare like split tunneling, HMA has tools designed to boost your overall security. I was most impressed with its dual kill switches and IP Shuffle capabilities, which offer multi-layered security against hackers and other prying eyes.
HMA's "Smart Kill Switches" are available on its Windows and macOS apps, and allow you to essentially run 2 different kill switches at the same time – one for your internet connection and another for applications. While my team and I confirmed that HMA's kill switches prevented DNS leaks during server swaps, I was a bit disappointed that this feature wasn't turned on by default. If you want to take advantage of HMA's kill switches, you'll have to enable them manually in the app settings.
Fortunately, IP Shuffle is well integrated into HMA's platform. As its name suggests, this feature allows you to randomly change your IP address in order to make it even more difficult for trackers to determine your true location. You can do this manually by pressing the "Refresh" button on the main dashboard or automatically shuffle the IP address by setting a custom frequency.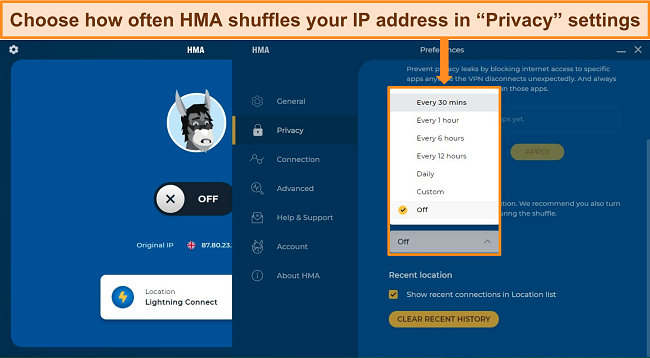 While security is HMA's main selling point, it's also a reliable VPN for streaming. In tests, HMA's servers easily connected to Netflix, Hulu, and Amazon Prime Video. Although I experienced a slight dip in speeds when connected to far-away servers, it wasn't enough to impact my viewing experience.
However, for a VPN that puts such a strong focus on privacy, I was disappointed to find that HMA keeps some connection logs. But when I looked into it closer, I was pleased to discover that logs are kept to a minimum. HMA only stores connection times and the amount of data used in a session – your IP address, personal identity, and browsing history are kept completely private.
All the same, I reached out to HMA support to figure out what these logs are used for and was told that the data is only used to monitor server capacity. All connection logs are also deleted after 35 days. While I would prefer if HMA didn't log any user data, I don't think there's any reason to be concerned about its practices.
Even with these minor issues, HMA is one of the better premium VPNs on the market. There's a free 7-day trial or better yet, you can use HMA for up to 30 days risk-free with its money-back guarantee.
Key Features:
IPVanish has loaded its apps with all the information you need to make the best server choice. While you have the option to just click "Connect" and let IPVanish pick a server, you can also look more in-depth at the available options. Server details include load (how many users are also using the server) and ping (how quick the server responds to requests from your device). By using this information and choosing servers with the lowest load and ping, you can ensure you're connecting to the best possible server every time.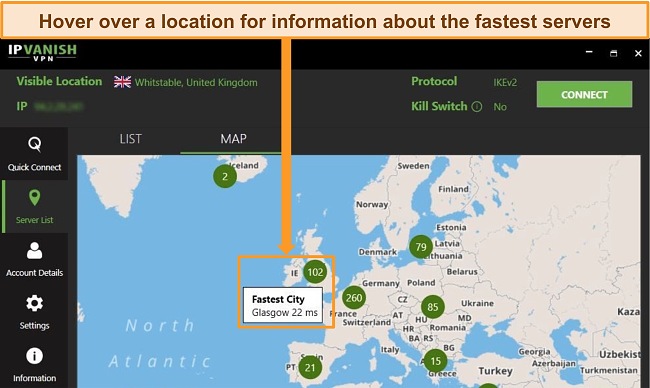 These choices are especially important if you're using IPVanish to stream or torrent, as you want to use the fastest server available. When I tested IPVanish with BitTorrent, I was pleased to find that my download speed was fast and my connection was reliable. I also felt confident and secure using IPVanish as it offers top-tier encryption and data protection that I confirmed by running IP leak tests. Although it's based in the US, IPVanish has a strict no-logs policy and has been independently audited to guarantee your data is secure.
Despite having high-level security and detailed server information, IPVanish isn't a great monthly service for streaming. Many secure VPNs struggle to access Netflix and I had to switch servers multiple times before I could successfully log in to my account. While it took some time to make the connection, my speeds were fast enough for HD-quality video and with minimal buffering.
If you'd like to test it for yourself, you can try IPVanish completely risk-free for up to 30 days using its money-back guarantee.
Key Features:
I was surprised to discover that PrivateVPN's small but robust network of 150+ servers easily unblocks restricted content. Services like Netflix, which even some of the best VPNs can't unblock easily, were quickly accessed when I chose one of PrivateVPN's dedicated servers. What's more, PrivateVPN has a range of servers for specific streaming services, ranging from the more popular Netflix and Hulu to less-known RaiPlay and IPTV. I found it easy to switch between servers and like that I could choose a server dedicated to my preferred streaming service.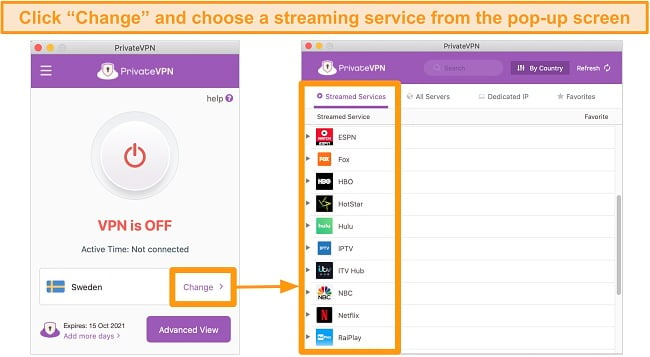 Despite its small server selection, PrivateVPN's connections are reliable in availability and speed. Often, a smaller number of servers means slow speeds and congestion, but PrivateVPN offers over 7,000 IP addresses. This means you can always connect quickly and with minimal overcrowding. It also has an advanced Steal Guard masking feature to help you connect in restricted countries – my team ran tests and confirmed that PrivateVPN even works in China!
PrivateVPN is one of the lowest-priced monthly options on this list. It's a bit more limited in terms of features and servers, but its impressive unblocking technology makes it worth trying for a month. If you change your mind or want more variety, you can use PrivateVPN's money-back guarantee to get a refund.
Try PrivateVPN risk-free today!
Key Features:
VyprVPN is committed to ensuring your data is as secure as possible every time you connect. Its top-tier encryption and leak protection keep you anonymous, whether you're shopping online or downloading torrents (P2P file-sharing is supported on every server).
To prove that VyprVPN is serious about user privacy, it voluntarily underwent a full audit with an independent company. The firm discovered a few issues that were promptly fixed and detailed in its report that VyprVPN is indeed a zero-logs service.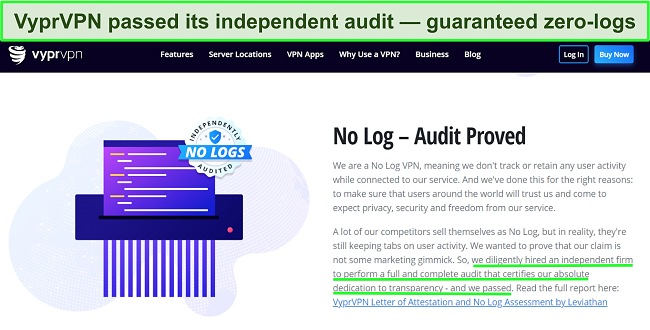 In addition, VyprVPN was one of 6 VPN services to participate in an official survey regarding VPNs and user privacy. I appreciate this level of transparency as it's reassuring to know my data really is secure when I'm connected to its servers.
While it's not the fastest VPN (my speeds dropped significantly when connecting to distant servers) and it's one of the higher priced monthly options, VyprVPN is a good choice for accessing blocked content. It uses its proprietary Chameleon protocol, specifically designed to bypass tough restrictions. I had no problem streaming from Netflix and Hulu, although I had to wait for the content to load due to VyprVPN's slower speeds.
If you'd like to take advantage of its strict data privacy, you can try VyprVPN risk-free for 30 days using its money-back guarantee.
Key Features:
hide.me is a no-frills service that takes security seriously. While it doesn't come with tons of extra features, like optimized streaming servers or ad-blockers, it provides top-tier encryption and leak protection to keep your devices and your data secure. I ran multiple tests to ensure that hide.me didn't expose my data while connected to its VPN servers – hide.me passed every test and kept my online activity anonymous.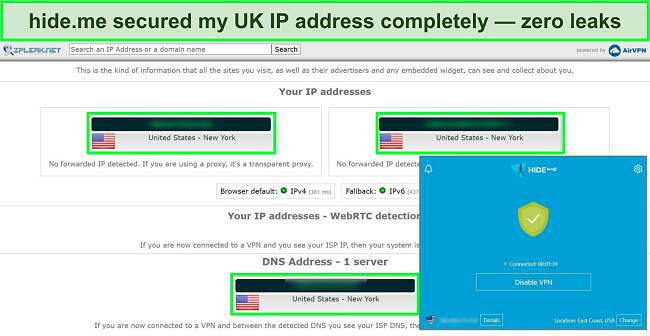 I also looked into the privacy policy and found that hide.me has been independently audited, proving its zero-logs policy and guaranteeing your data privacy.
hide.me also has an integrated kill switch on all apps to protect your activity if the connection becomes unstable. The Stealth Guard feature is excellent if you torrent frequently. I added my torrent client to Stealth Guard and couldn't initiate downloads until hide.me was active. This kept my IP address secure during P2P file-sharing. I was pleased to find my downloads completed quickly too – hide.me's speeds never dropped below 88Mbps.
While it's a pricier monthly option, you can test hide.me with confidence as it's backed by a 30-day money-back guarantee. If you're not fully satisfied, just send a quick email within 30 days and you'll get a full refund, no questions asked.
Key Features:
ZenMate's optimized servers are designed for fast streaming and torrenting. Like CyberGhost, these servers are tested regularly to guarantee reliable connections to streaming services and top performance for downloads. During tests, there were no problems connecting to streaming sites like Hulu and HBO Max. I could also download a 5GB file in 9 minutes as ZenMate's average speed was a fast 82Mbps.
Despite great speeds, I had issues with buffering when streaming. It took 5 minutes for a single episode to load when connected to ZenMate's optimized streaming servers. My stream was smooth and lag-free afterwards, but it was annoying that I had to wait when services like ExpressVPN can start streaming in HD immediately.
In line with other top-tier VPN services, ZenMate provides high-level encryption when you're connected. However, some of ZenMate's security features, like its kill switch and firewall (for DNS leak protection) are only available on its Windows app. While I didn't have any security issues using ZenMate on other devices, it's worth considering you won't get ZenMate's full range of protection unless you use a Windows device.
Fortunately, you can use ZenMate's monthly plan to test the service on all of your devices before committing to a subscription. If you find it isn't right for you, ZenMate offers a 30-day money-back guarantee so you can request a refund at any time.
Key Features:
TunnelBear is the only VPN on this list to offer a 100% free plan, but it's too limited to fully recommend – you only get 500MB of data per month. That will net you only a few hours of browsing time and just a half-hour of standard-definition video streaming. Instead, I'd recommend TunnelBear's "Unlimited" monthly plan which offers unlimited secure browsing, 5 connected devices, and access to customer support.
Fortunately, you can use ZenMate's monthly plan to test the service on all of your devices before committing to a subscription. If you find it isn't right for you, ZenMate offers a 30-day money-back guarantee so you can request a refund at any time.
TunnelBear is a good VPN for beginners with its fun, easy-to-understand user interface. Countries that offer servers are represented by illustrations of bears in pipes on a world map, and you simply click/tap to connect to the desired location. TunnelBear also provides explainer links throughout its UI to help shed light on any concepts or features you may not be familiar with.
One of the biggest downsides to TunnelBear is that it leaves much to be desired as a monthly VPN. If you purchase a 1-month subscription, it will cost you almost as much as ExpressVPN – a far superior service that justifies its higher cost with a large server network and lightning-fast speeds. You can get a massive reduction in price (just a few dollars a month!) if you subscribe to TunnelBear's 3-year plan, but that's a long commitment to make to a VPN that doesn't offer a money-back guarantee.
Since it doesn't offer a no-risk refund policy, your best bet is to try TunnelBear's free plan to see if it's the right service for you. While limited, the free plan will give you a chance to test out TunnelBear to see if it's a good fit before committing dollars to it.
Comparison Table: The Best Monthly Premium VPNs in 2021
| | | | | | |
| --- | --- | --- | --- | --- | --- |
| | Cheapest Price | Refund Period | Server Number | Server Countries | Works With Netflix? |
| ExpressVPN | $6.67 | 30 days | 3000 | 94 | ✓ |
| CyberGhost | $2.25 | 45 days | 6900 | 90 | ✓ |
| PIA | $2.08 | 30 days | 34400 | 78 | ✓ |
| HMA | $4.99 | 30 days | 1100 | 210 | ✓ |
| IPVanish | $3.75 | 30 days | 1300 | 75 | ✓ |
How to Get a Premium VPN for a Cheap Monthly Price
Many VPN services have several different subscription options. Most often, these are monthly, quarterly, 6-month, and 12-month plans, but some have 2- or 3-year subscriptions available.
While longer plans offer better value long-term, the initial cost is much higher than a monthly subscription. If you're on a tighter budget, subscribing to a monthly plan is an inexpensive way of getting a VPN. Plus, if you like the service and can afford to, you can always make the switch to a long-term subscription after the first month.
Additionally, getting a VPN with a monthly plan is a good idea if you want to test the service before committing to it long-term. If you find it's not the right VPN for you, you can use the money-back guarantee to get a refund. You can also use a monthly subscription if you only need a VPN for a short time. Once you return from your trip (or no longer need the VPN), you can cancel the service and even get a refund if you're within the guarantee period.
While it may be tempting to get a free VPN instead, there are a number of drawbacks to this option. Free VPNs are often slower, struggle to unblock streaming platforms, and may even sell your data. Since free services don't charge an upfront cost, they need to make their money elsewhere and one of the most popular ways is to track and sell your online activity to third parties. Although there are some trustworthy free VPNs on the market, none can offer the same level of security and speed as a premium monthly service.
Ultimately, getting a VPN with a monthly subscription is a more affordable short-term option. I recommend you test ExpressVPN out completely risk-free as it's backed by a 30-day money-back guarantee – if you change your mind, you can easily get a full refund.
Try ExpressVPN risk-free today!
Testing Criteria: How I Ranked the Best Monthly VPNs
I thoroughly tested dozens of services to find the best VPNs with a monthly payment plan. To ensure the highest quality and affordability, I checked each VPN against the following criteria:
Monthly payment option – I researched each VPN to ensure its monthly payment plan was not only affordable but also provided a high-quality package for the price.
Range of servers in different countries – I examined the overall server number (the higher the better) and how many countries I could connect to through the VPN. This guarantees a good number of connection options and access to a global network.
Good speeds for online activities – All VPNs on this list have speeds capable of streaming in HD-quality video, downloading files quickly, and playing online games without lag. Plus, they'll allow you to perform your day-to-day online activity (working, checking emails, online shopping, and more) without interruption.
High-level security – Each VPN has military-grade encryption to secure and protect your data when you're connected. I also looked for features like a kill switch, malware protection, and leak protection to add extra layers of security to your connection.
Reliable connections – I tested multiple servers for each VPN to see how quickly I could connect to the server, plus how reliable the connection is. I made note of any dropped connections, delays in connecting, and how easy it was to connect at peak traffic times (like evenings and weekends).
Device compatibility – I made sure every VPNs works with popular devices and operating systems, including Windows, Mac, iOS, and Android.
Money-back guarantee – I made sure every VPN has a money-back guarantee that you can use if you change your mind after subscribing. These give you ample time to test the service and make sure it's right for you.
Try ExpressVPN risk-free today!
FAQs: Best Month-to-Month VPNs
How much is a VPN per month?
Every premium VPN with a monthly subscription is different and the price you pay can vary significantly depending on which service you choose.Generally, you can expect to pay between $7 to $13 per month if you subscribe to a 1-month plan. That said, you'll pay significantly less per month if you pick a longer term plan.
CyberGhost is a great option in this regard as it strikes a good balance between affordability and premium features like a larger server network, fast speeds, and reliable access to streaming services like Netflix. You can try CyberGhost risk-free for the low price of $2.25 and if you're not satisfied, you can get a full refund within 45 days of your purchase.
Which is the cheapest VPN with a monthly subscription?
When I compared the monthly plans for the top VPNs on the market, I found the cheapest is PrivateVPN as of September 2021. The low price reflects its small server network, which is a tiny fraction of leading providers like ExpressVPN.
However, it's important to remember that you get what you pay for. While PrivateVPN is good, there are better options that only cost a little more for a month's subscription. When you choose a premium service like ExpressVPN, you'll get military-grade security, super-fast speeds, and thousands of server connections for only $6.67. In my opinion, it's well worth the extra cost.
Keep in mind that VPN special offers and discounts change regularly, so be sure to check out the latest offers on this dedicated VPN coupon page.
Is it legal to use a VPN?
Yes – in most countries, it is completely legal to use a VPN provided you're not using it for illegal activity, like distributing copyrighted content. As long as you follow the local laws in your location, you can use the reputable and secure VPNs on this list legally.
In some countries, like China and Russia, the use of VPNs is heavily monitored and restricted. Some VPN services are blocked in these locations as they won't comply with government requirements for data retention and user identification. However, many visitors to these countries arrive with a non-approved VPN service and don't face consequences. This doesn't mean you won't get caught and have to pay a penalty, so it's worth making sure you know the local laws concerning VPNs before using one.
Can I use a monthly VPN for torrenting?
Yes, you can! The best monthly VPNs all have dedicated torrenting servers. Each VPN provides secure servers suitable for torrenting – they'll encrypt your online activity and mask your IP address so you can file-share anonymously.
From my tests, I found that the best monthly VPN for torrenting is ExpressVPN. It provides servers optimized for P2P file-sharing and automatically connects you to the closest, fastest option. Plus, ExpressVPN has top-tier encryption and an audited zero-logs policy so you're always secure – and it's only $6.67 a month!
Which is the best monthly VPN to watch Netflix?
I recommend ExpressVPN for watching Netflix. When my team and I tested the service, ExpressVPN's servers worked with Netflix US, UK, and other popular regional libraries. The provider constantly refreshes its global server network, so you'll always be able to connect to a server that works with Netflix.
In my experience, I've found that even when a server is blocked, ExpressVPN is quick to establish a new working server – you don't have to go without Netflix for long! Plus ExpressVPN's 24/7 customer support staff are happy to suggest working servers so you can get connected quickly.
Stream Netflix with ExpressVPN
Get Premium Protection With a Monthly VPN Plan
Getting a VPN with a monthly plan is a great way to test the service before committing to a longer-term subscription. It's also an excellent option if you're on a budget, as it costs much less upfront to subscribe to a monthly plan.
While it's tempting to opt for a cheaper monthly plan, you may find lower-priced VPNs don't provide the comprehensive coverage you want. Instead, I recommend choosing a high-quality VPN like ExpressVPN which has a slightly higher price point. With ExpressVPN you get top-tier security and privacy, fast speeds for your online activities, and a huge network of servers for global content access. Plus, you can try ExpressVPN on up to 5 devices risk-free – if you don't feel it's right for you, you can get a full refund within the 30-day money-back guarantee period.
Try ExpressVPN risk-free today!
---
Summary – Best Monthly VPNs in 2021 (No Long-Term Commitment)