10 Best Android VPNs for Phones, PC + More (Updated in 2021)
Last Updated by Dawn Teh on September 04, 2021
There are over 200 Android VPNs to choose from, but not all of them can be trusted. Some simply don't work (I learned this the hard way), and many could infect your device with dangerous malware or steal your private information. I also found app ratings are unreliable and fake as many VPNs rated 5-stars don't have good features or performance.
That's why I decided to test over 39 vendors on my phone (running on Android 11 R) to find the best Android VPNs. The VPNs I recommend have strong security features to safeguard your information, and fast speeds for mobile streaming, gaming, and torrenting. They also have native Android apps that work with all the latest Android versions, including Android 10 and Pie, so it's easy to set up on your phone, tablet, Smart TV, and more.
If you want a quick answer – my testing showed that ExpressVPN is the top choice due to its winning combination of the fastest speeds, security features, and value for money. Also, you can try ExpressVPN on your Android risk-free as it comes with a 30-day money-back guarantee. That way you can get a refund if you change your mind. I tested the policy myself and was surprised how easy it was to get my money back (after only 5 days!).
Try ExpressVPN for Android today
Quick Guide: The Best VPNs for Android in 2021)
Try ExpressVPN for Android today
The Best Android VPN Apps (Tested September 2021)
Key Features:
ExpressVPN is my top choice for Android devices in 2021. Every server I tried gave me fast speeds, top-grade security features, and a user-friendly Android app. The VPN's advanced AES 256-bit encryption, 4096-bit RSA key, and SHA-512 HMAC authentication also makes your traffic unreadable to shady third parties like hackers, so no one will interfere with your connection. This is especially important if you stream, torrent, or play bandwidth-heavy games as your speeds will never be throttled.
On top of the encryption, ExpressVPN's TrustedServer technology erases all your Android data from the vendor's RAM-servers with every reboot so there's nothing for hackers to steal. Its no-logs policy also ensures your data is never released to anyone, not even if your government requests it. ExpressVPN also goes through independent audits (with reputable firms like PwC) and makes these reports public. This level of transparency gives me full confidence to trust it.
Even though a VPN encrypts all your information, it is still possible for IP leaks to happen, but ExpressVPN passed all of my DNS, WebRTC, and IPv4 leak tests. This reassured me that my location and online activities won't be revealed to hackers or scammers. If the VPN fails for any reason, you're also protected against leaks with ExpressVPN's auto kill switch.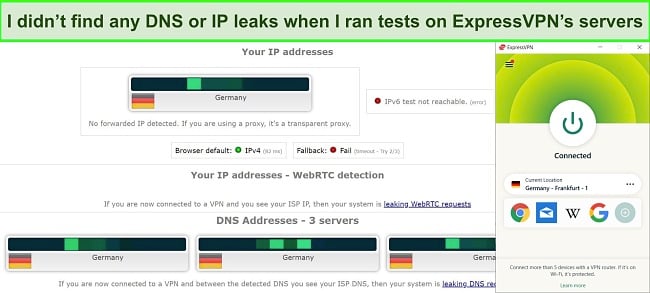 The VPN also has additional security features on its Android app. ExpressVPN's Security Assistant provided me with great insightful tips on how I can secure my data online and protect my device. At the same time, the Data Breach Alert constantly monitored if my email address was involved in any data leak. If my information was compromised, the app would have notified me instantly so I could quickly change my passwords or lock my accounts to protect myself more efficiently.
In addition to providing strong security, my tests also revealed that ExpressVPN's speeds are great for uninterrupted mobile streaming on Android. I only experienced a 14% decrease in my speed compared to my base internet connection. By default, ExpressVPN uses the OpenVPN protocol, however, I was able to boost my speeds even more by switching to the Lightway protocol. This caused my connection to stay on par with my usual speeds, and I didn't feel like I was using a VPN at all.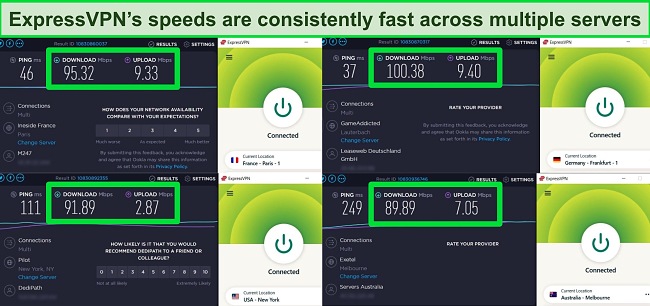 I had equally fast speeds even when I connected to different servers around the world. This was important to me because I often access my home streaming services when I'm traveling abroad. When my team and I tested servers in the US, UK, France, and Australia with Netflix, ExpressVPN managed to access the site consistently. This means you'll always be able to stream your favorite shows, like Stranger Things, even while you're on vacation.
ExpressVPN's fast speeds are also good for quick torrenting. It only took me 2 minutes to download a 30-minute TED talk (500MB) while I continued to browse the web. Its unlimited bandwidth means you can download as much as you like without worrying about your speeds slowing down. Better yet, all of ExpressVPN's servers are optimized for torrenting, so I could start downloading securely on any of them.
It's headquartered in the British Virgin Isles, which means it's out of any 5/9/14 Eyes jurisdictions. I found this incredibly reassuring, as it means that any data collected by ExpressVPN doesn't have to be shared with anyone.
Since this vendor is backed by a 30-day money-back guarantee, you can test ExpressVPN's amazing security and fast streaming speeds risk-free. If you're not fully satisfied, just contact the 24/7 customer service and an agent will immediately process your refund request. I received my refund in just 5 days, which was very fast compared to some VPNs — and I didn't have to explain why I wanted to cancel my account either.
Use ExpressVPN on Android today
Key Features:
I was really excited to see that CyberGhost's streaming-optimized servers are available on its Android app. CyberGhost's streaming servers are specially configured so you'll be able to consistently unblock top content on US Netflix, Disney+, and other streaming sites. I tried connecting to these platforms 12 times using different servers over 3 days on my Samsung Galaxy S21. CyberGhost helped me to bypass restrictions every single time, and I happily caught up on my favorite shows using my phone.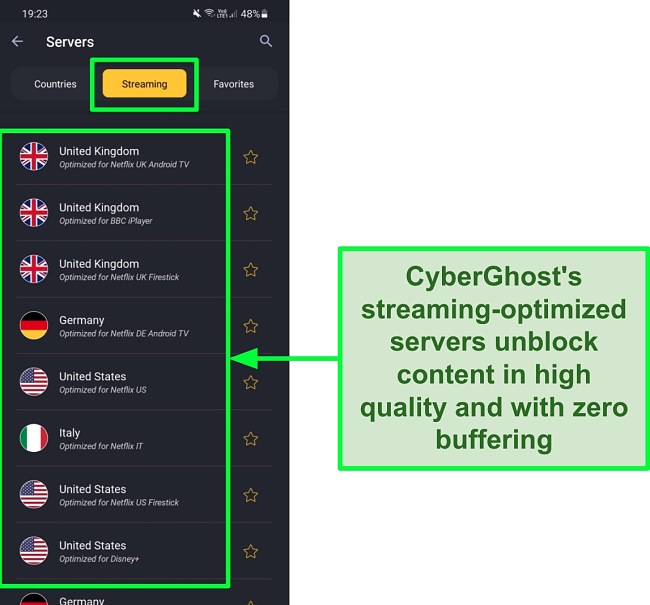 In terms of speed, CyberGhost was a little bit slower than ExpressVPN, but this didn't really affect my streaming experience. On average my speeds remained around 30-35Mbps, so it's still very fast for streaming even in 4K (on compatible devices). I was able to watch Mandalorian on Disney+ in HD with less than 10 seconds of buffering at the start, which wasn't a long wait at all.
Unlike its desktop app, CyberGhost doesn't offer its P2P server tab on Android, even though these servers are still offered on the app. This means I had to manually look through the server list on its website to find the torrenting servers – which was slightly inconvenient. I also found that the download speeds were slower than with ExpressVPN. It may not matter much for smaller files as it only took me about 7 minutes to download a 500MB video. However, if you're planning on downloading full HD movies, ExpressVPN would be a better choice.
Aside from specialty servers, CyberGhost has thousands of regular connections that also allow streaming and torrenting — but you probably won't get equally fast speeds. They're a great backup option if the optimized servers are full (which happens more often on weekends and in the evenings). I could still unblock and watch shows on Netflix and Hulu in 1080p while torrenting small files without a drop in my stream quality.
One of the vendor's great security features is that CyberGhost's kill switch is enabled by default, so you don't have to remember to turn the feature on while you're torrenting. On top of that, it uses 256-bit AES encryption to secure your data and has a strict no-logs policy. This means you can be sure that all your online activities will be kept private from hackers or other third parties.
I was also pretty pleased that I could use CyberGhost on up to 7 Android devices. This was enough to cover my personal and work phone, tablet, Chromebook, Fire Stick, and Sony Smart TV. That way I didn't have to worry about logging in and out of different devices to secure the one I was currently using.
You can try CyberGhost's Android app features risk-free with its 45-day money-back guarantee. That's a lot longer than many VPNs, and will give you plenty of time to watch your favorite Netflix shows on its streaming-optimized servers. If you're not happy with the service, you can always ask for a refund. I received mine 6 days after reaching out to the VPN's 24/7 customer service.
Use CyberGhost on Android today
Key Features:
I was surprised to find that Private Internet Access (PIA) comes with fully customizable security settings so you can configure your Android VPN to match your needs. To start with, I could choose between AES 128- and 256-bit encryption. Enabling the first option maximized my speeds, so I enjoyed bufferless streaming on my Android phone while abroad. The second option provided me with stronger encryption, givng me much tougher protection which was perfect for anonymous torrenting or using public WiFi networks.
PIA also offers 2 different VPN protocols — OpenVPN and WireGuard. OpenVPN is enabled by default, and it's the most common protocol that offers good protection and decent speeds. But I increased my online security and boosted my speeds by enabling the WireGuard protocol. It's a much newer feature that's great for fast and anonymous torrenting no matter where you are.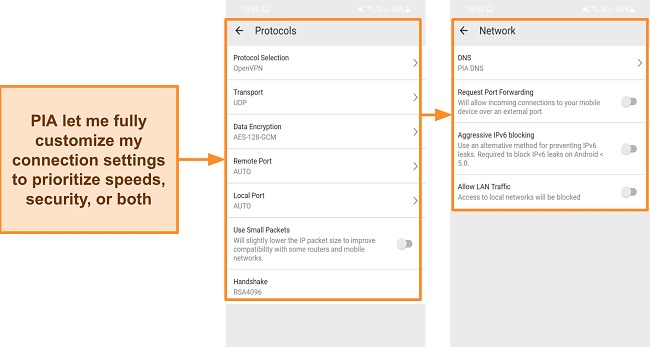 I could also change the extent to which the automatic kill switch protected my connection. Choosing the "Auto" option meant the VPN would only stop incoming data from viewing information on my device. However, I recommend swapping to "Always" as this will instantly cut all traffic if your connection drops. It's a much safer option that will protect your data at all times.
Aside from security, PIA surprised me with its huge server network which always let me connect to a fast location, no matter where I traveled. When I ran a speed test on over 40 servers I found that each location provided me with good speeds ranging from 30-50Mbps. This meant I had no issues watching shows on Netflix, HBO Max, Disney+, and Prime Video in top quality from start to finish. The speeds were also great for fast torrenting and even playing online games like Call of Duty with minimal lag. Sadly, my team and I discovered that PIA struggles with unblocking Hulu and BBC iPlayer. We were blocked with a proxy error each time we tried to watch any content, so if you regularly stream on the sites, I recommend choosing another VPN on the list.
Additionally, PIA is one of the few VPNs to offer an ad and malware blocker (called PIA MACE) on Android devices. However, Google Play blocks this feature so you have to download PIA's APK file directly from the VPN's website to get it on your device.
When you sign up for PIA on Android, you'll be able to test it for free for 7 days. The free trial is only available through Google Play and it'll be automatically applied at checkout. You don't have to make your final decision before the trial ends though as you'll still be eligible for PIA's 30-day money-back guarantee. This gives you plenty of time to fully check if the VPN meets your needs. If it doesn't, just reach out to customer service through the 24/7 live chat (like I did) or email. I got my money back within 6 business days directly to my bank account.
Key Features:
HMA packs various unique features in its Android app. On top of leak protection and split tunneling, I could play around with "IP Shuffle", "WiFi Threat Scan", and "Lightning Connect" settings.
IP Shuffle changes your IP address at set time intervals to help you avoid online trackers. I set it to shuffle every 15 minutes and even completely forgot the feature was turned on when I was running my tests. That's because IP Shuffle swaps the IP address on your Android at without disrupting your traffic or leaking any data. This may not seem necessary, but I found it gave me peace of mind and ensured I wasn't spied on as I torrented or streamed.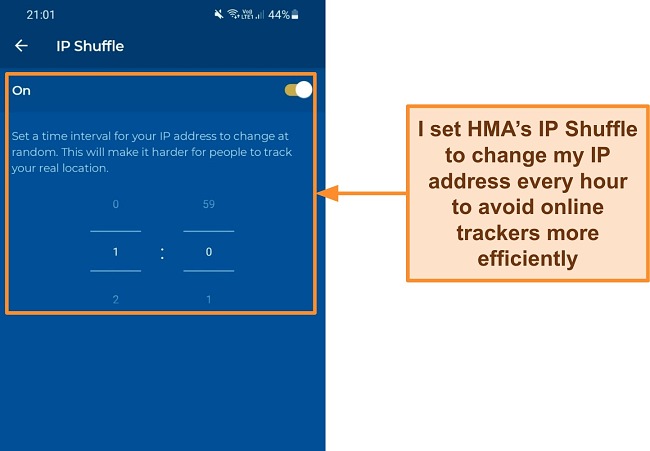 WiFi Threat Scan performs quick safety checks on your internet connections when HMA is turned off. If the VPN detects a dodgy network or a hacking attempt, it'll either send you a notification or automatically connect your device to the nearest VPN server to protect your data. This helped me stay safe when I was out traveling and using public WiFi as I didn't have to think about manually turning the VPN on.
Tighter security features usually means slower traffic, but I was happy with HMA's speeds. Though the vendor wasn't as fast as I would have hoped, I could still make the most of my connection by streaming and torrenting. I only had slight issues with online gaming on my phone and tablet — I experienced occasional lag on distant servers due to high server latency.
Though all VPN servers give you top protection, HMA comes with servers dedicated specifically for P2P file-sharing. I found these connections are a bit faster than regular servers so my uTorrent files downloaded much quicker. That being said, if you use HMA to illegally download copyrighted content, the vendor reserves the right to suspend your account.
Just like most VPNs, HMA can't bypass online firewalls in China. This means the provider won't help you access any of your usual websites if you're traveling there. After testing hundreds of VPNs, my team and I found that ExpressVPN is one of the few services that still work in China so get my #1 VPN instead. Keep in mind that the government blocks all VPN sites, so make sure you download your chosen vendor before arriving in the country.
HMA offers a free plan you can use to give the VPN a try — but I recommend you choose a paid HMA subscription to unlock all premium features on Android. The VPN offers a 30-day money-back guarantee so if you change your mind, you can cancel your account. To get a refund, I had to fill out a request form and then confirm my decision through an email. While it's not entirely hassle-free, it's not complicated and I had my money back 2 days after sending my request.
Key Features:
IPVanish is a torrenting dream with military-grade encryption, no-logs policy, unlimited bandwidth, and fast speeds on every Android device. I was initially hesitant about how secure it is as the VPN is based in the US (so legally it has to hand over any data if asked). However, IPVanish is very transparent about its practices and guarantees that it doesn't track or store your data. This means your torrenting activity is never revealed, whether you download files on smartphones, Chromebooks, or other Android devices.
During my tests, I easily downloaded multiple files on my phone and tablet at the same time, with my download speeds steady and fast throughout. The unlimited bandwidth meant I could torrent as much as I wanted without experiencing slowdowns at any point. If you're torrenting on your Chromebook, you'll get to use IPVanish's SOCKS5 proxy for additional privacy and speeds. Just remember to use it in conjunction with a VPN as it'll minimize your chances of getting hacked or downloading malware.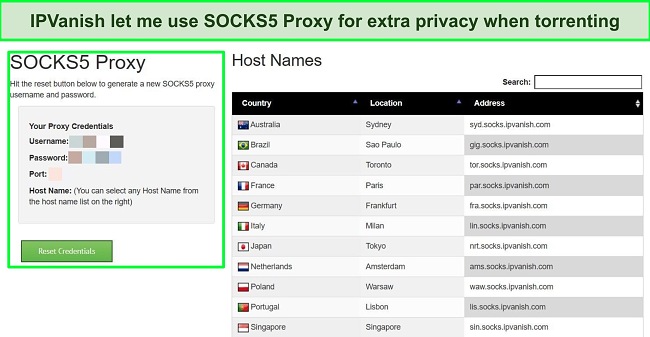 If you're not confident using a VPN, especially one with such high security, don't worry — IPVanish gives you a short introductory guide after you install it. This took me through all the basic features so I knew straight away which buttons to press to connect. I found selecting a country and the "Best Available" server option always connected me to the fastest server. The vendor also lists all servers in your chosen area and displays their current user load and ping which is all you need to set up your connection manually.
Better yet, IPVanish doesn't limit how many devices you can connect. So after I connected all of my Android devices, I shared my login with friends and family. This didn't impact my personal user experience as my speeds were still the same regardless of how many devices were connected. The VPN also offers unlimited bandwidth so my friends and I streamed Netflix, participated in Zoom watch parties, and torrented new movies without problems.
Sadly, IPVanish's kill switch is available only on Android mobile, so I couldn't enable it on my Smart TV and Fire Stick. This won't impact your privacy when you torrent on your mobile devices or PC, but it is disappointing that not all of my Android devices can benefit from the same kind of protection.
You're not losing anything if you give IPVanish a try yourself as the VPN comes with a 30-day money-back guarantee and 24/7 live chat support — so you can easily get a refund if you don't like it. I didn't even have to speak to a VPN rep to get a refund as the process is fully automated. It was enough for me to log in to my account using the browser and cancel my account in the "Subscription" tab. After confirming my choice, my refund was processed immediately and I received my money back only 2 hours later.
Key Features:
PrivateVPN is an ideal choice if you plan to use your Android in a country with strict VPN restrictions. When my team and I tested it in the UAE, Russia, China, and Turkey, we had no issues accessing blocked services like YouTube, Facebook, WhatsApp, and Skype. I was impressed because it was one of the few VPNs to work consistently in these countries. This is because PrivateVPN has a special Stealth VPN technology that disguises your VPN traffic as regular internet traffic – which makes your VPN undetectable. The fact that it hid my traffic gave me peace of mind knowing that no one could see that I was using a VPN (and helped me to avoid unnecessary troubles).
Specialized streaming and torrenting servers are available on PrivateVPN's Android app. I found the average speed of 15.1Mbps to be on the slower side while connected to these servers. Downloading a 500MB file took me about 10 minutes, which I felt was slightly slow for a small file. Fortunately, this did not greatly impact my streaming experience. I was able to watch Irishman on Netflix in standard definition with just a few seconds of buffering.
When it comes to security, PrivateVPN meets the market's protection standard with 256-bit military-grade encryption, IPv6 and DNS leak protection, and industry-leading protocols. These features work great at hiding your online identity and protecting you from hackers. Its located in Sweden, so it's within the 14-Eyes jurisdiction, but its no-log policy means it doesn't save any data, so your information is never shared.
However, I noticed that PrivateVPN's kill switch doesn't always work. The VPN states the feature only turns your connection off in the event of server failure. This is concerning as it's not the only reason why your traffic could drop. So the VPN wouldn't properly protect you in the event of a power outage or accidental disconnection — leaving your IP address exposed. This is definitely not ideal if you want to use PrivateVPN to torrent as it could even put your data in active danger of malware and hackers.
If you're planning a trip to a country where VPN use is blocked, you can try out PrivateVPN's stealth features on Android risk-free for 30 days. The money-back guarantee means that if you're not satisfied, you can contact customer service and ask for a refund. I found its refund process very straightforward as all I had to do was explain that I didn't need a VPN anymore. This was enough for the VPN rep to approve my request and issue a refund to arrive 5 working days later.
Use PrivateVPN on Android today
Key Features:
After some privacy concerns, VyprVPN became committed to providing utmost security on Android — starting with an audited no-logs policy. Leviathan Security Group produced an independent report stating that VyprVPN doesn't collect your Android information or activity without consent. This means that even if the vendor is summoned to hand over your data, there will be no files with your name on them, keeping your Android completely safe.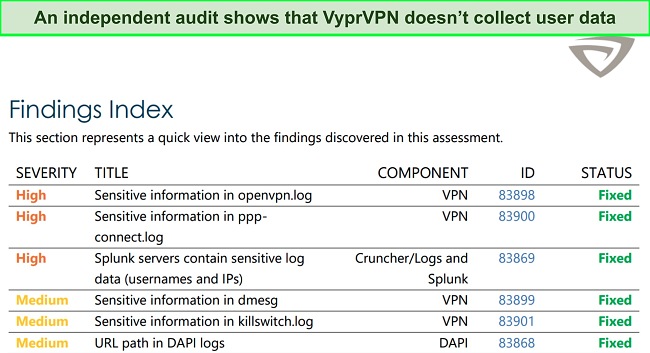 VyprVPN offers 4 types of encryption with Chameleon being the most unique and secure. It's programmed to bypass the toughest geoblocks, so the Chameleon protocol let me access Netflix, HBO Max, Disney+, and more on my holiday abroad. Since most premium VPNs struggle with these sites, this proves that the VPN's encryption takes your anonymity to another level. This is also enforced by the SHA256 authentication which encrypts your data until it reaches a server so websites can't check where you're connecting from.
I was surprised that VyprVPN let me choose between 128- and 256-bit encryption on my Samsung TV as many VPNs offer just one protocol on Smart TVs. Since I only use the TV to stream content, this meant I could drop my encryption and make the most of the faster speeds that come with it.
I also found that VyprVPN has both a kill-switch and split-tunneling on its Android app. This last feature is useful if you control any LAN devices (like a printer) over WiFi because you can still use them with the VPN switched on. That's because split-tunneling encrypts only the part of your traffic you choose, letting you use your standard connection to access local sites and apps.
The VPN is better if you value privacy over speed though as I discovered that VyprVPN's speeds are slower when you connect to distant servers. Rerouting my traffic through Japan or Australia cut my speeds by 70% which led to buffering and extended loading on many websites. If you're planning on using a VPN for traveling far from home, I suggest getting ExpressVPN as it has more consistent speeds across its server network.
Though ExpressVPN offers better speeds, VyprVPN is still a good option for a much lower price of $1.67 per month. And you can test VyprVPN on Android devices before you fully commit with its 30-day money-back guarantee. This lets you check you're satisfied with the service and get a refund if you decide not to keep your account.
Key Features:
Poor connections are the worst enemy of any gamer, so I was glad hide.me reduces latency and provides fast speeds for a lag-less online lobby on any Android device. This means you can use the VPN to connect to servers close to your game's servers to avoid being at a disadvantage from players with lower ping. For example, I regularly play mobile games on my Android tablet and Chromebook with my friends on the East Coast, but I tend to rage quit because I lag behind so much. But connecting to hide.me's East Coast server minimized my ping, letting me lead the team to victory.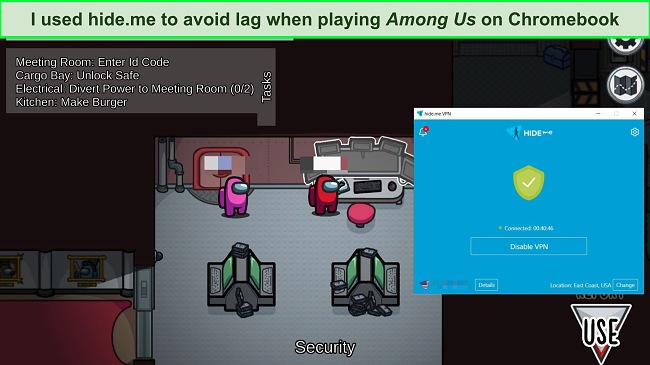 I could make the most of my speeds as hide.me stopped my ISP from slowing down my traffic when I game. This usually happens when I play on gaming consoles and PC, but I experienced sudden slowdowns on mobile games as well. Hide.me's encryption effectively hid my online activity stopping the ISP from monitoring how much data I was using — so no one interfered with my traffic until I was finished for the day.
Aside from improving gameplay, hide.me also protected me from in-game DDoS attacks. These attacks disrupt your server connection which could lead to your data being leaked into malicious hands. With AES-256 encryption and IP leak protection, hide.me fully hides your identity and reduces the effects of DDoS attempts. Additionally, hide.me uses IKEv2 and OpenVPN protocols that ensure your traffic encryption is always secure, even when you use unstable networks (like public WiFi). That way you can even complete your game dailies from a café, hotel, or airport without worrying about losing progress or private data.
Though the speeds are great for streaming in HD, hide.me can't unblock Hulu, Disney+, HBO Max, or BBC iPlayer. This is disappointing as I regularly use some of these sites to watch my favorite content, but I was blocked with a proxy error when I tried to open them on my Smart TV.
Though the VPN has a free option, I recommend you give hide.me's Premium plan a try risk-free for 30 days. This gives you an unlimited data allowance and access to all 75 servers instead of the selected 5. Plus, the money-back guarantee means that you'll get a refund if you're not happy — as long as you contact the 24/7 customer support before the policy runs out.
Key Features:
With its medium-sized server network, good speeds, and strong security, ZenMate is a solid option for Android as it offers great value for money. I found that all of its subscription packages are very cheap and I could save the most by selecting the 12-month-month plan (it's only $2.22!). So though its performance isn't as good as other top VPNs, its Android security features match its more expensive competitors making it well worth its price tag.
Talking of security, ZenMate doesn't cut back when it comes to ensuring you're always protected online. ZenMate meets the standard with military-grade encryption, DNS and IP leak protection, and a kill switch. I put 20+ servers through extensive tests and found that my connection was always fully disguised and stopped if I switched between servers. ZenMate stores your name and email address for marketing and technical purposes, but its no-logging policy stops it from storing your actual VPN activity.
It's usually difficult to find stand-out features in budget VPNs, but ZenMate has servers optimized for seamless streaming, just like CyberGhost. Connecting to US servers from my New York location let me unblock Netflix, HBO Max, and Amazon Prime after 20 seconds of initial buffering. Since the VPN isn't as fast as some other VPNs, I did experience minor buffering throughout my streams, but it didn't stop me from enjoying my favorite shows.
ZenMate also allows torrenting, but its P2P servers aren't available on the Android app. These servers gave me speeds 10% faster when I connected on my Windows PC, but it's not a huge difference from regular servers I used on my Samsung phone. All servers are equipped with the same security features, so I wasn't worried about the VPN leaking my details just because I didn't have access to P2P connections.
You can try the VPN's features on Android with its 7-day free trial, after which you can still put ZenMate to the test as it offers a 30-day money-back guarantee. At $2.22 per month, I think ZenMate is definitely worth getting, but if the minor disadvantages turn out to be a deal-breaker for you, you can always ask for a refund.
Key Features:
Aside from being very adorable, the TunnelBear Android app is super easy to navigate and easy to use, even if you never used a VPN. The interface resembles a world map, with tunnel pipes in the 41 countries offered by the VPN. To connect on my Android phone and tablet, I just tapped on the location of my choice and the little bear poked out of the pipe and roared to indicate my connection was set up.
Many other VPNs come with overly complicated settings menus, but TunnelBear provides simple explanations for its options so you can quickly understand what's what. So even though I could change only 4 settings, I didn't have to Google what they did. This let me customize the Android app much quicker — and I didn't feel overwhelmed with a long list of expert-level options.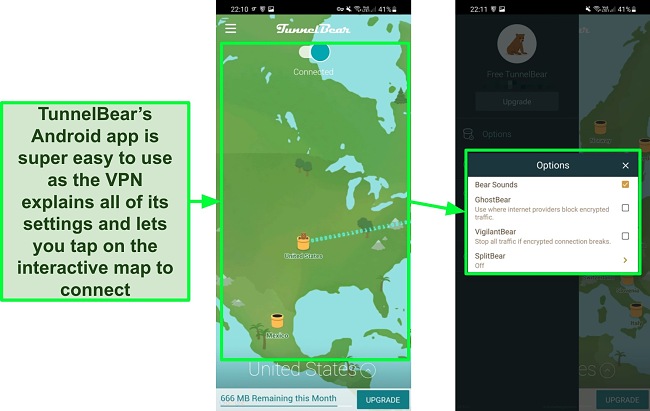 TunnelBear's security features are basic but efficient at protecting your online identity. The VigilantBear (or kill switch) setting cut my traffic when it detected discrepancies that could leak my data. In addition to this, I could enable GhostBear which is an obfuscated technology that made sure no one saw I was using a VPN. This meant I could use TunnelBear to unblock Netflix, Hulu, and Amazon Prime Video. However, it didn't work with BBC iPlayer, so it's not as strong as ExpressVPN's obfuscation.
Sadly, TunnelBear doesn't allow torrenting. This is disappointing, but not a deal-breaker if you don't download files on your Android.
Unlike other VPNs, TunnelBear doesn't offer a money-back guarantee — but you can try TunnelBear's Android features for free using its LittleBear plan. This will heavily limit your monthly data allowance to 500Mb, which is enough for online browsing, but not for regular streaming.
If you opt-in for a paid subscription and change your mind, TunnelBear may offer you a refund if you provide a good reason. I emailed Support Bears to request a refund after a week of testing because the VPN didn't unblock BBC iPlayer. I had to wait a couple of days before an agent confirmed it was approved. I received the money back in my bank account that same week.
Use TunnelBear on Android today
Quick Comparison Table: 2021's Top 5 Best VPNs for Android
ExpressVPN
CyberGhost
Private Internet Access
HMA
IPVanish
Money-Back Guarantee
30 days
45 days
30 days
30 days
30 days
Simultaneous Connections
5
5
5
5
5
Streaming Servers

✔

✔

✘

✔

✘

P2P servers

✔

✔

✔

✔

✔

Kill Switch

✔

✔

✔

✔

✔

Split-Tunneling

✔

✘

✔

✔

✔

Ad and Malware Blocker

✘

✘

✔

(when you install using the APK file)

✘

✘
Try ExpressVPN for Android today
How I Tested & Ranked the Best Android VPN
Knowing what to look out for in a good Android VPN can be difficult. I used the following selection criteria to narrow down the list of the top 10 VPNs for Android:
Try ExpressVPN for Android today
Warning! Avoid These Android VPN Apps on Google Play
1. Opera VPN
Opera may look enticing because it offers a free VPN with its web browser on its Android app. It claims to provide you with the safety and privacy of a traditional VPN. However, when you look at its privacy policy, you'll see that Opera VPN actually collects a lot of your private information (like what you read in the app's news feed, and your general location). Worse still, it also sends you annoying target ads based on this information.
Also, Opera's VPN service only works on its browser. So it won't be able to secure your other online activities like torrenting on a P2P client.
2. Hola VPN
Hola VPN is a free VPN that runs on a peer-to-peer network system. It works by routing traffic through the connections of other users, rather than through servers in different locations. This means that you're actually allowing strangers to connect to your network and use your resources. There's no way to know what other users are doing on your network, and you might even find your IP address linked to other user's illegal activities. Also, your data won't be kept private with Hola VPN as its privacy policy states that it may log your IP address and even which websites you visit.
3. Yoga VPN
Yoga VPN is a free vendor which I had high hopes for as it had super high ratings on Google Play. However, as soon as I opened Yoga VPN, the app prompted questionable permission requests to access my personal information, including my number, network, and call history. This data isn't necessary to use any VPN so it made me wonder why the vendor would need it.
Aside from the fact that there is no information on where exactly its headquarters is located, Yoga VPN has conflicting information about which user data it collects. After browsing its privacy policy, I found that Yoga VPN not only logs your information but also reserves the right to share this data if government agencies request it.
While these VPNs may be tempting because they're free, it's not worth sacrificing your online security to save money. Some free VPNs not only log your information, but they may also infect your device with dangerous malware. It's better to choose any of the 10 recommended VPNs for Androids that have strict no-logging policies – that means your data will be safe with them. Plus, you can try them risk-free as they all come with money-back guarantees!
Try ExpressVPN for Android today
Easy Guide: How to Set Up a VPN on Android
Set Up a VPN on an Android Mobile Device, Chromebook, and Android TV Box
Try ExpressVPN for Android today
How to Download Android VPN APK Files
Downloading the APK version from any of the recommended VPNs' websites is easy. To do this, you need to change the settings in your phone to allow apps from third-party developers to be downloaded. The exact instructions for this may be different for each device, but here are the general steps for most devices:
Try ExpressVPN for Android today
FAQs: VPNs and Android Devices
Which VPN app is the best for Android?
During my tests, I found that ExpressVPN has the best Android app as it's very intuitive and easy to use. Not only could I connect with just one button click, but the VPN also let me create shortcuts to my favorite platforms within its Android app. That way, I could start watching Netflix or browsing torrents as soon as I connected to ExpressVPN's server. And since all of the vendor's servers are optimized for fast streaming, downloading, and gaming, I didn't have to waste time trying to search for a special location.
Still, all VPNs on this list have a native Android app available for download on their website or Google Play. The recommended vendors are extremely easy to use across all Android devices with most letting you connect to a server with just a couple of clicks. All you need to do is sign up for a subscription, download the app, and choose your preferred server. You'll be accessing blocked content and securely surfing the internet in minutes.
If you're not sure which VPN to pick, I recommend you try ExpressVPN risk-free today and check how simple it is to use on Android. The VPN is backed by a 30-day money-back guarantee so if you're not fully happy with the service, you can get a full refund. It really is that simple, I tried it myself and received the money directly to my bank account 5 days after canceling my account.
Try ExpressVPN for Android today
Are there any good free Android VPNs?
While there are some decent free VPNs, they're not good to use on Android because they could expose your device to serious security risks. That's because most free services make their money by selling your information to third parties, like advertising companies and government agencies. Free VPNs can also infect your device with dangerous malware and display advertisements on your device.
Aside from security risks, free VPNs don't have the fastest speeds, the best security, or the most user-friendly platforms. Some also put limitations on what servers you can connect to or how much bandwidth you can use, while others only allow you to use one device at a time.
You won't have to put up with security risks and annoying limitations if you go with one of the VPNs recommended in this article. I made sure these 10 quality VPNs not only have strong security standards but also support HD streaming and work across various Android devices. And though you need to make an initial payment to sign up, you can test ExpressVPN risk-free before you decide to fully commit to its long-term subscription. The 30-day money-back guarantee means you can get a refund if you change your mind, so you can buy the VPN in confidence.
Does Android have a built-in VPN?
Some Android devices have a built-in setting that lets you enable PPTP or L2TP/IPSec connections without a separate VPN app. However, not all models support that (my Samsung phone didn't)— and if they do, the protection you get is not as strong as one you'd get with the top VPN vendors. That's because actual VPNs offer custom settings, military-grade encryption, a kill switch, and more features you won't find with manual built-in Android protection.
The built-in Android VPN is also useless if you want to torrent or stream as it doesn't fully encrypt your traffic and it still lets your ISP track your location and online activity. You're better off getting one of the recommended VPNs, ExpressVPN is easy to set up and comes with the best security features — it's also a lot more convenient than trying to set up a VPN by yourself.
Try ExpressVPN on Android devices
Is it safe to use a VPN on Android?
Yes, I even highly recommend you use a VPN on Android as it'll improve your device's security. If you're worried about whether it's legal to use a VPN, don't worry — VPNs are completely legal in most countries. However, countries like China, Turkey, Iraq, and Russia heavily censor content and ban the use of VPNs. If you want to use your service abroad, always check the laws before you go to avoid trouble and download the apps on your device prior to arriving in the country.
In the case of China, they have a specific list of approved VPNs that are usually monitored by the government. The use of any other VPN can result in a fine for China citizens. However, for foreigners, it's a legal gray area and I've never heard of foreigners being fined for using non-approved VPNs. If you want a VPN that consistently works in China, or similar countries, I recommend you try ExpressVPN.
What's the best VPN for my Android device?
ExpressVPN is the best VPN for Android as its ultra-fast speeds and solid protection helped me stream, torrent, game, and browse without any issues. During my tests, I was never blocked by the pesky proxy error and could make the most of my lag- and buffer-free connections from anywhere. I particularly liked that ExpressVPN always protected my Android devices when I was using public WiFi, so my data was safe at airports, restaurants, hotels, and more.
All 10 best Android VPNs listed above are compatible with Android phones, tablets, PCs, Smart TVs, and Android TV boxes. My team and I made sure to put all vendors through extensive tests to ensure they all meet the same quality standard across all Android devices. They all offer multiple simultaneous connections as well, so you can connect as many of your devices as possible.
Android casting devices, like Chromecast, tend to be a little bit trickier to connect to a VPN as you can't install any apps directly onto them. Since they use WiFi to let you cast onto a TV screen, you need to install a VPN directly onto your router to make sure all devices on that network use the same connection. I found that ExpressVPN offers a special router app that makes managing your traffic a lot easier. I followed detailed instructions on the vendor's website and was able to use Chromecast and other casting devices in less than 3 minutes.
If you don't have any experience with VPNs, I recommend you download ExpressVPN and see for yourself how easy it is to use on Android. If you decide you're not comfortable with the vendor, you'll have 30 days to get your money back. Just connect to the 24/7 live chat and a VPN agent will process your request without trying to change your mind.
Try ExpressVPN for Android today
Does a VPN affect my Android's speed?
Yes, but it depends on which VPN you use. I've tested premium VPN services, like ExpressVPN, and found that they won't significantly slow down your speed (unlike free VPNs). You might even get faster internet speeds in certain situations when using a quality VPN. For example, your ISP may reduce your bandwidth if it discovers you're torrenting big files. But connecting to a VPN means your ISP can't see what you're doing online and will have no reason to slow down your connection.
Some VPNs are more likely to slow your Android's speeds than others. It all depends on the protocols they use and their server number — smaller networks usually get overcrowded and slow much quicker.
I found that ExpressVPN had the fastest speeds on Android, which made it a great choice for streaming, downloading, and torrenting. I experienced only a 14% drop in speed, so I didn't notice any change in streaming or gaming quality while connected. I managed to continue streaming Netflix in HD with zero buffer time and no lag on my Android phone, tablet, Smart TV, and Chromebook.
Do I really need a VPN for Android?
Yes, I highly recommend you get a VPN for Android as your devices are susceptible to hacking attempts, malware downloads, data breaches, and more. Any data that you send over the internet from your phone or tablet isn't actually private. Hackers can easily access all your information (and that includes emails, photos, and messages).
A Virtual Private Network (VPN) safeguards your data by encrypting it and redirecting your online traffic to a remote server. Your data becomes unreadable to anyone trying to intercept it, and even your IP address will be secret. This means a VPN will:
To make the most of your VPN, you need a vendor that can actually deliver all of these benefits. I found that ExpressVPN is the best Android VPN as its water-tight security, very fast speeds, and unblocking technology gives you complete online freedom. Though it comes at a slightly higher price, you can save money on your ExpressVPN subscription using its hidden deals page. This will let you get a 15-month plan plan at just $6.67 which is the cheapest offer available at the moment. And don't worry — the deal still includes the 30-day money-back guarantee to let you try ExpressVPN risk-free.
Try ExpressVPN for Android today
Can I change my IP address on Android?
Yes. One of the easiest ways to change your IP address on Android is to use a VPN. It encrypts all your online information (so that it's unreadable to third parties) and provides you with an IP address from its own servers. For example, if you connect to a VPN server in the UK, websites will recognize your location as if you were actually there. Not only does it provide you with extra security and privacy, but it also allows you to access content that would usually be blocked for anyone abroad. So you'll still be able to use the streaming accounts you're paying for, regardless of where you travel.
However, to properly change your IP address and make sure your real location isn't undetectable, you need a VPN with top security and privacy features. While all VPNs on the list come with great features, ExpressVPN tops them all with heavy-duty encryption, leak protection, and more. Unlike some of its competitors, ExpressVPN applies the same security level across all operating systems, including Android devices. Plus, you can use ExpressVPN's MediaStreamer feature to use the VPN on your router and connect devices that don't normally work with VPNs, like gaming consoles.
It's a lot of information to take in and it's difficult to fully grasp the vendor's features without trying it first. That's why I recommend you test ExpressVPN yourself risk-free as it's backed by a 30-day money-back guarantee. That way if you find you're not happy with the VPN, you can easily get a refund, no questions asked.
Try ExpressVPN for Android today
Which Android VPN is best in China?
During recent tests, my team and I found that only ExpressVPN and PrivateVPN work consistently in China. Not many VPNs work well in China because the country's firewall technology is constantly being updated. While PrivateVPN is more affordable, ExpressVPN has much better speeds for streaming. It also had no problems allowing me access to restricted websites like Wikipedia, YouTube, and Facebook.
If you're unsure which to choose, you can try both VPNs without any risk as they offer 30-day money-back guarantees. I managed to get a refund from both VPN providers within a week after contacting customer service. Just remember to sign up and download the app before entering China as you won't be able to download it once you're there.
Get a Fast and Secure VPN for Your Android
Don't make the same mistake I did by following the Google Play Store ratings to find a VPN. Many don't work, or worse, could infect your Android with malware. The VPNs on this list have been thoroughly tested, so you can be assured these are all legitimate services. Every VPN on this list also has a refund policy, so you can test every feature on your Android without any risk to your wallet. I've personally tested requesting refunds from these services and I never had an issue getting my money back.
Of all the VPN's I tested, ExpressVPN stood out to me as the best all-around VPN for Android with its strong security features and fast speeds. You can even try ExpressVPN completely risk-free as it's backed by a 30-day money-back guarantee. That way you can test out its fast servers for streaming, gaming, torrenting before you decide to fully commit to it.
Try ExpressVPN for Android today
---
Summary: Best Android VPN Apps to Download in 2021