10 Best VPNs for Android – Safe Apps for 2023
There are over 200 Android VPNs to choose from, but most of them aren't worth your money. Some simply don't work, while others are downright shady and collect your private data. There are even fake VPNs in the Play Store that install malware onto your Android.
To save you the trouble, I ran rigorous tests to find the best Android VPNs in 2023 (all versions, including Android 13). Each VPN on this list is fast, secure, and won't slow down your Android or rapidly drain its battery.
ExpressVPN is the best VPN for Android due to its fast speeds, Android-specific security features, and value for your money. Since it's backed by a 30-day money-back guarantee, you can subscribe risk-free. I went through the process to test the policy myself — my refund was approved in minutes and I got my money back in just 5 days.
Quick Guide: The Best VPNs for Android in 2023
The Best Android VPN Apps (Tested 2023)
Key Features:
ExpressVPN is the best VPN for Android in 2023 — every server I tried gave me top-grade security features and fast speeds for mobile browsing, streaming, and torrenting. Its advanced AES 256-bit encryption, 4096-bit RSA key, and SHA-512 HMAC authentication keep your mobile traffic hidden from shady third parties like hackers.
On top of encryption, ExpressVPN's TrustedServer technology uses RAM-based servers that erase all data with every reboot. This leaves nothing for hackers or other third parties to steal or eavesdrop on. Its no-logs policy also ensures ExpressVPN never collects your data in the first place. It also undergoes independent security audits and makes these reports public. This level of transparency gives me full confidence I can browse safely and privately on Android.
Although VPNs encrypt all your information, IP address leaks are still possible — even on mobile devices. Fortunately, ExpressVPN passed all of my DNS, WebRTC, and IPv4 leak tests. Combined with the automatic kill switch, this reassured me that if the network becomes unsteady for any reason, my location and online activities won't be revealed to hackers or scammers.
The company is also headquartered in the British Virgin Islands, outside of any 5/9/14 Eyes jurisdictions. This means ExpressVPN isn't subject to any international data collection agreements or mass surveillance laws that violate your privacy.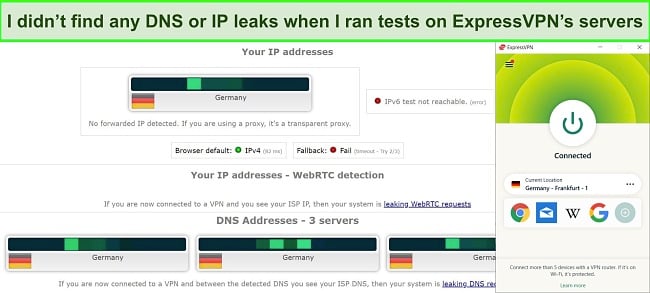 ExpressVPN also has additional security features on its Android app. Security Assistant provided insightful tips on how to secure my data and protect my device, while Data Breach Alert monitored my email address for breaches. If your information is compromised, the app will notify you instantly so you can quickly change your passwords or lock your accounts.
My tests revealed that ExpressVPN's speeds allow for uninterrupted mobile streaming on Android. I only experienced a 14% decrease compared to my base internet speeds. By default, ExpressVPN uses the OpenVPN protocol but I was able to boost my speeds by switching to the Lightway protocol.
I was impressed with my Android phone's performance, as I saw no lag or slowdowns while connected with Lightway. VPNs are notorious for draining phone batteries, so I appreciated how little impact Lightway (which was designed with mobile devices in mind) had on my Android's performance. However, you can't go wrong with either protocol, as both Lightway and OpenVPN are highly secure. Since the Android platform is susceptible to security flaws, I appreciated the additional safety benefits these protocols provide.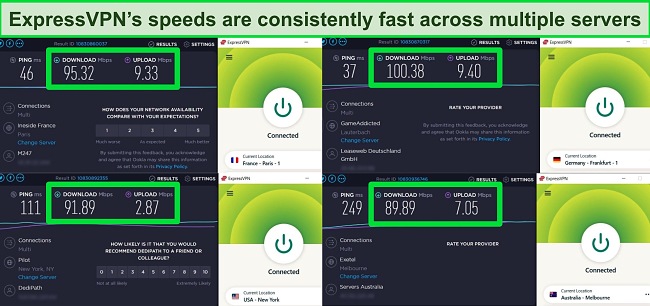 ExpressVPN works with streaming platforms like Netflix US, Amazon Prime Video, Hulu, and Disney+. This is ideal if you often travel and like keeping up with your favorite shows while abroad. During Netflix testing using servers in the US, UK, France, and Australia, ExpressVPN accessed the service from all locations with consistently high speeds. This makes it possible to stream TV shows and movies even while on vacation.
With plans starting a $6.67/month, ExpressVPN is a little pricier than other Android VPNs. But it's still a good value for the money and is backed by a 30-day money-back guarantee, so you can buy ExpressVPN for Android risk-free.
If you're not fully satisfied, contact 24/7 customer service and an agent will immediately process your refund request. I received my refund in just 5 days and didn't have to explain why I wanted to cancel my account.
Key Features:
CyberGhost is one of the best streaming VPNs for Android with optimized servers specifically configured for US Netflix, Disney+, and other streaming sites. While testing on my Samsung Galaxy S21, there were never issues finding a working server to unblock streaming accounts. After connecting to CyberGhost The Mandalorian loaded instantly in HD on Disney+ and played with only minimal initial buffering.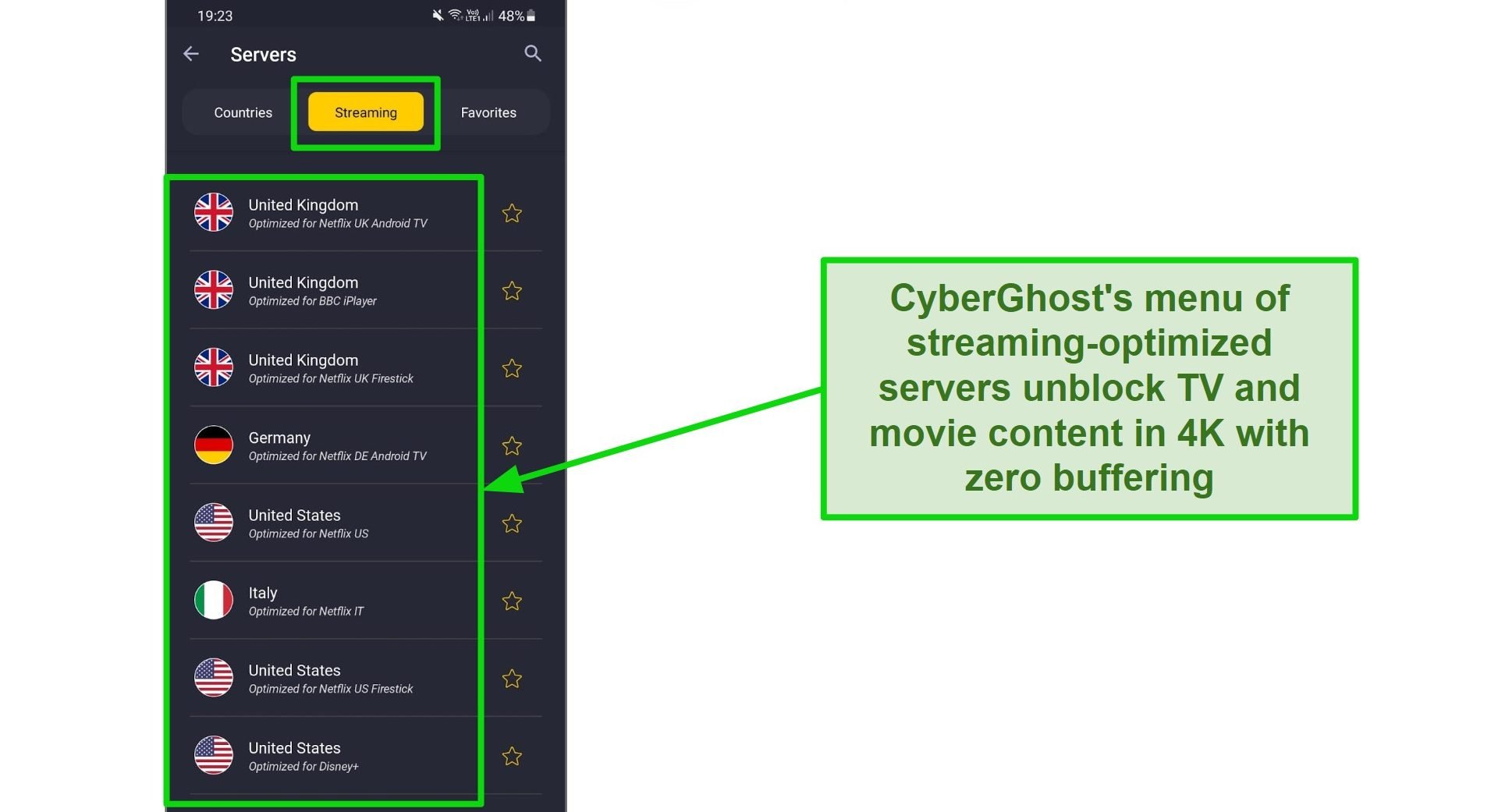 I found CyberGhost a bit slower than ExpressVPN, but this barely affected streaming. My average speed drop was around 39%, so CyberGhost is fast enough for 4K content on Android apps like Netflix, HBO Max, and Comedy Central.
Unlike its desktop app, CyberGhost doesn't offer its P2P server tab on Android — but these servers are still available. I had to manually browse the server list on its website to find torrenting servers, which was slightly inconvenient. I also found that download speeds were slower than ExpressVPN's, though this wasn't a big deal as it only took me 7 minutes to download a 500MB video.
Aside from specialty options, CyberGhost has thousands of regular servers that allow streaming and torrenting — but you may experience slower speeds. However, they're a great backup if the optimized servers are full. It was still possible to watch shows on Netflix US and Hulu in 1080p while torrenting small files without a drop in stream quality.
CyberGhost's kill switch is enabled by default, so you don't have to remember to turn it on while connected. Additionally, it uses 256-bit AES encryption to secure your data and has a strict no-logs policy so you can be sure all your online activities will be kept private.
I was also pleased that I could use CyberGhost on up to 7 devices. This was enough to cover my personal and work phone, tablet, Chromebook, Fire Stick, and Sony Smart TV. I didn't have to worry about logging in and out of different devices.
CyberGhost plans start at $2.03/month, and you can try CyberGhost's Android app risk-free with its 45-day money-back guarantee. That's longer than many VPNs and gives you plenty of time to enjoy its optimized servers. If you're not happy with the service, you can always ask for a refund. My refund was approved in minutes and my bank deposited the money in my account 6 days later.
Key Features:
Private Internet Access (PIA) comes with fully customizable security settings to fit your Android VPN needs. I first enabled AES 128-bit encryption to maximize my speeds and enjoyed bufferless streaming on my Android phone while abroad. I then selected stronger 256-bit encryption for increased protection, perfect for anonymous torrenting or using public WiFi networks.
PIA also offers 2 different VPN protocols — OpenVPN and WireGuard. OpenVPN is the default and offers good protection and decent speeds. But I increased my online security and speeds by enabling WireGuard. This protocol is great for fast and anonymous torrenting and other data-intensive activities no matter where you are.
I could also change how the automatic kill switch protected my connection. Selecting "Auto" meant PIA would only stop incoming data from viewing information on my Android device. However, I recommend swapping to "Always," a much safer option that instantly cuts all traffic if your connection drops.
Aside from security, PIA has a huge server network with fast connections. When I ran a speed test on over 40 servers I found each location provided me with good speeds ranging from 30-50Mbps.
The high speeds on its selection of global servers on Android had no issues with lag-free TV shows on Netflix, HBO Max, Disney+, and Amazon Prime Video in top quality. The speeds were also great for torrenting and playing online games like Call of Duty. Sadly, unlike ExpressVPN, PIA struggles with unblocking Hulu and BBC iPlayer — but other than that it was a solid streaming VPN.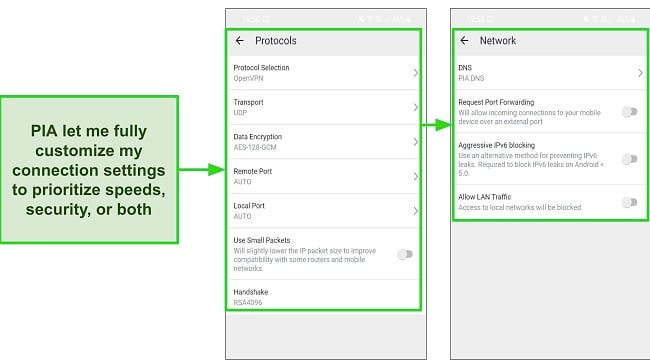 Additionally, PIA is one of the few VPNs to offer an ad and malware blocker (called PIA MACE) on Android devices. However, Google Play blocks this feature so make sure you download PIA from the official website and get the APK file.
All PIA subscriptions are really affordable (it even has one of the best month-to-month VPN plans), but the best deal is the 2-year + 4 months plan for $2.03 per month which is eligible for a 30-day money-back guarantee. This gives you plenty of time to ensure the VPN meets your needs. If not, just reach out to customer service through live chat or email. I got my money back within 6 business days.
Key Features:
NordVPN is one of the best VPNs on the market — and you can get super cheap prices when you sign up for a long-term subscription. One thing to note, however, is that when it's time to renew your subscription, prices do increase quite significantly.
I was particularly impressed with the high performance of every server I tested. Just because a VPN has thousands of servers doesn't mean they all work. Servers can still struggle to work — and some can even fail to connect completely. However, NordVPN's servers work with Netflix for smooth, buffer-free streaming.
I did, however, have issues with using NordVPN's native Fire TV app. Although it mostly worked with Netflix, it sometimes had issues and kept crashing. I also found that NordVPN's user interface for desktop devices was less user-friendly than ExpressVPN and CyberGhost.
NordVPN has the following security and privacy features:
AES 256-bit encryption
kill switch that cuts your internet access if your connection to a VPN server drops suddenly
built-in ad and malware blocker, so you don't need a third-party ad blocker
fully audited no-logs policy (audited by PwC) – NordVPN doesn't store any personal or identifying data while you're connected to the VPN
In addition, NordVPN includes Threat Protection that protects you from viruses, infected websites, and trackers – and it works whenever you have the NordVPN app open, even if you're not connected to a VPN server.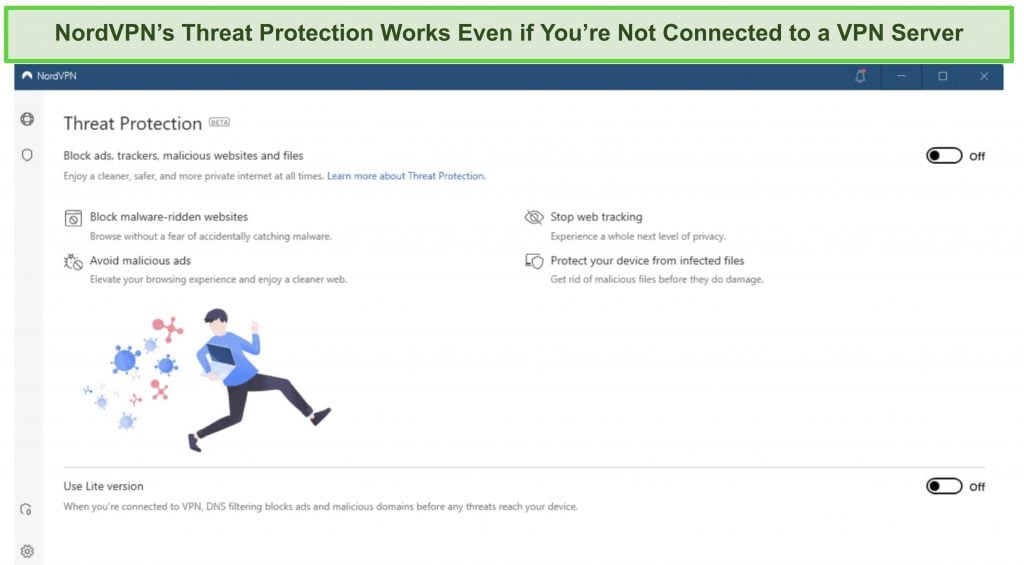 With plans that cost as little as $2.99 per month, it's easy to find a NordVPN subscription plan that suits your needs. You can also stream, torrent, and browse for free for up to 30 days with its money-back guarantee. I tested this to ensure that you'll really get your money back. At first, the support team tried to give me an extended trial period — but they initiated my refund right away after I told them I wasn't interested in the extension. I got my money back in 6 business days.
Key Features:
Surfshark offers the best value for money out of every premium VPN on the market. You can connect an unlimited number of devices with a single subscription, which means you can use Surfshark on all your devices without getting logged out.
I tested Surfshark's simultaneous connections on 2 PCs, 2 phones, a Fire Stick 4K, and an iPad. My connection remained reliable on all 6 devices. Even while I was actively streaming on all my devices, my average speed was 112 Mbps — fast enough for UHD quality.
When I saw the price of this service, I thought it couldn't possibly have top-grade security features for such a low price, but I was pleasantly surprised.
Surfshark has the following security and privacy features:
AES 256-bit encryption on all devices, with ChaCha encryption available for Android users
Wireguard VPN protocol enabled by default
diskless, RAM-only servers to protect your privacy (no data can be physically extracted from any servers)
kill switch (although this isn't enabled by default)
IP and DNS leak protection
Surfshark offers two-factor authentication (2FA) on your account. This feature requires you to enter an extra code before you can log in to ensure that only you can access your account.
While Surfshark does have slightly fewer global servers than rivals such as CyberGhost and PIA, I didn't experience any issues during my tests. I easily connected fast working servers every time, and I had excellent speeds for streaming, downloading torrents, and browsing the internet.
You can try Surfshark for yourself with the 30-day money-back guarantee. It has plans that cost as little as $1.99. Requesting a refund is easy with Surfshark's live chat feature. Although the support team asked why I wanted to cancel my subscription, I had no problem getting my money back (and it only took 4 days!).
Key Features:
In our case, PrivateVPN's Stealth VPN mode caters specifically to Android users looking to connect in environments with restrictive networks. This standout feature adeptly conceals VPN activity, allowing it to slip through network firewalls seamlessly. Impressively, it's proven effective even in regions with rigorous censorship policies, such as the UAE, Russia, China, and Turkey.
Specialized streaming and torrenting servers are also available on PrivateVPN's Android app. My average speed of 15.1Mbps was on the slower side while connected to these servers. Fortunately, this did not greatly impact the streaming experience. During testing, The Irishman loaded on Netflix in standard definition with just a few seconds of buffering.
For security on Android, PrivateVPN offers 256-bit military-grade encryption, IPv6 and DNS leak protection, and industry-leading tunneling protocols. These features hide your online identity and protect you from hackers. It's located in Sweden, which is a 14-Eyes jurisdiction that watches your online activities. However, PrivateVPN's no-logs policy means it doesn't save any data, so your information can't be seen.
I noticed that the kill switch feature offered by PrivateVPN is designed to disconnect your connection if a server failure occurs. This is a worry because it may not provide sufficient protection during power outages or accidental disconnections. This scenario is less than ideal, particularly when involved in torrenting, as it might put you at risk of malware or reveal your IP address to hackers. Luckily, I haven't faced any issues personally, as my connections have been reliable.
I found longer-term subscriptions for as low as $2.00/month, and all the plan options let you try PrivateVPN's Android stealth features risk-free for 30 days. If you're not satisfied, you can contact customer service and ask for a refund. I found the process very straightforward as all I had to do was explain that I didn't need a VPN anymore. The customer representative approved my request and my refund arrived 5 days later.
Key Features:
IPVanish stands out among Android VPNs as it allows for unrestricted simultaneous connections. This means you can utilize it across all your devices simultaneously. Moreover, it provides unlimited bandwidth, ensuring smooth performance on your Android device, even when engaging in high-definition video streaming, gaming, or utilizing multiple apps across multiple devices simultaneously.
IPVanish offers one of the most detailed diagnostics information of any Android VPN, displaying essential information that other mobile VPNs don't. A detailed chart shows your download and upload speeds, data usage, and current VPN protocol. If you're new to Android VPNs, IPVanish provides a short tutorial right after you install it.
During tests, I used IPVanish to download multiple files on my phone and tablet at the same time. The unlimited bandwidth meant I could torrent as much as I wanted without experiencing slowdowns or sudden disconnections.
I was initially hesitant about IPVanish's security since it's based in the US, an Eyes Alliance member country. However, IPVanish has a strict no-logs policy. Even if the US government asked for your data, IPVanish wouldn't have any to share.
Sadly, IPVanish's kill switch is available only on Android mobile, so I couldn't enable it on my Smart TV and Fire Stick. This won't impact your privacy on mobile, but it's disappointing that the kill switch doesn't cover all Android devices.
The best deal I found was only $2.49 per month, but you're not losing anything if you give IPVanish a try for Android. It comes with a 30-day money-back guarantee and 24/7 live chat support. I didn't even have to speak to a VPN representative, as the refund process is fully automated. I just logged in and canceled my account in the "Subscription" tab. My request was processed immediately and I received my money back only 2 hours later.
Key Features:
Proton VPN's Secure Core technology keeps your Android devices safe from network-level attacks that hackers use to spy on your Android apps and browsing activities. By routing your data across multiple servers, Proton VPN makes it impossible for hackers to keep up and keeps your Android data secure.
In addition to Secure Core, Proton VPN employs 256-bit encryption of military-grade standard to safeguard your data, ensuring a high level of privacy. Your Android device is further secured through features like an Android kill switch and DNS leak protection. Notably, an Android malware and ad blocker is also included, preventing interactions with harmful URLs during activities such as browsing the internet, checking emails, or utilizing Android applications.
For maximum speeds, Proton VPN's performance accelerator is turned on by default. It optimizes your connection by removing inefficiencies in its VPN protocols. With the accelerator turned on, my Android connection went from 41Mbps to 59Mbps — a full ⅓ increase.
All of Proton VPN's Android apps were also easy to install and use when I tested it on mobile, tablets, Android TV, Fire TV Stick, and other devices. I never had compatibility problems, but if you encounter issues you can install Proton VPN on your router to protect every Android device on your network. Plus, it could reliably bypass VPN filters on most streaming sites like Hulu.
The one real con to Proton VPN is that the 30-day money-back guarantee is only valid for days you didn't use the service. There is a free plan, but it's very limited. Other than that, Proton VPN is one of the best for Android and the 2-year + 6 months plan is a great deal for $3.99/month.
After I tested the Android app for a full day, I emailed Proton VPN support to ask for a refund and was approved within an hour. A week later, I got the money for the remaining days within the 30-day refund window.
Key Features:
PureVPN's "Proxy Mode" gives you an unencrypted IP address to optimize streaming speeds on TV and movie sites. It takes time for your Android data to be encrypted, and the added security isn't important for watching content. By removing encryption, proxy mode maximizes speeds for the smoothest possible 4K UHD streaming performance on global TV and movie services.
Along with the top standard of military-grade 256-bit encryption on its other protocols, PureVPN has an always-on feature in Android so you never use apps unprotected. There's also a split tunnel to use local sites and international apps at the same time. While it doesn't have many security extras, it's plenty for safe and anonymous torrenting on Android.
I got solid speeds on PureVPN — it was more than fast enough for a smooth video call on Google Hangouts. The Android app also has a built-in Speed Test function that constantly analyzes servers to connect you to the fastest one automatically.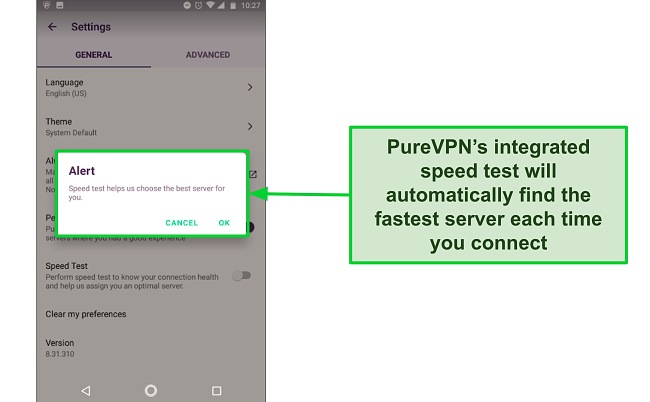 All of PureVPN's apps were super-easy to install and use, giving you intuitive interfaces and a "quick connect" button that automatically finds the fastest server. I also never encountered random glitches or crashes, and the Android app is efficient enough to minimize your battery drain.
You can also get PureVPN for Android risk-free for $2.03/month, since plans come with a 31-day money-back guarantee. I got my refund request approved in a few minutes via 24/7 live chat, and I had my money back within a week of making my request.
Key Features:
ZenMate is a solid Android VPN that offers great value for the cost. Although it doesn't have the biggest server network, it makes up for this with good speeds, strong security, and unlimited device connections. I found its subscription packages very affordable and saved the most with the 1-year + 3 months plan, which is only $1.99 per month.
For your Android security and data privacy, ZenMate is a no-logs VPN with military-grade encryption, DNS and IP leak protection, and a kill switch. I put 20+ servers through extensive tests and found my connection was always fully disguised. ZenMate stores your name and email address for marketing and technical purposes but keep no logs of your actual VPN activity.
Like CyberGhost, ZenMate has servers optimized for streaming. Connecting to US servers unblocked Netflix, HBO Max, and Amazon Prime with 20 seconds of buffering during testing. While there was brief buffering during streams, it wasn't too intrusive. ZenMate also allows torrenting, but P2P servers aren't available on the Android app.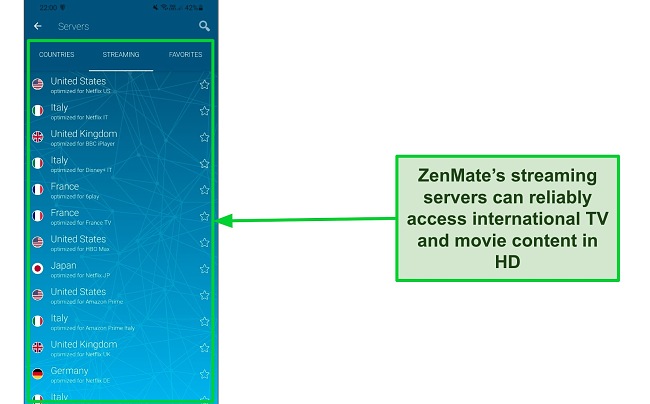 You can try all of the VPN's features with its 7-day free trial, after which you can still put ZenMate to the test on Android with the 30-day money-back guarantee. At $1.99 per month, I think ZenMate is definitely worth the price for the features. However, if the minor disadvantages turn out to be a deal-breaker for you, you can always ask for a refund.
Quick Comparison Table: 2023's Top 5 Best VPNs for Android
| | | | | | |
| --- | --- | --- | --- | --- | --- |
| | ExpressVPN | CyberGhost | Private Internet Access | NordVPN | Surfshark |
| Money-Back Guarantee | 30 days | 45 days | 30 days | 30 days | 30 days |
| Device Connections | 8 | 7 | unlimited | 6 | Unlimited |
| Unblocks Netflix | ✔ | ✔ | ✔ | ✔ | ✔ |
| Allows Torrenting | ✔ | ✔ | ✔ | ✔ | ✔ |
| Kill Switch | ✔ | ✔ | ✔ | ✔ | ✔ |
| Split-Tunneling | ✔ | ✔ | ✔ | ✔ | ✔ |
| Ad and Malware Blocker | ✘ | ✔ | ✔ | ✔ | ✔ |
How I Tested & Ranked the Best Android VPN
I used the following criteria to narrow down the list of the top VPNs for Android:
Native Android apps: Every VPN supports version 4.0 or later on mobile phones, tablets, Chromebook, Nvidia Shield TV, Xiaomi Mi Box S, and Skystream Pro 8K.
Fast speeds: You won't get frustrated by slow performance for 4K video, gaming, or browsing on your Android devices.
Strong core security features: Each VPN needs to protect Android devices with tools like kill switches, military-grade encryption, and strict no-logs policies so that your data is kept secure from activity trackers and hackers.
Works with streaming platforms: Only the best VPN providers work with Netflix, Disney+, Hulu, and other country-specific apps and websites. This guarantees access to local TV shows and movies even from abroad.
Global network of servers: I looked for VPNs with plenty of server countries so you can always connect to a location of your choice.
Warning! Avoid These Android VPN Apps on Google Play
Opera may look enticing because it offers a free VPN with its Android app's web browser. It claims to provide the safety and privacy of a traditional VPN. However, its privacy policy indicates Opera VPN collects a lot of your private information and sends you annoying targeted ads based on this information.
Hola VPN is a free VPN that routes traffic through other users' connections, rather than servers in different locations. Unfortunately, this allows strangers to connect to your network and use your bandwidth. Unfortunately, it's happened a few times that Hola users have had their IP addresses linked to illegal activities. Also, Hola VPN won't keep your data private as its privacy policy states it may log your IP address and websites you visit.
As soon as I opened Yoga VPN, the app prompted questionable permission requests, including my number, network, and call history.
Aside from the fact there is no information on where it's headquartered, Yoga VPN has conflicting information about the data it collects. After browsing its privacy policy, I found that Yoga VPN not only logs your information but also reserves the right to share it if government agencies request it.
While free VPNs may be tempting, it's not worth sacrificing your online security to save money. It's better to choose any of the 10 recommended VPNs for Android that protect your data with strict no-logging policies. Plus, you can try them risk-free as they all have money-back guarantees.
Easy Guide: How to Set Up a VPN on Android
Set Up a VPN on an Android Mobile Device, Chromebook, and Android TV Box
How to Download Android VPN APK Files
Downloading the APK version from any of the recommended VPNs' websites is easy. To do this, you need to change your phone's settings to allow apps from third-party developers to be downloaded. The exact instructions may be different for each device, but here are general steps you can follow:
FAQs: VPNs and Android Devices
Get a Fast and Secure VPN for Your Android
Don't trust Google Play Store ratings to find a VPN. Many don't work, or worse, could infect your Android with malware. The VPNs on this list have been thoroughly tested, so you can be assured they're all legitimate services. Each one also has a refund policy, so you can test every feature without risking your money. I've personally tested each provider's refund policy and never had an issue getting my money back.
Of all the VPN's I tested, ExpressVPN stood out as the best all-around VPN for Android with its strong security features and fast speeds. You can even try ExpressVPN completely risk-free as it's backed by a 30-day money-back guarantee. That way you can get a refund if you decide it isn't for you.
---
Summary: Best Android VPN Apps to Download in 2023