Widest Server Network Worldwide (94 Countries)
ExpressVPN offers 3000 servers in over 94 countries, which is a large amount for any VPN. Even though it doesn't have the highest number of total servers, ExpressVPN offers the widest server coverage worldwide. This means you'll always be able to find a server nearby, whether you live in the US, Kyrgyzstan, France, Sri Lanka, or New Zealand.
The best server coverage is available for countries in Europe and North America, but there's also a solid selection in the Middle East, Africa, South America, and Asia-Pacific.
In addition, ExpressVPN offers virtual server locations in countries where the infrastructure is unstable or there are oppressive internet laws. For example, imagine you need to connect to a server in Venezuela (a country known for its strict online regulations). You'll be assigned a Venezuelan IP address, but ExpressVPN will actually connect you to a server physically located in neighboring Brazil. This ensures you'll have a safe and steady connection at all times.
ExpressVPN doesn't heavily advertise its P2P features like other VPNs do, so I thought it might not support torrenting — but I was wrong. After conducting extensive tests, I was impressed to find that ExpressVPN is actually one of the best VPNs for torrenting.
Every server supports torrenting
ExpressVPN works with all torrenting clients, including uTorrent, qBittorrent, Transmission, Vuze, and any other Bittorrent client. Unlike other VPNs, there are no "special" torrenting servers or features — instead, all servers have been optimized for maximum security and fast downloading speeds. This means P2P servers won't be overcrowded with other users, which can slow down speeds during peak times.
Unlimited bandwidth results in lightning-fast speeds
All the global servers I tested are exceptionally fast, so it's easy to torrent safely and quickly. Better still, you can download torrent files of any size, whether it's music, movies, TV shows, games, or software. To test this, I downloaded a whopping 94GB file and I didn't have any issues.
Strong privacy and security measures to protect your anonymity
ExpressVPN has a strict no-logs policy, it encrypts all traffic with military-grade standards, and secures every server with DNS leak protection. An automatic kill switch (called Network Lock) also blocks all unencrypted internet traffic when you're switching servers or if the VPN unexpectedly disconnects. This means your torrenting activity and IP address are hidden at all times. You don't have to worry about the authorities tracking you down if torrenting is illegal in your country, nor potential cyberattacks from fellow torrenters.
ExpressVPN isn't subject to data retention or copyright laws
The company is located in the British Virgin Islands. This is an ideal location for a VPN — there are no data retention laws and the British Virgin Islands aren't subject to the Digital Millennium Copyright Act (DMCA) or other international copyright agreements. This keeps you safe from legal and privacy issues when torrenting on ExpressVPN's servers.
Safely torrent with ExpressVPN!
When my team ran tests in China, we found ExpressVPN is one of the few VPNs that successfully gets around the country's strong firewalls. My colleagues never had any issues accessing sites like Facebook, Instagram, Google, Gmail, WhatsApp, Wikipedia, YouTube, and Netflix.
You don't have to be concerned about China's online surveillance laws either. ExpressVPN doesn't operate any servers in China, meaning the provider isn't legally required to comply with Chinese regulations or keep data logs on its users.
Once connected, your internet traffic is encrypted and hidden from all censorship, governments, and ISPs. As an extra security measure, the Network Lock kill switch will block all internet traffic if the VPN connection is ever unstable or not working. This prevents any of your personal data from accidentally leaking online and exposing your identity. To verify this, my research team ran a DNS leak test from China while connected to ExpressVPN's New York server. There were no leaks found — so you can be confident that your online traffic is well-secured.
One minor con I found was that not every global server works in China, so you'll be slightly limited by the options available to you. That being said, my colleagues never had an issue using servers in Japan and the US to bypass China's firewalls.
Just make sure you download ExpressVPN before you arrive in China as the website is blocked inside the country. Although it might not be too late — a method that sometimes works is to install the Tor browser and download ExpressVPN from its .onion site (http://expressobutiolem.onion).
High Encryption Standards
ExpressVPN uses an AES 256-bit encryption combined with a 4096-bit RSA key and SHA-512 HMAC authentication. What does this mean? This is the highest standard of encryption and is currently considered near-impossible to break.
The SHA-512 HMAC authentication adds an extra layer of security to data transfers (like P2P file-sharing and torrenting). Both the sender and receiver of the download file use a shared secret key — any changes in the secret key means the connection has been intercepted, so you'll know immediately if there's an intruder.
Multiple Security Protocols Available on All Devices
ExpressVPN offers the unique Lightway protocol, alongside standard options like OpenVPN (UDP and TCP), IKEv2, and L2TP/IPSec. Lightway is a proprietary protocol developed specifically for ExpressVPN's customers. In my tests, I found it has faster speeds and stronger security than the older protocols (including the popular OpenVPN). Please note that Lightway is not to be confused with WireGuard, which similarly improves speed and security but is open-source (so any VPN provider can use the technology).
ExpressVPN doesn't make all protocols available on every device, although each operating system gives you plenty of options. I strongly suggest you stick to the secure protocols like Lightway, OpenVPN, and IKEv2.
Windows and Mac: Lightway, OpenVPN, IKEv2, and L2TP/IPsec
Android: Lightway, OpenVPN, and L2TP/IPsec
iOS: OpenVPN, IKEv2, and L2TP/IPsec
Linux: Lightway, OpenVPN, and L2TP/IPsec
You can easily choose a protocol by clicking on the "Settings" icon and navigating to "Protocol". With the default option of "Automatic" enabled, ExpressVPN will select the best VPN protocol based on your network settings. For most people, this will be Lightway or OpenVPN (UDP) protocol. Both options provide the best combination of speed and security.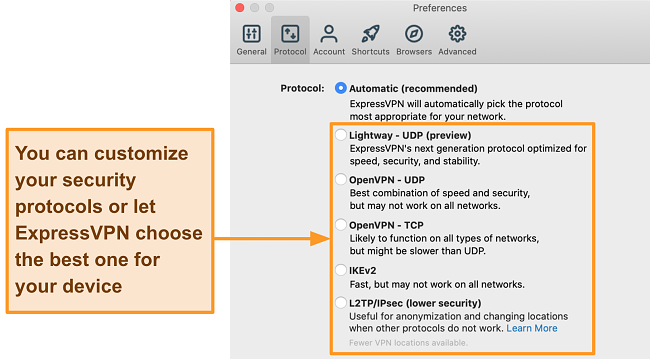 Automatic Kill Switch — Successfully Secures Internet Traffic During Connection Drops
ExpressVPN's automatic kill switch (which they call "Network Lock") ensures your device and internet activity remains hidden — especially when the VPN connection is unsteady or you're switching between servers. This feature is available on Windows, Mac, Android (version 7.4 onwards), Linux, and router apps. However, I was disappointed to discover that this feature isn't available on iOS. If you want this extra layer of protection on your iPhone or iPad, CyberGhost offers a kill switch on its iOS app.
I tested the kill switch on my Macbook Pro, Windows PC, and smartphone (running on Android version 9), and my internet was successfully blocked every time I manually interrupted the VPN connection. It's enabled automatically so you don't need to waste time switching it on.
Secure your device with ExpressVPN!
Split Tunneling — For Windows, Mac, Android, and Router Apps (More Than Most Other VPNs)
This is where ExpressVPN is a clear winner. Not many VPNs have split tunneling, and even VPNs with this feature only provide it on 1 or 2 apps — usually Android. However, ExpressVPN offers split tunneling on all its native Android, Windows, Mac, and router apps (iOS is currently unavailable).
Split tunneling is a truly underrated VPN feature. The main advantage with split tunneling is the ability to choose specific apps to bypass the VPN. Let's say you want to watch shows on a foreign streaming platform (like US Netflix or BBC iPlayer UK) — but you also want to check the local news in your country. By enabling split tunneling, you can set up Netflix to stay connected to ExpressVPN, while your regular internet browser bypasses the VPN.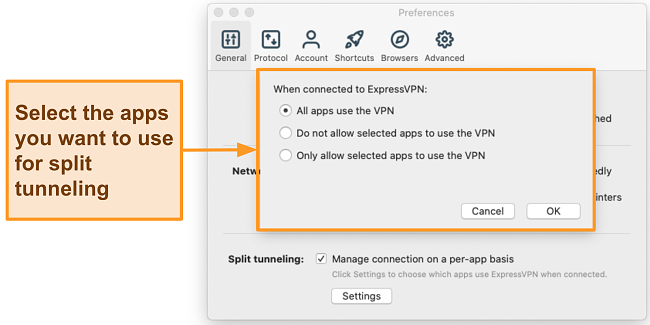 To see whether the split tunneling feature works well, I first excluded the Chrome browser app from using ExpressVPN. I then connected to a server in the UK and started streaming BBC iPlayer. While an episode of the TV show Killing Eve was playing, I browsed for coffee machines on Google. I was happy to only see options from local vendors in Turkey displaying prices in Turkish Lira (as opposed to UK retailers with prices in GBP!).
Try ExpressVPN for free for 30 days!
TrustedServer Technology — Automatically Erases All Data From Servers
This is one of ExpressVPN's most unique security features and it makes the service stand out from its competitors. Its 3000 servers operate through RAM disks as opposed to hard drives. RAM disks require power to store data, so every time it's powered on and off again, all information is instantly wiped out. That means the TrustedServer technology erases any trace of your private data and browsing history with every reboot. This system also gives you extra protection against hackers — if an intruder somehow managed to penetrate a server, they'd also be removed.
Typically, the industry runs servers through hard drives. The problem is that hard drives retain all data until they're manually erased or overwritten. This includes sensitive data, which creates potential privacy issues if there's a leak or hacker.
What makes TrustedServer technology different is that it ensures all data on ExpressVPN's servers is deleted with every reboot. It's an impressive feature, especially since very few premium VPNs offer this layer of security for users.
Leak Tests Results — No Leaks Found
Even though a VPN encrypts your online traffic, it's still possible for your private data to be exposed through DNS, WebRTC, and IPv4 leaks. ExpressVPN offers its own leak test, but I wanted to run my own independent tests on ipleak.net. I tested ExpressVPN's servers in the UK, US, and Japan on my Mac, and I'm happy to say that ExpressVPN had zero leaks throughout my entire browsing session.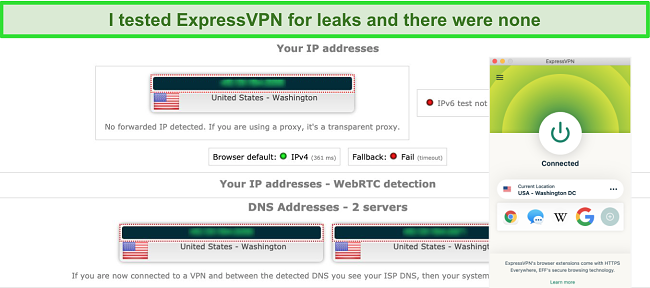 Only my new IPv4 address was visible and IPv6 was blocked, so there were zero risks of any leaks exposing my personal data. The tests showed that my IP and DNS server addresses were no longer in Turkey (where I'm based). This proves to me that ExpressVPN's in-built leak protection works well, and will successfully hide my real location from hackers, governments, and other unwanted third parties.
Stay safe online with ExpressVPN!
Compatible With Tor for Extra Security
I found ExpressVPN works exceptionally well with Tor due to its:
Excellent speeds: Browsing on Tor normally slows down my internet connection, but ExpressVPN's fast speeds help minimize any lag.
256-bit encryption: This hid my IP address from all nodes in the Tor network.
Kill switch: Prevented accidental leaks if the VPN connection was interrupted, so my real IP address was never exposed to Tor's entry and exit nodes.
No-logs policy: My personal information and Tor activity wasn't tracked or logged.
RAM-based servers: My data was wiped from ExpressVPN's servers.
For even greater security and privacy, I always recommend connecting to ExpressVPN first and then Tor. This method is known as "Tor over VPN" or "Onion over VPN", and it prevents even Tor from seeing your real IP address.
Unlike many VPNs, ExpressVPN even has its own.onion site in the Tor network. This allows you to access the ExpressVPN homepage and download the app, which is especially useful if you're in a country where VPNs are banned.
Minor Con: No Ad Blocker
ExpressVPN doesn't come with an in-built ad blocker, although I actually don't mind as it gives me the flexibility to use a standalone ad blocker of my own choosing. I personally use uBlock Origin and I've found it works very well with ExpressVPN.
However, the lack of ad blocker is unusual, especially since top-tier VPN services all include it as a standard. CyberGhost is particularly good at blocking ads, as well as malware, viruses, and phishing scams.
Strict No-Logs Policy — Tested and Passed
You'll find many VPN services claim to keep zero logs — but it's not always true. Popular VPN providers with a "no-logs policy" will still track its users' IP addresses, connection timestamps, and devices. That's why it's so significant that ExpressVPN's no-logs policy has been verified and proven.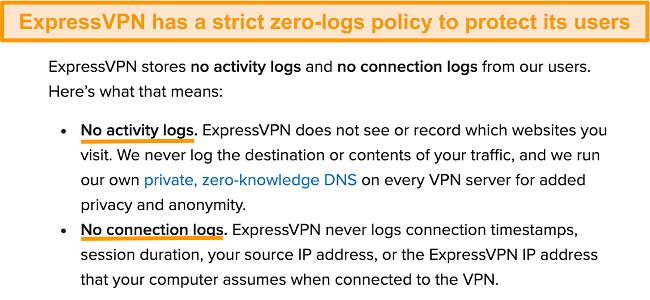 In 2017, Turkish authorities demanded user logs from ExpressVPN. However, there wasn't any data to provide as a result of the no-logs policy. In addition, ExpressVPN wasn't subject to Turkish law as the company is located in the British Virgin Islands. The Turkish authorities then physically seized an ExpressVPN server in an attempt to obtain customer data, but were ultimately unsuccessful. ExpressVPN issued a statement here, which summarizes the (lack of) findings:
"As we stated to Turkish authorities in January 2017, ExpressVPN does not and has never possessed any customer connection logs that would enable us to know which customer was using the specific IPs cited by the investigators. Furthermore, we were unable to see which customers accessed Gmail or Facebook during the time in question, as we do not keep activity logs. We believe that the investigators' seizure and inspection of the VPN server in question confirmed these points."
As you can see, the authorities couldn't obtain any data on ExpressVPN's customers — because there were no logs available.
ExpressVPN does give you the option to share data with its technical team for diagnostic purposes. This data includes speed tests reports, connection failures, or app crashes. All data is anonymous and can't be traced back to any individuals or devices, so your privacy is still ensured. As an extra safety precaution, I'd still recommend opting out.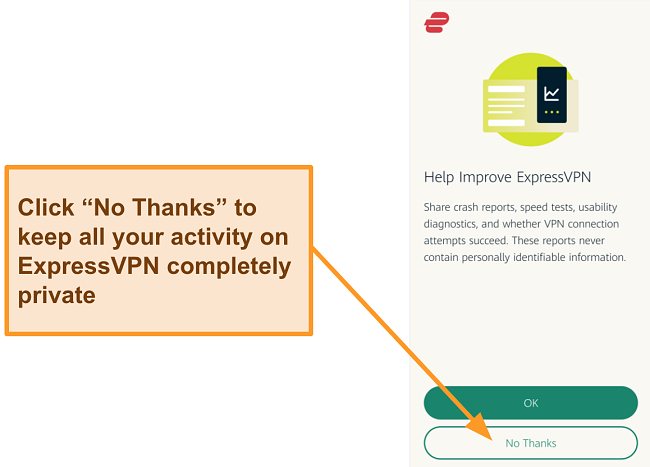 Try ExpressVPN for free today!
Located in the British Virgin Islands
ExpressVPN is owned by Express VPN International Limited, which is a privately-held company in the British Virgin Islands (BVI). ExpressVPN's location in the BVI is important because:
No mandatory data retention laws — ExpressVPN isn't legally required to keep any data on its users' internet activity, unlike Australia and many countries in Europe.
No mass surveillance programs — BVI has strict privacy laws to protect its residents and businesses like ExpressVPN, in contrast to the wide-scale surveillance seen in countries like the US and UK.
Independent and self-governing jurisdiction — ExpressVPN is only subject to BVI laws and doesn't fall under the jurisdiction of any other country.
Outside the 5, 9, and 14 Eyes — BVI isn't part of the "Eyes" intelligence-sharing network between the US, UK, Canada, Australia, New Zealand, Denmark, France, Netherlands, Norway, Germany, Belgium, Italy, Sweden, and Spain.
Stay safe online with ExpressVPN!
Third-Party Audits — Successfully Passed
Very few VPNs have been independently audited by third-party companies. I find this odd — are people meant to rely on nothing more than reputation and blind trust when evaluating the claims made by VPN providers?
This is why I was impressed that ExpressVPN has undertaken independent audits to back up its privacy and security promises. In 2019, ExpressVPN hired PwC to verify its privacy policy. After a thorough review of the servers and code, PwC confirmed that ExpressVPN fully complies with its published privacy statements (including no-logs policy). PwC even audited key security features, including the TrustedServer technology, to confirm it all works as advertised.
ExpressVPN has also worked with cybersecurity firm Cure53 to audit its browser extensions for any security flaws. The full results of the audit are publically available online. ExpressVPN even open-sourced its browser extensions so people could review the code themselves.
To me, this shows that ExpressVPN has nothing to hide and is committed to complete transparency with its users.