ExpressVPN offers over 1,500 servers located in 94 countries.
While this isn't the most extensive selection of servers around, the service they provide with what they have is exceptional. You don't need access to 4,000 servers in order to
get exactly what you want.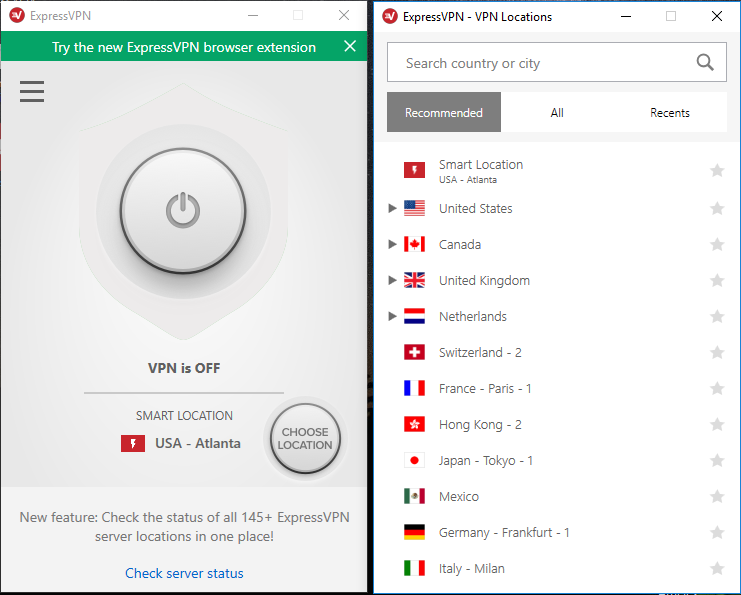 Because ExpressVPN is incorporated in the British Virgin Islands, it's
beyond legal jurisdiction
of many agencies like the GCHQ and NSA. Their OpenVPN traffic is encrypted with 256-bit AES algorithm and is their default protocol.
They also excel at setting the bar high with authentication. The
4,096-bit ephemeral encryption
they provide protects exchanges with maximum secrecy. If you are on the mobile app, there's no way to alter the default encryption, but you have plenty of options on the computer.
They also don't monitor your activity or keep logs on what you're doing, so you can use the service however you wish. From your local computer, you have access to the connection logs, and you can save them to your local files. This is only used for diagnostic purposes. The company doesn't track times that you've connected, what server you're using, or the data transferred. It also doesn't log your IP address.
All users receive a static IP address that's shared, since many people will be on the same IP address, it adds another layer to anonymity.
ExpressVPN does use virtual locations for some of their servers
. On their website, they list all the virtual locations for user knowledge. Even though virtual locations have some drawbacks, they aren't used in the larger countries. In fact,
less than 3% of their servers are virtual
, one of which is in Turkey since their servers were seized.
We've already discussed how well
ExpressVPN works with Netflix, Hulu, and other streaming devices,
but what about P2P services? Thankfully,
it works seamlessly with uTorrent for a great downloading experience.