ExpressVPN vs NordVPN 2022: Only 1 Is the Best (See Results)
Last Updated by Kate Hawkins on December 01, 2022
ExpressVPN and NordVPN are 2 of the best VPN services on the market, so it's hard to choose between them. I put each VPN to the test in 13 different categories to establish which service takes the top spot. I looked at speed, privacy policies, security features, payment methods, customer support, and more.
Overall, ExpressVPN is the winner because of its top speeds, air-tight security, and top-tier privacy measures. It's also one of the few VPNs that work in China. NordVPN is a solid choice if you're on a budget, but it's not as fast and can't always get around online restrictions.
Fortunately, both VPNs have a money-back guarantee period so you can try them risk-free and see which one is right for you.
No Time? Here's a 1-Minute Summary of Category Winners
ExpressVPN
NordVPN
Pricing
As low as $6.67/month with a 1-year plan
As low as $5.59/month with a 2-year plan
Streaming
Unblocks Netflix, Amazon Prime, BBC iPlayer, and more with very fast speeds
Unblocks Netflix, Amazon Prime, BBC iPlayer, and more with moderate speeds
Servers
3000+ servers in 94 countries
5500+ servers in 59 countries
Speed
Local speed tests: 5.4% decrease from baseline speed
Long-distance speed tests: 20% decrease from baseline speed
Local speed tests: 6.1% decrease from baseline speed
Long-distance speed tests: 26% decrease from baseline speed
Security

AES-256-GCM encryption
Lightway, OpenVPN, IKEv2/IPSec protocols
DNS and IP leak protection
Kill switch
Ad and malware blocker
TrustedServer technology

AES-256-GCM encryption
NordLynx, OpenVPN, IKEv2/IPSec protocols
DNS and IP leak protection
Kill switch
Ad and malware blocker
Double VPN
Onion over VPN
Diskless servers

Torrenting
6 minutes to download a 1.41GB file
10 minutes to download a 1.41GB file
China
Works consistently with good speeds for streaming
Works inconsistently
Gaming
22% average increase in latency from base speed
55% average increase in latency from base speed
Device Compatibility
Available on Windows, Android, macOS, iOS, Linux, and more. Has ad and malware blocker but no specialty servers.
Available on Windows, Android, macOS, iOS, Linux, and more. Has ad and malware blocker and specialty servers on all apps.
Company Jurisdiction
Headquartered in the British Virgin Islands, with audited zero-log policy
Headquartered in Panama, with audited zero-log policy
Privacy Policy
No-logs policy. Independently audited.
No-logs policy. Independently audited.
Payment and Refunds
Accepts payments through most major credit cards, Paypal, Mint, and Bitcoin
Accepts payments through most major credit cards and several cryptocurrencies (but not Paypal or Mint)
Customer Support
Fast and helpful 24/7 live chat and email support
Fast and helpful 24/7 live chat and email support
13 Categories of Comparison for ExpressVPN vs NordVPN
Here's a summary of the full list of criteria that I used to compare ExpressVPN and NordVPN. For an in-depth description of my test results, click on the categories to jump to the findings of each section:
1. Pricing — NordVPN Offers Greater Value for Your Money
NordVPN is more affordable than ExpressVPN, especially for long-term subscriptions. Here's a comparison of the providers' plans:
| | | |
| --- | --- | --- |
| | ExpressVPN | NordVPN |
| Best Deal | $6.67/month | $5.59/month |
| Free Trial | ✘ | 7-day free trial available on some platforms |
| Money-Back Guarantee | 30 days | 30 days |
| Monthly Price | $12.95 | $14.49 |
| 6-Month Price | $9.99/month | ✘ |
| 1-Year Price | $6.67/month | $7.49/month |
| 2-Year Price | ✘ | $5.59/month |
Note that each provider's respective plans offer the same features regardless of the subscription length (in other words, longer plans don't offer better protection or extra features).
NordVPN offers a 7-day free trial through the Google Play Store and Apple iTunes Store — but I wouldn't recommend testing it this way. If you do, you'll lose out on exclusive discounts and may have to deal with third-party handling of your refund (which can result in weeks of delays).
ExpressVPN has a 30-day money-back guarantee, as does NordVPN. This allows you to compare the VPNs to see which meets your needs better. If you're not satisfied by the performance, you'll be able to get your money back from 1 or both services.
For more savings, you can also check for discounts here — I regularly update this page so you can save money without wasting time doing the research yourself.
2. Unblocking Netflix and Streaming — ExpressVPN Has Faster Speeds for Smooth Streaming in More Countries
If you want a VPN that can access Netflix US, UK, Canada, Japan, and more, NordVPN and ExpressVPN are both great choices. My team and I were able to access over 10 different Netflix libraries with each provider. However, ExpressVPN won because it can access a few more Netflix libraries than NordVPN.
ExpressVPN: Australia, Brazil, Belarus, Canada, Finland, France, Germany, India, Italy, Japan, Liechtenstein, Macedonia, Malta, Monaco, Montenegro, Netherlands, New Zealand, South Korea, Spain, Sweden, UK, and US.
NordVPN: Australia, Brazil, Canada, Finland, France, Germany, India, Italy, Japan, Netherlands, South Korea, Spain, UK, and US.
My team and I tested both NordVPN and ExpressVPN with multiple streaming services, and found we could reliably access our local accounts for the following:
| | | | | | |
| --- | --- | --- | --- | --- | --- |
| HBO Max | BBC iPlayer | Disney+ | Amazon Prime Video | Hulu | Vudu |
| SkyTV | Showtime | DAZN | ESPN | Sling TV | …and more! |
Overall, I found ExpressVPN was better for streaming because of its faster speeds. I was able to watch a marathon of Criminal Minds on Netflix in UltraHD with no buffering. On the other hand, streaming speeds were inconsistent with NordVPN. While I generally experienced minimal buffering, sometimes I had to switch to SD to avoid lag (especially during peak periods like weekends). This might be a problem for you if you have slower baseline speeds.
I was impressed that both VPNs were able to consistently access my local accounts for the top platforms and allowed me to stream smoothly. However, I recommend you try streaming with ExpressVPN because it's faster.
3. Servers and Bypassing Geo-Restrictions — Both Have an Extensive Global Server Network to Bypass Blocks
This category is a tie because both VPNs have a large number of servers in many countries to help you bypass restrictions. While NordVPN has a greater total number of servers, ExpressVPN has servers in more countries.
| | | |
| --- | --- | --- |
| | ExpressVPN | NordVPN |
| Server Number | 3000+ | 5500+ |
| Server Countries | 94 | 59 |
If you want to access popular content from countries like the US, UK, or Canada, both VPNs perform about equally well because they have plenty of servers in these countries.
| | | |
| --- | --- | --- |
| | ExpressVPN | NordVPN |
| Works in China | ✔ | Sometimes |
| Works in Russia | ✔ | ✔ |
| Works in Iran | ✔ | ✔ |
| Works in Turkey | ✔ | ✔ |
| Works in UAE | ✔ | ✔ |
| Server Obfuscation | ✔ | ✔ |
If you need to access sites from a specific country, the number of servers there is more important than the overall network size. If a VPN doesn't have servers in a certain region, you may not be able to bypass restrictions.
For example, if you want to unblock online banking from Cambodia, ExpressVPN would be better because it has 1 server there, while NordVPN doesn't have any. On the other hand, if you want high-quality streaming of Lightbox programs such as High Road, NordVPN is the better service for New Zealand — it has 28 servers there, while ExpressVPN only has 1.
However, there are exceptions to this general rule. If you need to access service while in a censorship-heavy country, proven performance is more important than the number of servers to bypass restrictions. For example, ExpressVPN has proven it works consistently in China. Its servers in Hong Kong and Japan give you fast and reliable service. I thought NordVPN would work better since it has more nearby Japanese servers — but it barely worked in China.
Before you commit to a subscription, I recommend you check with customer service since both providers constantly add new servers to improve coverage.
Access global content with ExpressVPN
4. Speed — ExpressVPN Is Faster Than NordVPN (But Only Slightly)
I was impressed by the fast speeds from both services, but ExpressVPN is faster than NordVPN on every connection — albeit only slightly.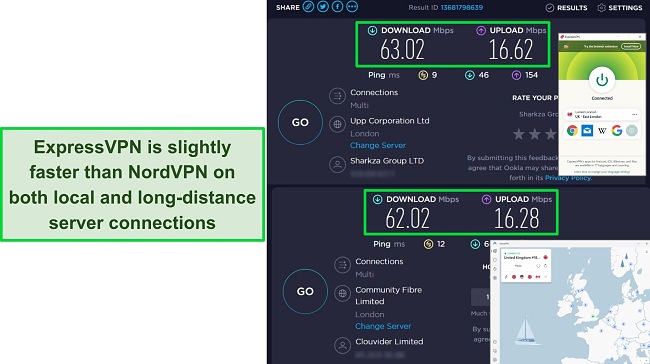 To determine which is faster, I conducted 2 rounds of speed tests: 4 on local servers in the UK and Europe, and 4 on long-distance servers in the US, Australia, the Middle East, and Asia.
It's important to keep in mind no speed test is perfect — factors like internet connection, router, location, type of device, and other variables affect results. To keep the tests as accurate as possible, I made sure to use the same computer and operating system (Windows 11). I also selected the same OpenVPN protocol and let each provider automatically connect me to the fastest available server.
For reference, my baseline speed without any VPN connection is 65Mbps.
Local Speed Test Results:
In my local tests, ExpressVPN was just 0.5% faster than NordVPN. Both services provided reliably fast connections to nearby servers, more than fast enough for HD streaming, torrenting, online gaming, and more. ExpressVPN reduced my speeds by a tiny 5.4%, while NordVPN slowed them just a little more at a 6.1% speed loss.
| | | | | |
| --- | --- | --- | --- | --- |
| | UK | France | Netherlands | Germany |
| ExpressVPN | 63Mbps | 61Mbps | 61Mbps | 61Mbps |
| NordVPN | 62Mbps | 61Mbps | 61Mbps | 60Mbps |
Long-Distance Speed Test Results:
There is a greater difference in speed when using servers further away, as ExpressVPN is better able to mitigate speed loss on distant connections than NordVPN. I had an average speed reduction of 20% using ExpressVPN, with a bigger slowdown of 26% using NordVPN's servers.
| | | | | |
| --- | --- | --- | --- | --- |
| | US | Israel | Japan | Australia |
| ExpressVPN | 56Mbps | 62Mbps | 48Mbps | 42Mbps |
| NordVPN | 48Mbps | 58Mbps | 45Mbps | 42Mbps |
If you have activities that require a lot of data, I recommend you try ExpressVPN for its faster speeds. I found that it was far better for HD streaming, torrenting large files, and gaming without lag. While NordVPN is still fast, it's important to note that you may experience a bigger drop in speed if your standard internet connection is slower — especially if you're using a server more than 5,000km away.
Get blazing-fast speeds with ExpressVPN
5. Security — NordVPN Has Additional Specialty Servers
Both services have strong core security features with some key differences. However, NordVPN offers a selection of specialty server options, so it wins this section.
ExpressVPN
NordVPN
Encryption
AES-256-GCM with 4096-bit DH key, SHA-512 HMAC authentication
AES-256-GCM with 4096-bit DH key, SHA2-384 HMAC authentication
VPN Protocols
Lightway, OpenVPN UDP, OpenVPN TCP, IPSec/IKEv2, and IPSec/L2TP
NordLynx, OpenVPN UDP, OpenVPN TCP, and IPSec/IKEv2
No-logs policy
Yes (externally audited)
Yes (externally audited)
Kill switch
Available on Windows, macOS, Android, Linux, and routers. Not available on iOS.
Available on Windows, macOS, Android, iOS, and Linux. Not available on routers.
DNS and IP address leak protection
DNS and IP address leak protection
DNS and IP address leak protection
Malware/ad blocker
Yes
Yes
Server chaining
No
Yes, offers a Double VPN feature
Onion over VPN servers
No
Yes
Dedicated IPs
No
Yes
Writes data to hard drive
No

TrustedServer technology means servers run on RAM, and no data is written to hard drives

No

Diskless, RAM-based servers ensure no data is written to a hard drive
Encryption Standard
The level of encryption a VPN uses determines how easy it would be for hackers to decode your information. Both NordVPN and ExpressVPN use top-tier AES 256-bit encryption to secure your data, which is the same standard used by government cybersecurity experts. Even the US's top spy agency would need years, millions of dollars, and a supercomputer to try to break a single encryption key with this level of security.
Encryption Protocol
An encryption protocol is a set of instructions that determines how your information is coded as it's transmitted over the internet. ExpressVPN and NordVPN use the safest protocols like OpenVPN and IKEv2 to offer the best balance of security and speed. I use OpenVPN for daily activities like streaming, web surfing, or online banking. However, I prefer IKEv2 for gaming and torrenting because it's faster.
Both services also offer their own proprietary protocols — ExpressVPN has Lightway, while NordVPN has NordLynx. Lightway uses the wolfSSL cryptography library and is open-source, with an independent audit confirming its security. NordLynx is based on the WireGuard protocol, with only 4,000 lines of code that make it easy to fix bugs or issues.
Lightway and NordLynx are both designed for top speeds without sacrificing security. Lightway produces better speeds and is available on Android, iOS, Windows, Mac, Linux, and routers. NordLynx is available on Android, iOS, Windows, Mac, and Linux.
Ad and Malware Blocker
I find having a VPN with a malware blocker is essential to my online safety. Viruses can appear on seemingly risk-free websites and even on those with "https" at the front of the URL. I was pleased to find both ExpressVPN and NordVPN feature threat protection.
NordVPN's Threat Protection is the superior feature, with an "always on" option that protects your devices even when you're not connected to the VPN. During tests, NordVPN effectively blocked pop-up ads, files containing malware, and suspicious sites from loading. NordVPN's Threat Protection is available on Mac and Windows (Threat Protection Lite is on Android, iOS, Linux, and NordVPN's browser extensions).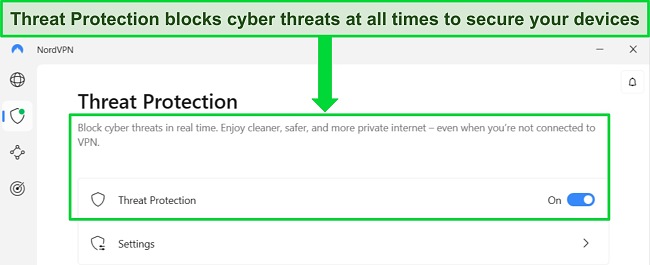 ExpressVPN's Threat Manager is only active when you're connected to a server using the Automatic or Lightway protocol. I found it was also effective at blocking ads and trackers, as well as stopping access to malicious websites. Threat Manager is available for Mac, iOS, and Linux.
Leak Protection
Considering that I travel to censorship-heavy countries like the UAE and India, I'm cautious of government agencies and my ISP trying to see my online activities. Since you can be imprisoned in these countries for accessing some video games or platforms like Skype, I wanted to test these VPNs' leak protections to ensure I'd stay private.
I ran tests for both providers and didn't find any DNS, IPv4, WebRTC, or IPv6 leaks. I tested each VPN by connecting to a server outside of my UK location (ExpressVPN in France and NordVPN in Germany) — both VPNs successfully masked my true location and prevented leaks.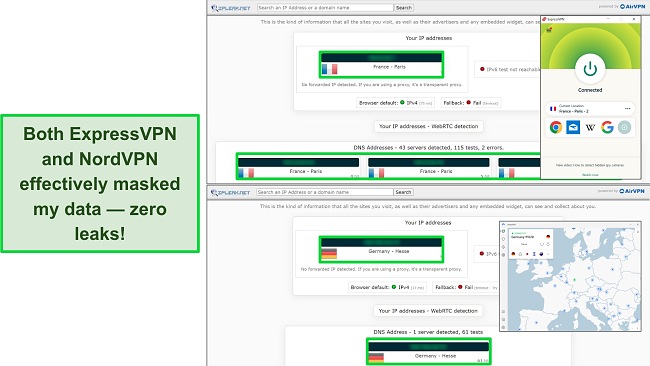 Both providers also include an automatic kill switch to prevent your data from being exposed in the event of technological errors. That means that if your VPN or internet connection fail, your real IP address, identity, and browsing history will still stay hidden. Since I don't always have access to a stable internet connection when traveling, this feature gave me peace of mind.
Specialty Servers
NordVPN offers additional specialty servers that ExpressVPN doesn't, including the Double VPN feature and the Onion over VPN servers. I find the Double VPN feature to be useful when I'm doing my online banking or making payments. This configuration passes your data through 2 servers instead of 1, which results in double encryption that's almost impossible to break. This setting reassured me that my sensitive financial information would be 100% safe. NordVPN also offers Dedicated IP addresses for an additional monthly cost, which provides you with exclusive access to an IP address that only you can use.
Server Security
ExpressVPN uses TrustedServer technology to prevent any data from being written to server hard drives. Your data is only temporarily written to RAM, and it gets erased during server reboots. That means that hackers would have a harder time finding anything as it's not stored on the servers for long. Plus, every reboot also removes any intruders. This system is so secure that it's quickly becoming an industry standard, and it was proven to work when Turkish authorities seized an ExpressVPN server in 2017 — no data was recoverable.
On the other hand, NordVPN has recently updated all of its servers to a diskless, or RAM-based, infrastructure. Similar to ExpressVPN, this means none of your data can be written to NordVPN's servers, which is a huge boost for your personal security when connected.
Security Infrastructure Audits
Independent security audits are rare in the VPN industry (I've only found evidence that 5 top services have undergone such testing). This is because it can be risky for a provider to subject its technology to this level of scrutiny. However, ExpressVPN and NordVPN are so committed to providing the best user safety that they have undergone multiple cybersecurity audits.
NordVPN: After NordVPN successfully fought off a minor security breach in 2018, it underwent additional audits of its security infrastructure by VerSprite (a cybersecurity consulting firm). Afterward, it published the positive results of this investigation.
ExpressVPN: In 2019, it was audited by PricewaterhouseCoopers (PwC) to verify its TrustedServer technology truly keeps users safe — it shared the results on its website. ExpressVPN has never experienced a security breach.
This level of transparency and commitment to security is difficult to find in the VPN industry. These audits reassured me that both services prioritize my safety above all else — including their reputations.
Overall, ExpressVPN and NordVPN are among the safest services on the market.
6. Torrenting Safety and Speed — ExpressVPN Is Faster
Both VPNs offer top-tier security and are compatible with any torrenting software (BitTorrent, uTorrent, and others). Plus, they don't restrict downloads according to file size or type.
However, ExpressVPN is the torrenting winner because of its faster download speeds. Even though NordVPN has more specialty torrenting servers, it didn't beat out ExpressVPN's blazing-fast service.
Torrenting Safety
It's very important to me that my ISP doesn't find out that I'm torrenting. If I exceed my data limit, they throttle my internet speed. Plus, torrenting can expose my personal data to other P2P users, which could compromise my security.
Choosing a safe VPN for torrenting isn't easy because some don't support it — they may have anti-torrenting policies or poor privacy features. ExpressVPN and NordVPN are torrenting-friendly and provide you with the best security. ExpressVPN allows torrenting on all of its servers, and NordVPN offers P2P servers that are optimized for torrenting safety.
I was impressed that ExpressVPN and NordVPN use the best available features to keep your torrenting private including:
Military-grade encryption on all server connections.
Kill switch that protects your data from other P2P users if the VPN is interrupted.
Secure protocols that ensure a safe, anonymous connection.
Data leak protection prevents your DNS requests, IP address, and other data from leaking.
Zero-log policy guarantees your torrent activity is anonymous.
In addition to these features, ExpressVPN and NordVPN are also headquartered in countries that aren't subject to the Digital Millennium Copyright Act (DMCA) or other international copyright agreements. You can jump to the security section to learn more about how each VPN keeps your data safe, whether you're torrenting or doing something else online.
Torrenting Speed
ExpressVPN and NordVPN never limit your speed, bandwidth, or data. That means you can download as much as you'd like and never worry about speed throttling or other limitations.
Since NordVPN has over 4,000 specialized P2P servers optimized for torrenting, I thought it would have faster download speeds — but I was wrong. While ExpressVPN doesn't have any P2P servers, all of its 3000+ servers support torrenting.
To test torrenting speed, I downloaded the same (public domain) movie (1.41GB) using both VPNs. ExpressVPN was considerably faster: it only took about 6 minutes to download. On the other hand, NordVPN's P2P servers took almost 10 minutes.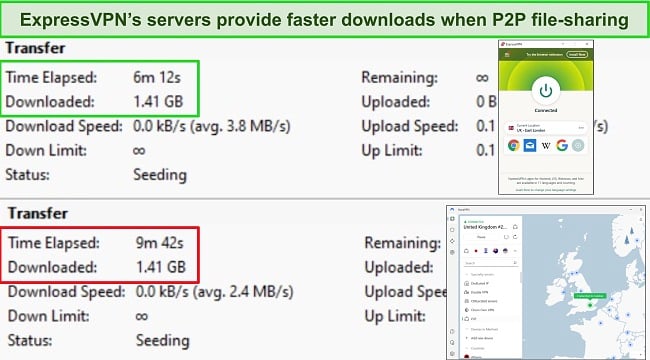 It was a close match between the 2 VPNs for this category. Both offer top torrenting security, but my speed tests show that ExpressVPN's normal servers downloaded the same file faster than NordVPN's P2P servers. Because of this, I recommend you try ExpressVPN for blazing-fast torrenting.
Torrent securely with ExpressVPN
7. Does It Work in China? — ExpressVPN Works in China Consistently
With constant crackdowns on VPNs, ExpressVPN is one of the few services able to bypass online censorship in China. My team and I have tested over 10 VPNs in China, and ExpressVPN is one of the few services that consistently lets you access your local accounts for Facebook, Netflix, YouTube, and more. I also found that ExpressVPN worked reliably in China regardless of device type or operating system.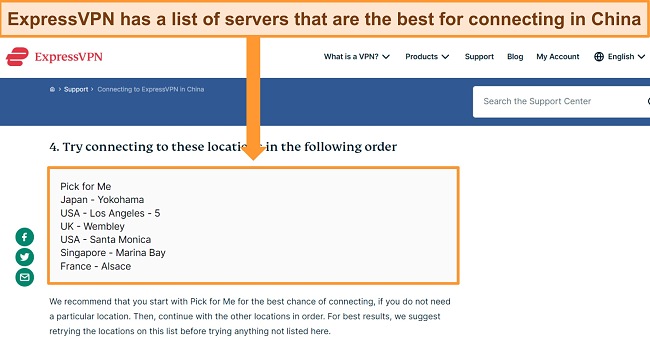 ExpressVPN also had fast speeds for smooth streaming in China. This was important to me because I want to stream my favorite platforms when I travel to China. ExpressVPN's fast Japanese servers let me watch YouTube videos with just 3-4 seconds of buffer time, and I could connect to my local Netflix account to stream my favorite content with minimal lag.
Unfortunately, NordVPN did not work consistently in China. I tried using it to unblock Instagram and Wikipedia but was met with an error message. On the few occasions that NordVPN could connect, I first had to contact customer support to get instructions to manually reconfigure it — but this was time-consuming and hard to do (especially on my iOS devices).
Make sure you install ExpressVPN before heading to China, as the ExpressVPN website is blocked inside the country. This means it's also tough to access customer support, but fortunately, you can still send emails to support@expressvpn.zendesk.com — I had an email response in less than 30 minutes.
8. Gaming — ExpressVPN Has Lower Latency for Gaming
Since most VPN reviews don't conduct detailed testing of services' gaming performance, I was wary about how ExpressVPN and NordVPN would perform. After all, a basic speed test isn't enough to determine how a VPN will impact your gaming experience!
I found that both VPNs easily provide top security for uninterrupted gaming. However, ExpressVPN is the winner because it was slightly faster than NordVPN.
Gaming Speed
As an avid gamer, I didn't want to make the mistake of buying a long-term subscription to a VPN that would cause slow speeds and unresponsiveness.
I tested NordVPN and ExpressVPN with Call of Duty: Warzone to see their impact on gaming latency. This is the measure of the time it takes your gaming device to send data to servers and back (remember: the lower the latency the better). Both VPNs increased my latency from baseline — but ExpressVPN had a lower latency score than NordVPN, which meant more responsive gaming with less lag.
| | | | |
| --- | --- | --- | --- |
| | No VPN Connection | ExpressVPN | NordVPN |
| Average Latency in ms | 9ms | 11ms | 14ms |
I ran multiple tests, with both ExpressVPN and NordVPN connected to various local servers. The latency test results were consistent with my own personal experience. I didn't notice any difference in smoothness when connected to ExpressVPN as compared to having no VPN connected. I could keep up with the fast pace of Call of Duty: Warzone and didn't miss any battles.
For the most part, NordVPN's gaming speed was also decent. The lag I experienced was minimal and it didn't affect my gameplay much. However, NordVPN's higher latency could negatively affect your gaming depending on your baseline speed.
Playing Online on Different Global Servers
I like to play games online with my friends in different countries, but often I find my server choices are limited to those in my resident country — I can't play on US or Asian servers as I'm based in the UK. However, when I use a VPN to connect to a server in a different country, I can easily join my friends to play games online.
When I tested ExpressVPN and NordVPN, I found both services worked perfectly at letting me access different servers in games like Call of Duty: Warzone and League of Legends.
Gaming Security
In a DDoS attack, hackers track down your IP address and try to shut your server down by overloading it. It could lead to severe lag or crash your game. I thought these attacks were only targeted at competitive gamers, but they're becoming common in casual gameplay. You're especially at risk if you participate in P2P gaming which requires direct connections between players. Your opponents can easily look up your IP address and attack you.
The best way to prevent DDoS attacks is to use a VPN because it hides your real IP address. If opponents ever tried to attack you, all they would see is encrypted information and your VPN server's location.
Both VPNs can protect you equally well from DDoS attacks and allow you to enjoy fair gaming. To learn more about the encryption and leak protection that ExpressVPN and NordVPN use to mask your real IP address, jump to the security section.
9. Device Compatibility and App Differences — NordVPN Has More Features and 6 Device Connections
To check each VPN's compatibility for myself, I tested them and found that both performed well regardless of device type or operating system — NordVPN has more features, but it's a little trickier to use than ExpressVPN.
Device Compatibility
ExpressVPN and NordVPN work on: Windows, macOS, Android, iOS, Linux, Chromecast, Roku, Amazon Fire TV, Android Smart TV, Kodi, Blackberry, Raspberry Pi, Windows Phone, Chrome extension, Firefox extension, Opera Extension, PlayStation, Xbox One, Nintendo Switch, Steam, routers, and more.
Both providers are compatible with numerous devices, operating systems, and extensions. For devices that don't have native apps, you can set up a VPN with your Samsung Smart TV, gaming consoles, and more by configuring the service through your router. This will then protect any device that connects to your WiFi.
I also found it convenient that ExpressVPN and NordVPN allow multiple simultaneous connections with each account, as I didn't have to log out of one device to connect another. NordVPN has the extra benefit of allowing 6 simultaneous device connections (ExpressVPN only allows 5).
App Differences Between Operating Systems
ExpressVPN and NordVPN offer different features according to the operating system. You'll find both VPNs offer different optimized servers, encryption protocols, split-tunneling configurations, and security features (like ad/malware blockers) for certain devices. For example, ExpressVPN doesn't offer a kill switch for iOS (NordVPN does), but it does offer split-tunneling on Windows (NordVPN doesn't).
I found ExpressVPN to be easier to operate on different devices, as its interface is intuitive and simple to navigate. NordVPN is trickier — using the map interface makes it difficult to pinpoint locations, and there aren't any options to choose individual servers or favorite connections that work the best.
Overall, NordVPN offers features like specialized servers that ExpressVPN doesn't. To ensure you get the services you want, I recommend investigating the specific app offered by each provider before subscribing.
Device Compatibility Winner: NordVPN
10. Privacy and Anonymity — Both Are Located in Privacy-Friendly Countries
It's a tie for this category because both VPNs are located in countries with privacy-friendly laws and they have undergone independent audits.
| | | |
| --- | --- | --- |
| | ExpressVPN | NordVPN |
| Country in which the parent company is headquartered | The British Virgin Islands | Panama |
| Headquartered in a 5, 9, or 14 Eyes country | No | No |
| User information required to sign up | Email address | Email address |
| Anonymous Payment Methods | Bitcoin, Mint | Bitcoin, Litecoin, Ethereum, Zcash, Ripple, Gridcoin, Dash, and Monero |
| Privacy policy independently audited | Underwent audit in 2021 to verify that its zero-log policies and TrustedServer technology work as advertised. | Underwent audit in 2020 to show that its zero-log practices are consistent with its policies. |
| Warrant Canary | Not available | Posts daily updates confirming that it has not received any requests from government agencies to reveal user data |
Where a VPN is officially headquartered is important because that affects how it handles your private information. ExpressVPN and NordVPN are able to uphold their no-logging standards because they are located in countries where they are not restricted by data retention laws. This means they're not legally required to keep records of your data (like the websites you visit or what you download).
It's also important that both providers are also based outside the 5, 9, and 14 Eyes alliances (international intelligence groups of countries that share information gathered from mass surveillance of citizens). This means that they're not required by law to give any user information to national or international security agencies.
Privacy Policy Winner: Tie
Stay anonymous with ExpressVPN
11. Logging Policies and User Data Storage — ExpressVPN and NordVPN Don't Keep Data That Could Reveal Your Identity
ExpressVPN and NordVPN have strict no-logging policies and do not store identifiable user data. That means none of your online activities can be traced back to you.
Logging Policies
Almost all VPNs claim to have a strict no-logging policy — but I was confused about what that really means. When I dug deeper into other services' privacy policies, I found that some record users' IP addresses, browsing history, and more. I don't like the idea of VPNs keeping such extensive private data. To me, it sounds like they want to sell my information to advertisers (which is totally against why I want to use a VPN in the first place).
I investigated both VPNs' policies and discovered they mean it when they say they don't keep logs. Neither provider records your IP address, DNS queries, browsing history, traffic destination, or file downloads/uploads. The only slight difference is that ExpressVPN logs your account ID, connection date (not time), amount of data transferred, and location connected to and from. Since this can't be linked back to you, I don't think it's a big deal.
Additionally, both VPNs are so serious about their no-logs policies that they have undergone independent audits by cybersecurity experts — and published the results. PricewaterhouseCoopers (PwC) verified that their logging practices are consistent with their policies.
In 2017, ExpressVPN's no-logging policy was again proven to be true when Turkish authorities seized its servers as part of a criminal investigation. They couldn't find any user data because ExpressVPN's TrustedServer technology doesn't create logs that could identify you. To me, this real-life example is further evidence that you can trust ExpressVPN's no-logging policy.
User Data Storage
Both VPNs store some basic information about you (like your email address, name, and payment method). I'm comfortable with these practices because they allow me to auto-renew my subscription to prevent service interruptions and none of this data can be linked back to what you do online. However, if you want to stay 100% anonymous, you can use a fake email address and pay for either service with a prepaid card or cryptocurrencies.
Ultimately, this section is a tie because both providers have proven that they don't log data that could reveal your online activities.
Logging Policies and User Data Storage Winner: Tie
Secure your data with ExpressVPN
12. Payments and Refunds — ExpressVPN Accepts a Few More Important Payment Methods
Although both services accept numerous payment methods and have generous refund policies, ExpressVPN wins this category because it accepts a greater variety of payment methods.
Payment Methods
| | | |
| --- | --- | --- |
| | ExpressVPN | NordVPN |
| Major Credit Cards (Mastercard, Visa, American Express, and more) | Yes | Yes |
| Paypal | Yes | No |
| Mint | Yes | No |
| Bitcoin | Yes | Yes |
| Other Cryptocurrencies | No | Ethereum, Litecoin, Gridcoin, Dash, Monero, and Ripple |
| Other Popular Payment Systems | Discover, Diners Club, JCB, Union Pay, and many more | Discover, Google Pay, JCB, Amazon Pay, and more |
Both providers accept payment through major credit cards and several cryptocurrencies, but I found some important differences (especially if you want to stay 100% anonymous). For example, ExpressVPN accepts payment through PayPal and Mint, while NordVPN doesn't. Since Mint doesn't require you to provide any personal information, this is a big bonus for privacy-conscious users.
On the other hand, NordVPN accepts payment by several cryptocurrencies (Bitcoin, Ethereum, and Ripple) while ExpressVPN only accepts Bitcoin.
Money-Back Guarantees
Both VPNs offer a money-back guarantee. I found that taking advantage of this offer was a risk-free way for me to test their features before committing to a long-term subscription.
Getting a refund from ExpressVPN and NordVPN was easy through their customer service live chats. Both providers processed my refund in under 3 minutes and my money was returned within a week.
The only difference was that NordVPN's customer service representative tried to get me to stay. This was a little annoying, but once I explained that I was in a hurry the representative processed my request quickly. On the other hand, ExpressVPN's policy is truly no-questions-asked and processed my refund immediately without any troubleshooting.
During my research, I also discovered that the refund process is more difficult if you purchase your VPN through a virtual store like the Apple App Store. In these cases, the third-party vendors handle refunds (which may mean weeks of delays). Given the differences in the refund policies, I recommend you download your VPN directly through the vendor's website.
Try ExpressVPN risk-free today!
13. Customer Service — Both Have Fast and Helpful Customer Service
ExpressVPN and NordVPN have knowledgeable customer service representatives who respond quickly (usually in less than a minute via live chat or in a few minutes via email).
There's nothing worse than purchasing a VPN subscription and then being unable to get any help when you have a problem. You won't face that problem with either of these VPNs — both providers offer many resources to solve problems fast. For example, they have educational blogs with FAQ and how-to pages in addition to helpful customer service resources.
Customer Service Speed
Both providers offer almost instant responses via the 24/7 live chat. I've contacted both services at different times of the day and never had to wait more than a minute for a representative to respond. They also always responded via email in under 30 minutes.
| | | |
| --- | --- | --- |
| | ExpressVPN | NordVPN |
| Live Chat | Yes | Yes |
| Average wait time for a response via chat | 10 seconds | 12 seconds |
| Email support | Yes | Yes |
| Average wait time for a response via email | 10 minutes | 18 minutes |
| Ticket support | Yes | Yes |
| Phone support | Yes | Yes |
| Searchable help articles | Yes | Yes |
| Video Guides | Yes | Yes |
Customer Service Knowledgeability
Both ExpressVPN and NordVPN's customer support services were also knowledgeable.
ExpressVPN's live chat agent gave me a thorough response to my question about the TrustedServer Technology. After my initial question, the agent responded quickly, taking less than a minute to type a detailed reply. I then asked another question, which the agent had to check for me — in less than 2 minutes, I had another informative response.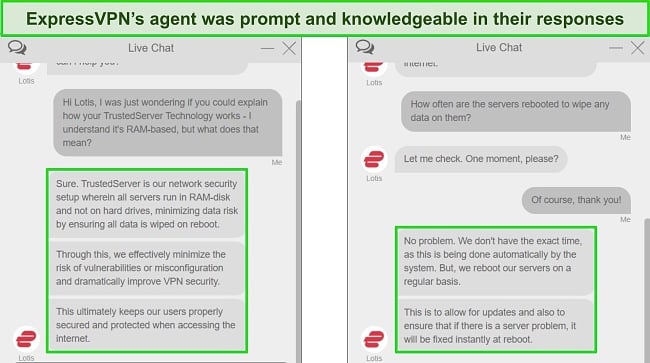 NordVPN took a little longer to provide a response. After my initial question, the agent had to look into the answer, taking around 6 minutes to reply to me. However, the response was complete and fully answered my query, so I was happy to wait for an answer.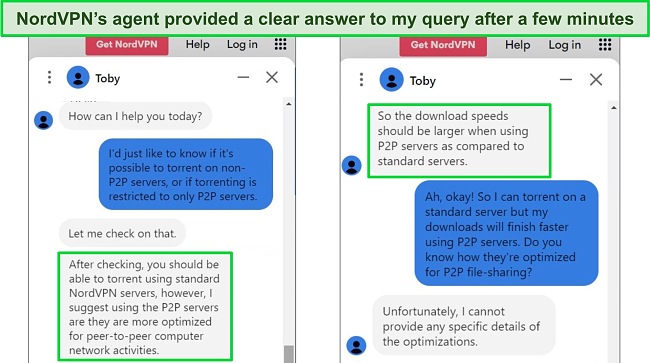 This was important to me because nothing is more frustrating than a customer service representative who doesn't know how to help. I contacted both VPNs about issues like fixing streaming issues, requesting a refund, or clarifying how features work. The representatives from both companies always answered my questions accurately and quickly.
Customer Support Winner: Tie
Try ExpressVPN risk-free today!
FAQs on ExpressVPN and NordVPN
What is the difference between NordVPN and ExpressVPN?
The key difference between the 2 services is that ExpressVPN is faster, while NordVPN has a selection of optimized servers. ExpressVPN is the overall better choice, particularly because of its fast speeds for streaming, torrenting, online gaming, and browsing the web. Even if you have slower internet speeds, ExpressVPN is excellent at reducing speed loss so you can still enjoy a lag-free and uninterrupted experience.
On the other hand, NordVPN has a range of dedicated servers designed for P2P file-sharing, Onion over Tor connections, obfuscating VPN traffic, and multi-hop connections. These make it easy to access the best server for your particular online activity, ensuring solid speeds and reliable connections.
Is ExpressVPN better than NordVPN?
Based on my tests, ExpressVPN is better than NordVPN, but only slightly. ExpressVPN was faster on all connections, making it the better choice for streaming, torrenting, online gaming, and secure browsing. ExpressVPN also has a greater variety of anonymous payment methods, more knowledgeable customer service, and top-tier security and privacy features.
That being said, NordVPN is a high-quality service with some standout features. It offers dedicated servers for P2P file-sharing, Onion over Tor connections, and you can opt for a dedicated IP address as well. Plus, NordVPN's Threat Protection provides an additional layer of protection for your devices.
Ultimately, the best way to decide which VPN is better for you is to test them for yourself.
Which one has the easiest to use VPN apps?
I found ExpressVPN to be easier to use overall, with an intuitive interface that is easy to navigate and almost identical across supported platforms. With ExpressVPN, it's simpler to choose specific locations, and you can favorite servers that work the best for you — NordVPN doesn't have these options.
NordVPN's apps are more complex but clearly laid out so you can navigate them pretty easily. It takes a bit longer to get used to NordVPN and find out where different settings are, but once you're familiar with the apps you won't have an issue using them.
Which is better for streaming and torrenting – NordVPN or ExpressVPN?
ExpressVPN is the better choice for streaming and torrenting. During tests, ExpressVPN could easily access a bigger range of streaming services, and its fast speeds are ideal for lag-free streaming and quick torrenting — I could download a 1.5GB file in just 6 minutes.
Better still, all of ExpressVPN's 3000+ servers are optimized for streaming and torrenting. NordVPN has a selection of P2P-optimized servers, but these can get full quickly and aren't as fast as ExpressVPN's servers. It's still a good option for torrenting though, with robust security and a strict zero-log privacy policy.
What works better on a game console – NordVPN or ExpressVPN?
ExpressVPN is the better option for a game console, as it's easier to set up with your router — game consoles don't natively support VPN apps, so ExpressVPN's simple router configuration makes it the top choice. Plus, ExpressVPN is the best choice for gaming, with fast speeds and low ping that make your online gameplay smooth and lag-free.
Is ExpressVPN faster than NordVPN?
Yes, ExpressVPN is faster than NordVPN. In my tests, I found ExpressVPN is excellent at mitigating speed loss so you can stream, torrent, game online, and browse without lag or interruptions.
On local connections, the difference between ExpressVPN and NordVPN is small — ExpressVPN is only slightly faster. However, there's a bigger gap in long-distance connections; ExpressVPN is often several Mbps faster than NordVPN. This may only seem like a small difference, but if your existing internet connection is slower, you could notice a more significant impact on your connection.
Are there any VPNs that are less expensive than NordVPN and ExpressVPN?
Yes, but you get what you pay for when you use a cheaper VPN. Both NordVPN and ExpressVPN are reasonably priced considering their top-tier features, making them worth the extra cost for comprehensive protection.
If you're looking for a cheaper VPN service, there are some reliable services like CyberGhost ($2.03/month) and Private Internet Access ($2.03/month). These VPNs offer top-level security, but you won't get the same speeds, server options, or overall high quality as you would with a premium VPN — there's a reason they're cheaper.
You could opt for a free VPN, but I don't recommend it. There are a handful of safe free VPNs on the market, but most will only exploit your data and online activity for profit. Instead, I recommend that you try ExpressVPN or NordVPN for yourself and see if it's right for you. If not, you can get a full refund, so you're not risking your money.
And the Winner Is… ExpressVPN (By a Small Margin)
Based on my testing, the final score was 6 wins for ExpressVPN, 3 victories for NordVPN, and 4 ties. ExpressVPN is the winner in 2022 across most categories, but NordVPN was a close second.
Ultimately, both are top services, and you should make your choice depending on your specific needs for a VPN.
I recommend you test NordVPN if you're on a budget or want a VPN with specific security features (like its Onion over Tor servers or Double VPN). It's backed by a 30-day money-back guarantee, so you can test the service thoroughly before you commit to a subscription.
However, if you want seamless streaming, gaming, or torrenting, try ExpressVPN and its excellent speeds. It also beats NordVPN for bypassing blocks in heavily-censored countries like China, and it has more anonymous payment methods to keep your data secure. Best of all, you can try ExpressVPN risk-free to make sure it's right for you. If you change your mind, you can get a full refund within 30 days — no questions asked.
Try ExpressVPN risk-free today!
---
Summary: Other Top VPNs in 2022