Norton vs McAfee 2022: Which Antivirus Is Really the Best?
Last Updated by Lucca RF on July 01, 2022
Thousands of people fall victim to cyberattacks, so it's vital to keep your devices protected. However, it's difficult to know which option is the best with so many antivirus products out there. That's why I put the biggest names in the antivirus market — Norton and McAfee — through a series of rigorous tests to compare the 2 brands.
If you don't have time to read on, Norton emerged as the winner. On top of its perfect malware detection score, it has extremely useful features such as cloud storage and a password manager. Why not see for yourself and try Norton out risk-free for 60 days with its money-back guarantee.
Most of McAfee's extra features aren't as good as Norton's, but its VPN provides higher speeds. If this sounds better to you, you can use McAfee's money-back guarantee to try it yourself for 30 days.
No Time? Here's a 1-Minute Summary of Category Winners
| | | |
| --- | --- | --- |
| | | |
| Virus Scanner | Detected 100% of malware with 3 scan types (quick, full, and custom) | Detected 100% of malware with 3 scan types (quick, full, and custom) |
| Real-Time Protection | Caught 100% of malware in real-time tests | All malware detected in real-time tests |
| System Performance | Minimal device slowdown | No noticeable impact on device |
| VPN | Unlimited data, 30 server locations, and unblocks streaming platforms — but average speeds | Excellent speeds, unlimited data, 23 server locations, and unblocks Netflix |
| Parental Controls | Advanced customization options on Windows, Mac, Android, and iOS | Good range of features for Windows, Mac, Android, and iOS |
| Firewall | Strong protection by default | Powerful protection by default |
| Password Manager | Unlimited passwords on all plans with a unique auto-change feature | Limited to 15 passwords on all but 1 plan |
| Gaming Mode | Blocks pop-up notifications and background tasks when gaming | Suspends pop-up notifications and background tasks during games |
| Optimization Tools | Includes startup speed optimizer, temporary file cleaning, and disk defragmentation | None |
| Other Features | Cloud backup and identity theft protection are strong additions, while webcam blocking is a crucial feature | File shredding and encryption are useful but niche features, although identity theft protection is a welcome addition |
| Device Compatibility | Works on Windows, Mac, Android, and iOS | Supports Windows, Mac, Android, and iOS |
| Customer Service | Fast responses via live chat with email, phone, and forum support | Average live chat speeds with email, phone, and forum support |
| Price | Feature-packed plans range from cheap to premium | Good value but some plans are lean on features |
| Free Version | 7-day free trial | 30-day free trial |
| Money-Back Guarantee | 60 days | 30 days |
How I Tested and Compared Norton vs McAfee
I compared Norton and McAfee in the following 15 categories.
1. Virus Scanner — Norton Is Faster at Detecting Malware
Norton's virus scanner beats McAfee, but only by a little. Both Norton and McAfee offer the same scans: a quick scan, for vulnerable areas of your device, and a custom scan to analyze specific files. They also offer a deep scan that checks all the files on your device. When I tested the deep scan, McAfee's full scan took 53 minutes while Norton impressively needed only 12 minutes in total.
These two antiviruses use machine learning to identify new threats. I was impressed by both services as they detected 100% of malware threats on my device. Norton had 0 false positives (harmless files that are seen as harmful by the software), while McAfee had 2.
While McAfee has a great score, Norton's accurate virus scanner and fast speeds easily outperformed McAfee.
Protect your device with Norton
2. Real-Time Malware Protection — Fantastic Results From Both Norton and McAfee
When it comes to real-time protection between Norton and McAfee, I couldn't determine a clear winner. Both programs offer fantastic detection scores, no false positives, and an easy setup for all users.
Finding threats already on your PC is good, but being able to prevent them from getting there is crucial. I set up a test machine and hit each program with malware threats discovered over the past 24 hours. Both Norton and McAfee blocked 100% of the latest threats in real-time, which is fantastic for both.
Neither program detected any false positives either. Many popular antiviruses detect dozens of false positives in my tests, so this is a great achievement for both!
I also like that you don't need to react when a threat is found, as both Norton and McAfee will quarantine or delete threats automatically. Try it for yourself and get Norton for 60 days with its money-back guarantee.
Real-Time Malware Protection Winner: Tie
Defeat live malware with McAfee
3. System Performance — McAfee Is Fractionally Faster Than Norton
McAfee offers better system performance across a variety of tasks. I discovered that Norton is also fast, but in certain tasks (such as launching websites or copying files) it lags a few percentage points.
To measure the speed difference I ran several tests, including loading websites, copying files, and launching programs.
Average Slowdown
Launching popular websites
Copying files (locally)
Launching standard apps
Average
Norton
11%
3%
11%
8.33%
McAfee
5%
0%
11%
5.33%
On average, I found this difference barely noticeable on my devices. Although McAfee is faster here, I recommend you make your decision based on other factors. You can also try McAfee for 30 days risk-free with its money-back guarantee.
System Performance Winner: McAfee
4. VPN — McAfee's Speeds Make It Better for Online Activities
McAfee's integrated VPN impressed me with its high speeds. With Norton, I could access more streaming services, but I had much lower speeds. While this is a personal preference, I felt that McAfee's faster performance gave it the win.
I tested McAfee's servers in the US, the UK, Germany, and Australia. In all cases besides Australia, I reached 130Mbps (my base speeds are 300Mbps, making this roughly 43% slower). VPNs bundled with antiviruses are often much slower than dedicated VPNs, so I was really happy to see these results. I even tested it with a nearby German server and downloaded a 34GB torrent file in only 43 minutes!
On the other hand, Norton struggled to maintain fast server speeds. With its local servers in the UK and Germany, I was able to reach 80-100Mbps, which is great. However, when I connected to servers in the US or Australia, these speeds fell to 7-15Mbps. These lower speeds are just enough for streaming, but I did have a lot of buffering and wasn't able to watch 4K content.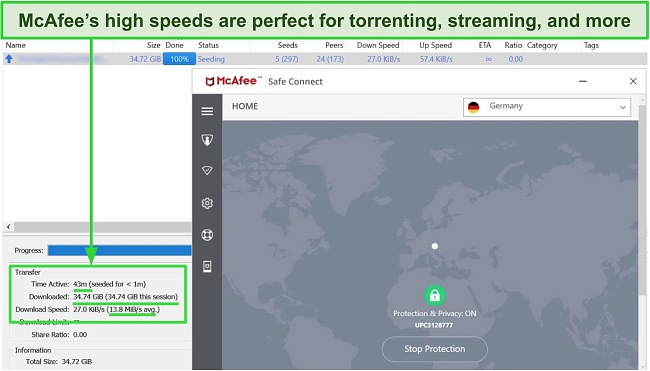 It's a closer match when it comes to unblocking streaming sites. I used Norton's VPN to access Netflix US and HBO Max. In contrast, McAfee could unblock Netflix US but no other streaming platforms.
I also tested both VPNs for security flaws, including DNS and IP leaks — neither VPN had any leaks. This is crucial for anonymous browsing as it prevents your identity from being discovered.
I'm often frustrated by poor performance when using remote VPN servers, so I appreciated the speed of McAfee's servers. However, Norton has the better VPN if you're a big fan of streaming. Either way, both antiviruses have the best integrated VPNs out there so you can't go wrong with either option.
Browse quickly with McAfee's VPN
5. Parental Controls — Norton Is Slightly More Cost-Effective
Both antiviruses offer quality parental controls, as you can track location, block inappropriate apps, and track visited websites with both. However, Norton's parental controls are better than McAfee due to its better functions and customizability.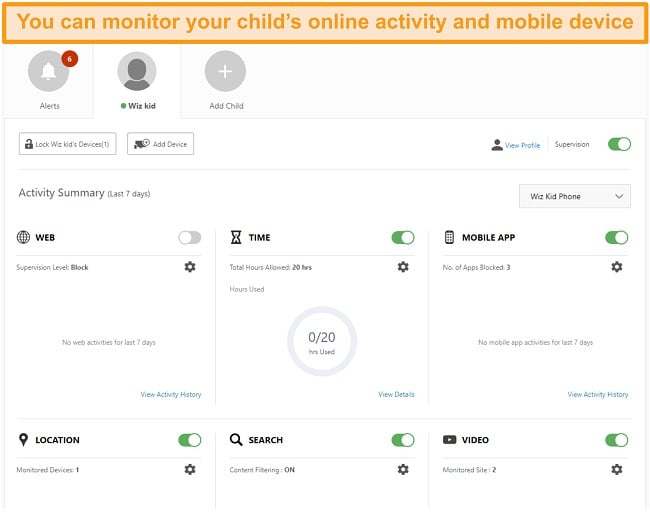 Norton can even be configured to track which YouTube videos are watched, and shows you a video snippet so you can see if it's age-appropriate. You can also turn on school mode to remove distractions and track search engine usage.
You can see a complete comparison of features in the table below:
| | | |
| --- | --- | --- |
| | Norton | McAfee |
| Time Supervision | ✔ | ✔ |
| Device Restrictions | ✔ | ✔ |
| Video Supervision | ✔ | ✘ |
| Mobile Functionality | ✔ | ✔ |
| Website Tracking | ✔ | ✔ |
| Location Tracking | ✔ | ✔ |
| Search Overview | ✔ | ✘ |
| School Time Settings | ✔ | ✘ |
| Alerts | ✔ | ✔ |
For the most part, both antiviruses offer very similar parental control settings. They're both powerful and will help ensure your children are safer both online and in the real world. With its overall cheaper price and a few more features, Norton wins this category by a small margin. Try Norton today and test how well these features work for yourself.
Parental Controls Winner: Norton
Protect your family with Norton
6. Firewall — Both Firewalls Offer Powerful Security
Norton and McAfee both include customizable firewalls that offer great protection. Norton includes a whitelist (a trusted list) of popular programs to reduce set-up time. McAfee doesn't have this whitelist, and I found it more tedious to allow all my programs access.
Both continuously monitor applications to ensure they're safe and blocks them if they notice suspicious behavior. Both antiviruses also alert you to potential network intrusion.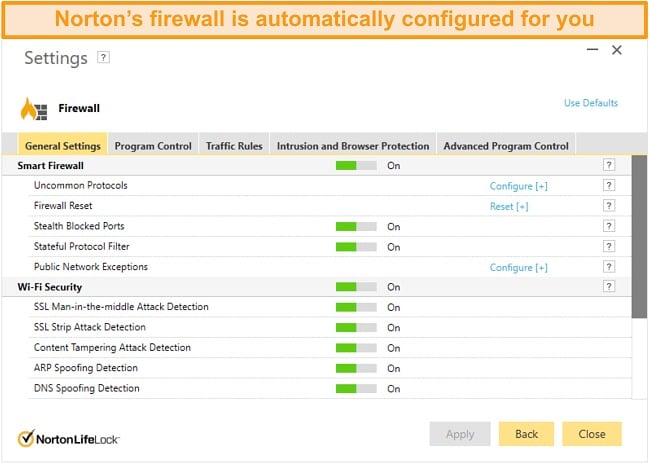 While you can rely on the default settings, I was glad to see that there are plenty of customization options for more advanced users. I was able to manage ports, individual devices on my network, and check for intruders.
Since the firewalls for Norton and McAfee are so similar, this category is a tie. If you wanted to configure a firewall for your device, I recommend you try Norton.
Real-Time Malware Protection Winner: Tie
Protect your network with Norton
7. Password Manager — Norton Offers More Features On More Plans
Norton's password manager easily outstrips McAfee. With Norton, you'll get unlimited storage for your login credentials and an advanced auto-change password feature on every plan. McAfee only lets you save 15 passwords unless you upgrade to the most expensive package, which isn't enough for most people. I personally have almost 400 sets of login credentials.
Another standout feature is Norton's impressive auto-change password tool. It automatically generates a new password for a website and changes it for you — you don't need to manually change it yourself. While it doesn't work with some niche websites, I successfully tested it with Netflix and Reddit.
Overall, I was pleased with both Norton and McAfee's ability to generate passwords, store your login credentials, and auto-fill them into the relevant online forms. You can also save secure notes with both programs, which I find very useful for remembering important information. All of this is kept secure behind the single super-strong password that you have to remember.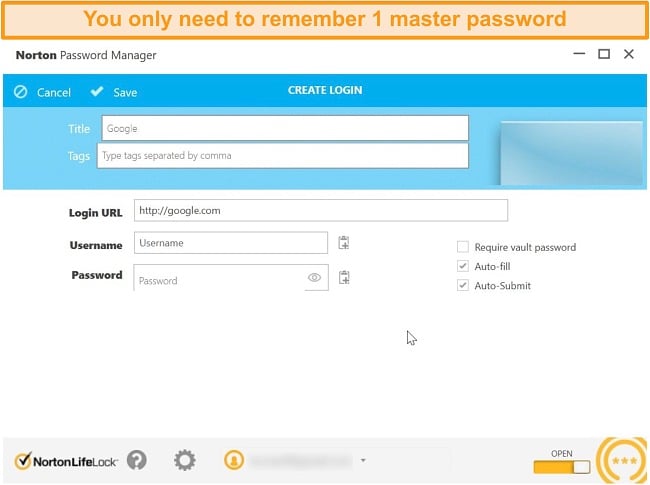 Norton wins in this category with its auto-change feature and unlimited storage. You can try the password manager for yourself with any of Norton's plans.
Password Manager Winner: Norton
Store passwords securely with Norton
8. Gaming Mode — Both Suppress Notifications and Background Processes
Both Norton and McAfee offer a very similar gaming experience. They both have essential features that I would expect from a gaming antivirus, like shutting off background notifications while you're playing. Additionally, they suspend background tasks so your game can take full advantage of your system's resources (CPU and GPU) while you play.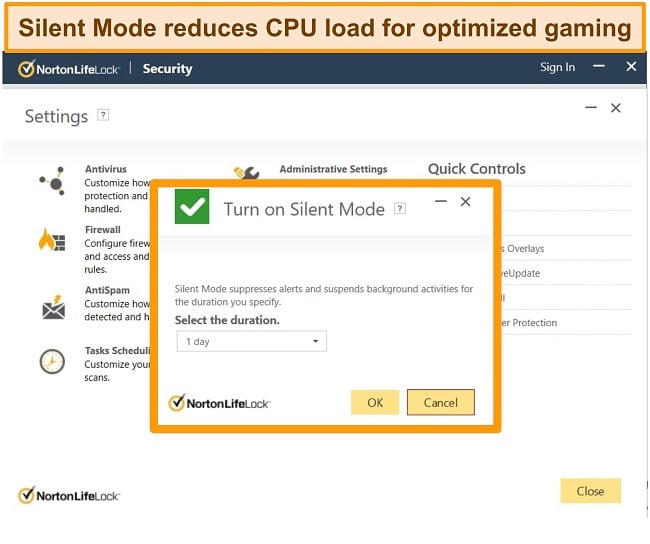 I tested both antiviruses while playing the games Call of Duty: Warzone and Rocket League, and was happy to see they both worked well. I didn't notice any improvement in performance or framerate, but it was nice not to be interrupted by any notifications.
Game without interruption with Norton
9. Optimization Tools — Only Norton Offers These Features
Norton wins by default since McAfee doesn't have any optimization tools. Norton's offering includes a PC startup optimizer, disk optimizer, temporary file cleaning, and boot drive defragmenter.
I tested these features on my Windows 10 PC and found them all to work quickly and easily. I didn't notice any major difference in speeds after doing this, but the PC is quite new so I wasn't expecting much. However, on older computers or those that have seen more usage, these features will help keep your device optimized.
If you have a device that needs optimizing, you can try Norton for up to 60 days risk-free using its money-back guarantee.
Optimization Tools Winner: Norton
10. Other Features — Norton Has More Useful Cybersecurity Tools
Although both Norton and McAfee include useful features, Norton takes the lead with a few key additions.
| | | |
| --- | --- | --- |
| | Norton | McAfee |
| Cloud Backup | ✔ | ✘ |
| File Shredder | ✘ | ✔ |
| Webcam Blocker | ✔ | ✘ |
| Encrypted Storage | ✘ | ✔ |
| Identity Protection | ✔ | ✔ |
Both programs offer identity theft protection, although Norton only offers them with its top plans. Both antiviruses monitor the internet, including the dark web, for occurrences of your personal data. They also alert you if your information has been used anywhere suspicious. This is an excellent addition to both apps, adding a layer of digital security beyond basic malware defense.
McAfee's file shredder allows you to destroy any sensitive files, but I found I didn't use it much. Its encrypted storage is also a great addition for hiding sensitive files and folders, but I rarely needed it.
Although it doesn't have either of these tools, I liked Norton's encrypted cloud storage (between 2GB to 100GB) that's included in all plans. This is a great complement to its ransomware protection — if your device is compromised, you'll rest easy knowing your most sensitive files are safe elsewhere. It's easy to set up, and I quickly configured its scheduling option to back up my files regularly without further interaction. With Norton's webcam blocker, you can ensure that only specific apps get access to your webcam when you want them to. Considering the known dangers of leaving your webcam openly exposed, this is a great way to give yourself easy peace of mind.
Norton wins this category because I found its features more useful than what McAfee had to offer.
11. Device Compatibility — Norton and McAfee Both Work on a Range of Operating Systems
Norton and McAfee both support current and earlier versions of Windows, macOS, Android, and iOS.
| | | |
| --- | --- | --- |
| | Norton | McAfee |
| Windows | 10, 8.1, 8, Vista, 7 SP1, and XP (32 bit) | 10, 8.1, 8, and 7 SP1 |
| Mac | 10.13 to 10.15 | 10.12 to 11.0 |
| Android | 4.1 or higher | 4.1 or higher |
| iOS | 8 or later | 10 or later |
I tested both antiviruses on these devices, and getting set up was easy across the board. On Windows and macOS, I easily downloaded installers from each website's download section, and on mobile, I downloaded the apps from the respective app stores. Once you're logged in, it's just a case of letting the app run in the background. Both require minimal interaction unless a threat is flagged or you want to use a feature.
Device Compatibility Winner: Tie
12. Customer Service — Norton's Quality and Speed Wins Out
Norton and McAfee both have several customer support options, but Norton wins this category due to its fast response times and friendly representatives.
When I tested the live chat option, Norton's average wait time was just 1 minute versus McAfee's 10 minutes. Additionally, the McAfee agent didn't understand my issue for several minutes and still couldn't help me once they did.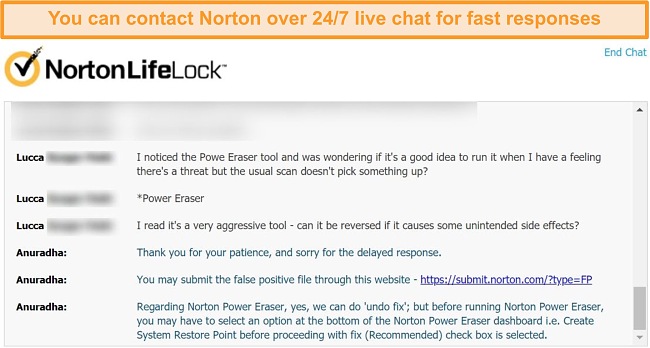 When I tested the phone support, it took both companies roughly 15 minutes to connect me to an agent. They were friendly and knowledgeable about my queries, and resolved my issues within 5 minutes.
You can see a comparison of support options and speeds below.
| | | |
| --- | --- | --- |
| | Norton | McAfee |
| Live Chat | ✔ | ✔ |
| Average Live Chat Wait Time | 2 minutes | 10 minutes |
| Email Support | ✔ | ✔ |
| Average Email Response Time | 1 day | 1 day |
| Phone Support | ✔ | ✔ |
| Community Forum | ✔ | ✔ |
| Online Knowledge Base | ✔ | ✔ |
| Video Guides | ✔ | ✘ |
While both antiviruses have similar phone support times, Norton's live chat quality, speed, and additional video guides make it the winner.
Customer Service Winner: Norton
13. Price — Norton Offers More Choice at Different Prices
Norton offers its core malware protection as part of its cheapest Antivirus Plan. This is cheaper than McAfee's base plan and offers its powerful security with several added features.
This is what makes Norton a more attractive proposition in terms of price. For a start, all of Norton's plans get cloud storage and a password manager (only McAfee's top plan includes this). The only extra feature that McAfee has in every plan is a VPN. The added value that Norton brings makes it the better-priced antivirus for me. Check out Norton's prices for yourself to see if they match your budget.
Download Norton risk-free for 60 days
14. Free Version — McAfee's Trial Period Is Longer Than Norton
Neither Norton or McAfee has a free version, but both do have free trials. McAfee wins here since it has a 30-day free trial — Norton only hasa free trial for 7 days. McAfee also doesn't require any credit card information, while Norton does.
A week should be long enough to try out both antiviruses' main features, but getting a full month with McAfee is great. Try McAfee's free trial for yourself for an entire 30 days. I also recommend you try Norton's 7-day trial too, to make sure you make the best decision. You can use all the premium features of your selected plan during this time with both programs. This is a great way to see if the products are right for you before committing.
15. Money-Back Guarantee — Norton Has a 60-Day Refund Period and It's Easier to Claim
Both antiviruses offer money-back guarantees, but Norton's is twice as long at 60 days versus McAfee's 30 days. I also found it significantly easier to get a refund from Norton than McAfee.
Getting a refund from Norton was simple. I simply contacted a customer support agent through the 24/7 live chat, and they confirmed the refund within a few minutes. I had the money back in my account 5 days later.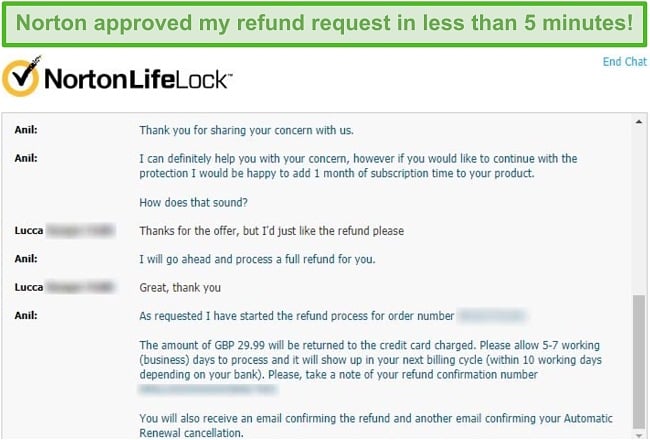 Unfortunately, McAfee's refund process wasn't as simple. I had to first submit a refund request online, after which I was sent a support phone number to call. This is far from ideal and seems to be a tactic to make it harder to quit. It took about 5 minutes to be connected to an agent and another 10 in total for all the required cancellation steps. Fortunately, my refund was eventually approved, and I had the money back 7 days later.
Overall, Norton's refund process was significantly easier and faster than McAfee. Not everyone wants to or has time to set up and make a phone call, making Norton's simple live chat option hassle-free in comparison.
Money-Back Guarantee Winner: Norton
And the Winner Is… Norton (But Not by Much)
Both Norton and McAfee are top-tier antiviruses that offer powerful protection against the latest online threats. They're a very even match, but differ in a few important ways.
Norton is better for those who need integrated cloud storage and a password manager at an affordable price. On the other hand, McAfee's strongest suit is its VPN. Its blazing-fast speeds make it an ideal match for anyone who needs an antivirus and a quality VPN at once.
You can try out Norton with its 60-day money-back guarantee, or check out McAfee's 30-day money-back guarantee risk-free to see which you prefer.
Protect your devices with Norton!
---
Other Top Antivirus Brands in 2022
Top Choice