5 Best Android Antivirus Apps in 2022 (Surprising Winners)
Last Updated by Eric Raue on July 01, 2022
As I was testing antivirus apps for my Android, I was shocked when I discovered that the Google Play Store is full of bad antiviruses. There are lots of fake options full of malware that pretend to be legitimate. Worse yet, most Android antiviruses are often terrible at finding and preventing threats.
To keep you safe, I tested the 30 most popular antivirus apps and found the best for any Android smartphone or tablet in 2022. These apps come with malware scanners, WiFi protection, password managers, parental controls, and VPNs.
I was especially impressed by Norton Mobile Security, which finds malware accurately and has bonus features like web filtering and network protection. You can try Norton risk-free for 60 days with its money-back guarantee.
Try Norton Mobile Security for Android
Quick Guide: Best Android Antivirus Apps in 2022
5 Best Antivirus Apps for Android Devices (Tested July 2022)
Key Features:
Protects against the latest Android threats
Bonus features include Google Play app scanner, WiFi scanner, and malicious link blocker
Compatible with Android 4.0.3+
24/7 live chat, phone support, forums, and online knowledge base
60-day money-back guarantee
Norton Mobile Security is the #1 Android antivirus due to its malware detection and comprehensive security features. Its security tools include an app scanner, WiFi analyzer, and malicious link blocker to keep your Android secure.
Norton Mobile Security's App Advisor scans every app on the Google Play Store before you download it, preventing you from accidentally installing malware. During scans, Norton caught 100% of the malware on my Android. I was pleased that the scan didn't accidentally mark any of my safe files as dangerous, as I find removing files from quarantine is tedious.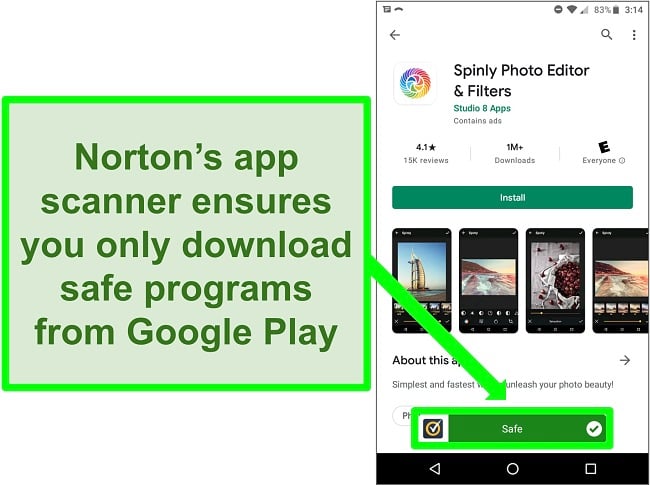 If your wireless network isn't secure, hackers can intercept any data you send or receive — including bank passwords. Norton Mobile Security scans your connection and makes sure your data isn't at risk of being intercepted. When I tested it, the scan only took a couple of seconds to determine that my network was safe.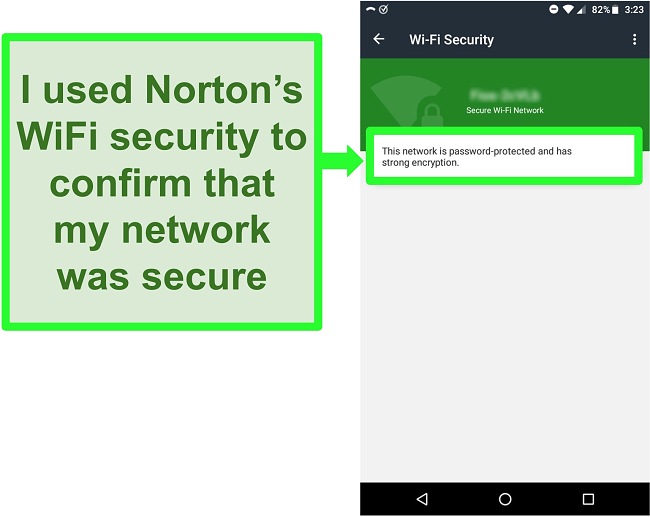 A subscription to Norton Mobile Security protects up to 3 Androids. If you want to protect up to 5 devices, I recommend going for Norton 360 Deluxe, which works on Android and PC, macOS, and iOS. It includes extra security tools like a password vault and an included VPN.
Unfortunately, I discovered that no matter which plan you choose, you can no longer access Norton's anti-theft features on Android. Norton removed Remote Locate, Lock Device, and other anti-theft features in December 2019 as part of a "review and assessment" of Norton Mobile Security for Android. While Norton recommends you use Google's "Find My Device" service as an alternative, I'm disappointed that the company's otherwise strong Android offering isn't as feature-rich as it used to be.
You can try Norton risk-free on all your devices for 60 days. You can get a full refund as long as you sign up for the annual subscription. I tested the refund policy myself by asking for my money back via live chat support. After giving a reason (I said I didn't like it), the agent processed my request right away. I had the money back in my bank account later that same week.
Try Norton Mobile Security for Android
Key Features:
Detects all malware threats on your device
Includes a file and memory manager, website filter, and an unlimited VPN
Works on Android Oreo 8.1+
Live chat and email support
30-day money-back guarantee
TotalAV Antivirus and VPN for Android comes with a powerful website filter that helps to prevent malware infection. With the app running in the background, I tried to access a malicious site. TotalAV blocked it immediately, which made me feel a lot safer browsing the web.
I found that TotalAV had an almost perfect malware detection rate during my tests, even on an older Android. It did have 1 false positive, but that was easily removed from quarantine. The scan used a minimal amount of device resources, so my device ran smoothly with the app running in the background.
It also comes with a photo management tool to improve device performance. This finds and deletes duplicate photos, cached data, and junk files to free up space so your Android runs faster. While there have been reports that TotalAV negatively impacts Android performance while it's running, I personally didn't experience any notable slowdown. That said, your experience may vary depending on the make and model of your Android device.
Additionally, TotalAV includes an unlimited VPN to keep your browsing information private. It hides personal data like your real location and IP address to protect you from hackers trying to steal your identity. You can even access streaming services while using TotalAV's VPN, so you can keep up with your shows while still protected.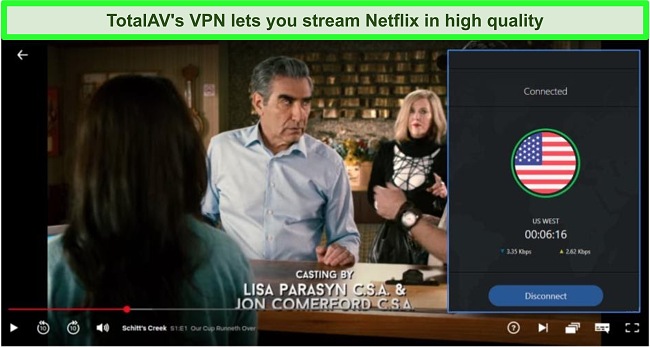 One downside to TotalAV is that the VPN is only included with its Internet Security package. Its basic package, Antivirus Pro, lacks a VPN and covers 3 devices instead of 5. However, all its packages let you try TotalAV Antivirus & VPN risk-free for 30 days. I tested it for 2 weeks and then asked for a refund. I was disappointed to see that it took a few days to get a reply as antiviruses need fast support to take care of critical issues. However, an agent eventually completed my request and I had my money 2 days later.
Key Features:
Protects against all malware threats
Include an account privacy feature and an anti-theft tool
Compatible with Android 5.0 or later
Offers phone, email, or 24-hour chat support
Risk-free 30-day money-back guarantee
Bitdefender Mobile Security's Android app has a low impact on performance. This impressed me as most antivirus apps take a lot of resources to scan for malware. Even during a full system scan I never noticed a change in my Android's speed.
During my tests, Bitdefender Mobile Security found all the malware on my Android, with 100% of real-time threats blocked and no false positives registered. It even detected a virus that was released a few weeks ago, showing that even with its fast performance it doesn't miss threats.
I was pleased to find that Bitdefender Mobile Security has integrated Web Protection, which analyzes website traffic for malware, phishing, and fraud attempts. This means your web browsing is protected in real-time. In addition, Bitdefender comes with a privacy checker that keeps your online accounts secure. I tested my email address and was shocked to see several of my logins had been compromised.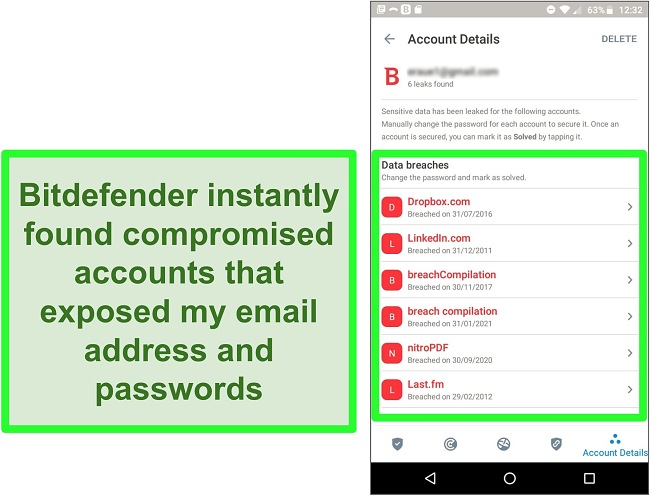 As a bonus, Bitdefender Mobile Security includes a VPN to hide your browsing data from hackers, governments, and your internet provider. It's limited to 200MB of data daily, which isn't enough for streaming — but it's helpful if you're accessing private information.
The only real downside is that Bitdefender's VPN is a bit expensive if you decide to go with the premium version. If you need a VPN for your Android device, I'd recommend Norton instead since its mobile plan includes a full VPN — you don't need to pay extra for it. I would also like to see Bitdefender include call and text filtering in its Mobile Security package, but this isn't a dealbreaker by any means.
Still, with its impressive malware detection and privacy checker, Bitdefender is more than enough to keep you safe. Each subscription offers protection for a single device. To protect up to 5 devices (including Android smartwatches!), you can try Bitdefender Total Security free for 30 days. It comes with a money-back guarantee so you can secure your accounts then get your money back.
Key Features:
Accurately detects malware threats on Android devices
Comes with anti-theft, privacy protection, and WiFi scanning features
Works on Android 6.0+
Support via online ticket or social media (Twitter, Facebook, or YouTube)
30-day money-back guarantee on plans longer than 1 month
McAfee Mobile Security for Android comes with privacy protection to keep you safe on public networks. This is an essential feature for an Android antivirus, as your device likely connects to several unsecured networks throughout the day. It's also important if you're accessing sensitive data, like online banking information.
I was impressed with McAfee's malware scanner as it accurately found all the malware on my device. It also had no false positives, so I never had to pick my safe files out of quarantine. McAfee scans took just over a minute, so I never had to wait long to see if my Android was infected.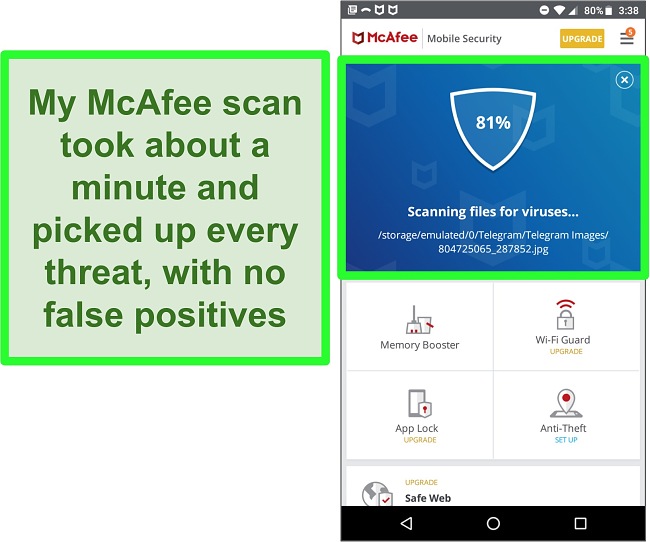 McAfee offers a couple of different Android plans to choose from. As its name implies, McAfee Mobile Security Standard is the base package and comes with anti-phishing protection, file backup tools, and app locking features. If you upgrade to McAfee Mobile Security Plus, you'll get access to an unlimited VPN. McAfee's Safe Connect VPN is a secure platform, but I was disappointed with its speeds. I was unable to watch Netflix or other streaming servers without buffering or lag — even on local servers! I recommend sticking with Mobile Security Standard, as McAfee's VPN just isn't worth the additional cost.
I found that McAfee did use more of my system resources than others on this list, but if you use public WiFi frequently, you should try McAfee Mobile Security to protect your data. As long as you get a subscription longer than 1 month, you can get your money back within 30 days. I started the refund process over live chat and was surprised to find out I needed to finish the process over the phone. Thankfully, the agent had no issues processing my request, and I had my money back within the week.
Try McAfee Mobile Security for Android
Key Features:
Detects new malware threats accurately with cloud-based technology
Includes an app locking feature, email security breach notifications, and microphone protection
Works on Android 6+
Email and phone support
30-day money-back guarantee, or 14 days with 1-month plans
Avira Security Pro's cloud-based Android scanner uses a constantly updating database to detect new threats. This allows it to keep pace with cybercriminals, who are always designing new malware to steal sensitive data.
Avira's privacy advisor immediately found over 3 apps that had unnecessary permission to access my camera, microphone, and contacts. I removed them quickly without leaving Avira's app. I could also add a security code to lock the apps I use to transfer money, store photos, or save sensitive information.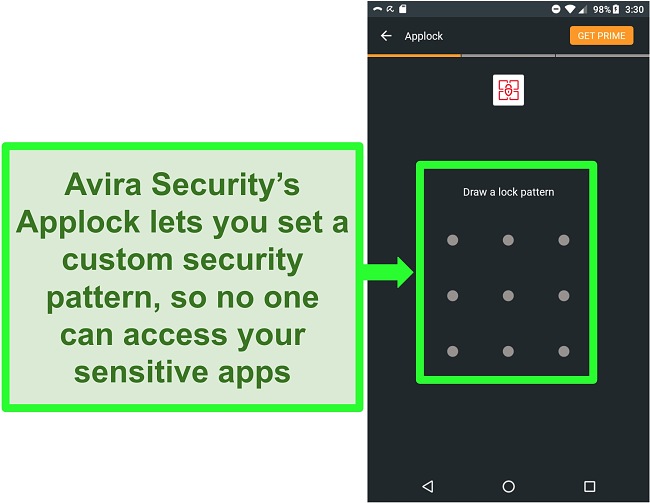 Avira offers a feature-rich experience on Android, which includes Web and Identify Protection tools. I really liked the Identity Protection suite in particular, as it includes a number of features designed to protect your Android device in the event it's stolen, such as camera and microphone protection, remote yell, and location tracking. You'll also have access to a VPN, but I was disappointed to find that Avira restricts its VPN to a 100MB daily limit unless you buy the expensive Avira Prime plan.
Its lack of a WiFi scanner means that it won't protect you on public WiFi, but you can try Avira's cloud-based antivirus technology to remove malware. 1-month subscriptions give you 14 days before you'll have to ask for your money back, but you have a full 30 days with longer plans. I signed up for the 1-month plan and then asked for my money back via email 10 days later, and in less than 5 days I had my money back.
Try Avira Security for Android
Popular Antivirus Apps That Didn't Make the List
1. AVG and Avast
Despite high rankings on the Google Play Store, I can't recommend AVG or its parent company Avast as its subsidiary was caught selling user data to third parties. No matter how effective they are, it isn't worth putting your privacy at risk, especially when there are safer options.
2. Lookout Mobile Security
This extremely popular antivirus is a good option for a basic antivirus, and it does come with a useful device locator. Unfortunately, not only does it miss a lot of malware in its scans, Lookout's Safe Browsing (website filter) feature doesn't work with VPNs. Since the feature acts as a VPN connection itself, it'll stop working if you try to run one at the same time.
3. Super Cleaner Studio's Virus Cleaner
Despite having a 4.5+ star rating on the Google Play Store, I've found that Virus Cleaner doesn't actually do anything. It'll pull up several problems, "fix" them, and then list the exact same problems when the app is next reopened. This is not only a waste of time, but is also extremely demanding on your device's resources.
Comparison Table: 2022's Best Antivirus Apps for Android
How I Tested & Ranked the Top Antivirus App for Android
I tested the top 20 Android antivirus apps on the Google Play Store in-depth using a Motorola Moto e5 Play running Android 8.0. To see how they performed on older models, I also tested on a Motorola Moto e5 running Android 7.1.1. Here's what I looked for:
Reliable malware and virus detection — With simulated malware and industry tests, I found out which Android apps found and removed the latest threats.
Security bonuses — I looked for extra features like WiFi network scanning, dark web breach monitoring, and website blockers.
High performance — Android antivirus apps require a lot of power and memory, so I checked how much each one affected my speeds and battery drain.
Money-back guarantees — I tested each top Android antivirus and its refund policy to ensure it's truly risk-free to download and get your money back.
Number of Installs — The Google Play Store helpfully lists how many times apps have been downloaded. While not necessarily a mark of quality, an antivirus app with a high number of downloads is typically a good sign that it's trusted and has a large user base.
User Ratings — Similarly, an app with a large number of positive written reviews is generally more trustworthy than one with very few. Generally, I'm way of any app with very few written reviews, as it could be a sign of an app developer engaging in fraudulent score purchasing.
Recent Updates — If an antivirus app is updated frequently, it's more likely to offer protection against the latest malware threats. All the apps on my list are kept up-to-date by developers to ensure you're getting the best protection possible.
FAQ: Getting an Android Antivirus for Mobile Phone & Other Devices
Do I really need an antivirus app for Android phone?
It depends. You can be careful and investigate every app you download. However, it only takes a single tap to accidentally infect your Android with malware. An Android phone isn't immune to other types of online attacks either. While Google has safeguards in place, the truth is that Android isn't as secure an operating system as iOS. Since Android is an open-source platform that runs on so many mobile devices worldwide, it's more often targeted by hackers too.
Like a computer or laptop, your Android's internet traffic can be intercepted and surveilled by advertisers, hackers, and the government. If this happens, sensitive data like your banking information, social media accounts, personal pictures, and more could be at risk.
There are a few extremely effective Android antiviruses with powerful malware detection and bonus features, like website filters, and VPNs. Norton Mobile Security even scans apps in the Google Play Store to tell you if they're safe to download. If you want to see this for yourself, try Norton Mobile Security risk-free with its 60-day money-back guarantee.
What's the best free antivirus app for Android?
Based on rigorous tests, my team and I found the best free Android antivirus in 2022 is Avira. Despite only providing a basic level of protection, it comes with a strong malware scanner, a decent VPN, and no noticeable performance impact. If you only need a minimal amount of security for your Android, Avira is good enough to protect you against most threats.
Personally, I have a lot of sensitive data on my Android device (like private photos and messages). I also use my Android phone for work. So I prefer to invest in an affordable premium antivirus, such as Norton Mobile Security. Norton has a more accurate virus scanner than Avira and it has WiFi protection features, which keeps you safe from hackers or data leaks on public WiFi networks. With its 60-day money-back guarantee, you'll have plenty of time to scan your Android for malware and fix security issues with Norton Mobile Security.
Try Norton Mobile Security on Android
Will an antivirus slow down or drain my Android's battery?
Like all apps, an antivirus app will use battery on your Android device. However, the best Android antiviruses have little effect on performance. A few even have optimization tools to speed up your Android.
How to scan my Android phone with an antivirus?
Download an antivirus. I recommend Norton Mobile Security for the most accurate malware detection. It's backed by a 60-day money-back guarantee, so you can try Norton on Android risk-free.
Open the antivirus app. Once you open the app, look for a "Scan Now" or similar button on the home screen.
Scan your Android. Once the scan completes, you can remove any malware that it finds.
Try Norton Mobile Security on Android
What You Need to Know About Android Antivirus Apps
Even if you thoroughly research every app you download, it only takes a single click to download a malicious piece of software. While you might get "lucky" and only install adware onto your Android device, you may also expose your login credentials or banking details to cybercriminals. Unfortunately, Google can't keep up with all dangerous apps on the Google Play Store.
If you're like me and you rely on Android for everything, the consequences can be devastating. This is only amplified if you use your phone for business, as you'll need an additional layer of security to protect sensitive information. That's why I strongly recommend using an antivirus app to keep your private data safe. Out of all the Android antivirus apps I tested, Norton Mobile Security is the best at scanning and removing the latest viruses. It even comes with a WiFi and Google Play Store scanner, so you're protected from hackers and hidden malware inside apps.
Don't take my word for it though. You can try Norton Mobile Security risk-free with its 60-day money-back guarantee. And if you need coverage for your PC, Mac, or other devices, you can upgrade to Norton 360 Deluxe and get full security for your home network. No matter which plan you choose, it's easy and quick to get a full refund if you find Norton doesn't meet your specific needs.
Try Norton Mobile Security on Android!
---
In Summary — Best Antivirus Apps for Android in 2022